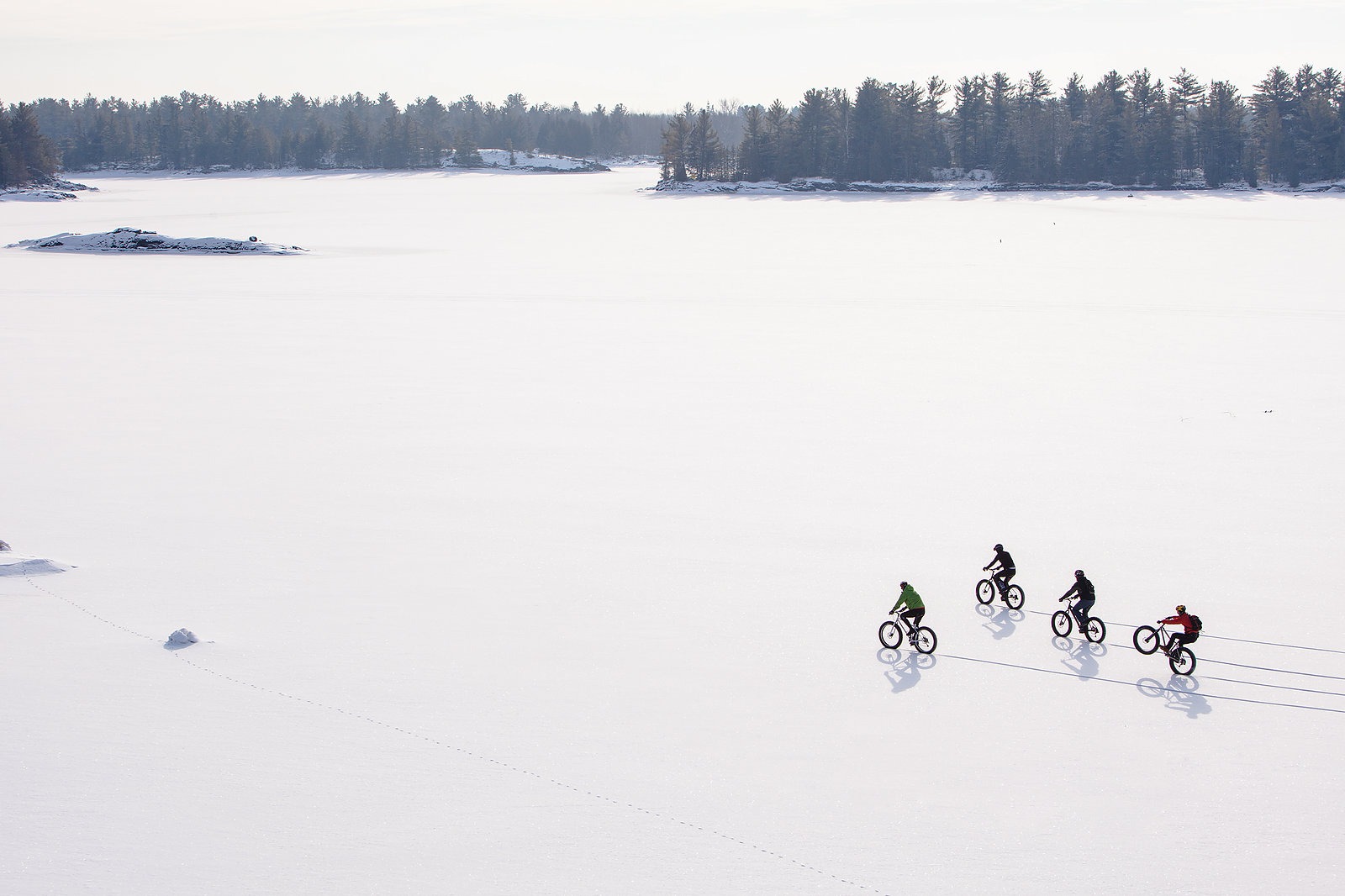 The Land of 10,000 Lakes
Fat Tires, Snow Plows and a True Midwestern Winter
Epiphany for me always comes in the fall.
To be a northern Minnesotan is to know and truly understand winter. Not resort ­­friendly winter, but true, dark, cold-in -your-bones, kill-you-in-your-sleep winter, hidden from the sun for six months and hammered relentlessly with ice and snow.
That means during the autumn you look back on your summer and your riding season with a nostalgic remorse and look ahead to see what you can do to make the most of life for the next six months. We embrace the season and the opportunities and challenges it presents.
Fat biking is one creative product of those panicked minds. For many parts of the country, fat biking is still perceived as a fad. However, for cyclists in this frigid region of the world it has become a lifeline. Nordic skiing has historically been the go-to winter activity for adrenaline and endurance freaks, but, despite its intensity, winter in Minnesota is not what it once was: cold temps, yes, but lower than average snowfalls. This leaves Nordic junkies (and off-season cyclists) to literally try and scrape together snow for a five-kilometer trail, or, failing that, a one-kilometer, hamster-wheel-style loop.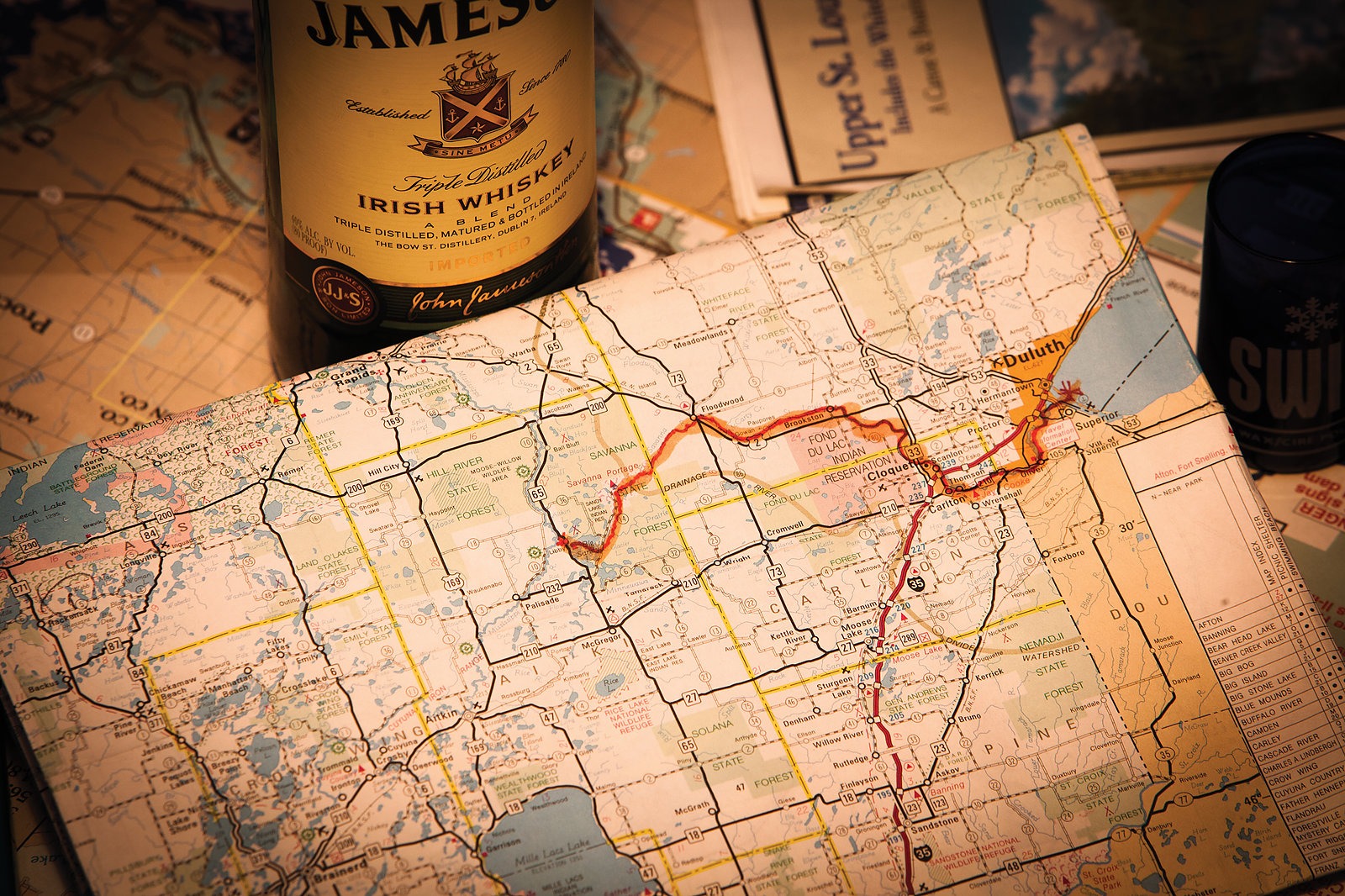 To me that is no way to live. Then this year's epiphany struck while crossing a frozen, pow-covered pond. The surface, hidden under three inches of cold fluff, was magic-carpet-ride smooth, and I realized there was something better than snowmobile trails. In the land of 10,000 frozen lakes and countless miles of rivers and waterways, suddenly anything ice-covered became potential singletrack. My Nordic faith failing and my summer cycling memories pulsing nostalgically, I decided it was time for a fat bike expedition. It was time to take the chubby-wheeled bicycles to their limit, to break out of oppression of Minnesotan winter and ride where I—and most likely no one else—had ever ridden before.
Like many of my Northern Midwestern cohorts, by last winter I had been riding fat bikes in snow for years. The sweet spot is two to three inches of fluff on hard pack—which, on smooth sufaces, turns into mini, two-wheeled pow turns. It was time to move past the usual routes of choice—snowmobile trails, packed paths and snowshoe prints—and into unexplored territory…at least by the non-aquatic adventurer.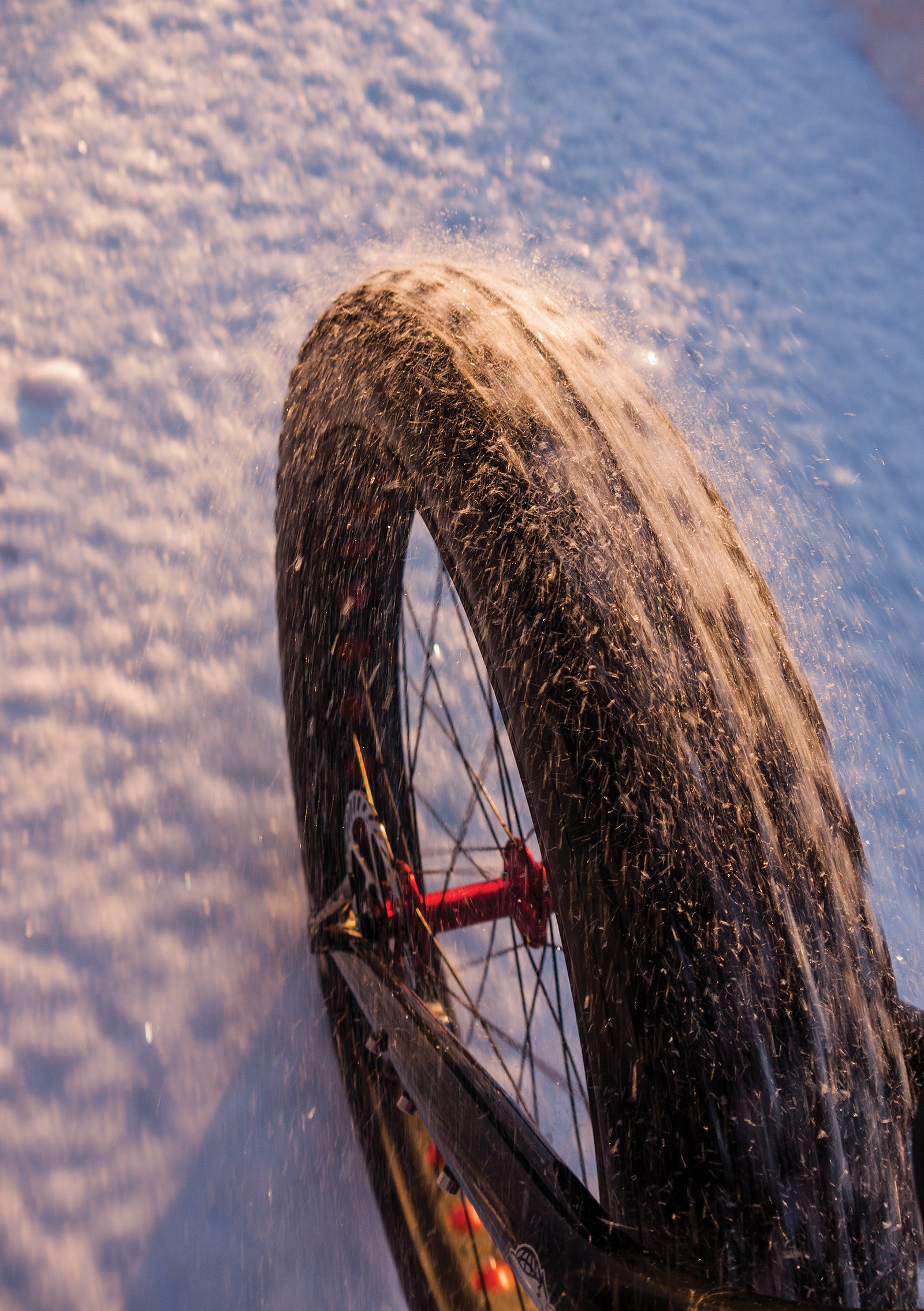 I began my adventuring at the Minnesota State Fair. Between livestock booths and the vendors selling deep-fried butter, I gathered maps of all sort: snowmobile routes, park systems, local topos. But it wasn't the labeled trails I was after—it was the waterways, flowages, lakes and rivers. I traced huge lines from headwaters to tailwaters, imagining re-stocking points, watering holes and possible bail-out spots. As the autumn rains fell, I sat in the sauna with those maps and sweated through them all.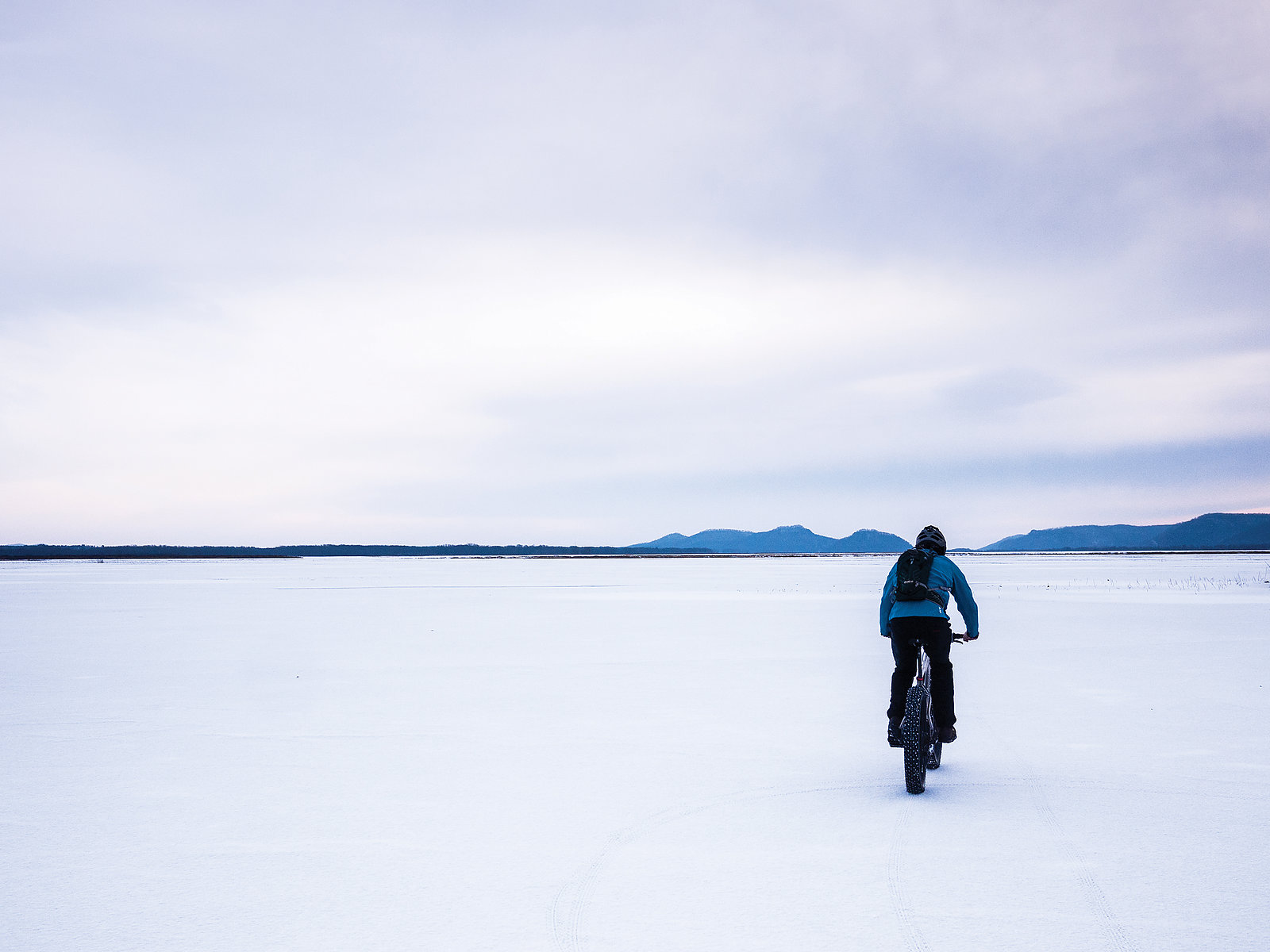 "Safe ice travel on a fat bike is an art. Akin to glacier travel or skiing through avalanche terrain, there are many ways to read ice, many warning signs and many techniques to keep risk at a minimum and your odds of survival high."
Finally I had it: the Northwest Trail, one particularly bold thread of a colorful local tapestry. Until the last recorded canoe expedition in 1978, the Northwest Trail was a main route of commerce route for both the Ojibway tribe and French fur trade between Lake Superior and the Mississippi River. Starting at the Mississippi, it runs across Big Sandy Lake to the Savanna River, through six miles of swamp back to the Savanna, and then 70 miles along the St. Louis River to Lake Superior and Duluth.
The thing is, the majority of the "trail" is actually water: floating bog, rotten timber and fetid swamp. Since its discovery in 1679 by a French fur trader, it has earned a reputation as an ass kicker, one of the most physically demanding portages in the area. But what for fur traders had been the bane of their travels, for us it meant lots of ice, lots of snow and lots of backcountry miles for a winter fat bike tour.
Safe ice travel on a fat bike is an art. Akin to glacier travel or skiing through avalanche terrain, there are many ways to read ice, many warning signs and many techniques to keep risk at a minimum and your odds of survival high.
In those pre expedition rides, we did not have any of these skills. We did not know the rivers, did not understand the complexity of ice around rapids, did not know the importance of frequent ice-depth checks, or even what kind of survival equipment to bring. Just as in risky avalanche conditions, travelers can do their best to mitigate the danger, but in the end the rules are up to God and Mother Nature.
There is no doubt that mistakes were made during those first trial river-rides. Some wetness, some coldness, some numbness and some hairy moments with frozen bikes. It's amazing how fast a chain can become immobilized—and how heavy a bike can become—once dipped in the river and lifted into -10-degree air.
Eventually we came up with a process. Two riders minimum, with a safe distance between in case one finds themselves suddenly on a polar bear plunge. "Fisherman's Friends," an ice pick on a neck strap for hauling oneself out on slippery rim ice, became a standard accessory. Thin, strong ropes to cross sketchy, fast water or thin sections. Ice screws for anchors and checking ice thickness. After weeks of test rides, we could—conditions depending—pull together the 120-mile route in the desired three days.
The night before our trip conditions were questionable. The first day looked good; everything after looked horrible. As departure neared only Eric Peterson, one of the many ice-disciples from the weeks before, stepped up for the trip. In the tradition of the fur traders before us, we decided to go for it anyway.
The ice on Big Sandy Lake that morning was thick and fluffy with snow and hoar frost, a mix of sun and fog blowing through that added a mystical feeling to the scene. If there were a better word for flying, one that exuded the sensation of levitating, then I would use it for those first six miles on the lake, through the hardwood forests and over the Continental Divide. Arriving at the next leg of the journey, we stopped and brewed up some Ramen and hot chocolate and reflected upon our gift.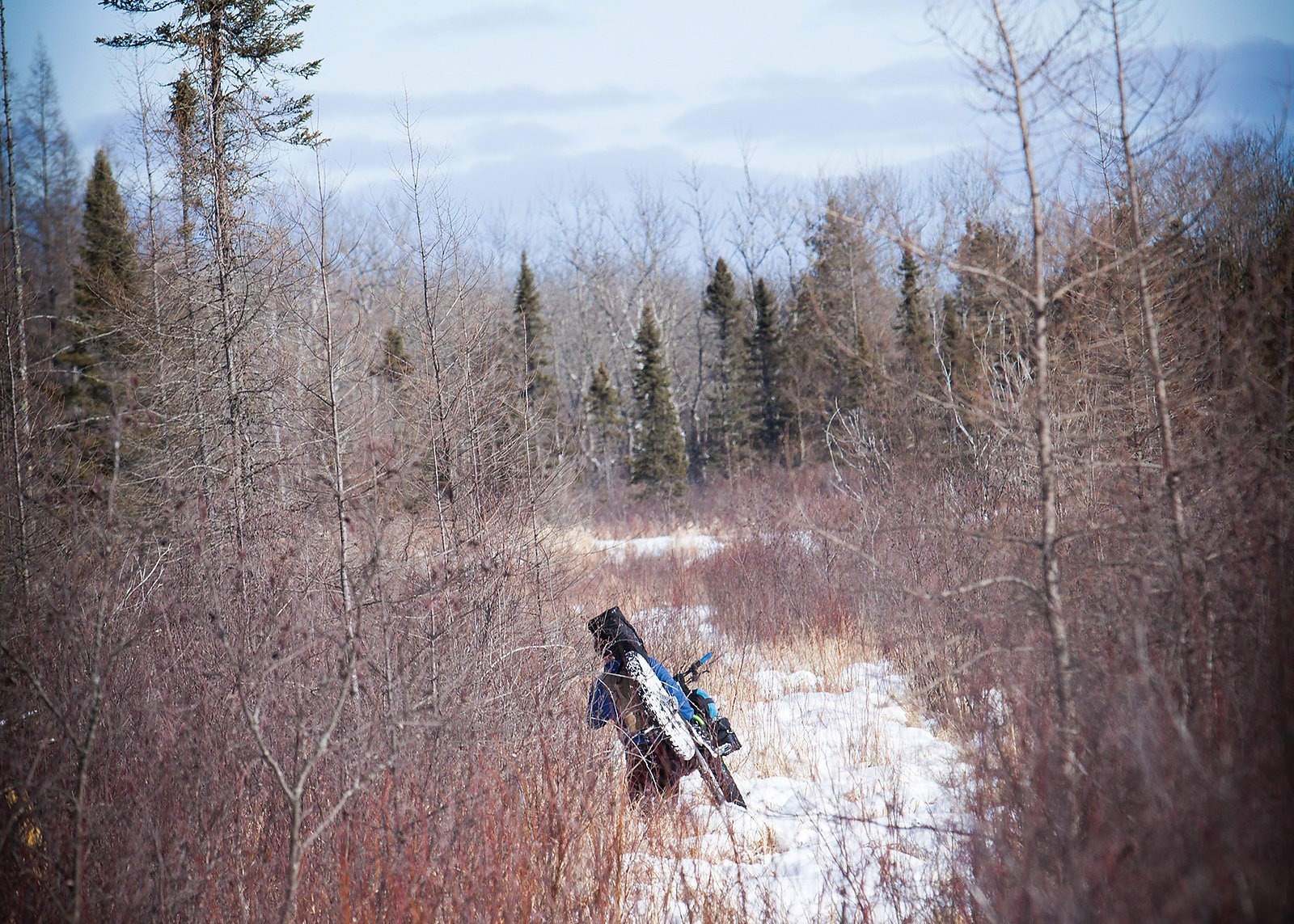 Then we hit the portage, and all forward momentum stopped.
We pushed the majority of those next six miles, through deep brush and unbroken snow. The middle of the Savanna Portage was an exercise in believing, that eventually the swamp would open and free us from the frigid hell.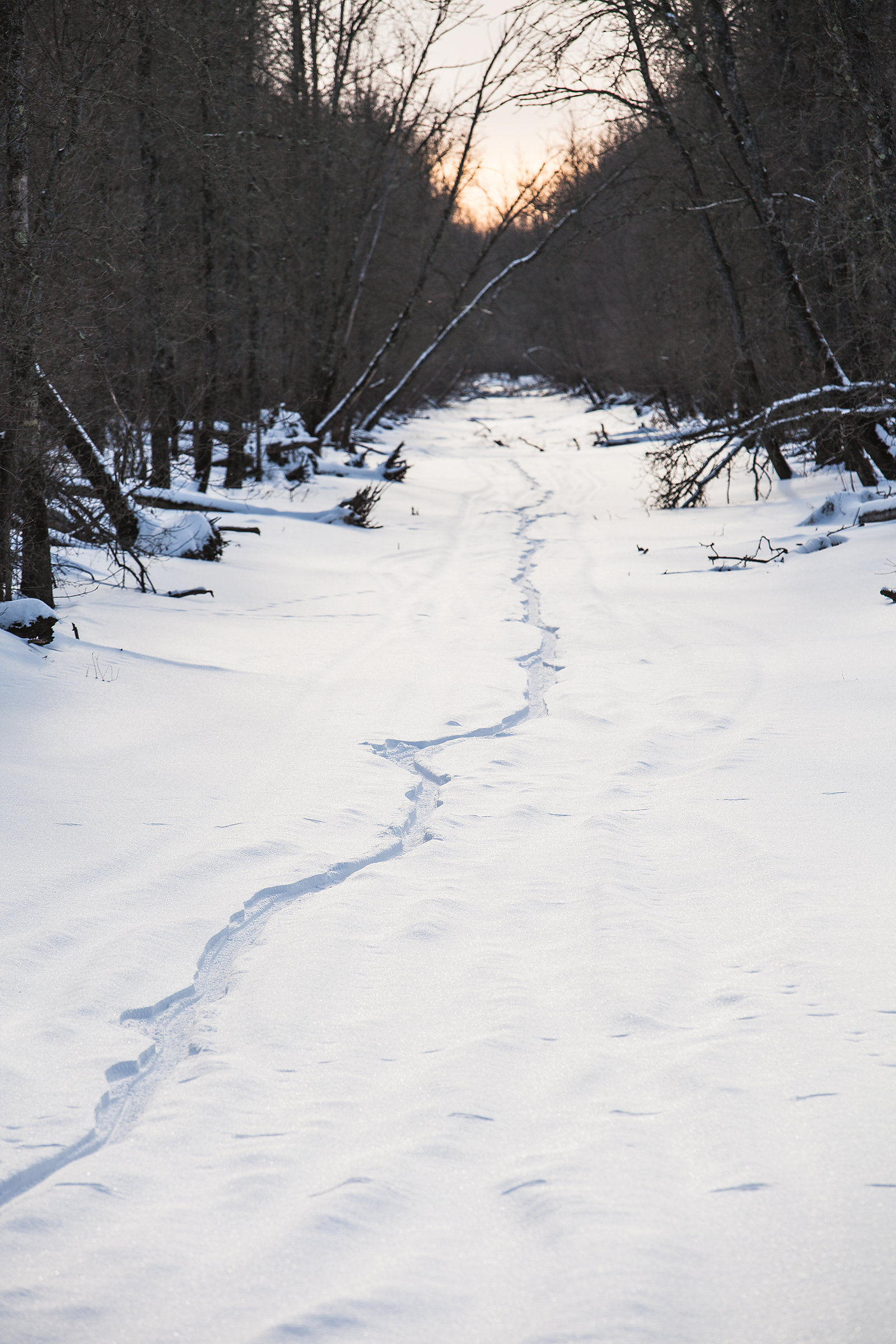 Our faith soon paid off. The brush opened and a definitive river channel wound through the brush, and we were giddy for the open space after the claustrophobic swamp of the portage. Thanks to the sun and wind, the snow from there on was sublime, as epic as any powder day I have ever had, as euphoric as any fish I have hooked and as perfect as any single track I have ripped. We gulped it in like a fine beer for miles. This was the backcountry experience I had spent months dreaming and hoping and planning for.
That night, we camped like Kings.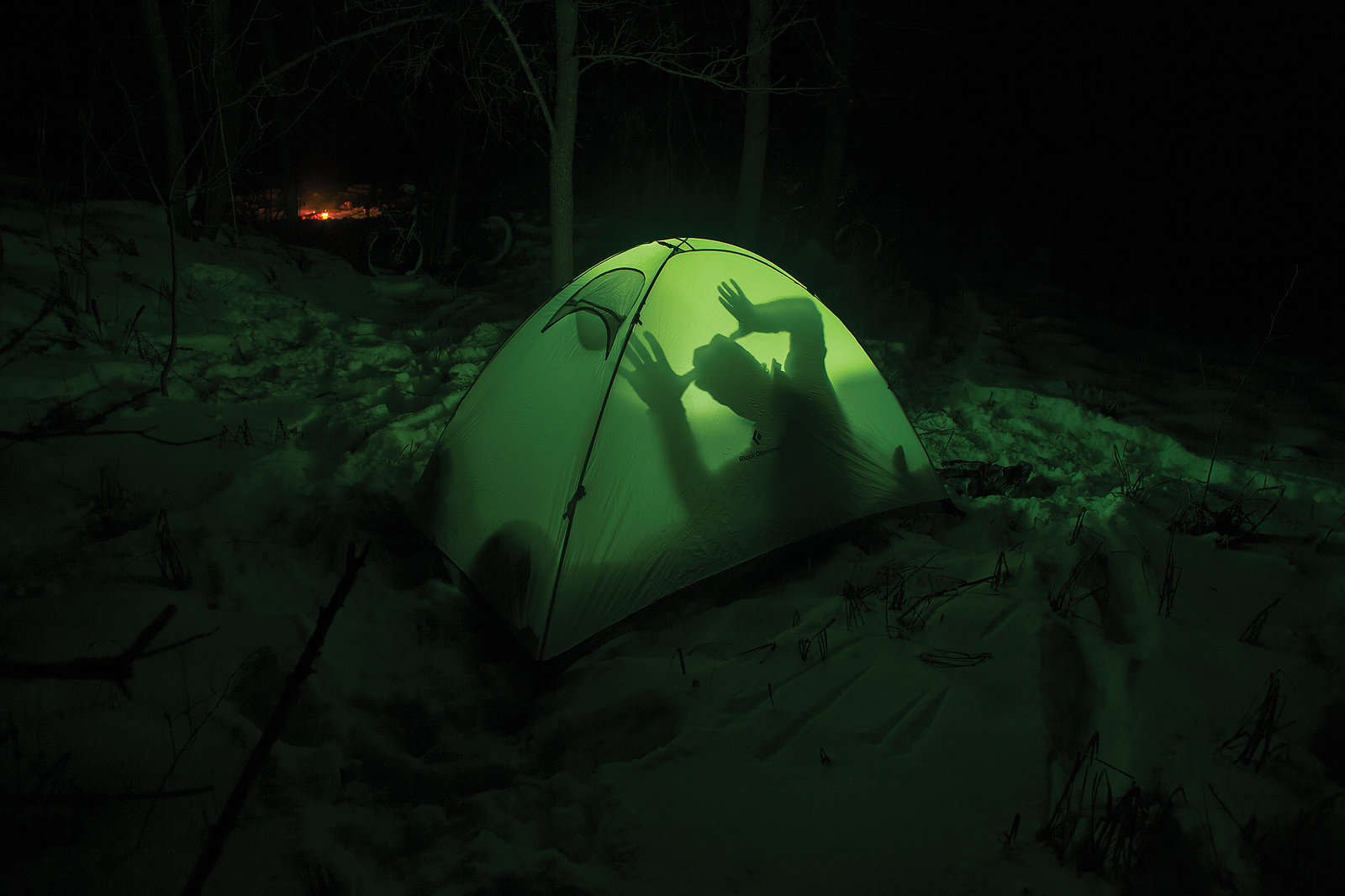 Compared to the East Savanna River, the St. Louis River is immense—and the most concerning part during planning, as I had limited knowledge of the area. It was the second day, and the sun sat high and proud above the tangle of snowmobile tracks that laced the river. While this may have otherwise dampened the sense of exploration, today we were thankful: the warm snow stuck to our bikes like white chewing gum, leaving us to push along in agony.
We soon realized the St. Louis was not going to happen this time, and left that section for a later date and better conditions and we bailed off the river onto a remote riverside road. As we neared the town of Cloquet, the darkness of the forecasted storm seemed to build behind us. A few miles north, we found that the St. Louis was rideable once more…kind of. It still qualified as a death trudge, and by the time we made it into Cloquet it was officially dark.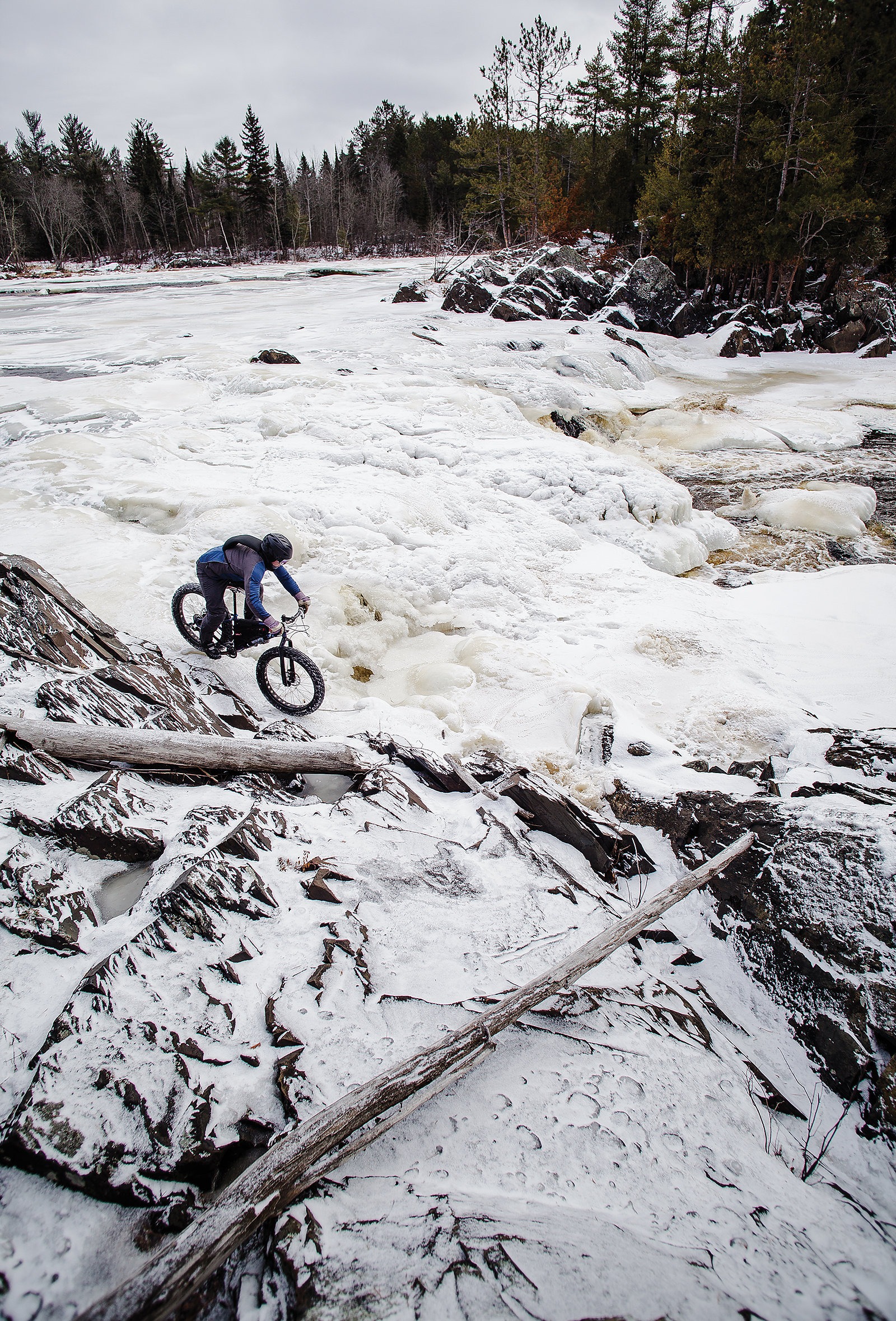 Luckily, however, my home rests at the beginning of the next leg, the Grand Portage of the St. Louis River. Cold, wet and caked in snow, we stumbled across the threshold to a fridge full of beers and blessedly warm beds.
While the previous days we had enjoyed Scandinavian Riviera-esque sun, it had been puking lake-effect snow on the western shores of Lake Superior. The last day of our ride would start in the town of Thomson…and continue into the increasingly deep snow of Duluth. With the knowledge that things were only going to get worse as we neared our destination, we decided to follow snowmobile trails along the Willard Munger State Trail, accessing the St. Louis via Mission Creek.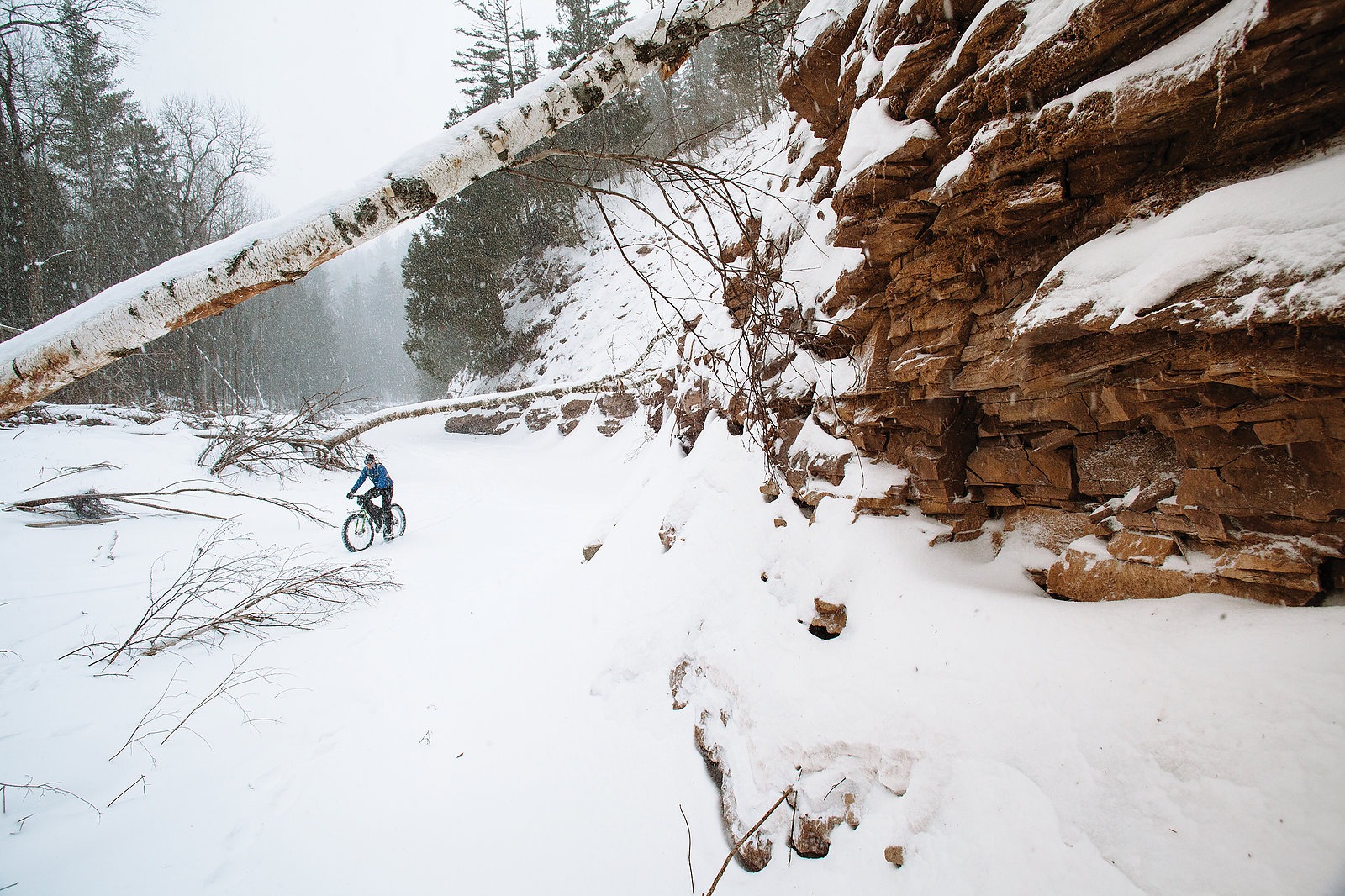 I knew we had underestimated our day as soon as our wheels hit the Munger. We hunted through the soft snow for firm lines. Talking was at a minimum. Our legs were two days and 100 miles into this thing, at an average speed of five miles per hour. The common illusion that a fat bike can crush through anything is a false one, and in the bottom-bracket deep snow that became blaring clear. Our piddly legs just didn't have the power.
Eventually we dropped off the snowmobile trails and into the paradise that was Mission Creek. Like many of the local small streams, Mission had overflowed during the lake effect snow and the subsequent warming temps—ideal for exploratory fat-bike adventuring. The wheels hummed in the icy slurry, the snow sludge spilling off our front tires in tiny, ethereal waves. Mucky micro freshies.
I remember exactly when the heralded snow storm hit. One minute overcast and cloudy, the next nuking warm snow and screaming with wind: a huge sloppy kiss, 32 degrees and just a small step away from rain.
As we hit pavement and aired up our tires for street riding, we realized the severity of the storm…and how far we were away from our destination on Lake Superior, across the entirety of Duluth. It was also at that point that Eric and I realized that this was going to turn into a classic Duluth pub crawl. What better places to warm up and fortify?
Our destiny was set. Grand Avenue, the main route through Duluth, is an extremely busy road, alternating between 35 and 55 mile-per-hour speed limits. In the summer, in good conditions, it is a little unnerving to ride on a bike. In a howling gale, it's downright terrifying—there were cars in the ditch, cars swerving and fishtailing into on-coming lanes, cars hopelessly stuck at intersections, all to the tune of blaring sirens.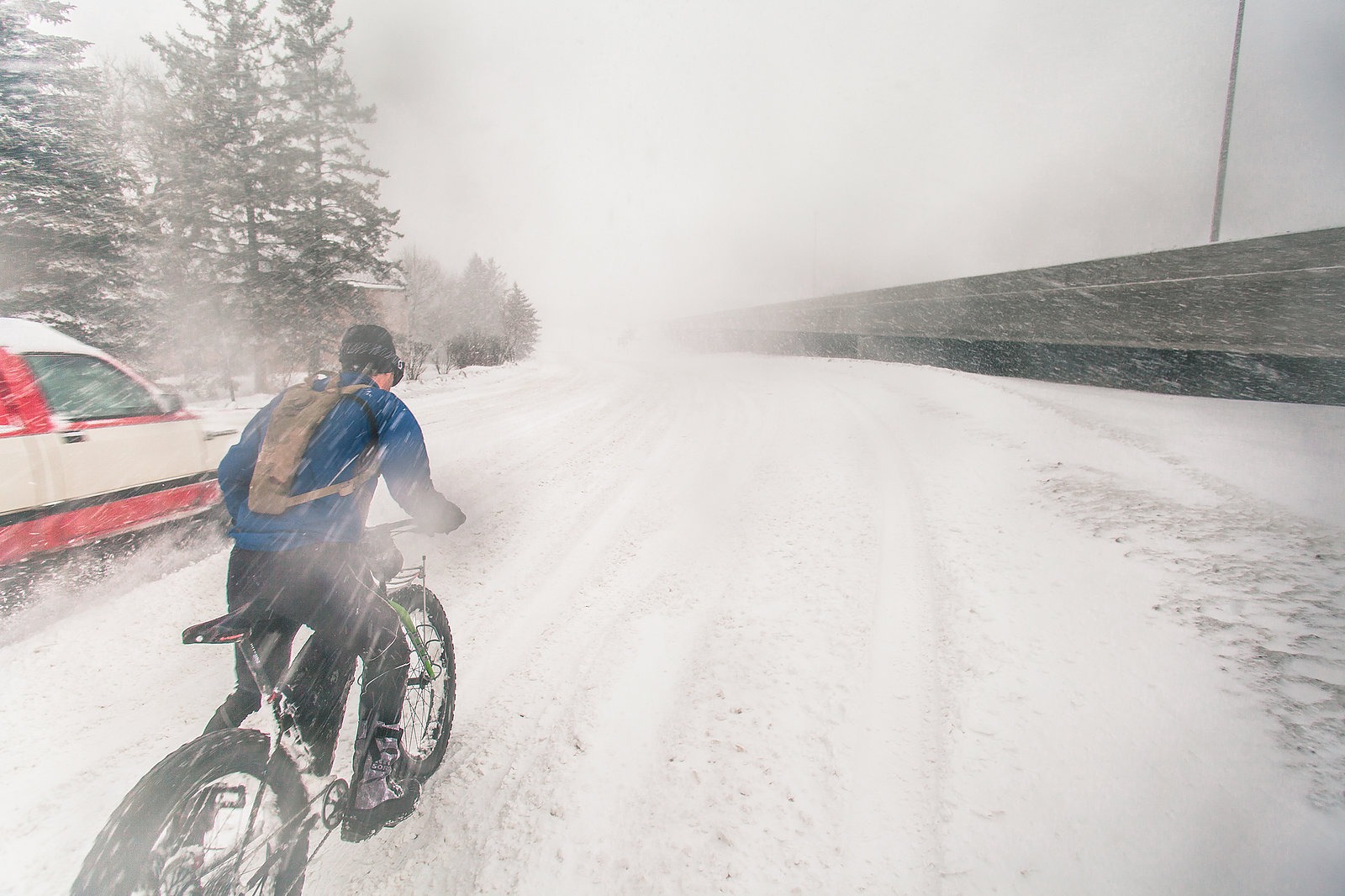 "Some folks took it the other way: a guy flipped us off from his buried Acura as we rolled past and others tossed obscenities at us like snowballs."
Although only a few miles separated us from our first destination, the Alpine Bar in the Gary neighborhood, it may have been on the moon. The wind was so strong it nearly stopped us in place, and the snow was piling up so fast that our tracks almost immediately disappeared. Both our gear and our persons were completely soaked through, and as we pulled into the Alpine the looks we received from the few locals bellied up to the bar were somewhere between pity, amusement and concern. We ordered a pizza and some early-morning bloody Marys—outside conditions were deteriorating by the minute, and the patron's most serious topic of discussion was whether the storm would close the bar. Eric and I's was strategy for any snow-plow encounters. It was easy to linger, and soon it was 2:30 p.m., we were three drinks in and had a long way to go. With friendly goodbyes, we finished our final bloodies and stumbled for the door.
If Grand Avenue had been scary before, now it was petrifying. The snow was now knee-to-thigh deep, forcing us off the shoulder into tire tracks or the occasional plowed lane. Cars were nearly clipping us the whole time, almost every one with a camera or phone hanging out a window. Some folks took it the other way: a guy flipped us off from his buried Acura as we rolled past and others tossed obscenities at us like snowballs. Occassionally one of us would spin out of control and go sprawling left or right. So when the plow came we had no time to react.
I heard the scraping noise before I saw the plow. Glancing under my arm, there was just a blade and huge boiling wave of snow. I had no time to move, just yell at Eric and brace for impact.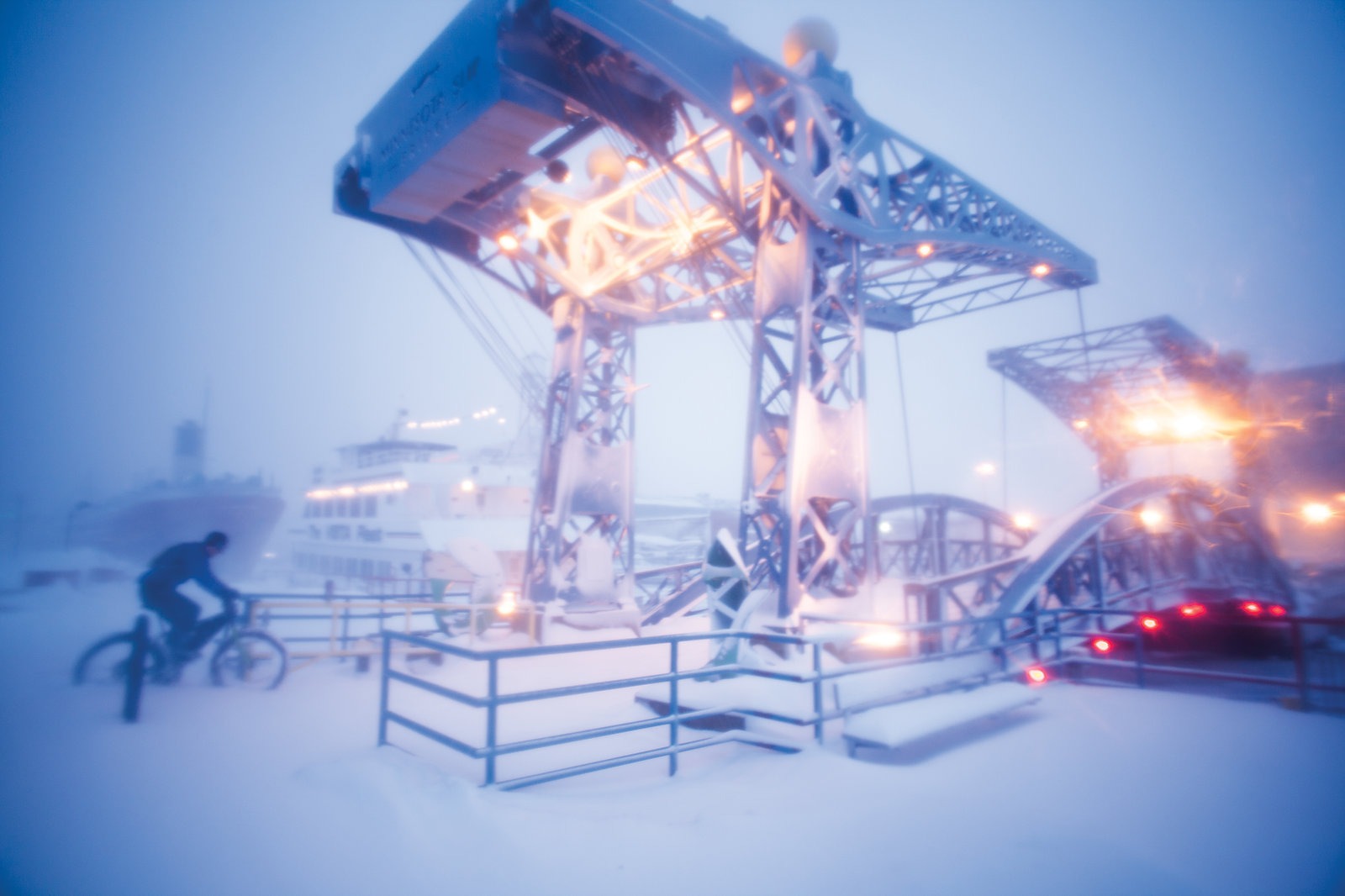 The first wave actually pushed me away from the plow (it felt strangely like surfing) and I even managed to keep my balance. Then the second wave from the following blade hit. As I flew into the deep, soft slush of the snowbank, I watched the plow catch up to Eric and I devilishly wondered if he could handle it better and ride away clean. He couldn't.
There was a certain irony to our situation—thanks to careful planning and route finding, we had managed to avoid dangerous riding conditions and keep away from any disasters in the backcountry. Now, on city streets and only miles from home, we were being tossed into a nightmare.
Wet, worn and with the weather at its worst, it only seemed fitting to keep drinking. We decided to finish the horror story off right, and made one last stop for warmth and fortification: the North Pole Bar. Multiple drinks later, we grudgingly continued on our way and headed towards Canal Park on the banks of Lake Superior. The park, usually a huge tourist destination, was totally deserted. We rode, pushed and struggled down the causeway to the Canal itself, a pair of crampons and ice axes away from a B-grade Hollywood climbing movie.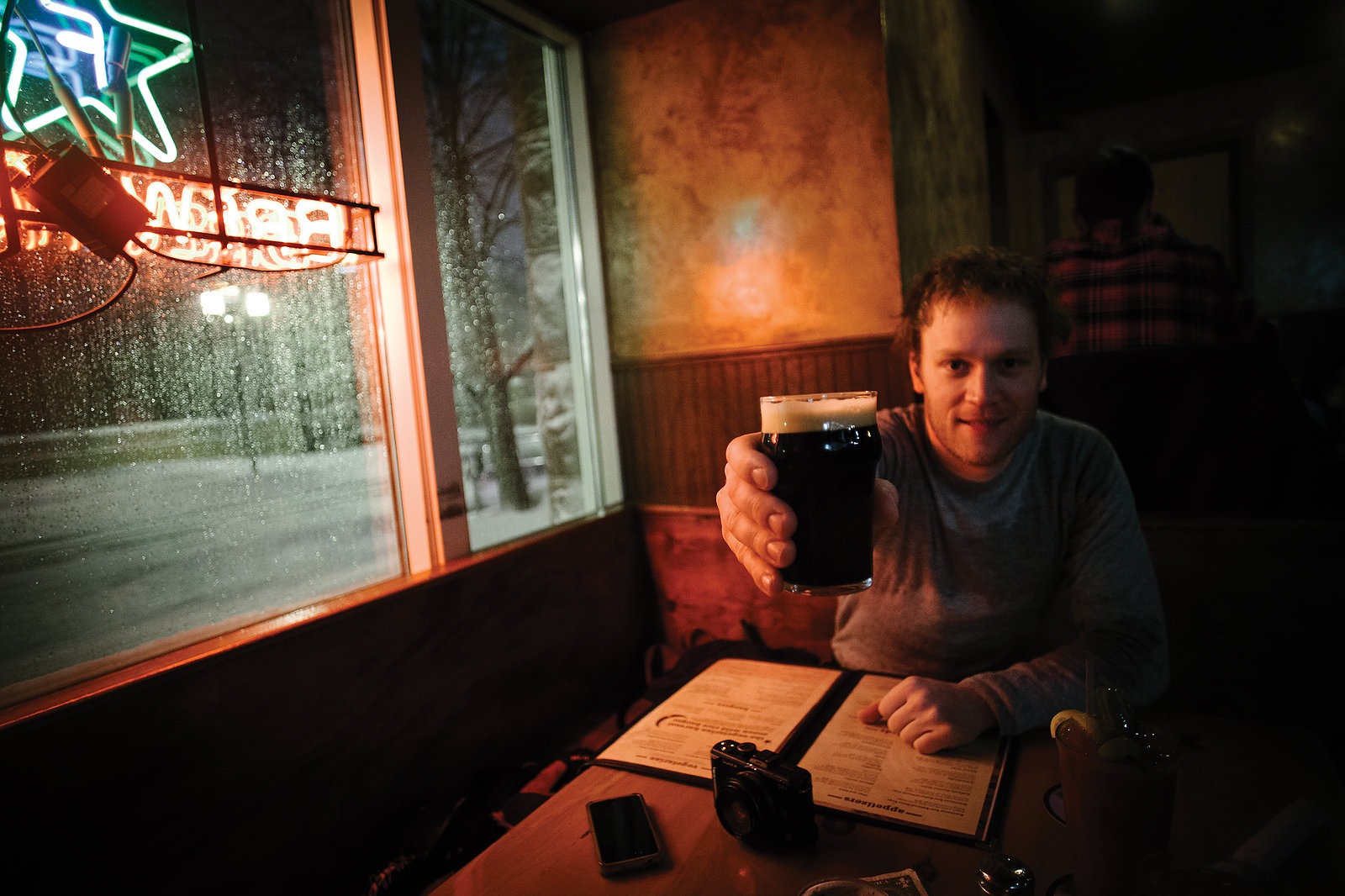 The final trudge to the lake was as surreal as it was anti-climactic—mainly because you could not actually see the lake, just a screaming ice-covered maw. Eric tried to lift his bike overhead in a symbol of victory but due to the frigid gale even that proved nearly impossible. However, in the style of the 120 miles behind us, he finally wrestled it up…and with that it was over. Three days of riding and pushing—the first bike crossing of the Savanna Portage, nearly half the length of the St. Louis River—and an urban assault on Duluth in the worst storm of the winter.
It's true—fat biking may find a niche in the warmer climes of the cycling world. But in the darkness of Minnesotan winters, those 120 somewhat-miserable miles represented more than just a victorious trip or a demonstration of fat bike capabilities; it represented an escape from cabin fever, an alternative to the dwindling snowfalls and countless, mindless Nordic laps. This year, my epiphany came in the form of sticky snow, frozen waterfalls, brushy portages, a near miss with a snowplow, and chubby two-wheeled freedom. It's not tacky single track or the perfect trout stream. Still, along the Midwest's thousands of miles of frozen, unexplored streams, for me winter will never be the same.