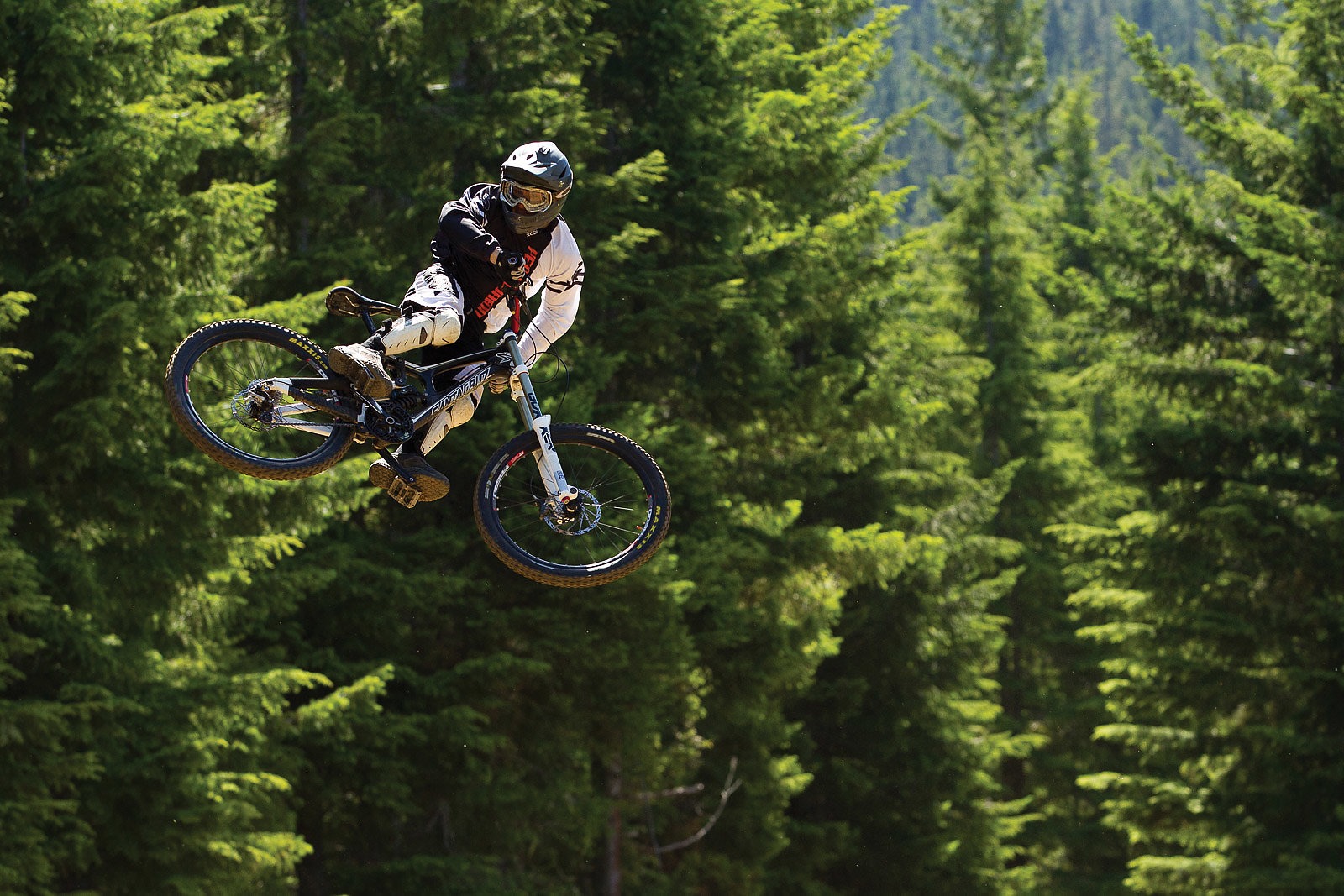 Impossible to Ignore - The Humble Beginnings of the Official Whip-Off World Championship
Beer-chugging, shirtless fans scream at bikers flying over their heads, kids dangle from every nearby tree, and more than a few people hold cardboard signs plastered with derogatory "encouragement."
The scene is loose—in the best sense possible—and it seems impossible such an event could ever be dubbed "official."
But it is. And not only that, it's one of the highlights of the Crankworx world tour in Whistler, the world's largest mountain biking event. This is the Official Whip-Off World Championship, and the madness means it is just another normal year.
Its wild nature aside, the event's origins are humble—it spawned from simply another crazy idea a few mountain bikers had: to hold a best trick contest in the middle of a downhill race.
The whip-offs' origins were less unofficial, more impromptu. In 2003, at a NORBA race in Durango, CO, Sven Martin had an idea to better utilize one of the few jumps on the course. He was sitting out with a broken wrist at the time, and this was somewhere in the middle of his waning race career and budding photography career.
"There was a kicker jump three-quarters of the way down the course," Sven says. "It was the only jump you could get stylish off on the track, so we decided for the pro qualifier we'd have people try and throw something mid-race run. It didn't affect points, [it was] just for the seeding run, but the riders would judge best trick."
So Sven hustled up some worthwhile prizes from sponsors, along with a little cash, and it was on (although still very much unofficial). Andrew Neethling won it with a heel clicker—he was running SPD shoes.
The inaugural Crankworx whip-off wouldn't happen until 2011. That year, the infamous Crabapple hits were resurrected, turned from sketchy singletrack takeoffs and rock-strewn landings to manicured tables the width of a mini-excavator. When Crankworx rolled around that summer, 10-person "super trains" of back-to-back riders quickly became the norm on these freshly minted jumps. Sven saw the same opportunity he'd seen in Durango, but even better. This spontaneous gathering provided a platform for an event that was not only a good time, but was also uniquely inclusive.
"The sport became very segregated as each [discipline] became so professional. You almost had to be a specialist," Sven says. "Just the bringing together of all the different disciplines is something that you can't do in any other event in mountain biking,"
Vital MTB and SRAM ponied up prize money, Sven found a day that would suit everyone and soon word spread via social media. For fans, it was another good time. For riders, it was a vacation.
"It's kind of like holiday time for the pros," Sven says. "It's the only time in the schedule when all the slopestylers, the dirt jumpers, the freeriders and the downhillers are all at the same place."
It's true; rarely does a downhill racer like Brendan Fairclough go head-to-head with a stylemaster like Ryan "R-Dog" Howard. Or an up-and-coming, 14-year-old grom like Finn Iles compete—and win—against a legend like Graham Agassiz. After that first year, Crankworx organizers couldn't ignore the energy that surrounded the event. In 2012, it became the (Un)Official Whip Off World Championships, and by 2013 the "(Un)" was dropped, making the event as official and bona fide as could be, Tigger costumes, shirtless spectators and all.
Five years since that first gathering on Crabapple Hits, it's inevitable the event would adapt. But all things considered, not much has changed. There may be emcees, billboard-esque sponsor banners and a perimeter of fencing, but the vibe is still spontaneous, with riders feeding off each other and the energy of the the crowd, which continues to grow every year. And perhaps the most important element the event has stayed true to every year is its all-around looseness.
"We kind of give them some vague rules when it gets down to the end, try to space themselves out so we can remember and judge their whips, but, in the end, if they just do trains, we don't care," Sven says. "It's basically whatever [the riders] want to do, which is how it should be."