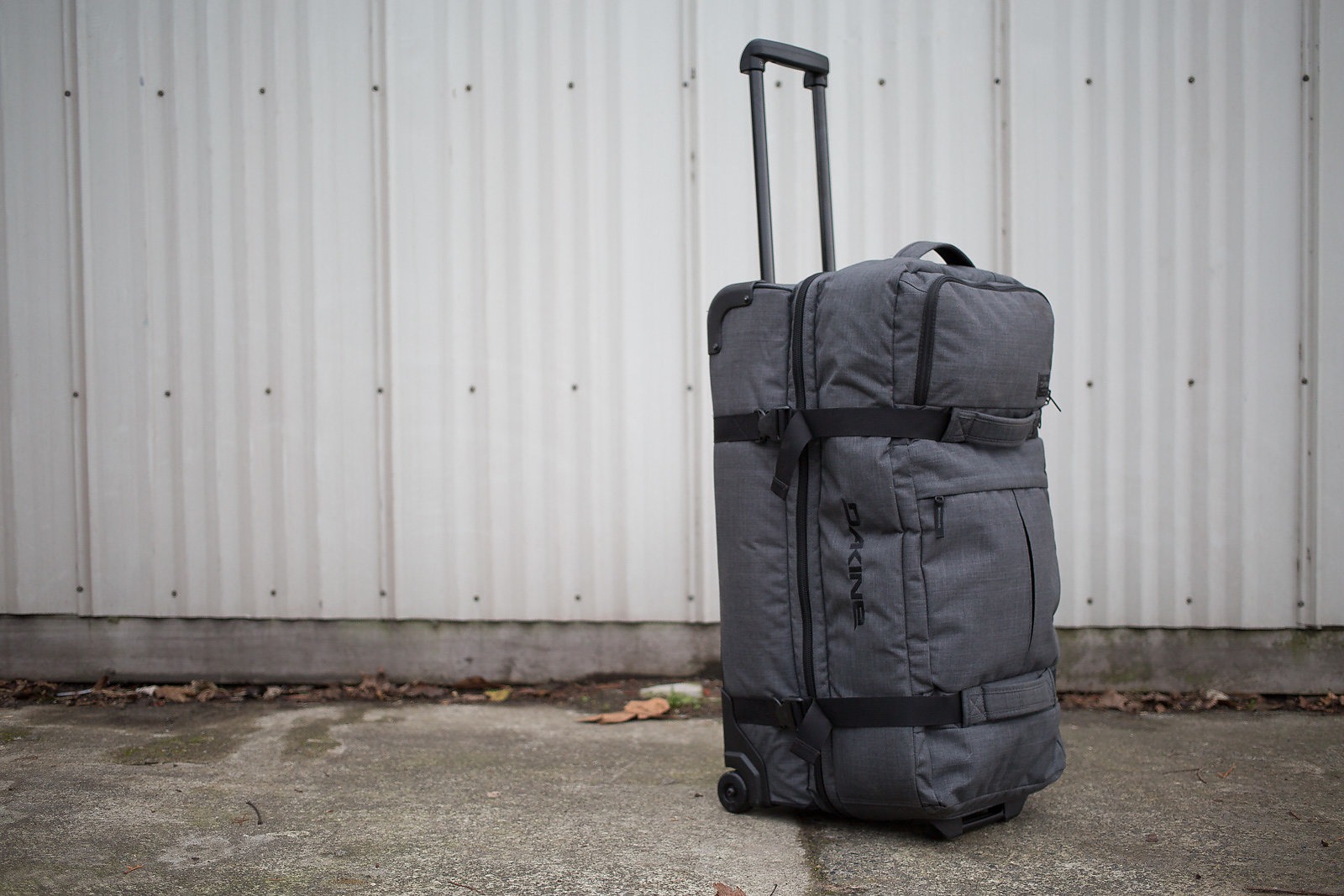 Dakine Split Roller Luggage Review
I can be a neat-freak when it comes to packing. Maybe even bordering neurotic.
I guess I just figure that with all the unknowns of traveling and exploring new places, knowing exactly where all your own shit is can really make a difference in the experience. This is something I've learned the hard way, and it's definitely changed my outlook on being organized and prepared—even with something that seems as trivial as how you pack your clothes.
When it comes to bags, whether it's packs, suitcases, duffels or beyond, Dakine has always had a good sense of function. Keeping things together and organized is half the battle when traveling, and between the layout and functionality of Dakine's Split Roller, it's basically done for you.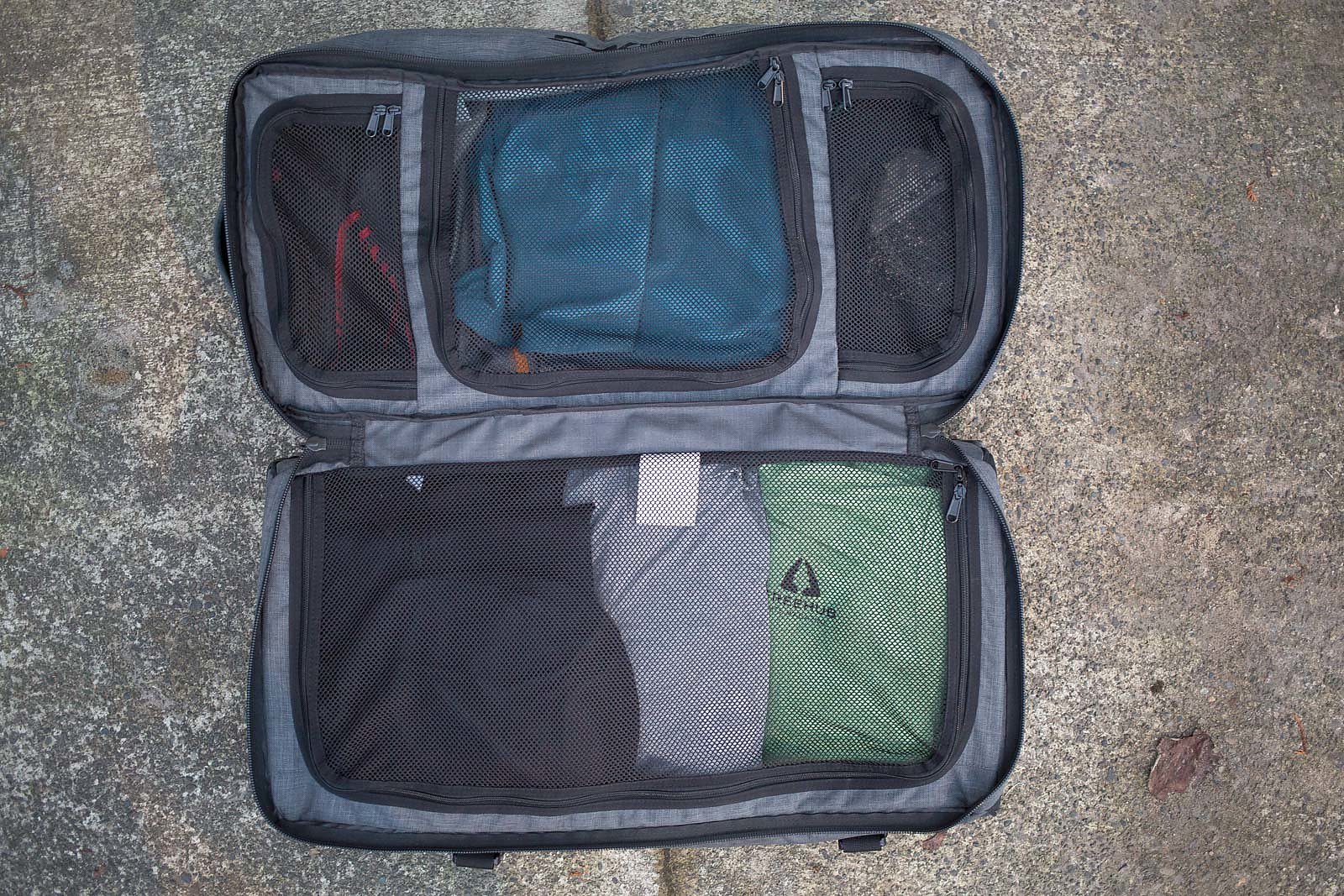 The Split Roller opens like a book, with the zipper wrapping three sides in the middle of the bag. Rather than giving you the whole depth of the bag to dig through like other suitcases do, this opening design gives you two sections, both half the volume and depth of the entire bag. I found it really easy to designate the half of the bag that is one section to larger items such as jackets, layers, pants, riding gear… anything that has considerable bulk.
On the other half of the bag, there are three sections, two smaller side compartments and one larger center one. The smaller ones are perfect for cramming in sox and underwear or they can easily fit a pair of shoes. The middle one can house anything form t-shirts to a large down jacket, plus some. What's nice is that it really doesn't matter what you put where, there is essentially one large, one medium and two small compartments. All of these compartments are zipped closed with a mesh cover, so you can see what's in every section, and things aren't tossed around during transit.
For some one who haphazardly throws everything in a bag and calls it good, this will work equally as well as it does some one like me who folds everything meticulously. It's a simple layout that lets everyone decide how they want to use it.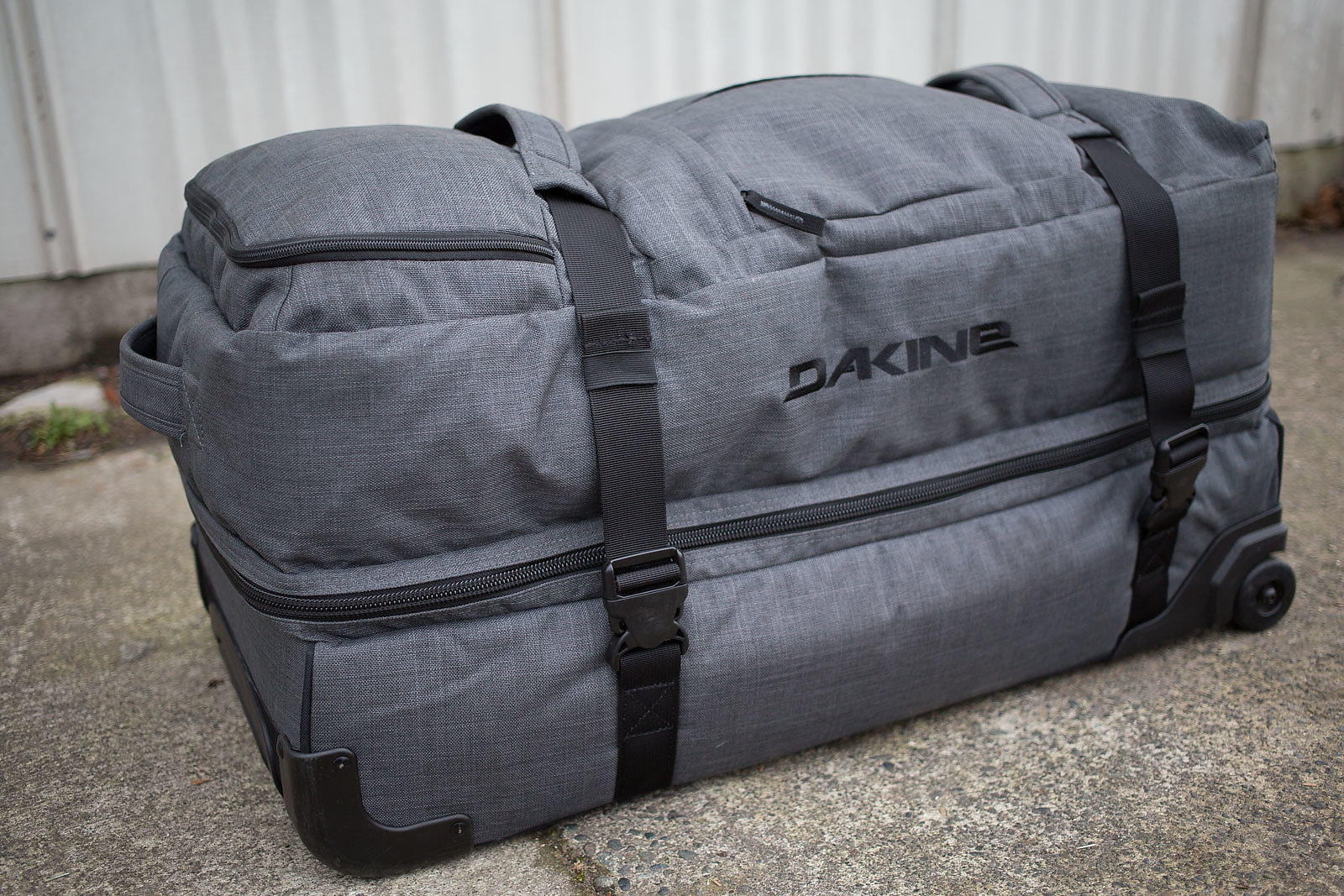 There are two smaller pockets on the top of the Split Roller, the larger of which can handle anything from muddy shoes to electronic chargers that you want easy access to. The smaller one seems to be aimed at flatter objects, as there's not a ton of volume, something like non-essential travel documents or some reading material—maybe a beautiful mountain biking magazine… just sayin'.
As for the build of the Split Roller, the designers obviously had durability in mind. The bag is made of heavy-duty fabric and has liners through out all inside sections. The bottom of the bag is hard plastic and all four corners have a hard shell around them. The bag's two wheels are made from urethane, and can be replaced if any baggage claims do happen to cause some damage.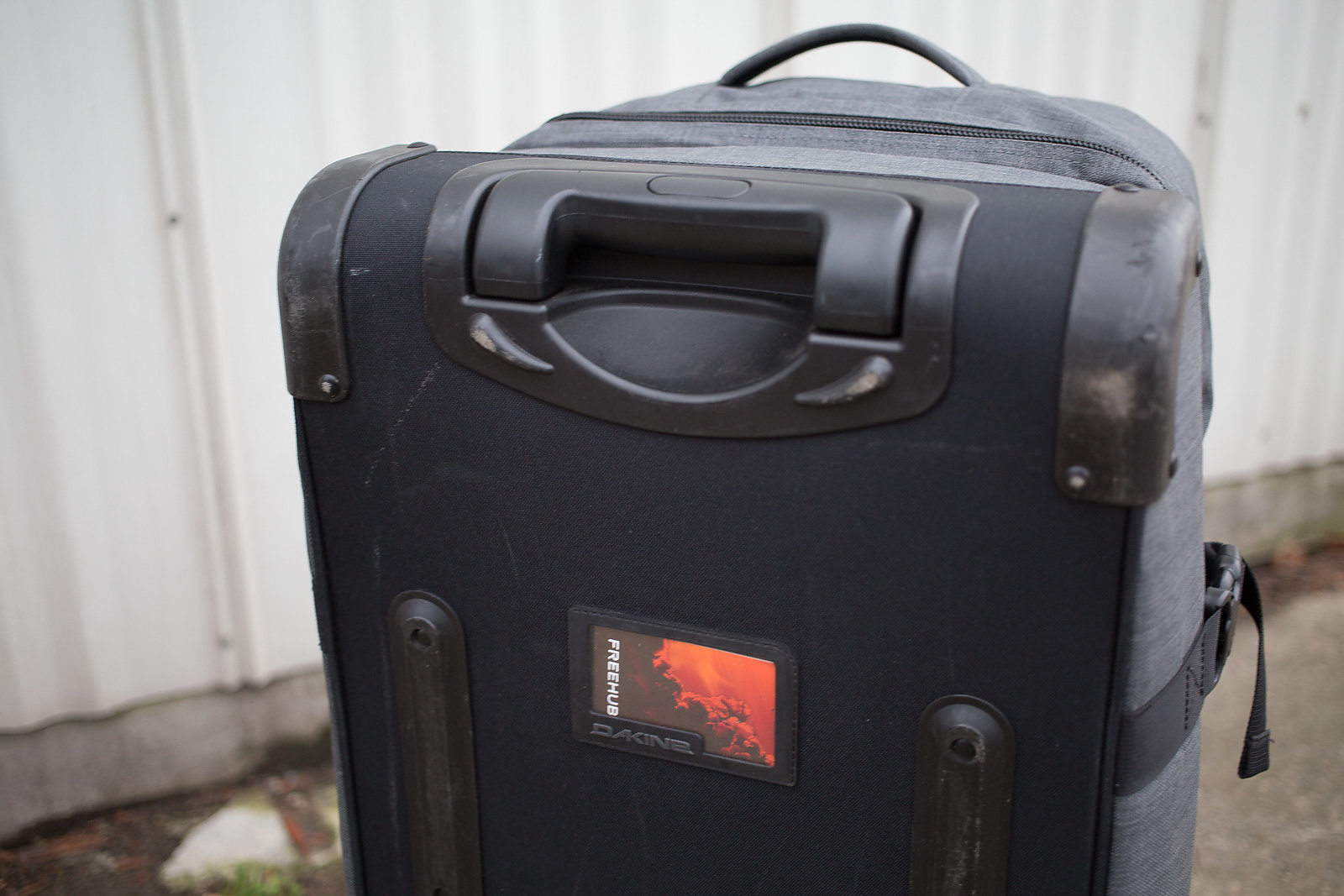 The main compartment zippers on the Split Roller are durable #10 YKK locking zips. These ensure the safety of everything inside in case of less-thank-likely blowouts and theft. There are also two compression straps on the outside of the bag that help reduce its size and also act as a secondary safety measurement for keeping the two halves together. This thing also has handles for days. Two on the top and one on three of the four sides, as well as a telescoping handle for pulling it behind you. You can pick it up from just about any where.
As always, the needs of your luggage is depending on where you're going and what you're hauling. I've found that the 65L can be a one-and-done packing strategy for a long weekend, or it can accompany other bags as part of an arsenal for a long trip. Dakine also makes a 100L version of the bag if it suits your style of traveling better. After many miles traveled with the Split Roller in tow, I can easily say it has performed it's intended duties with elegance, and exceeded expectations in the durability category. If any trip requires more than a minimal backpack, the Split Roller is the first thing I start to meticulously pack my things into.
MSRP: 65L - $200
    100L - $210
See more details at www.dakine.com