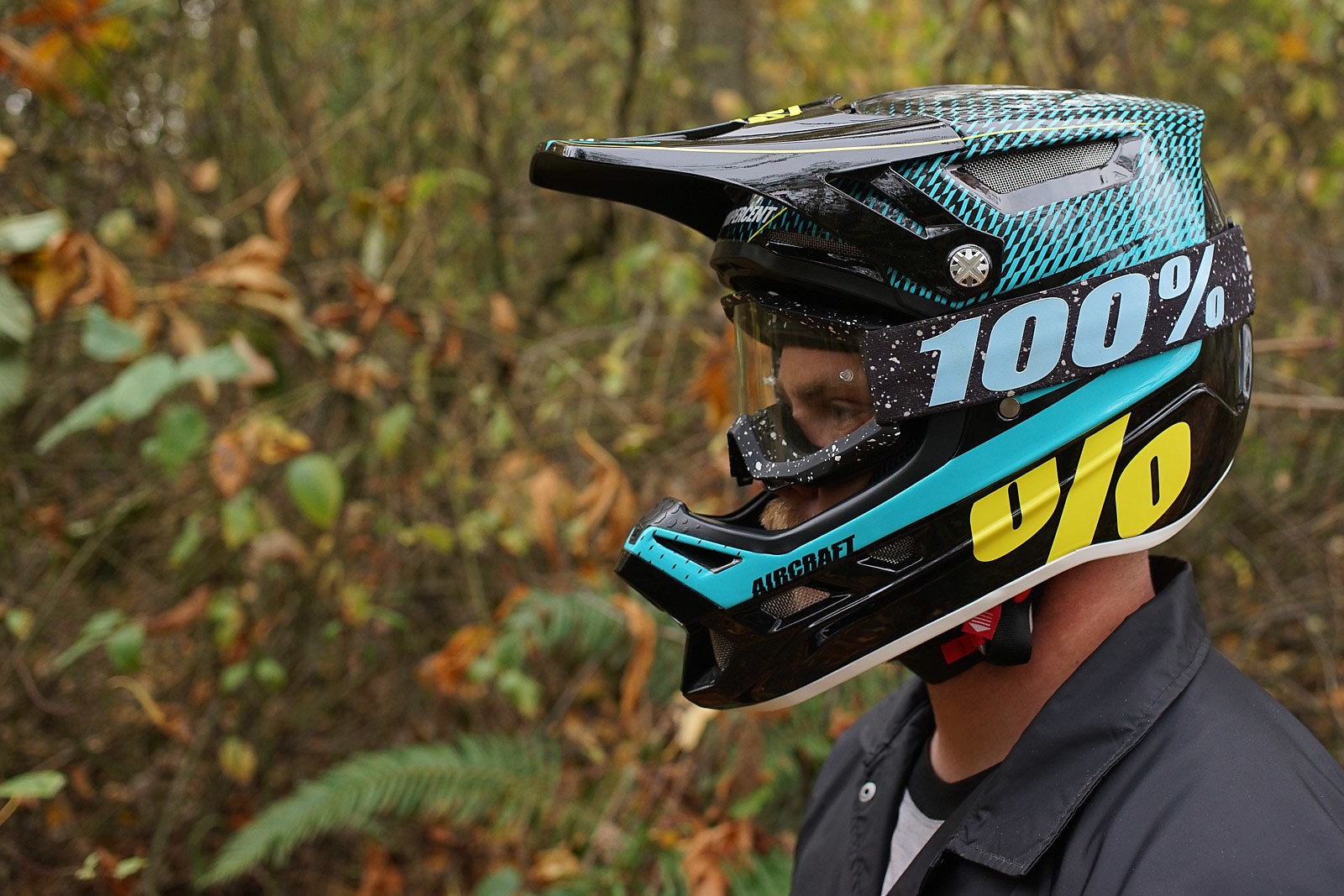 100% Aircraft Helmet Review
One of the most important pieces we as mountain bikers lace up before a ride is, of course, the helmet.
It provides confidence and, in a pinch (or crash), keeps our beloved brains protected and healthy. While safety standards ensure all consumers are guaranteed a certain level of protection, not all helmets are created equal—which is why I'm here today to preach about 100%'s Aircraft helmet.
The Aircraft is what 100% lists as their premier downhill helmet and it certainly shows. The Aircraft utilizes the best in materials, featuring an aerospace-grade carbon/Kevlar shell to help protect your noggin in every head-to-ground scenario. Not satisfied with simply using the highest quality shell, 100% has also added MIPS technology to the Aircraft to help when rotational forces are present in a crash—which is a lot of the time in mountain biking. When it comes to protecting my brain, every technology possible is certainly welcome in any helmet I don on my dome.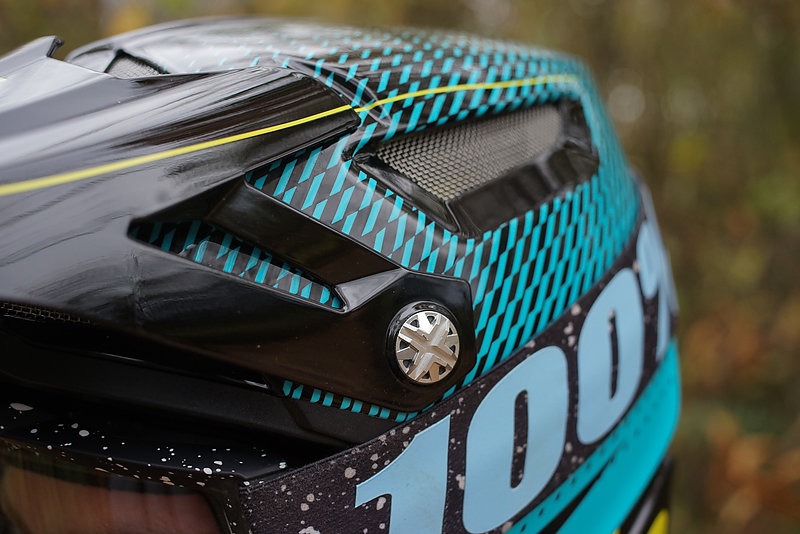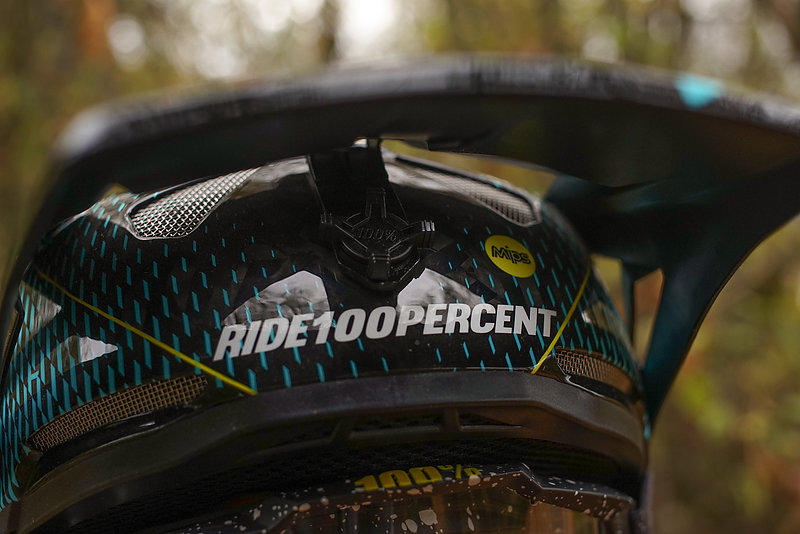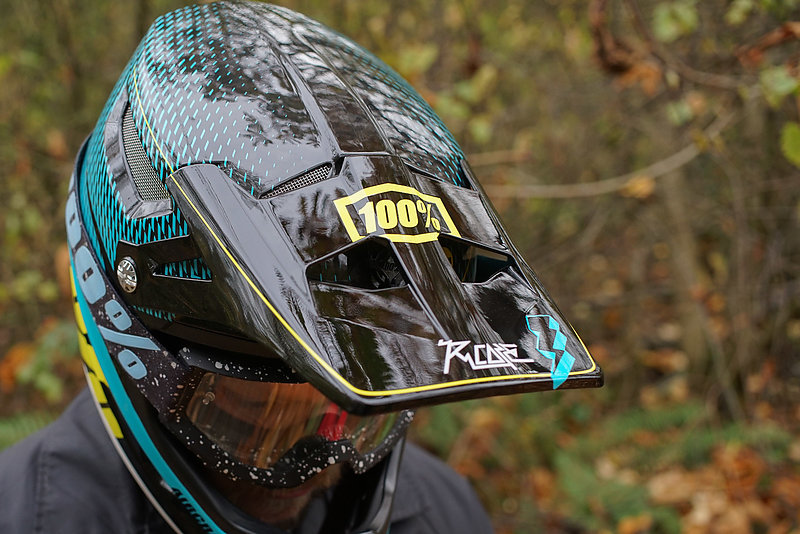 100% wasn't content to just stop there when considering how they want a helmet to perform in the event of a crash. Not only did they design the helmet to work well during the crash, they also thought ahead to the moments after, designing emergency release cheek pads and an integrated release system for quick, safe removal of the helmet after a crash. Having been involved in rides where friends took some nasty diggers this summer, I can appreciate any tech that makes helping a downed rider easier, so I appreciated the holistic approach 100% took when thinking through the design of this helmet and its applications.
Helmets have one job to do—protect your head—but if the helmet fits poorly, all the technology in the world isn't going to do much good. Fortunately for me, I found the 100% to provide a snug, secure fit without making me feel claustrophobic or feel like my vision was being impeded. The 25 air vents are integrated well into the Aircraft and allowed me to wear the helmet for long periods of time without overheating or fogging up my goggles.
Compared to previous full-face helmets I've used, the Aircraft begins to disappear after you put it on, as opposed to most full faces that I can't wait to pull off at the bottom of a run. The carbon/Kevlar shell also keeps the weight of the helmet to a scant 1075 grams, which only contributes to the overall comfort of the helmet.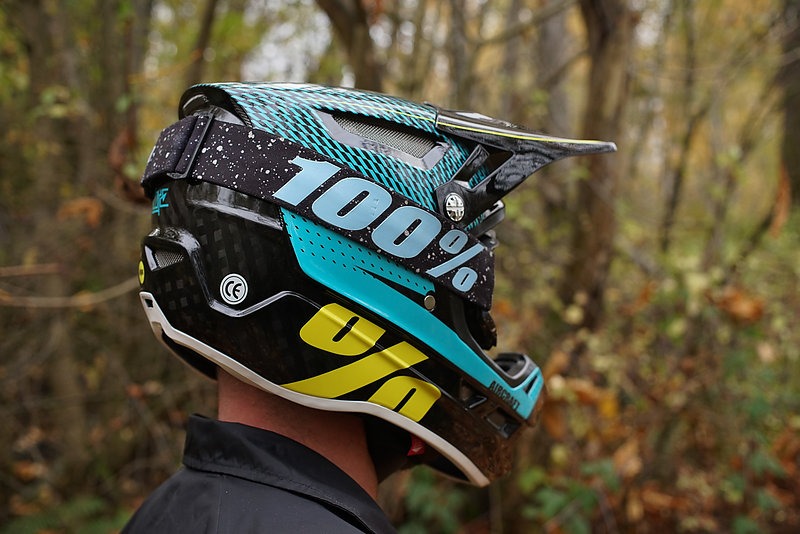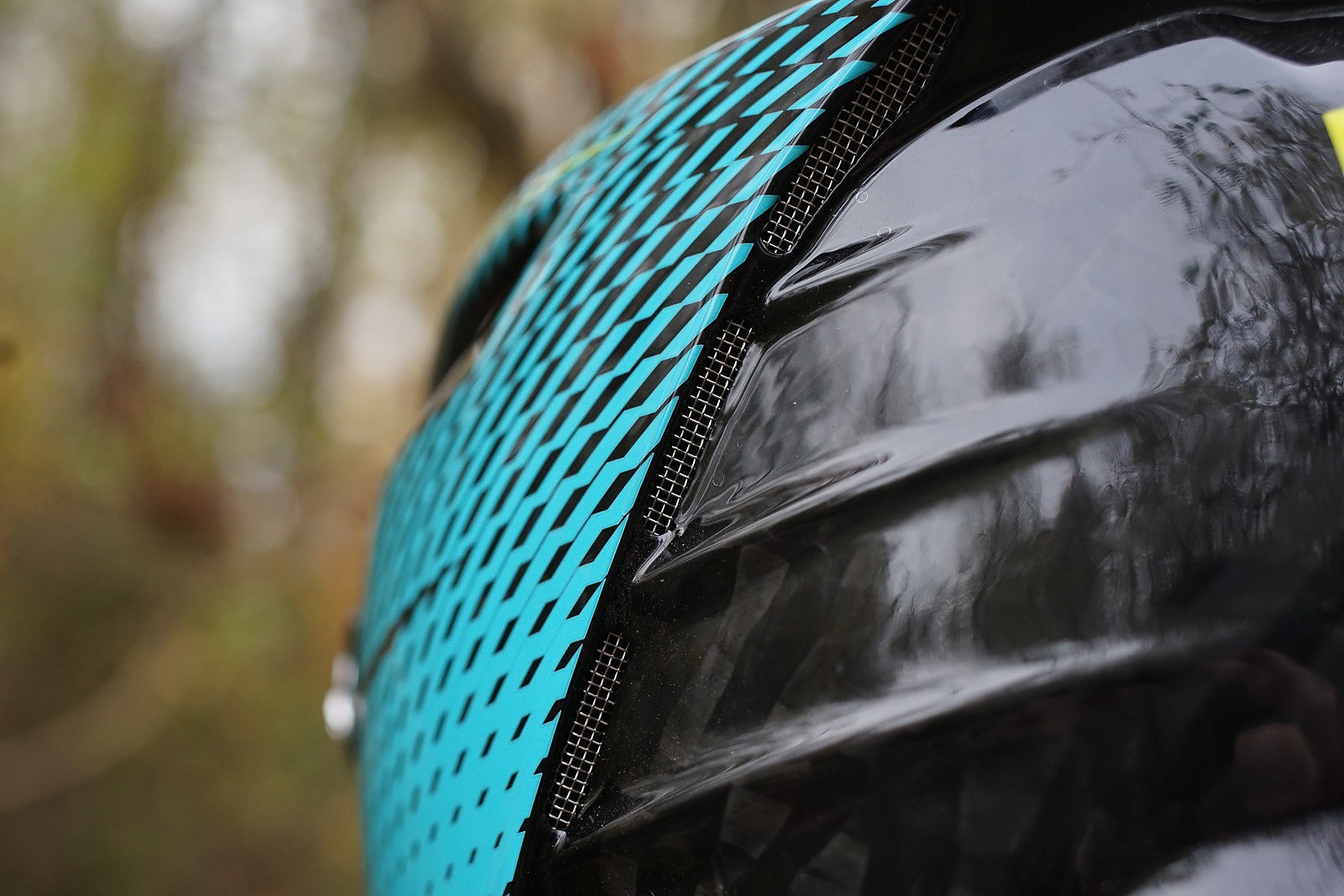 As with any helmet of this level you can also expect to find the more standard features of full face helmets, such as an adjustable visor and an antibacterial comfort liner that can be removed for washing. The helmet also utilizes a titanium D-ring buckle to keep the weight down and provide a secure fit. The helmet also comes in two shell sizes with three EPS sizes to allow you to find a helmet that achieves an optimal fit for your head.
I've spent the summer riding in my Aircraft helmet—technically two, but more on that in a second—and my overall impressions have been exceedingly positive. I used to ride a half lid for almost everything except the bike park, but the comfort and confidence provided by the Aircraft has me reaching for it more regularly on my rides that don't require a lot of pedaling, or use a truck for the uphill. At $450, the Aircraft is well in-line with other carbon full face helmets, but considering some of how gnarly mountain biking is these days, it is silly to skimp on a helmet.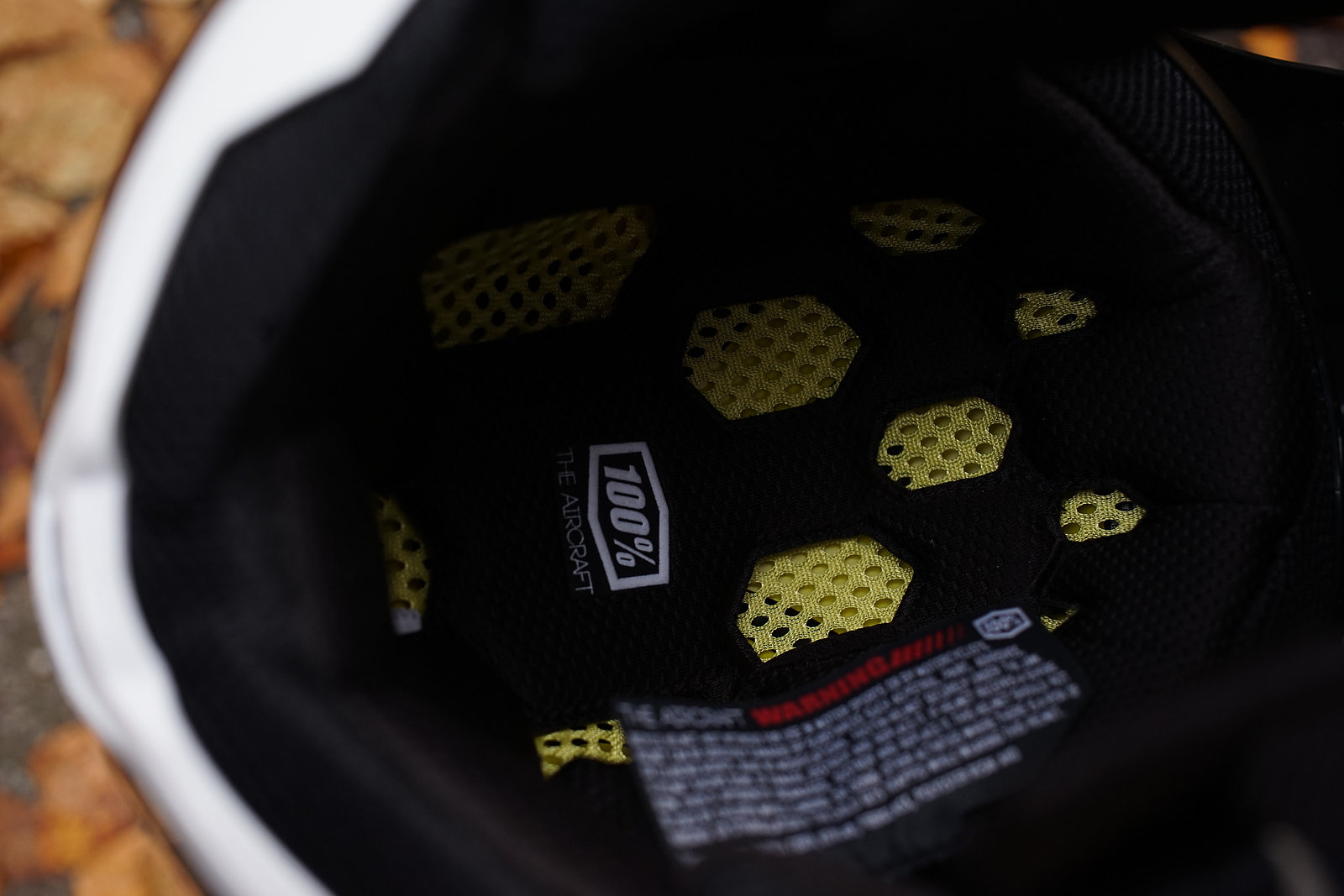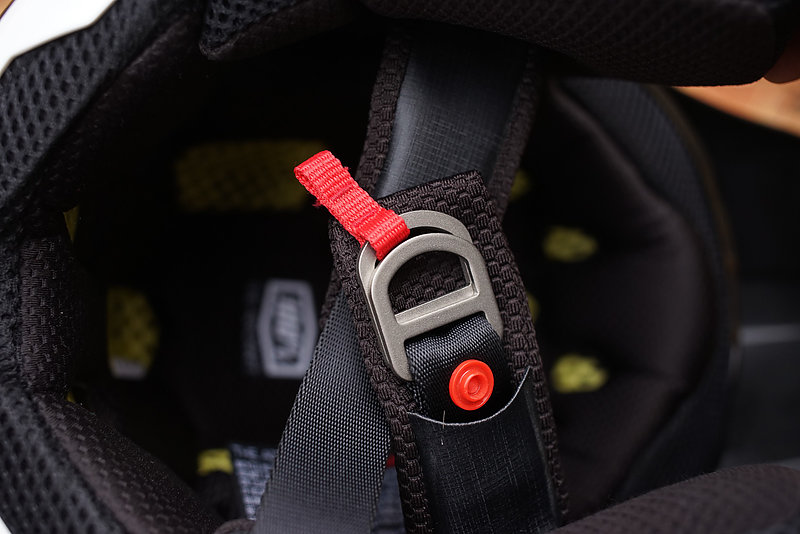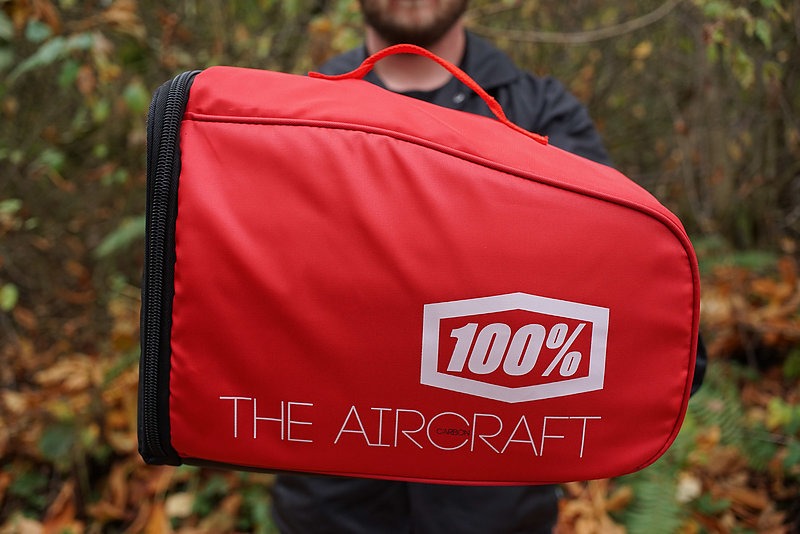 I, however, "decided" to put the Aircraft through its paces on a heli-biking excursion this summer. Dropping in to a long, steep chute of loose rock off a favorite BC peak, things got a little spicy and I ended up packing in my front end and ejecting over the bars. After successfully self-arresting myself, primarily utilizing my right shoulder and head, I popped up to the ghost-white faces of my buddies. The looks on their faces made me quickly start patting my body down for broken bones or major bleeds…nothing. Whew.
The tumble was one of the nastier crashes I've had, especially when considering the speed and location of it. I walked away from the crash and was even able to ride the rest of the trail down, a feat I attest to some serious luck and the protection of the Aircraft helmet.
Upon a closer look once at the bottom, I noticed the Aircraft had a decent crack in it, and I immediately knew I would have been much more shaken up in my previous helmet (if not badly concussed). The fact that I was upright, smiling and coherent after such a nasty crash was more than enough to convince me of Aircraft's ability to withstand serious impact—I'll forever be a fan.
100% Aircraft
MSRP: $450
See more at www.ride100percent.com