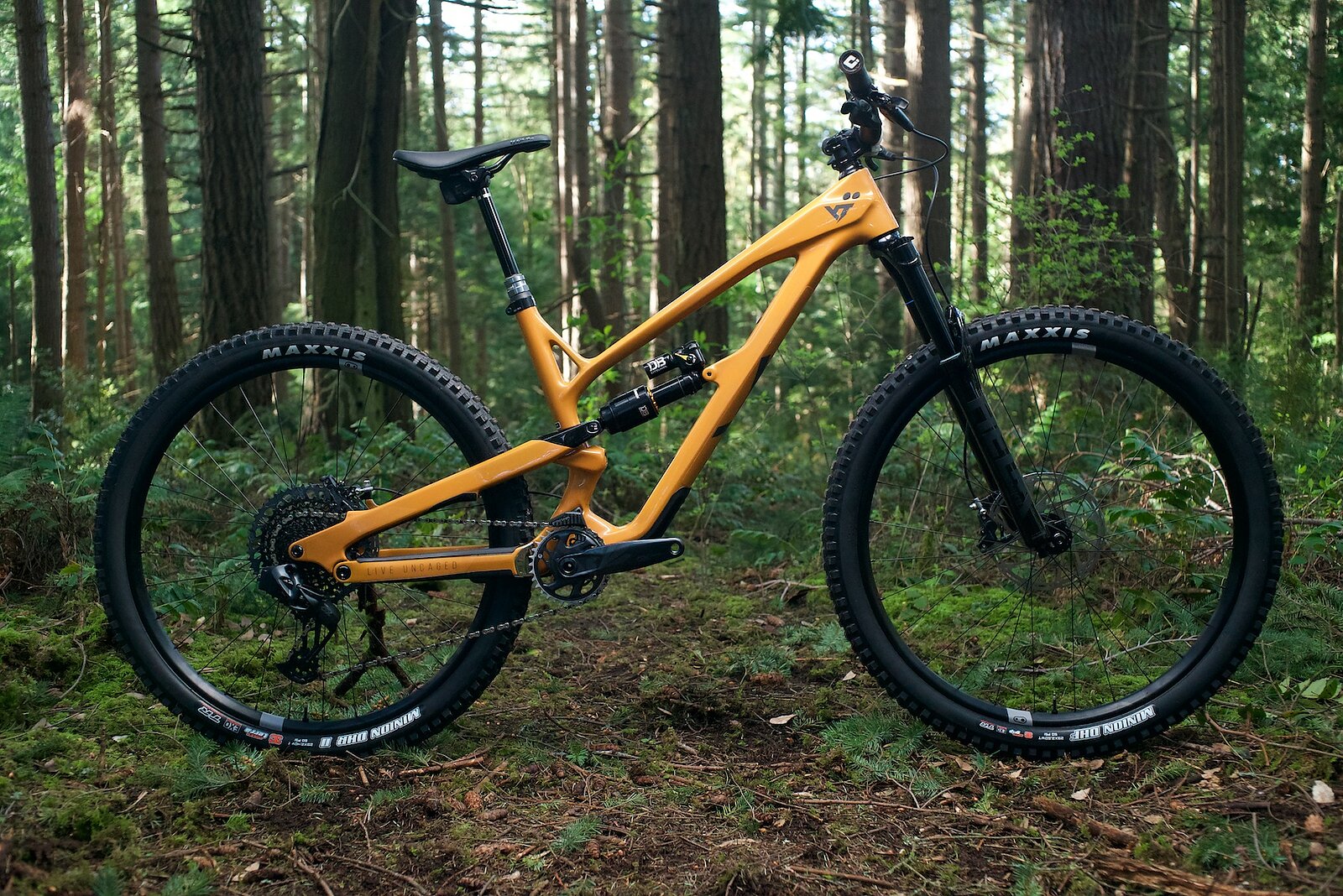 YT Jeffsy Uncaged 8 Bike Review
Sitting squarely in the modern mid-travel trail bike segment is the new YT Jeffsy Uncaged 8. With 150 millimeters of travel front and rear, this iteration of the Jeffsy line provides a firm suspension platform to pump against while still being capable enough to eat up trail chunk. Every time I took out this little trail bike I found myself smiling as I blasted out of the tight, supported corners synonymous with our local mountain here in Bellingham, Washington.
The Jeffsy feels like it was born to climb. With a balanced amount of travel, front and rear, the bike doesn't get in the way of maneuvering up steep singletrack. In fact, I found the climbing suspension performance of the Jeffsy to be one of the best Horst-link designs I've ridden in recent memory. In and out of the saddle the Jeffsy gave a rock-solid pedal platform and didn't dive into its travel when I mashed on the pedals. This is particularly impressive when you consider how active the bike's rear suspension is. Further, with the 435-millimeter chainstays and steep 77-degree effective seat tube angle (in the low setting used for testing), the Jeffsy stayed balanced while climbing the steepest trails and remained agile. When you add in the relatively sharp 66-degree headtube angle, the Jeffsy certainly feels like it was bred to devour long backcountry climbs.
Geometry & Specs:
Wheel Size: 29"
Rear Travel: 150mm
Fork: 150mm
Wheelbase: 1218mm
Chainstay: 435mm
Reach: 470mm
Head Tube Angle: 66°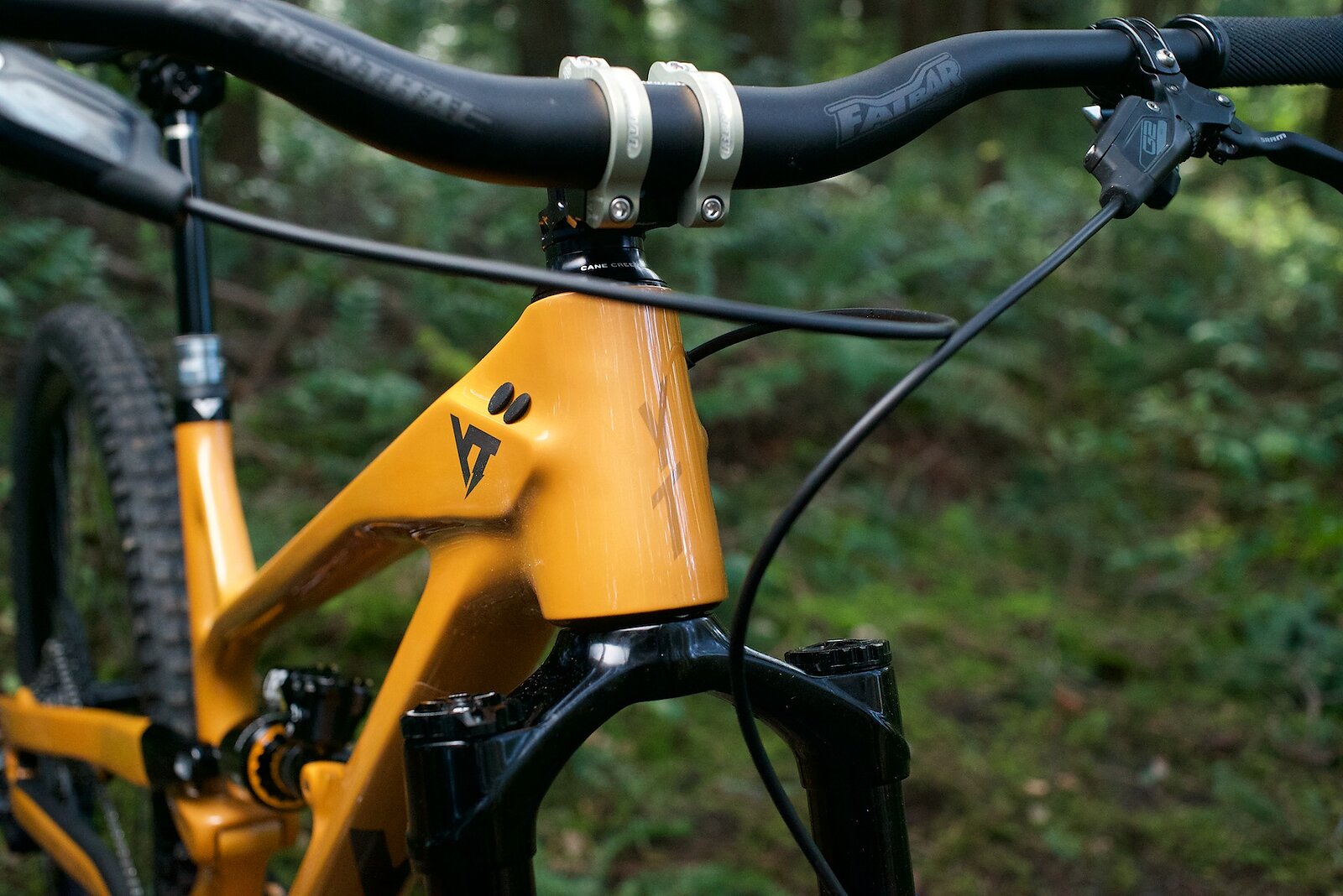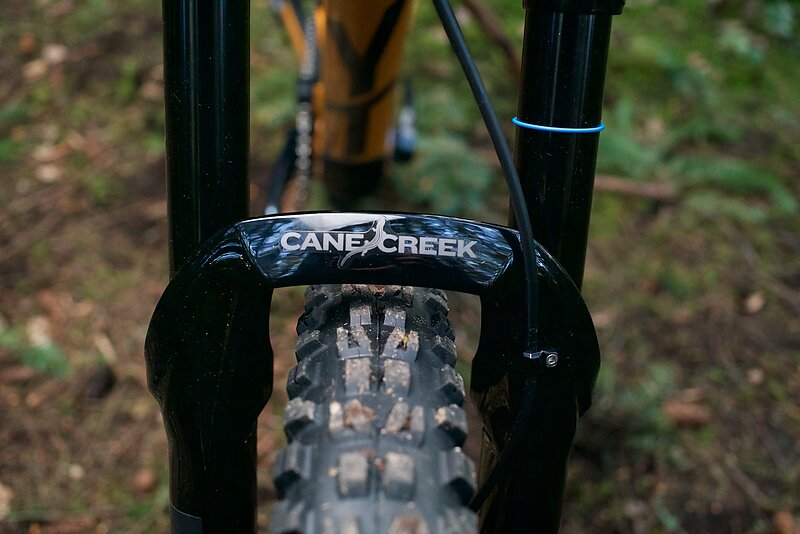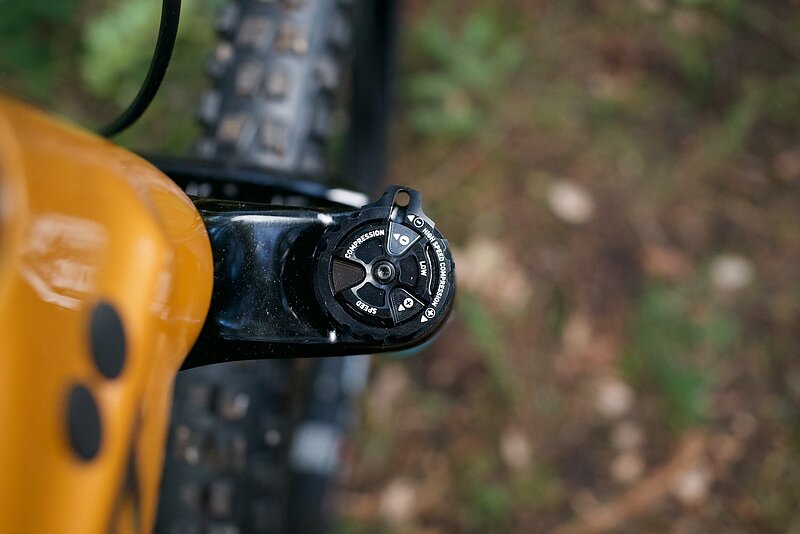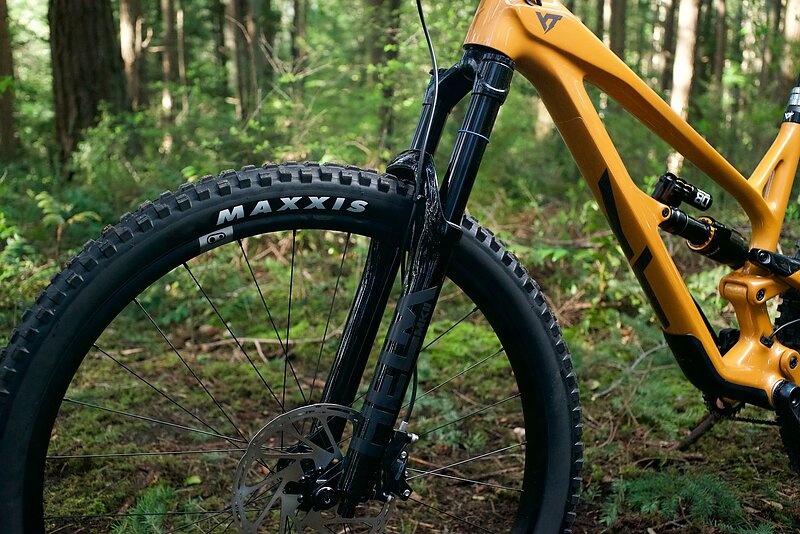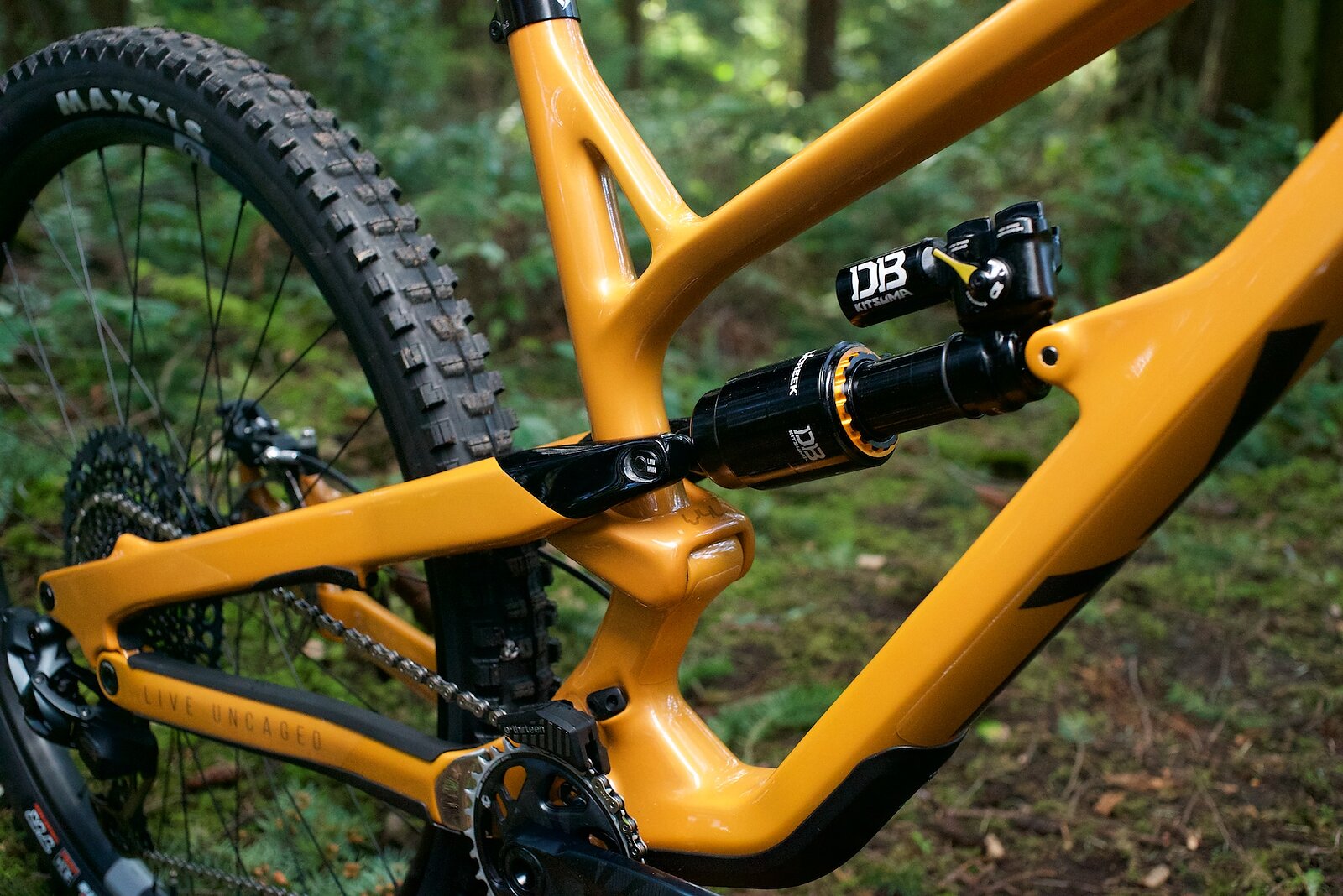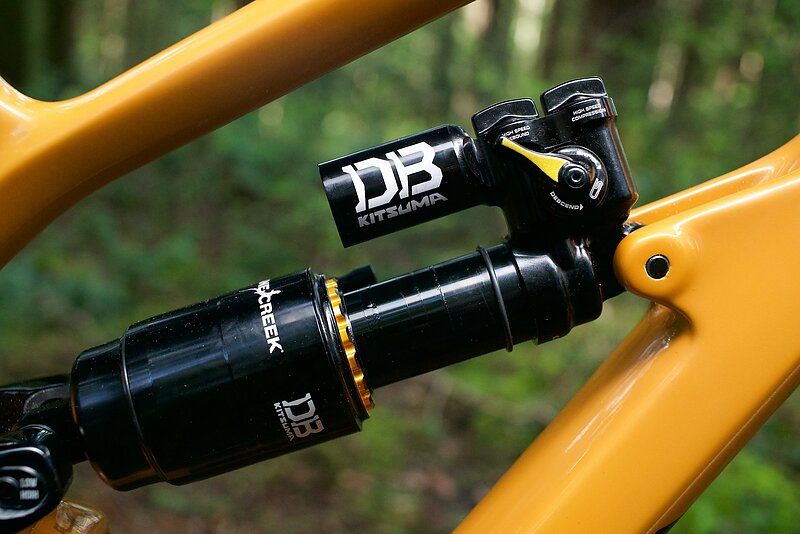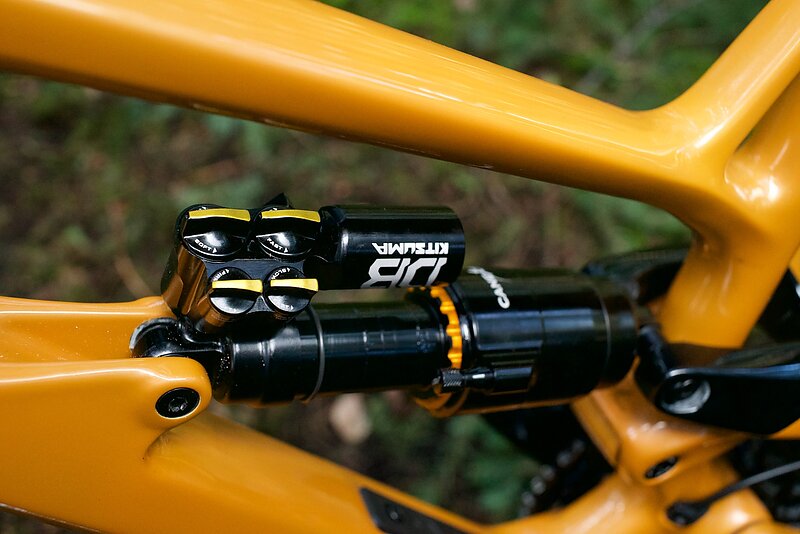 To descend on the Jeffsy is to experience a unique blend of characteristics—much like sipping a cup of fine espresso. On paper, the bike's geometry could be mistaken for producing a twitchy ride. But numbers can be deceiving. The Jeffsy holds a razor-sharp line through rough sections of trail and absolutely slices through corners. With its tight chainstays and relatively steep headtube angle, it seemed to slap through turns with telepathic ease. The linkage is poppy and super active and the Cane Creek fork and shock seemed to beg to be ridden on full attack mode; no trail gap or corner was worth holding back for. On ultra-steep terrain more suited for a full enduro or even downhill bike, the Jeffsy does tend to hit its limit. This is a rig whose sweet spot exists on pumpy, undulating trails, but its deep travel reserves allow it to let loose on tracks that edge squarely into the black diamond tech realm.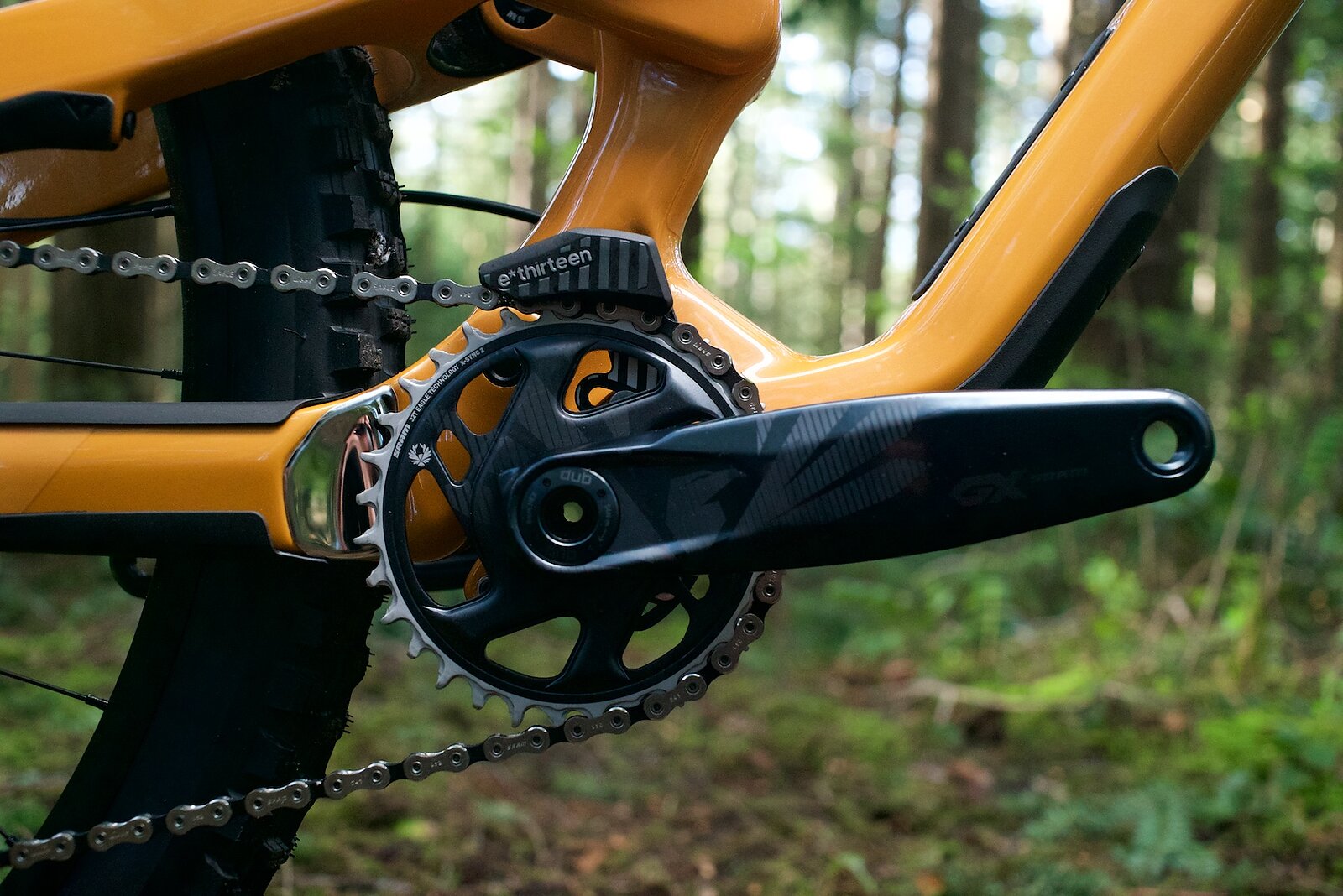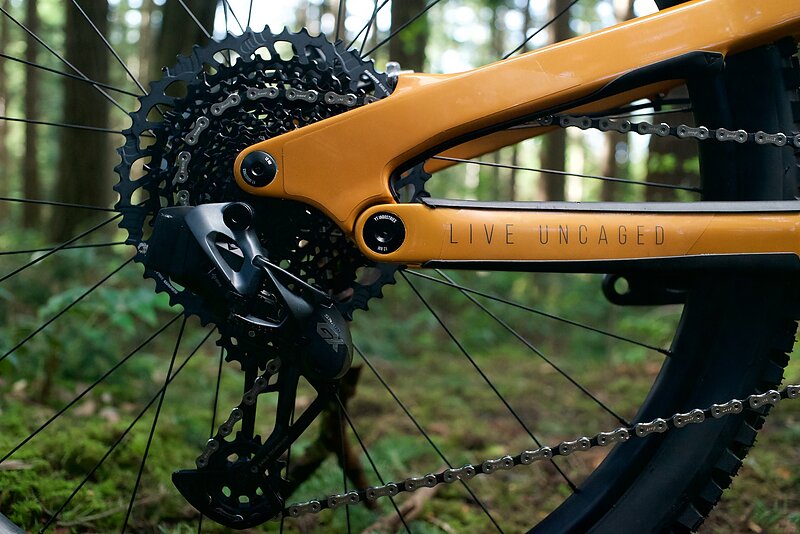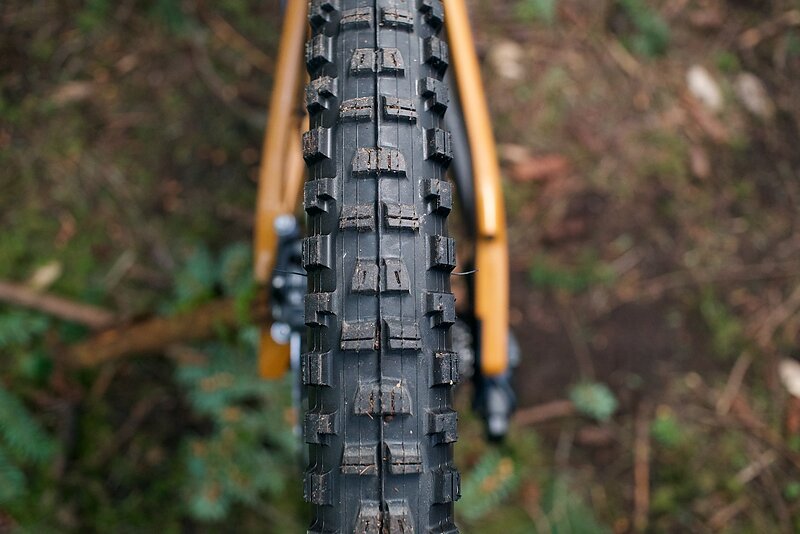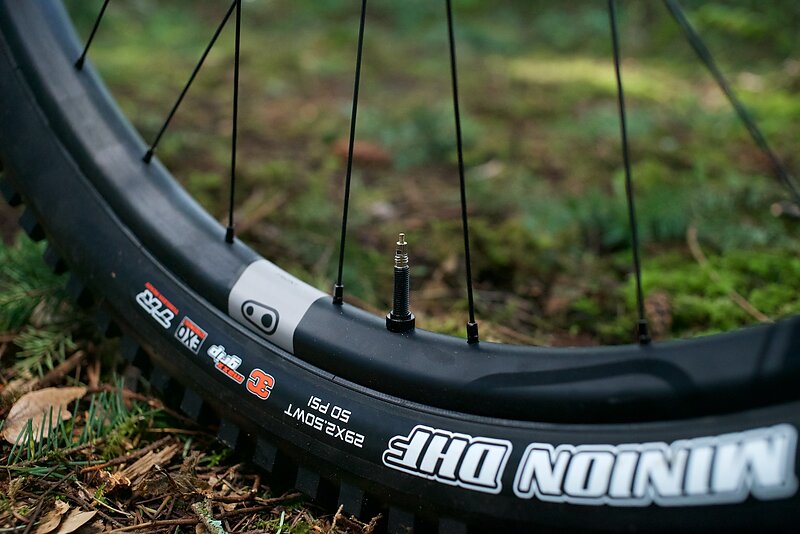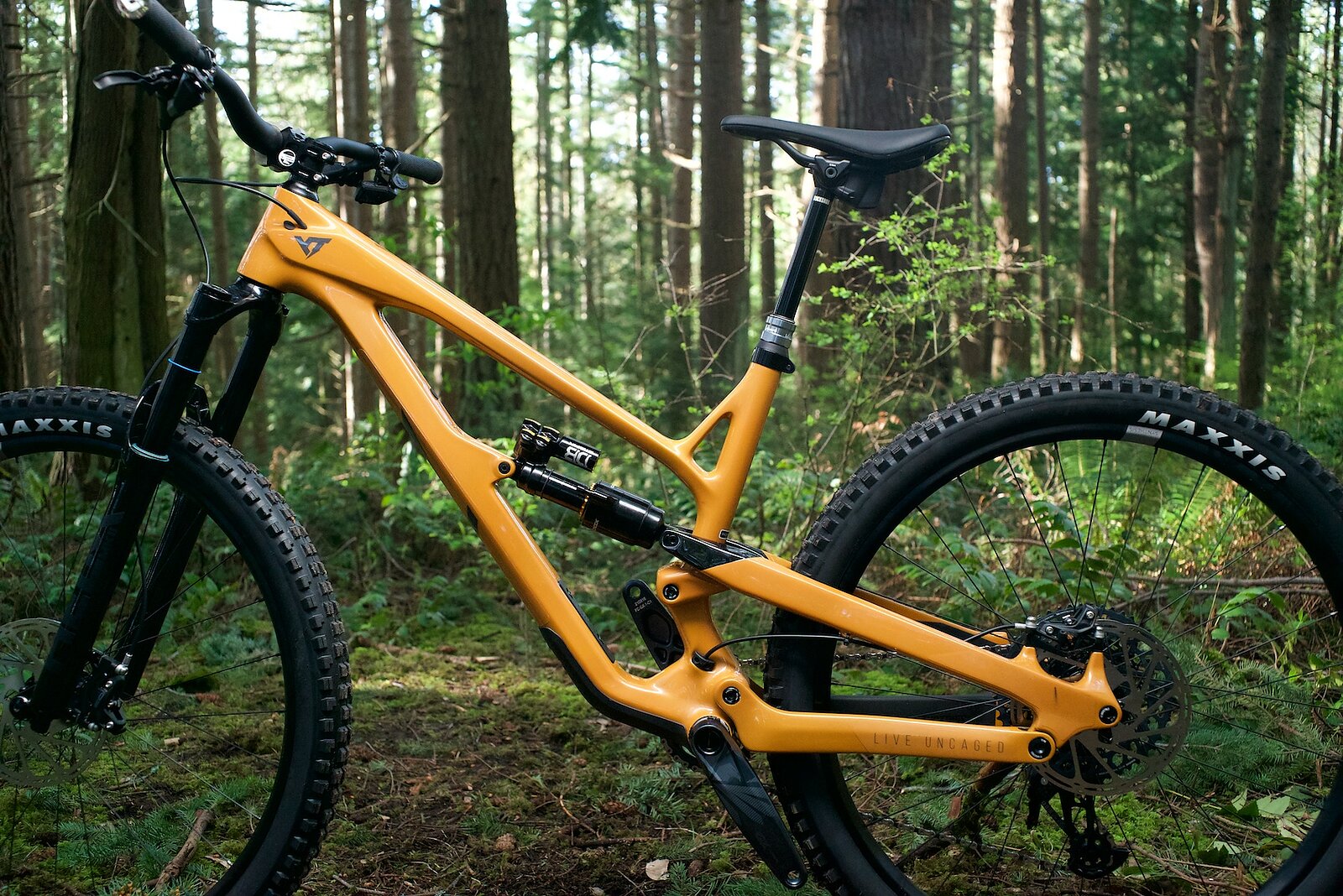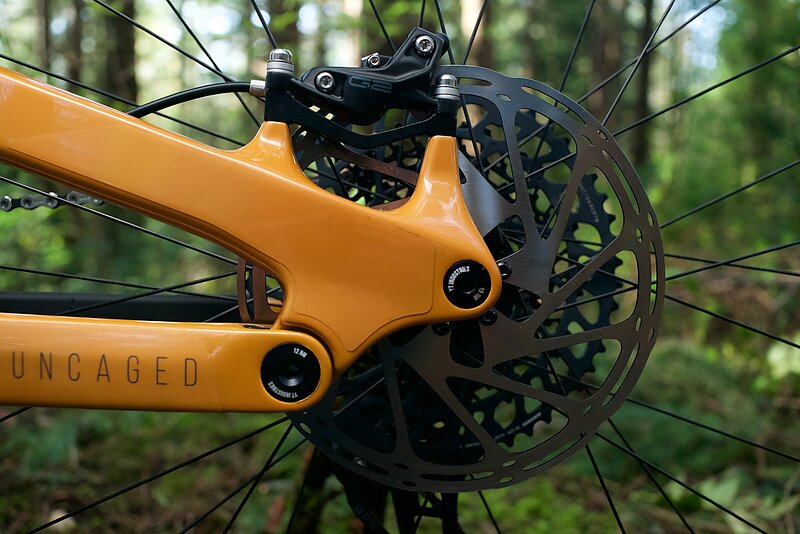 The spec on our supplied Jeffsy Uncaged 8 test bike was an interesting mixture of high-end SRAM GX Eagle AXS wireless shifting and dropper, Maxxis DHF Maxxgrip and DHR II tires for unbelievable grip and a previously untested Cane Creek Helm fork and DB Kitsuma Air rear shock. I was most impressed by the fast-recovering Cane Creek components. The initial stroke of the Helm fork and Kitsuma shock was very plush. The fork and shock also responded well to the addition of some high-speed compression damping without becoming too brash on my appendages. The biggest disappointment of this build was the SRAM G2 RSC brakes which didn't have nearly the power to reach the full potential of this bike at my beefcake weight of 215 pounds. Outside of the brakes I'd call the specification of this bike to be a work of art.
The Jeffsy feels like a truly unique offering in a sea of bikes that are starting to feel roughly the same. The impressive Horst-link suspension platform that holds the rear end of this bike together mopped the floor with previous Horst-link bikes I've ridden. And while the Jeffsy might not be the most forgiving platform for newer riders who favor stability above agility, it's an absolute party between your legs for more advanced riders.
YT Jeffsy Uncaged 8 - $5,999