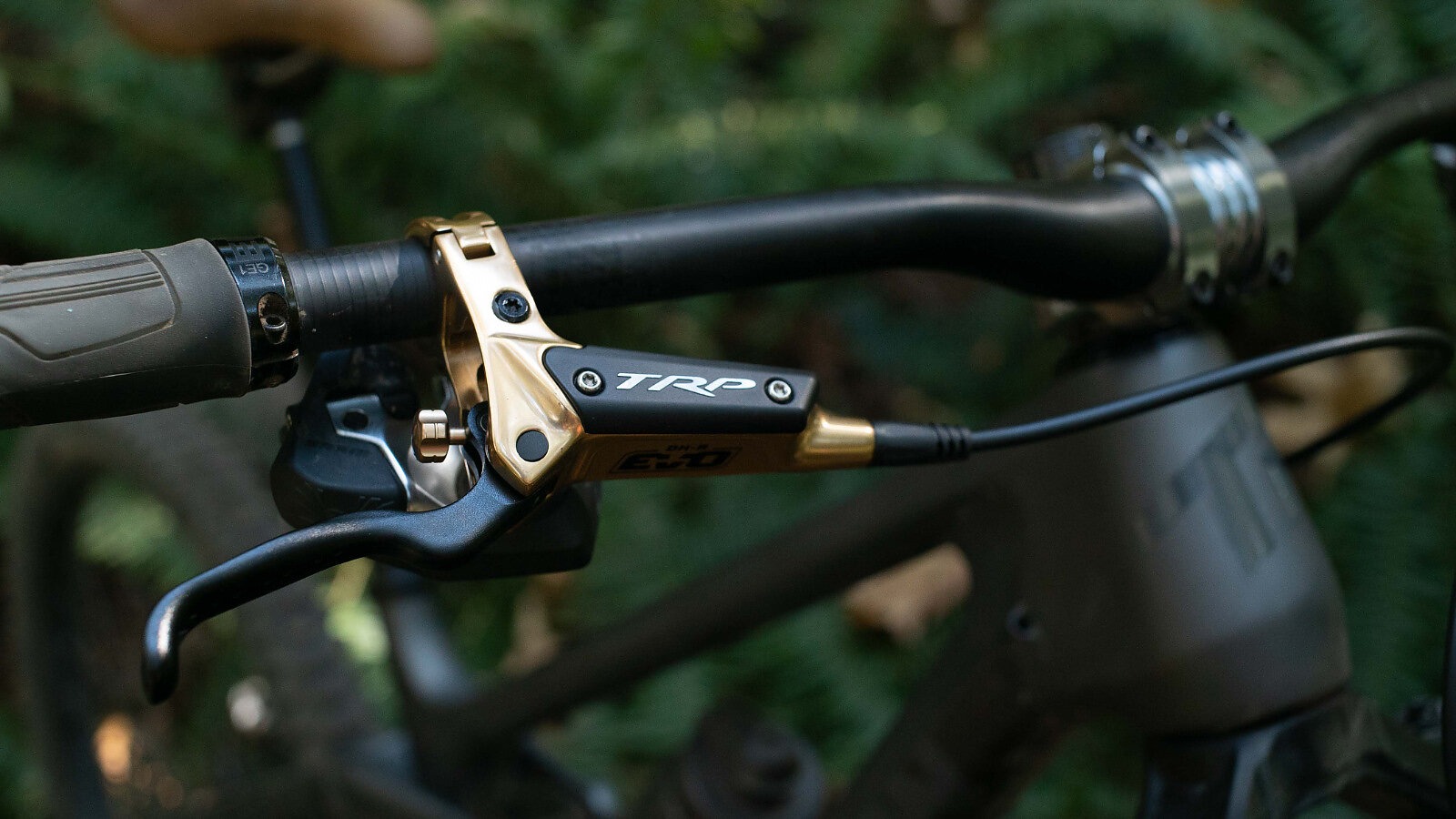 TRP DH-R EVO Brakeset Review
Brakes are the unsung heroes of speed. When I first got into mountain biking, what most surprised me was how slowing down had just as much to do with going fast as anything else. That's because knowing where and how much to squeeze the brakes (and when to let go) is what often separates those who simply cross the finish line and those who stand on the podium.  
Born in the pits of World Cup downhill racing, the TRP DH-R EVO brakes are true showstoppers. For starters, they look stunning and could surely stand alone as a work of art if placed atop a pedestal in a museum and lit from above. Their contours are gorgeous from every angle, and the seamless construction of the lever body, with just a few signature marks of a milling machine, gives the impression of uncompromising craftsmanship. When asked to do this review, I requested the silver colorway to tie in with the other silver accents on my bike, but when the gold showed up, I found that the typically bold color looked unusually understated in a way that I really liked. The gold is almost the hue of brass or copper, which allows this color to play well dressed up or down.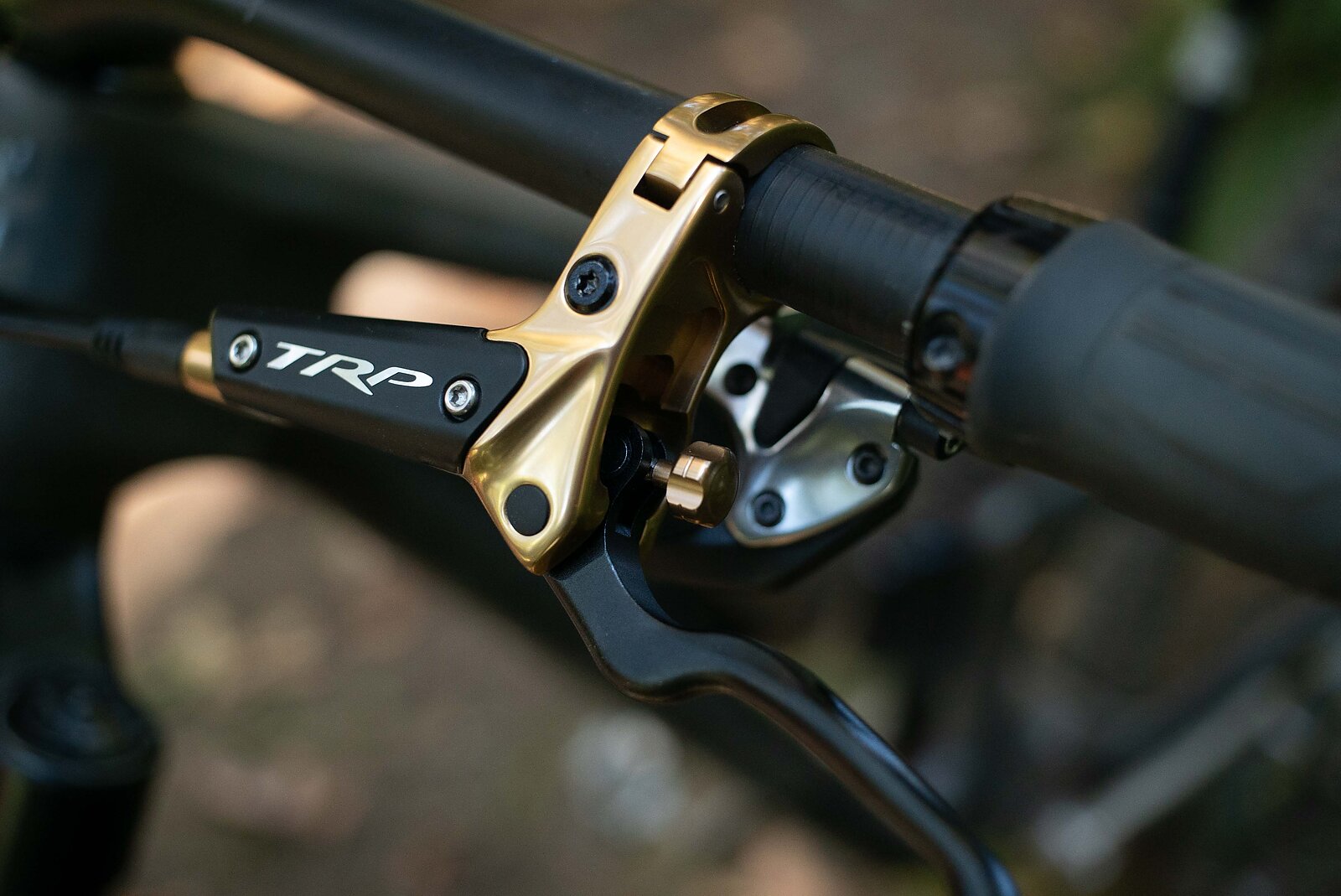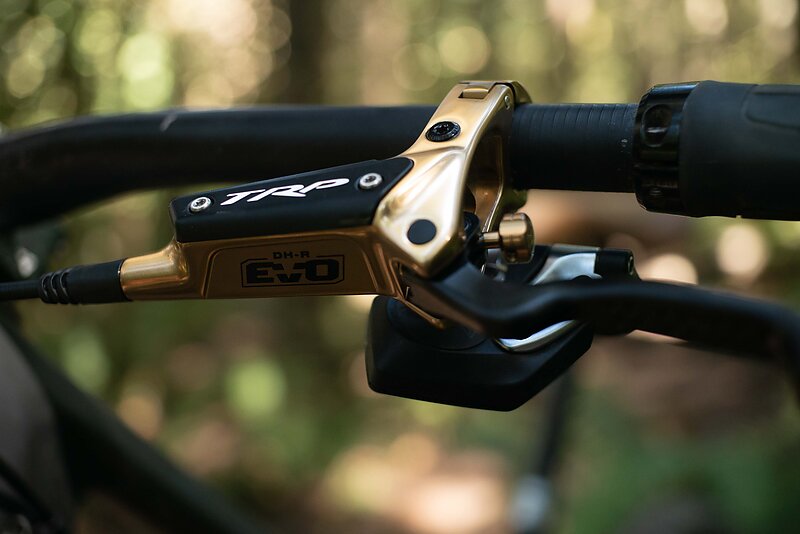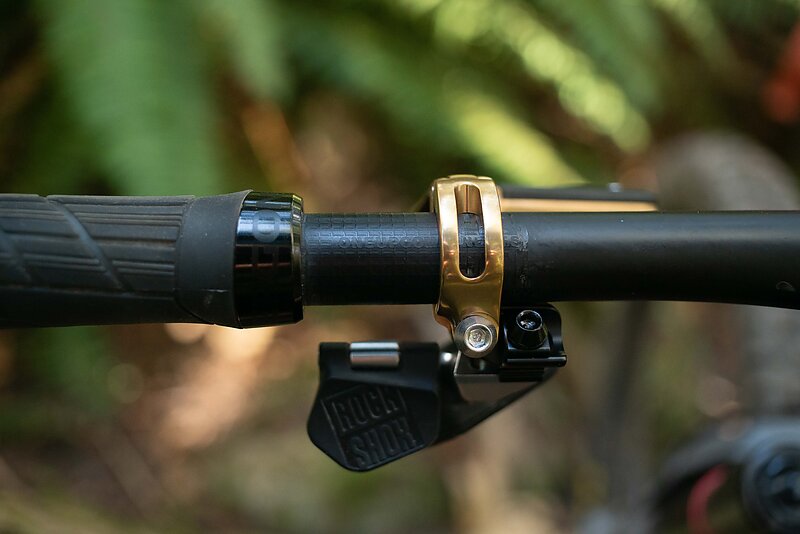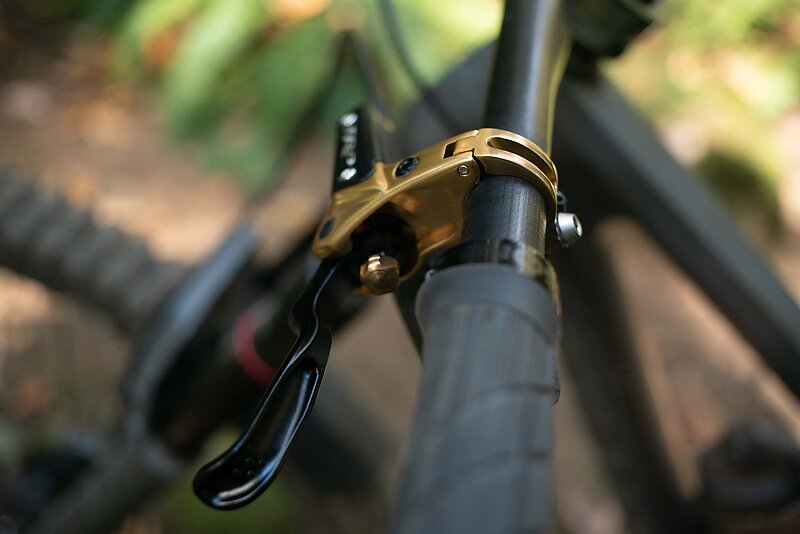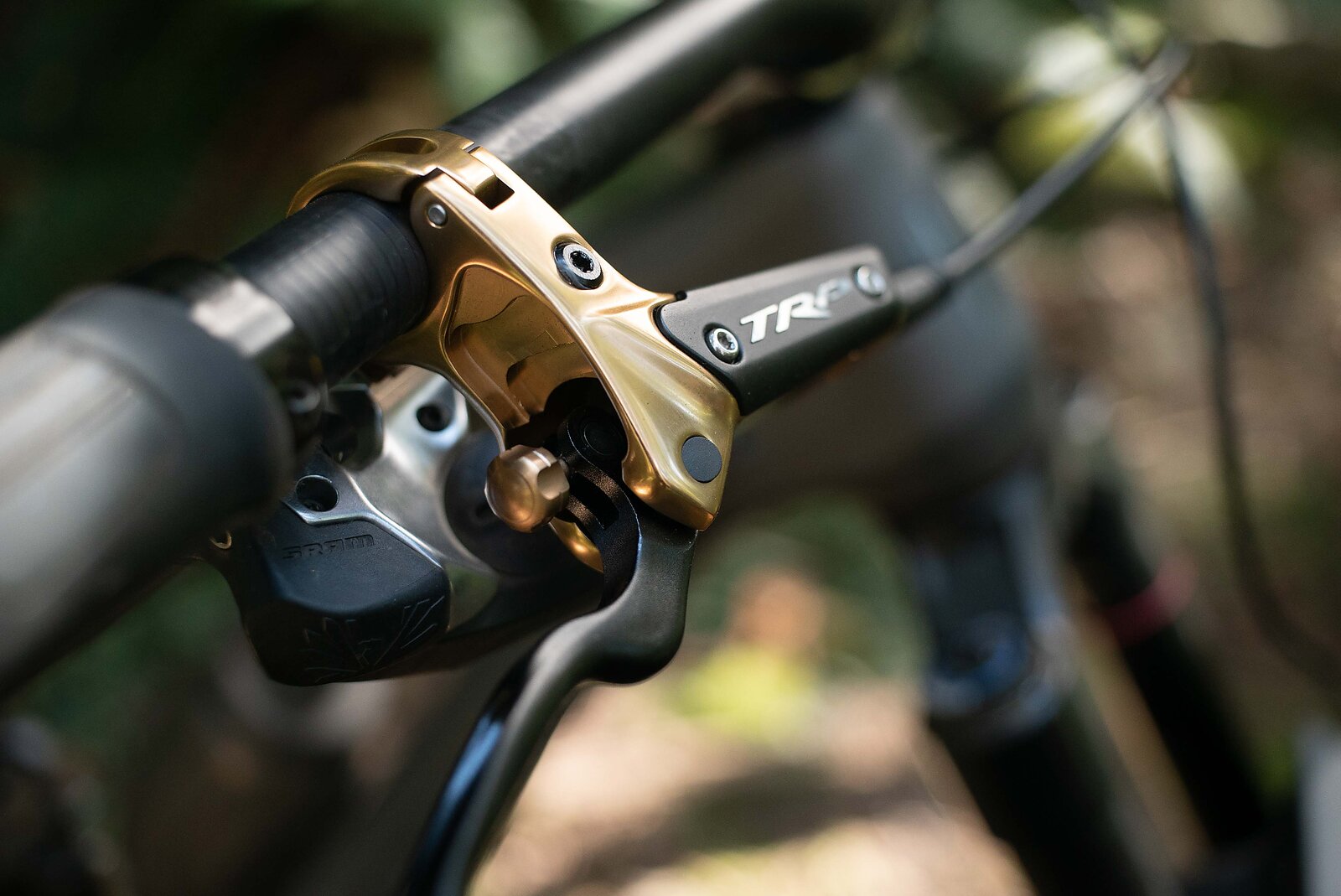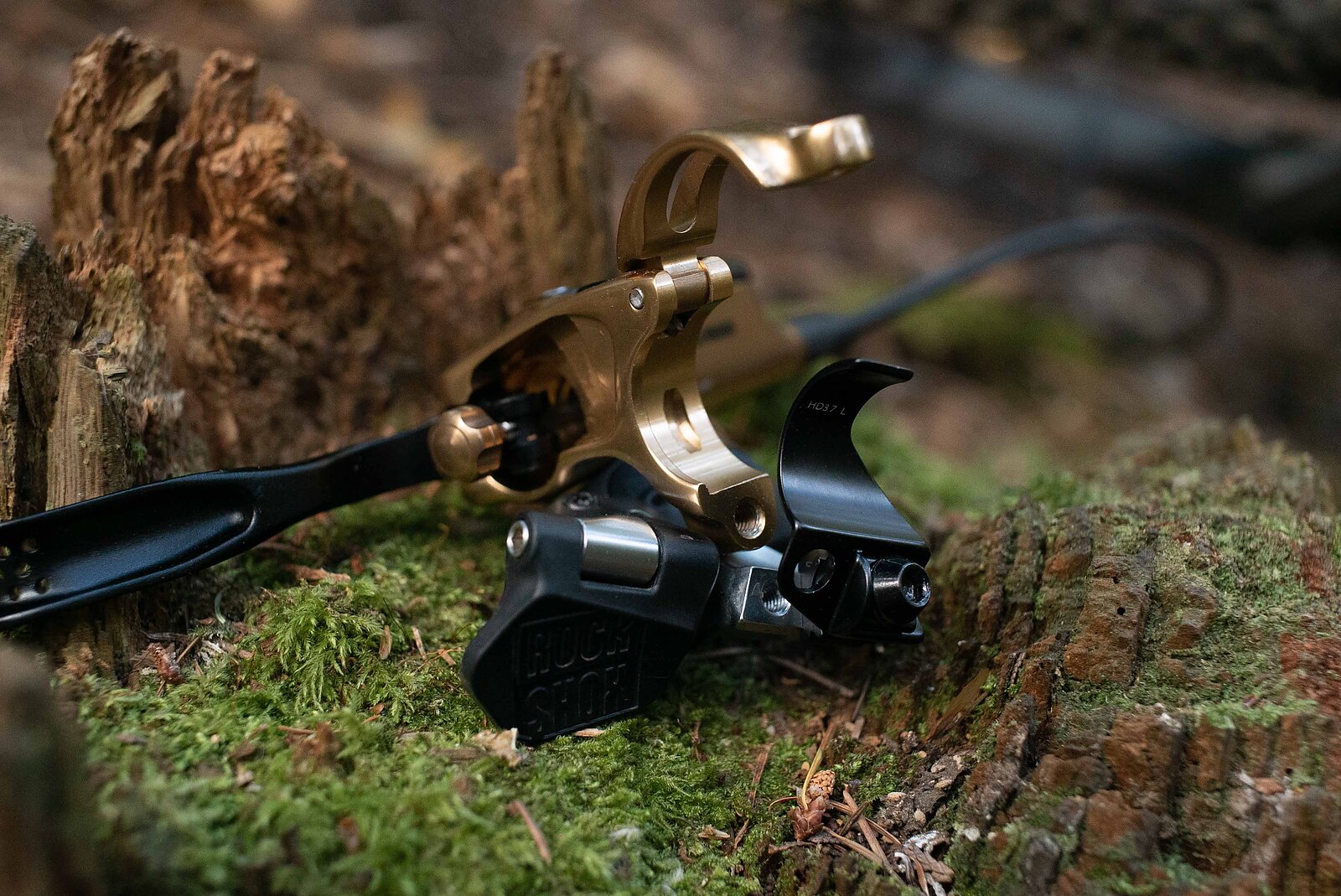 Installing the brakes was as pain-free as could be. Thoughtfully, the caliper and lever were each prefilled with mineral oil but sealed separately. This alleviated any need to separate the two and deal with leaky ends—a particular nuisance when routing a rear brake internally through a frame. Once routed, the plug on the lever could be removed and held upright while installing the hose. Doing this properly meant the system needed to purge little to no air bubbles. However, as recommended, I did attach my bleeding instruments to the brakes to get a perfect setup and it was quite easy.
 
Connecting my shift and dropper post controls to the brakes was also straightforward. TRP has specific adapters for every style of shifter, and I found that the SRAM MMX version was well thought out and provided adequate adjustment. The adapter is a semicircle on one end sandwiched between the brake's clamp and the handlebar—this ensures no chance of it coming loose independent of the brake itself. From there, the shifter is bolted to a beveled interface that allows side-to-side and back-to-forth adjustments. I found that I would have liked to be able to move my shifter just a smidge closer than was possible, but I'm used to being at the end of the typical fit window due to my long fingers and subsequent choice of far-inboard lever placement.
After the initial setup, it took a few on-trail adjustments to get everything set up perfectly. One note: I had to dial in the reach adjustment all the way to get the levers in as far as I like them. When braking, I want my fingers very close to the handlebar. This allows me to fully use the muscles in my hands to control the bike while still maintaining good braking without the lever bottoming out. Once adjusted, however, I wanted to keep playing with the reach because the little knob was just so well made. The same can be said for the levers themselves—the ergonomics felt great, and the perforations along the front added a nice bit of grip. Overall, I would say these brakes have a more robust feeling than many of the other brakes in this category, which makes them truly worthy of their burly "DH" title.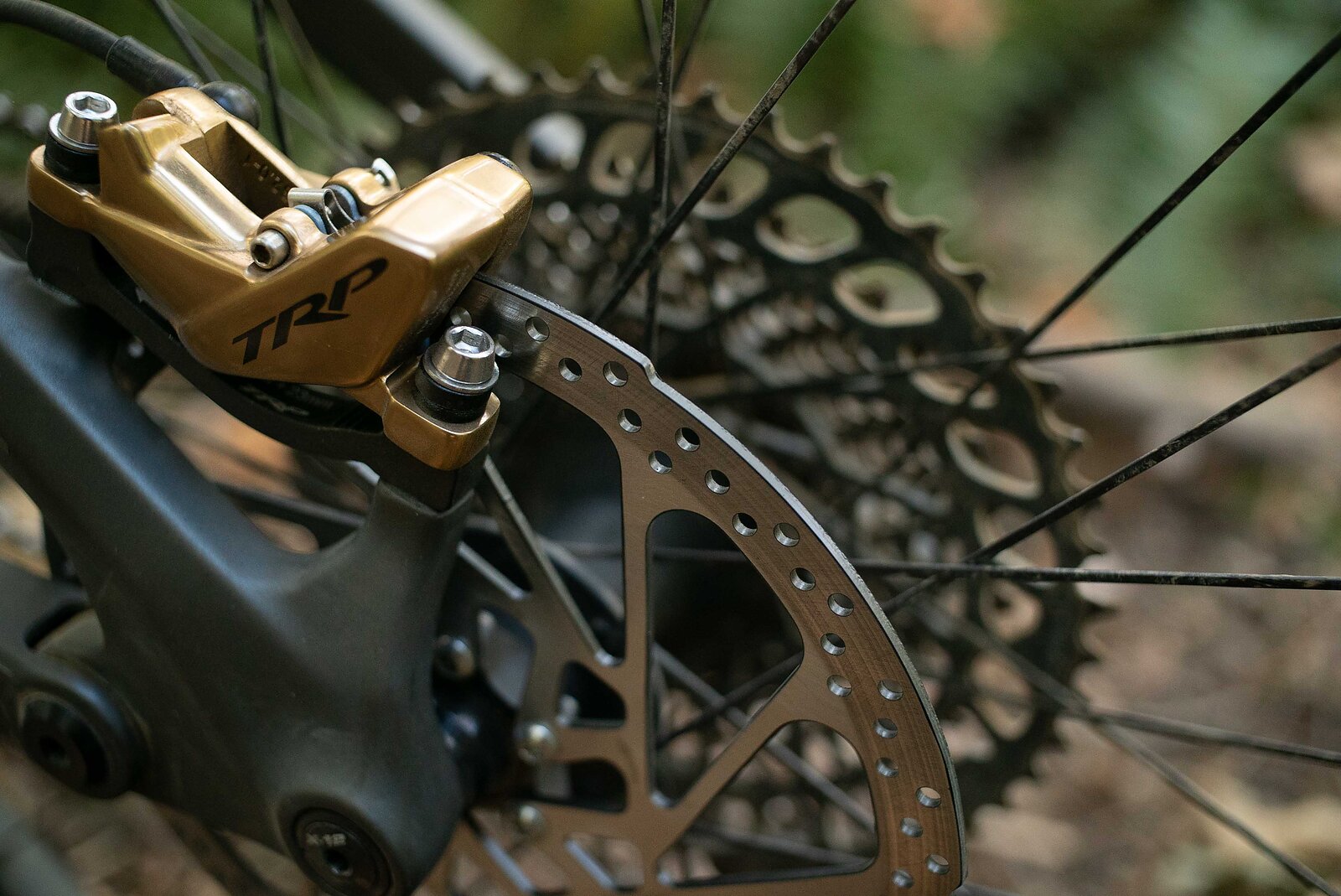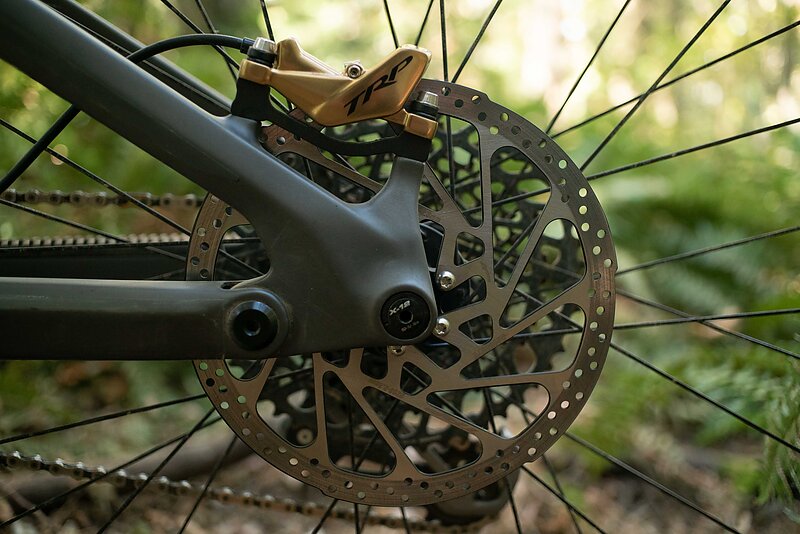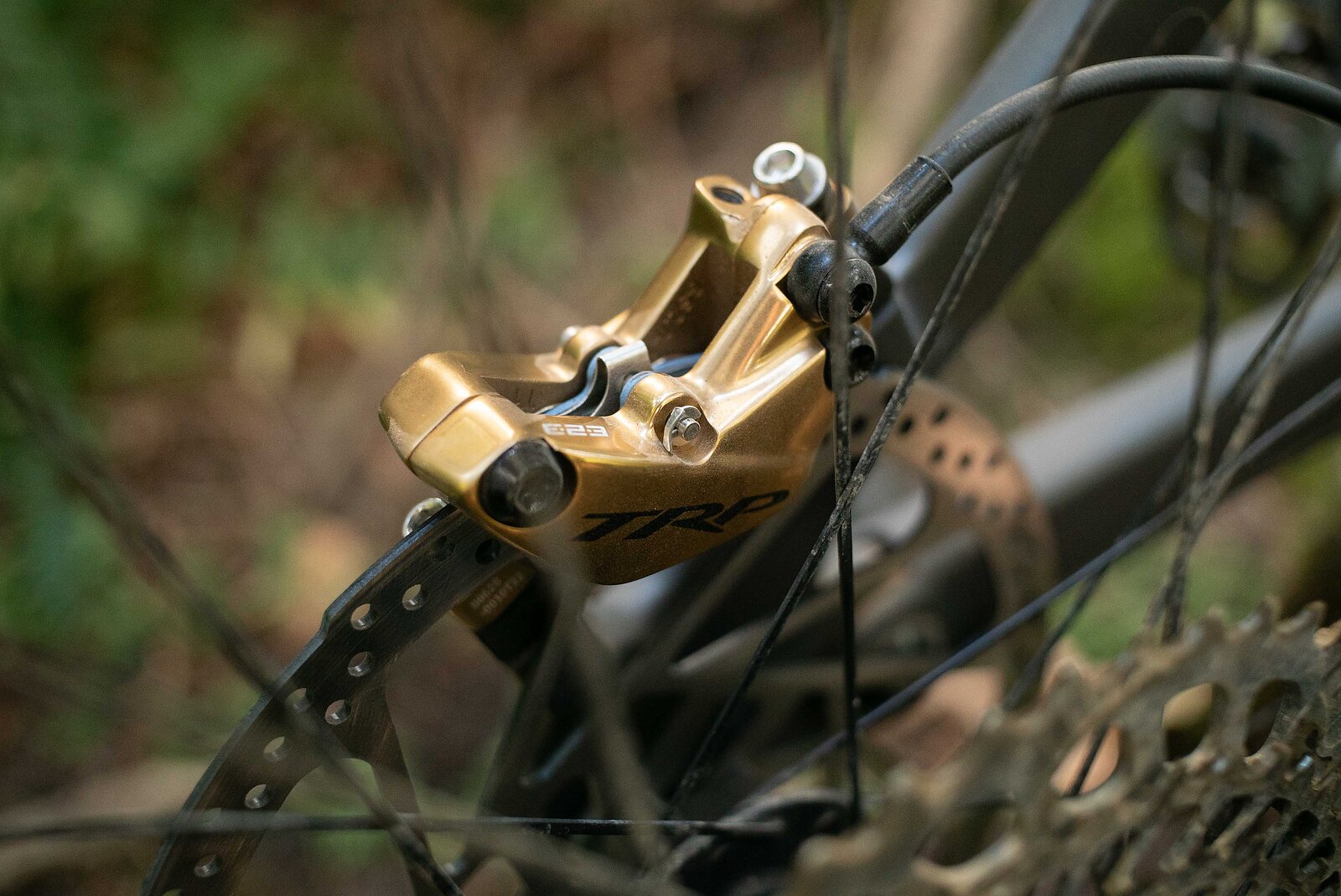 A couple of turns into my first steep descent with these brakes, and I knew they were ready for anything. The braking power was smooth and predictable, and the ability to feather in greater levels of braking created a nice range to play in before ultimately locking up the rotors. Somehow, they felt both new and familiar. Plenty of modulation was available, but the rigidity of the lever itself felt stout in a way that made me feel like I was punching up a weight class. I never worried about fading or needing more power when riding these brakes.
 
A few months later, these brakes still feel as fresh as the day I installed them. Keenly engineered and meticulously manufactured, I expect the DH-R EVOs will continue to live up to the high level of reliability they are known for. So, if you're looking for a highly tested, World Cup-ready brake that goes neck and neck with the best out there, I suggest you check out these flagship brakes from TRP.
TRP DH-R EVO Gold- $299.99