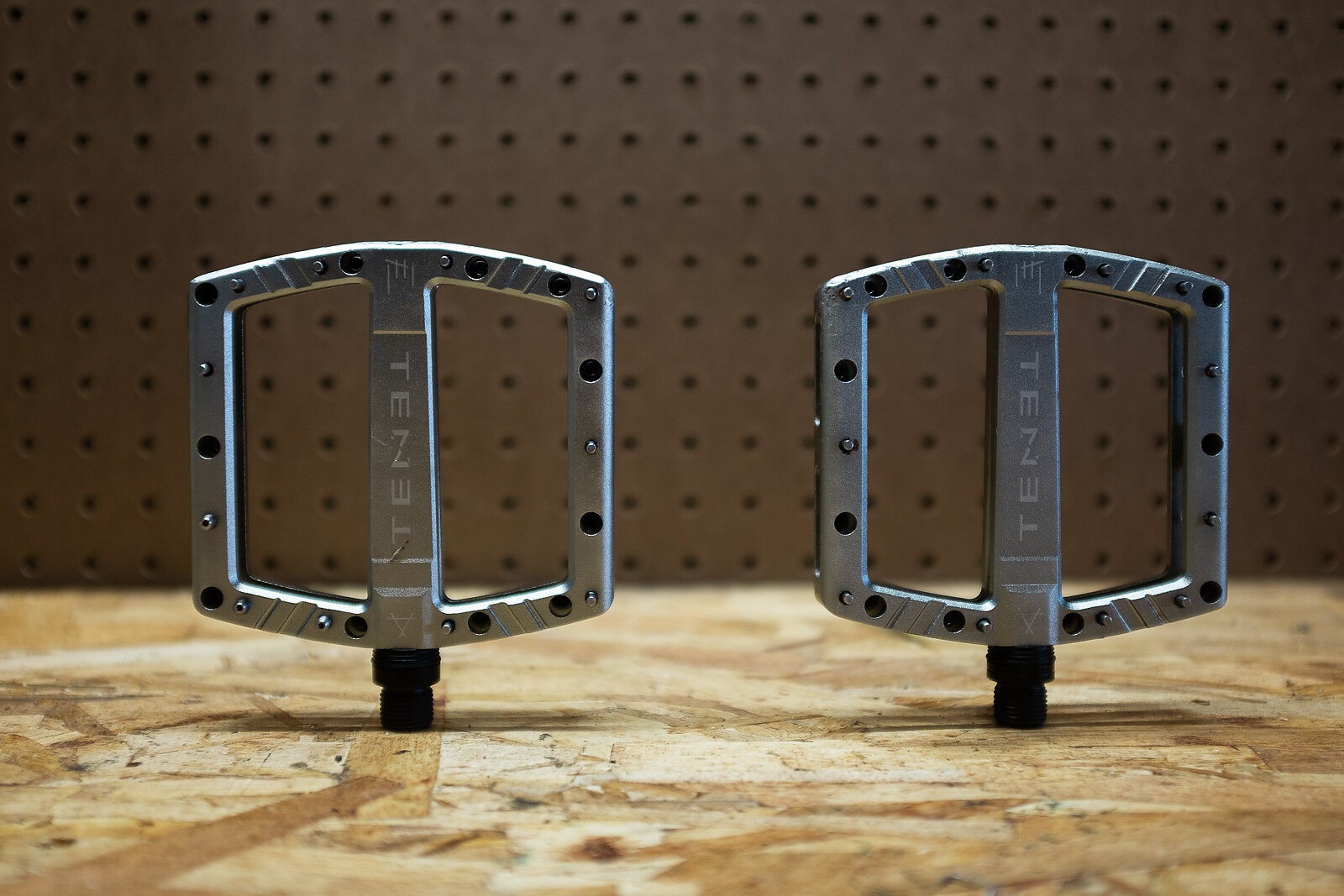 Tenet Occult Pedal Review
Once upon a time, I was a true clipless evangelist. Nearing a cult-like level, I was oblivious and uninterested to what might be outside the confines of my cross-country shoes.
Blinded and bound by an unfettered confidence that clipless pedals were the difference between control on the descents and efficiency on the climbs, I couldn't fathom why I'd ever even give flat pedals an honest go. However, things changed last year. I wanted to try the whole "foot out, flat out" thing—and as it turns out, it's a bit more fun.
But with this move to flats, I immediately found myself in a world with too many options when it came to the flat pedal and shoe combination. It was hard to take a leap of faith on a new product that might not have an established pedigree. In my first year of flat-pedal fun I tried five different pairs of shoes and six different sets of pedals.
When Bellingham, Washington-based Tenet components dropped the FPT (Flat Pedal Thunder) pedals last year, I figured I'd toss them into the lineup. Tenet was founded in 2018 by an industry veteran, Tyler Deschaine, who wanted to bring some changes into the world of mountain bike components. The company's mission says it all: "Build high quality products and offer fair pricing. Oh yeah, and ride bikes… a lot." That philosophy certainly resonates with me.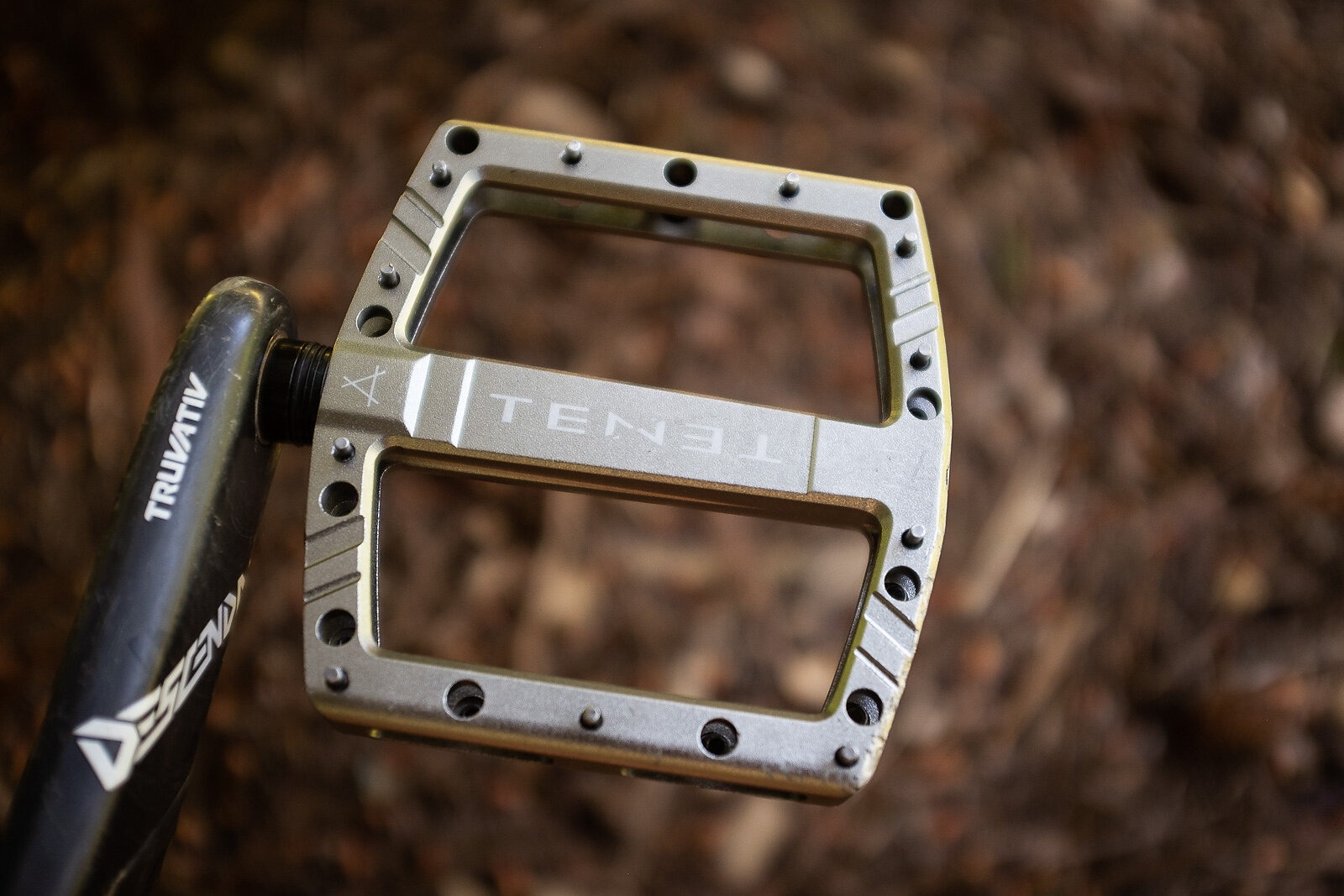 On my second lap with the Occult pedals I was navigating a techy descent that's notorious for pedal snags. I ended up landing square on a ball of protruding roots, catching a pedal and subsequently suffering a pretty violent over-the-bars. I rolled out fairly unscathed, although I can't say the same for the two-foot-long, three-inch-thick root I tore straight from the earth. When I got home, however, I realized I had slightly bent the pedal's spindle, which is made from heat-treated chromoly steel, but had severely warped my crank arm, leaving it completely useless.
I reached out to Tenet and was able to get a new spindle delivered as part of the Two-Year Pedal Refresh program. As the name suggests, Tenet offers a free rebuild within the first year of any pedal, which I would have certainly held out on if it weren't for that damn root. Tenet also offers lifetime crash replacement and sells a rebuild kit with all the hardware needed and an extra set of pins for $25.
Replacing the spindle on my own ended up taking all of five minutes and was very intuitive. All I needed was 6mm Allen key and 8mm socket that is included in the box to remove the cap on the outside of the platform, letting me extract the spindle and replace it. Just like that, the pedals were good to go with no damage to the pins or the pedal platform. I also decided to try out the optional Grub screws that were included. The Occult pedals come with standard thread-through pins pre-installed, and a set of fully threaded Grub screws that offer a wider contact surface on each pin. Replacing the thread-through pins with Grub screws took about 20 minutes and ended up being perfect for riding dirt jumps, allowing for a bit more foot movement while still not sacrificing the confidence that comes with a solid connection to the pedal.
Coming from the world of clipless pedals, I find great value in feeling secure and stable in my contact points on the bike. Right off the bat I was impressed with the Occult's stability and solid feel underfoot. The 110mm by 105mm pedal surface is complimented by 2mm's of concavity on both sides, meaning that there is no pesky mid-pedal ridge that some of us know too well. The mid-pedal thickness is very low profile, coming in at 14mm. The pedal itself is made from extruded 6061-T6 aluminum and CNC'd into shape. Weighing in at 406 grams, the pedal set is lightweight without sacrificing any durability.
Riding flat pedals on technical trails proved to have a steep learning curve though. Being able to manipulate the rear end of the bike without the clipless connection seemed daunting. The Occult pedals threw any remaining insecurities out the window, as they ride the line between too much traction and not enough with ease. I, along with most, dread the feeling of my foot shifting on the pedal at high speed. Although this is pretty much unavoidable at times, with the Occult pedals I found it easier to return to a balanced footing on the pedal than I had with most.
A good pair of pedals doesn't do much if your shoes don't jive with them. To address this, I went ahead and gave equal time on these pedals to four different pairs of shoes. From a super soft and tacky tread compound to a standard pair of Vans, I was amazed at how consistent the feel was. I did come to prefer the Grub screws when using a lower profile tread, but luckily, it's incredibly easy to swap pins, leaving plenty options to dial in the preferred feel.
At $99, the Occult pedals offer some pretty competitive pricing compared to your standard high-quality alloy pedals, not to mention that Tenet provides a lifetime warranty and one free refresh. It's impossible to put these pedals into the same category as anything else I've ridden. They are simply the pedals I have been looking for but never thought I would find. The choice of flats or clipless will forever be personal, but as a once clipless zealot who's now reformed, I say why not get out and see what you might be missing—you never know if you don't try.
Tenet Occult Pedal
MSRP: $99
See more at www.ridetenet.com