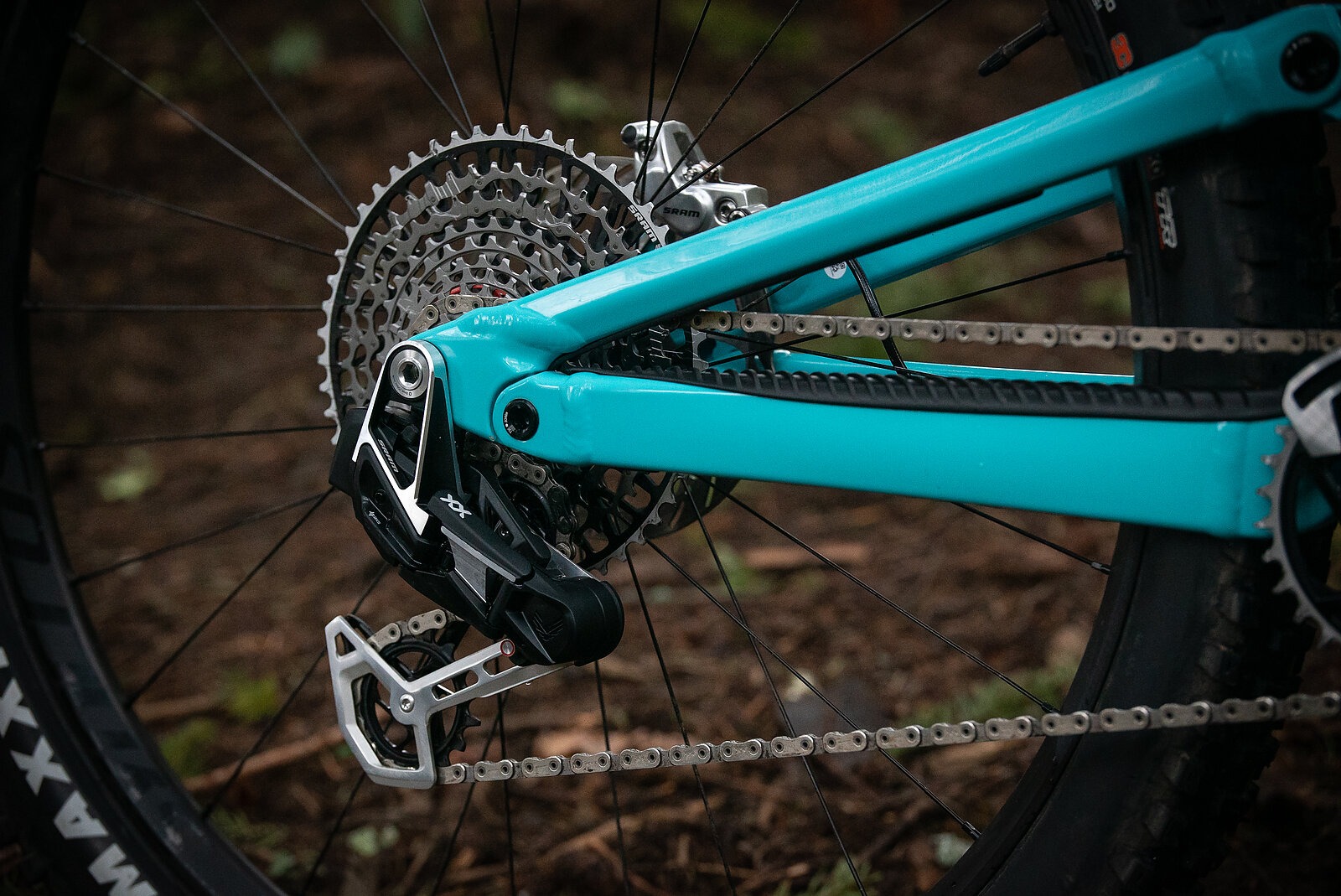 SRAM XX Eagle Transmission Drivetrain Review
I've heard that when the Apollo 11 Lunar Module Eagle landed on the moon, people ran outside to try and see the spectacle with their own eyes.
Squinting, those gazing skyward may not have been able to witness it firsthand, but they were living through a new chapter of human evolution. No longer bound by gravity, it was not enough to simply reach for the stars anymore—it was time to grab them.
Now, before you write me off as a charlatan for comparing the importance of landing on the moon to a new mountain bike drivetrain—and equating moons and stars in the process—listen here: SRAM's brand new XX Eagle Transmission drivetrain has nothing that needs to be adjusted—no cables, no limit screws, no b-tension, and no derailleur hanger to straighten. All the parts that previously made bicycle shifting sloppy or unreliable have been removed entirely. Eleven years since it first introduced its 1x drivetrain, SRAM has, with this latest iteration, created a world in which mountain bikers can grab their bike and go without reaching for the tiniest screwdriver in the toolbox to endlessly tweak, twist, and tune.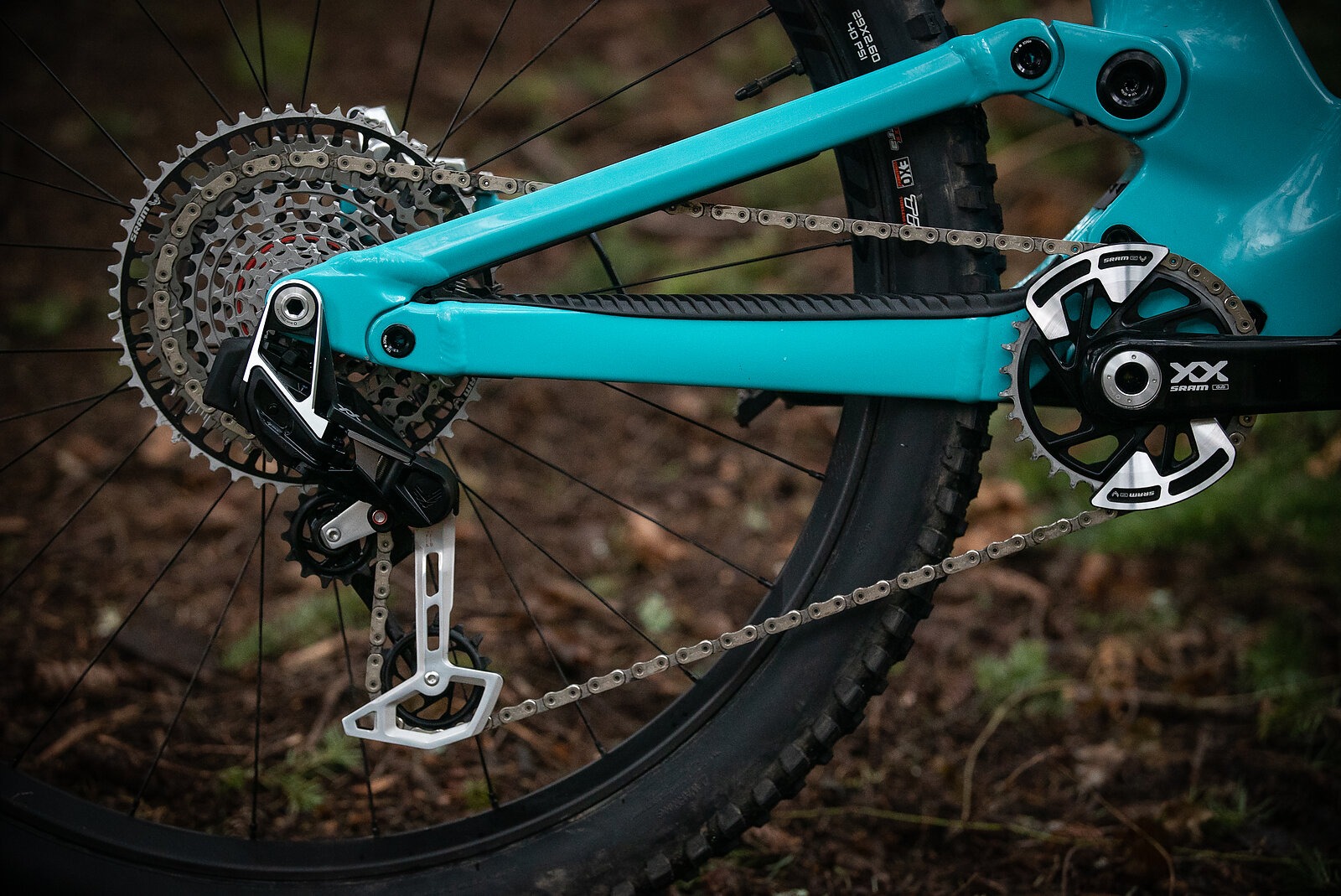 From a distance, SRAM XX Eagle Transmission components could be mistaken for just another drivetrain or just one more small step for mankind. That would be a misunderstanding. For me, all it took was one spin around the block to recognize this new system as not only superior to everything I'd ridden before, but as something genuinely transcendent.
Not since we collectively took off our front derailleurs has such a massive leap in gear changing taken place in mountain biking. As drivetrains grew from 10 to 11 speed, and finally to 12 (and even 13), a problem surfaced. Sure, having such a wide range of gears was nice, but compromises had to be made to fit more cogs into the same amount of space. It meant chains got narrower, tolerances got tighter and, eventually, much like my relationship with house plants, even the slightest side-long glance could throw off the delicate balance.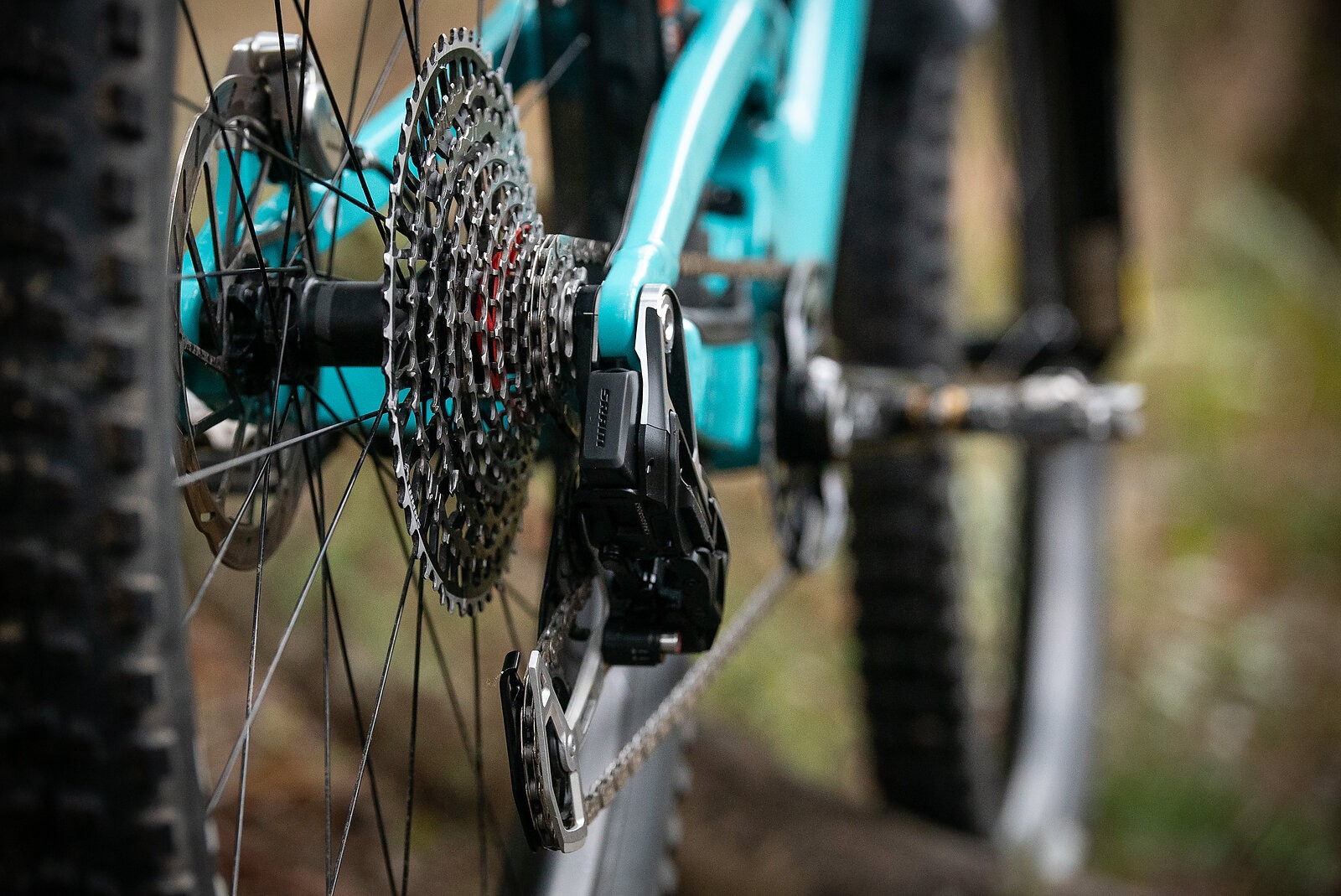 Working as a mechanic meant that I knew the proper incantations and ritual dances to perform to keep derailleurs in running condition, but my friends were not so fortunate. As cassette tooth counts rose, so did the number of people who needed help. They wanted to know how to keep their bikes shifting flawlessly, but the truth was that I couldn't teach them. The problem had become systemic.
Failure is a crucial ingredient for success and the team at SRAM has clearly listened to the riding community closely and fielded their concerns. During the last six years since Eagle was first introduced, designers and engineers have taken this information—born out of countless hours of field testing—and reimagined what a drivetrain could be.
Take the new Transmission (T-type) derailleur, for example. Instead of hanging precariously off the bike, this new system leverages the strength of the frame and rear axle. The derailleur mounts directly to the frame via SRAM's UDH (Universal Derailleur Hanger) and is fortified further by the rear axle. This allows for an incredible amount of stiffness, which, in turn, supports powerful and extremely precise shifting. It also means that instead of one shearing point, as with a standard derailleur hanger, we now have two, drastically increasing the system's durability.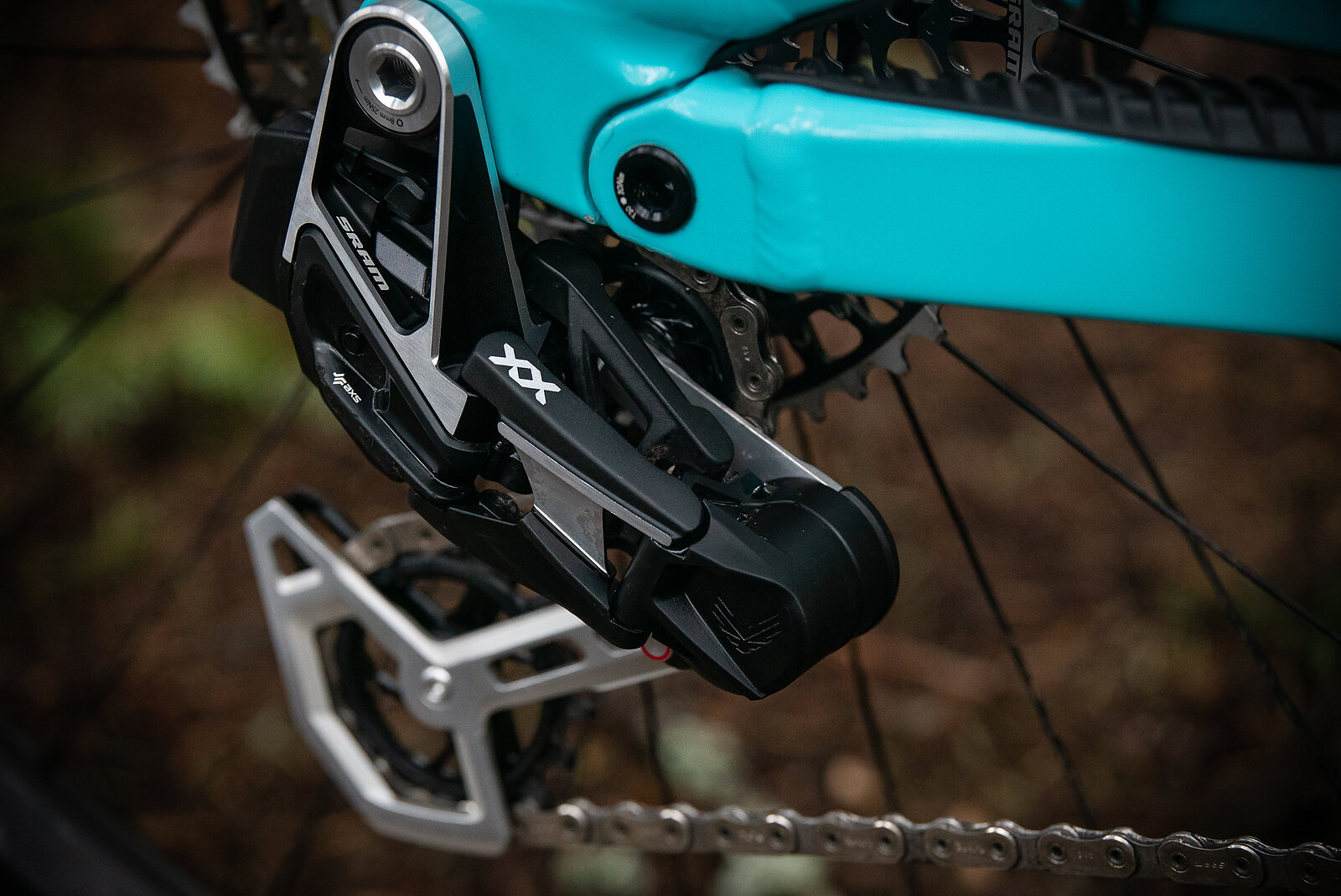 When I met with Chris Mandell from SRAM to get Transmission installed on our test bike, he laid his own bike on the ground and stood on the derailleur to demonstrate the toughness of the new design. At first, this maneuver reminded me of an old infomercial in which a fast-talking salesman in a branded polo shirt smashed a kitchen gadget with a hammer to prove it was absolutely worth six easy payments of $29.95. But, as Chris lingered there atop his perch, I had to admit, I was impressed.
Previously, the derailleur hanger enjoyed a decades-long career as a sacrificial piece, giving its life in the event of a crash and saving the derailleur from taking all the damage. Now, thanks to the Overload Clutch, a technology found on previous versions of AXS that electronically moves the derailleur away from an impact, coupled with its ability to rotate backward, there is no need for a hanger to shear on impact. Despite these defense mechanisms, the derailleur is not impervious to damage. So, to be prepared, the SRAM XX T-type derailleur uses easily removable skid plates where the mechanism is most likely to take a hit. The XO version even has replaceable external linkage parts.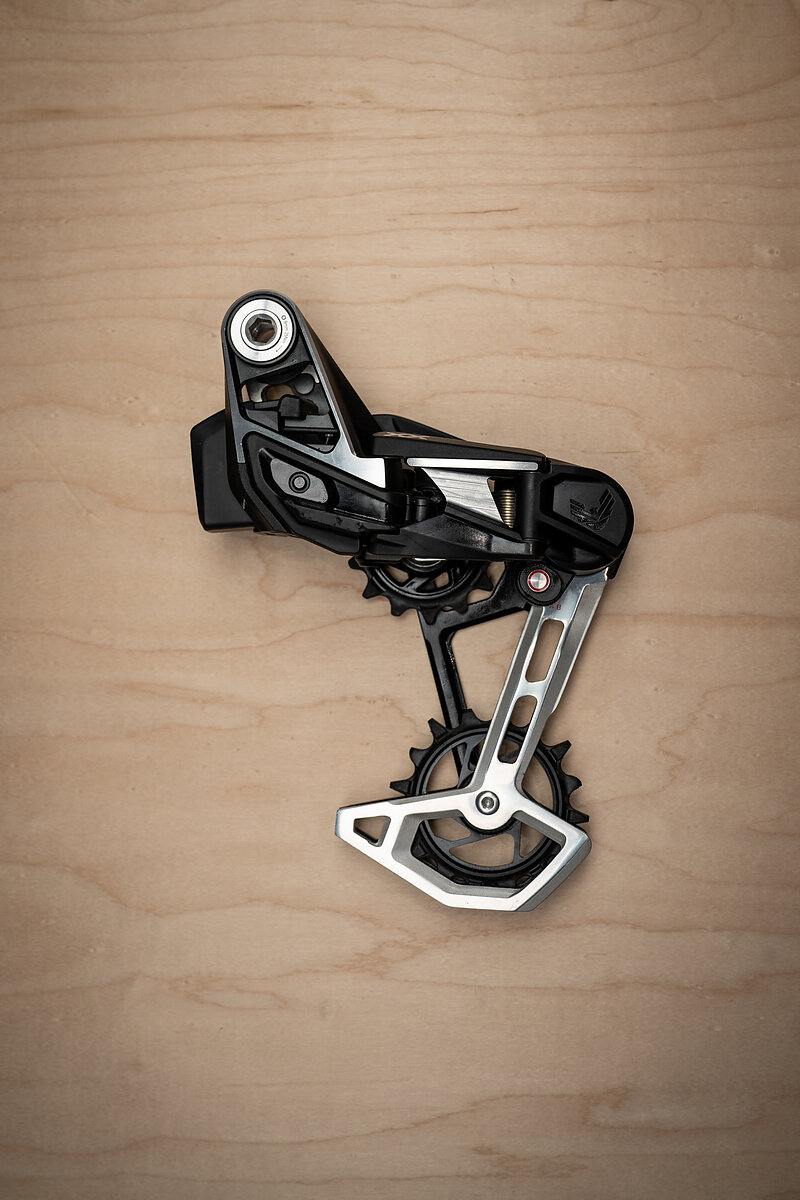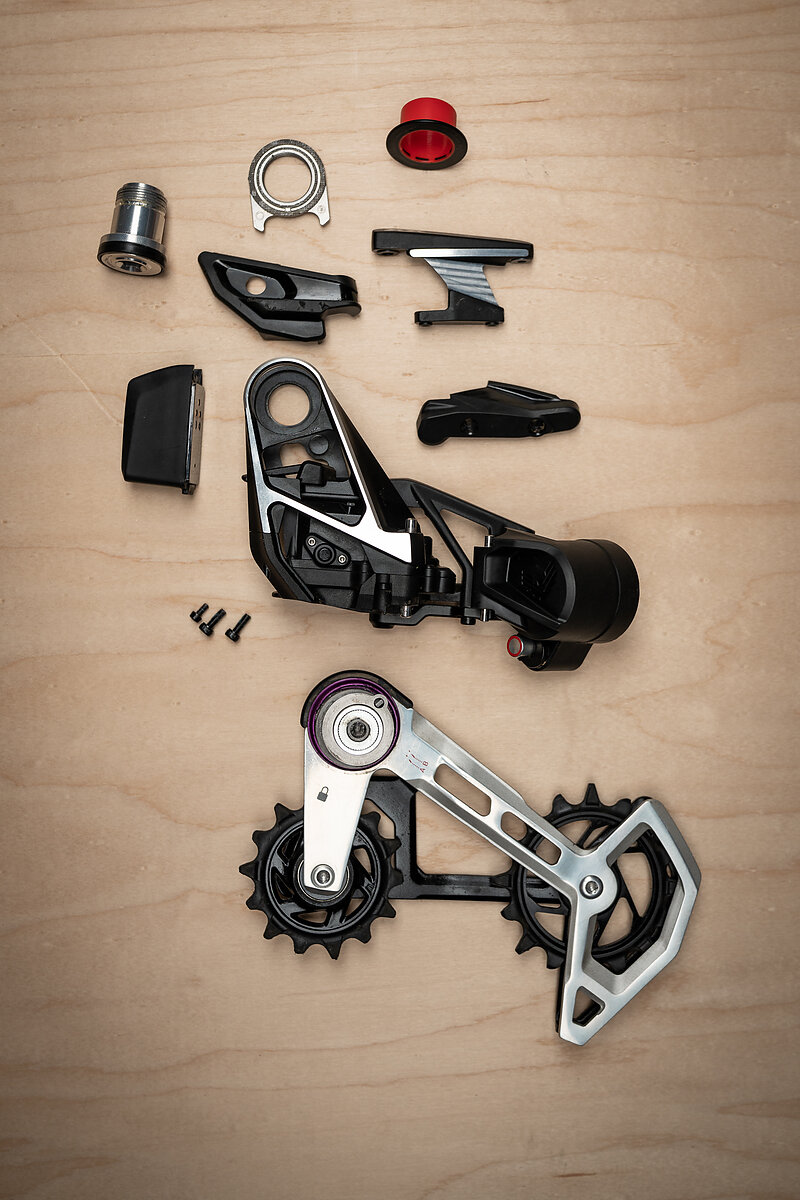 In my time with the derailleur, it did incur some scratches after a crash, but the only area affected were the small replaceable plates. Though this type of damage is superficial, the skid plates protect the rest of the mechanism, and it's nice to have the option to replace them not only for protection but also as a cosmetic reset.
This fresh take on repairability is a massive part of why SRAM's new T-type derailleurs are so revolutionary. In an age when we must fight for our right to repair new technology, it's frustrating when the only solution is so often in-house repair or total replacement. Don't get me wrong; I can appreciate the myriad reasons repairability has declined. Still, I think it's commendable to see SRAM building a product that is designed to be repaired by the consumer.
While several other small parts are also replaceable, including all the mounting hardware, the ease with which the entire cage can be replaced is most impressive. With no tools needed, the cage can unthread from the body of the derailleur by simply spinning it in the opposite direction it is pulled by the chain, allowing a new one to simply be spun back on. That's it. In writing, it might sound too simplistic, but I can assure you that it feels stout and well-executed in person.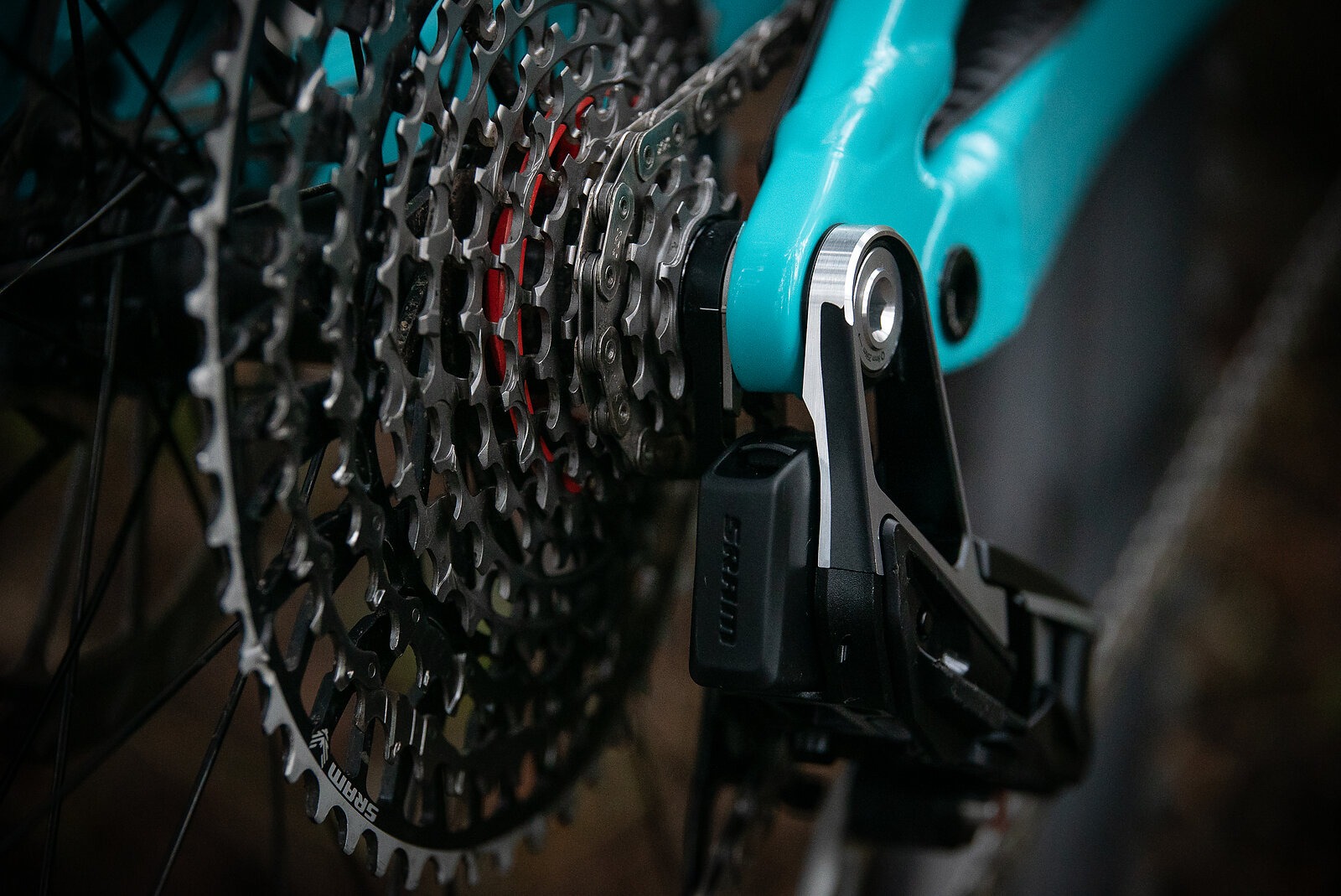 Another tricky thing to capture in words is how the Transmission derailleur mount and cassette contact directly. Herein lies how SRAM eliminated adjustment screws to ensure perfect alignment on any bike. To keep things simple, the T-type cassette utilizes the standard XD driver body. However, unlike previous models, the new cassette has full X-Sync (narrow-wide) tooth profiles, which are central to the stellar shifting performance. The shape of the teeth makes shifting better as pedal power increases. This sensation will feel entirely foreign to any rider who has spent years mastering the art of letting off the pedals just a tad while shifting. The new design rewards a steady cadence and can support an unbelievable amount of load while shifting which, I imagine, will also be a considerable upgrade for torque-heavy e-bikes prone to hard shifts.
Aided in part by smaller gear steps on the low end of the cassette, and cassette mapping built into the software that gives the derailleur optimal timing, the shifting with this setup was mind-blowing. Sometimes shifts were so smooth that I couldn't tell a change in gearing had taken place except for a slight change in my pedaling cadence. And while I haven't tested this cassette long-term, SRAM is marketing it as longer lasting than previous generations.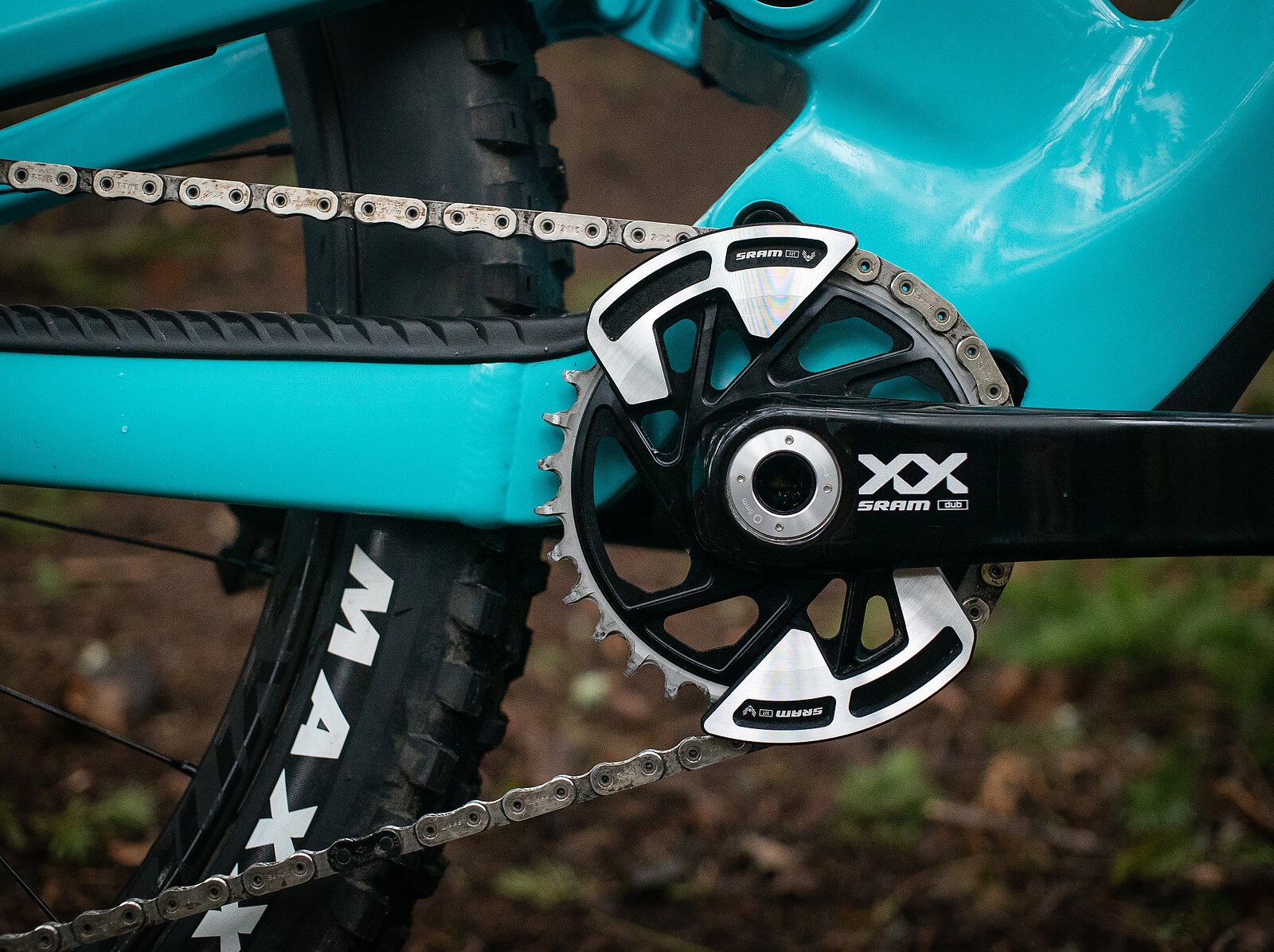 SRAM has also tweaked the chainline to create a more moderate chain angle, further improving durability and increasing precision. Though this is assisted by a tilt on the derailleur cage, the real change takes place up front with the redesigned crankset. In addition to physically moving the chainring, this XX T-type crankset is not only compatible with the new integrated Quarq power meter, but features a more secure 8-bolt mounting system that makes all the new crank models compatible with spider-based power meters, and with the new selection of T-type direct mount chainrings.
The XX T-type chainring's most notable part is the removable bash guards. Besides digging the new look, when I tested this feature while navigating a particularly angular rollover, I was delighted by the protection it provided. Instead of a potential hang-up, bent ring, or damaged chain, the smooth surface of the guard kept me moving forward with peace of mind. And while previous generation Eagle chainrings are not compatible with Transmission, these new chainrings are backward compatible—a nice option for people who may benefit from this robust new design.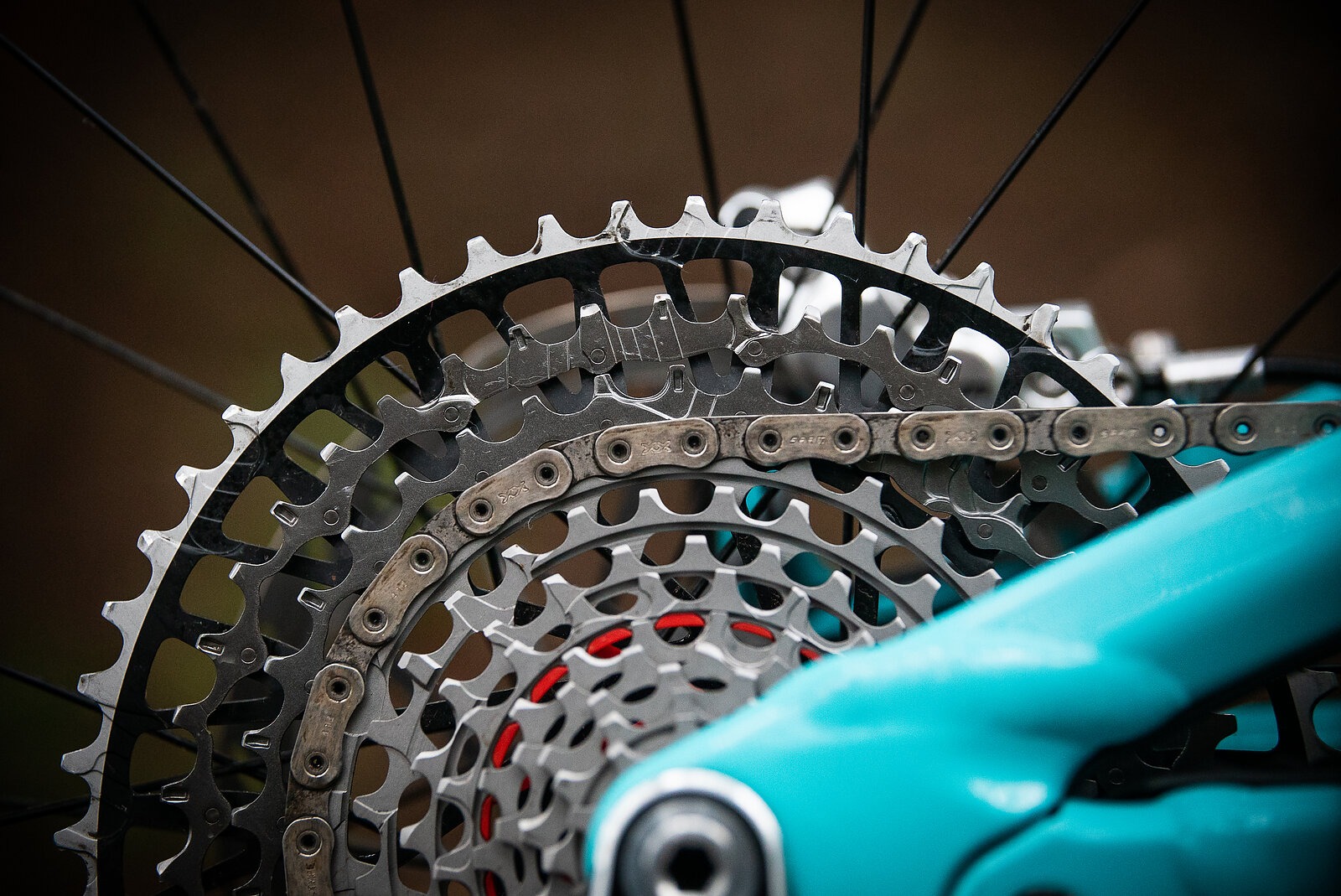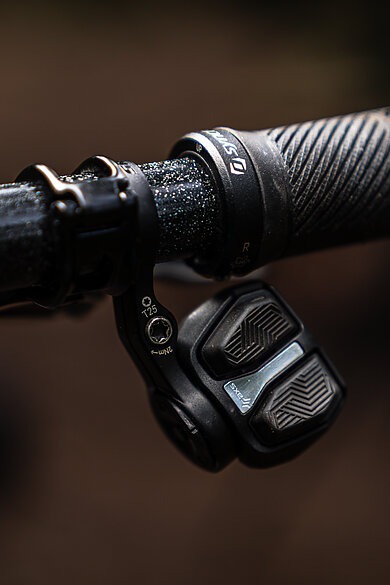 Wrapping around this new chainring and dancing its way up and down the cassette, the new T-type Flattop chain also deserves its own spotlight. Though it looks like the newest SRAM Road chain, it's a different beast altogether. These T-type chains are the strongest SRAM has ever made, giving them the oomph to muscle through powerful shifts under load. I also happen to really like the way the asymmetrical appearance changes up the look from current designs.
Last but not least, we find the Pod Controllers dangling from the handlebars. These little cuties are the touch point of the system and give the rider more ability to personalize than I've ever seen. Not only can each Pod be mounted on the left or right side and rotated 360 degrees, but also each "click-and-fire" button can be programmed to control upshifts, downshifts, or an AXS dropper post, in any configuration desired. That means you could have upshifts on the left hand upper button, downshifts on the right hand upper button, and dropper post-actuation on both lower buttons—a level of customization that could prove useful for riders interested in experimentation. And on the premium version of the Pod Controllers I tested, additional button options are available to give each button a convex or concave surface, either for differentiation or simply tactile preference. I'm also told that all generations of eTap and Eagle AXS controllers will be compatible with the T-type derailleur via the AXS app.
The AXS app will also aid in setting up Transmission—though it is not necessary as all the information can also be found on the SRAM website. And as I mentioned in the beginning, there are really none of the regular adjustments necessary to maintain this new system. Still, some unique steps must be taken to set it up correctly, although the installation procedure is much easier than before and requires only a few standard tools.
For this test, I was running a complete XX Transmission setup, but there is a burlier XO version that features stouter construction, including a bulked-up derailleur with more replaceable parts, aluminum cranks, a solid-pinned chain, and an e-bike rated cassette. Though we've seen an XX SL crankset in the past, this is the first time an entire SL groupset has been offered. This XX SL line is aimed at cross-country riders and gram counters, featuring SRAM's lightest mountain crankset ever, a slimmed-down derailleur, and the lightest chain and cassette in the Transmission ecosystem.
This review would not be complete without including the words of Neil Armstrong when he became the first human to set foot on the moon: The Eagle has landed. Though not the first generation of this stellar line of drivetrains from SRAM, Eagle Transmission feels like something truly worth celebrating. I can't conjure any meaningful criticisms—this is an extremely well-conceived and executed product that must be experienced to fully appreciate how miraculous of an upgrade it is. If you get a chance to try Transmission, don't hesitate to hop on.
Visit SRAM for more information