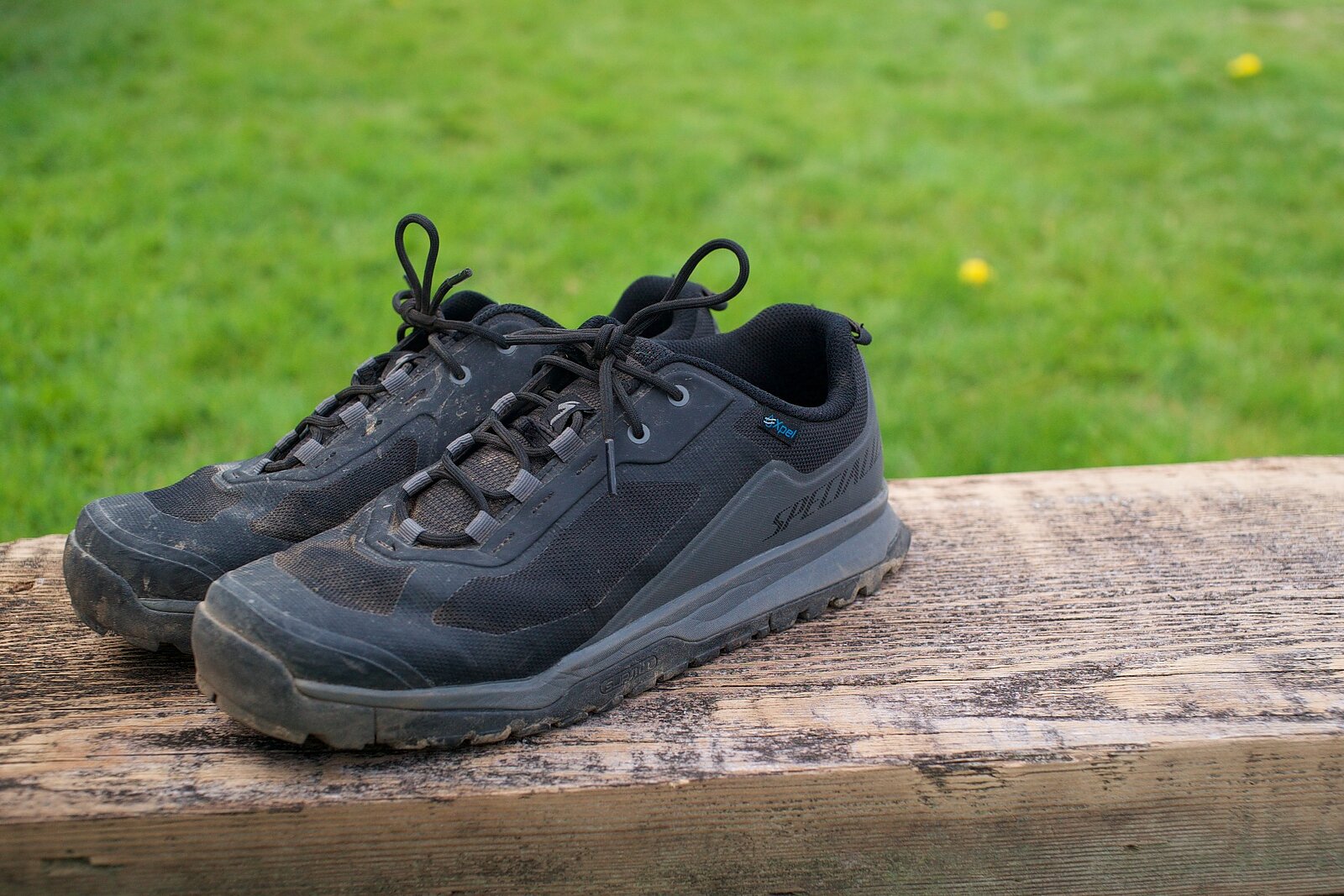 Specialized Rime Flat Shoe Review
As a kid I learned many painful lessons from sending it barefoot on my BMX bike. My toenails still show evidence of the suffering that occurred. Eventually, once I'd fully mangled my feet through sun burns, broken toes and separated sesamoid bones, I got on board with shoes.
From the beginning I realized that a good shoe needs to fit perfectly while also looking cool. I'm not sure who was watching, but it mattered—the same still applies. At one point, I rocked toe cages and Chuck's before moving into a pair of second-hand clipless shoes held together by a bottle's worth of glue. I loved them and rode those suckers until they disintegrated. Next came the era of painfully stiff cross-country shoes. That period was notable, in part, by the advent of mountain bikers suddenly incorporating terms like "aero" and "so light, dude" into their daily lexicon. Eventually I grew tired of the constant discomfort and foot bondage. Feeling disenfranchised, I shifted my thinking to embrace a certain level of acceptance that mountain bike shoes were just disappointing.
The Specialized Rime shoe is the first I've come across that's caused me to rethink this pessimistic mindset toward footwear.
Described by Specialized as "an approach shoe for the dedicated trail rider," I was intrigued from the get-go. A shoe made for hike-a-biking? Who came up with this? At first, I thought it was a silly concept, but all skepticism faded when I slipped on a pair and wore them for a day, looking to see if they really did feel good off pedal. I was taken aback. I tend to not keep bike shoes on for longer than needed, but these were better than my street shoes. Scarred from years of pressure points, I had to actively remind my lower appendages to relax so the Specialized Body Geometry sole could cradle my feet like a mama bear keeping her cubs safe and warm.
By the time I got to the trails I was already pretty floored and was starting to feel hopeful that I'd finally found the shoe I was looking for. Immediately, I was struck by the pedal feel—nothing short of transcendent. I could tell exactly where the pedal was, without the pressure points that come with a thinner sole. As a result, my pedaling became more laid back. My leg position seemed to balance itself, as if I had a coach yelling at me to keep my ankle supported throughout the pedal stroke.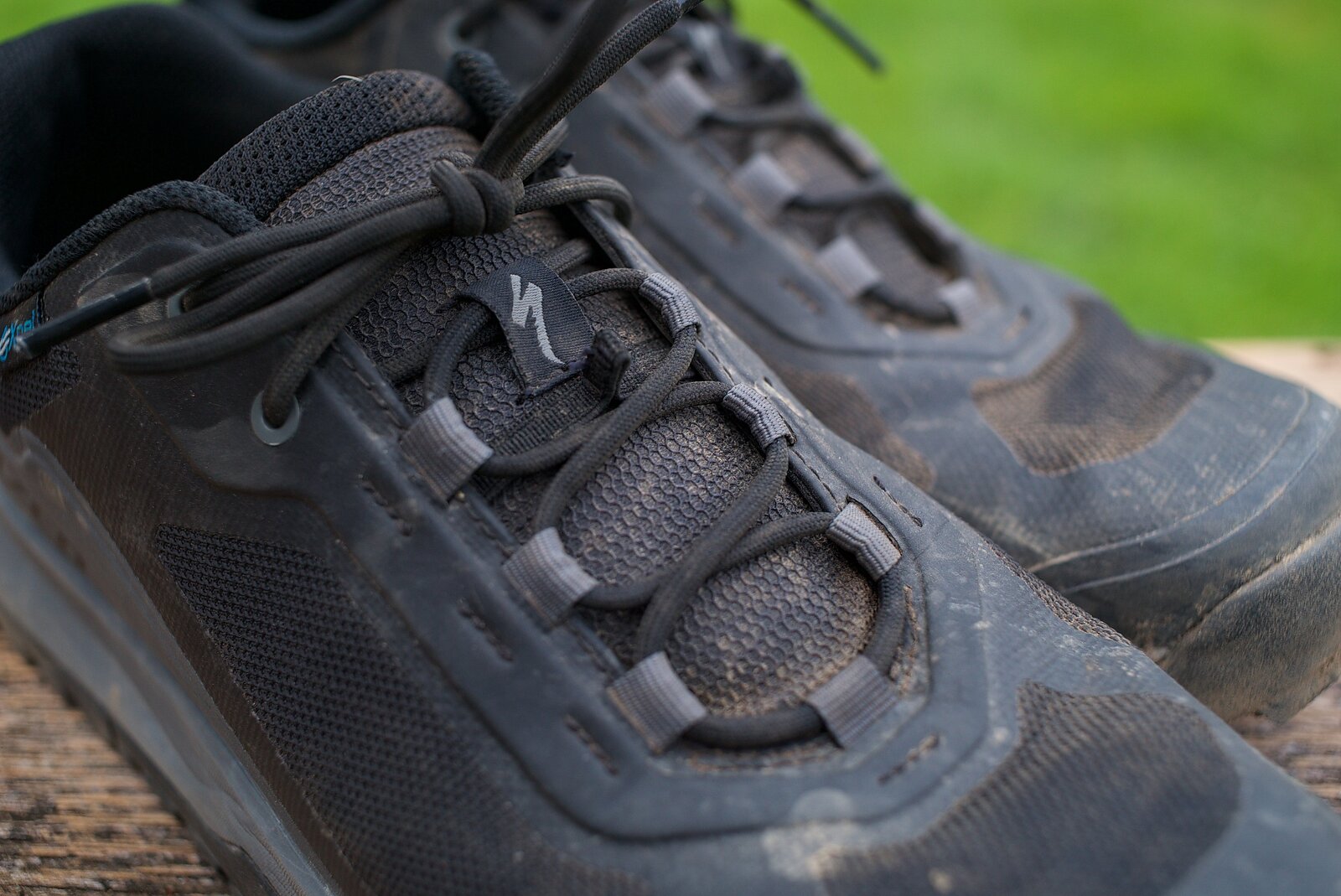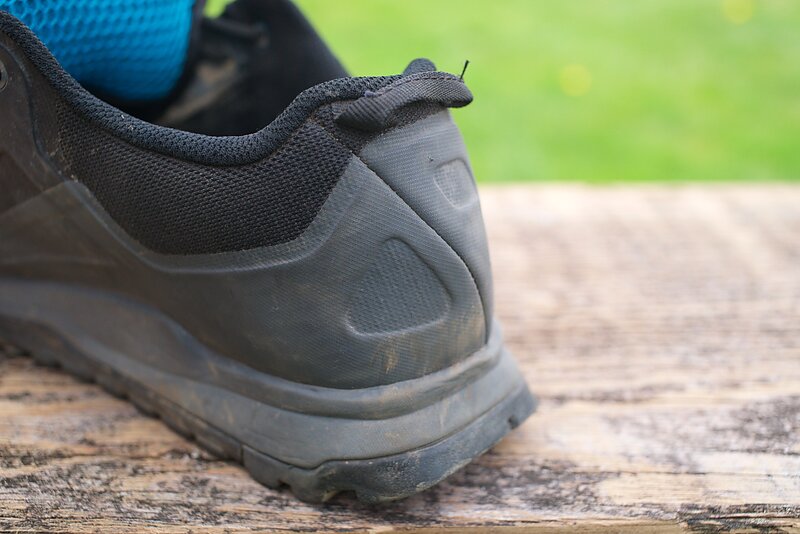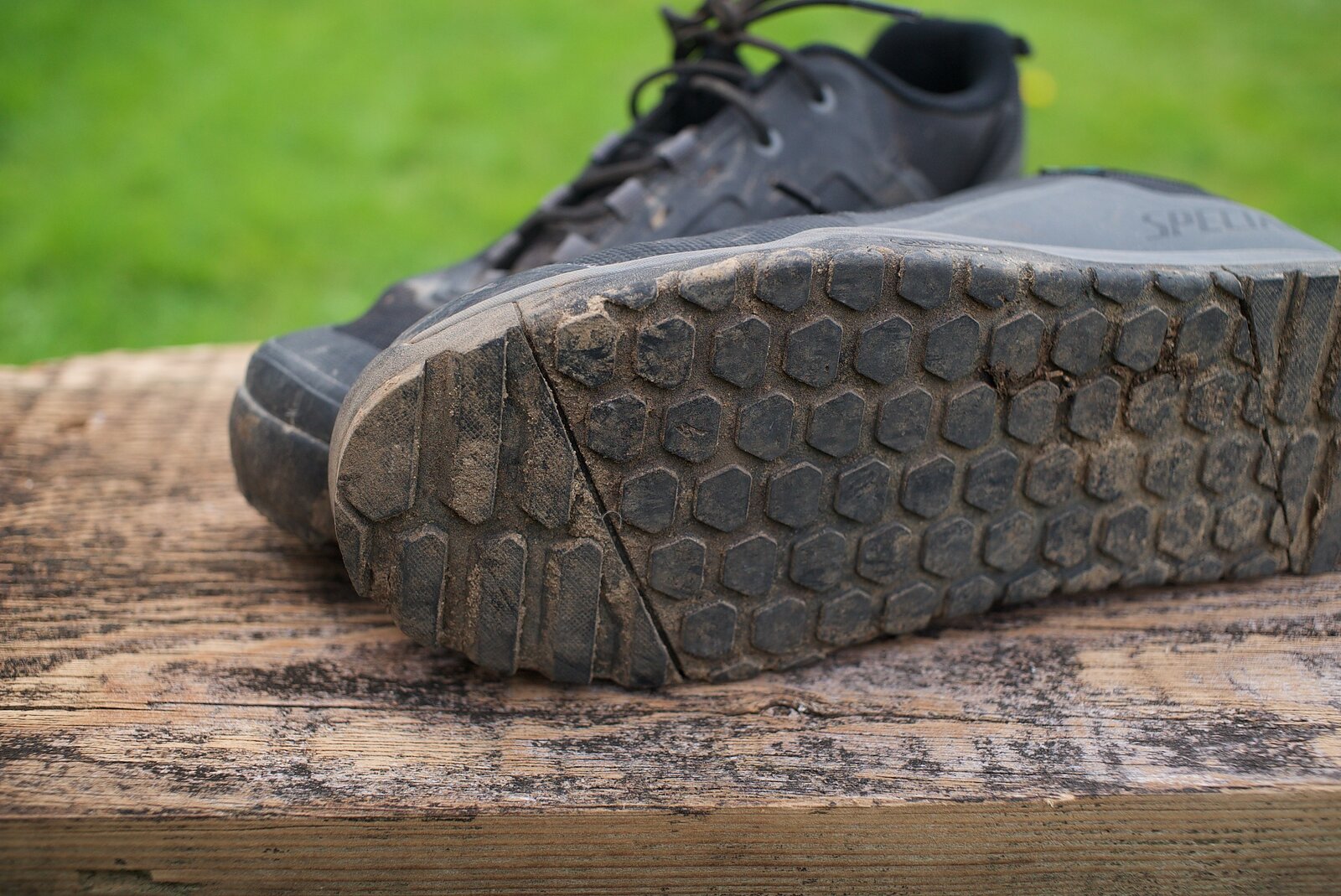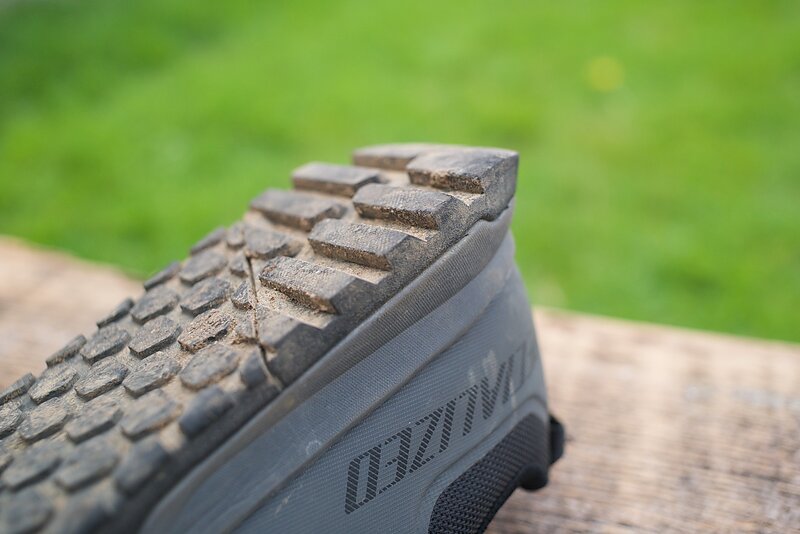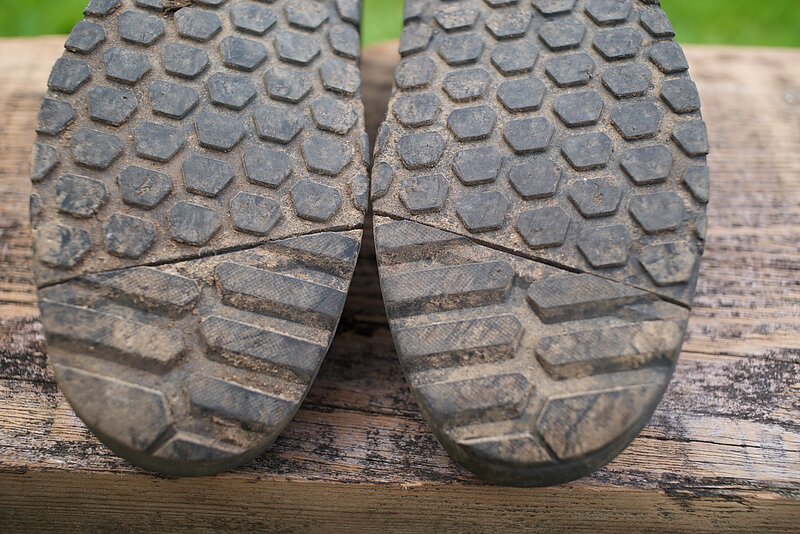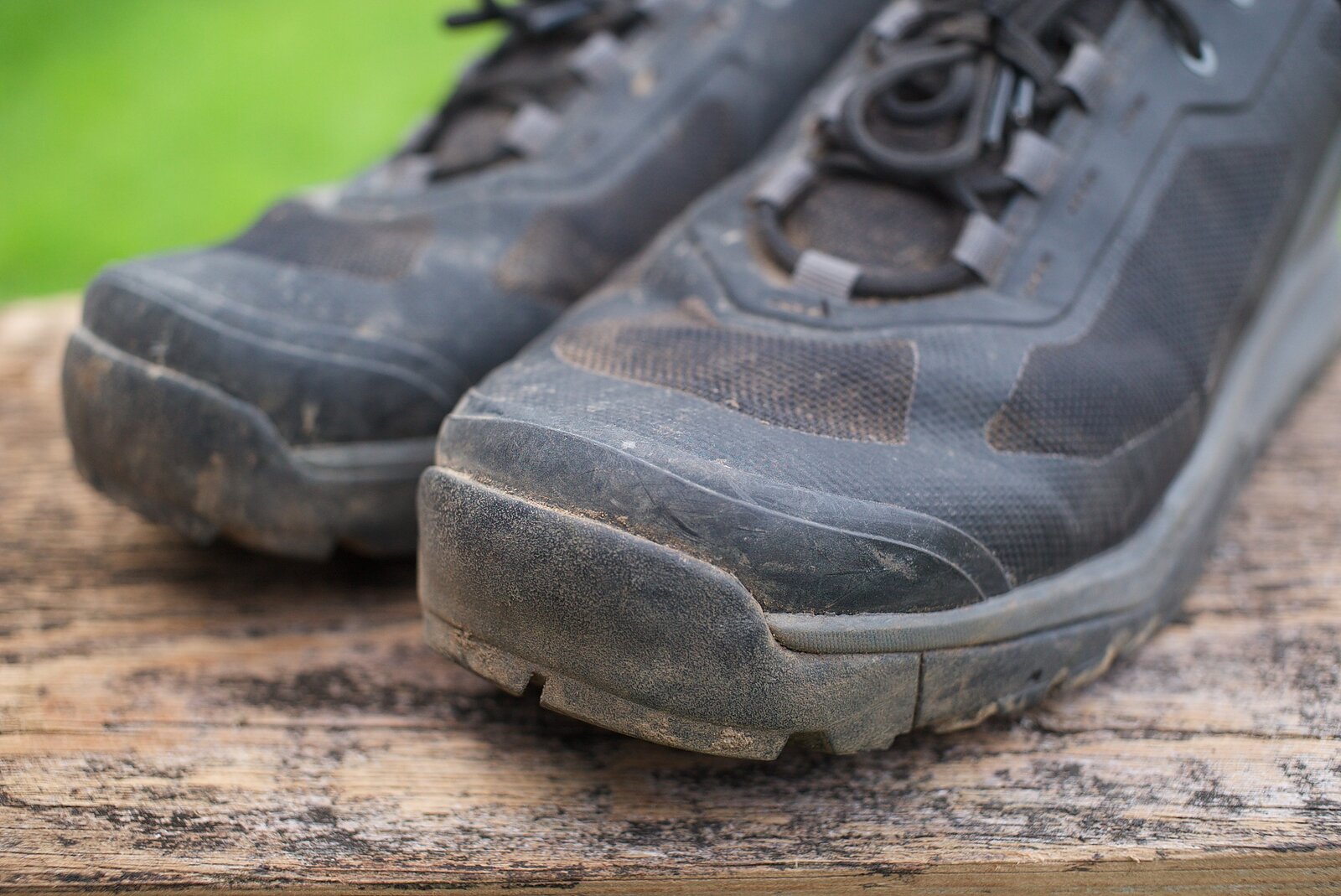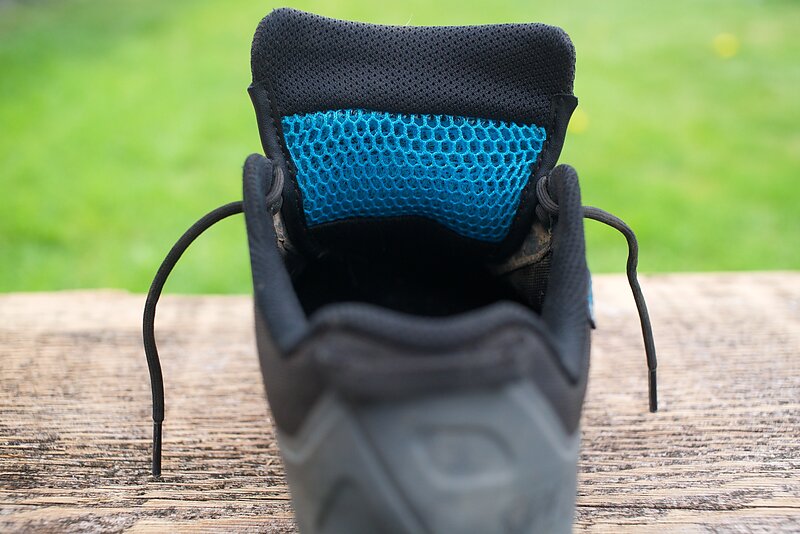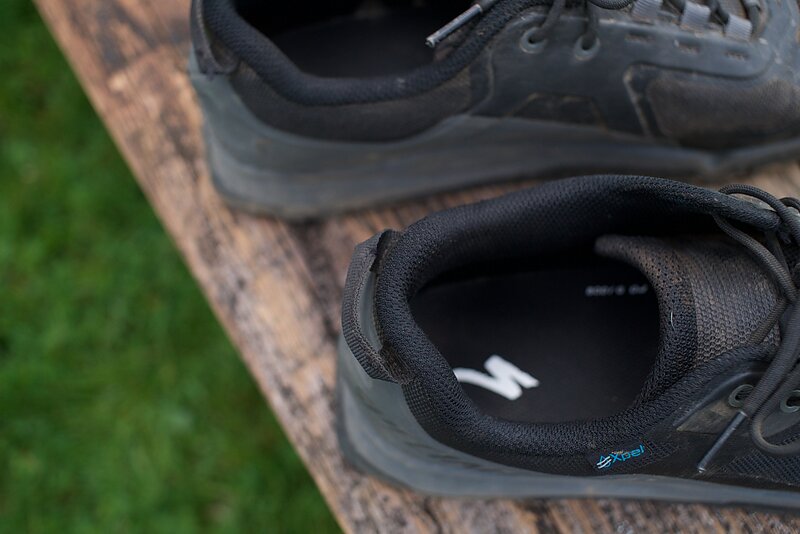 The Rime's prowess in the tech jungle is equally impressive. On tricky descents, I simply did not notice them. I consider this to be a huge plus. The shoes seemed to do what I wanted them to without constant worry about needing to readjust my foot. There are few things I hate more than having a wonky foot position mid-trail—it stresses me out—and the Rime stayed planted better than most, absorbing chunder and guiding my pedals out of harm's way when I inevitably got bucked a bit. In each instance, it was quick and intuitive to return an errant foot to its natural sweet spot on the pedal.
The final test for me was breathability. Most of my rides with the Rimes were on colder days and they were solid, shedding mud puddles with their XPEL hydrophobic mesh and letting leftover water roll away with ease. When conditions dried out and the trails became dusty, the Rimes stayed on pace, continuing to bring exceptional performance to the table.
Post-ride is where I truly accept the Rime as my Sole Savior. A pair of slides live in my truck and the first thing I usually do after a ride is ditch my foot prisons for those old and sweaty sandals. Not so with the Rime. The pins and needles I am accustomed to have been entirely absent since using the Rimes as my everyday trail shoes. There is no sense of relief when taking them off after a long pedal because I don't need any relief. And even when the mileage stacks up, any soreness in my feet is minimal.
Let's face it, most of us do more than just ride on the average bike ride. Most of us take breaks. We walk trails to scope the goods. We drink a beer with our buds before dropping in. We do some digging or scouting. During these mountain biking rituals, I don't want to think about my feet. In creating the Rime, Specialized has introduced an approach style shoe that makes sense for how most of us behave on trail. They've identified a product—the simple shoe—that's been glossed over for years and brought it up to pace with a fresh new take. Fingers crossed we see more products like the Rime in the future because I think we are all ready for new interpretations on our favorite pieces of gear.