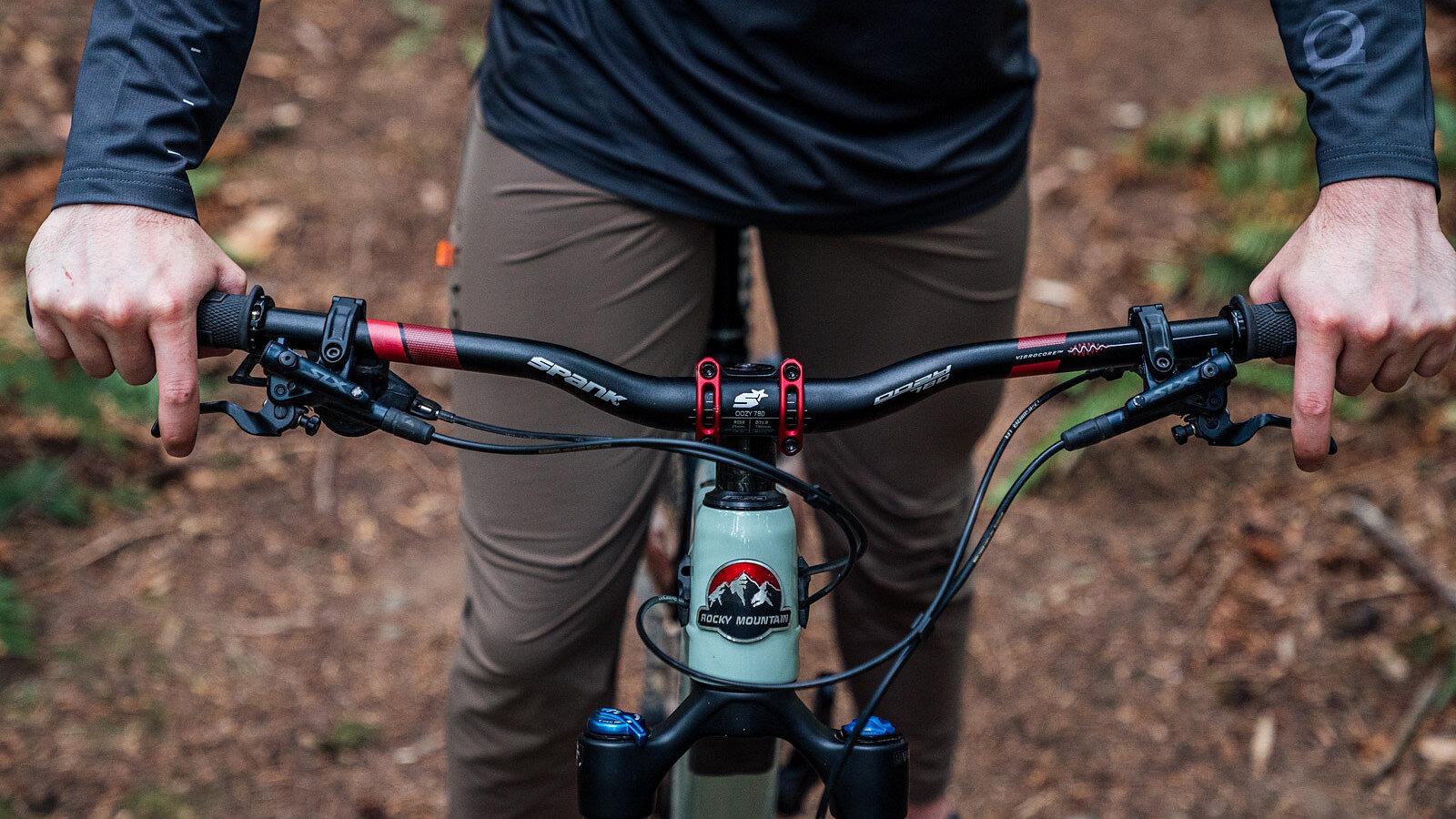 Spank Vibrocore Bar and Stem Cockpit Review
Bike technology progression isn't always a straight line.
Sometimes, manufacturers take two steps forward and one step back. Take mountain bike cockpits, for example. The 35-millimeter handlebar and stem were introduced in 2012 to the downhill category. Carried over from motocross, the increased diameter coincided with the popularity of wider bars. The handlebar's 35-millimeter center section increased strength and stiffness to meet the demands of downhill riding and the greater leverage that came with wider bars.
Bike geometry has evolved considerably since 2012, blurring differences in category capabilities. The 35-millimeter bar and stem combo trickled down to enduro and trail bikes. However, a notable issue emerged: 35-millimeter aluminum bars caused hand fatigue and arm pump. Carbon technology was introduced to mitigate these issues by reducing vibrations and weight. Today, the prevalent standard is 35-millimeter, generally carbon on higher end builds, and aluminum on lower end builds.
In a sport where the latest is greatest, and one in which we're regularly spoon-fed marketing that belies a "bigger-better-stronger" point of view, I'm here to challenge the idea that not all of us need 35-millimeter carbon handlebars. Don't get me wrong, I'm not letting go of my 35-millimeter ovalized carbon bar that I run on my big bike. My point is that personal preference is important in the world of mountain biking gear. For that reason alone, it's good to see Spank Industries offering loads of options. The company makes handlebars, stems, and all the other components you need for your bike in many sizes, lengths, diameters, and other indexes—all in the tried-and-true and value-driven alloy. Committed to 31.8 bars? Spank has 'em. Are hard-riding 35-mil bars your style? Plenty of selection there as well.
Spank Industries takes pride in their extensive product range designed to cater to a broad audience, intentionally offering the most comprehensive components line among competitors, with a growing variety of colors and options.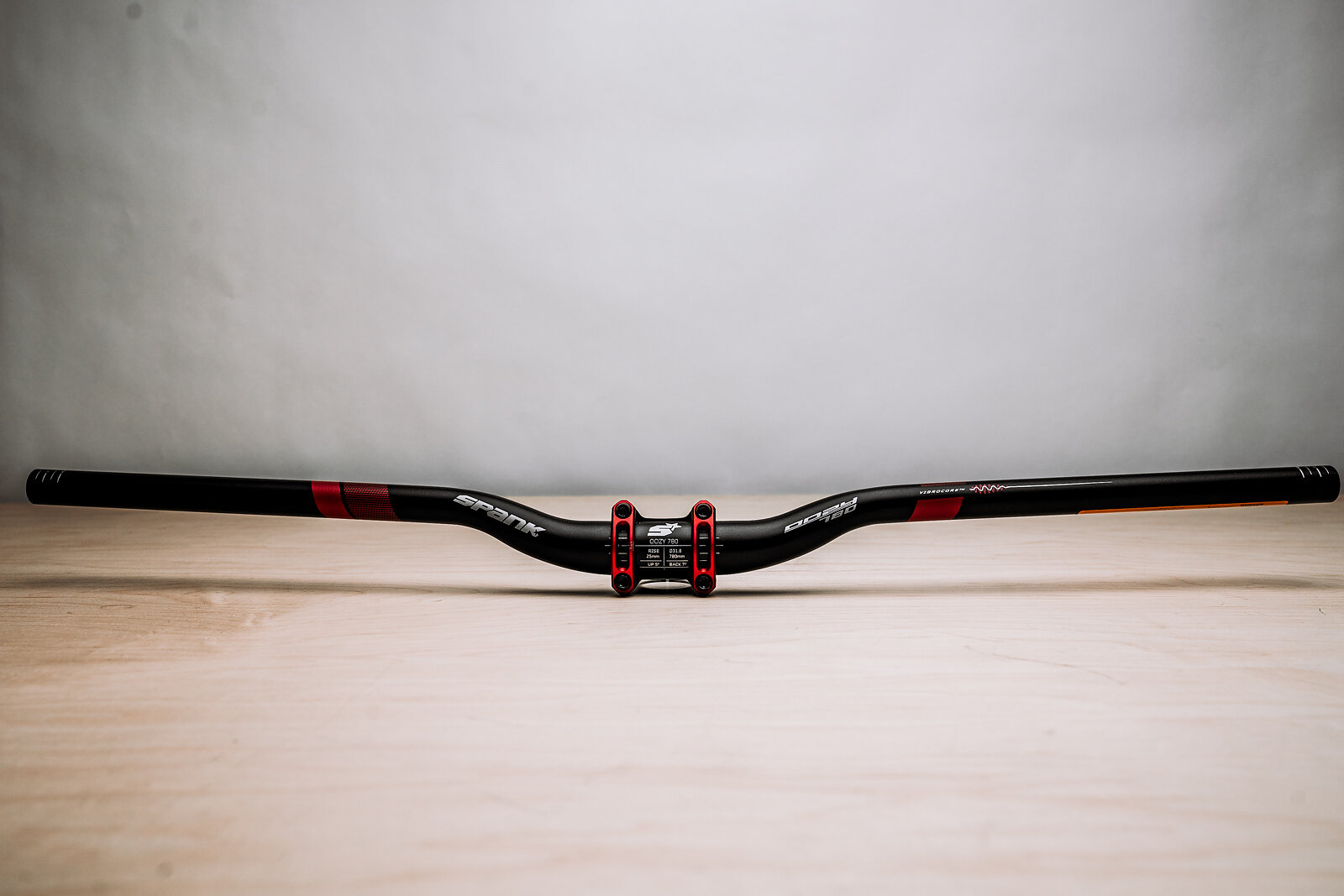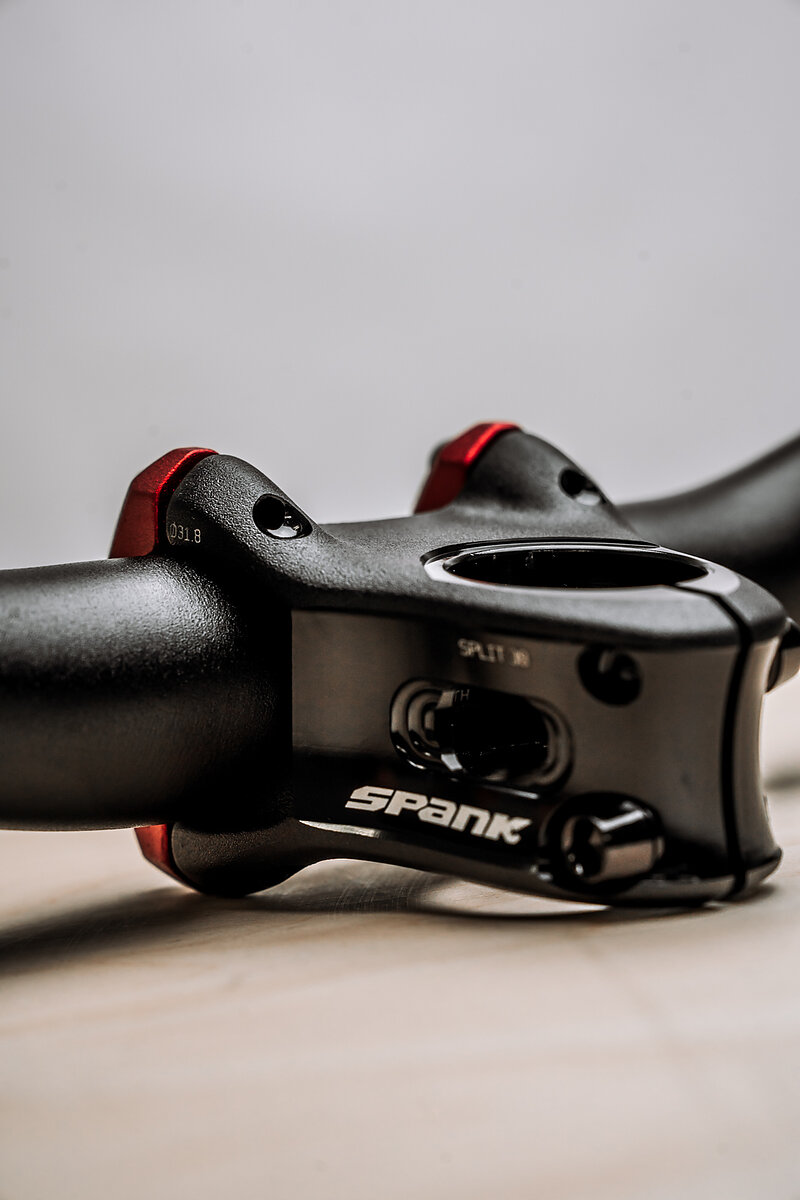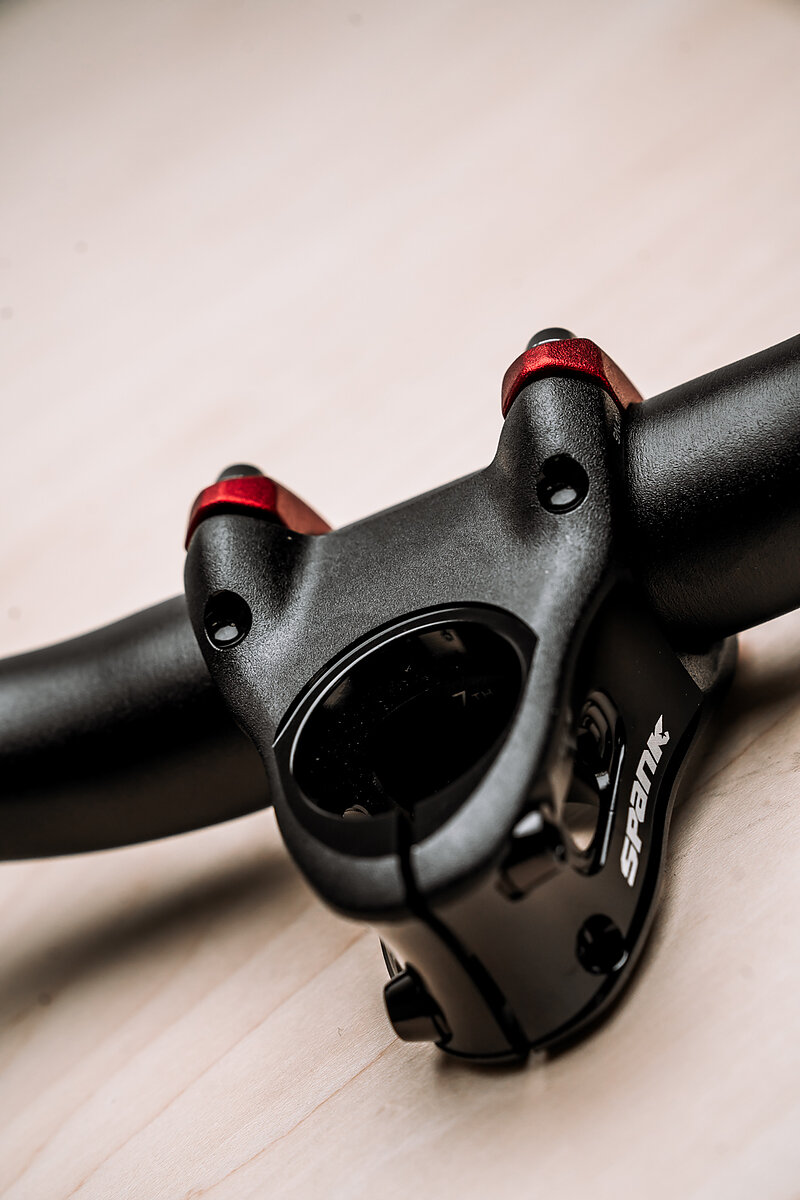 "Providing more components options helps us provide a better experience for the rider looking to customize their bike," says Chad Perrin, Spank Industries' VP of Sales and Marketing. "We're also working to become a more sustainable brand. Using alloy exclusively is a first step. We seek processes and materials to help with our environmental footprint overall and will be striving to improve and become more sustainable over time." 
When offered the opportunity to review a Spank cockpit, I took this as a sign to do exactly what product designers want us to do: try something new. I leaned in favor of compliance and opted for a 31.8-millimeter bar and stem and cut the handlebars down a little shorter than usual to 750 millimeters. Compliance is an elusive sweet spot that product designers seek. 
"Mountain bikes are constantly taking impacts and vibrations. Compliance prevents the bike from transferring those forces back to your body. It also increases traction and reduces arm fatigue, creating a more comfortable and enjoyable ride," says Chase Lee, who works as a product manager at Spank. "Spank handlebar geometry design allows for flex when taking impacts but won't feel like an unstable wet noodle when riding aggressively."
Even after settling upon a metric such as bar diameter, how can a rider make sense of all the options available? While there's no secret equation to land on your ideal cockpit, Spank does an excellent job guiding its customers through the various tech and geometry references for its product categories with its Buyers' Guide. Using handlebars as an example, you will learn about riding discipline, clamp diameter, bar width, bar rise, bar sweep, and compliance to dial in your fit. Product model comparison charts help to make sense of all the variety. Ultimately, it's all about rider preference and trial and error. 
"I think bike dimensions and component specs can tend to be overly granular," says Perrin. "I always tell riders to try stuff and experiment and deduce from that overall experience in order to select what works best for them and their style of riding."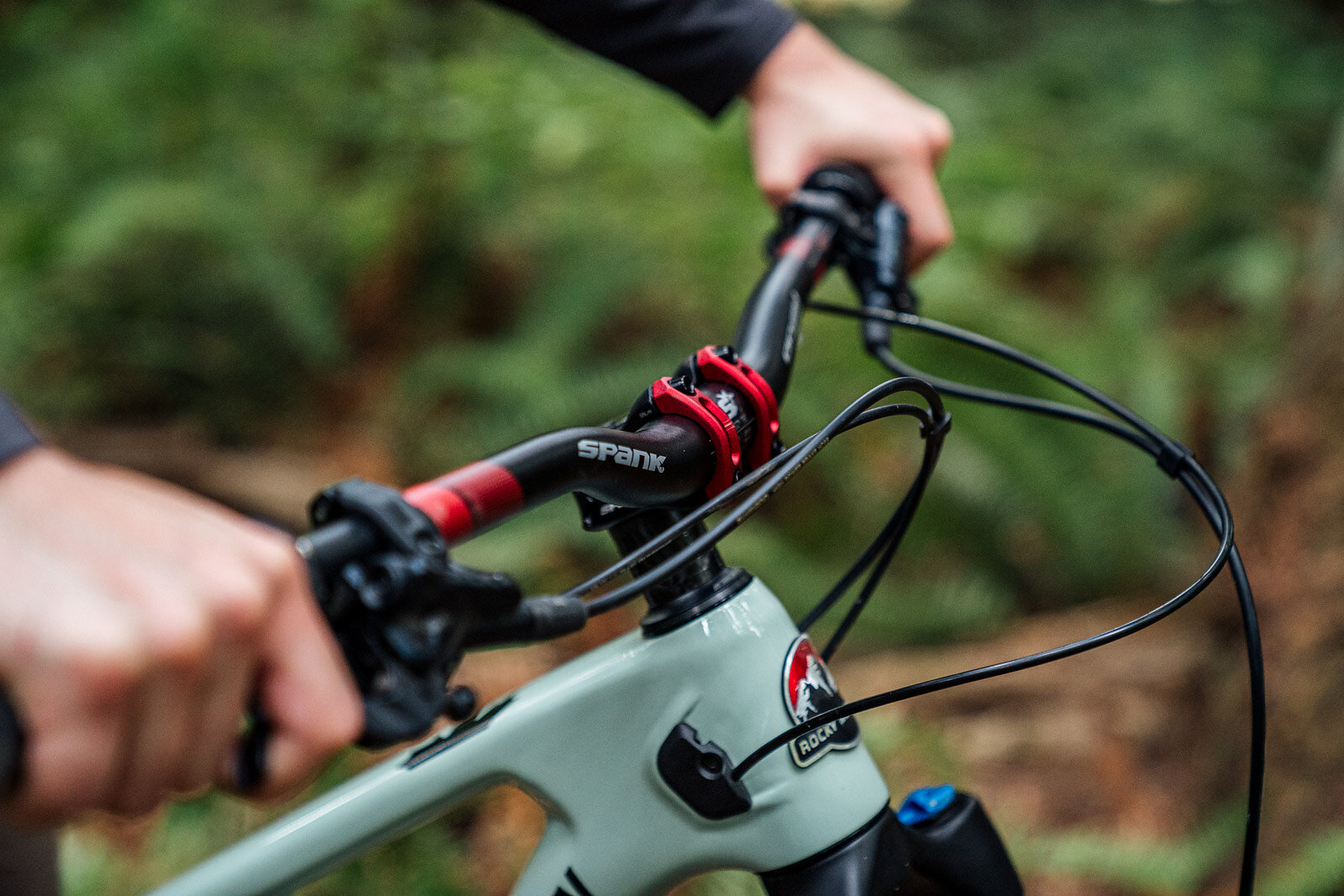 Spank Oozy 780 Vibrocore Bar
The Oozy 780 Vibrocore Bar is Spank's vibration-damping, all-around trail handlebar. Intended for cross-country, trail, all-mountain, enduro, and e-bikes, this alloy bar has a 31.8-millimeter clamp diameter, 780-millimeter width (which can be cut down to 740), a 5-degree upsweep and 7-degree back sweep. The bar is available in both 15 and 25-millimeter rise. I tested the 25-millimeter rise. Spank's claimed weight of an uncut bar with a 25-millimeter rise is 275 grams. 
My appreciation for a handlebar starts with set up. While many riders can center and roll their bars with a few sideways glances, I'm not one of them. I like index markings. They provide a starting place for set up and help me get back to square one should I be swapping stems or trying to set another bike up similarly. The Oozy 780 has markings to center the bar and accurately measure roll and cut ends. 
The Oozy 780 is Spank's feature-rich handlebar. I say that affectionately, as handlebars are inherently simple, and Spank technology is straightforward. The bar's taper is designed to withstand stress and impacts, and the bending is done by CNC for precision and consistency. The Oozy 780 Vibrocore handlebar, and a few other select Spank bars and stems, is made of zirconium doped 7-series alloy. This is a dense alloy that's heavier than other alloys, but due to its strength and hardness, it allows for thinner wall thickness, thus reducing overall weight. 
The most significant feature of the Oozy 780 Vibrocore is a proprietary biodegradable foam injected into the handlebar's core. Essentially indiscrete, Vibrocore works to reduce the vibrations that cause hand fatigue and arm pump. Much like the ring of a champagne flute when tapped for a toast, traveling down a trail causes all handlebars to vibrate at a unique natural frequency. Do you suffer from achy hands and noodle arms after a long descent? A specific range of frequency causes that. According to Spank, some handlebars vibrate at a low frequency that's harmful to the body. Vibrocore works to increase that frequency to a range that the body can more easily tolerate. Essentially, Vibrocore is Spank's non-carbon solution to the hand and arm fatigue we've all suffered.
Out on the trail, the Oozy Vibrocore bar is smooth, poised, and comfortable. This handlebar delivers on its claim of calming the chatter. Set up on my daily trail bike, feedback and deflection are reduced, and dare I say, there's an ever-so-slight improvement in front wheel traction. The angles are comparable to other bars for their riding style, creating a comfortable position for aggressive riding. With a ride characteristic of carbon at the value and durability of alloy, I would confidently recommend this bar to any rider.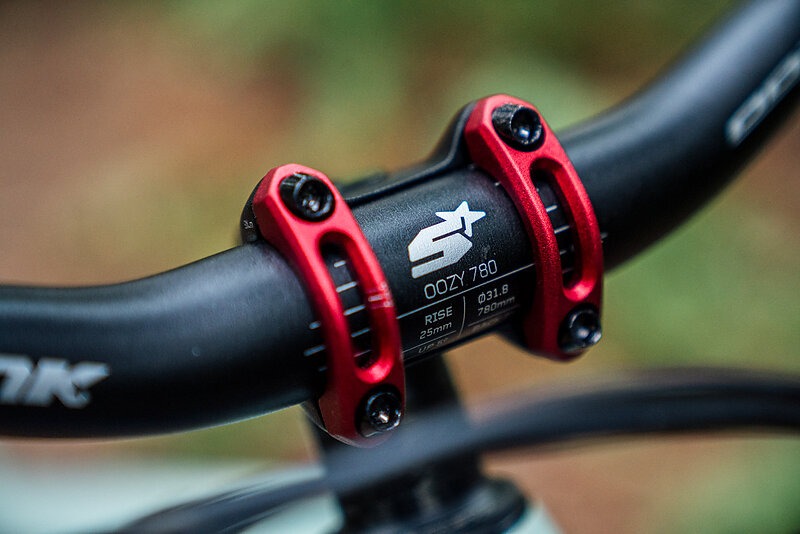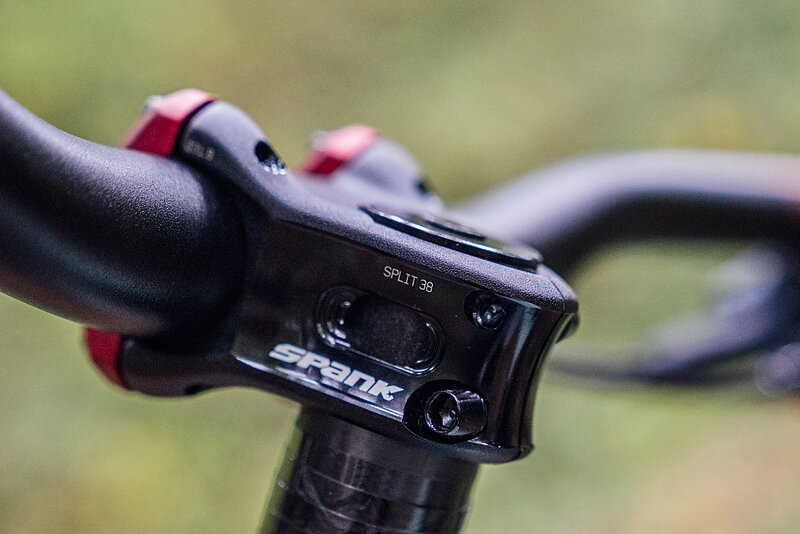 Spank Split 38 Stem
With a handlebar comes a stem, so I tried the Spank Split 38. Optimized for 31.8-millimeter bars, the Split 38 is intended for all-mountain, enduro, trail, freeride, and motor-assisted riding. It comes in four lengths: 33, 38, 43 and 48 millimeters. There's no rise, and the stack height is a competitively low 34 millimeters. The material is a forged magnesium alloy. 
Setting up the Split 38 stem to the Oozy bar was a breeze, thanks again to index marking on the faceplate to measure roll. There is no faceplate index for centering the bar, unfortunately. The low stack height required additional spacers but allowed me to dial in the stack for my preference. The bar clamp width on the Split 38 is among the widest of the Spank single crown line at 60 millimeters. I'm guessing this counteracts the low stack height and stabilizes the comparatively compliant 31.8 diameter. 
I've come to learn that matching your bar and stem combo from the same brand results in the best usability and ride experience. The Split 38 seemed to provide an ideal, almost unnoticeable platform for the 31.8 bar. The ride quality was neither harsh nor pliant—the combination struck a nice balance of control and comfort. Best of all, this stem comes in micro increment size options, so riders can match to their fork's offset or fine-tune their cockpit.
Spank has proudly avoided the tech seesaw, remaining committed to alloy and focusing instead on improving the material's performance in a wide selection of shapes and sizes. Bike upgrades and adjustments can be overwhelming with the variety that exists. I appreciate what Spank suggests: trial and error is king. Try your friends' bikes. Prioritize riding position and comfort over trends. Experimentation can be costly, so it's good to see Spank offering a plethora of high-performing options at a reasonable price point.