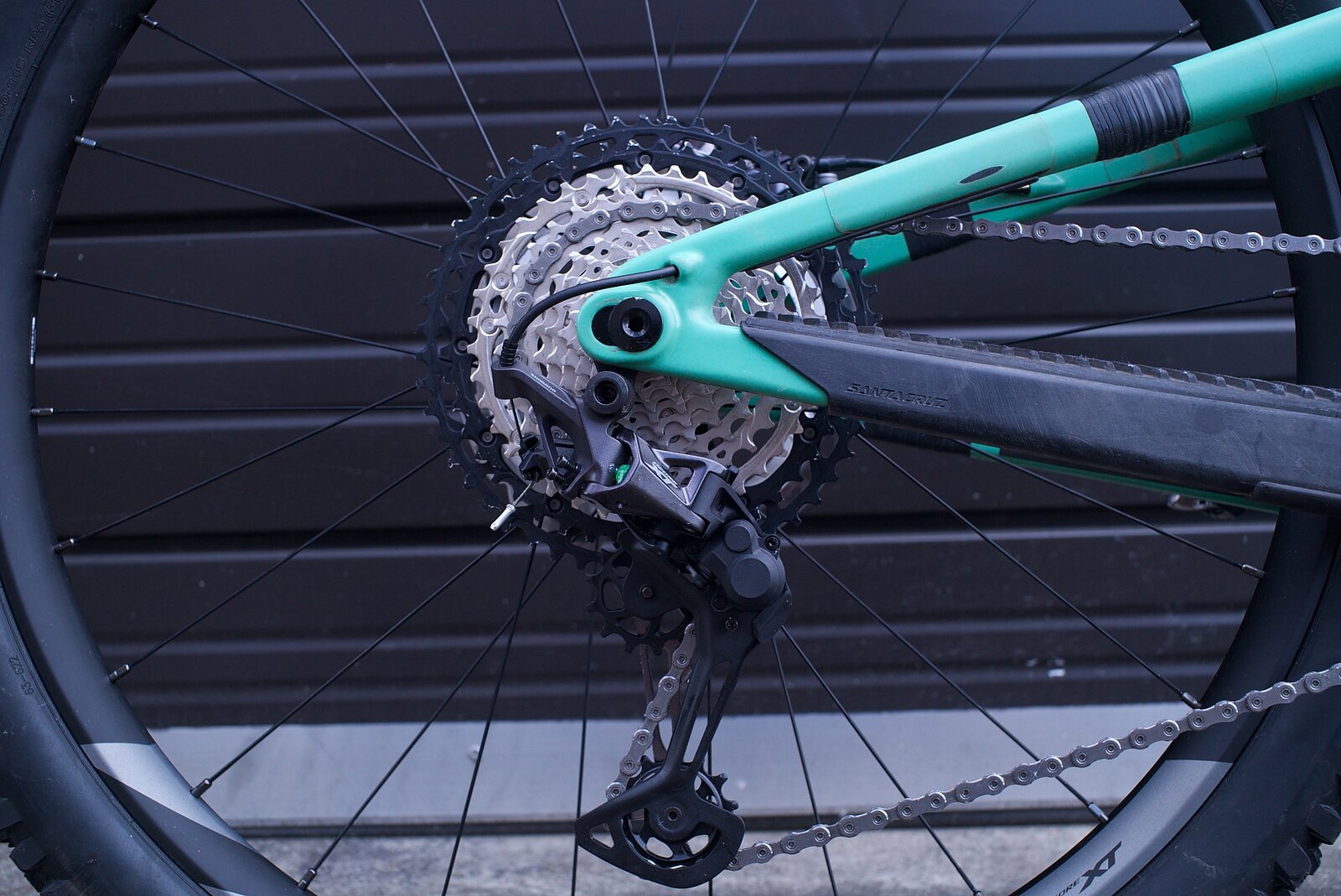 Shimano XT M8100 Groupset Component Review
Few other bicycle components boast the same weighty legacy as Shimano's Deore XT groupset.
Originally introduced almost 40 years ago, Shimano's XT line showcases how far mountain bike technology has come in one single set of products developed in tandem with the sport itself. We've come a long way since the days of white-knuckling down chattery old dirt roads on cantilever-brake-equipped rigid bikes, but we're still riding XT all the same. And while it looks nothing like it did in 1982, Shimano's latest Deore XT iteration is still providing mountain bikers around the world with the same top-shelf feel and durability at a wallet-friendly price point that has earned it a spot among cycling's most respected groupsets. In fact, after testing a handful of bikes with the new 12-speed XT—including in some of the toughest conditions the Pacific Northwest climate could muster—it's safe to say Shimano has upped the ante when it comes to dollar-for-dollar value in mountain bike componentry.
---
XT Brakes
The new XT four-piston brakes were the first bit of tech to leave a serious impression on me. As a 200-pound rider in Bellingham who logs at least six rides a week, I tend to find the limits of most OEM brakes when testing bikes on our region's 2,000-foot-plus descents. Brake fade, and the resulting loss of power, is a common issue on long and sustained steeps. However, the new XT four-piston brakes don't seem to have this problem. It took me all of one ride to get hooked on their consistent and reliable feel.
Since getting a set for my personal Santa Cruz Megatower, and eventually my Specialized Stumpjumper Evo, I've had a hard time riding anything else. The lever throw is the classic Shimano style which feels ergonomic and intuitive to my large hands. Lever action is light with minimal resistance before the brake pads hit the rotors. This light lever throw is crucial for the extra confidence these brakes provide me. Over time, I found that I was more hesitant to do high-speed manuals with other brakes for fear that they wouldn't engage in the same surefire way my XTs do.
But the real show-stopping performance of the new XT brakes lie in their raw power. I've tested these four-piston brakes on just about every steep downhill track in the county and have yet to feel them get anywhere near their limit. They've changed my whole riding style—I brake later into corners than I ever did before, all without having to muscle the levers. This saves grip strength on long descents and serves to keep you fresher over the course of any given ride.
Shimano's new XT brakes are so powerful that I'd recommend lighter riders consider staying at a 180-millimeter front rotor, or even a 160-millimeter, depending on where you ride. Ultimately, it comes down to how much bite you can handle, but, as a large man who likes to ride steep grades, I can say with confidence that a 203-millimeter rotor is more than enough for me.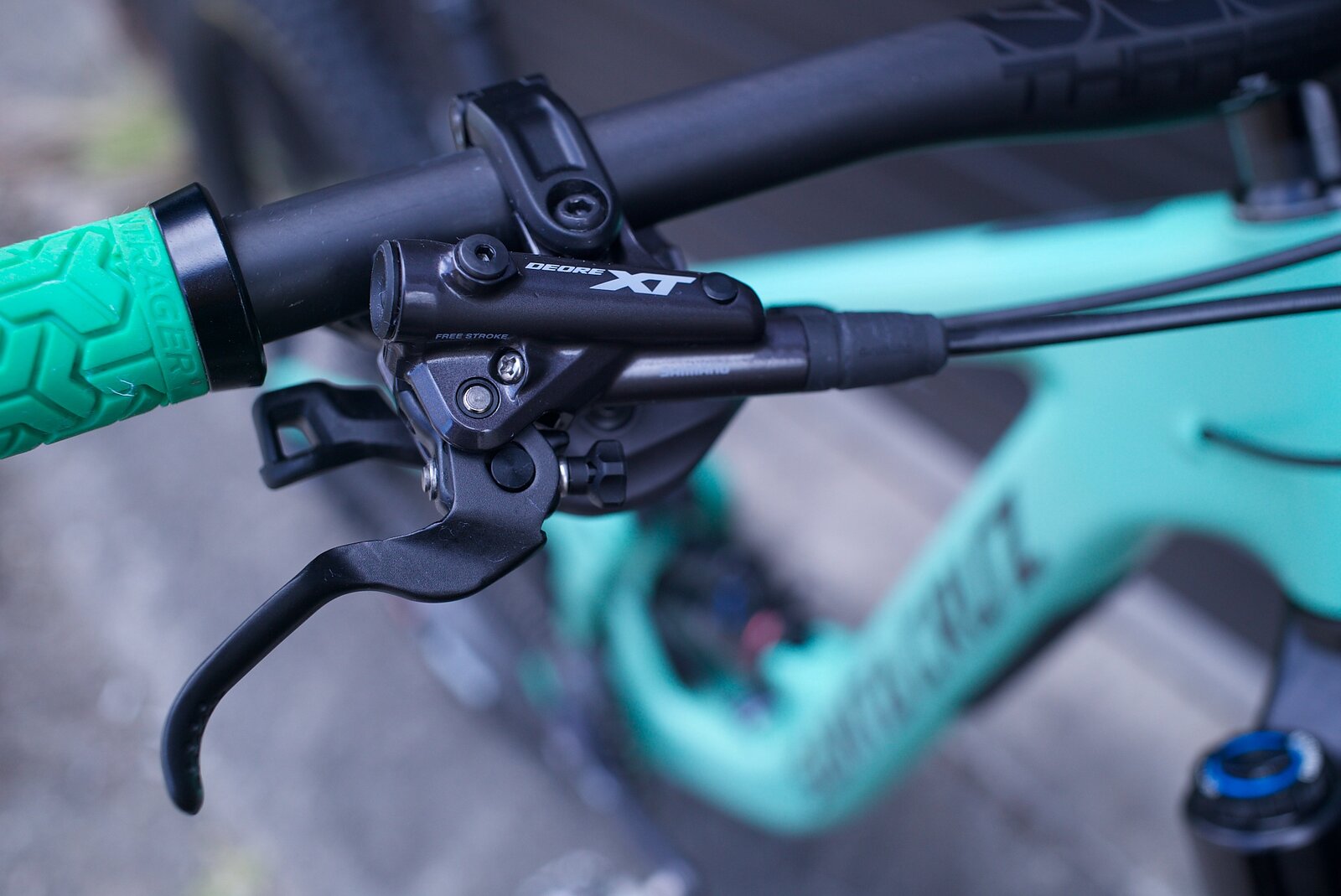 Part of this stellar brake performance recipe comes down to Shimano's devotion to managing heat dissipation on their brakes. Their signature Ice-Tech brake pads come with a protruding heat sink to quickly move heat out of your brakes under heavy use. My test kit came with Ice-Tech rotors which use a steel and aluminum sandwich construction and aluminum fins. Together, these features work to keep the brake system cool and controlled.
Installing the center-lock Ice-Tech rotors is a breeze—I can't help but feel a little fancy every time I wrench on the center-lock threads to my hubs without messing with any tiny bolts.
Despite my general affinity for XT four-piston brakes, I have had a few minor issues with them. The bite point (distance the lever pulls until the pads make contact) does wander at times. This is especially noticeable on trails with successive square-edge hits. It has never felt dangerous to me, but it can be alarming when you find the brake bite point isn't quite where you left it. I've also found that the minimalist lever design is susceptible to bending during even the lightest of crashes. With that in mind, it may be prudent to bring an extra replacement lever if you're racing or heading out on a multi-day trip.
After experiencing the XT brakes and installing a similar four-piston SLX set on my wife's bike, I can confidently say that I would buy the SLX brakes over the XTs if it were my own money. Performance between the two is virtually indistinguishable (both are excellent) and the only features that differentiate them are a different paint scheme and a useless Phillips head pad contact adjustment on the XT model.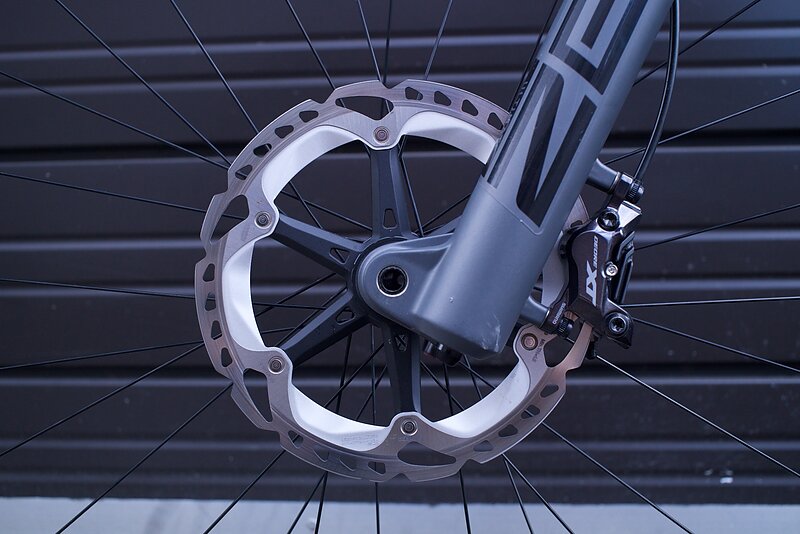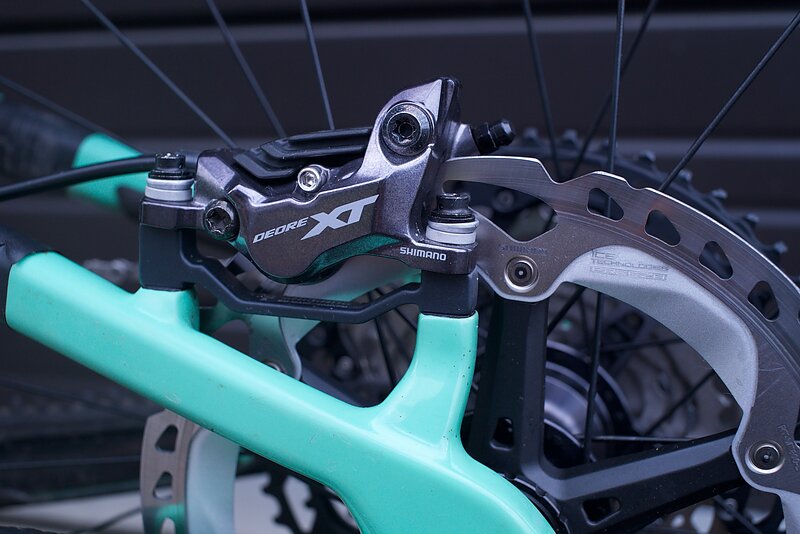 ---
Drive Train
When Shimano released their 12-speed 1x line up, I think most people let out a sigh of relief. With SRAM proving 12 speed could be simple and reliable, the cat was out of the bag that 12-gear systems were the way of the future. What's interesting to me is how different the Shimano system feels. The sounds and feelings of the XT groupset are a world apart from its competitors.
The difference lies mostly in the interaction between the lever and how it moves the derailleur and chain. Shifting to a lighter gear is achieved with a more muted click than I was used to. Shifting to a heavier gear also lets out a muted thud as the chain waits to be grabbed by the cassette using the new Hyperglide+ technology. The biggest difference with Shimano XT over its rivals is the reliance on the cassette and chain technology to do the heavy lifting upon shifting. The shift ramps on the cassette and chain interface are incredibly good and more than make up for the derailleur's tight and powerful clutch mechanism. Speaking of the clutch, I was impressed with the lack of chain-slap out on the trail. The clutch also has the added benefit of being easily adjustable. After removing a dust cover to gain access to a two-millimeter bolt, adjusting the tension is simple.
The clutch mechanism is powerful to the point of the derailleur needing a dedicated lever to control it. Flipping this clutch lever to the off position makes removing the wheel a much easier task. Although, I must say, I do miss the cage lock feature found on SRAM derailleurs which makes removing a wheel even easier.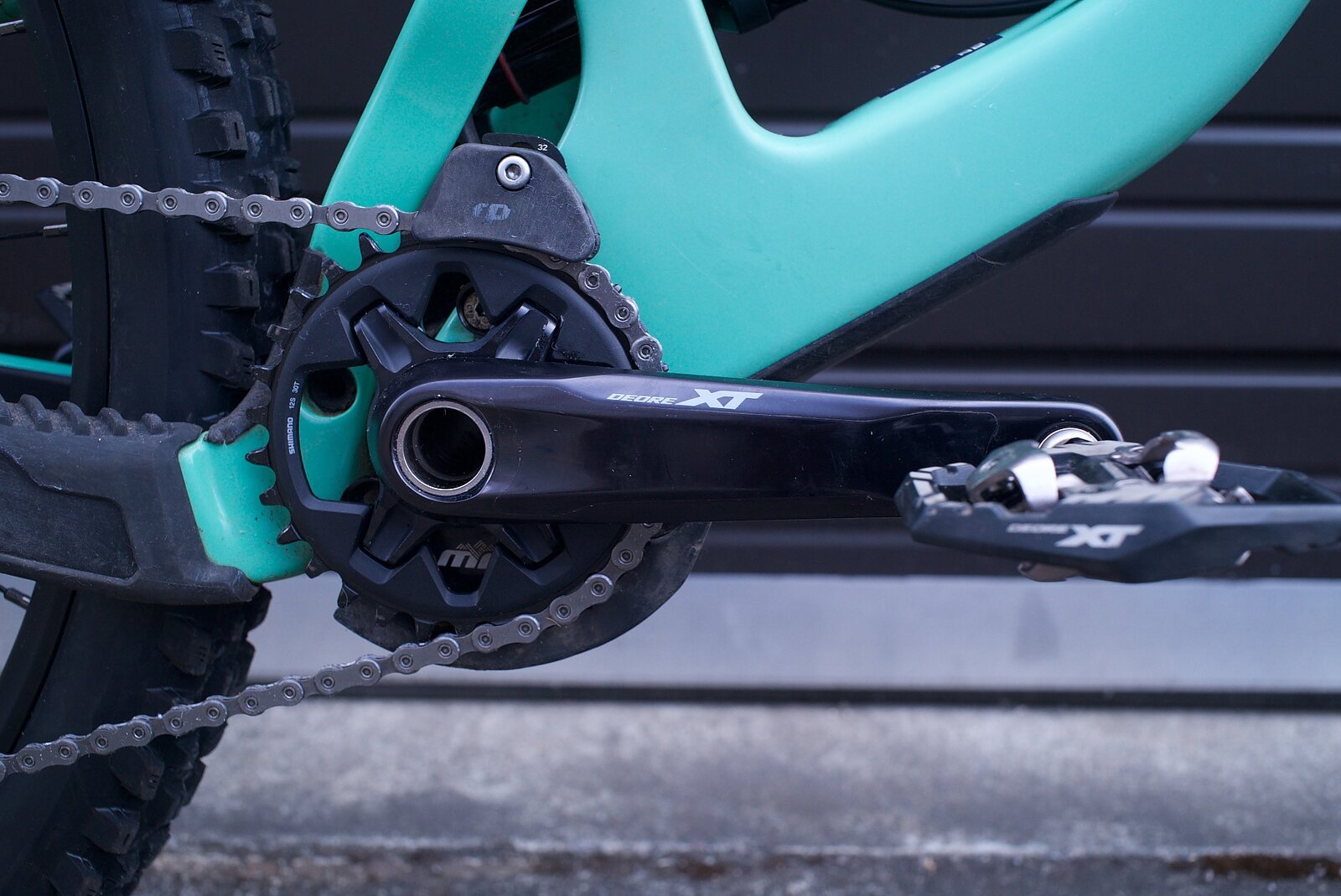 Out on the trail the new XT drive train is a treat to ride. Shifting can be done at any time—under any load—for carefree gear changes. Going up a steep grade and banging into an easier gear no longer makes you wince. Shift ramps on the cassette, which come in either 10x51 or 10x45 gearing options, smooth out any questionably timed shifts. 
It's hard to control for variables like tire casings, temperature and trail conditions, but I swear the Shimano drivetrain feels like it gives me less resistance when cranking up a long climb. I have no way to objectively measure this phenomenon, so take it for what it's worth. 
The most exciting feature of the XT drive train is the double downshift mechanism built into the shift lever. Now, you can push once or twice when going to a heavier gear. This is a feature I use every ride and saves a few movements of the thumb.
The XT crankset felt stiff out on the trail and was easy to install and remove thanks to the intuitive pinch bolt design. I have no reason to believe cold-forge cranks like these won't last decades. I also enjoyed the center-lock style lock ring that keeps the chainring on for its simplicity and ease of use.
Beyond performance, the most appealing part of this new drivetrain for most riders will be the price. When directly compared to its rivals, every part of the XT line feels like a deal and will encourage me to stay up on maintenance and replacement when the time comes.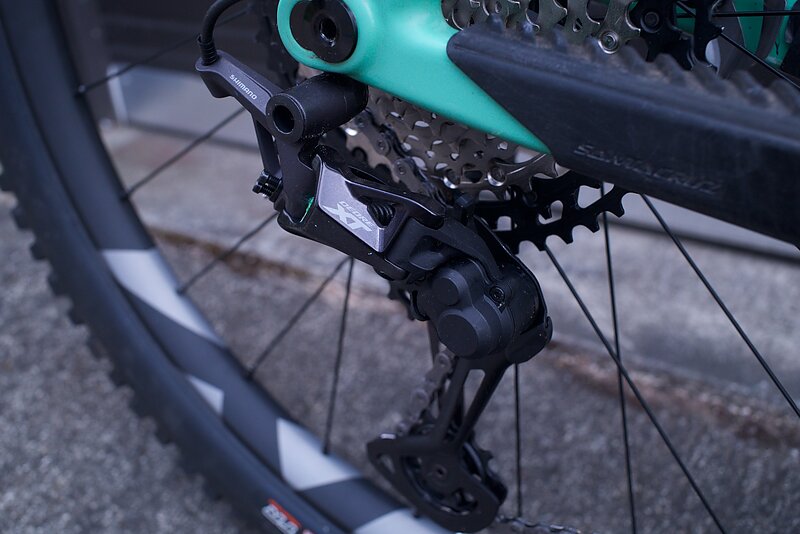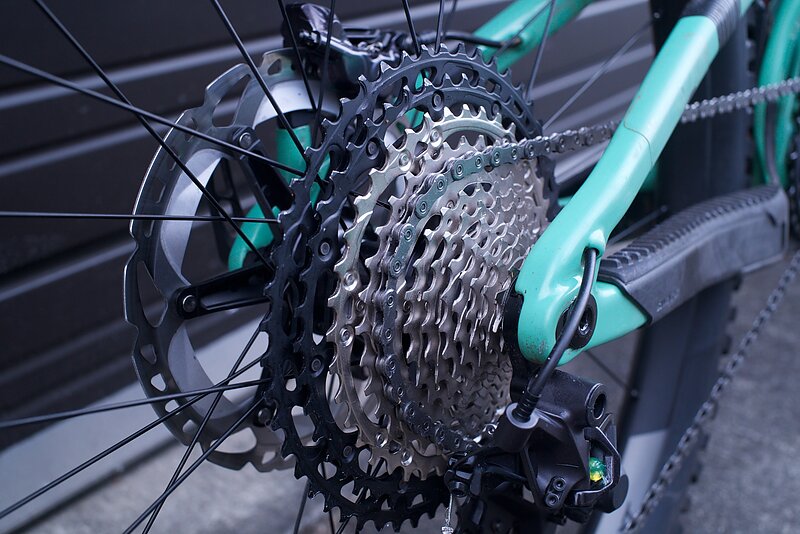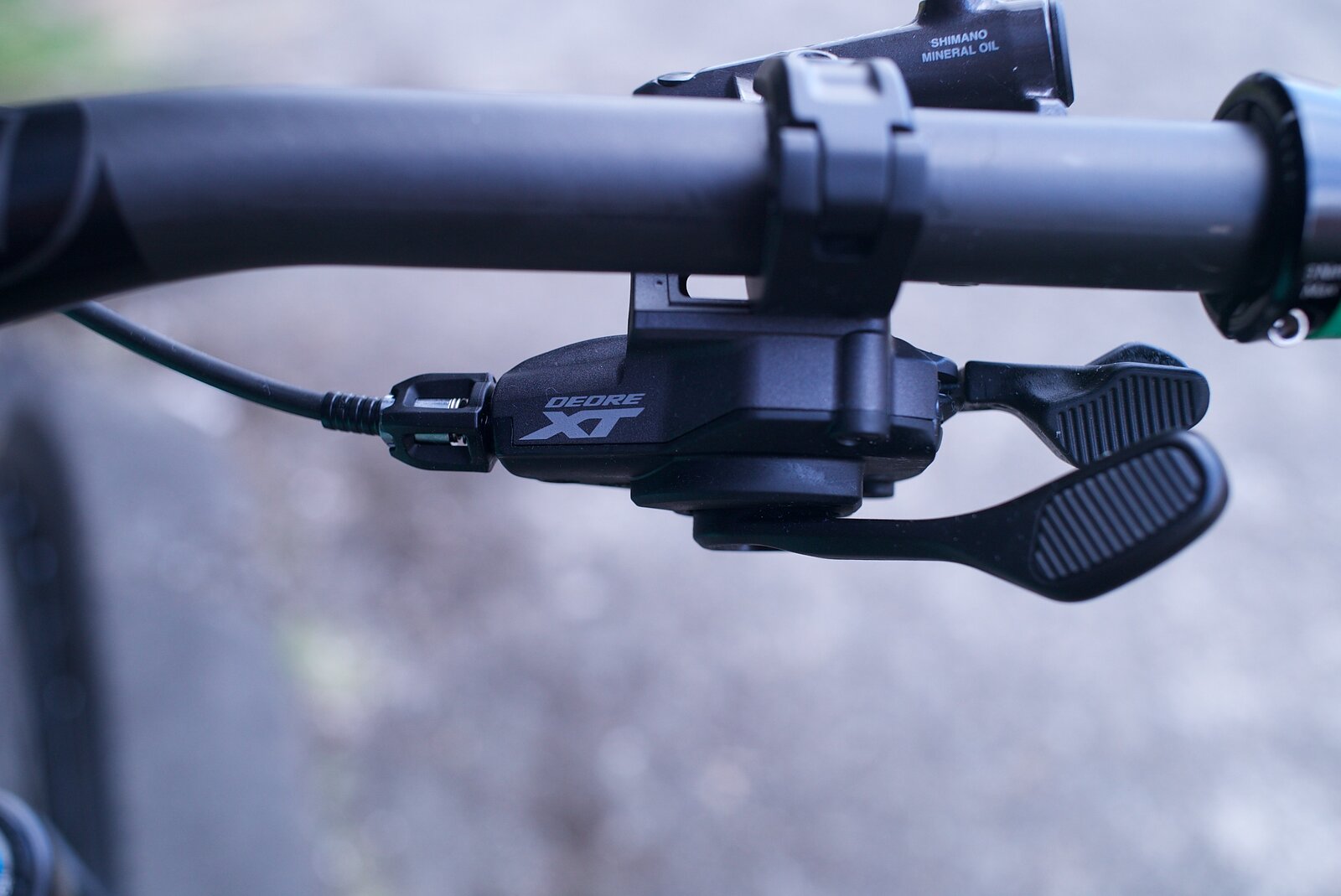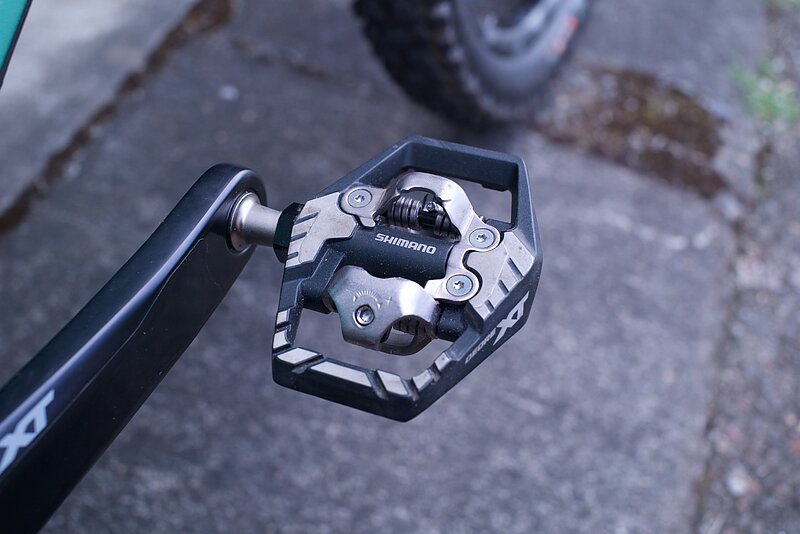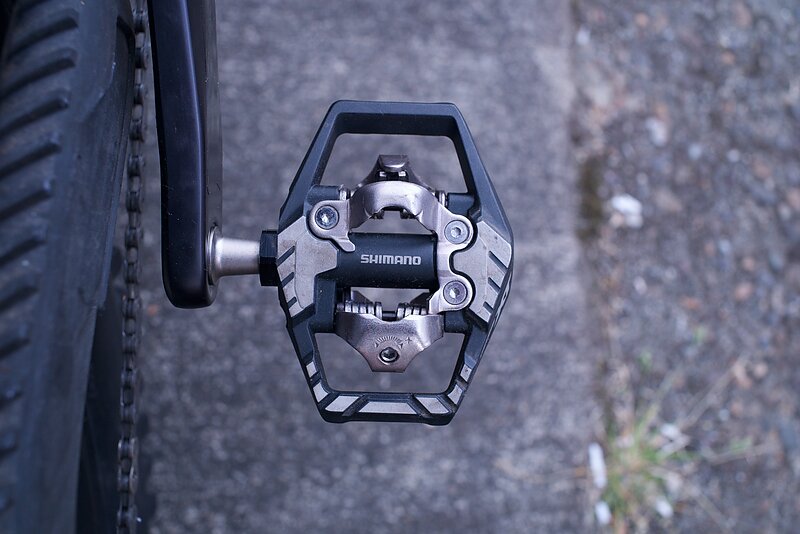 ---
Cockpit
To complete the full Shimano build, I tested some of their Pro Components goodies. Starting up front, I ran the Tharsis 3Five carbon riser bar clamped to a Tharsis 3Five stem. I opted for a low-rise bar which felt like the perfect blend of aggressive yet comfortable geometry. My general view with bars and stems is that no news is good news. Pro Components' styling is easy on the eyes and the front of my cockpit faded away while I was riding. I found the rise and sweep just right, but more importantly, the 35-millimeter diameter did not lead to a bar that was stiff to the point of rattling my bones. The stiffness and geometry felt just right. I also appreciated having a full 800-millimeter width for extra leverage while yanking the bike over through bottomless corners.
The back of my cockpit was supported by Pro's Stealth Offroad saddle and their 170-millimeter Koryak dropper post. The saddle was on the firmer end of the spectrum but became comfortable after a few break-in rides. I enjoyed the adjustability of the rails which let me slide the post further forward for the steep PNW climbs. The dropper post and Shimano lever were a smooth operation that worked perfectly without any additional attention after installation. I'd be more impressed with a post that could compete with the current crop from other brands that offer around 200 millimeters (or more) of drop, but the Koryak gave me the impression that it had a robust construction and wouldn't leave me hanging in the woods with a stuck post. Perhaps the standout feature was the aftermarket Shimano direct-mount dropper lever. It was an ergonomic pleasure to use.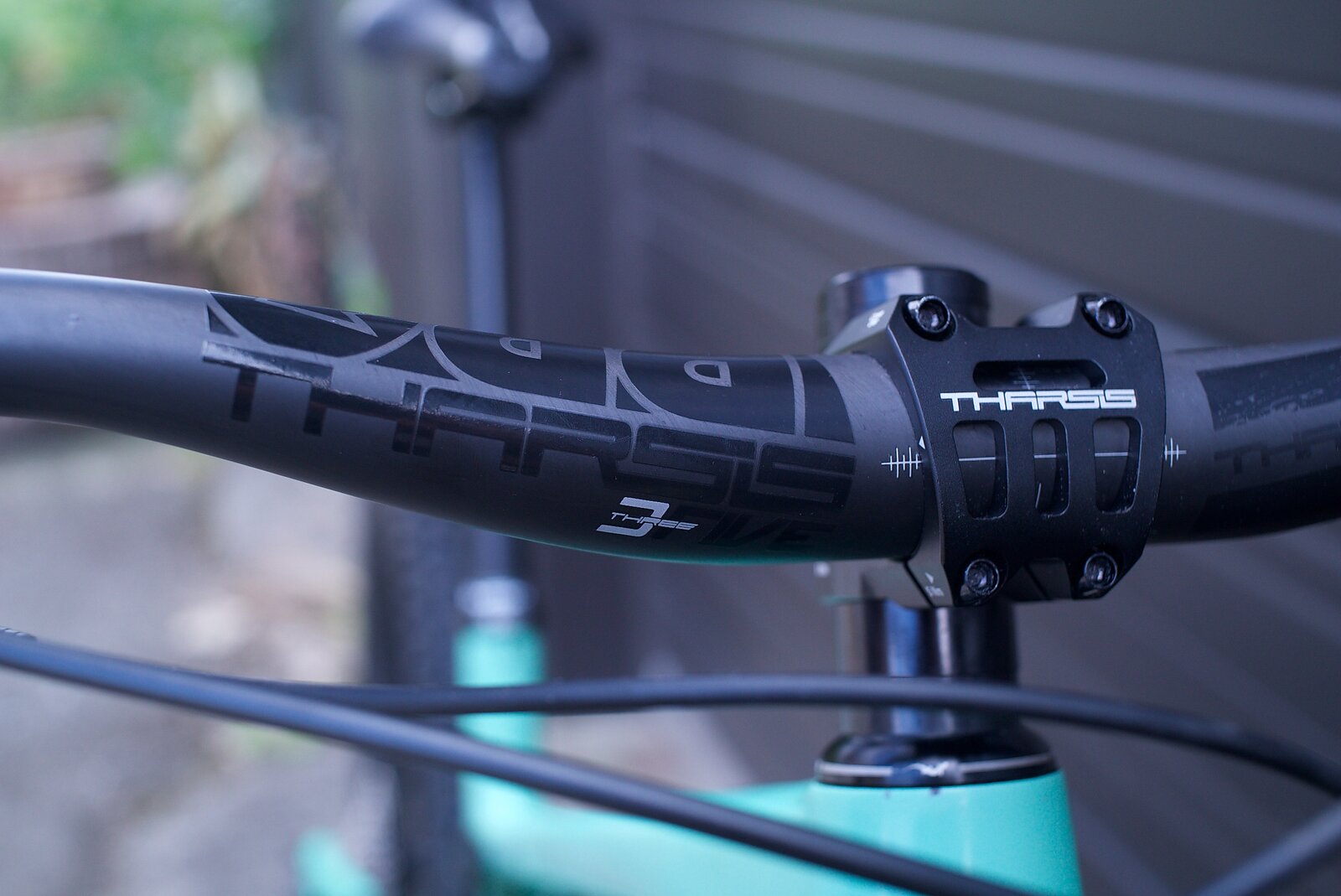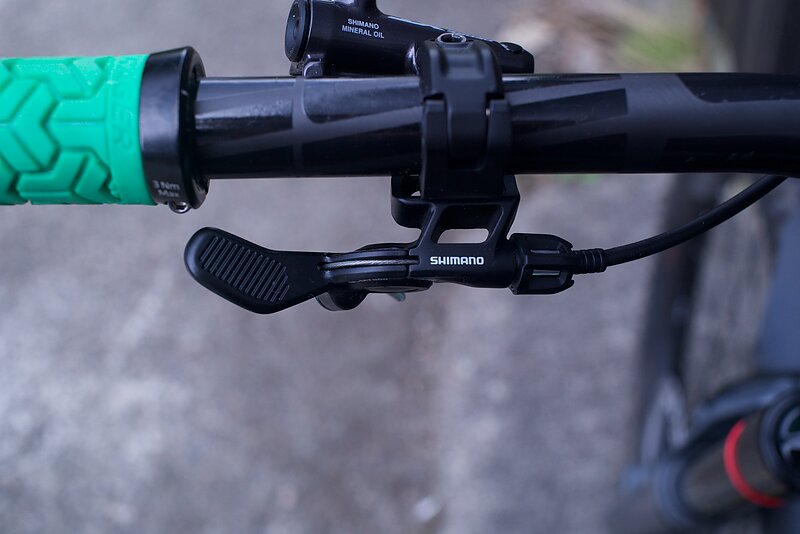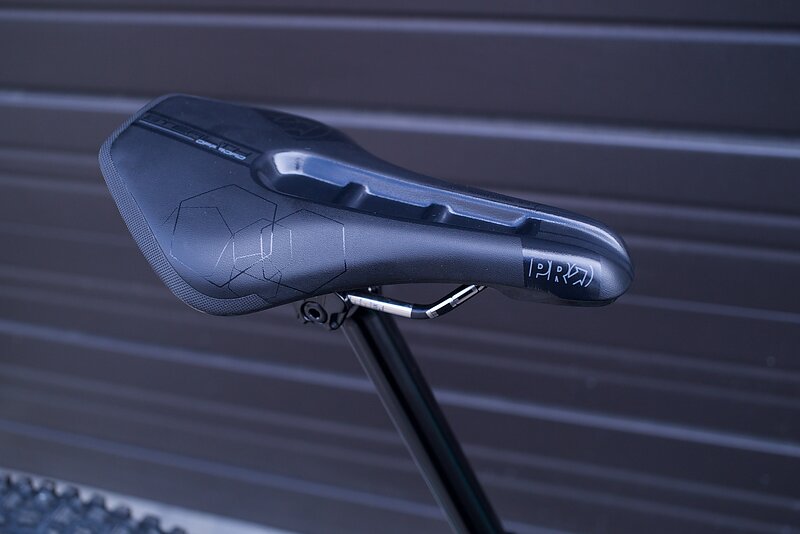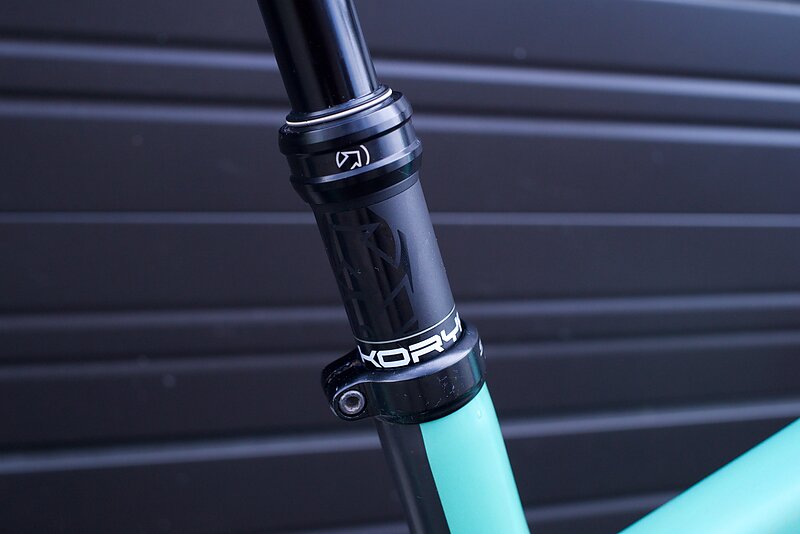 ---
Wheelset
One of the highlights of the XT line up is the new affordable wheelset. Not only is the set available for a reasonable price of under $500, but it's also unrivaled in its performance for this price category. The highlight of the XT wheelset is the new silent FH-M8110-B micro spline hub. Shimano seems to have implemented a two-stage hub design here—at slow speeds you may be able to hear the faint sound of a freehub clicking, but as soon as you hit any measure of speed the hub noises completely fade away. I've ridden other hubs marketed as "silent", but this level of quiet was a new experience for me all together. The alloy rim is held in place with J-bend spokes, making for quick and easy spoke replacements. 
Riding the wheelset felt great. I found that they displayed all the best attributes of alloy wheels—namely in their good balance between precise handling without being too unforgiving and stiff. After six months of hard riding the rims stayed relatively true. After the wheels started to lose their initial spoke tension, I did break three spokes at different times. The spokes are available at any bike shop, but the custom Shimano nipples may be hard to replace without a special order. The nipples are alloy but have a stout extra wide profile that never broke during my test. When tightening the nipples, you may find that your traditional spoke wrenches will not fit the oversized profile. I had the best luck using a Knipex plier wrench to quickly tighten spokes. 
After a handful of rides my first rear hub started making a terrible crackling sound. Upon reaching out to a Shimano tech rep I was told to follow their lubricating procedure which involved a snap ring remover tool and standard cone wrenches. After lubricating the interface between the body and hub shell the hubs were once again quiet. I did notice that the plastic guard that sits in the internals of the hub quickly deteriorated from my abusive riding habits, but it didn't seem to affect the performance of the hub. Perhaps this is a sound deadener that causes the crackling sound.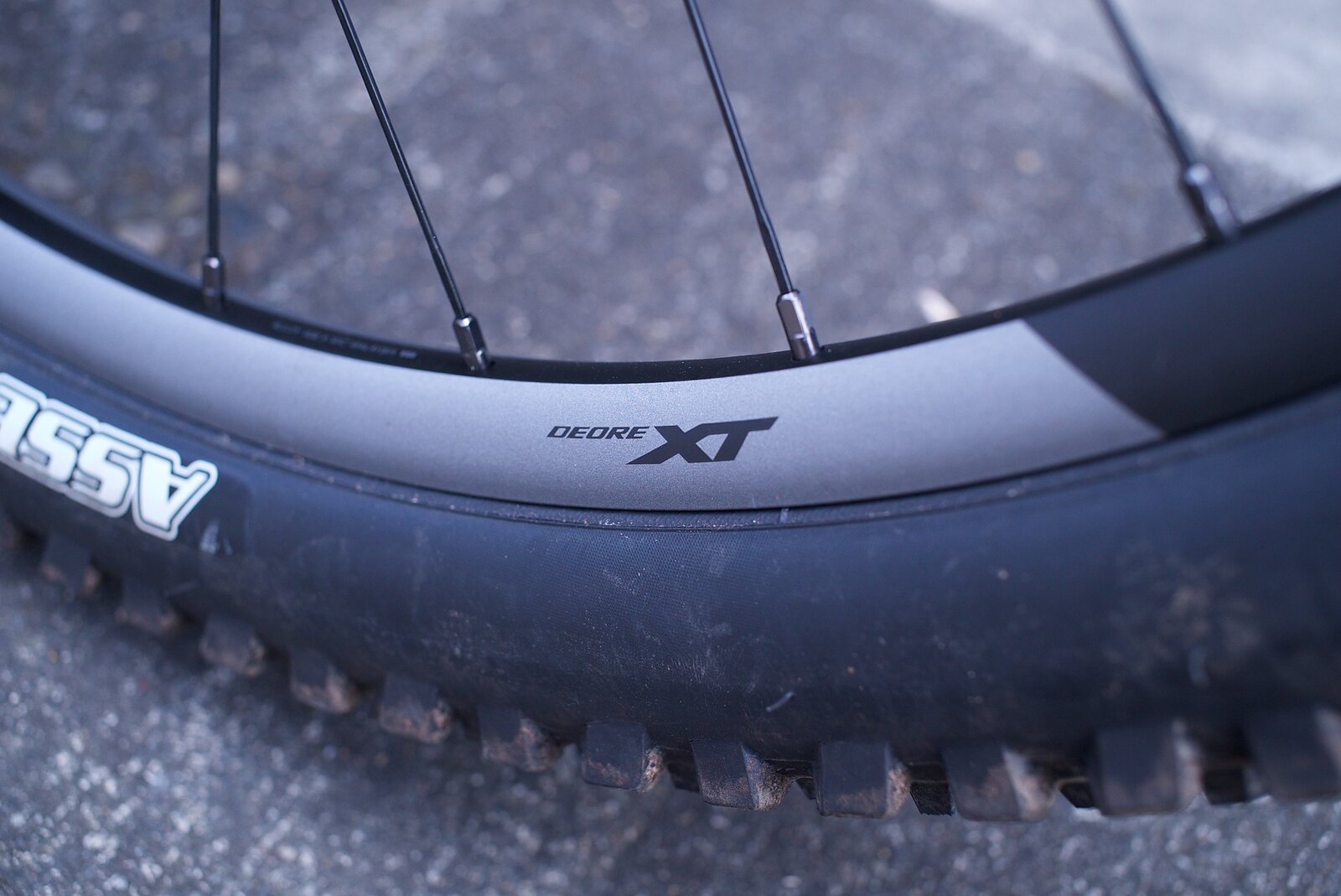 My second issue with my rear hub was a complete failure of the metal axle that surrounds my bike's 12-millimeter through-axle. The axle broke in such a way that it led me to question if I overtightened my cones after replacing the hub grease.
The second wheel I received allowed me to get a feel for what will be routine issues with the XT wheel. Once again, I experienced the crackling sound coming from the rear hub leading me to pull it apart and lubricate the internals. I also noticed the rear spokes de-tension once again after about 10 hard rides.
If these affordable silent wheels interest you, plan to routinely check spoke tension and budget for tools and time to service the crackling issue if it presents itself. I assume that most of these issues happened because of my weight and harsh riding style but it would be good to keep in mind for any prospective buyer.
Even with the service these wheels have required I've found myself loving the quiet rides and quality overall feel they provide. When everything is working, I'm drawn to the sound of silence.