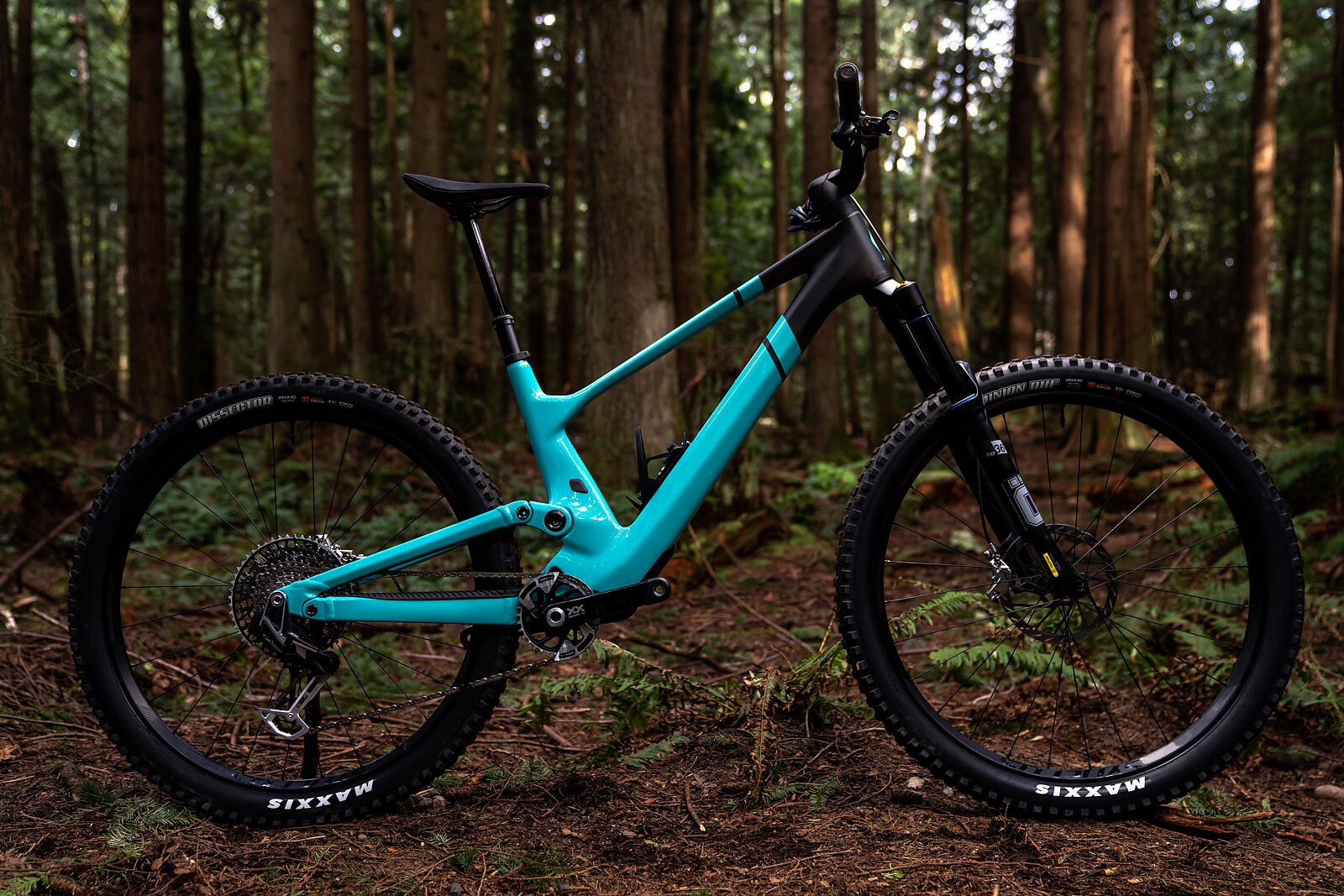 SCOTT Genius ST 910 Bike Review
The all-new Scott Genius incorporates the same bold, distinctly Swiss design as the Scott Spark 900 Tuned AXS we reviewed last year. The new bike tucks its rear shock, a trunnion-mounted Fox Float X Nude, entirely inside the frame for a package that's both sleek and practical. Rest assured; this bike will turn heads at your local trailhead for the foreseeable future.
In addition to its svelte appearance, I found the Genius to be an exceptionally capable 150-millimeter trail bike. Climbing aboard the Genius felt balanced, a sensation I attributed to its 77.2-degree seat tube angle. This bike puts you in an excellent, modern climbing position by keeping the front end planted to the ground on even the steepest uphill maneuvers.
Another distinctive feature among all Scott bikes I've tested is the handlebar-mounted control center. The Genius has three left-hand levers: one to control the dropper and two additional levers to reduce the air volume of the shock and add a dash of compression damping to firm things up. It's rewarding to reach for the lockout lever so easily. I'm typically a rider that reserves the lockout lever for only the most heinous road climbs but, with the Genius, I was reaching for it any chance I had—not out of necessity, but out of downright convenience.
Bike Geometry & Specs
Model: 2023 Scott Genius ST 910
Price: $7,599.99
Wheel Size: 29"
Rear Travel: 150 mm
Fork: 160 mm
Wheelbase: 1263 mm
Chainstay: 440 mm
Reach: 485 mm
Head Tube Angle: 63.9°
BB Height: 342.5 mm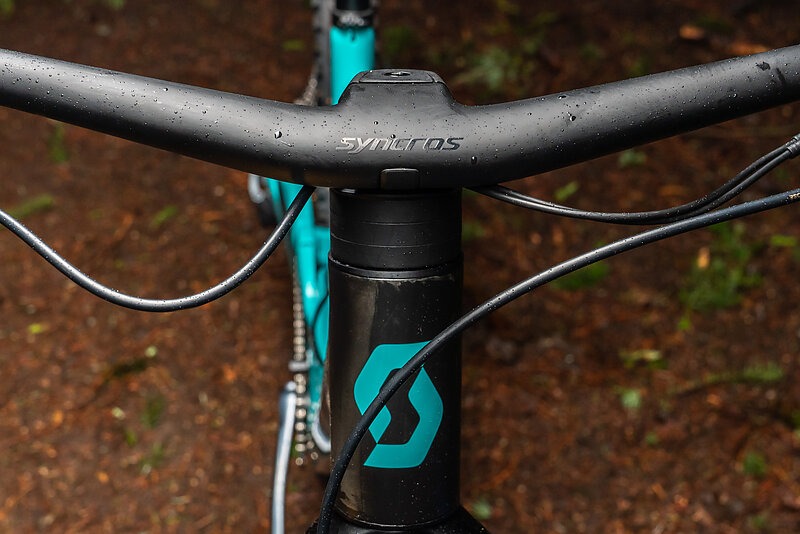 Pointing this bike downhill with the setup we received was incredibly gratifying. With high volume 2.6-inch Maxxis tires and an Ohlins RXF36 m.2 Air fork, this lightweight, Swiss army bike could both float and plow. The light package and bouncy high-volume tires allowed me to easily pop over roots and get creative with my line choice. However, when the situation arose, I could also hold on tight and straight-line rough sections with its sub-64-degree head angle and composed suspension. With the setup we were given, this Genius ST seemed to nail the line between firm and compliant. The alloy seat stay and chainstay loved to be whipped in and out of corners. At 440 millimeters, the ample chainstay length gave this bike an incredibly balanced feel out on the trail—cornering around the hips in a predictable and lively way.
As if this bike wasn't fancy enough, we teamed up with SRAM to test out its new Transmission drivetrain with the Genius. The new derailleur keeps chain-slap to a minimum, and despite my best efforts to challenge it with nasty, poorly timed shifts, the system took it all in stride with all but the occasionally audible pop. Prospective buyers should note that the Scott Genius 910 ST does not come equipped with SRAM's new Transmission drivetrain, instead opting for a still-incredible SRAM AXS drivetrain and Shimano XT 4-piston brakes.
Another noteworthy detail of the bike is the satisfying trap door that houses the rear shock. The system is incredibly well thought out and, outside of having to flip the bike upside down to access the shock, everything you need is easily accessible. This includes the impressive 0-100-percent sag indicator that sits around the chainstay pivot point. So, despite its completely hidden shock, the Genius manages to still be one of the most convenient bikes on the market to check sag.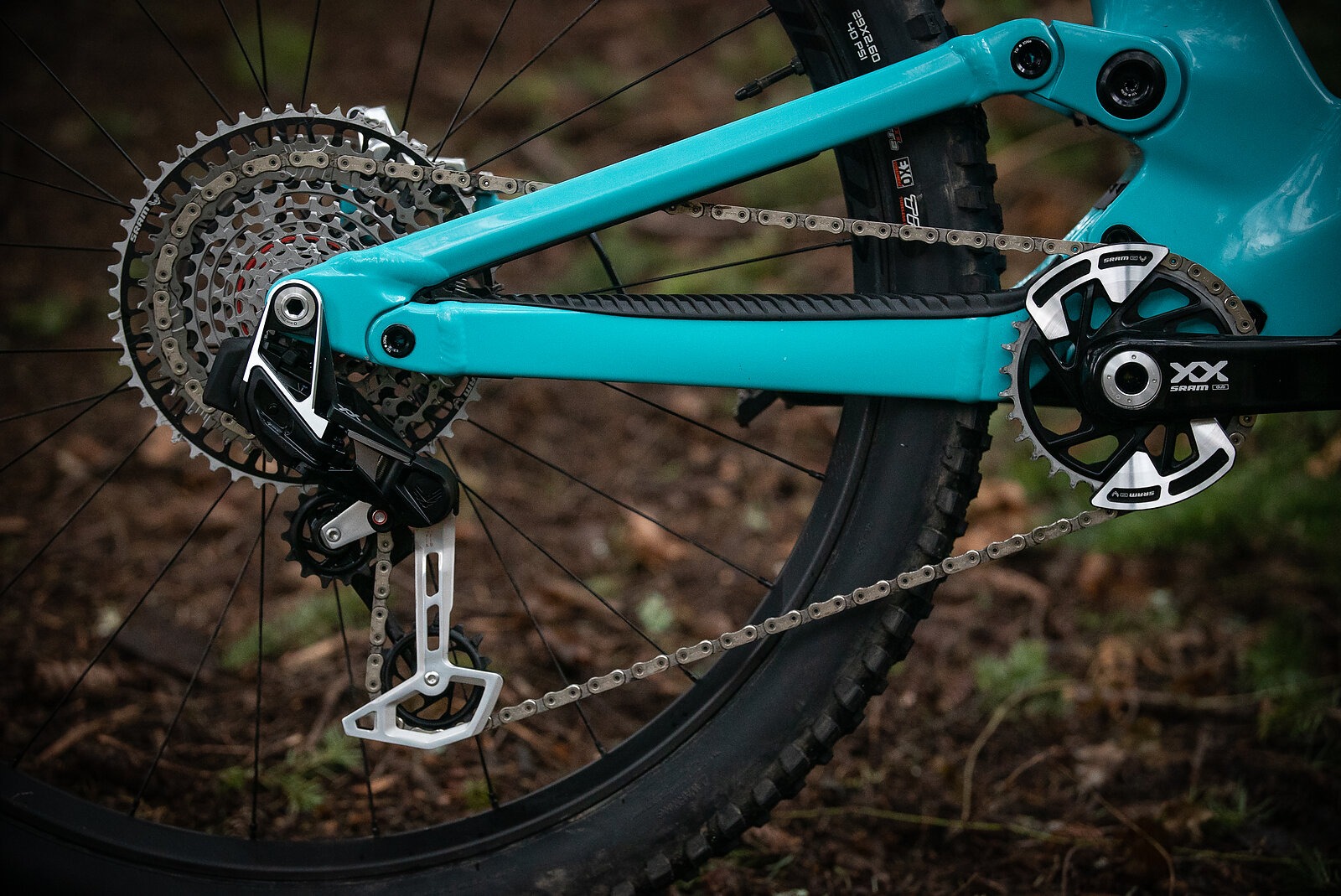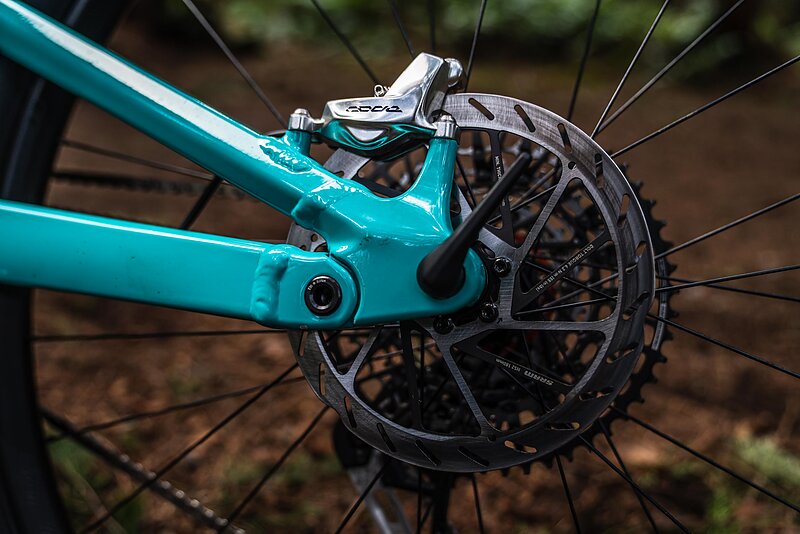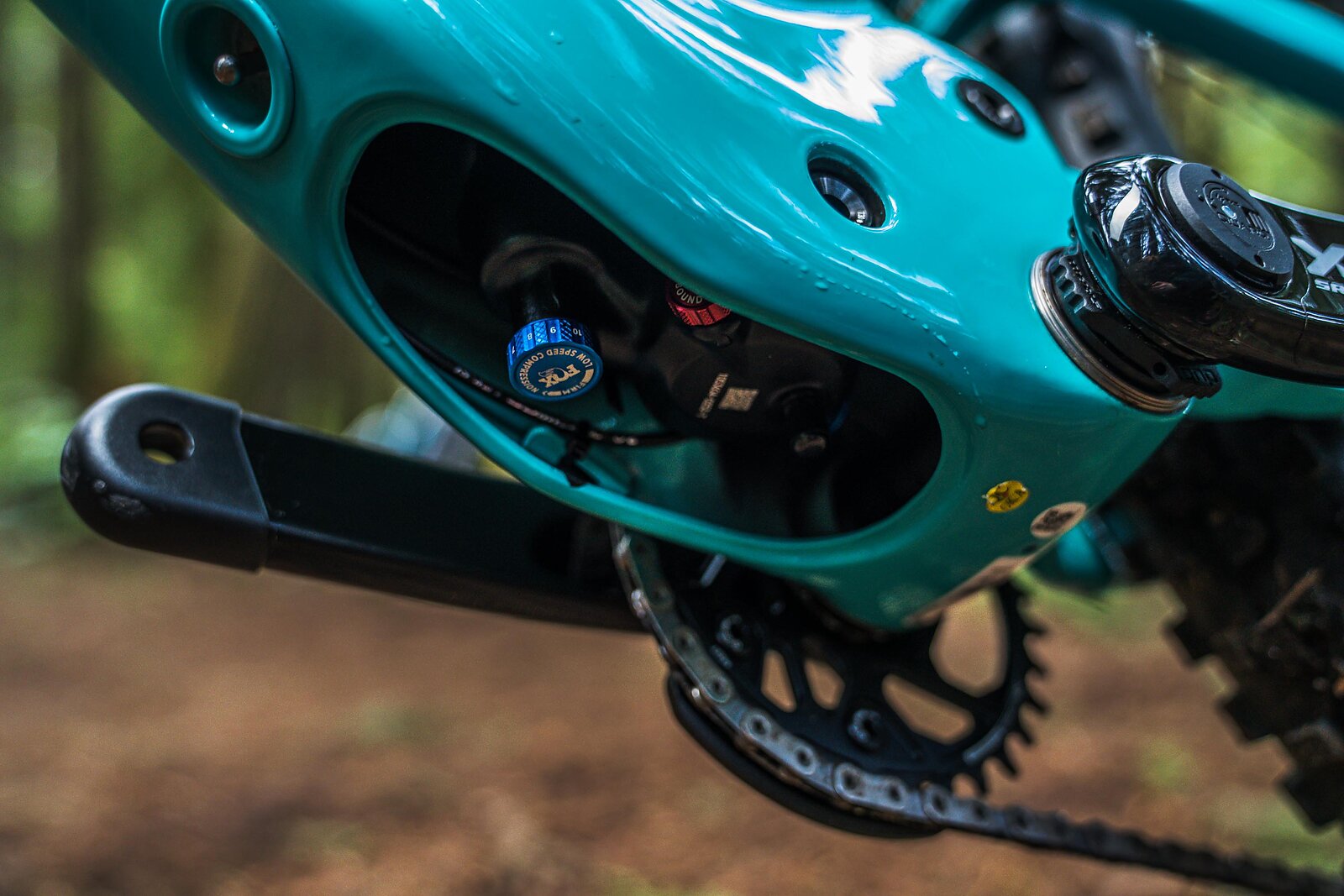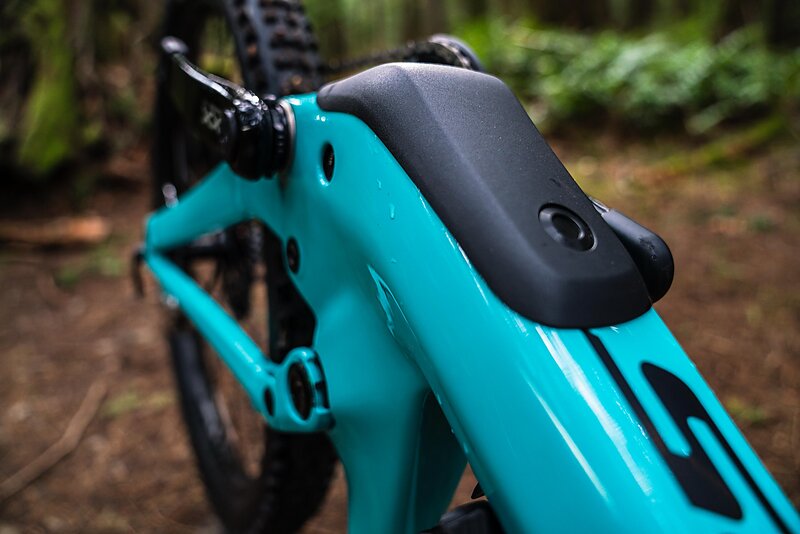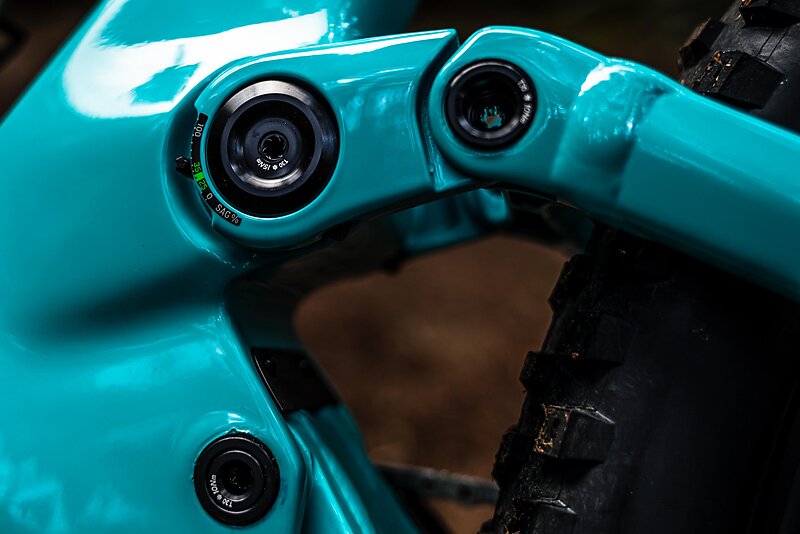 When I first saw the Genius, my immediate reaction was that it looked complicated and hard to service, but, after spending considerable time with it, I've found that the engineering team at Scott did an admirable job by creating a bike that is both unique and practical. The Genius ST 910 is a great all-around trail bike with a lightweight, efficient package that retains stable, big-mountain capability when needed.
Anyone who believes mountain bike innovation has reached a point of stagnancy clearly isn't paying attention. The new Scott Genius could only have been created by those with serious passion for progressive design. Long live Swiss ingenuity…
SCOTT Genius ST 910 - $7,599.99