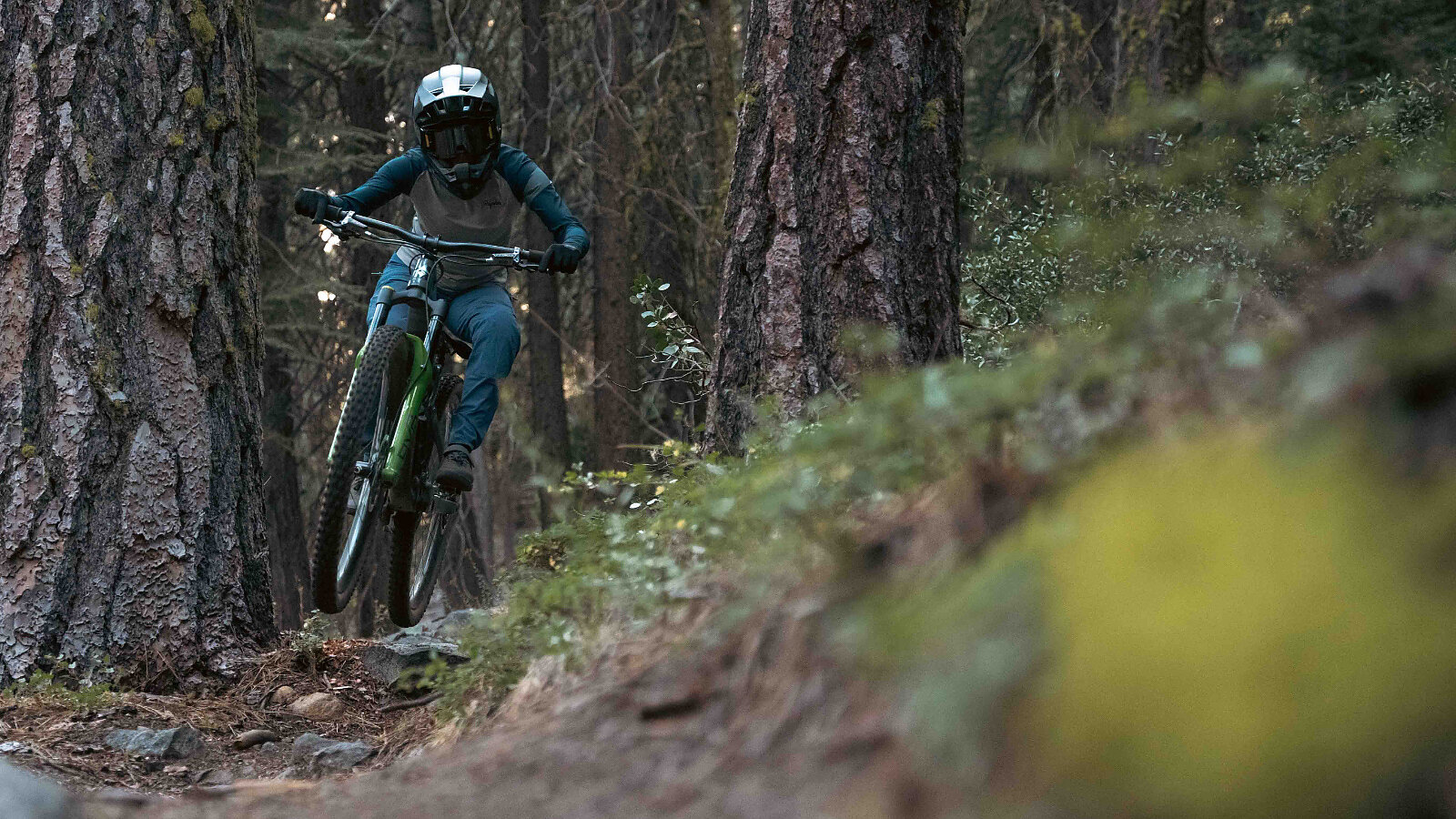 Rapha Women's Performance Trailwear Apparel Review
Anyone who has spent time on drop bars is likely familiar with the cycling apparel brand Rapha. The company started in London in 2004 and was one of the first to focus on road apparel that was palatable, sleek, and dare I say, even stylish. Gone were the hi-vis fluorescents and chaotic jumble of team logos. Over time, the brand built a reputation for celebrating roadie suffer-fests and for making top-quality cycling clothing.
At the beginning of the 2021-2022 dirt season, Rapha officially launched into the mountain bike world. The brand's commitment to clean looks and high-quality materials remains. The men's and women's collections are marked with color blocking, a pleasing forest-inspired palette and barely-there logos. There are tops, jackets, shorts and pants for all seasons and conditions. Quality and an emphasis on fit extend to the line's socks, kneepads and casual wear. With special attention paid to the material's sourcing, many pieces are constructed with recycled content and synthetic fabrics that are Bluesign and Oeko-Tex certified. Each item comes with its own color-matched, iron-on repair kit to ensure its longevity, accompanied by a repair guide online.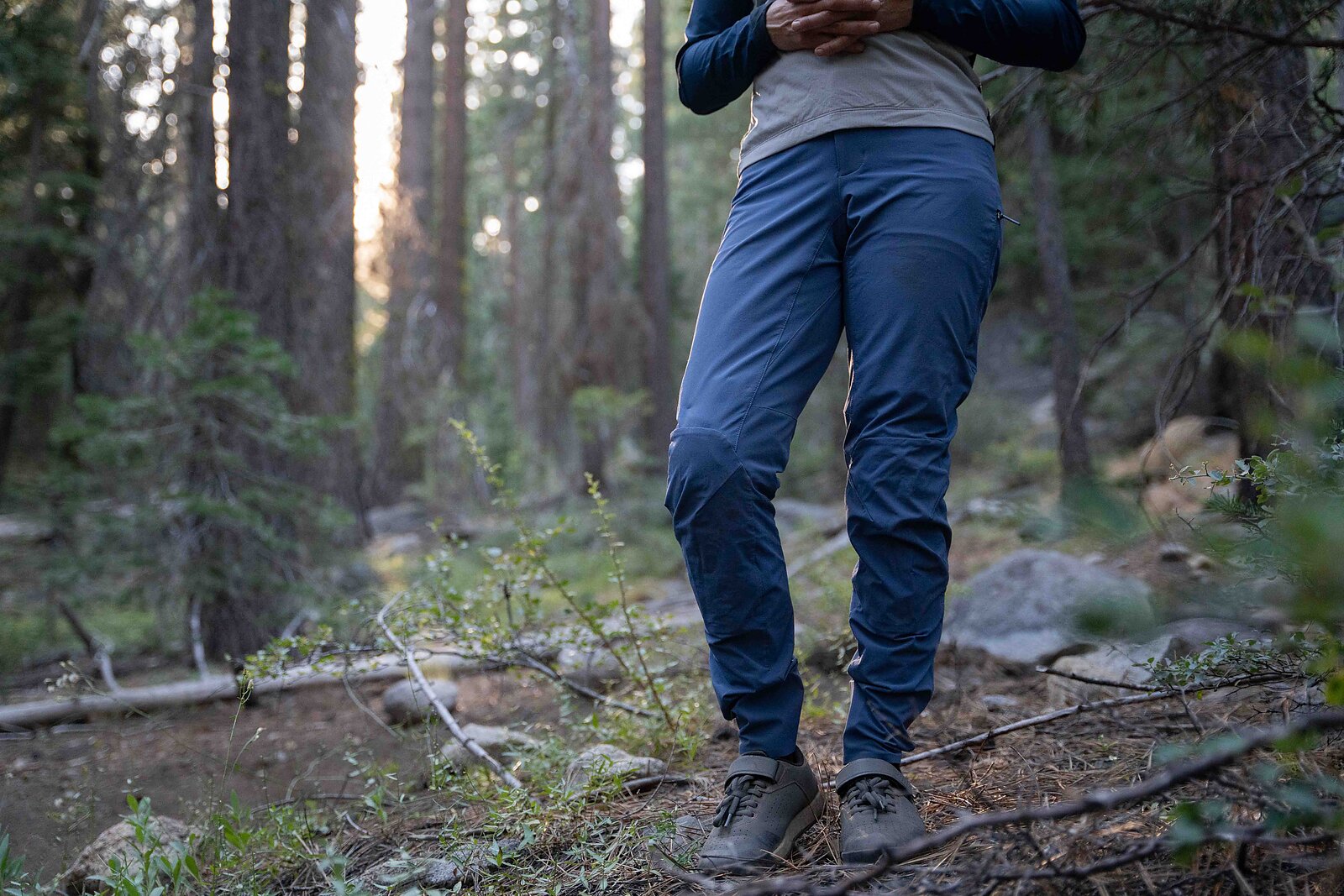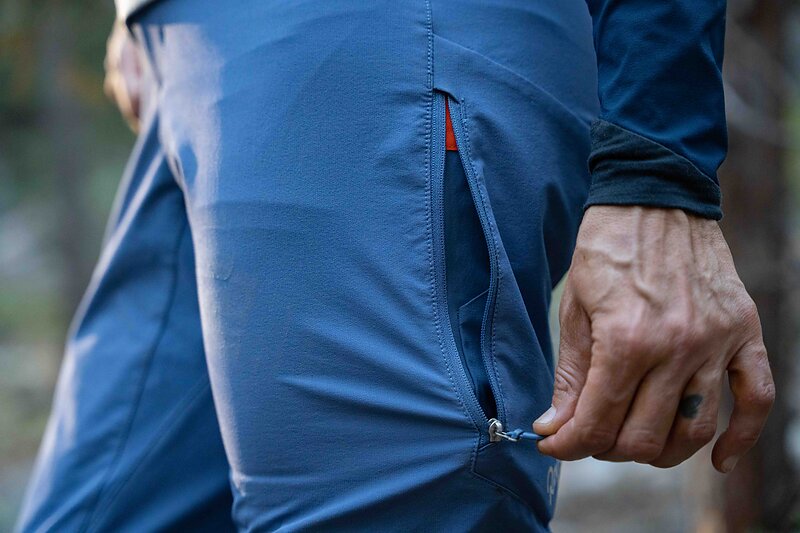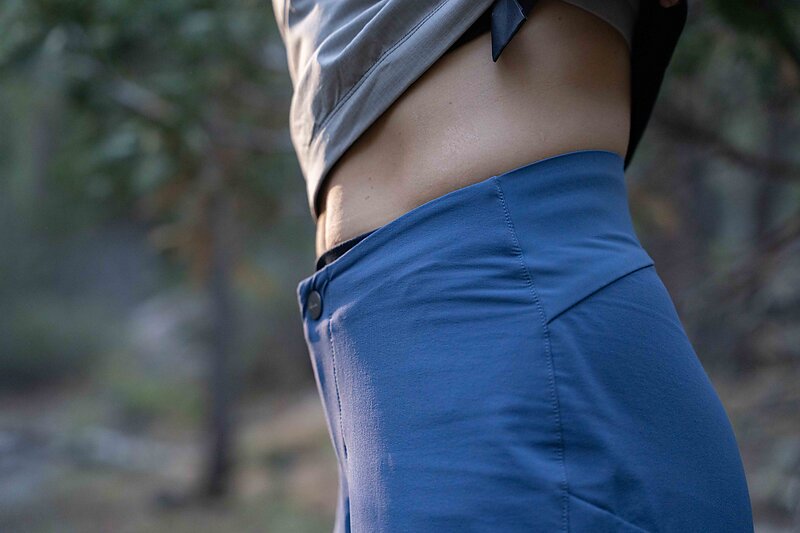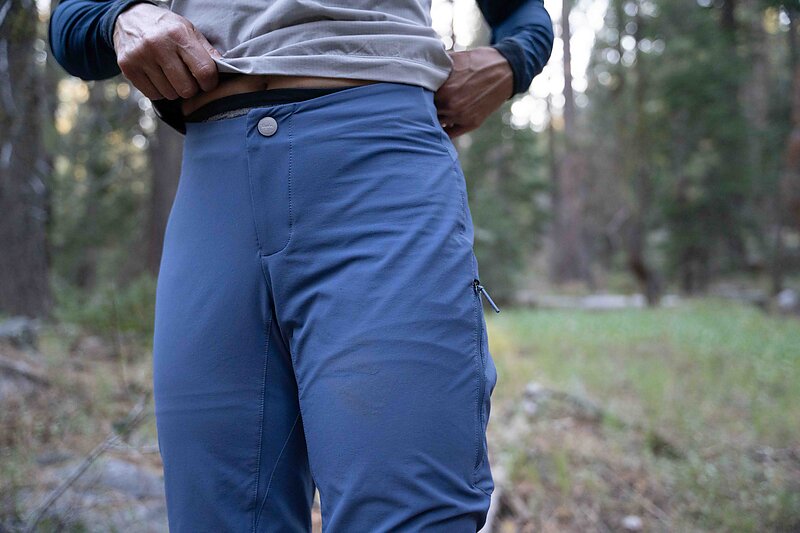 ---
Women's Trail Pants
It's exciting to see more and more pant options becoming available for women. In fact, the Rapha women's mountain bike collection is as robust as the men's. Kudos, Rapha! The Trail Pants are neither heavy-duty nor lightweight. They're a nice goldilocks weight that stretches and breathes for cooler, all-day rides, yet remain sturdy enough for rougher riding. I've been wearing these pants all summer and have had my fair share of diggers. The pants are still holding strong and continue to look nice. 
The Rapha Trail Pants stand out among the growing crowd of women's full-length bottoms for their considered fit. Most noteworthy is the contoured and low-profile waistband. It's smooth and snug without digging in, thanks to plenty of stretch. It hits at a comfortable, slight high-rise and stays put no matter how much I sweat or move. This waistband design disappears when layering tops or strapping on a pack. The articulated knee forms over kneepads—both my light trail and heavier park pads fit well underneath. The contouring prevents shifting or pulling when pedaling. The tapered cuff has an elasticized back, so pulling the pants off after a sweaty or wet ride is never a struggle. The cuff's instep is reinforced to stand up against rubbing. 
Pockets, we have pockets! I'm very grateful for the vertical pockets on each thigh. I store my phone in one pocket and keys, park pass and a bar in the other. With tools, plugs and water on my bike, this allows me to leave the pack at home. I do miss hip pockets for my gloves when climbing, but that would bulk up the low-profile waistband and I much prefer the yoga pants-like comfort. 
I am 5-feet, 2 inches tall, 115 pounds and have an inseam of 27 inches. The Trail Pants in size XS fit me perfectly in the waist and thigh. They are a little roomy in the knee and lower leg. The length is an inch or two long on me, and I can't hem them due to the cuff construction. I don't notice the length, or the loose leg fit once riding—it's more of an aesthetic preference. From park days to cool, wet trail rides, these are fantastic riding pants that are comfortable and very high performing.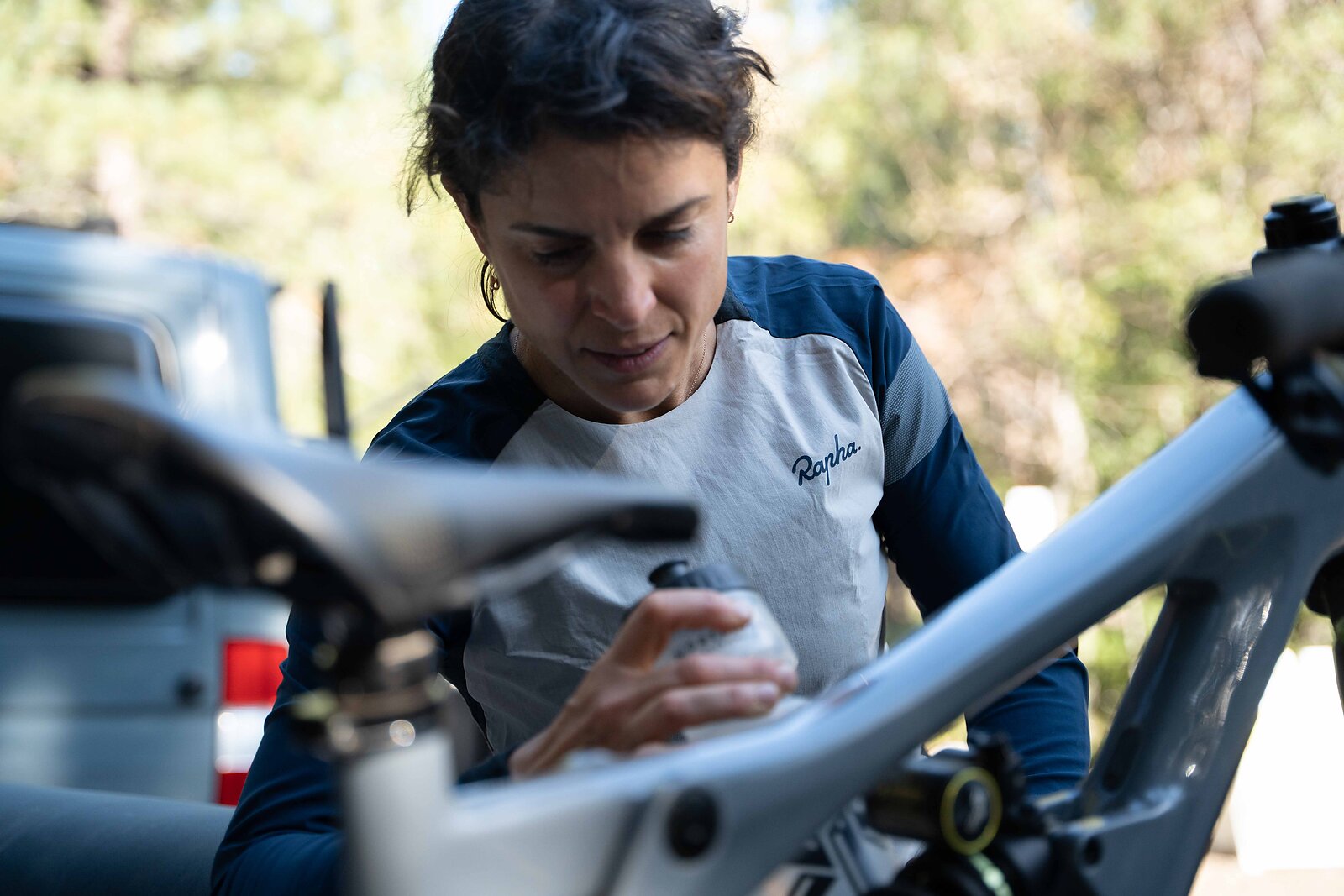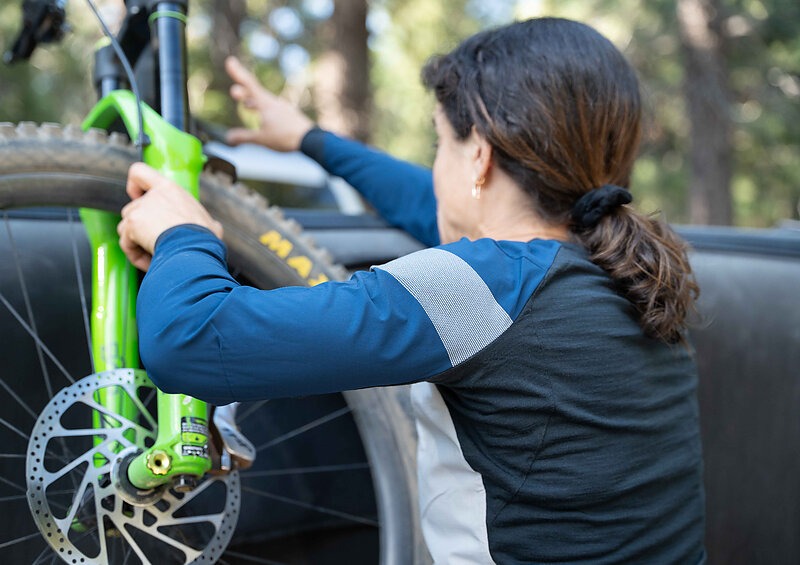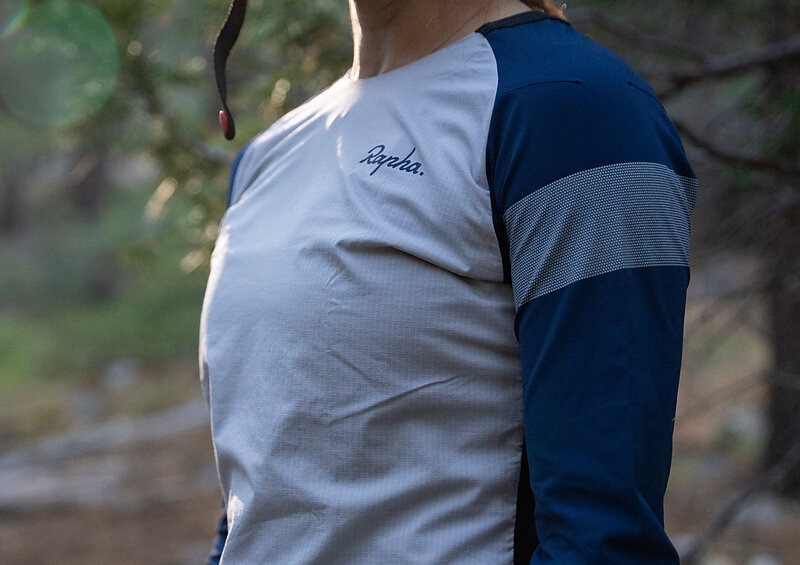 ---
Women's Trail Windblock Jersey
The Rapha Women's Trail Windblock Jersey is a one-and-done shoulder season riding top. The nylon front panel and wool blend breathable body is business in the front and party in the back. This top has a clever combination of materials: the back is a single-layer, lightweight wool blend, the front is a double-layer of the same wool blend with a nylon exterior, and the sleeves are single-layered nylon that's slightly textured and stretchy. The minimal cuff is the same soft wool blend as the body.
I enjoyed the Trail Windblock Jersey for cooler spring rides, and I know I'll reach for it as autumn approaches. It's bulk-free, easy to wear and feels good against the skin. The nylon wind-blocking front panel keeps the wind from biting—well enough to avoid carrying a "just-in-case" wind jacket when it's about 60 degrees or warmer. When my core temperature rises on climbs, I never feel damp or claustrophobic thanks to the breathable wool blend. The shoulder seams are contoured and the rear hem drops slightly for a comfortable riding position. The jersey has a collar-free design that, along with the soft and barely-there cuffs, make this easy to layer over when temps truly fall.
I'm most often a true XS in jerseys and riding tees, but I do enjoy the added freedom of jackets in size small. The XS Trail Windblock Jersey fits me well, but given the non-stretch nylon front panel, I do wish it was a size small to allow for more freedom of movement. It's not quite a jersey and almost a wind jacket, so order a size up if you want more room. All in all, this is a great multi-purpose jersey for when you need just a little more than a long sleeve.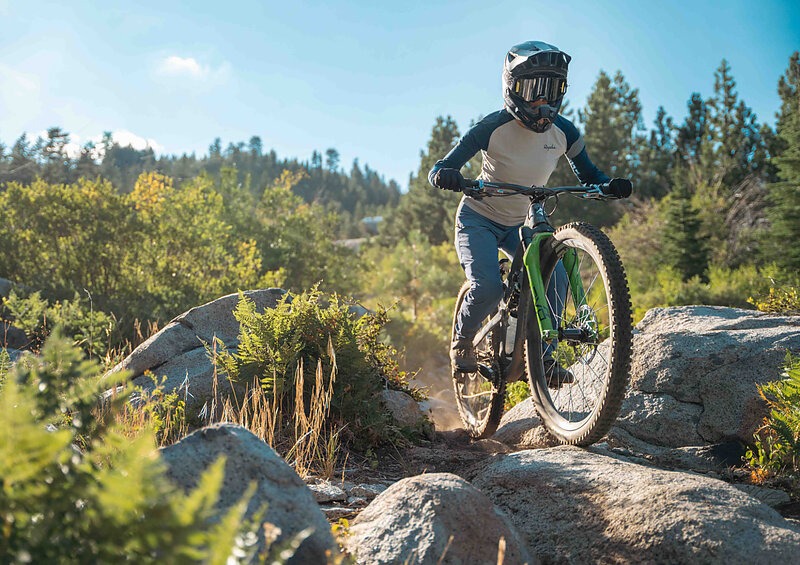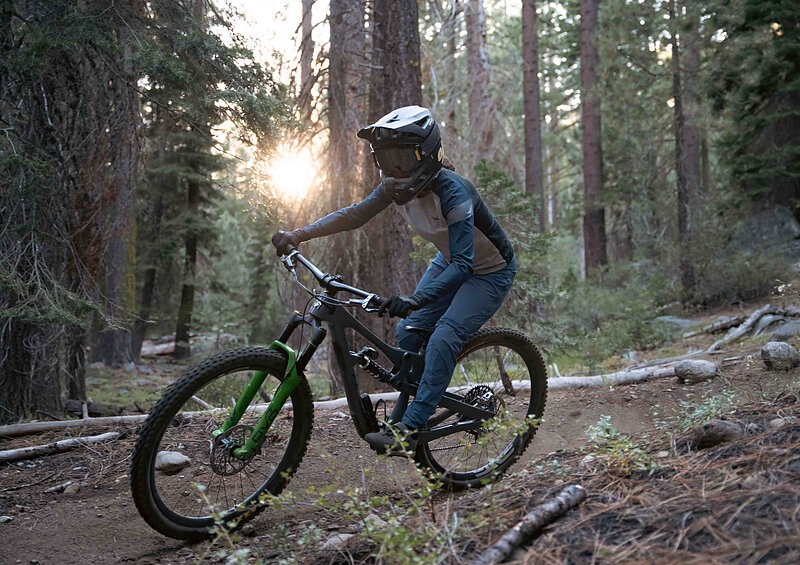 Rapha's new mountain bike line is clearly designed with the trail rider in mind with breathable fabrics, contoured fits, articulated seams and stretchy materials. But that hasn't stopped me from wearing the Trail Pants in loose gravity situations. If the apparel is good enough to withstand Enduro World Series rigors with the likes of Ella Conolly, then it's good enough for my own weekends at the bike park and local enduro races. Versatile, durable, well-designed and understated is how I describe the collection but, as with all of Rapha's products, quality comes at a price.
Rapha Women's Trail Full Collection
Rapha Women's Trail Pants - $180