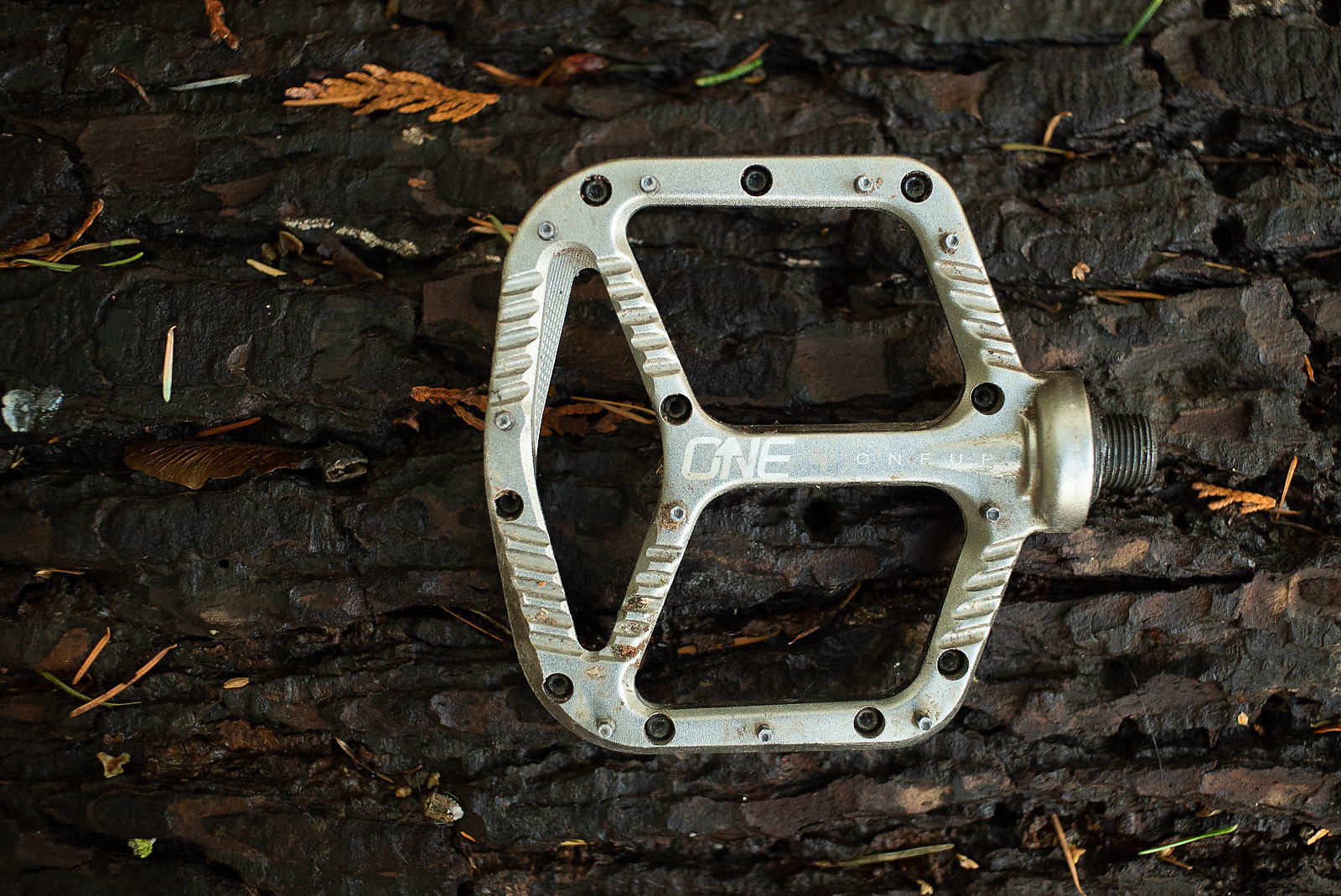 OneUp Aluminum Flat Pedal Review
In my experience, the best flat pedals are usually a bit scary looking at first glance, thanks to their spikey nature and sharp lines.
The OneUp Aluminum Pedal—yes that's its actual name—definitely fits this bill. The pins are quite aggressive, but trust me that's exactly what you want in a flat pedal. It might seem like a guaranteed quality for self-inflicted pain but it really takes the grip to the next level. And in my experience, the shin gouges aren't even from riding, but rather waiting in line at the bike park or just pushing up a steep section of narrow singletrack. Good pedals seem to be dangerous to be around when your feet aren't planted firmly on them.
I'm all about the "feel" of a product and these pedals felt right from the first time I planted my feet on them. You can tell me all the specs and numbers in the world but it will always come down to how something actually performs. If a flat pedal doesn't have pins that look like they'll provide substantial grip, I'm not going to trust it. It was confidence at first sight with these though.
The OneUp Aluminum pedal has a thin profile and a wide base (115mmx105mm) for your feet.  At 8 millimeters thick, the sleek front edge helps to keep away from grabbing trail obstacles and pedal strikes. The outside edges feature a bevel to aid with deflections, rather than hang ups, too. The face of the pedal has a slight convexity to match the arch of the foot and also features recessed grooves that help keep earthy debris from building up and even add a little extra traction. Their build and design culminates in a weight for 355 grams, which is very respectable for a pair of aluminum pedals.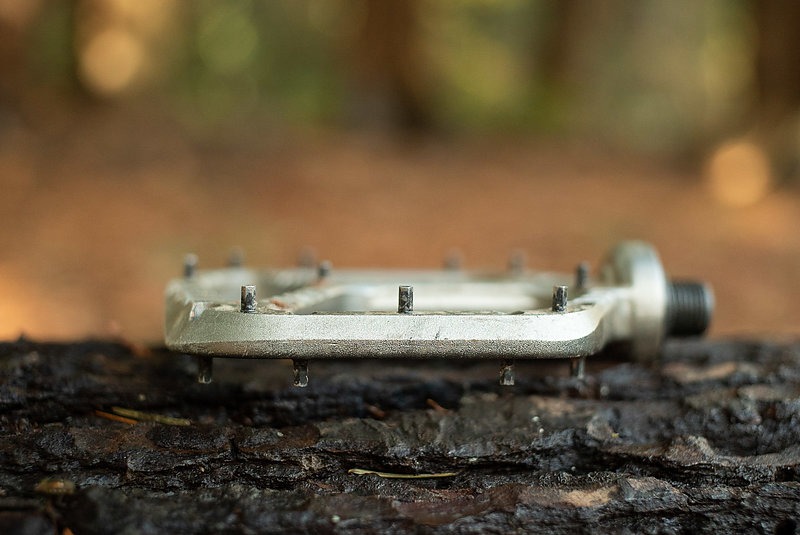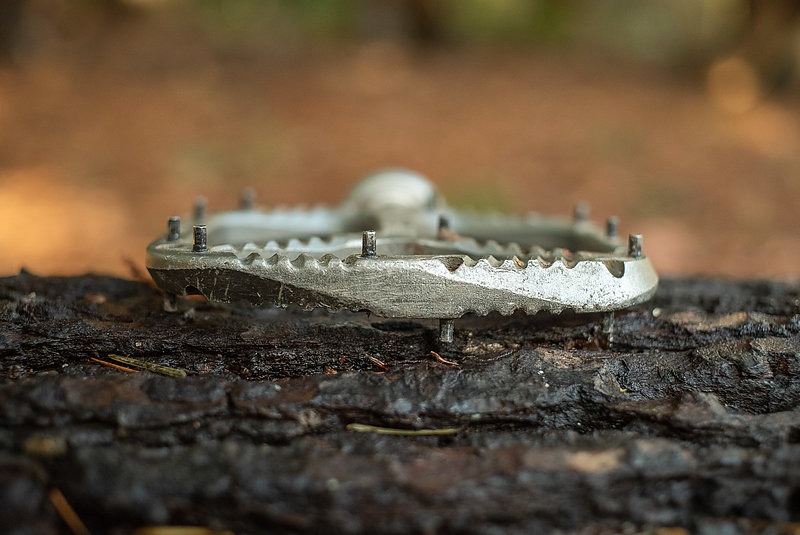 The pins on the Aluminum Pedals are large and in charge, as I've already pointed out, but there's more than meets the eye. You can adjust the height of each pin easily to reach desired traction and OneUp even sells a washer kit for making the pins really shallow. I appreciate the versatility they built into the pedal.
The outside bearings on the Aluminum Pedal are exceptionally large, but in this case that also means easy to service. The whole axel is designed to be removed with minimal effort (and only one special tool) to help with servicing and increase longevity. OneUp even provides a neat how-to video.
There is one downside to the large outer bearing though: Using the right spacers for carbon cranks is crucial, otherwise the spindle end will rub into your crank. On their website, OneUp recommends "an additional pedal washer to be used with counterbored cranks in between our pedal and the crank." I was missing one washer when I first installed the pedals, so my right pedal was actually rubbing into the crank arm itself and not spinning freely after two rides. With the correct washer spacing the pedal works great, but make sure you have the clearance you need otherwise you might be rubbing into your cranks.
The larger spindle sizing also makes it so you cannot use carbon crank sleeves without modifying it to fit over the larger spindle. This was a major bummer at first since I'm already paranoid about having carbon cranks.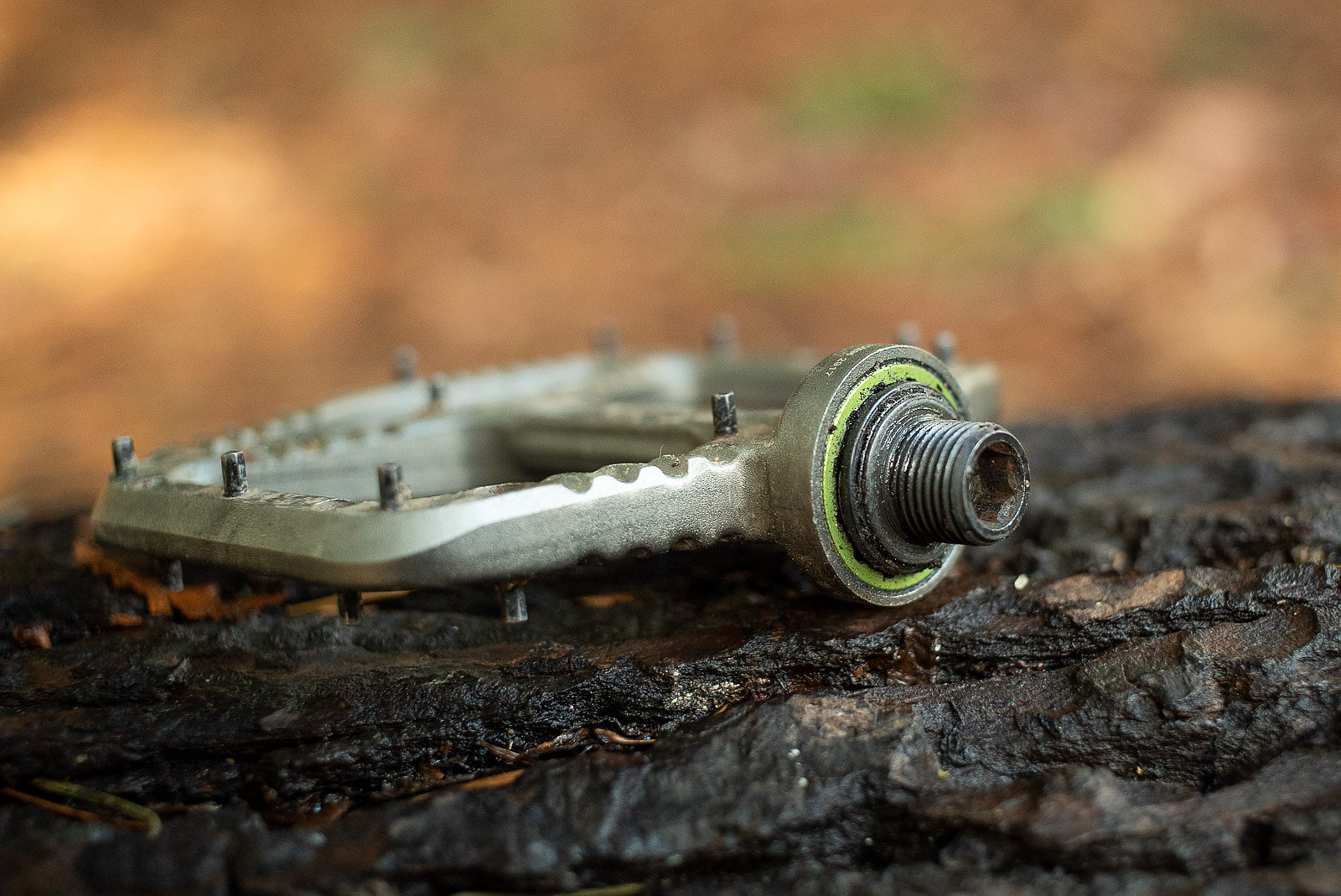 I've ridden these pedal with three different shoes: Five Ten Freerider Pros, Specialized 2FOs and Bontrager's Flatline shoe. Each shoe has a slightly different rubber compound for the sole, and the OneUp Aluminum Pedal matched flawlessly with all three. My biggest takeaway after three months on the OneUp aluminum pedal is that it's the best climbing flat pedal I've ever had. I usually always end up slipping a pedal when climbing with flats, however, with the OneUp pedal it doesn't seem to be an issue. 
OneUp has nailed it with the Aluminum Pedals. They are reasonably priced at $125, and they also have a cheaper composite pedal ($49), so there's options for everyone. They recommend tearing down the pedal for maintenance every 50 hours of riding, which takes about five minutes. If you're looking for a new pair of flat pedals I'd say the OneUp Aluminum Pedal is a top choice for anyone and supporting a smaller components company is always a plus. They might look mean, but they sure are nice for grip.
OneUp Aluminum Pedal
MSRP: $125
See more at www.oneupcomponents.com