Norco Fluid FS A1 Bike Review
Norco's new Fluid FS is meant for anybody and everybody. But don't be fooled; this is no cookie-cutter, crowd-pleaser of a bike. The Fluid FS does a stellar job of playing different roles for different riders, and that's exactly what makes it stand out among the company's broad line of capable trail rigs.
The Fluid FS's pure fun factor feels equally ready to please a cross-country fanatic looking for a ride with little more oomph as it does a downhill racer wanting to cover more terrain—and that's where the middle of the road magic lies in this surprisingly capable 130-millimeter bike.
The Fluid FS now sports 29-inch wheels throughout its size range and is complemented by size-specific chainstays, ranging from 425 to 445 millimeters, making it easier to wave goodbye to the 27.5-inch option of the past. On a size large, I had plenty of room to move around the bike while climbing everything from fire roads to steep tech, and it never felt unwieldy while navigating around obstacles or trying to get the bike off the ground. The 480-millimeter reach left plenty of breathing room and, paired with a 65-degree headtube angle, the intended rider position is neutral and ready to tackle rough trails without risking a sluggish feeling on more mellow terrain. A long, dry summer of unpredictable conditions had me reaching for the Fluid FS more than I expected. It's a bike that easy to get along with, and its balanced nature made quick work of scary-loose descents with confidence.
Climbing on the Fluid FS is intuitive and doesn't require any annoying weight shifts; just jump on and go. A 76.6-degree seat angle makes for a comfortable and natural climbing position, and the bike's balanced front and rear ends kept my front wheel glued to the ground on tight, steep switchbacks. At about 32 pounds, the Fluid FS powers uphill with an unexpected pep considering the extra weight of the alloy frame and a lack of any featherweight parts. The suspension design and shock pair nicely during extended pedaling efforts—I only reached for the shock lever to firm things up when I was commuting from trail to trail on Bellingham's steep fire roads. While I didn't do any true backcountry rides on the Fluid FS, it's high up on my list of bikes that I would be happy to pedal all day long, especially if there are some worthy descents in store.
Geometry & Specs:
Wheel Size: 29"
Rear Travel: 130mm
Fork: 140mm
Wheelbase: 1245mm
Chainstay: 435mm
Reach: 480mm
Head Tube Angle: 65°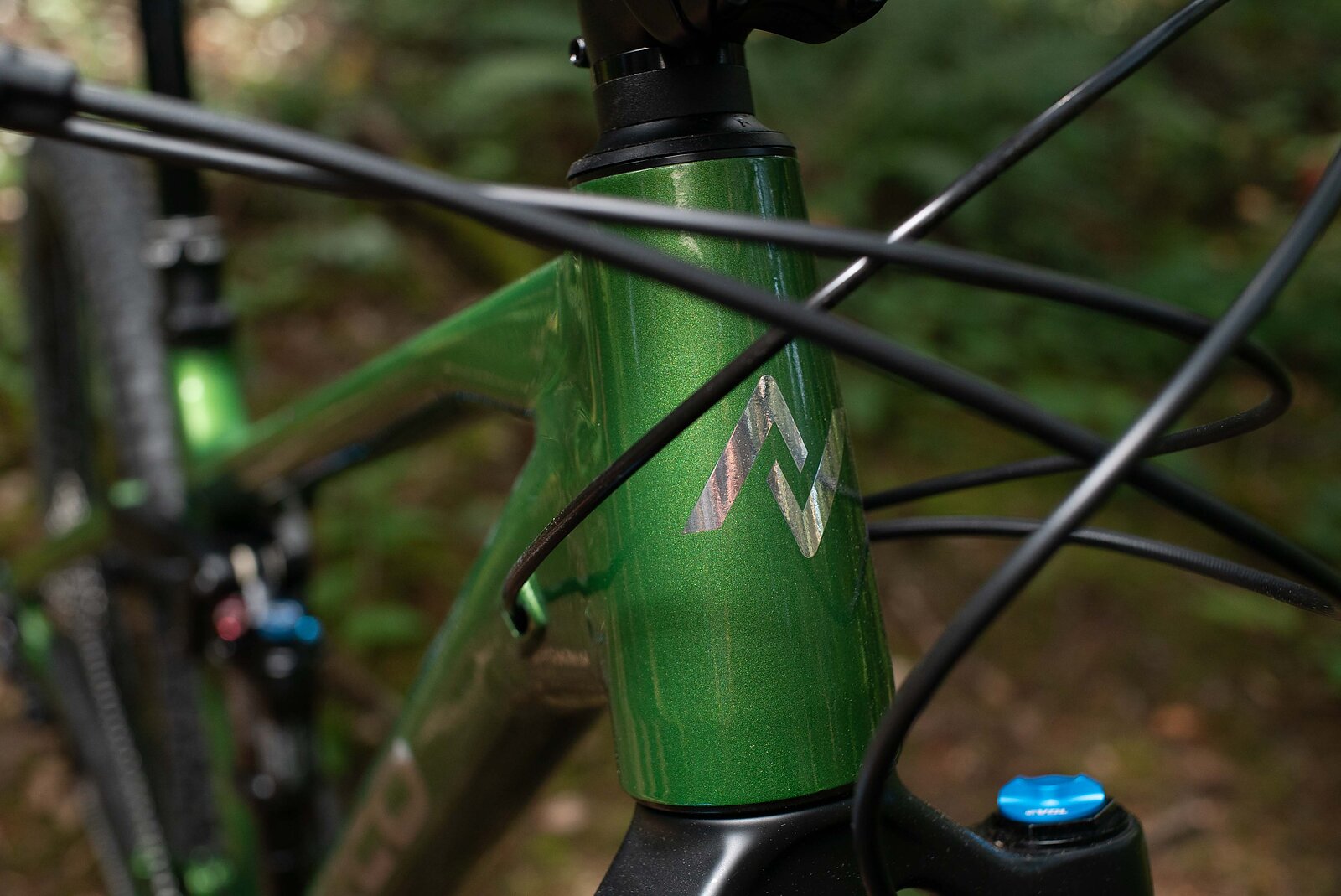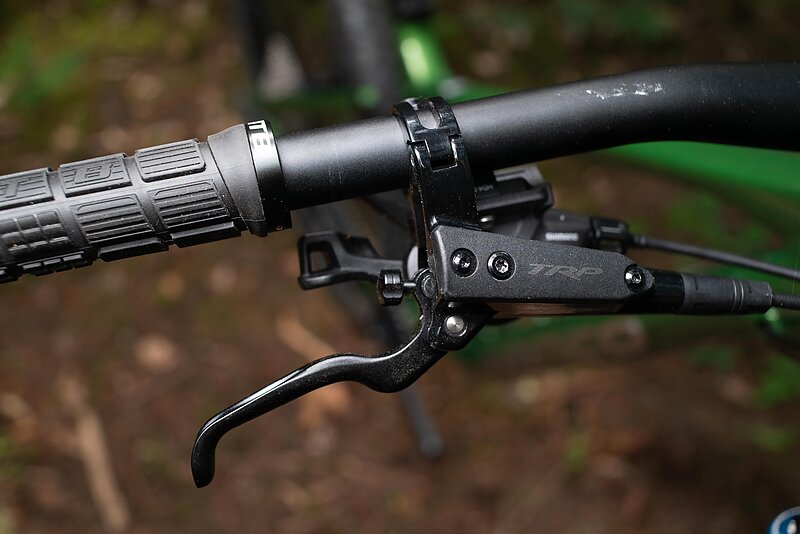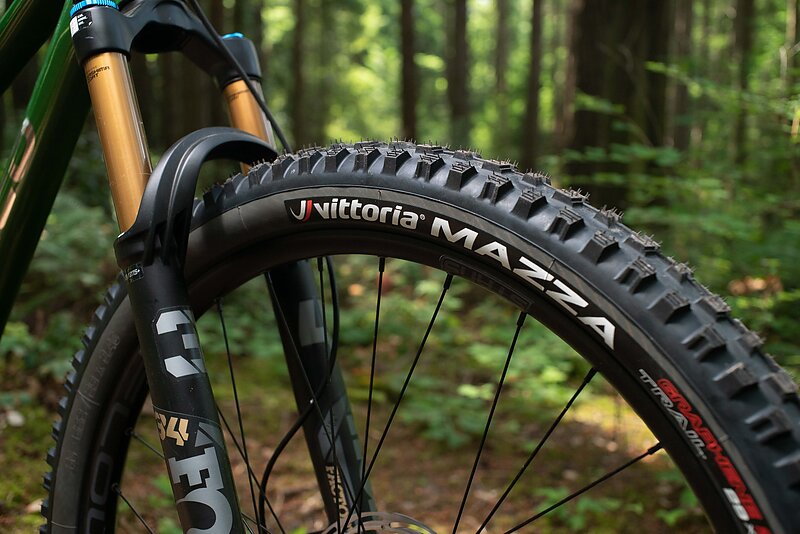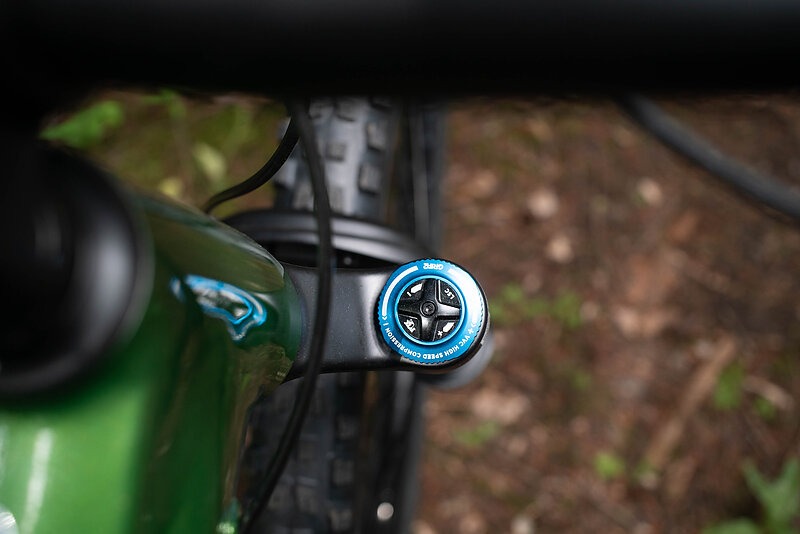 During descents is when the possibilities of the Fluid FS shine brightest. On mellow, low-angle terrain, there's more than enough support to pump through corners and generate speed over rollers and other trail obstacles, all while retaining a forgiving feel through chattery bits of rocks and roots at speed. The bike came alive in a way I wasn't expecting when I pointed it down steep, rowdy trails. The geometry and suspension design work cohesively together to fly down loose, chunky sections where braking traction is paramount.
And yet, as a relatively short travel bike, it had real pep when a good yank was needed to pop over or around bits of trail typically suited for bikes with more aggressive numbers. After a few laps on gravity-oriented tracks, the bike's limits do begin to show, proving that while the Fluid FS is mighty capable, it does require its pilot to stay sharp. It's also not the first bike I would choose for a truly playful, jibby trail attitude, but it has just enough of it on reserve to make mellow trails come alive when the occasional bob and weave is needed.
Out of the box, the suspension schematics of the Fluid FS are on the aggressive end of the spectrum for a 130-millimeter design. I didn't find the bottom of the shock once and, when I came close, it had a comfortable amount of support that didn't feel like hitting a wall. Riders who spend more time on relaxed terrain will find that removing the volume spacer from the shock gives its travel a more forgiving feel while retaining much of the support that makes it fun and efficient.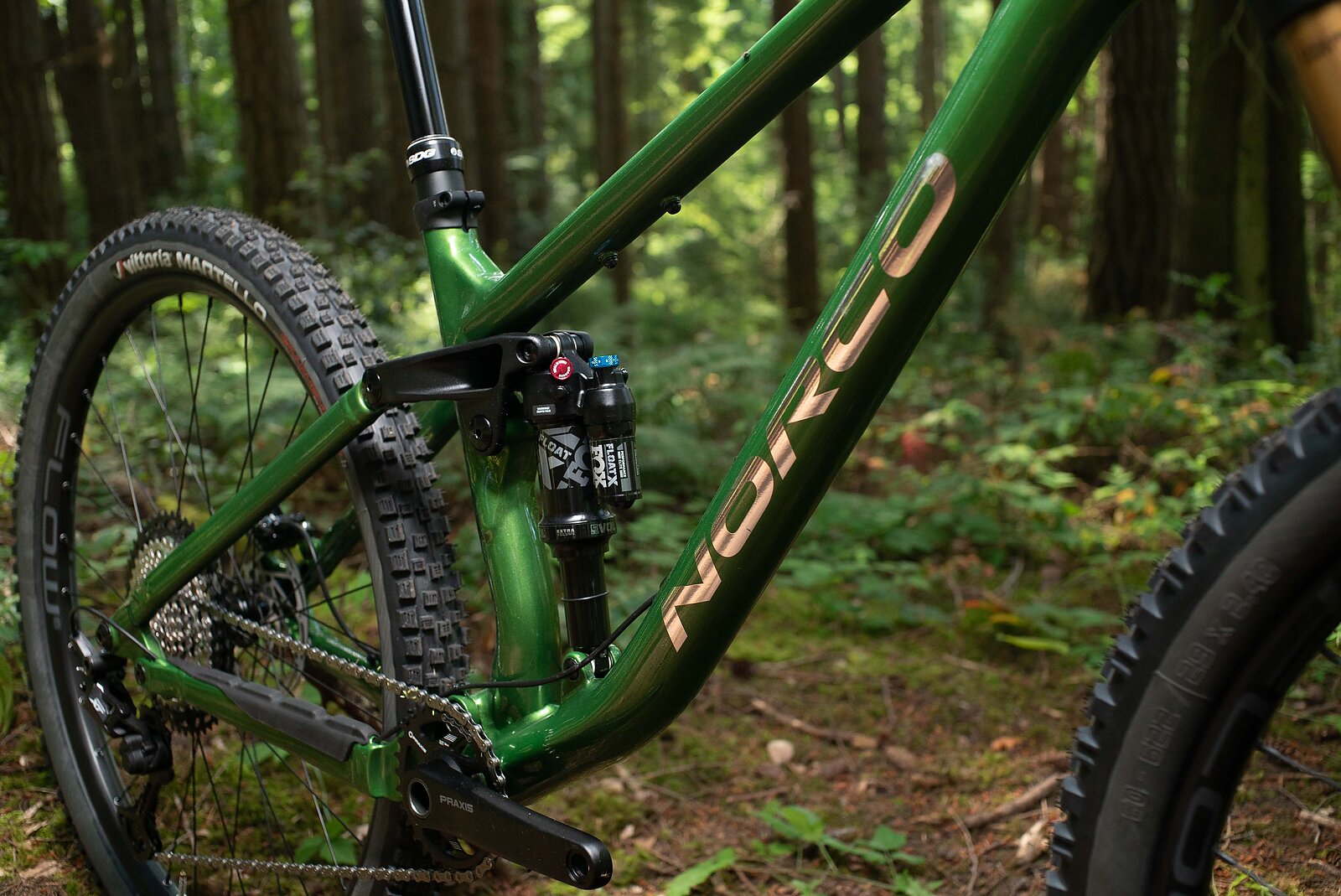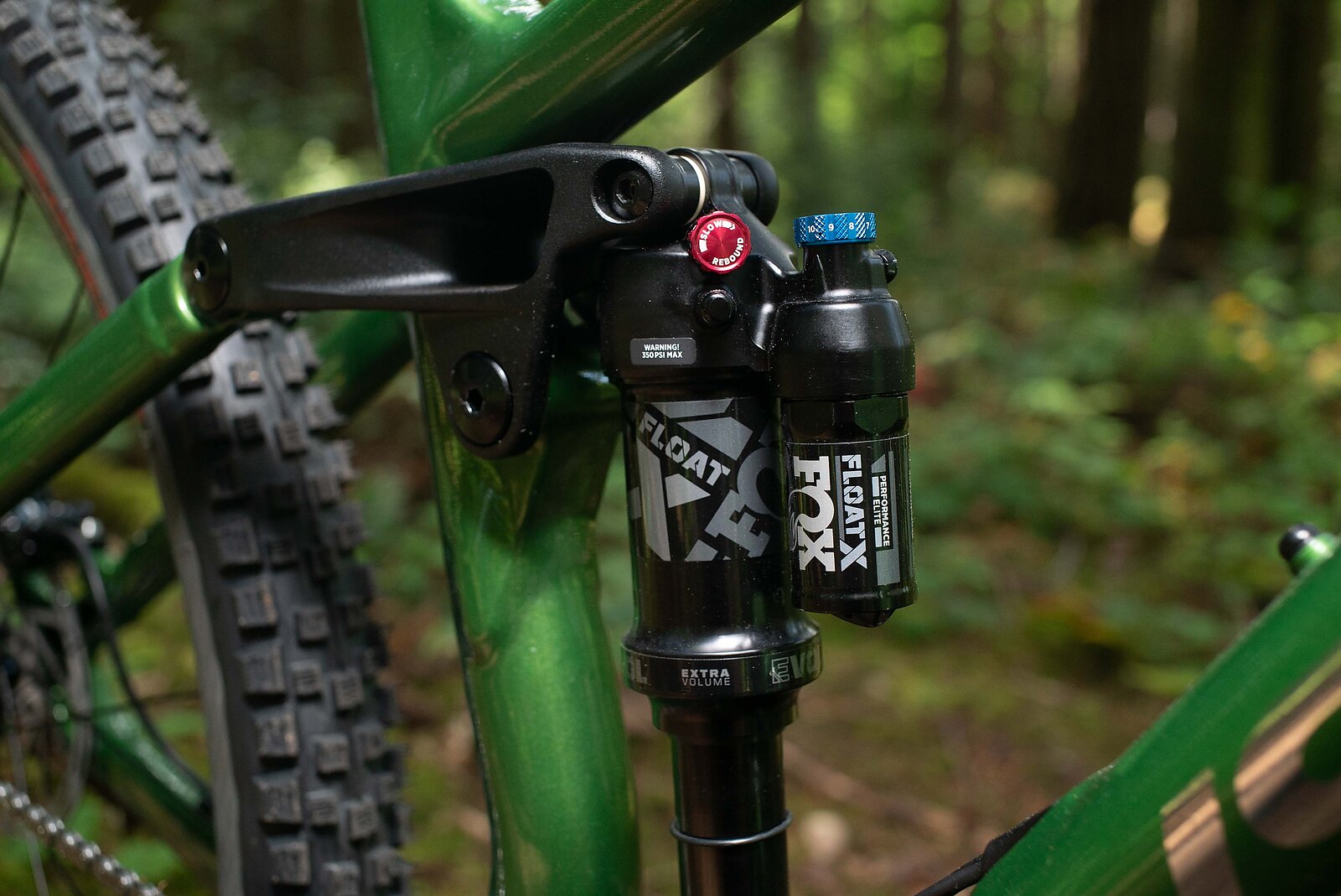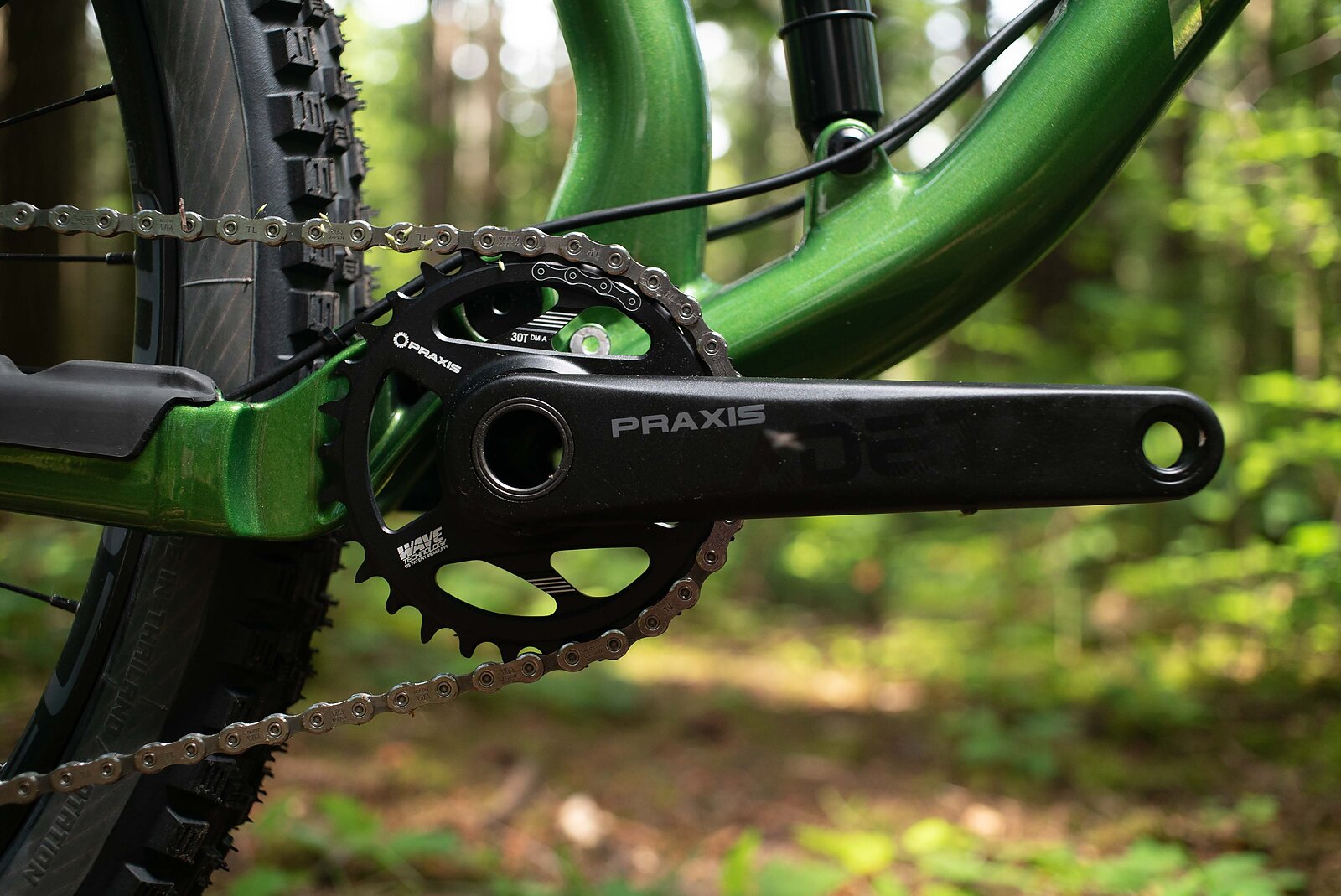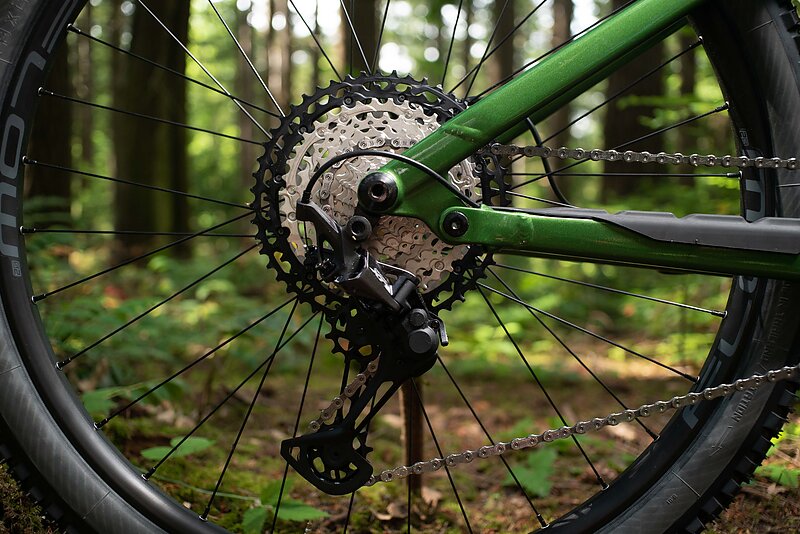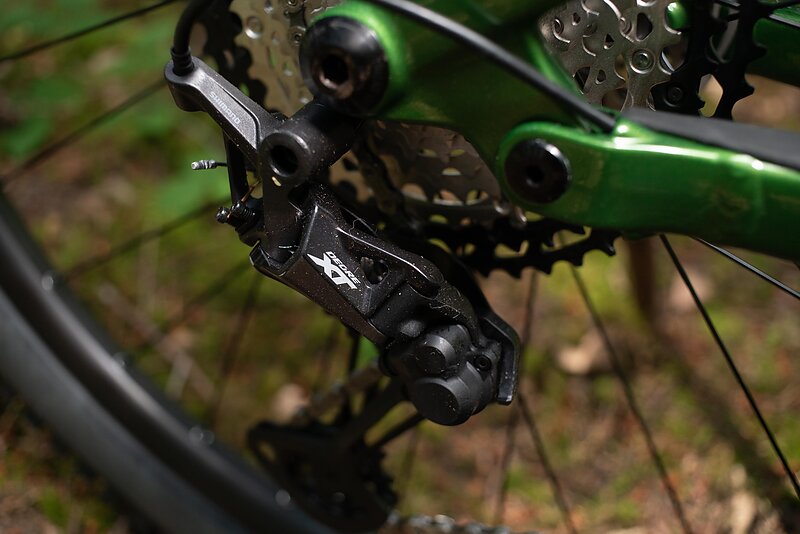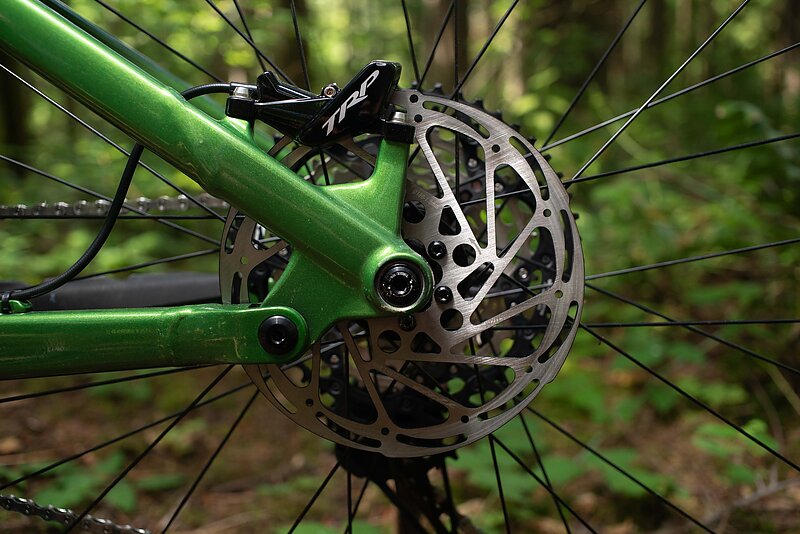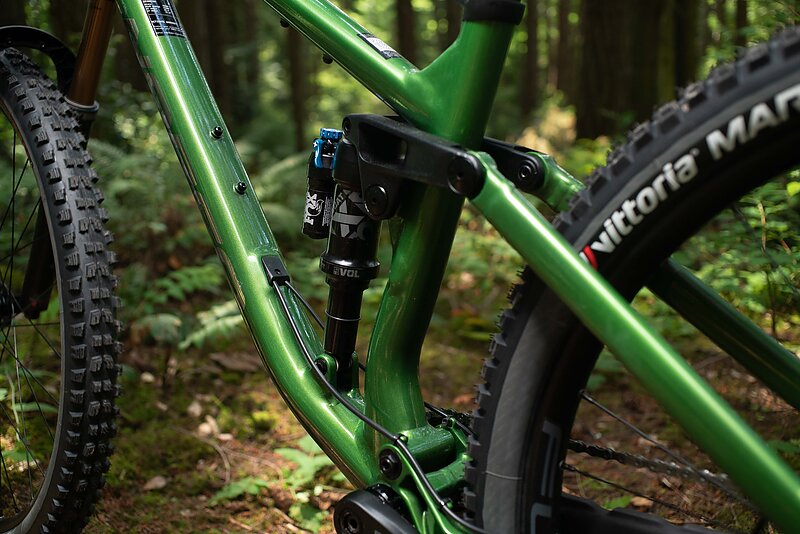 The overall component spec on the Fluid FS is something Norco can be proud of for the price. Build kits range from $2,000 to $4,000. Testing the top-of-the-line A1 model left me with practically zero gripes about its bang-for-the-buck value. The Grip 2 damper on the Fox Factory 34 fork is a great addition to this bike's ability to eat up trail and helps match the capability of its rear end in a way that Fox's Fit dampers' limited adjustments can't handle with quite as much class. The nearly complete Shimano XT drivetrain is a breeze to ride and maintain. The Praxis crankset and chainring play nicely with Shimano's 12-speed chain, albeit with a tad more noise than Shimano's own chainring profile, though never to the point of compromising performance in any noticeable way. TRP's Trail EVO 4-piston brakes were a pleasant surprise, with more power than expected considering they're not TRP's gravity-oriented offering. The brakes are worth noting because for riders who like running their levers close to the bar, the shortest reach setting may still feel a bit too far out in comparison to other brands. If there's one component I would change right away on the Fluid, it's the thin and uncomfortable stock grips which I swapped out for a more substantial pair immediately after my first parking lot test. But I won't knock Norco for that considering grips are perhaps the least expensive and most easily replaceable component on a bike.
The Stan's Flow S1 rims are a great choice—they feel relatively light under acceleration and braking and provide that classic Stan's forgiveness not found in many other alloy rims. The trail casing Vittoria Martello and Mazza tires were a curious pair to get along with. They handled loose and rocky summer conditions reasonably well but came up a tad short in support in the most severe G-outs and berms. However, I didn't experience any punctures or unexpected washouts, so the tires grew on me quickly, and I wouldn't mind continuing to use their trail casing version.
The new Norco Fluid FS is a surprisingly versatile bike that all sorts of mountain bikers can enjoy. Cross-country riders looking for a relatively efficient bike with excellent descending abilities will have the time of their lives on rough trails. Gravity riders will put up with pedaling uphill on a bike lighter than they're used to for the surprising reward this bike offers going down. But most importantly of all, new riders entering the scene and looking for a bike that can take them on nearly any type of terrain will be the ones who benefit most from such a stellar package at a good price.
Norco Fluid FS A1 - $3,999