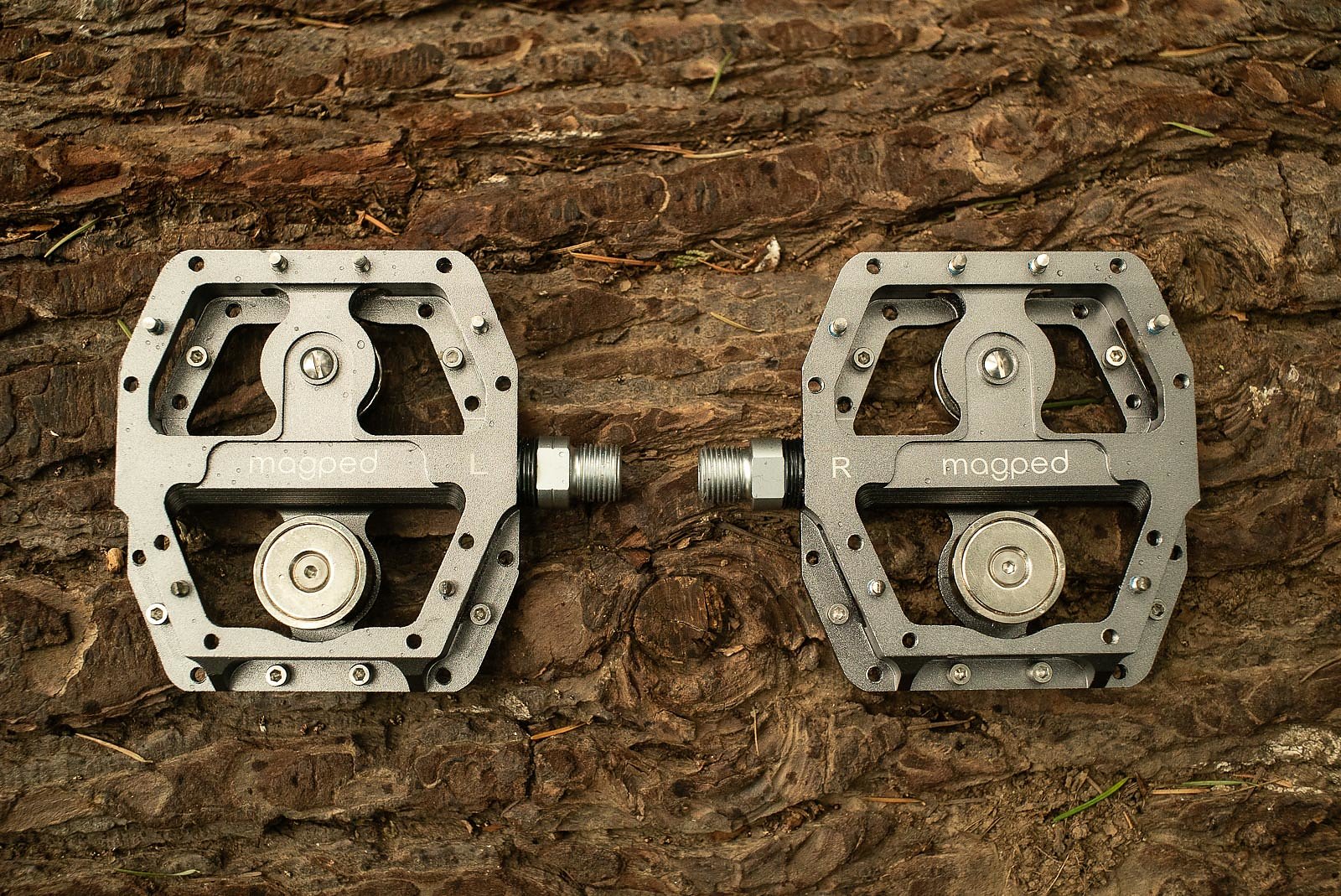 Magped Enduro Pedal Review
Magnetic pedals.
It's an idea that plenty of us have envisioned and some have surely attempted. Yet I've never actually seen a pedal option like this in the wild—or anywhere for that matter. When I first heard about Magped's Enduro 200, I was slightly skeptical and definitely curious.
My first thought as I pulled them out of the box was "Dang…This is an aggressive pedal." It's quite obvious that these pedals are specifically designed to attack the steep and tech trails. Even though they're designed in Austria, it was pretty obvious they'd fare well here in the Pacific Northwest. The pedals feature two M50-20kg+ magnets—one on either side of pedal, with the 20kg indicating that the magnet needs 20kg (or about 45lbs) of pulling force before it lets go. The Enduros are offered with either 150N magnets, suitable for riders up to 175 lbs, or 200N magnets, recommended for riders 175 lbs and over.
Coming from clipless pedals, I figured these would offer a middle ground in my transition to flats—or maybe actually to magnets. My hope with the Magpeds was to still have the familiar feeling of being attached to the pedal and the added efficiency while climbing, but also more freedom to float and detach on quick notice.
The setup for the Enduros was simple. I started by installing the thin titanium plate and spacer (compatible with all SPD shoes) to my Giro Chambers. The magnets sit just above the pedal body and the spacers under the plate are used to make sure that the two connect just as the pins hit the sole of your shoe. Magped also recommends that the ball of your foot should be directly over the spindle and that each side of the pedal should have four pins in the front half and two pins in the back half.
With a little tweaking, it's easy to get the pedals set up just as recommended. Using the SPD tracks, I made sure the plates were in the right position in relation to where the spindle sat under my foot. Next, I made sure the magnet made solid contact with the plate before I adjusted the pins in or out as needed to ensure there was just the right amount of connection. After that, I slapped the pedals on my bike and headed out for the first ride.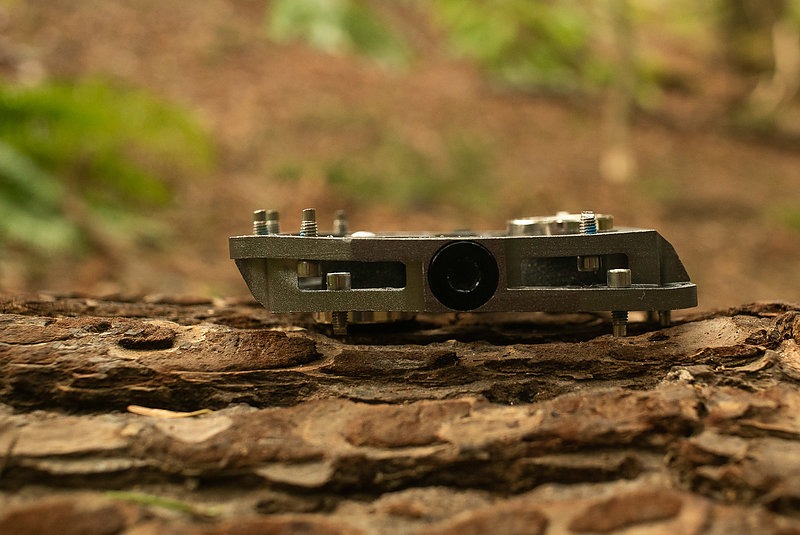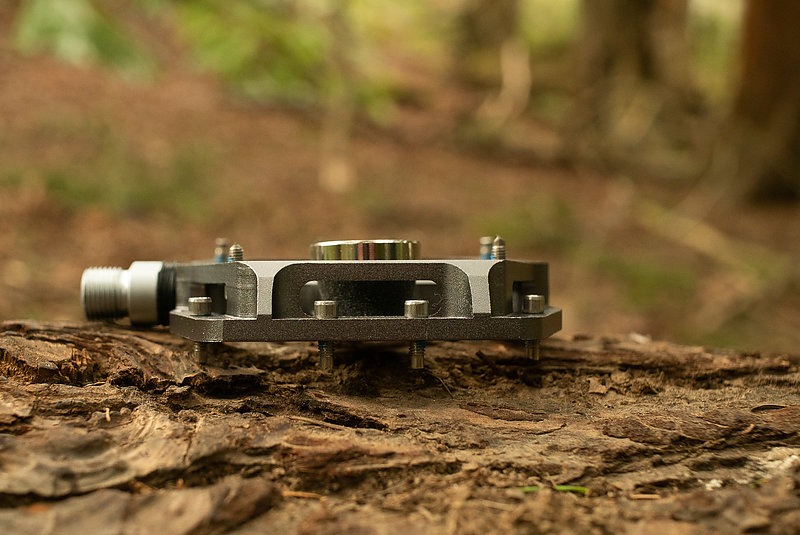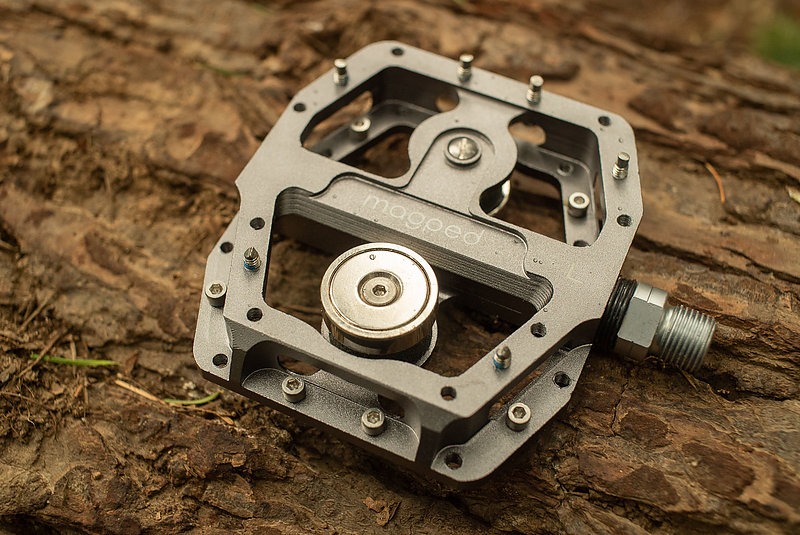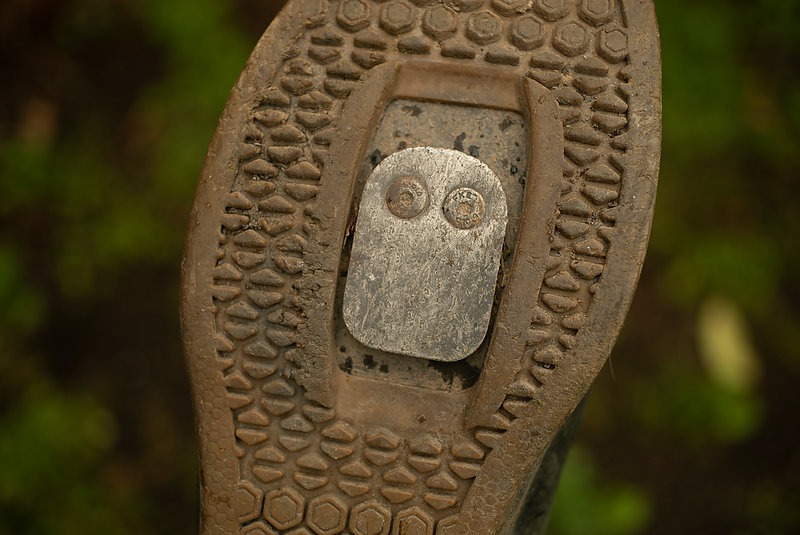 It's important to note that I have been riding clipless pedals for the past decade. Although, I feel like flat pedals would better suit my riding style I just can't find the same comfort that I do with my feet attached to the bike. With this outlook, I was more than excited to test a new option that might fall somewhere in between our traditional clipless and flat setups.
For the first ride, I decided to get in a lap on Chuckanut mountain, a local favorite with plenty of technical and rooty options. As I climbed the road my feet were glued to the pedals—until I hit the steeps and my instincts from riding SPD pedals kicked in. There were a few times I accidentally ripped my foot off the pedal trying to compensate for a steeper gradient by pulling significantly harder up on the pedals, a technique that I didn't really realize I was doing. After doing this twice, I started to focus on more consistent pedal strokes, especially when things got a bit steeper. After that, not only did I stop pulling my feet off the pedals but I also felt like I had a little more efficient pedal stroke.
After climbing for nearly an hour, it was finally time to drop in. The very first corner I hit, I immediately felt more support under my foot compared to my normal clipless platform pedal. I also noticed that the magnets allowed for several degrees of twist, giving my feet a little room to dance on the pedals for oncoming obstacles and corners.
As far as releasing from the pedal, it's easy and just takes a sideways movement of your foot. Even in more critical situations, the pulling force could be overcome in a vertical direction. By far my favorite aspect of the pedal though, was the ability to easily reconnect in a hairy situation.
Every clipless rider knows that terrible feeling of when you can't quite clip back in as you roll into an already daunting section. With the Magpeds, this was no longer a concern. If I had to pull my foot out for any reason I could easily set it back on the pedal and I was good to go. This was also true for riding in muddy conditions—not only do the titanium plate and pedal have no small crevasses to get mud stuck in, they find each other for you so there's no last-minute readjusting.
Overall Thoughts
Magped's Enduro 200 is an amazing third option to pedal standards, and one that seems to combine the best qualities of clipless and flats. Still being attached to the pedal allows me to easily float over rough terrain but the platform allows for amazing support and consistency. I would highly recommend this pedal to any aggressive rider that feels loose on flats but constrained by clipless pedals.
Magped Enduros
MSRP: $188