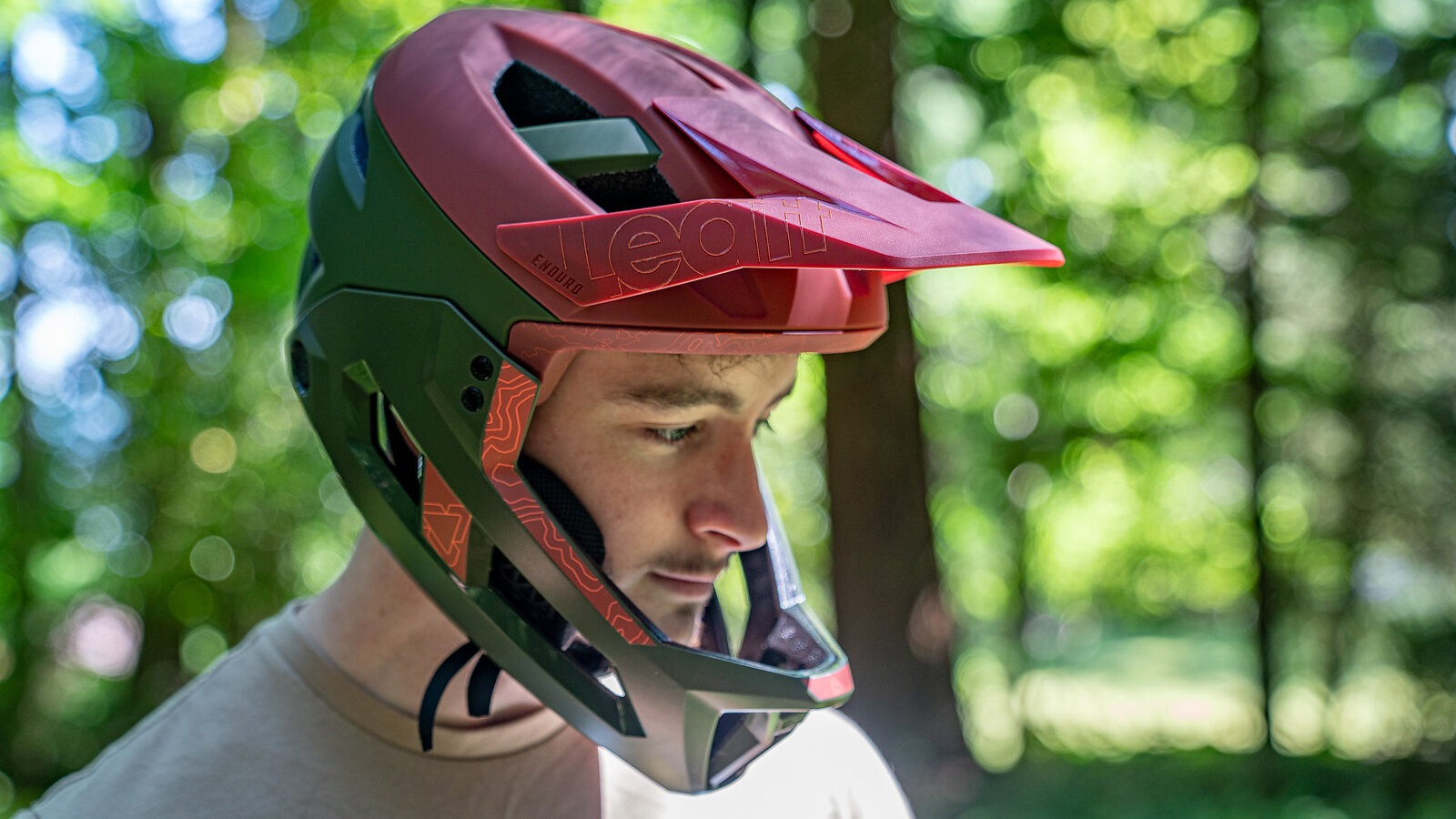 Leatt MTB Enduro 3.0 Helmet Review
The world of products claiming dual or even multiple functionalities sometimes appears too good to be true.
Can a single liquid truly take on the task of shampoo and conditioner? Why would one combine the disparate worlds of vacuuming and hair-cutting? And why am I, a bald man, suddenly an impassioned critic of hair care products? My skepticism extends beyond the confines of the bathroom, particularly when bicycle products claim to be jacks of all trades. Typically, they end up masters of none.
Helmets that claim multifunctionality always make me raise an eyebrow. So, when the Leatt Enduro 3.0 helmet recently entered the scene, purporting to offer three distinct protection levels, I was ready to scoff. But this helmet, with its audacious claims, did something unexpected: it made me a believer not only in its promised versatility, but in the potential of products that, when designed thoughtfully, can deliver on ambitious promises.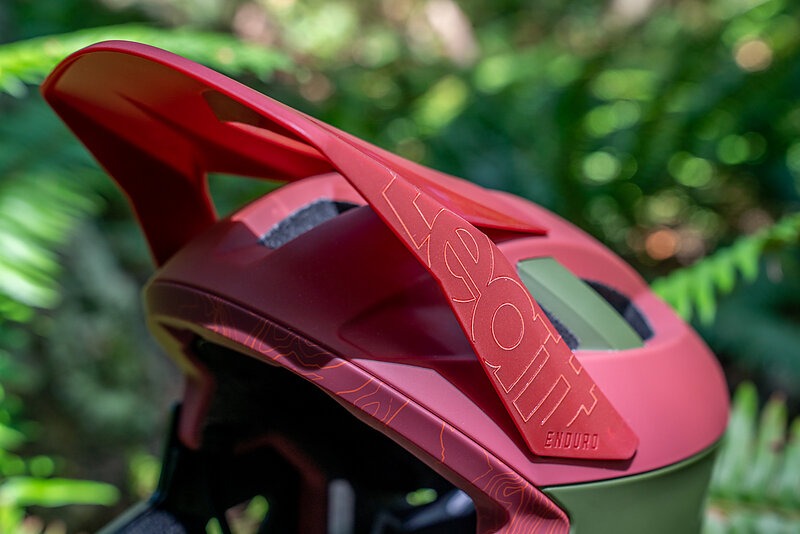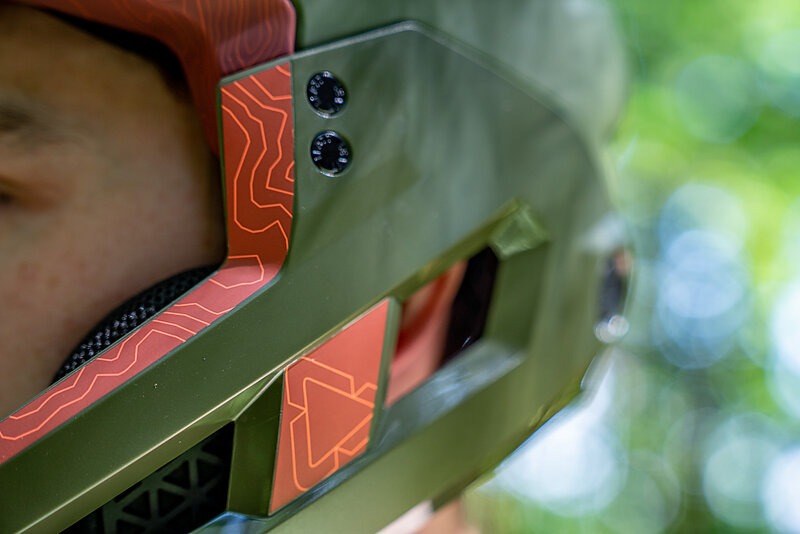 The three-in-one design of the Leatt Enduro 3.0 is no gimmick. Instead, it's a reflection of genuine user-centric thinking. Picture this: A laid-back day on the trails beckons, all you need is the basic protection of a half-shell, open-face helmet. The Enduro 3.0 obliges. Yet, when the trails become more aggressive, and you wish for more coverage, easily attachable over-the-ear guards come to your rescue. And, on days when you crave riskier routes, the chin bar clicks into place offering robust, full-face defense.
Now, if you're envisioning a bulky, cumbersome helmet, think again. Leatt's design expertise shines here, using a lightweight polymer that feels airy without compromising protection. And their proprietary Powerbridge technology, which ensures any impact is distributed over a broader area, is key to this balance of size and strength.
But what also makes this helmet a safe choice is the tiny blue discs embedded in it. These are part of the 360-degree Turbine Technology—Leatt's in-house take on anti-rotational technology. Similar to MIPS, it plays a pivotal role in dampening impact forces. Studies have shown that these discs can reduce up to 30 percent of peak brain acceleration during impacts, not to mention a significant reduction in rotational forces by up to 40 percent.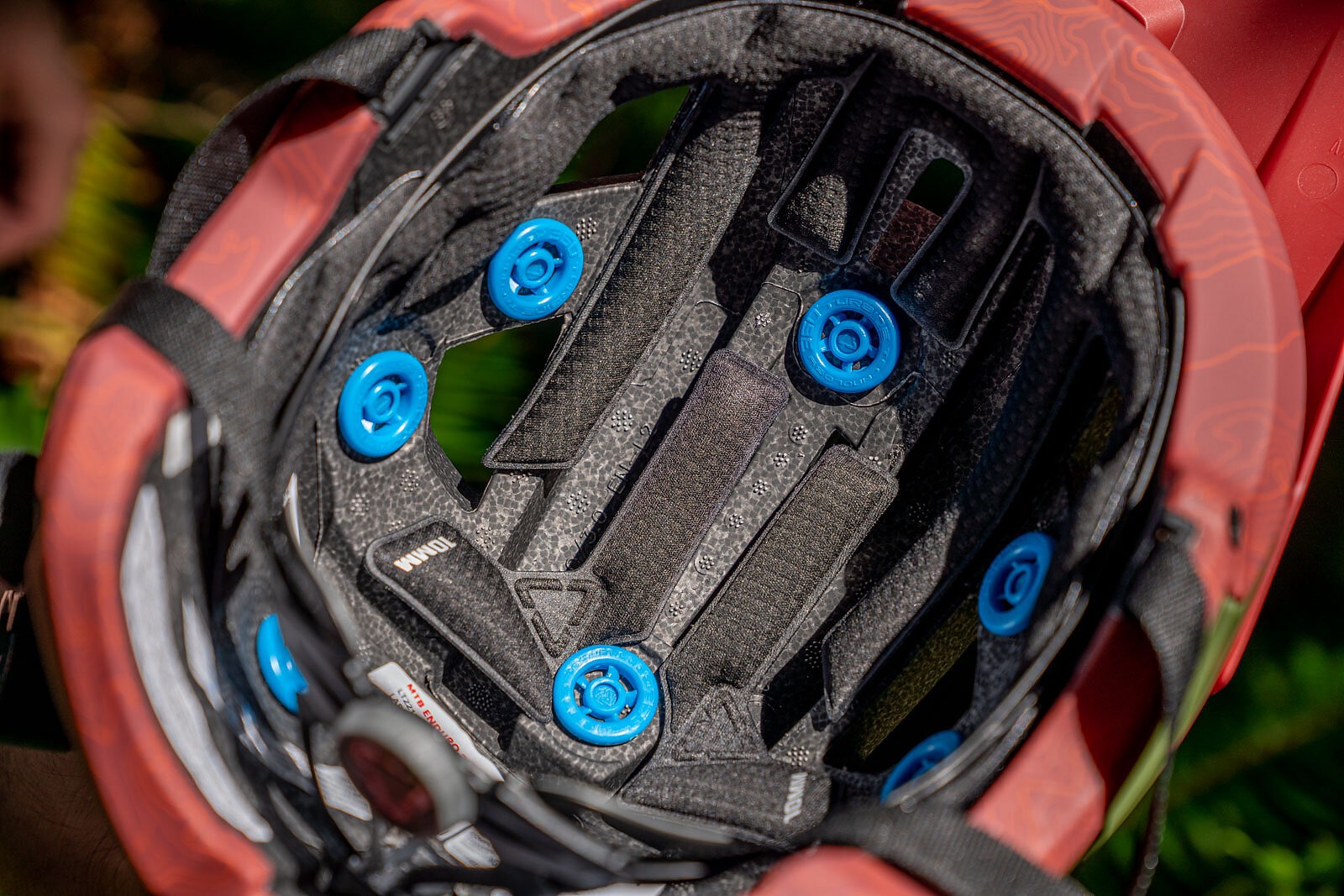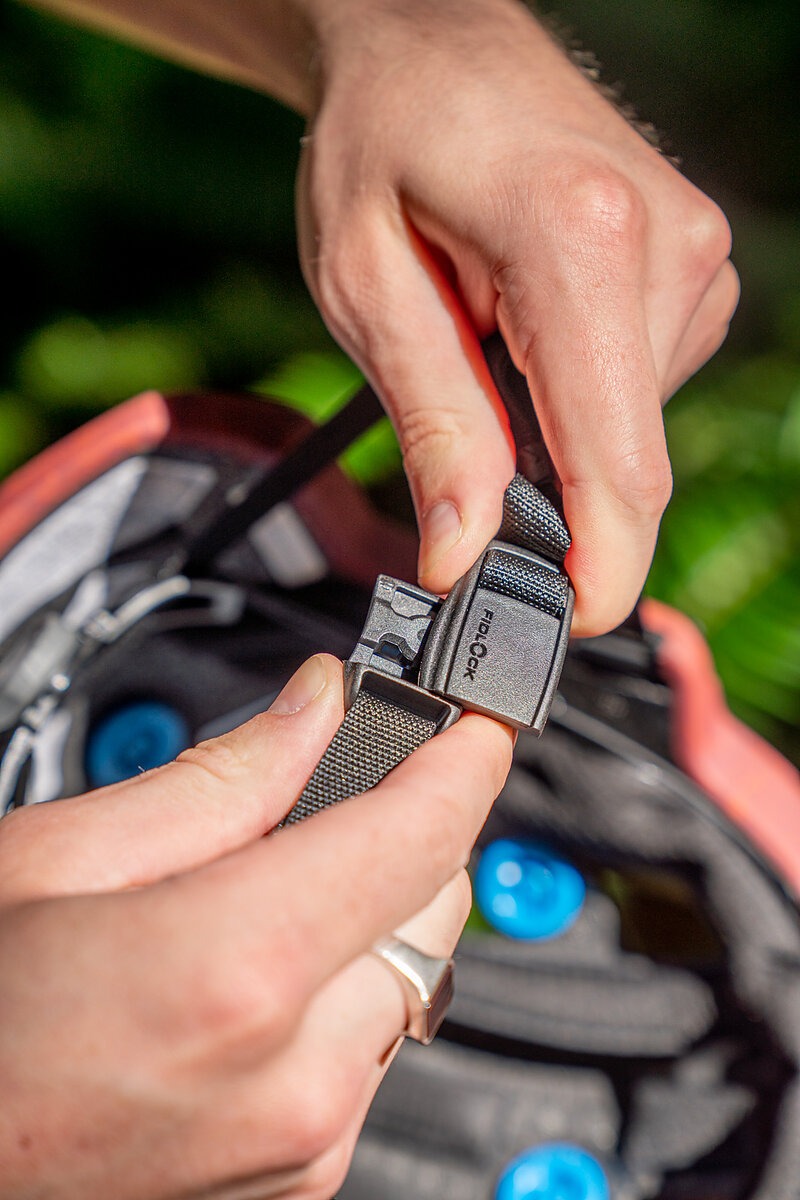 Fit matters. When riding down a challenging trail, the last thing you want is a helmet that wobbles or feels too tight. With the Enduro 3.0's micro adjuster, you can achieve that "just-right" snugness in one of three sizes offered. The medium size worked well for me (it's my usual size), but I did find it hard to get on and off with the chin bar attached. Perhaps that's just a testament to this helmet's secure fit.
This lid also achieves supreme sweat management—an aspect well suited to the hot months I spent testing it. With 20 strategic ventilation openings, it delivers coolness and breathability irrespective of how fast I am moving. And the moisture-wicking, breathable, anti-odor, and easily washable inner liner ensures that after every sweaty ride a fresh start awaits.
In 2023, the Enduro 3.0 was given the prestigious Design and Innovation Award, cementing its place as not just a new fan favorite but also as a genuinely groundbreaking piece of bike kit. Such accolades only further validate the ingenuity and dedication Leatt poured into this helmet's design and functionality.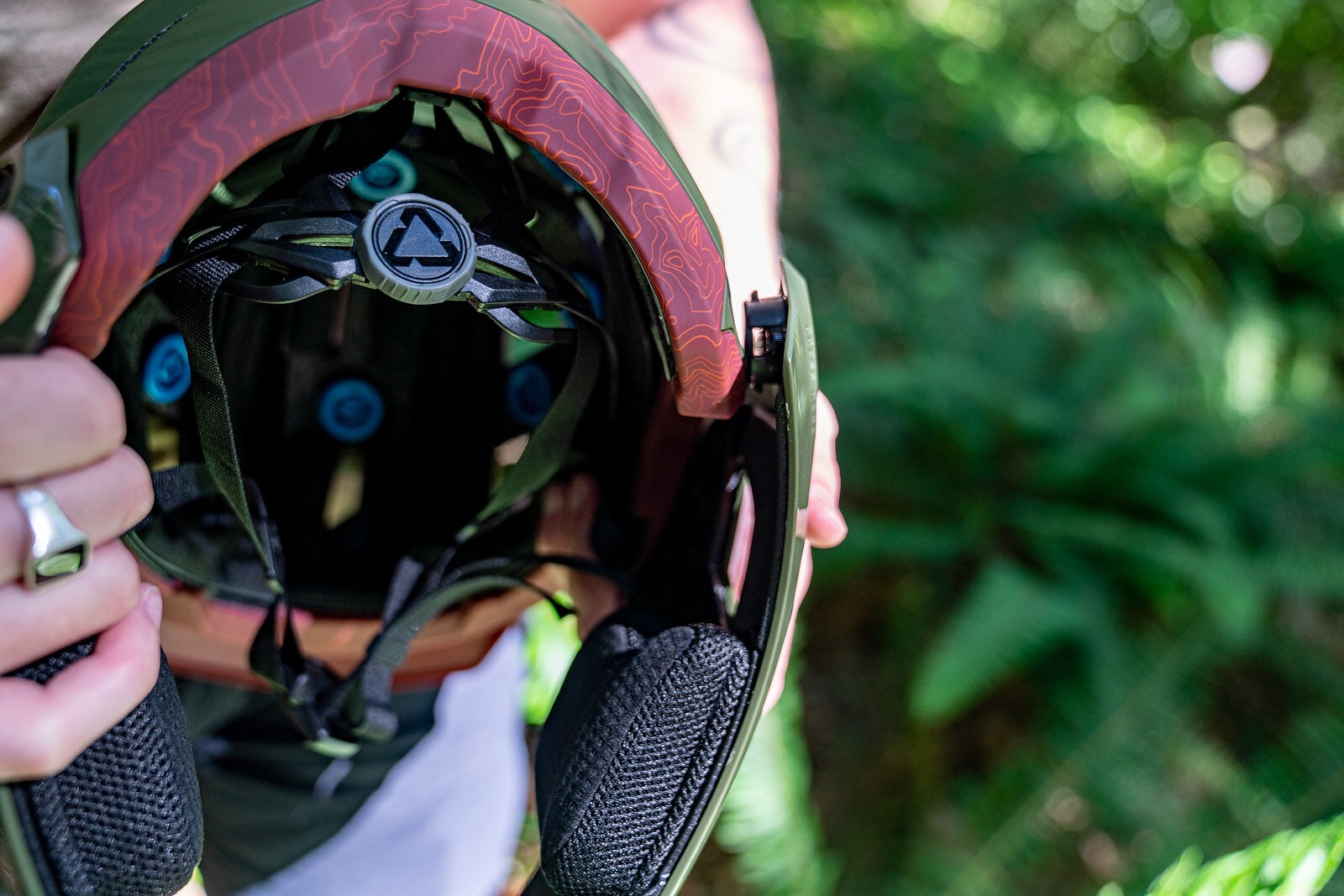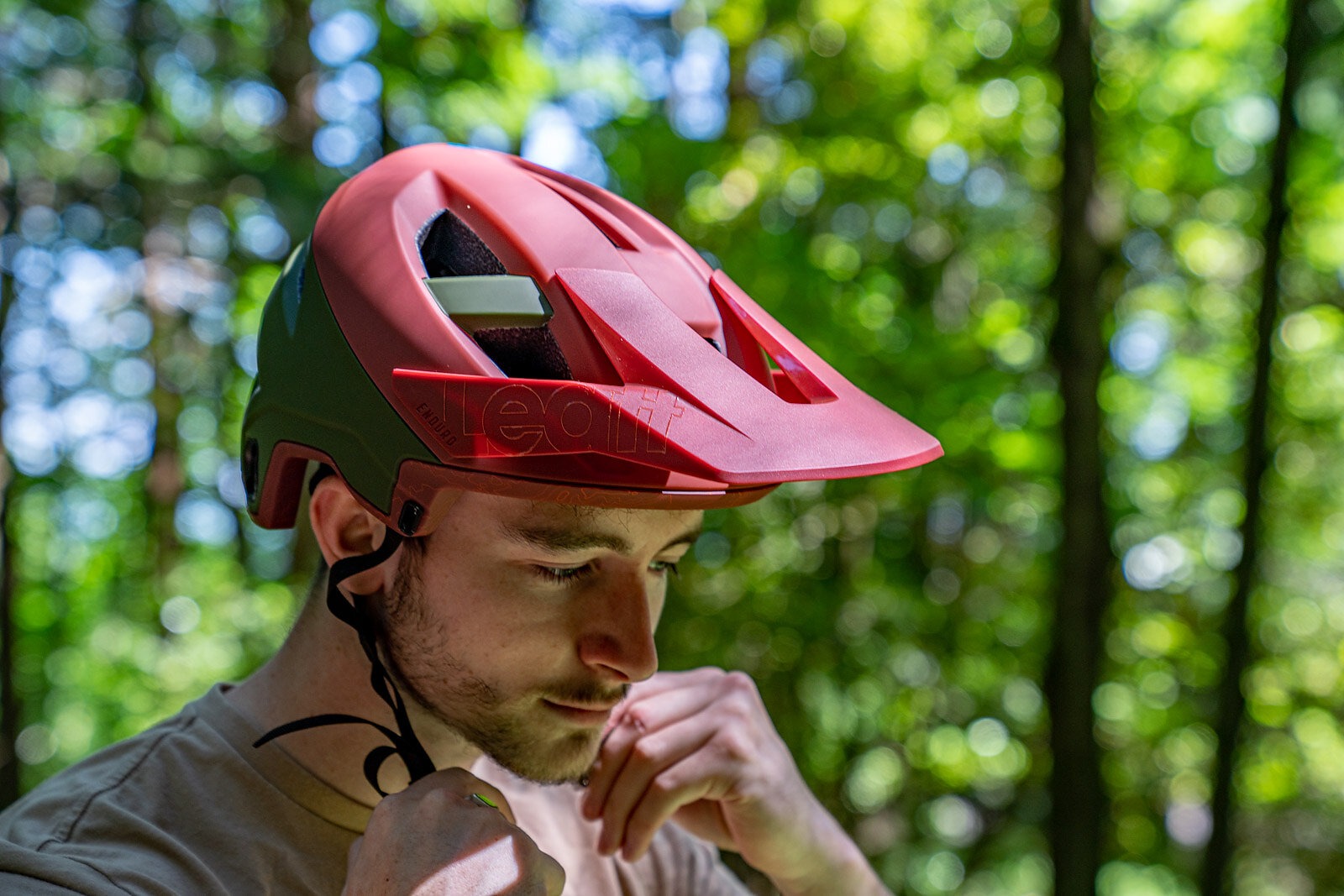 I quickly became a fan of this helmet. Its miniscule weight and versatility make it a winner for me. Even though I rarely carried the extra parts to change the configuration of the helmet on a single ride, I loved having just one helmet to cover all my needs. Not worrying about which helmet to bring—a very real struggle in the past—gave me more time to just enjoy getting ready for a ride. And with the quality of the construction, I felt confident that each configuration didn't just look the part but would boost protection at each level.
While the world may produce many multi-use products that don't quite live up to their promise, the Leatt Enduro 3.0 is not one of them. As for my skepticism? Well, let's say it's taken a backseat, at least regarding bike gear. Whether you've got a thick mane or you're flaunting the bald-and-proud look like me, the Leatt Enduro 3.0 understands and caters to your biking aspirations. So, gear up, pick a trail, and ride on with confidence.