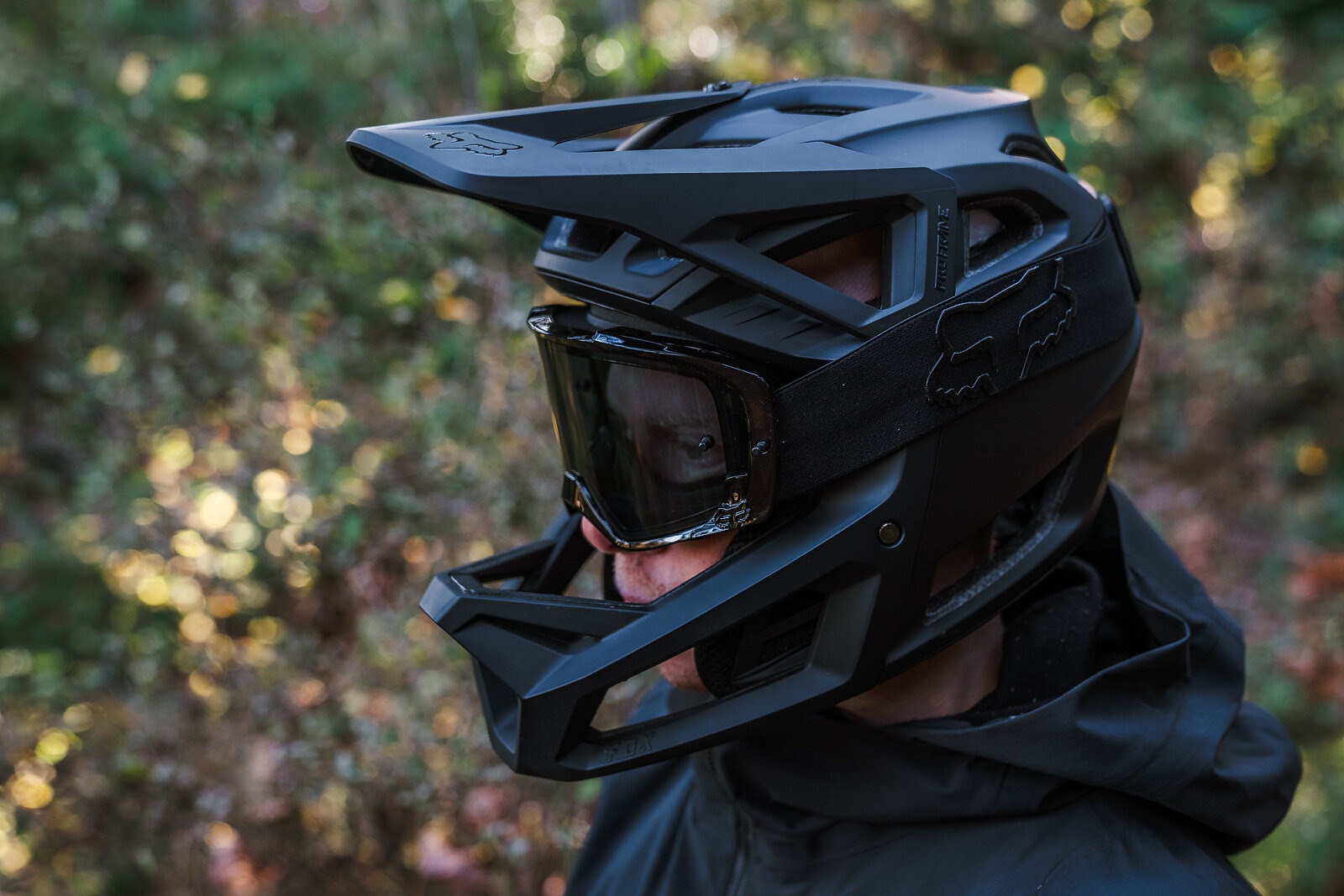 Fox Racing Proframe RS Helmet Review
There comes a time in many riders' lives when a critical choice must be made: do you try to look cool in front of your friends and ride the sketchy line, or do you get off your bike and walk it? But not anymore. Thanks to the style masters at Fox Racing, now you can look cool and feel confident no matter how you get down the mountain. Well, unless you crash, and your friend posts the video on the internet—that won't look cool.
Instead of line choice, the real difficulty for me with this helmet was when to wear it instead of my normal half-shell. Some scenarios were more obvious than others; the enduro race next weekend, the shuttle day in Darington, but what about a ride that involves a two-hour climb to a trail that's steep but not that steep? Will my friends be wearing full face helmets on this ride? Won't I be too hot? Facial reconstruction surgery sounds worse than it actually is, right?
The first time I wore the Proframe RS was on a ride that began with a truly heinous climb. Though not the ideal situation for riding with a full face helmet, I wanted to test what this category of lightweight, breathable, full-coverage helmets is really all about—versatile protection. After an hour of relentlessly steep climbing, I was extremely impressed with how unobtrusive this helmet felt. It was lightweight, had a wide field of view, and only felt a pinch warmer than my half-coverage helmet I wore on the previous ride.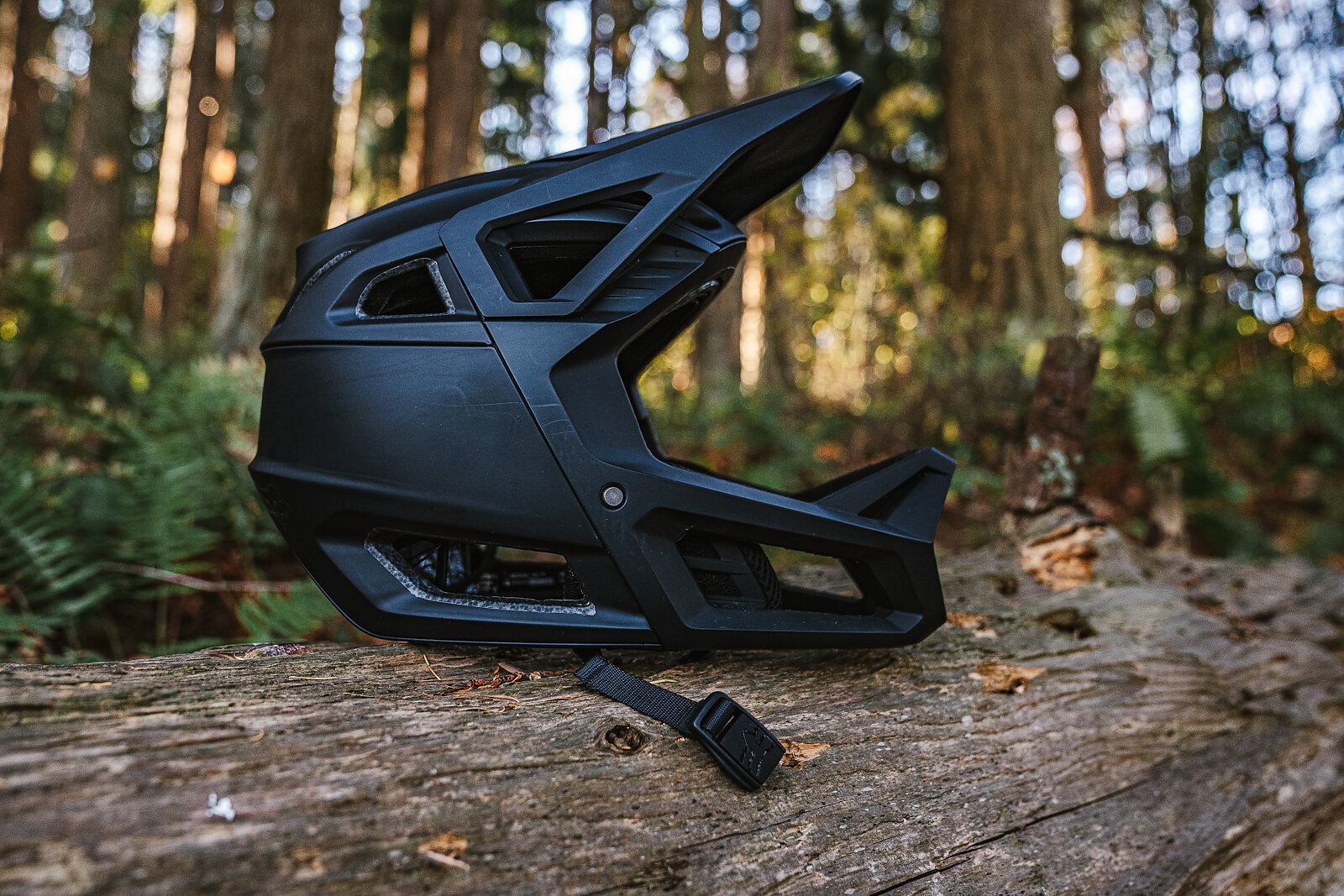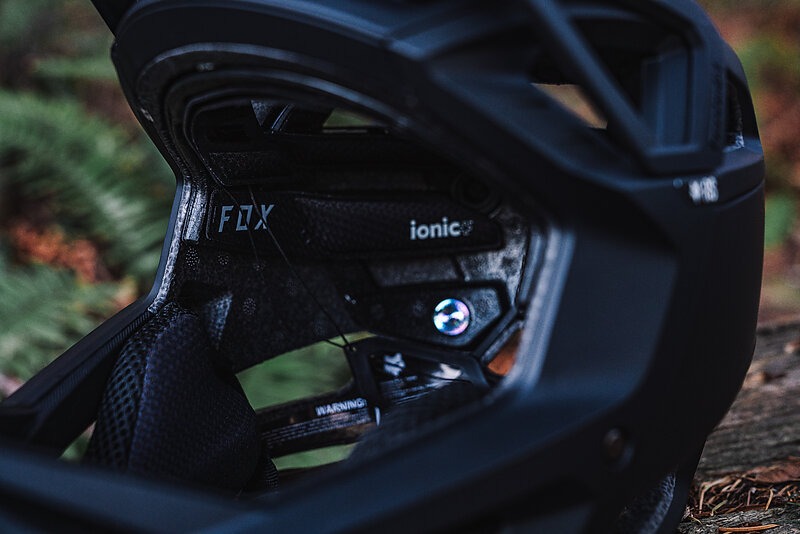 Once at the top of that big climb, I pulled a pair of Fox Vue Stray Goggles over the helmet and onto my face in preparation for a steep descent. The goggles meshed perfectly with the brow of the helmet, and with them on, I felt an assurance of safety settle into my mind. Then I proceeded to shred down the trail so hard that if an audience had been there to see it, they would have fallen to their knees, dumbfounded, simply by witnessing such staggering feats of bravery. And afterward, they would have thrown a parade in honor of my contribution to humanity, at which time I would give a speech thanking this helmet for the confidence it inspired in the face of unparalleled danger. Alas, the two friends with me on that ride didn't even exalt me once on the drive home—I must have been too far ahead.
Though I never got my parade that day, I knew immediately that this helmet would be worthy of one. The fit, features, and sheer beauty of the thing—it's tough to find something to fault here. So, I'll just go ahead and discuss what makes the Proframe RS exceptional. First, it oozes luxury and comfort. The Boa®-driven fit system boasts 624 possible fit combinations across the three sizes offered (small, medium, large)—so most everyone will find an adjustment that works for them. The Ionic+ antimicrobial liner is plush, and the cheek pads (two sizes included) are easily removable—a nice feature I took advantage of to maximize comfort for long climbs. And finally, the Fidlock® magnetic buckle on the chinstrap makes for an effortlessly secure closure.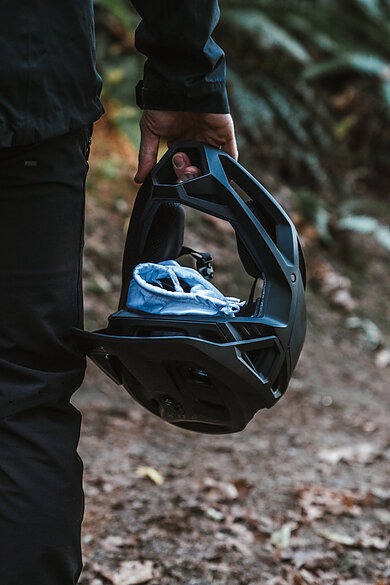 In the safety department, on top of everything that makes it so comfortable, this helmet also boasts next-level protection. As its crowning piece of technology, MIPS Integra Split is found at the inner peak of the Proframe RS. However, the Integra design must be seen to be fully understood. It is essentially a floating layer of EPP foam, split in half, with an interlocking pivot point in the middle that allows independent movement of a front and rear panel. This new design more effectively dissipates rotational impacts compared to previous MIPS generations. And if you've never heard of Integra Split, that's because this is the first time this innovation has been featured on any helmet.
Over the couple months of test riding that took me from long, hot slogs to chilly shuttle laps and back again, I never once regretted choosing this helmet for a ride. Its seamless use of the latest and greatest technologies available and its uncompromising levels of ventilation and tactile comforts make it easy to wear across changing conditions. So much so that I would recommend this helmet to anyone looking for added protection where a full-fledged DH helmet is overkill. Be it on your typical trail ride, aboard that new e-bike, or in the enduro race you signed up for next weekend, the new Proframe RS from Fox Racing has you covered.
FOX RACING Proframe RS- $359.95