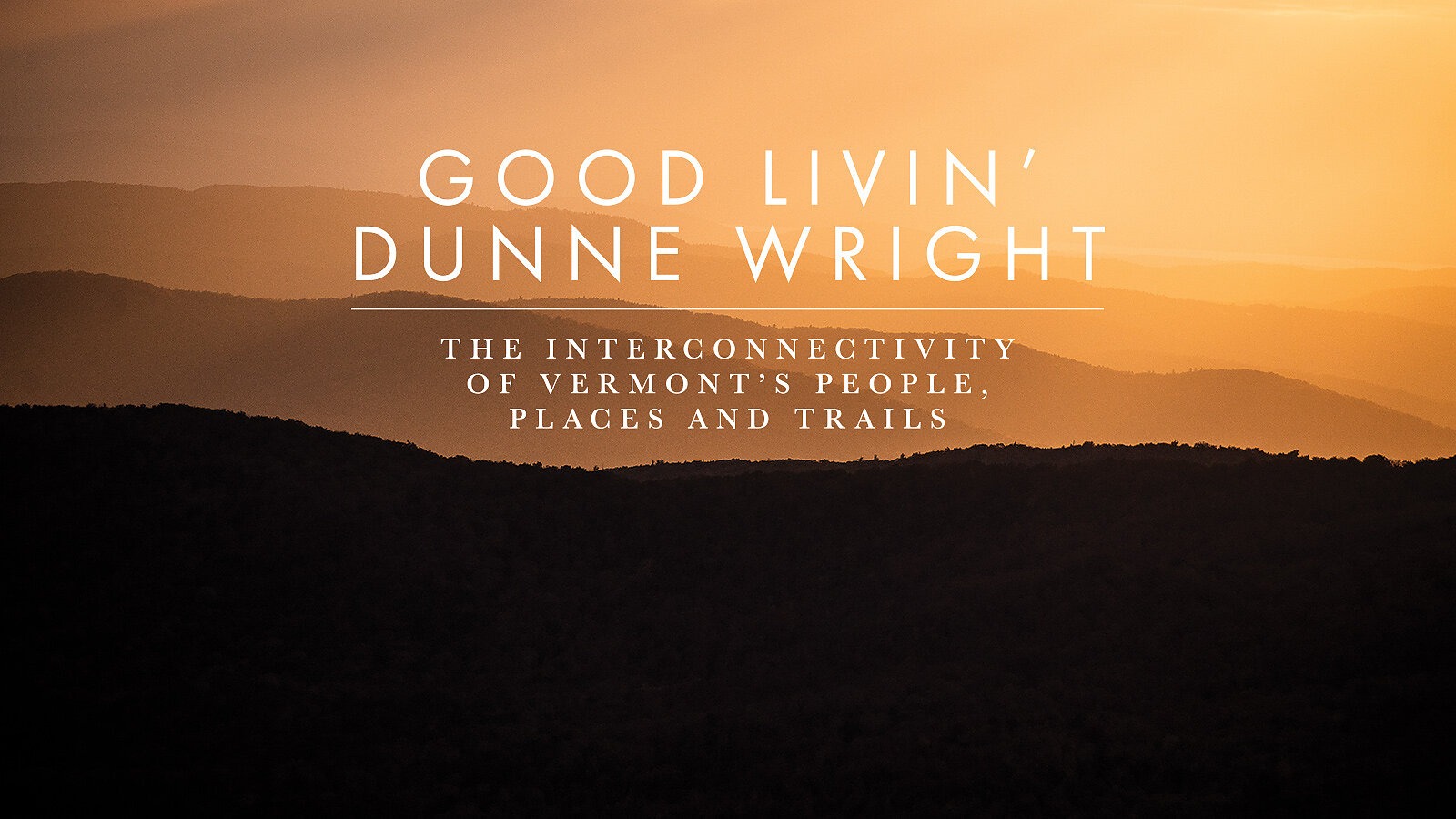 Small talk whispers through the air, the common chatter of a local trailhead:
"What's Quinn doing for work?" "Okemo is supposed to open for Thanksgiving, can you believe it?" "What a busy summer…" Nearby, the area's distinguishing geological feature, a large boulder split at its center, seems to stare down at us as we gather in a parking lot next to a tiny nursery. A woman walks by with a big smile, roots slithering from her dirt-smothered Carhartts.
As we prepare to ride, the locals glow, quiet and proud. Here, only out-of-towners speak loudly. The Reading Greenhouses and Farm Market, during this era of my youth, provided the stage for a subtle confluence of Vermont's culture—not only the start of a bike trail, but also a place to stop and buy a Christmas wreath.
A place's essence can be elusive. Sometimes we're able to pinpoint it, especially in areas where we've spent countless hours opening ourselves up through time spent exploring. I came to understand Vermont through the connection of its trails to its people—the Joe's Jungles and Lyle's Labyrinths, singletrack so intertwined with its caretakers it became one and the same. This connection between people sculpted my idea of mountain biking as community.
Words by Myles Trainer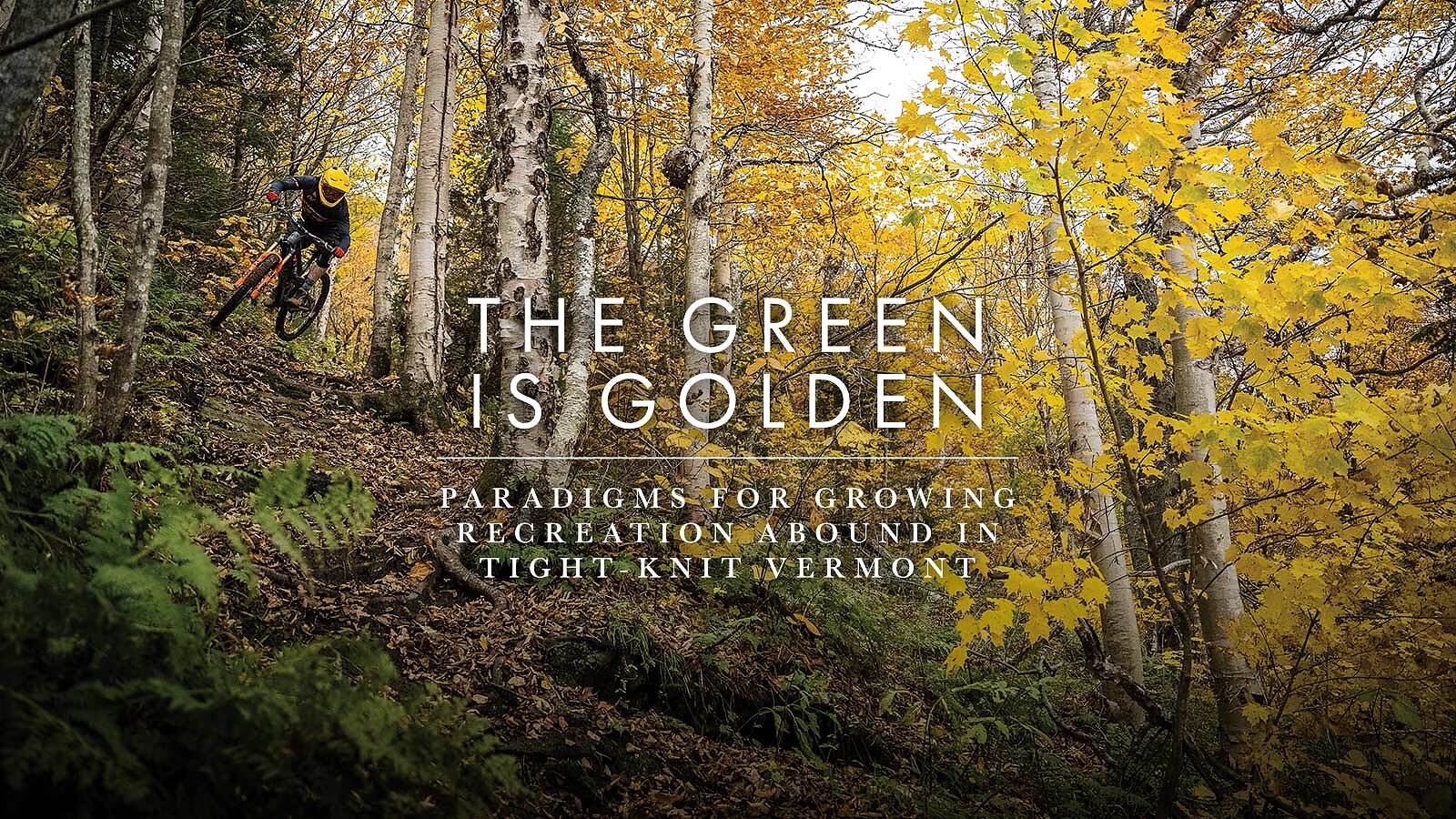 When Vermont's storied Bolton Valley Resort first decided to spin lifts for mountain biking, it built off a network of rogue trails scraped in throughout two decades by a brotherhood of riders.
For the better part of 20 years, they pedaled to the top of Vista Quad to ride what most considered to be terrifying, technical old-school descents with wooden features in a permanent state of disrepair. When the DesLauriers family bought back their beloved ski area, they didn't plow these trails under. Rather, they invited the builders and riders to get together and asked if they would team up to modernize the trails with the help of resort and trailbuilding company Gravity Logic.
That kind of people-first partnership makes Vermont mountain biking mind-blowingly cool. Not only is the terrain mentally and physically engaging, but the overall community vibe is also welcoming and friendly because the trails are overwhelmingly built using cooperation, collaboration and stoke. 
At 157 miles long and between 42 and 90 miles wide, the Green Mountain State is a special place where riders, conservationists, farmers, public land managers and private landowners are building a mountain biking utopia. 
Words by Berne Broudy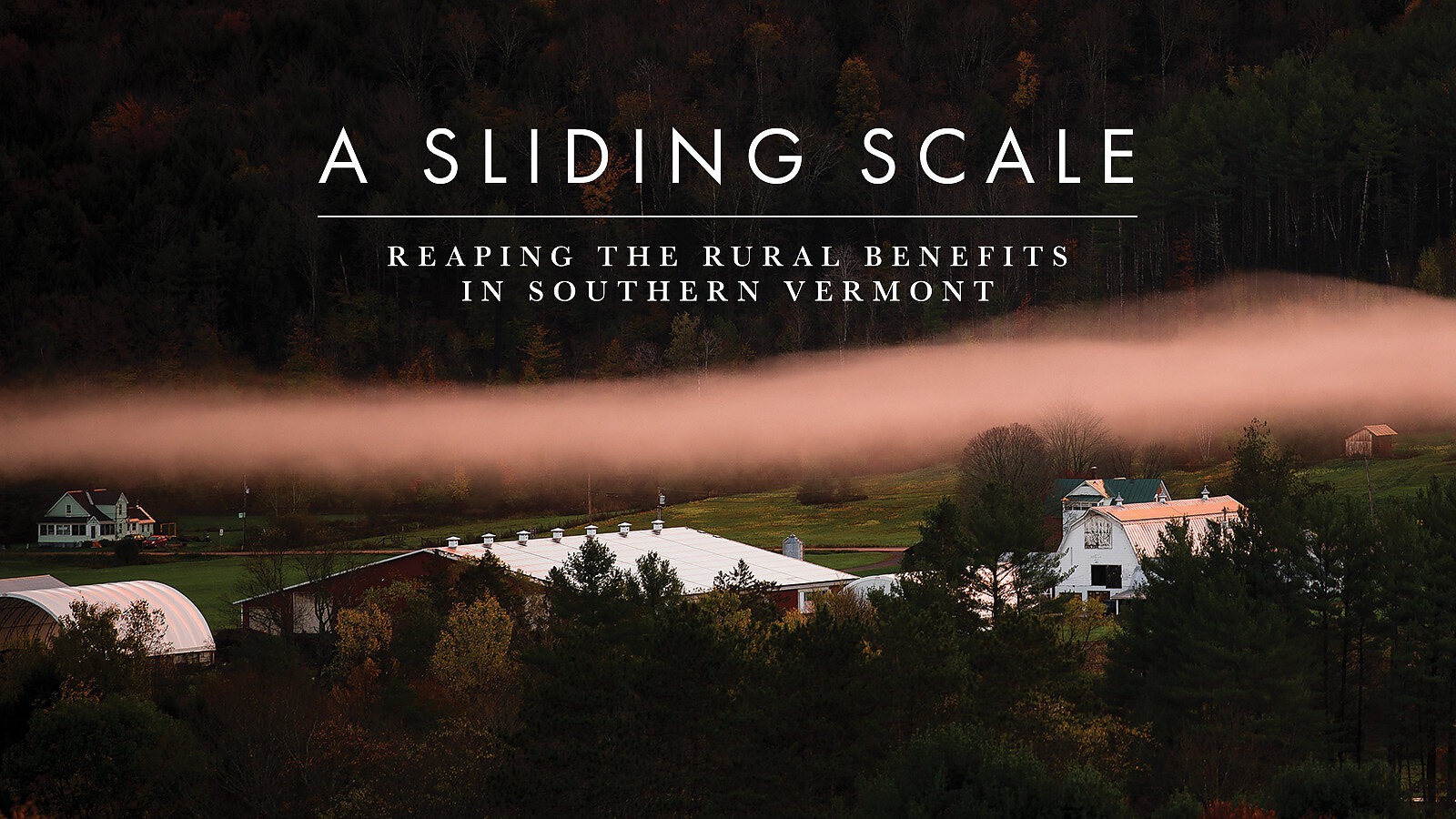 Small-scale society has many merits, and the entire state of Vermont is decidedly small-scale.
With a population of fewer than 650,000, a solitary international airport and only two interstate highways, the Green Mountain State is one of the country's most rural. While its unemployment rates are among the lowest in the United States, so is the average wage—and the cost of doing business outstrips that of many other states.
Vermont has an almost mystical quality that can be felt the moment one crosses into the state from neighboring New York or Massachusetts. It's not just the allure of the beautifully manicured farms that line the valleys between rolling green mountains. A ruggedly individualistic ethos pervades its tight-knit communities, and neighbors can be counted on to help each other during tough times. It's a place where the impact of a person's efforts can be felt immediately, and where homegrown industries such as maple syrup, ice cream and craft brewing can have a major economic impact.
And, for a growing number of communities—particularly in the state's southern half—seemingly innocuous mountain bike trails are increasingly being viewed as commodities in their own right. At the epicenter of this phenomenon is the quaint town of Rochester, home to the Ridgeline Outdoor Collective (ROC), a 501c3 trail organization that is a chapter of both the Vermont Mountain Bike Association (VMBA) and the Catamount Trail Association. When the group was founded in 2013, it was initially named the Rochester/Randolph Area Sports Trail Alliance. After several years of operation, the scope of the group's work expanded to include a broad swath of southern Vermont, including Pittsfield, so in 2021 its name was changed to the Ridgeline Outdoor Collective to be more inclusive of the many communities along the Green Mountain spine.
Words by Brice Shirbach | Photos by Brooks Curran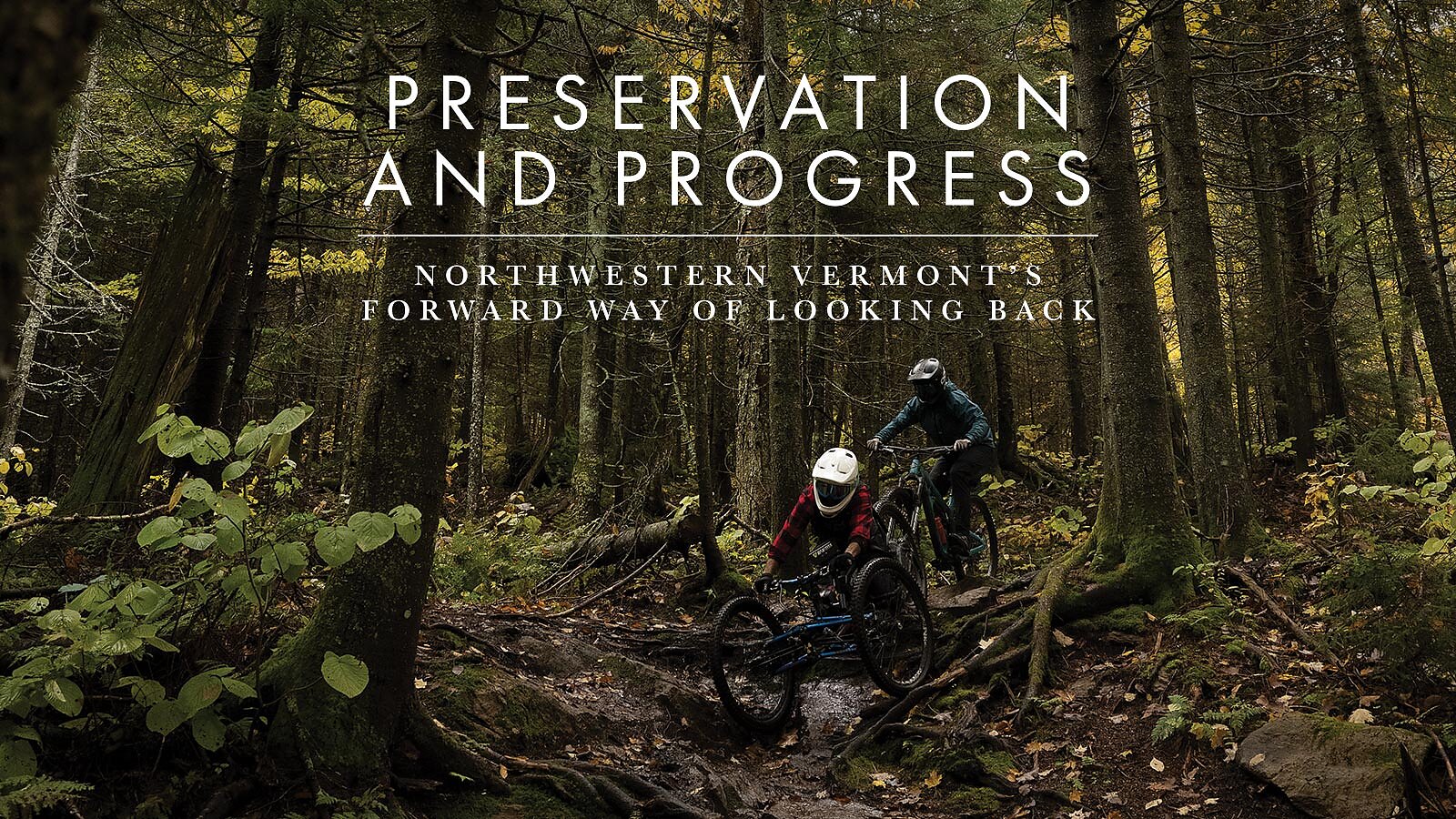 In Vermont's storied mountain bike heritage, the state's northwestern region holds a very special place.
The mountains and hills around the communities of Stowe, Waterbury and Richmond are home to some of the state's most iconic trails—many of them built as rake-and-rides in the late 1990s and early 2000s.
Since those days, incredible communities defined by resilience and tenacity have developed, expanding and progressing existing networks while carefully preserving the oldtech roots and rocks that gave the area its original character. For the many people who have contributed to the region's growth, there is a forward-looking commonality that underscores their work. Any conversation about past accomplishments quickly turns to the future, to what is coming down the pipeline. Despite the area's strong traditions, there is a palpable sense that northwestern Vermont's vibrant mountain bike scene is just getting started.
On the surface, the community of Stowe offers all the glitz and glamor of a high-end mountain destination, but the trails themselves have been built by generation after generation of dedicated locals, creating a network that is ingrained in the fabric of this bustling ski town.
Words by Alex Showerman | Photos by Bear Cieri
A century-old firetower stands atop northeastern Vermont's Burke Mountain,offering a 360-degree view of the highest ranges in the northeastern United States.
To the west, the Adirondack Mountains loom in the distance beyond Mount Mansfield. The White Mountains stack up to the east, broadly punctuated by Mount Washington, the northeast's tallest peak.
Though Vermont is known as the Green Mountain State, the soil composition on Burke Mountain shares more characteristics with the neighboring Granite State of New Hampshire. Looking out from the skeletal frame perched high upon a big slab of bedrock, one can feel the wind drifting through the cracks between old wooden planks. The surrounding landscape is mostly forest covered hills, with the occasional field quilting the valleys in between. It's hard to even spot a town on the horizon.
It might not be visible at first glance, but the surrounding hills cradle a deeply rooted culture of mountain biking that has embedded itself into the region's social fabric, emanating from Burke Mountain and imprinting itself on people of all ages. Known as the Northeast Kingdom, this region is renowned for its world-famous Kingdom Trails network. But the entire area boasts a rapidly expanding array of purpose-built singletrack, including lift-accessed bike park runs on Burke Mountain and two challenging new shuttle tracks from the summit. Add to this the ever-creative trail system in the nearby Victory Hill Sector and it's practically impossible for a mountain biker to ever be bored.
Words by Corinne Prevot | Photos by Mark J. Clement
In the last three decades, mountain biking has exploded across Vermont.
What started as small communities of passionate enthusiasts has grown into a mainstream statewide culture. The sport itself grew in tandem, rising from its adrenaline-fueled beginnings into an all-encompassing lifestyle—a weekend family adventure, a catalyst for rural tourism, even a driver of real estate sales.
Vermont is unique. As a state with a small footprint, modest-sized government land holdings and a mosaic of privately owned property covering most counties, the Vermont mountain bike scene as it exists today, shouldn't.
But Vermont is stocked with Vermonters. Passionate, determined and embodying the wry unofficial state motto of "live free or let's talk about it," they were the ideal people to take on a set of seemingly insurmountable obstacles to turn the improbable into the impressive, partly because of how perfect Vermont's terrain is for mountain biking, and partly because they were already veterans of launching state-shifting industries. Nearly a century ago they'd done it with skiing.
Words by Bryan Rivard