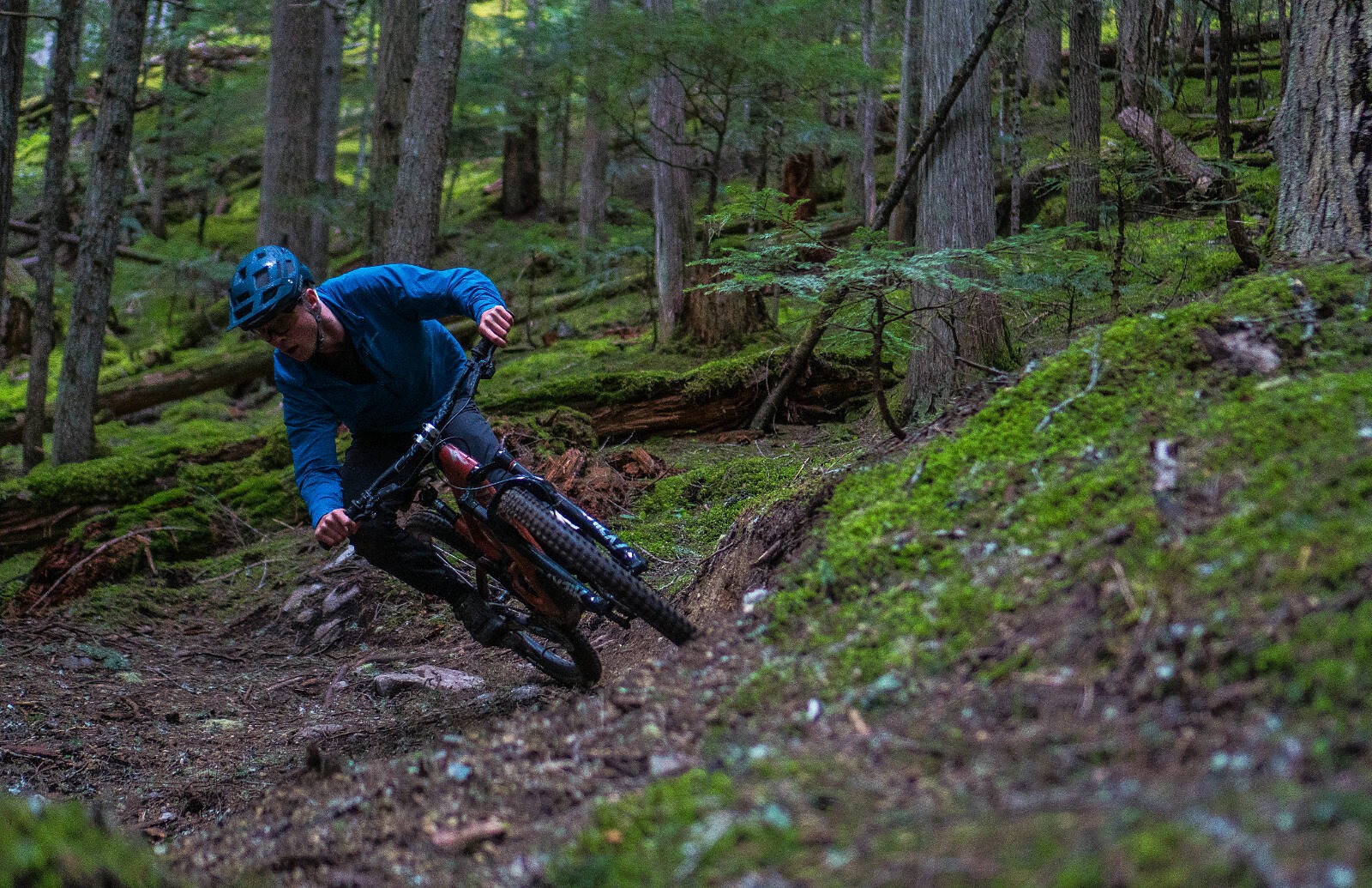 Rogue Building Challenges Whistler Community Transformed by Trails
I was in line to collect my race package for the 2016 Whistler Spring Classic when I first heard whisperings of "Dark Crystal." Someone behind me said in a hushed voice, "I hear there's a new trail that drops above Micro Climate."

The words "new trail" were all I needed to catch to alter my practice plans for the afternoon. Skipping the known bike park stages, I set off in search of this mystery trail.
Later that evening, just before dusk, we rode past the entrance to Micro Climate. The pace quickened within the small, brave group who assembled for this naughty trail-finding mission. Just as we were rounding the last bend, the rumble of a truck could be heard ahead of us. Wanting to avoid confrontation, we felt the only option was to hide, quickly. The three of us jumped off our bikes and haphazardly scrambled down the talas field on one side of Glacier Road, the access artery we were using to climb to the trail network. We hid there until the truck passed before gingerly making our way up to where we hoped the trail entrance was.
Within the first 30 seconds of descending, we knew skipping practice was the right decision. Dark Crystal just worked, bloody well. The builders' line choice meant riders could let off the brakes much more than on most other trails in the valley. Features and technical sections rode well at trail speed, and changes in direction were easily predicted. All this combined to egg the rider on to descend faster, faster and faster. I will never forget that first lap down Dark Crystal—and neither will my Californian guests, who were beside themselves with laughter and enjoyment.
Ben Haggar and Scott Veach illegally built the 1.7-mile masterpiece, mostly over the course of a single summer in 2015—a gargantuan trailbuilding feat. Both unemployed, they decided it was an opportune time to build a trail and set out to create something unlike other offerings in the Whistler Valley; something fun for riders of all abilities.
What they didn't anticipate was the shockwave Dark Crystal was going to send through the local riding community, sparking a debate around maintenance responsibility, and drawing further attention to mountain bikers' collective entitlement to land access. The builders are not the only ones to blame here, either: all of us who rode this trail when it was unsanctioned are party to the problems it created.
Veach told me the goal of the trail was "to complement the landscape, which is so damn majestic and perfect, with something that was as fun as possible, yet made sense from top to bottom."
He goes on to reveal the painstaking attention to detail that he and Haggar applied while building. "We were very particular about how the moss was cut, where the organic layers were moved to and even the bridges were intentionally 'natural' looking. We wanted to avoid any eyesores, dirt pits or debris piles."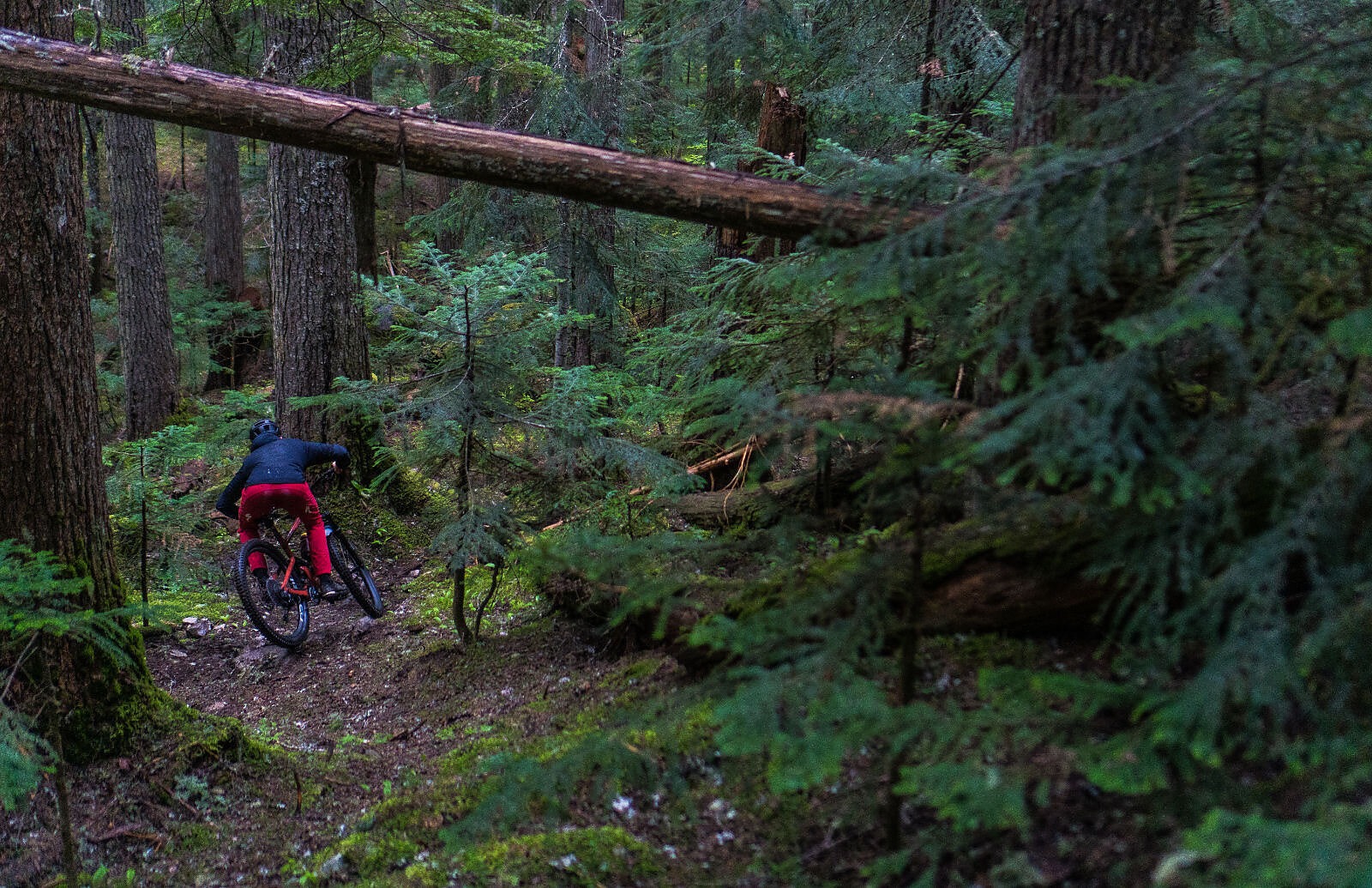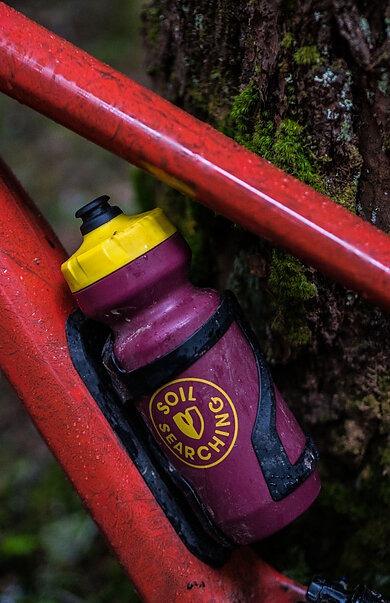 Although these precautions were taken with Haggar's photography in mind, riders also benefit from this extra work. The trail experience on Dark Crystal contrasts starkly with that of the Whistler Mountain Bike Park and some of the newer machine-built trails in the valley and greater Sea-to-Sky Corridor. Riders feel truly immersed, even lost in the forest, with only a ribbon of singletrack to lead them out of this dense, moss-covered, quiet patch of paradise.
By the summer of 2016, Dark Crystal was the worst-kept secret in the Whistler Valley. Word of mouth has always been rampant in the village, but with the enormous popularity of Instagram, Strava and the already exponential growth of riders on Blackcomb Mountain, the tidal wave of bikes heading up Glacier Road was alarming. The onslaught caught then resort owners Whistler Blackcomb (WB) off guard, and they pushed back on the riding community. Rumors swirled around the village of patrolling on the road past Micro Climate, hidden game cameras at the trailhead and punitive measures for all those caught in the area.
What the rumors didn't touch on, however, were the conversations happening between WB and the Whistler Off Road Cycling Association (WORCA). Dale Mikkelsen, current president of WORCA, generously provides some insight into the perfect storm that threatened Dark Crystal, as well as to the pathway that led to its eventual sanctioning in September of 2017. The discovery and mass popularity of the trail collided with a series of unique events that led to a conflict that threatened the future of the trail. The reactants in this reactive dispute were illegal trailbuilding, public exposure, an irritated land manager and environmental concerns. Luckily for the riding community, cooler heads prevailed, and the story of Dark Crystal has become a prime example of what good can come when dialogue precedes rash action.
To better understand the dispute surrounding Dark Crystal, one must first have a basic grasp of the Blackcomb trail network's history. The original trails, Crazy Train and Hey Bud, came onto the Whistler riding scene in the early 1990s (more intimate details on the builders behind these trails can be found in Freehub's Art of Evolution Article). The trails were a sign of the times: steep and deep was the name of the game, with pucker-inducing chutes, gnarly features and stunts. As time went on, Crazy Train and Hey Bud were modified as bikes changed, and by the early 2010s Blackcomb started to see exponential growth in users with the evolution of the modern trail bike.
Then came Micro Climate. Built in 2013 by Dave Anderson and Paul Stevens, the trail exploded in popularity shortly after it was completed and propelled the issue of rogue trailbuilding in WB's Controlled Recreation Area (CRA) into the spotlight. In British Columbia, a CRA is the legal mechanism that allows a developer—in this case WB—the right to control access and use of lands within a given boundary. Whistler Blackcomb quickly realized they had significant exposure and liability caused by this uncontrolled building within their CRA.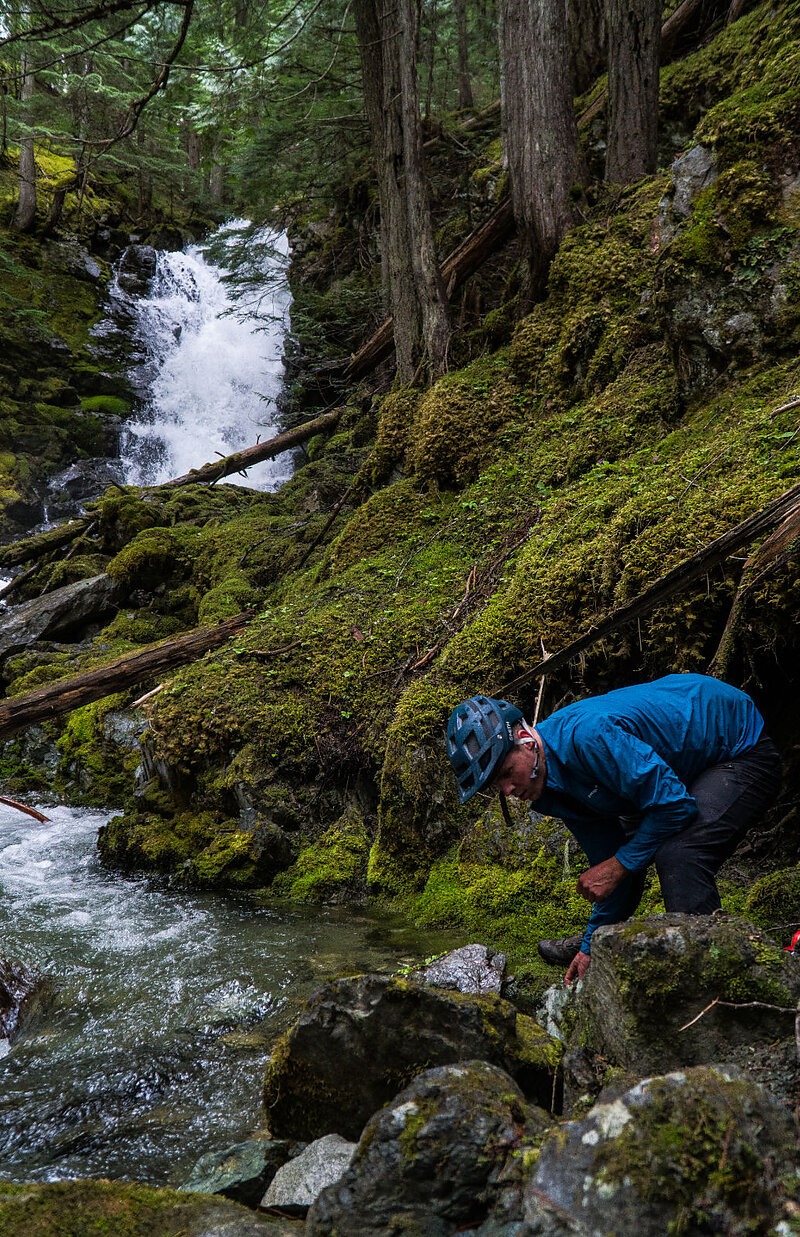 Thankfully, instead of a knee-jerk trail closure, a dialogue ensued. The riding community was outspoken about the value that Micro Climate and the legacy trails on Blackcomb provided to the network. As locals, riders and active community members, WB staffers, although often unjustly thrown under the bus as corporate pawns, were instrumental in the fight to keep these trails. After thoughtful consideration, some re-routes were proposed to address issues of unsafe and unsustainable trail sections, and eventually an application was submitted to the province, resulting in sanctioned status for Crazy Train, Hey Bud, Golden Boner and Micro Climate under the administration of the CRA.
The objective or inherent expectation was that the trail community, represented by WORCA, would uphold the majority of the maintenance, and that Whistler Blackcomb would allocate some volunteer hours toward the Blackcomb network. Unfortunately, this is far more bureaucratically complex than expected, and thus these trails do not fall within the formal WORCA trail-maintenance obligations.
During the sanctioning process, WB, with some consultation from WORCA, developed a robust trail application procedure with the provincial government, similar to the government's Section 57, for builders wishing to create trails on the CRA. So, when Dark Crystal was built less than a year after the development of this program, it inadvertently threw a proverbial middle finger to the work that WORCA and WB had just completed.
At least, that's what some people thought. When I pressed Veach on this, he insisted there were no such mischievous intentions, only ignorance to the area's land ownership. He and Haggar knew that they couldn't build in the neighboring Garibaldi Provincial Park, but they were unaware of the existence of a CRA—let alone what problems they would cause by building in it.
Another event that spurred further conflict around Dark Crystal was the sighting of a rare Albino black bear grazing on Blackcomb Mountain in the spring of 2016. The area that includes Dark Crystal is prime early season foraging habitat, and there were concerns from resident bear experts that increased rider traffic could upset the local bear population—or worse, habituate them to human contact, which could enhance the likelihood of future human/wildlife conflicts. After consultation with WB, AWARE (Whistler's environmental protection group) and WORCA reached a joint resolution by which Micro Climate and Dark Crystal would be subject to a delayed seasonal opening on July 1 each year to give the bears the space they need to graze in peace.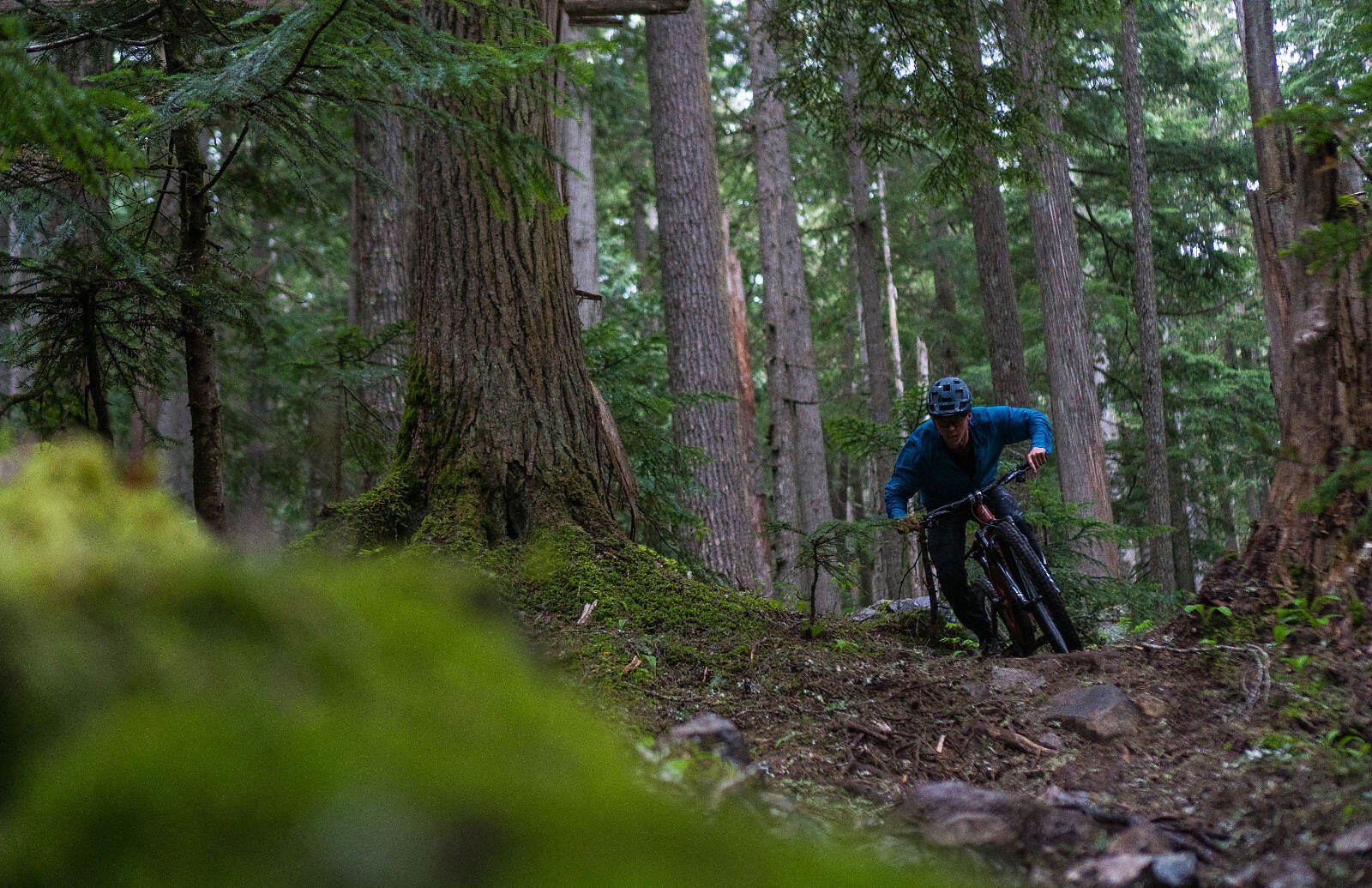 So, despite unfortunate political and environmental timing, why did Dark Crystal become a sanctioned fixture in the WB trail network? Mikkelsen chalks it up to WORCA's trail-maintenance track record and their strong working relationship with WB. Everything that WORCA has maintained up until seven or eight years ago was constructed without authorization primarily for mountain bike use and, to this day, very few trails have any formal authorization or Section 56. These origins mean, instead of immediately closing unsanctioned trails, there is a running dialogue with landowners and any new build is properly assessed for its quality. Decisions are then made to update and adopt a rogue build, or to decommission it. Thanks to this, WORCA has built a strong track record of successfully adopting and maintaining rogue builds, allowing them to support the sanctioning of Dark Crystal.
"At the end of the day, Dark Crystal and Micro Climate are so popular because they are simply so damn fun to ride. The lines are thoughtful, the terrain is magical for bikes, access is easy, and the experience of riding through that mix of forest, moss and rock is an ethereal blend that reminds us all of why we mountain bike." - Dale Mikkelsen, WORCA President
"At the end of the day, Dark Crystal and Micro Climate are so popular because they are simply so damn fun to ride. The lines are thoughtful, the terrain is magical for bikes, access is easy, and the experience of riding through that mix of forest, moss and rock is an ethereal blend that reminds us all of why we mountain bike"—Dale Mikkelsen
What's happening now is the volume of riders on Blackcomb, especially on Dark Crystal, is seeing continued exponential growth, with no regular maintenance schedule and almost no budget allocation. Small, incremental updates have been made by a dedicated group of volunteers who try to keep up with the growing need for maintenance, but it's a tall order.
So, just how popular are Dark Crystal and Micro Climate? To help you wrap your brain around this, I examined Trailforks ride logs for a few different trails in the Whistler Valley and summarized the findings in Table 1 below. It's important to note that new trails tend to be popular, and the popularity of these trails can shift quickly when another hot new trail emerges. Sometimes these trails fade into obsolescence, while at other times they retain their popularity and grow into staples of the network. WORCA estimates that ride logs and Strava attempts represent approximately 10 percent of total rides, so the actual trail traffic is expected to be significantly higher.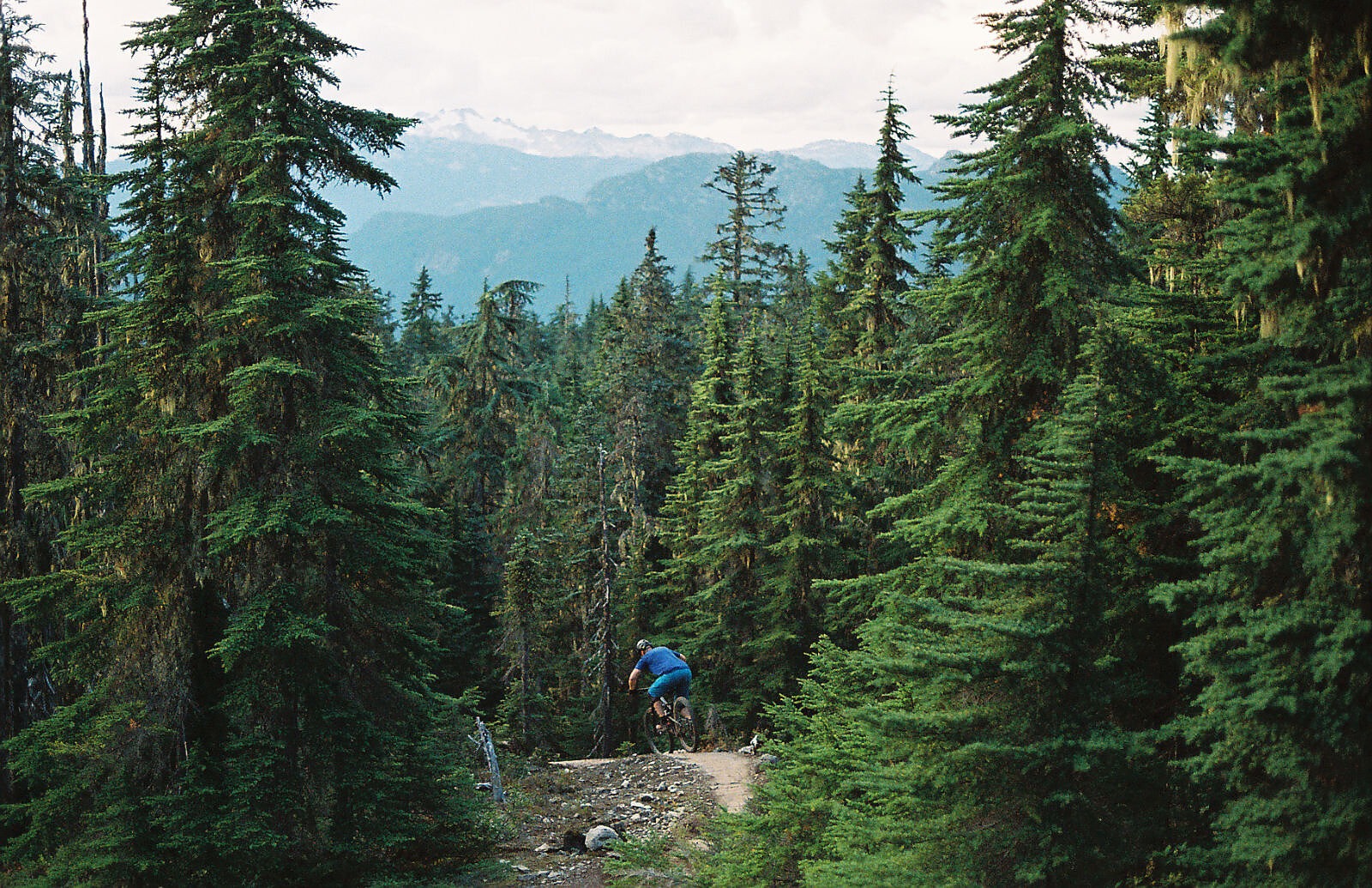 | Trail Name | All-time Trailforks | 2015 | 2016 | 2017 | 2018 | 2019 | 2020* |
| --- | --- | --- | --- | --- | --- | --- | --- |
| Micro Climate | 2375 (since 2013) | 261 | 209 | 349 | 496 | 672 | 421 |
| Schleyer | 6125 (since 2011) | 577 | 971 | 1282 | 1698 | 3440 | 504 |
| Dark Crystal | 3185 (since 2015) | 13 | 123 | 381 | 556 | 1062 | 1050 |
| Lord of The Squirrels | 3907 (since 2016) | N/A | 181 | 1248 | 787 | 1145 | 1190 |
Table 1: All-time Trailforks ride logs for Micro Climate, Schleyer, Dark Crystal and Lord of the Squirrels.
*The dip in ridership that is seen across the network from 2019 to 2020 is being primarily attributed to COVID-19 travel restrictions, as Whistler is largely a tourist destination.
The findings from this table show that the annual number of riders on Dark Crystal is almost as much as the figures for Lord of the Squirrels (LOTS) for 2019 and 2020. This is particularly interesting when considering how much more is spent each year on maintaining LOTS than is invested in Dark Crystal, despite the similar number of estimated annual riders. This observation is not meant to question the disproportionate funding allocation between the two trails, which is to be expected, given the fact that the builders of LOTS went through the lengthy and demanding permitting process necessary for the trail to be legally built.
Rather, this exercise is intended to show how costly it is to maintain popular trails such as Dark Crystal, which has fielded legions of riders from all over the world. It also underscores the significant financial hurdles the Blackcomb network will face if a proper maintenance plan is put in place. According to WORCA's lead builder, Dan Raymond, in the year after completion the maintenance spend on LOTS peaked at roughly CAD20,000. This has gradually decreased over time, as the work completed is permanent. The spend in 2020 was around CAD12,000 and is expected to drop to about CAD10,000 per year for the subsequent five years. That's roughly CAD115,000 over nine years. Raymond attributes the high initial costs to the fact that lots of time is being spent on retaining the "Blue" difficulty rating that the trail had when it was first built. It is more time consuming, and thus more costly, for trailbuilders to do preservative-style maintenance work, as opposed to allowing a trail to become gradually more difficult as it gets worn in by rider traffic.
But back to Dark Crystal. Although it is within the Whistler Blackcomb CRA, there is a problem with WB using their own trail crews to do the maintenance work, as they need to build to a different standard in the Whistler Mountain Bike Park. There is a base assumption from the legal side that there has to be significant tread rebuilds, bridge construction and removal of tree fall dangers, which would significantly alter the aesthetic and style of the Blackcomb trails. Locals and international fans of the network are vehemently opposed to these changes, as it would take away from the overall trail experience. The year 2020 was meant to be the time that WORCA supported the process of enabling an authorized third-party contractor on the CRA for Blackcomb. The notion, pre-COVID, was to put in a long-term contract in which WORCA could then facilitate a maintenance program to look after the Blackcomb trail network in perpetuity. The data above helps to reinforce how necessary a maintenance plan with a significant financial component is to ensure the long-term sustainability of the Blackcomb trails.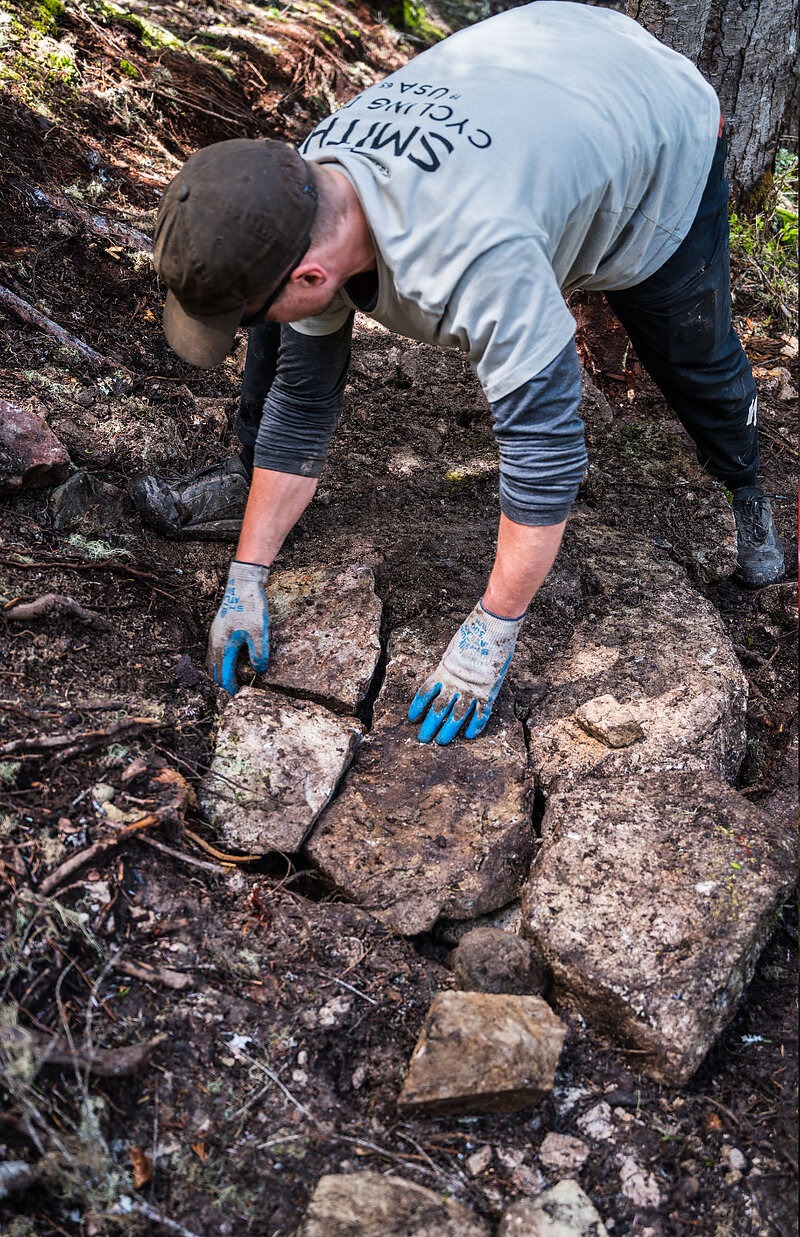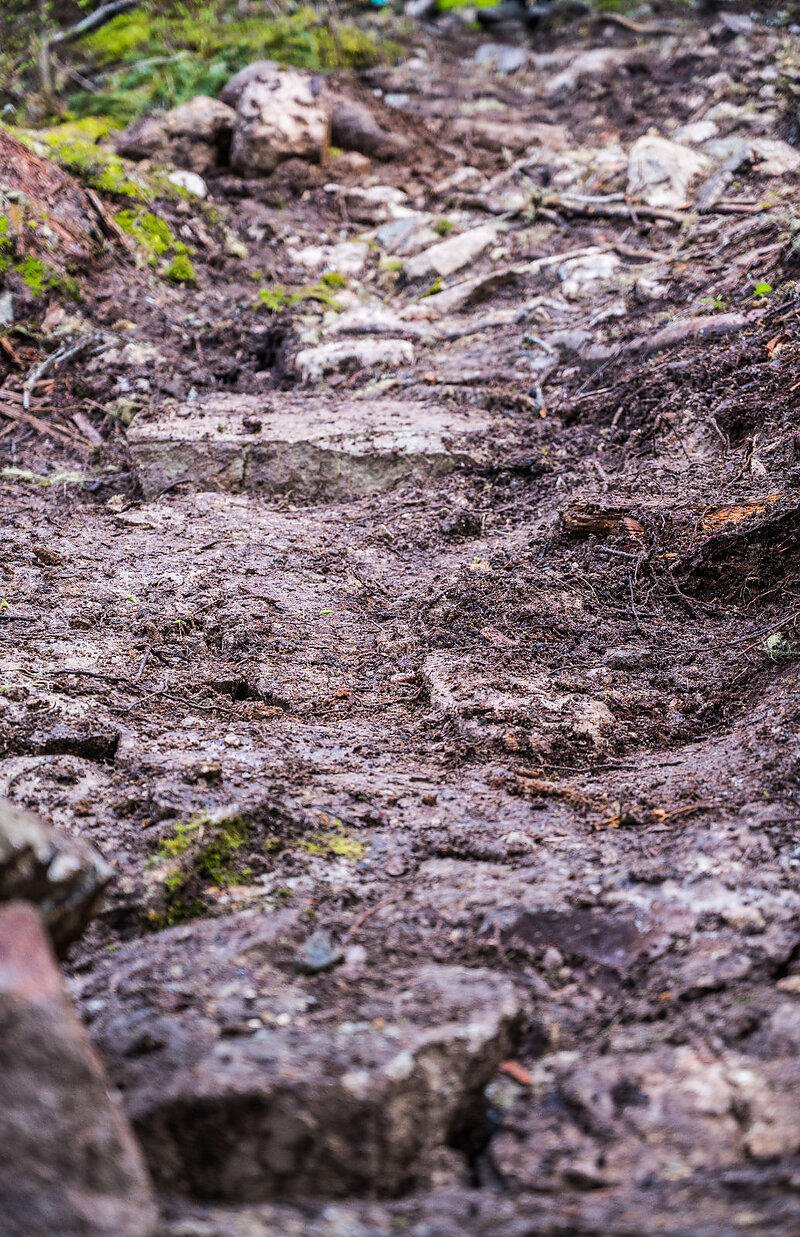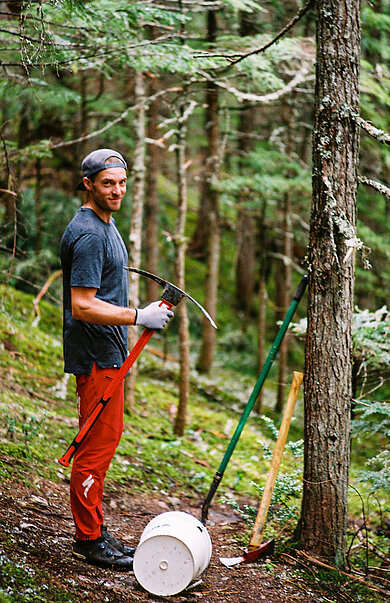 Sadly, COVID has caused these forward-looking conversations to be put on pause. It's not for a lack of motivation or desire on the part of WB, but rather because jobs and livelihoods are at stake, remaining staff are stretched thin and trying their best to figure out how to operate a very complex business during even more complex times. Unfortunately for fans of Blackcomb, the network yields no direct revenue for WB, so for now it must be assigned a lower priority than that of revenue-generating networks.
However, many of the businesses in the Upper Village, which abuts the Blackcomb network, have a keen understanding of its indirect value.
"The 'Blackcomb Bike Park' brings a core group of riders to the Upper Village and helps create a strong community, even family, who fill our patio, post-ride, all season long," says Scott Mant, a partner at RMU, a bar and retail store that celebrated its first summer at the base of Blackcomb. "Without these dedicated patrons, our COVID summer would have been much slower."
This is a prime example of the economic value that the Blackcomb trails offer the community, comprising a collection of businesses, visitors, locals, builders, organizations and operators who all share a common desire: for Whistler to have the best trails in the world. RMU and some of the other Upper Village businesses have approached WORCA about donating money for the maintenance of the Blackcomb network, but it cannot legally be accepted because WORCA is not yet authorized to work on these trails. Sponsorships like this might be important sources of revenue for WORCA if government financial support remains low through 2021 due to COVID-19.
Dark Crystal is a special case in a special town. But this story can be viewed as a lesson about both rogue trailbuilding and the importance of an established and respected trail society. While rogue builds continue to proliferate across the Sea to Sky Corridor, Whistler included, WORCA is often aware of the work happening in its community and engages builders when it sees issues relating to build quality, location or sustainability.
Although WORCA does not have any enforcement authority, it is widely respected not only as an advocacy group, but as an alliance of riders and builders itself. As such, it has worked with the community of builders to develop a trails master plan to identify preferred locations for new trails, and to create an environment in which builders feel comfortable about speaking their ideas. Through this dialogue and a semi-formal regular set of builder meetings, WORCA sees itself not as a barrier to trail development, but as a facilitator of new trail applications, the identification of projects for builders, and advocacy support for new trails that may otherwise not get built or funded. Whistler is also blessed with amazing builders, and most of its rogue trails are far beyond your typical "rake and ride" or "skidder" versions. They are built with vision, clarity and respect for the land they travel through.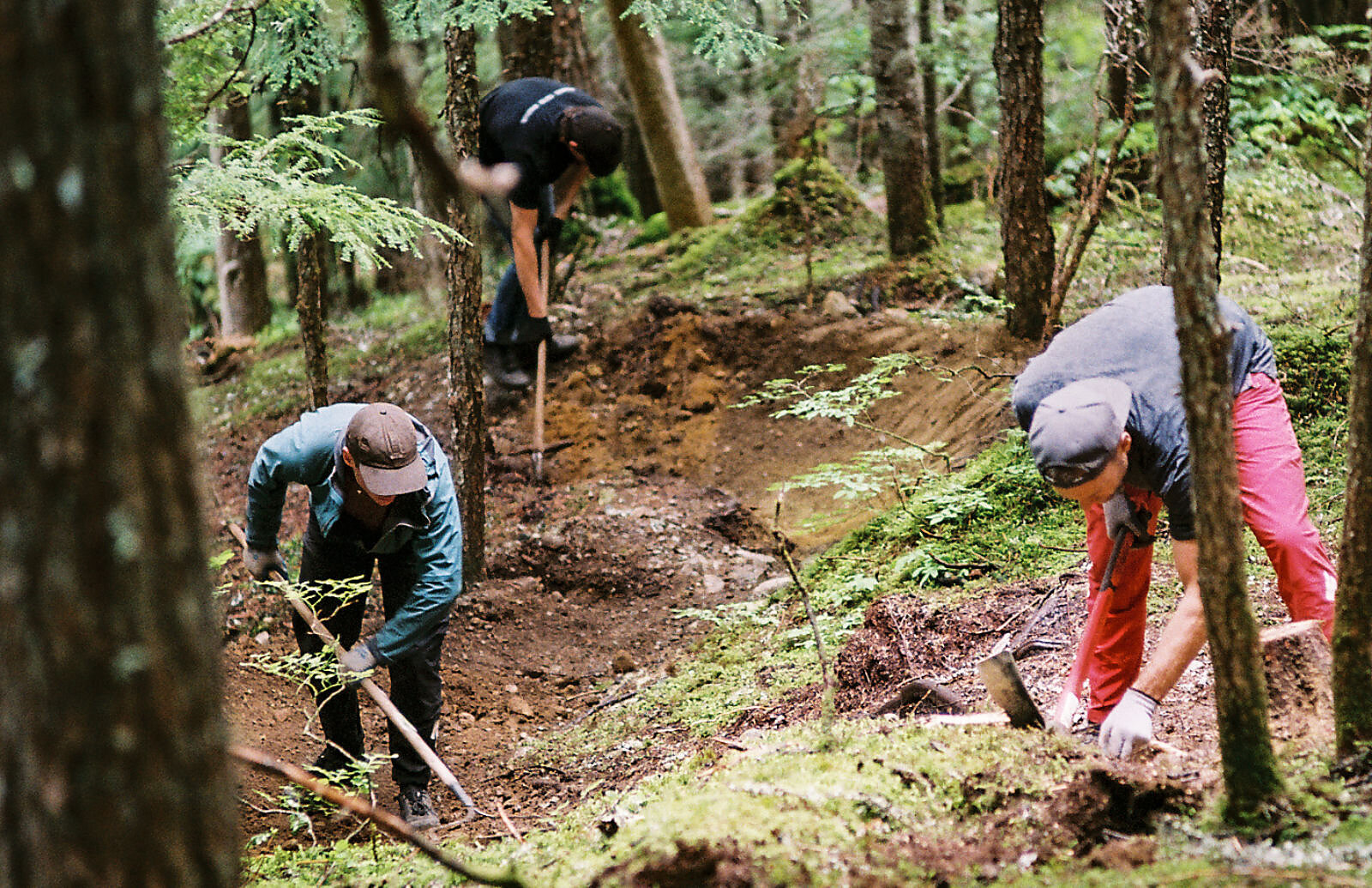 A lot of work goes into building a trail, and even more work goes into maintaining one. This responsibility inevitably falls into the hands of the riding community. It's a responsibility we as mountain bikers need to own up to on a large scale. We are no longer a small group of enthusiasts, but a large, visible group of land users. We're a community that's seeing massive pressure being placed on our trail networks, as well as on the natural environment. This place is special, and it always has been. We have to work hard to keep it that way, and it takes many hands to get the job done. A bit of heart helps, too.
Special thanks to Quinn Lanzon, Dale Mikkelsen and Scott Veach for the time and effort they invested in this article.
Mark and I want to send a special thank you to all our sponsors for their continued support through these wild and uncertain times. The trail work we completed this year, and the stories you will read in this series wouldn't have been possible without their trust and commitment to the Free Radicals and the common goals we are working towards. Thank you Fanie Kok, Steve Saletnik and Allan Cooke of Specialized, Jon Raymer at SMITH, Tyler Weady at Fat Tire, Mal Burd and Sarah Rawley of RockShox, Julian Hine at Chromag, Elliott Milner and Jimmy Hopper at Patagonia, Dan Seguin and Callum Rostron at RideWrap, Brandon Watts, Brice Minnigh, Chris Grundberg and the whole crew at Freehub and last but not least Martin Littlejohn at Mountain Biking BC. Thank you all for helping to keep the dream alive!