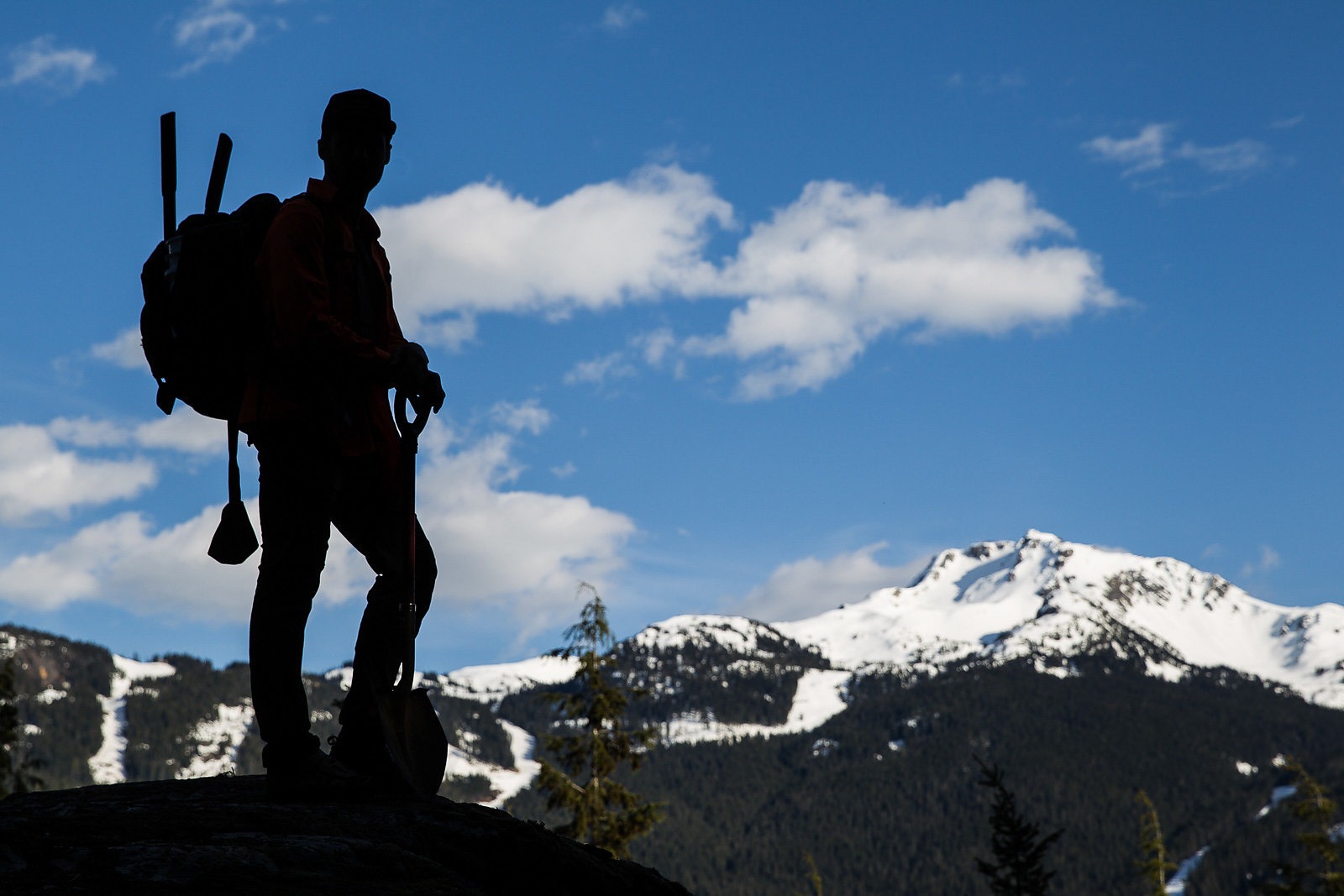 Quiet & Calm Making the Most of the Off-Season in Whistler, BC
Traditionally, the time of year between peak seasons in a resort town brings to mind unfavorable weather, closed businesses and maybe even some tumbleweed blowing through the main street.
Whistler, BC, however, has a secret—the shoulder season here is prime time for mountain biking. Summer in Whistler comes to an end with a bang as thousands of people watch the Red Bull Joyride slopestyle contest from the base of the bike park. The competition brings ten days of events, races and festive chaos to a close at the end of August.
The rise of visitors spikes one last time during the September long weekend and then school is back in session and summer holidays have come to an end. After that, when all the seasonal residents and sun-seeking tourist have left, the magic is just beginning. "It goes back to the soul of biking," local EWS racer Jesse Melamed says. "There's no hype or fanfare, just people riding and lapping out because they want to be on their bike."
Unseasonably warm autumns interspersed with a little more moisture create ideal riding temperatures and tacky trail conditions. The added moisture allows for trailbuilding and maintenance after a busy season in the park and traditionally some of the best riding days come after Crankworx. Trish Bromley has been a Whistler resident for more than a decade and works as a mountain bike coach in the summers. "There's the post Crankworx hangover—the comedown from the buzz all week," Bromley says. "Then the lift lines empty as visitors go back to work, local kids start classes, and one batch of seasonaires leave to make room for the next. Rain allows the Trail Crew to rejuvenate the bike park. With short lift lines and hero dirt, and often less shifts at work, it's the perfect time to play."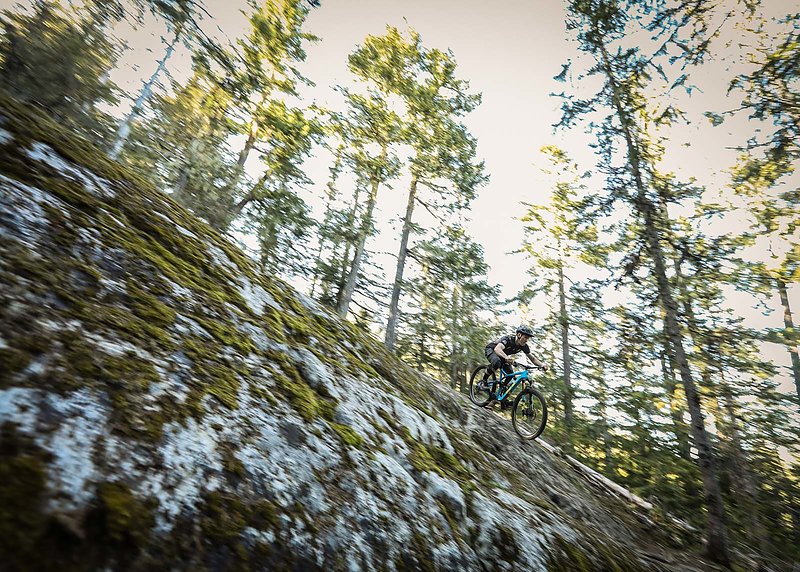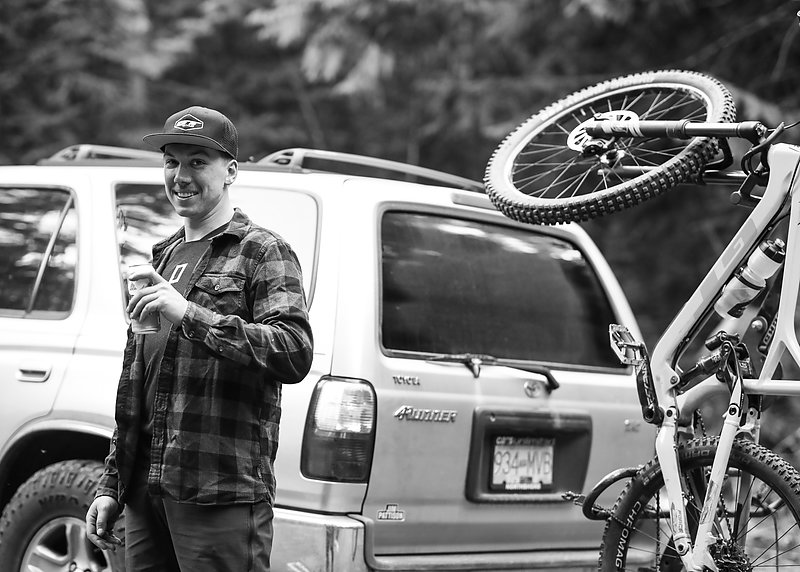 Getting hero laps in before Canadian Thanksgiving, when the bike park closes, can be the cherry on top of a phenomenal riding season, but there is a whole other—and much more extensive—network of trails in Whistler that are often overlooked.
"Too many visitors miss the amazing singletrack outside the bike park," says Ken Melamed, a long-time resident, former Whistler Mayor and prolific trail builder. "I met a guy from Europe who had been coming to Whistler for 14 summers and he was riding Howler for the first time!"
In the fall, when the forest colors are changing and the odd shaggy mane mushrooms can be spotted trail-side, the 350-plus miles of riding available throughout the valley is in prime condition. Howler, which opened in 2013, includes a long climb up the access road known as Rick's Roost to reach the trail. The fast and flowy (by Whistler standards) descent has no major features but offers riders just enough steep, technical terrain to keep riders on their toes. Exposed to the sun, and therefore quite dry and dusty through the summer months, the trail only improves into the fall with a little more moisture and a little less sweat in the cooler temperatures on the way up.
Those looking for a more cross-country adventure can head to Comfortably Numb, an 11-mile point-to-point route that traverses a majority of the south side of the Whistler Valley. The relentlessly technical ride includes pain-cave-inducing climbs and challenging descents that many may only do once—but you'll be happy you did. Saving this one for a crisp autumn day could make all the difference for riders who are out there pedaling for anywhere from 3-6 hours.
While changing weather and temperatures can make exposed trails with challenging climbs a little more comfortable later in the year, it can also make some trails a lot harder. Trails in the burly Westside network such as AC/DC feature a lot of steep rock rolls that can get fairly slick when the first fall rains turn layers of summer dust into slippery slime. A trail like Bush Doctor—a series of gnarly rock faces—is so impacted by the rain that its rating changes from double- to triple-black-diamond in the wet. Billy Epic is an old-school descent with typical west coast rooty and rocky tech that stands up well to fall conditions. The trail offers some sections that are just steep enough to be spicy in the wet weather without being sketchy.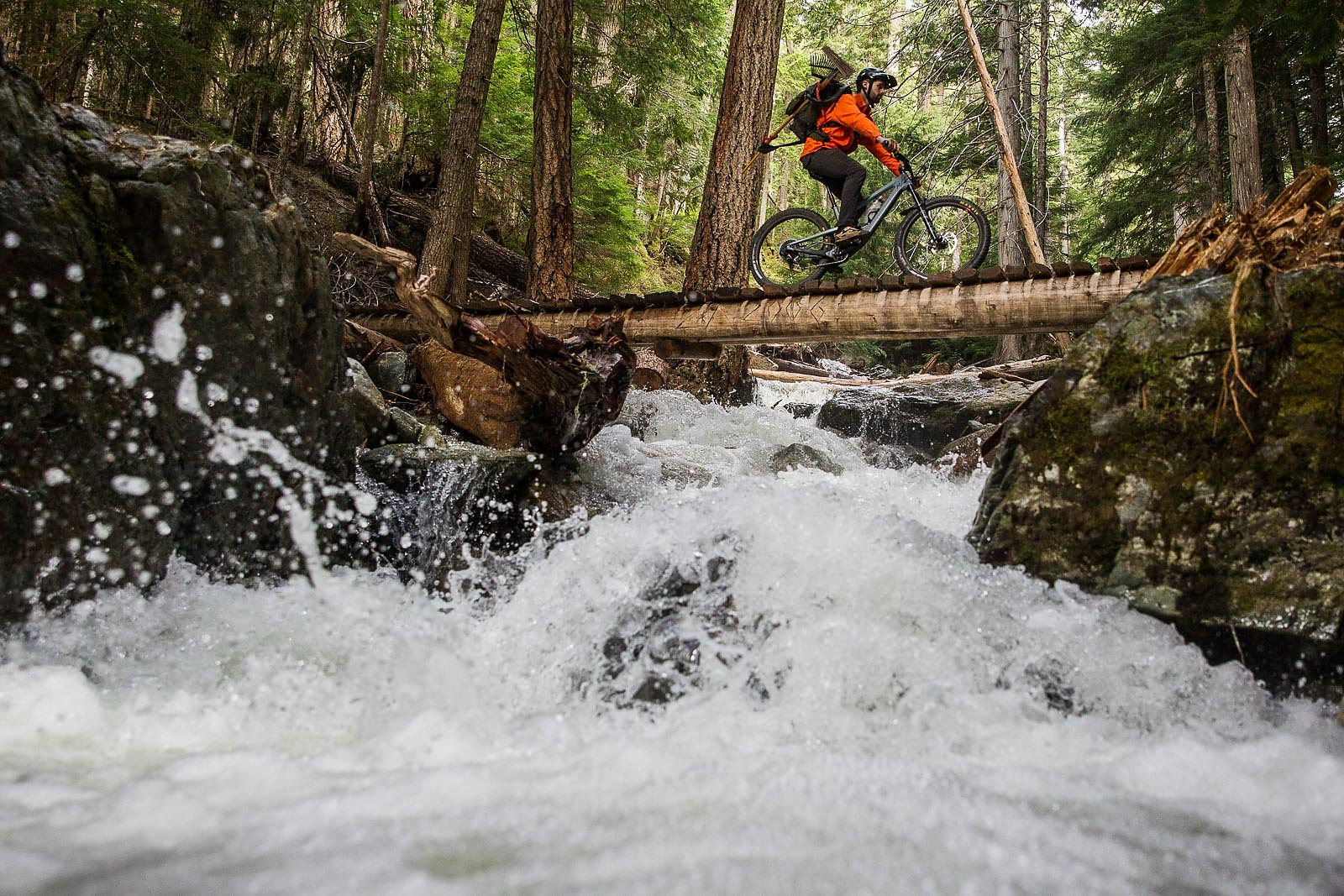 Another consideration in the shoulder season is which trails to avoid all together. Dark Crystal on Blackcomb is an example of a trail that should not be ridden in wet conditions due to sensitive terrain. Designed to use as much natural terrain as possible, the trail has official seasonal closures in order to ensure its longevity. Riders visiting Whistler in the off-season should be sure to educate themselves on trail closures ahead of time to avoid disappointment.
Being prepared for all the weather that can happen between September and November in Whistler is also key when it comes to getting one or two last alpine rides in before the snow flies. Lord of the Squirrels, which saw 4000 riders in just six weeks of its opening in August of 2017, is one of those trails that can be prime to ride after the masses have departed. This backcountry trail showcases stunning views of the Whistler Valley as it winds through old-growth forest and alpine meadows. There is usually a small window that can be caught where all of the snow has melted, and the new snow hasn't arrived yet. That said, the climate at the top of an alpine ride can be very different than what it is at the valley start. Anyone planning to tackle a Whistler epic should be knowledgeable of current conditions and prepared for sudden changes in weather. Hikers and bikers have experienced summit snowstorms as early as September.
Enjoying bikes in Whistler's off-season isn't always about shredding, though. "Shoulder season is the perfect time to convince family and friends to visit," Bromley says, "so while I'd love to name some big mountain epic on Trailforks wish-list, it's the Valley Trail that springs to mind when I think of fall riding. With over 25 miles of trail connecting the heart of the village to surrounding lakes and viewpoints, this trail is my go-to. All are welcome and any bike will do."
The inclusivity of the Valley Trail is at the heart of the Whistler mountain bike community—and something a lot of visitors can easily miss out on when visiting. Tuesday Trail Nights put on by the Whistler Off-Road Cycling Association (WORCA) are a great way to meet locals and get involved. The building sessions are usually 3-4 hours in duration and no experience is required. Refreshments are provided by the Trail Night sponsor and volunteers are rewarded with a Bike Park ticket for every third night they participate. "Fall is the best time for trail repair because there are fewer riders coming through the trails," Ken says. And while the frozen ground of later fall is not conducive to trail work, the cool weather is a welcome relief from dry summer heat.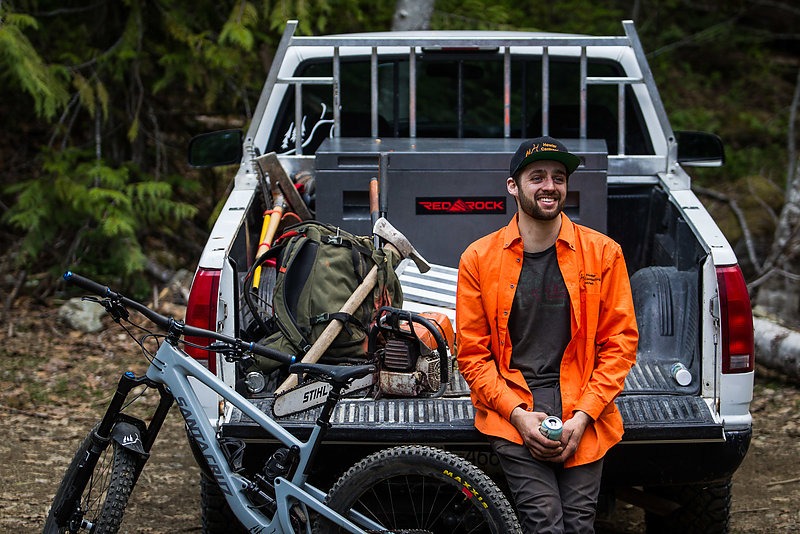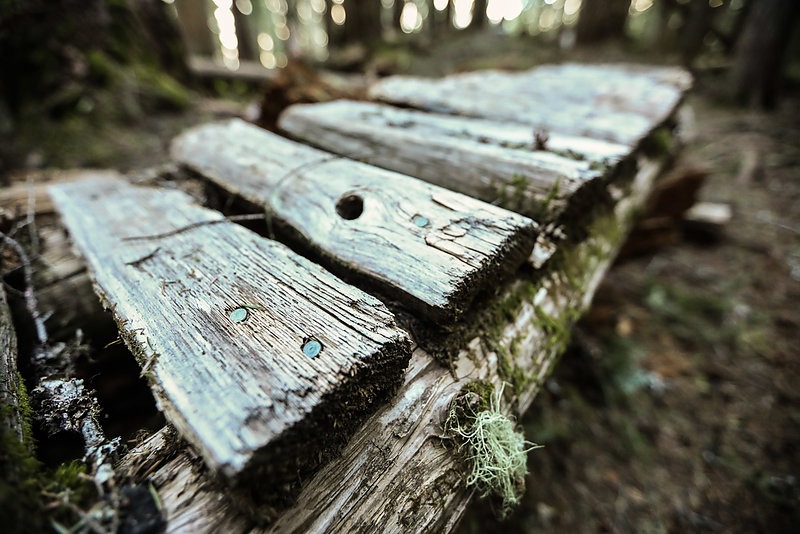 More than ten percent of Whistler's population are WORCA members and there are few better examples of this vibrant inclusivity than the Thursday night Toonie Rides. "There are people of all ages and fitness and lots of kids; the next generation of super fit and skilled riders," Ken says. "It's a fun time with social après, a chance to see different trail options, and work on skills and fitness."
As someone who has spent most of her summers on the road with racing and coaching, Claire Buchar looks to the shoulder season in Whistler for rest and rejuvenation. "The riding is usually pretty incredible in the fall," Buchar says, "and I also spend time hiking, exploring, camping, and going on doggy adventures. But it's also a good time to repair, recharge, and do some rehab. We have so many amazing wellness professionals in our town—it's the perfect time to take advantage of their skills." Wellness places like the Scandinav Spa even offer shoulder season passes at a reduced rate, allowing visitors to enjoy the silence with a little more elbow room in their saunas, steam rooms and pools. "It's quieter and calmer during this time of year—the perfect time to chill," Buchar says.
Many Whistler businesses, including hotels and restaurants, offer services at reduced prices. Fine dining locations like Araxi, The Rim Rock and plenty more offer multi-course menus for a fraction of their usual prices. Accommodation rates are lower and even some parking lots are free again. But most importantly, there are no lines for tacos.At the legendary Turkey Sale, you can get excellent deals on ski and snowboard gear and The Whistler Film Festival brings in a great lineup of new Canadian films each year.
Whistler from September to November is a wonderful place – if you are lucky enough to be there. But Bromley puts it best: "Lines are empty, dirt is all time and restaurants want to feed you. We'll live like kings, wearing our toques as crowns."
To learn more about biking in Whistler, visit whistler.com/bike
Get involved and stay up to date with WORCA happenings.