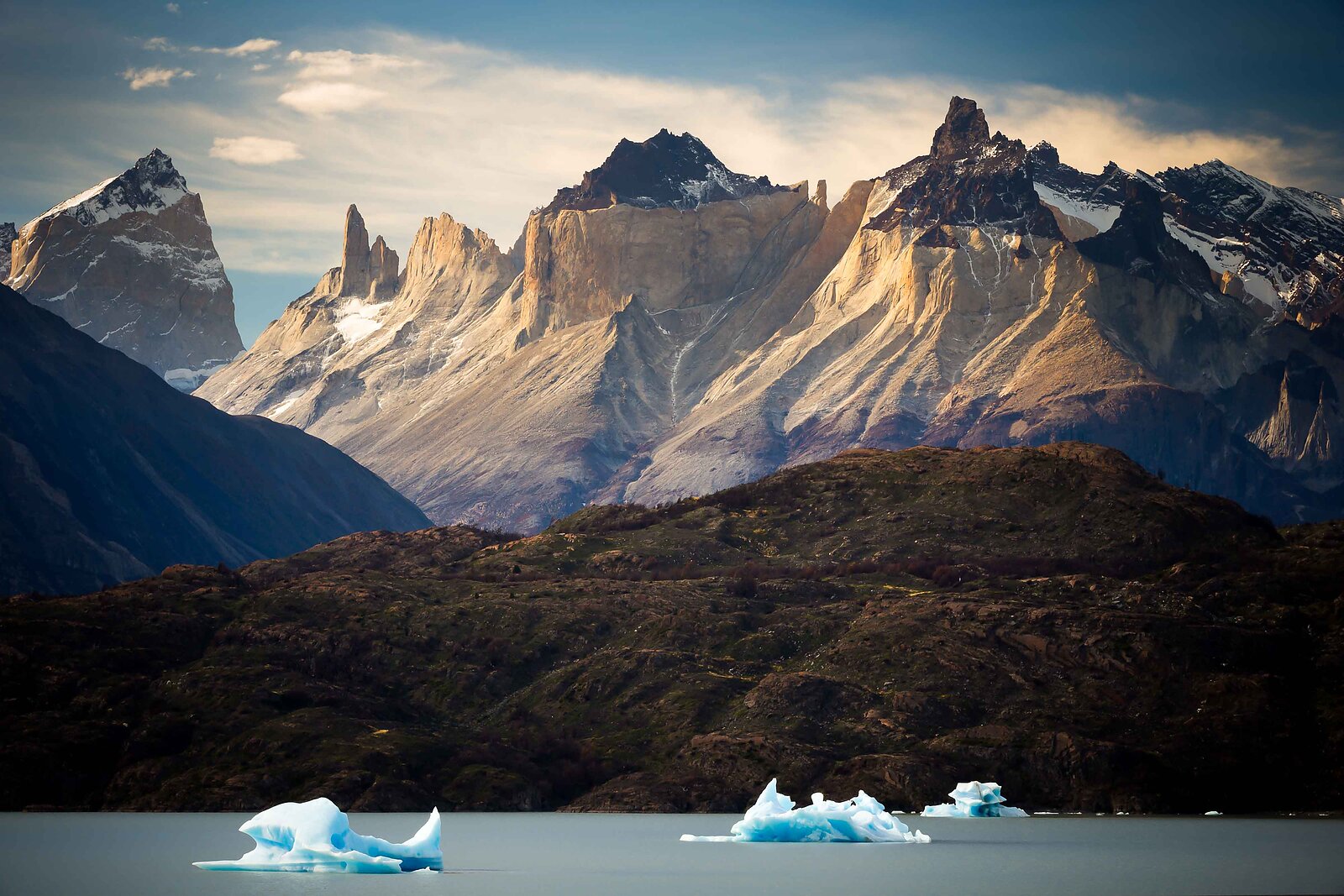 Opening the Gates Torres del Paine National Park's Mechanized Motives
My obsession with Chile's Patagonia region began in 2003, when I was given a coffee-table book titled Edge of the Earth, Corner of the Sky by a Seattle-based nature photographer named Art Wolfe.
Inside were spectacular low-light landscape photos depicting the breathtaking peaks of Los Torres and the Cuernos del Paine, located in Torres del Paine National Park.
Designated a UNESCO World Heritage Site in 1994, named the fifth most beautiful place on the planet by National Geographic, and dubbed the Eighth Wonder of the World by TripAdvisor, Torres del Paine is world famous among hikers and backpackers. Two routes are particularly famous: the O and W Circuits, multi-day treks through some of the most scenic landscapes on the planet, including Los Torres, the twin granite spires that are a focal point of the park. And it sees a mere 250,000 visitors per year; in comparison, Grand Teton and Yellowstone National Parks see some 3.3 and 4.1 million visitors, respectively.
But beyond visitor numbers, Torres del Paine differs from the United States National Park model in one key aspect: the one that stipulates "no mechanized travel allowed." The park's unrivaled beauty is open to mountain bikes.
I discovered this after reading a random blog discussing mountain bike access in Torres del Paine, which started my mental wheels spinning. In the words of documentary filmmaker Jeff Johnson, "A friend once told me the best journeys answer questions that, in the beginning, you didn't even think to ask."
My first answer came during my third trip to the country in 2016. My guide was a retired pro skateboarder, an Aussie named Chris Theobald (known among the locals as "El Canguro," the Spanish equivalent of "The Kangaroo"). Chris fell in love with the changing light, sweeping valleys and high granite peaks of this place, and decided he should stay awhile. Awhile ended up being six years.
I am a pretty direct guy. My East Coast roots dictate a no-bullshit approach to life. Once I knew Chris was someone I could get along with, I asked him about mountain biking in the park. His immediate reaction was to say it wasn't possible, but I told him about the online article. Months later, after talking to "his guy," Chris confirmed the story was correct; we could potentially ride in Torres del Paine. The Canguro started working the angles to set things up.
Two days after packing up the bikes and 27 hours of travel later, we were sitting in my favorite coffee shop in Puerto Natales waiting to meet our guide, Mauricio Quinteros Ozellana. Mauricio is a stocky Columbian, whose shaved, muscular calves immediately give away his obsession with riding.
Mauricio took us to one of the two bike shops in town, El Rey de la Bicicleta. El Rey has been run by the same family for three generations, and my wife Heather was soon talking with the entire family while I bikegeeked around, looking for replacement parts for my Santa Cruz.
It's no exaggeration to say Mauricio is the sole catalyst behind riding in this region; it was he who convinced the park to open its gates to mountain bikers. He did so by simply walking into the Torres del Paine headquarters doors one day and talking with the superintendent about riding in the park. He explained his dedication to the environment and how mountain biking could potentially help with park revenue and increasing visitor numbers. The park officials agreed some of the trails within the park would be acceptable for bikes, while others could be ridden with prior permission (or if you had Mauricio as your guide).
To assuage our lingering American doubt, Heather, Canguro and I met with one of the rangers, who pulled out a formal list of bike-accessible trails. Eight were open to anyone; a ninth, Puente Weber to Laguna Verde, required advanced permission, with approval based on season and general trail activity. In the park's view, horse access and mountain bike access were one and the same.
Considering the U.S. National Park Service's incredibly limited allowance, I was floored. Canguro recently started guiding for a new destination resort called Awasi, and during our first dinner we learned the lodge has its own singletrack, which hooks into another longer ride: the Sierra Contrera to Estancia Gemita to Salto Las Chinas. The plan was for Canguro to drive shuttle and Mauricio would take us on the trails we couldn't ride without him, plus a few local favorites. Then Heather and I were going to tackle the rides inside the park on our own, with Canguro picking us up and dropping us off when and where needed.
Our first mountain bike ride of the season began in the predawn darkness, 180 degrees south of home. We'd skipped breakfast, still battling a travel hangover, and as we began pushing our bikes up the dark and unbelievably steep piece of singletrack, I had my doubts as whether all of this would work out.
Then darkness began lightening into dawn and, as the trail leveled, we threw our legs over our bikes. The loamy singletrack ducked into the lenga forest, framing the surrounding Paine Massif with autumn leaves and a hint of pink alpenglow. We reached the top of the Sierra Contrera singletrack and were rewarded with a massive high-speed descent onto the ranch lands of Estancia Gemita (and to Canguro, who was waiting with breakfast).
As we sipped mate, a local herbal tea full of antioxidants, and filled our stomachs with homemade snacks, Heather noticed a kid's bike leaning against the main Estancia house. We asked the gaucho if we could use it for some photos, and he approved with a nonchalant gesture. Heather began free-riding the fully rigid, chainless, 12-inch-wheeled beast around the property, warming our chilled autumn bones with laughter.
Back on our bikes, the dirt of the lenga forest gave way to compacted pea gravel as we started the next leg of the ride. It looked sketchy for riding, but the rock-centric dirt connected with our tires, leaving us excited to see what the next corner would bring.
Cresting a minor ridge, we saw what appeared to be hundreds of black dots in the air and on the ground a few miles down the trail. The cluster soon revealed itself to be a flock of caracara, a local bird of prey, having a feeding frenzy on a puma kill. Similar to the North American mountain lion, Chilean pumas are much larger and more common than their northern cousins. Typically, these giant cats hunt and kill prey just as the sun rises and sets—and it just rose. While the carcass looked fresh, the nature photographer in me knew this kill was a day old and the birds wouldn't be present if the cat was. I wanted to see a puma; I didn't necessarily want to do it while riding a mountain bike. We pressed on.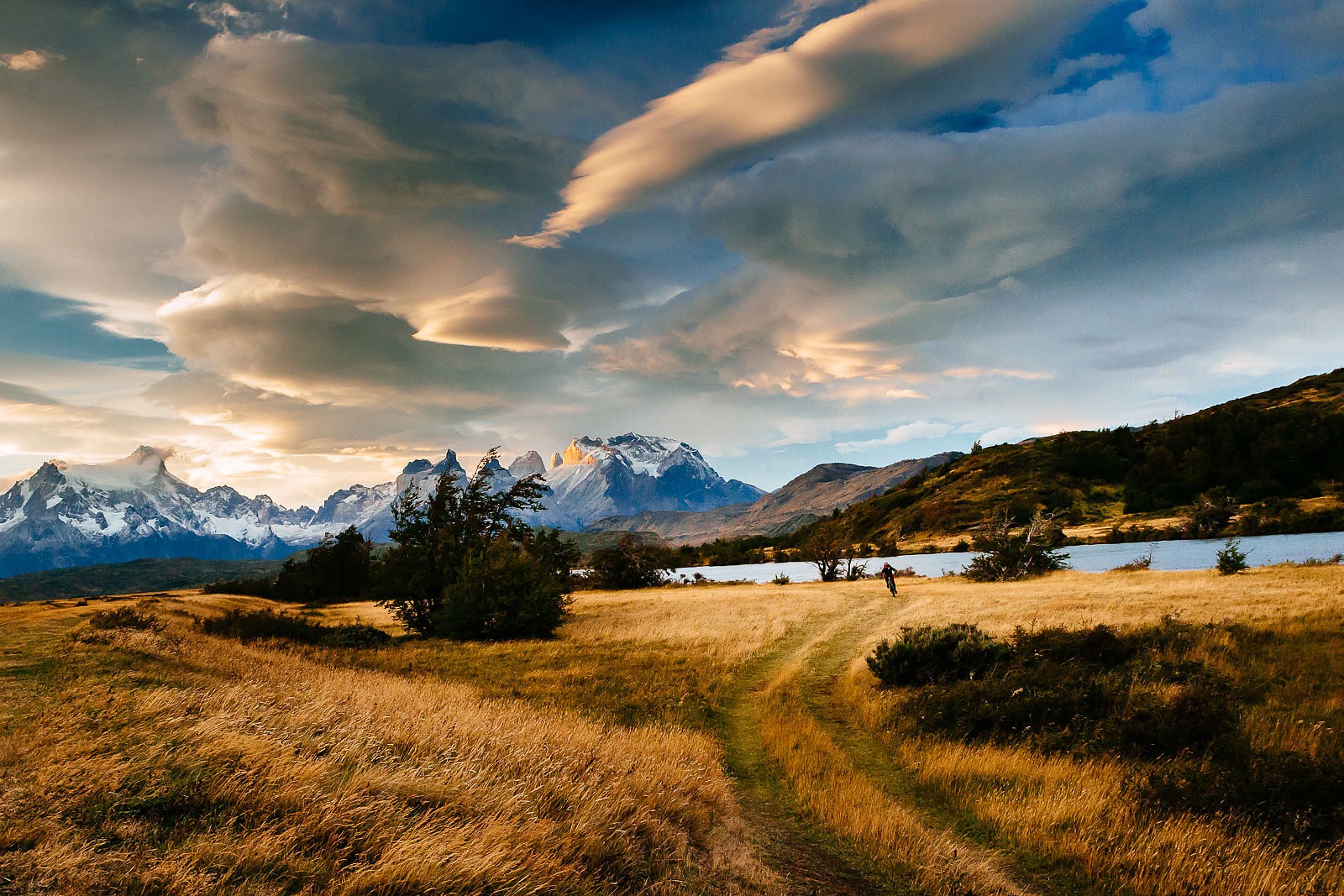 The rolling, super-fast singletrack continued, maximum fun in an otherworldly landscape. When we reached the Rio Serrano pickup point after dropping the final ridge, Canguro was waiting with a shuttle truck and lunch. Heather and I filled our empty bellies with homemade everything, accompanied by fresh fruit and the local microbrew of choice, Cerveza Austral.
The rough 4x4 double track the park system uses to bring supplies into the Refugio Las Torres—similar to European backcountry huts, where you can grab eats, sheets and water—is a trail that only someone like Mauricio, who has obtained permission from the park service, can access. Mauricio is a super- fit rider who is used to sending long rides on the bike equivalent of a Walmart Special. He told us our bikes would cost as much as a new car in Chile. I chuckled and told him it isn't any different at home.
After an initial smack-in-the-face climb usually only attempted by 4x4s, we hooked into a paralleling stretch of singletrack that overlooked an amazing river valley. I have a bit of an obsession with trees, and the lenga trees—a type of beech—had me wanting photos around every corner.
After navigating the last switchback, the wind began howling down the valley at an easy 60-plus mph. Patagonia is known for its wind and unpredictable conditions, the result of there being so little land between the Pacific and Atlantic oceans. Heather was barely able to stand, her Gore-Tex jacket flapping and snapping in the wind. We laughed, unable to catch our breath. But the wind was at our backs, meaning we'd travel the 10 miles back to the rendezvous point at superhuman speed
We hauled ass back to the truck, arriving just as daylight began to wane. On the way we passed through a blackened lenga forest, burned during a 2005 wildfire accidentally started by a Czech backpacker. Lightning is almost nonexistent in Patagonia, meaning that—unlike in the United States—wildfire is not a natural part of the ecosystem and forests are unable to regenerate. Once burned, they will never grow back. Even burnt, however, the natural landscape possesses unbelievable beauty.
In the 15 years since I first saw those photos of Patagonia, I'd never loved it more.
The next day Mauricio invited us to a mountain bike race across the border in Argentina, in a town named Veintiocho de Noviembre, or "November 28th," the date several settlements merged into one town.
The starting line looked as if we'd stepped back into the 1980s, a theme common throughout the Patagonian mountain biking scene. Most trails are unmaintained and unmarked, and most sponsored riders are on either fully rigid or hardtail frames. By contrast, many riders left the starting line while texting on their mobile devices, a no-stress beginning to a 30-mile ride.
The race circuit connected us to a local park named Lake Sofia, outside of Torres del Paine and about 15 miles north of the town of Puerto Natales. We felt dwarfed by the surrounding peaks, and what started as a late-afternoon ride ended with us rolling back to Canguro's truck in the dark.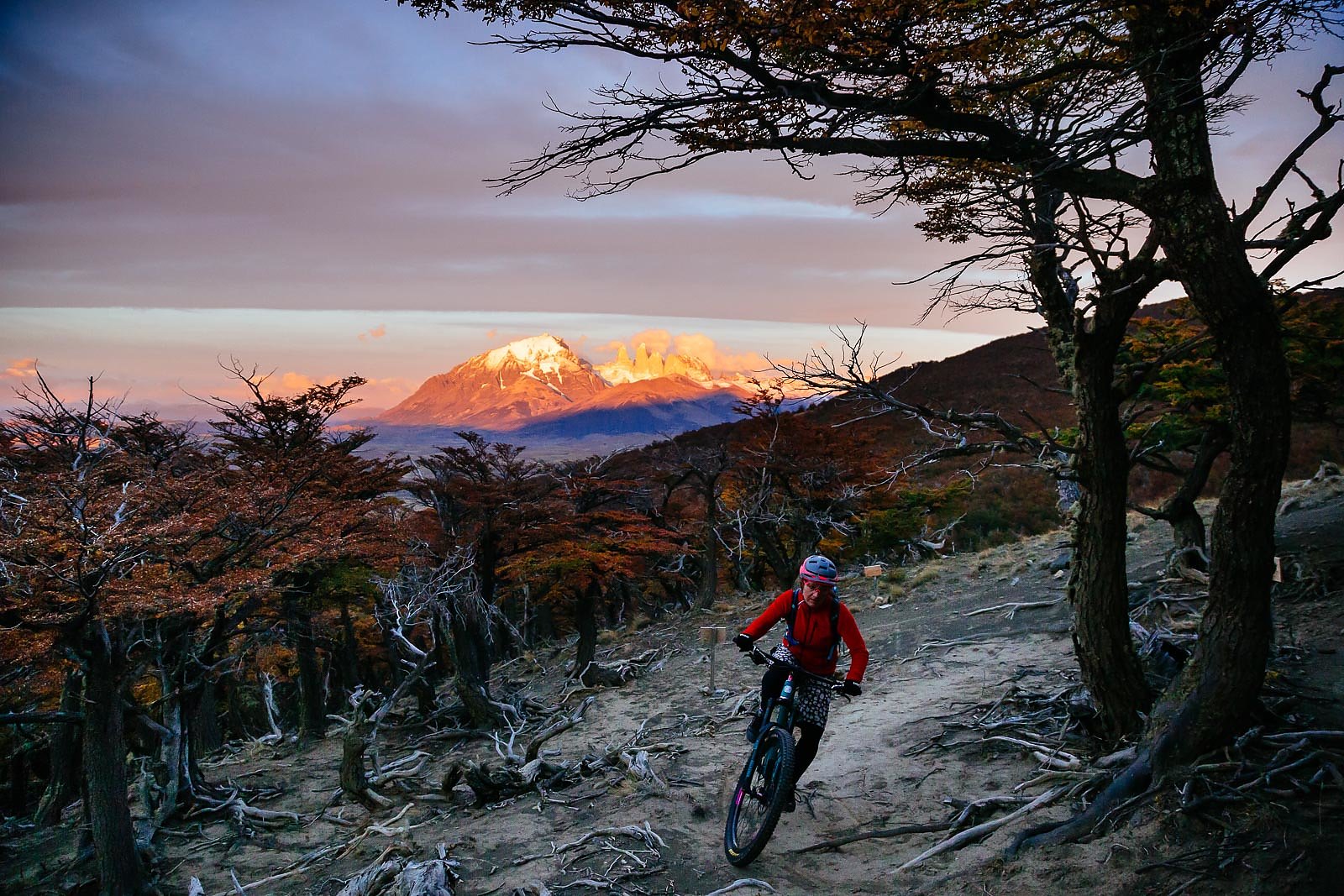 Our last ride with Mauricio was another early morning on another regional favorite. The rising sun lit the clouds with crimson fire as we started from the shores of Laguna Azul, an aptly named body of turquoise water right at the base of the Los Torres. The trail was barely visible when Heather and Mauricio began riding away, and I raced to catch up after snapping photos of the stunning sunrise.
On the final miles of the ride we ran into a herd of guanaco—a camelid native to South America and the prey staple of the puma— immediately followed by the biggest pile of puma poop on the planet. For reference, it looked like human poop. Only much larger.
That afternoon we decided to enjoy some time off our bikes, including in the hot tub looking out at the Paine Massif. As Heather and I each ripped into our third cerveza, Canguro came racing onto the back porch. "Put some clothes on," he said, obviously in a minor state of panic. "I have two pumas for us!"
Within minutes we were 4x4ing at Mario Andretti speed, hoping to get a glimpse of our elusive neighbors. We watched in absolute amazement as a male and female puma mated in front of our small group, until the female had enough and headed into the woods, followed by the male, for some privacy. Cerveza in hand, I looked over at Heather and Canguro. "Well, shit. That ain't something you see every day."
We finished our beers and took an evening ride up a long meandering valley at the southern end of Torres del Paine, the wind-riddled plains morphing into tight and technical singletrack. Along the way we ran into some backpackers from California.
They looked at us with disbelief upon hearing that what we were doing was totally legal and legit.
The final descent brought us to a ferry dock that hikers use as a starting point of a multiday backpack of the W Circuit. We could see the boat had already arrived, and a few-dozen backpackers were lined up for the shuttle. Heather dropped the shale-and slate slope like a World Cup downhiller, with many of the backpackers cheering her on. I was a proud husband.
One of our best days in 20 years began just as the sun crested the park's horizon, another section of sticky gravel singletrack stretching from the Paso de La Feria to Laguna Amarga. The Cuernos del Paine provided a rugged backdrop as we headed into what we later called the "Valley of Death."
Hundreds of guanaco bones littered both sides of the trail, like we'd stumbled into the home of a monster. High rock outcroppings rose on either side, making for a perfect puma sniper zone. I felt as if we were being watched. Heather immediately suggested we continue on.
Back at the truck, Canguro showed us some photos he'd taken of us exiting the valley. Sitting on bluffs above were two pumas, looking down on their potential two wheeled prey.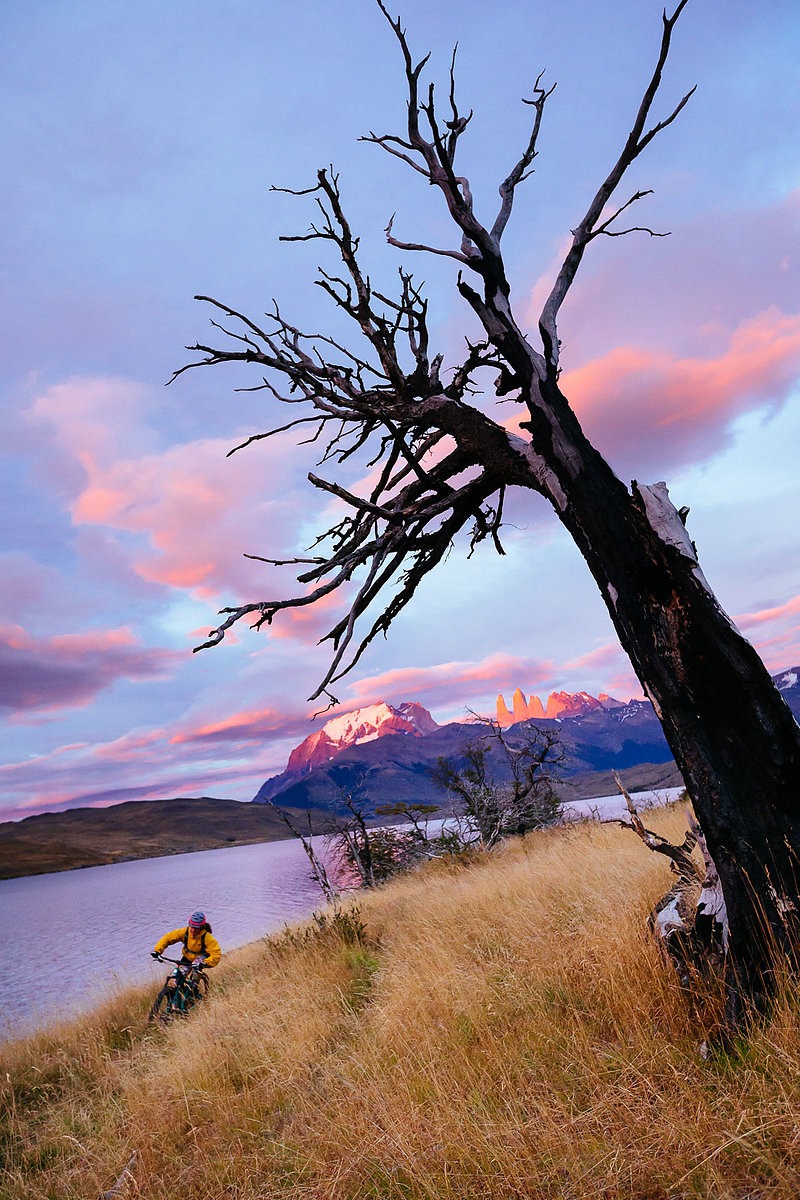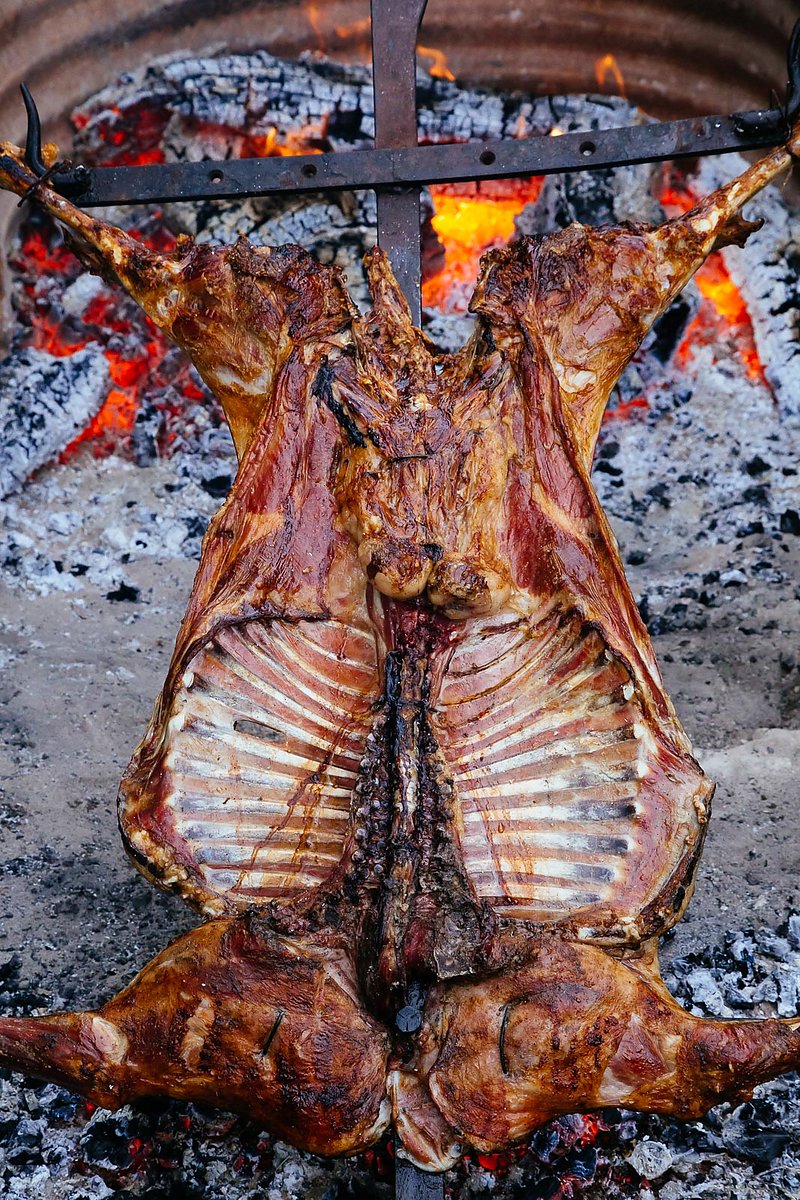 Our time in Patagonia concluded, as it should, with a lamb barbecue at the Estancia La Criollita. This estancia is managed by a father-son team, Victor Sr. and Victor Jr., the former of which speaks little English and whose entire existence is devoted to maintaining this 15,000-acre property beneath a wall of steep, rocky peaks. Victor Jr. is a modern guy in his mid-20s, iPhone in hand as he continually scrolled Instagram. Yet he's figured out how to balance his father's traditional ways while also looking to new sources of revenue, knowing full well the future is changing quickly.
Victor Jr. showed us one of those new sources shortly after we pulled up. Despite having never ridden one himself, he's been building mountain bike trails to draw tourists to the estancia. He figured if he constructed singletrack that horseback riders would enjoy, cyclists would enjoy it as well. And he wasn't far off, as we discovered after he loaded our bikes into the ranch pickup, layered them with cozy sheep pelts, and drove us to the start of his new trail system at the property's boundary with Argentina. It was only a mile, but its proximity to the surrounding peaks made it seem far longer.
While pedaling back to the house for dinner, Heather and I wondered aloud about the future of riding in Patagonia. It is a place where nature still dominates, where the trails have no markings and little to no maintenance. It reminds me of the riding in Colorado during the early '90s—empty, never-ending singletrack with unobstructed views of amazement. A time when we explored on bikes because it was faster than hiking and we wanted some backcountry summer adventure.
Together with the two real-life gauchos and their families, we ate lamb and drank copious amounts of Cerveza Austral. Multiple conversations were happening in Spanish and English. Heather asked how Victor Jr. chose the lamb to kill for this evening's feast. He laughingly replied, "Simple—I find the ugliest one."
The laughter ceased as we raised a toast to our trip, our hosts' hospitality, and some of the most stunning biking I have ever done.
That, and the ugliest, most delicious lamb I have ever eaten.