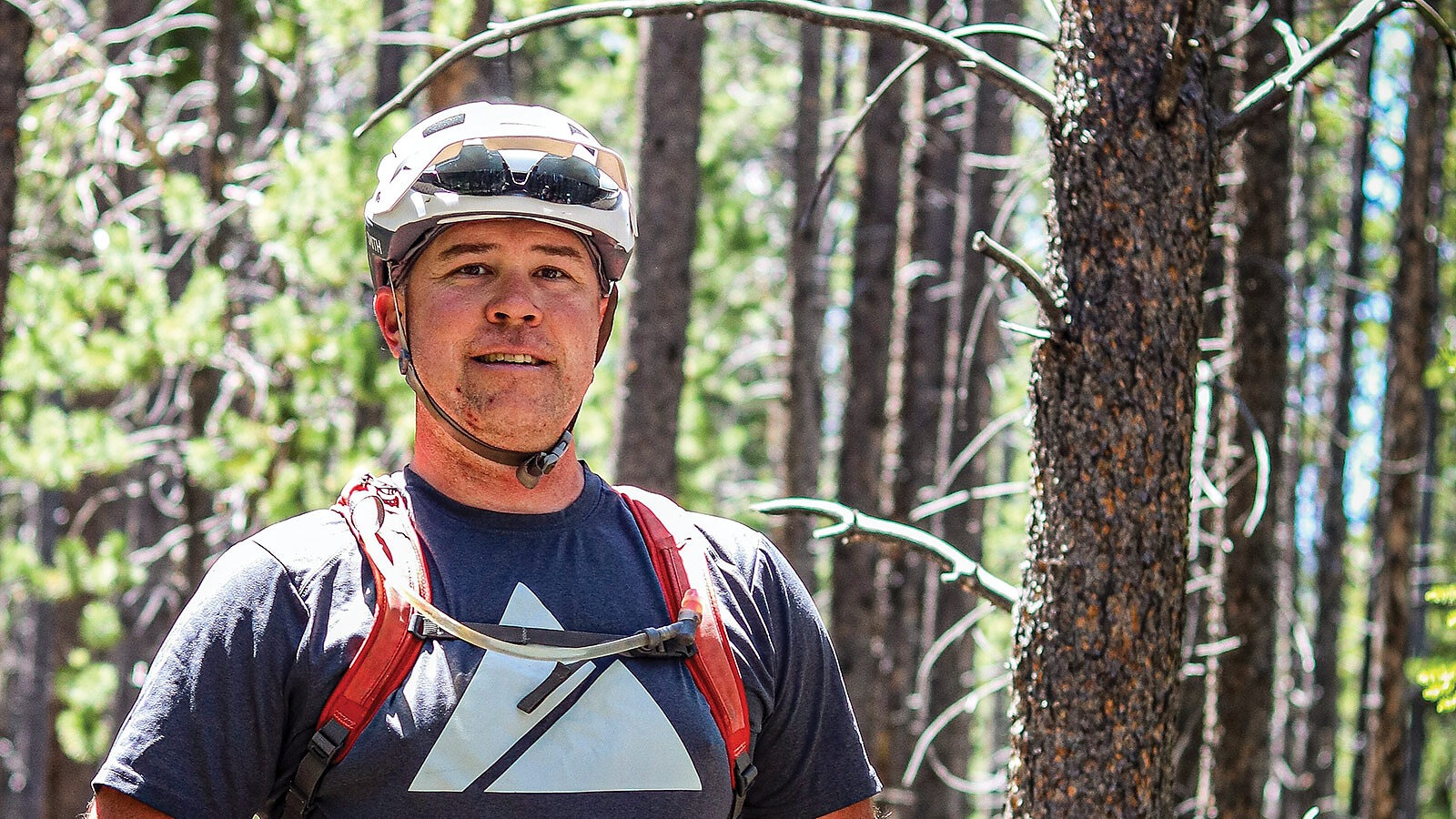 Nomads and Misfits The Journey of Greg Mazu and Singletrack Trails, Inc.
Straddling his bike on Colorado's Grand Mesa amid brilliant fall colors, days before the first winter storm put trailbuilding season into hibernation, Greg Mazu surveyed the painstaking rock work and bench cuts along the edge of a precipitous cliff overlooking the town of Palisade.
"Too many people think trails magically get built by fairies and elves, but they're wrong," Mazu said. "This trail got built by nomads and misfits."
With completion scheduled for this summer, the Palisade Plunge is the crowning achievement of Singletrack Trails, Incorporated (STI), a company Mazu started in 2004. Covering 32 miles from the top of Colorado's Grand Mesa at 11,300 feet of elevation—the largest flat-topped mountain in the world—the Palisade Plunge descends a total of 8,000 vertical feet with 2,000 vertical feet of climbing, finishing in Palisade on the banks of the Colorado River.
The only thing more impressive than the dirt and rock artistry of Mazu's nomads and misfits is the time it took, or rather didn't take, his crew to construct this masterpiece.
"We started in May 2019 and both phases of construction were completed in less than two years," Mazu said, "Each time I've ridden the trail, I found myself repeatedly saying 'holy shit' because of the terrain our crew worked through and that they still work for me after all they endured."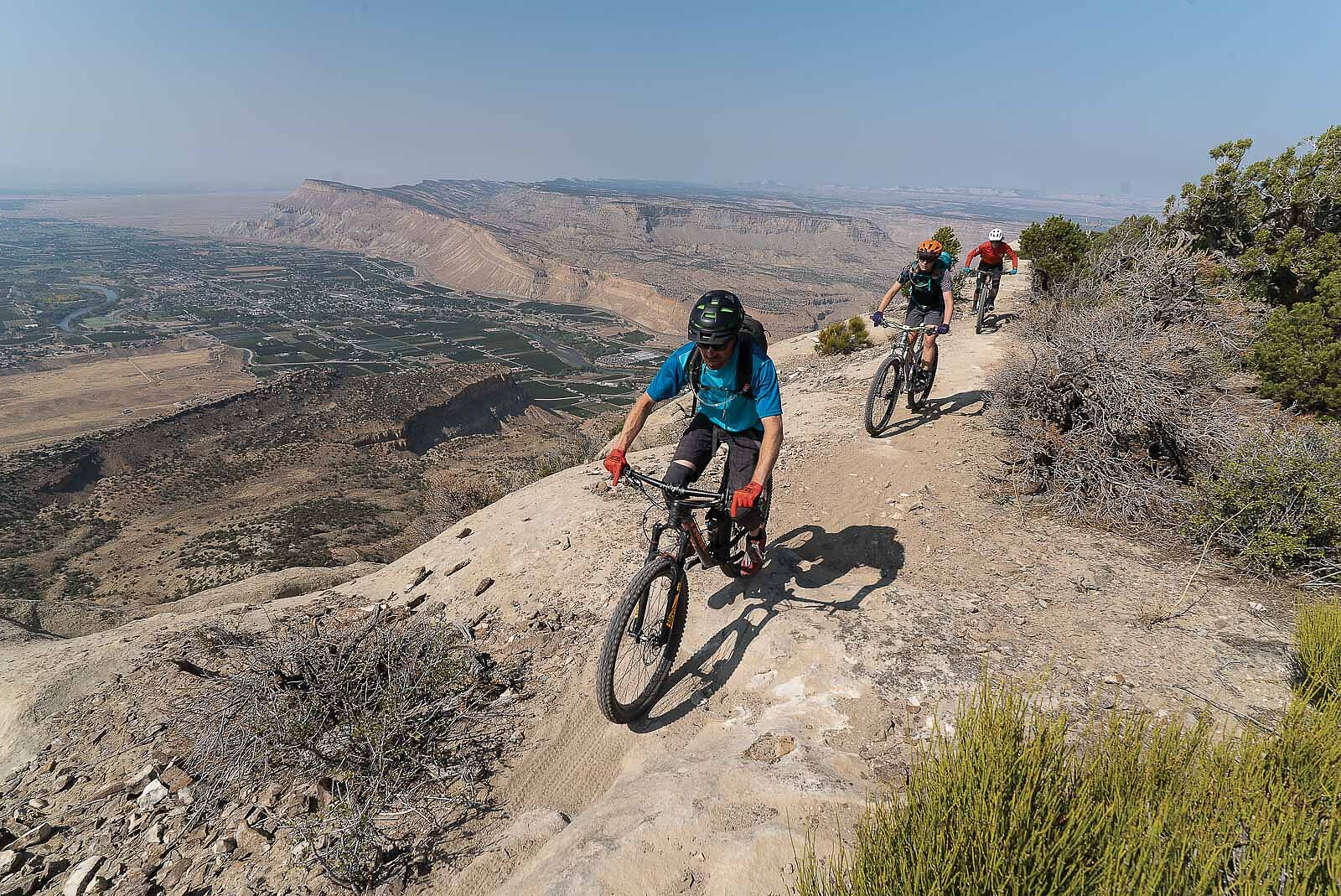 The Plunge spans the properties of multiple land-owners both public and private, multiple ecosystems and multiple challenges. Biting gnats, thirsty mosquitoes, temperatures ranging from frostbite to heat-stroke, howling winds, boulder fields, cliff walls, un-compacted sand, paralyzing mud, a historic wildfire season—anything Mother Nature could throw, she threw it. But STI's nomads and misfits endured, putting mini-excavators in perilous positions and dangling off a 200-foot cliff with ropes, building 10-foot-tall retaining walls in hurricane-force winds—the images in Mazu's head brought him to tears.
"I cried twice riding down the Plunge thinking about what our crew went through in order to get the job done," he said.
Adding to Mother Nature's squeeze was the pressure from a few community members to get the job done even quicker. Unsatisfied individuals in the area used their financial stature to become involved politically and Mazu found himself defending the work and timeline of his crew.
"Some of the tears I shed were brought on by politics," he says. "They had no idea the conditions our crews were working in, and didn't really seem to care. They just wanted to see the job done faster. But thankfully we had the understanding of Mesa County officials. They realized what our crew was up against."
The Palisade Plunge is the first mountain-bike-specific trail project Mesa County has ever managed and for county officials it was filled with unknowns.
"The Palisade Plunge was a big learning curve for us," said Laura Page, a construction group manager for Mesa County Public Works. "In addition to not having previous experience with this sort of work, we didn't have much information on a trail project as remote as the Plunge. There were access challenges as well as restrictions like raptor nesting season that halted the project. Greg and Singletrack Trails were extremely helpful in educating us on what makes good trail, as well as being flexible with all the challenges we encountered."
Mazu retained all his staff in the completion of the Plunge, a testament to his self-appointed job title of Chief Encouragement Officer. Although he is the founder of STI, over the last few years Mazu found himself on the trail a lot less and on the phone a lot more, encouraging and supporting his staff as it has grown from 18 employees to more than 40 in the last two years. Mazu handed day-to-day operations off to general manager Molly Stack, leaving him to focus on STI's future.
"In addition to figuring out how STI secures our staff with what I call 'mortgage-paying' jobs, my role as CEO is convincing our trail artists that they do a better job of building trail than I ever could," Mazu said.
Equal to the evolution of his company and his role within it is the evolution Mazu himself. Our own friendship dates to the late 1990s, when we met while racing bikes as students at Indiana University Bloomington. I was serving as president of the IU Cycling Club at the time when I first got to know Mazu—an outspoken and opinionated personality who was not afraid to hurt peoples' feelings.
"Looking back on college, I wasn't the nicest person," Mazu said. "Pretty soon after graduating I realized that nobody wants to work with an asshole, so I changed my attitude."
Growing up in a conservative community near Evansville, Indiana, Mazu got into cycling at a young age during the era of Greg LeMond. All through high school Mazu had dreams of traveling to Europe and racing road bikes professionally. He was obsessed with the Academy Award-winning film Breaking Away and trained on the roads outside Bloomington where the movie was filmed.
"Cycling got me out of the house and provided me with the freedom I needed in my life," Mazu said. "As I got older, the rides got longer, and I arrived home each day as a better kid for my parents to manage."
Exposed to a more worldly community in the college town of Bloomington, Mazu graduated with a degree in exercise science and packed his car, setting out for a few months of the nomad lifestyle he later adopted as his career. He had family in the Pacific Northwest and landed in Seattle while visiting a college friend. Mazu spent the next 18 months working for Raleigh and Diamondback, immersed in the outdoor recreation industry.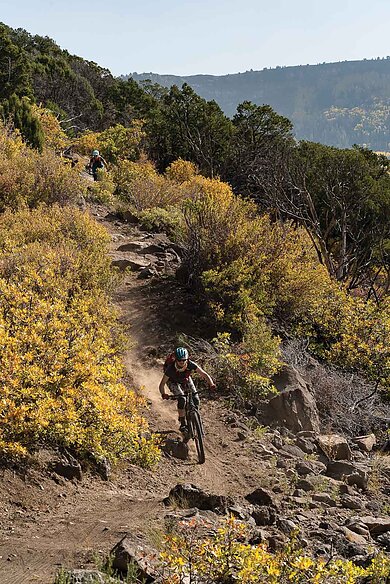 In Seattle Mazu started mountain biking, but it was during a trip to Colorado that he met his girlfriend Barb. Their relationship is still going strong 20 years later.
"Although I liked the idea of bouncing between Seattle and Colorado, Barb wasn't as thrilled," Mazu said. "So I gave up on the Seattle thing and moved to Fort Collins. Barb got me into mountain biking and we started going to volunteer trail days at a nearby state park."
The volunteer trail days were the foundation upon which Mazu built STI. Mazu enjoyed the dig days so much he got a job with Colorado Parks and Wildlife, but after a few seasons he realized he was getting paid more as a contractor than an employee.
"They paid me as if I was contractor, not a full-time staffer," Mazu said. "When they told me I had to get my own insurance, I realized I already had my own business and could go work for whoever I wanted."
Mazu started contracting in 2004, taking on projects with IMBA Trail Solutions and Wyoming State Parks. Later, in 2007, he landed a contract to build the very first Bureau of Land Management freeride trail in the country. Located in western Colorado near Grand Junction, the experts-only Free Lunch trail was constructed within the system known as the Lunch Loops. Shortly thereafter, in 2008, STI incorporated.
During STI's small and decentralized period, paperwork and structure weren't on Mazu's radar, but dirt artistry was. Since landing the Plunge project, STI has grown, forcing Mazu to take a step back and put more structure in place.
"After 14 years of running a business, I realized the business still needs to be properly set," Mazu said. "But it's pretty cool to see us evolving from a regional company working nationally into a national company working regionally."
At its core, STI has always been a decentralized coalition of artists traveling the country chasing work, perhaps a direct result of the nomad and misfit ethos to which Mazu subscribes. For years Mazu lived in a diesel pickup that towed a giant equipment trailer, driving coast to coast completing projects. During this nomadic period, our paths crossed again for the first time since college.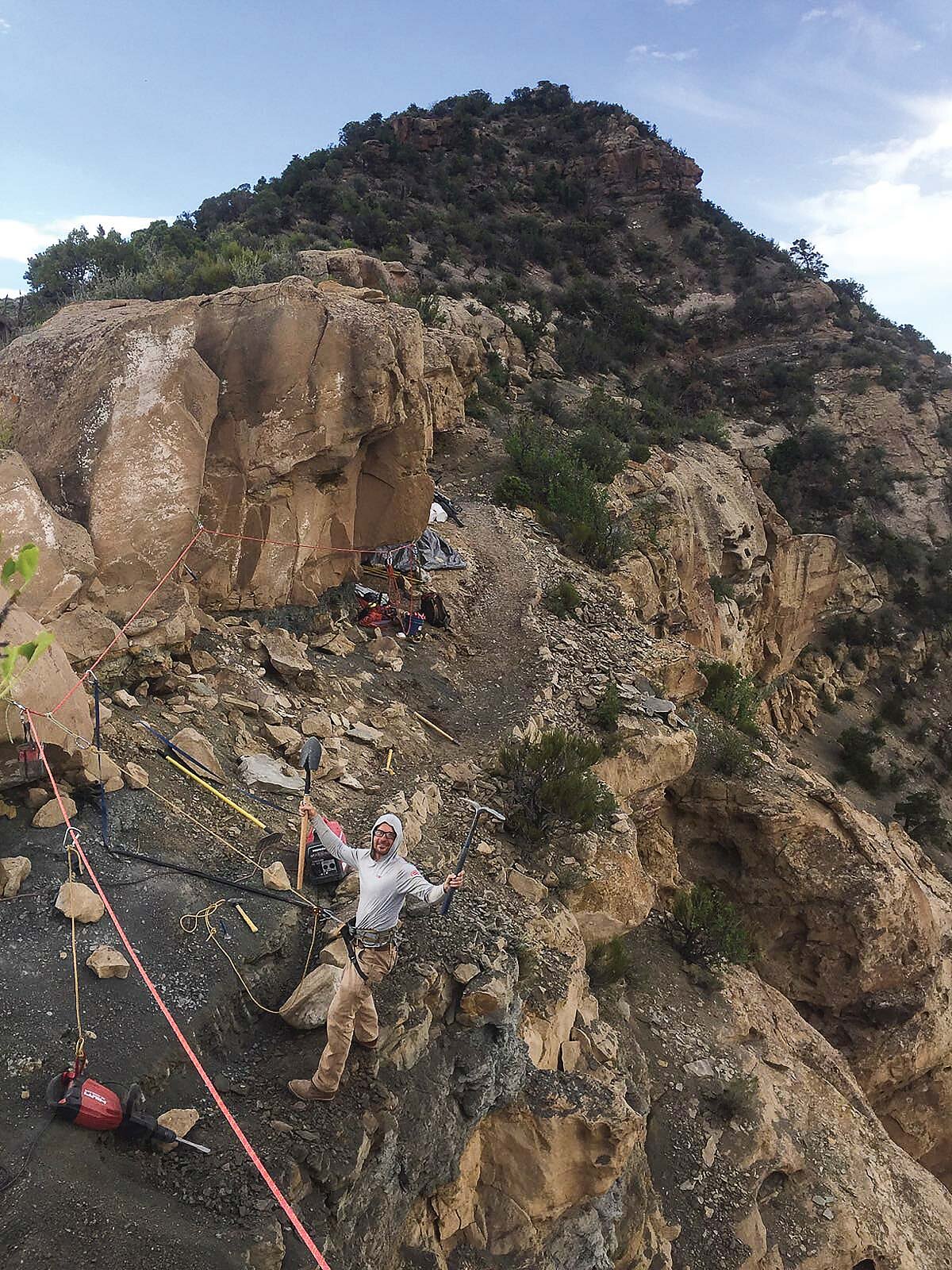 I was attending the 2012 IMBA Trail Summit in Santa Fe, New Mexico when I saw him strolling through the hotel lobby, smiling and laughing. It had been 13 years since I'd last seen Mazu—during a time in his life when he didn't smile or laugh much. I was pretty sure it was Mazu, but I couldn't figure out what he was doing at a mountain bike trail summit. All through college he was a road racer and always poked fun at mountain biking.
As soon as Mazu saw me he shouted, "Genshie!" It was like being reunited with a completely different person. He invited me to his campground where his truck and trailer were parked near the top of Windsor Trail high above Santa Fe. He introduced me to his traveling band of builders and we rode Windsor in fresh-fallen October snow. Those days with Mazu have stuck with me ever since—the immensely positive impact of trails, and mountain biking more broadly, radiated from him in a way I've never seen in anyone else. Trails have shaped Greg's life as much as he has shaped trails.
Although the decentralized nomad structure won't work for the future of STI, it has allowed Mazu to attract and retain a loyal staff. After he admitted to hounding Bicycle Colorado until they awarded him the contract for Free Lunch, Grand Junction locals strongly recommended he hire local rider and bike shop mechanic James Flatten. Fourteen years later, Flatten is still with the company and is now a corner-stone of STI.
"When I heard an out-of-towner was coming in to build Free Lunch I was a little bit salty, but all that changed when Greg called me," said Flatten, who has been STI's Chief Project Wrangler for nearly a decade. "We come from different riding backgrounds, so our eye for trail is unique. Greg is more into technical, rocky builds where I come from a higher-speed, down-hill jump line perspective."
Although Flatten and Mazu have different build styles and riding backgrounds, they both agree that no trail should ever go straight. Flatten also praises Mazu for his ability to handle the business side of trail projects that Flatten wants nothing to do with.
"TRAIL USERS SOMETIMES GET UPSET AT OUR WORK, BUT WHAT THEY DON'T UNDERSTAND IS THE ENVIRONMENTAL AND SAFETY ASPECT OF WHY WE DO WHAT WE DO."  - JAMES FLATTEN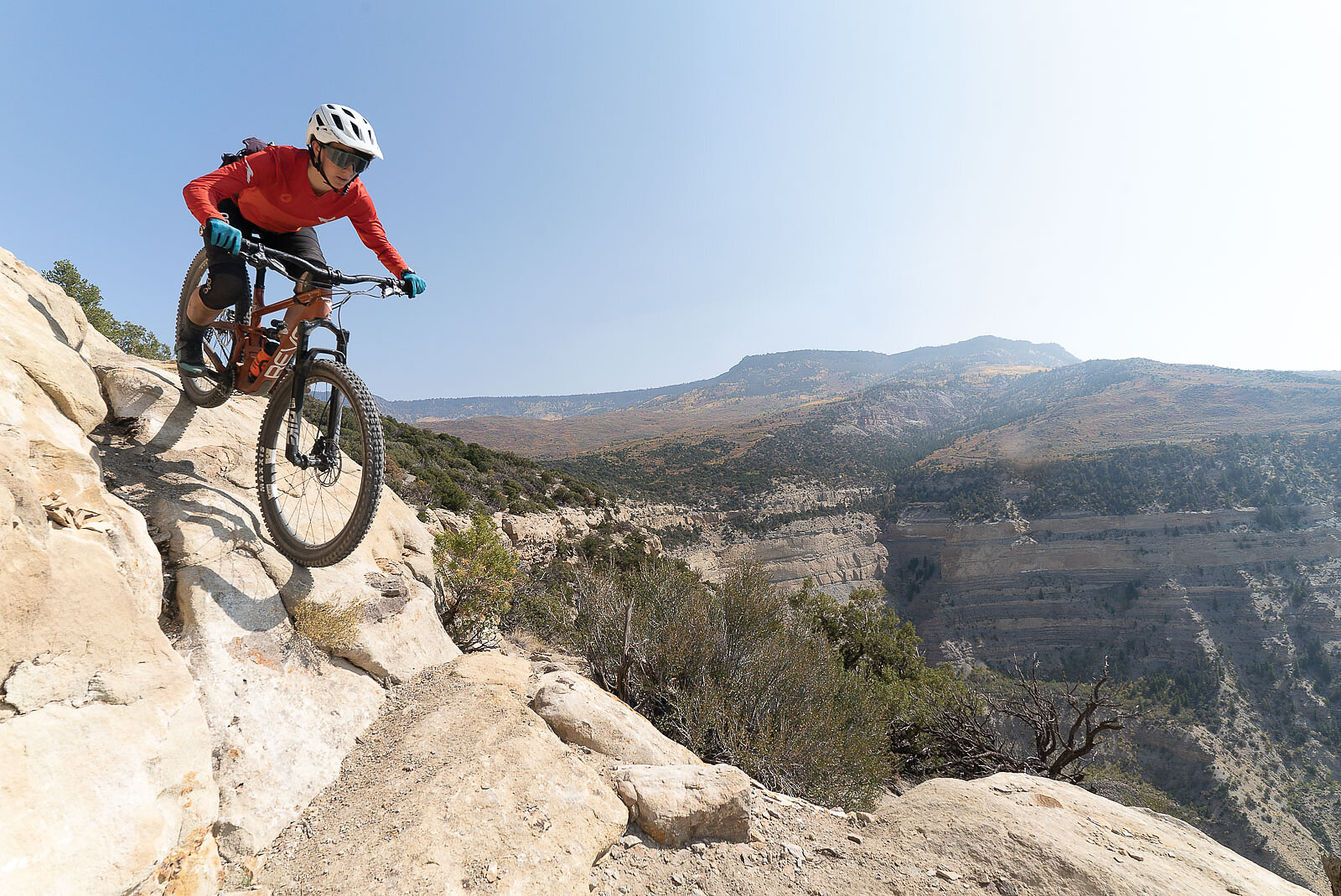 "Greg likes to joke that I kicked him out of the field," Flatten said. "But the reality is Greg trusted me enough to relinquish control of projects in the field. If we were both control-hungry builders, STI wouldn't be where it is today."
Professional builders, of course, aren't the only mountain bikers with opinions.
"A lot of what we do is rerouting somebody's favorite trail," Flatten said. "Trail users sometimes get upset at our work, but what they don't understand is the environmental and safety aspect of why we do what we do."
Besides big-rig truck drivers, there aren't many folks with more miles logged on Interstate 70 between Denver and Grand Junction than Mazu. Although he and Barb live in Fort Collins, he also has a house in Winter Park where he's built numerous trails for the town. STI is headquartered in Grand Junction not only because it is Mazu's favorite place on earth to ride, but also because of how much of a trailbuilding presence STI has in the area.
As a local Grand Valley employer with a 2,500-square-foot warehouse and five on-site staff members, Mazu is thinking bigger about STI's future. To create mortgage-paying jobs, he's focusing on diversifying revenue for the company beyond trails with four new companies working under the STI umbrella: Tools for Trails, Backslope Tools, Desert Rat Tours and custom recreation fabrication.
Tools for Trails is an online retailer for all things trail tool-related, selling various brands of tools and implements, including Backslope Tools, Mazu's recently launched house brand. Backslope Tools' mission is to rethink and reimagine go-to tools that have historically been staples in most trailbuilders' kits.
"Take the McLeod for example," Mazu said. "It's the same tool it was decades ago. There's been no innovation to make it better." Backslope's versions of popular tools, like the McLeod, feature stackable and lockable designs while also being "easy for volunteers to use but strong enough for the hardcores," he adds. He is also developing simple tools like a plastic handle to replace the awkward metal wire handle found on most five-gallon buckets—an idea he hopes will cross over from the trail world into the mainstream.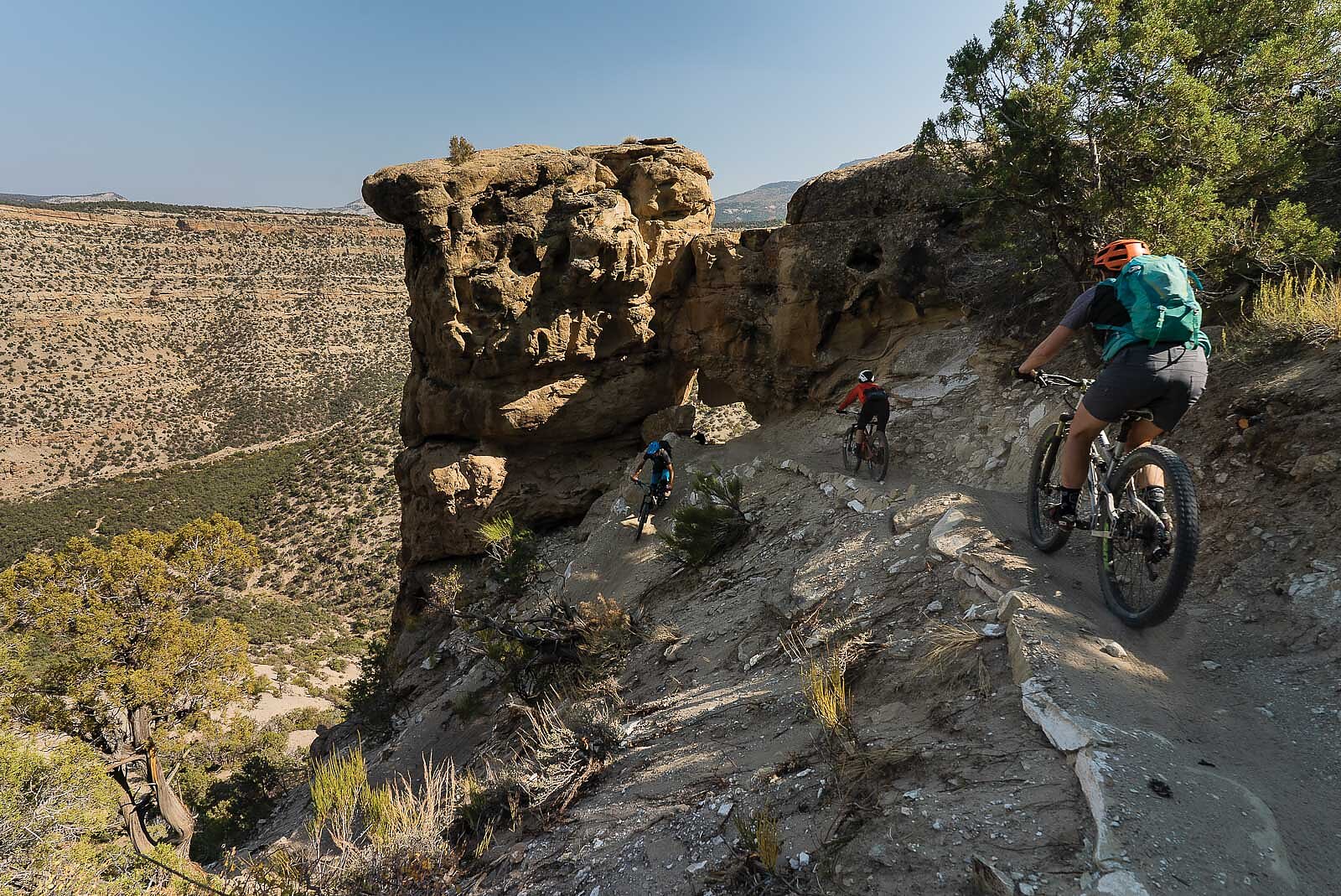 Whether through innovative tools or his newly acquired Desert Rat Tours company—a guiding service that holds important federal guiding and shuttling permits—Mazu is expanding the STI network to build infrastructure within the outdoor sphere. With explosive growth in recreation over the last few years, trailhead facilities such as parking lots, bathrooms, kiosks and skills parks have grown in demand, prompting Mazu to think on a larger scale about what he can do to lead the way. The expansion is also a means by which he can give back to the employees who have done so much to help grow STI.
"Our industry is cutthroat without a lot of margin," Mazu said. "My goal is to take these brands and use them to create more margin so we can pay our employees higher salaries. Salaries they deserve."
According to Mazu, part of the reason why the industry is so cutthroat is trails and trailbuilders are undervalued and they'll often work for free just to get the job done. Industry trade organizations such as Professional Trail Builders Association and American Trails are grossly underfunded and Mazu believes these hardworking trade agencies shouldn't have to operate on a shoestring budget with just a few staffers and a heap of volunteer labor.
"We don't value our work enough and neither does the public," Mazu said. "We are creating legacy projects that attract tourism dollars and working families who pay property taxes. We as trailbuilders need to demand more for our work because when it comes to public works projects, there's no better return on investment for a community than trails."
STI is also experiencing growing pains, making work for Mazu and Flatten more challenging.
"The trail industry is booming right now and all of us are learning on the fly," Flatten said. "STI has grown so rapidly in the last couple years. What we do as trailbuilders incorporating design, construction and artistry is very unique and not easy. We've definitely struggled with getting good, solid training in place while scrambling to build projects on tight timelines."
Despite obstacles, recent events have Mazu optimistic about the future. The Great American Outdoors Act will allocate as much as $1.9 billion per year for the next five years from energy development revenues to update and create new infra- structure in national parks, forests and recreation areas. It will also use royalties from offshore oil and natural gas to permanently fund the Land and Water Conservation Fund up to $900 million per year, part of which will be invested into recreation.
The unprecedented popularity of getting out-doors during the pandemic created more state, county and municipal investment in public recreation, filling STI's pipeline with new projects. As a result, STI will run six or seven projects concurrently in 2021, managing a staff of more than 40 employees split between Colorado and a new out-post in Brevard, North Carolina. STI also has its hands—literally and figuratively—in Bentonville, Arkansas, recently completing eight new miles of hand-cut singletrack known as Handcut Hollow.
Mazu is most excited about the Bonneville Shoreline Trail project in the Wasatch foothills around Salt Lake City, which aims to make old user-built trails more sustainable.
"Projects involving maintenance and getting more of the public onto trail networks near large population areas makes me smile," Mazu said. "These are bread-and-butter trails people use every day after work and offer an enormous public benef it."
When it comes to Mazu's proudest career achievement, there isn't a hint of hesitation—the Palisade Plunge holds a special place in his heart. It's a project that embodies everything he strives for as he's grown STI—dedication, tenacity and a vision for the future that also pushes the boundaries of what's feasible in modern trailbuilding.
"In my opinion, nothing will top the Plunge. When you look at what our crew was able to accomplish within two years, it's remarkable," he says. Knowing Mazu, though, it's clear the best years of STI are still to come.