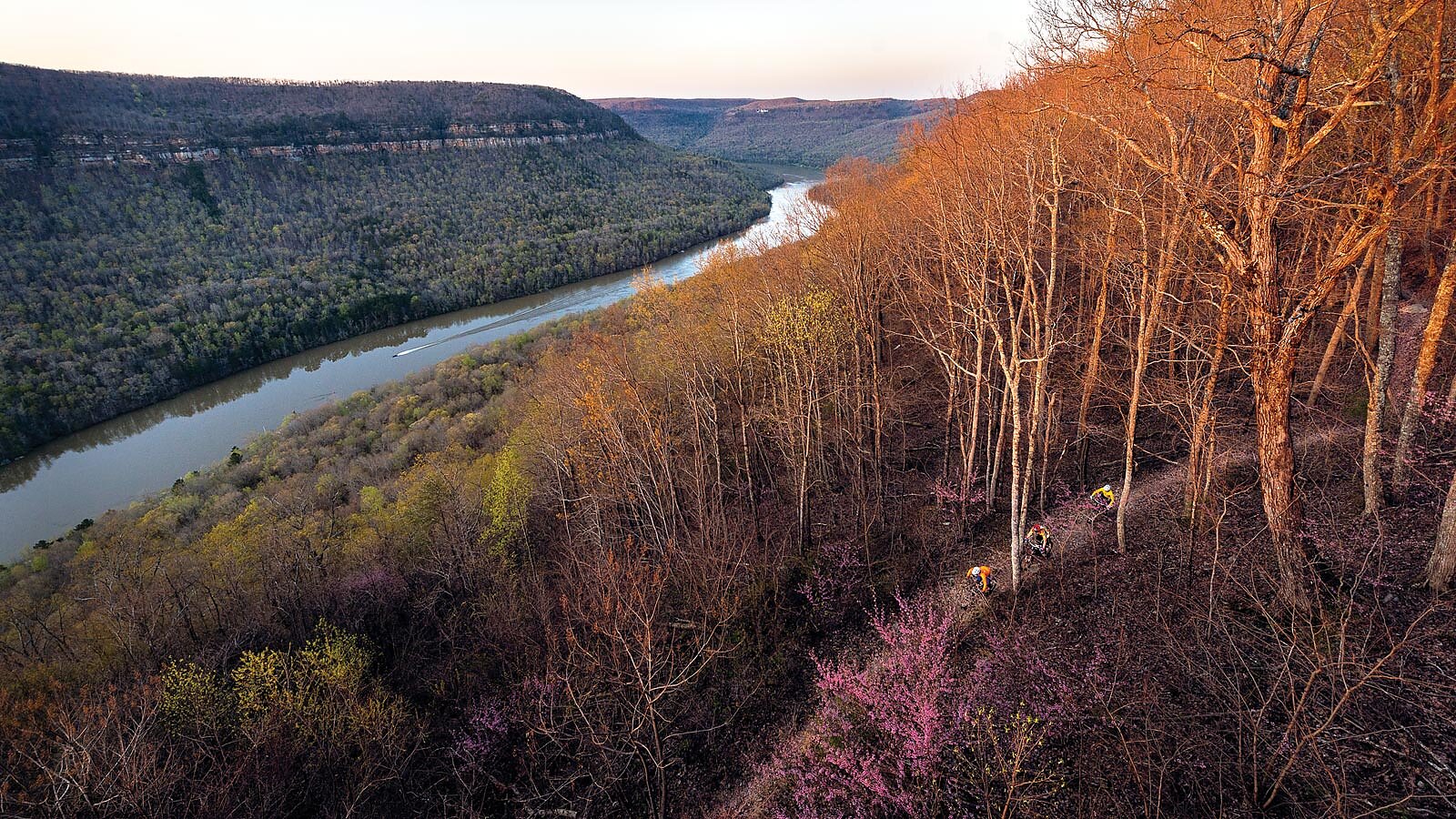 On the Lookout Chattanooga's Quest to Become a World-Class Riding Destination
As you approach the city of Chattanooga, Tennessee from the east, one unmistakable landmark dominates the skyline: Lookout Mountain, which rises from the surrounding plateau like a submarine breaching the ocean's surface.
This mountain—and its distinctive shape—has become emblematic of Chattanooga itself, but its importance to the ever-expanding outdoor community is increasingly tangible.
Though it tops out at only 2,388 feet of elevation, the relief offered by Lookout Mountain's slopes is critical to its growing popularity among recreationalists, from hikers to the rock climbers who have long been drawn by the band of cliffs that punctuates the mountain's upper reaches. At its base, the broad Tennessee River flows around it, forming a nearly 180-degree swoop that hugs a peninsula where the earliest inhabitants lived more than 12,000 years ago.
The river cuts through Chattanooga, with the downtown area on its southern shores seeming to float—an illusion created in part by the Hunter Art Museum, built on a cliff edge directly above the river. Connecting both sides of the river, the Walnut Street Walking Bridge is the heart of the town, and on summer evenings crowds gather here to watch an explosion of pastels as the sun sets behind the hills.
This walking bridge affords a fascinating view of Chattanooga's past, present and future, but as recently as the early 2000s it left mountain bikers with little to be excited about. At that time, there were barely four miles of legal trails and nothing resembling an actual network. The closest trail syttem was in Chilhowee, at least a 45-minute drive from the city center, and local mountain bikers would routinely travel to regional hotspots such as North Carolina's Pisgah National Forest to get their fixes of quality singletrack.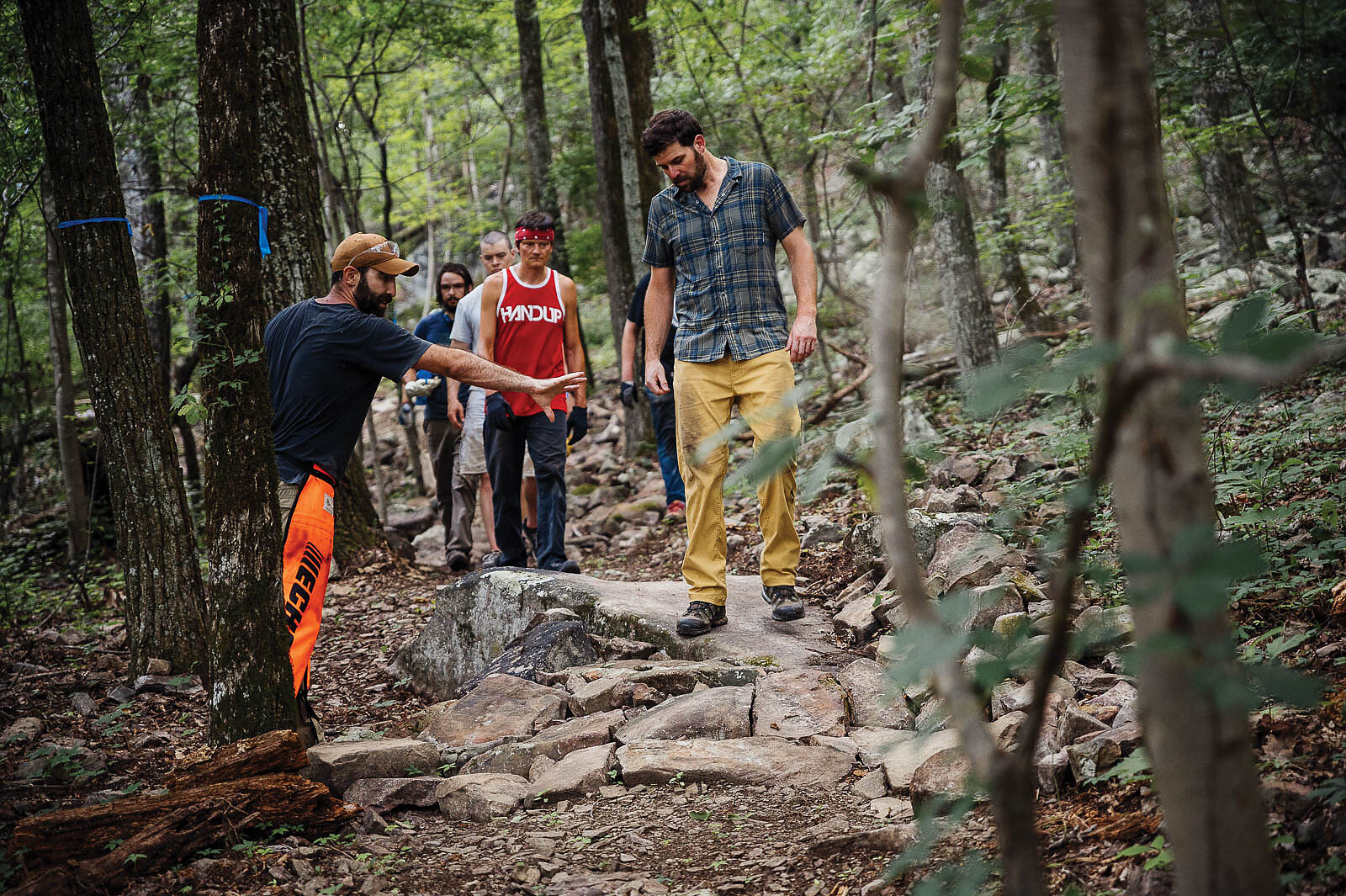 These frequent road trips highlighted a growing frustration among Chattanooga mountain bikers over the fact that there were so many hills around town, yet so few places to ride. One of those riders, Greg Laudeman, turned his frustration into action, spending countless hours in the woods to catalog and map out the terrain with a view toward an overall trail network.
At the same time, then-president of the Southern Off-Road Mountain Bike Association's (SORBA) Chattanooga chapter, Trey Commander, was trying to organize a small group of passionate riders in the hopes of building, as he puts it, "one more mile of trail." But the hurdles Commander initially faced were monumental. At that point, SORBA Chattanooga had no experience building or maintaining trails and was desperately lacking in both credibility and funds.
Initially, both men were running at the problem separately—Laudeman's focus was broad and undefined, while Commander's was narrow and operational. They realized they needed a clear and united vision to move forward, and Laudeman came up with the bold idea of building 100 miles of singletrack within 10 miles of downtown Chattanooga. This idea became known as the Singletrack Mind Initiative, and the two began knocking on doors to get permission to build trails.
Though they were met with a lot of resistance at first, the group persevered, eventually laying the groundwork for a host of trail systems. But the keystone project, and the first to come to fruition, came about through a bit of luck. Laudeman knew a mountain biker who worked for the Tennessee Valley Authority (TVA), a federal company that provides much of the southeast with hydroelectric power and whose largest facility was on nearby Raccoon Mountain. He asked the TVA for permission to build trails on the mountain and was greeted with a positive response. After signing some paperwork, the trailbuilding began in earnest.
TREY COMMANDER WAS TRYING TO ORGANIZE A SMALL GROUP OF PASSIONATE RIDERS IN THE HOPES OF BUILDING, AS HE PUTS IT, "ONE MORE MILE OF TRAIL." BUT THE HURDLES COMMANDER FACED INITIALLY WERE MONUMENTAL
The inaugural plan—a 12-mile loop at the top of Raccoon Mountain—was built entirely by volunteers. In the first year alone, Barry Smith, a now-legendary trailbuilder with his own company, logged more than 2,000 hours of volunteer work. Excitement about the project was palpable.
"The whole time we were building Raccoon, I felt that momentum," Smith says, "that once we get it going, I knew it's just going to keep going."
Smith was right. The Raccoon Mountain network was a watershed, one that eventually led to the completion of more than 100 miles of cross-country trails in the greater Chattanooga area. Each new project established greater credibility for the community and laid the foundation for a thriving local riding scene.
Laudeman's vision of 20 years ago has become a reality, with many of the spots on his original map now filled with incredible trails—many of them within 15 or 20 minutes of the downtown area. Just a short bike ride from the walking bridge, the Stringer's Ridge network features 10 trails that wind through a 92-acre forested park called Stringer's Ridge Park, which overlooks the neighborhood of Hill City. One of them, a four-mile outer loop, is perfect for a quick after-work spin.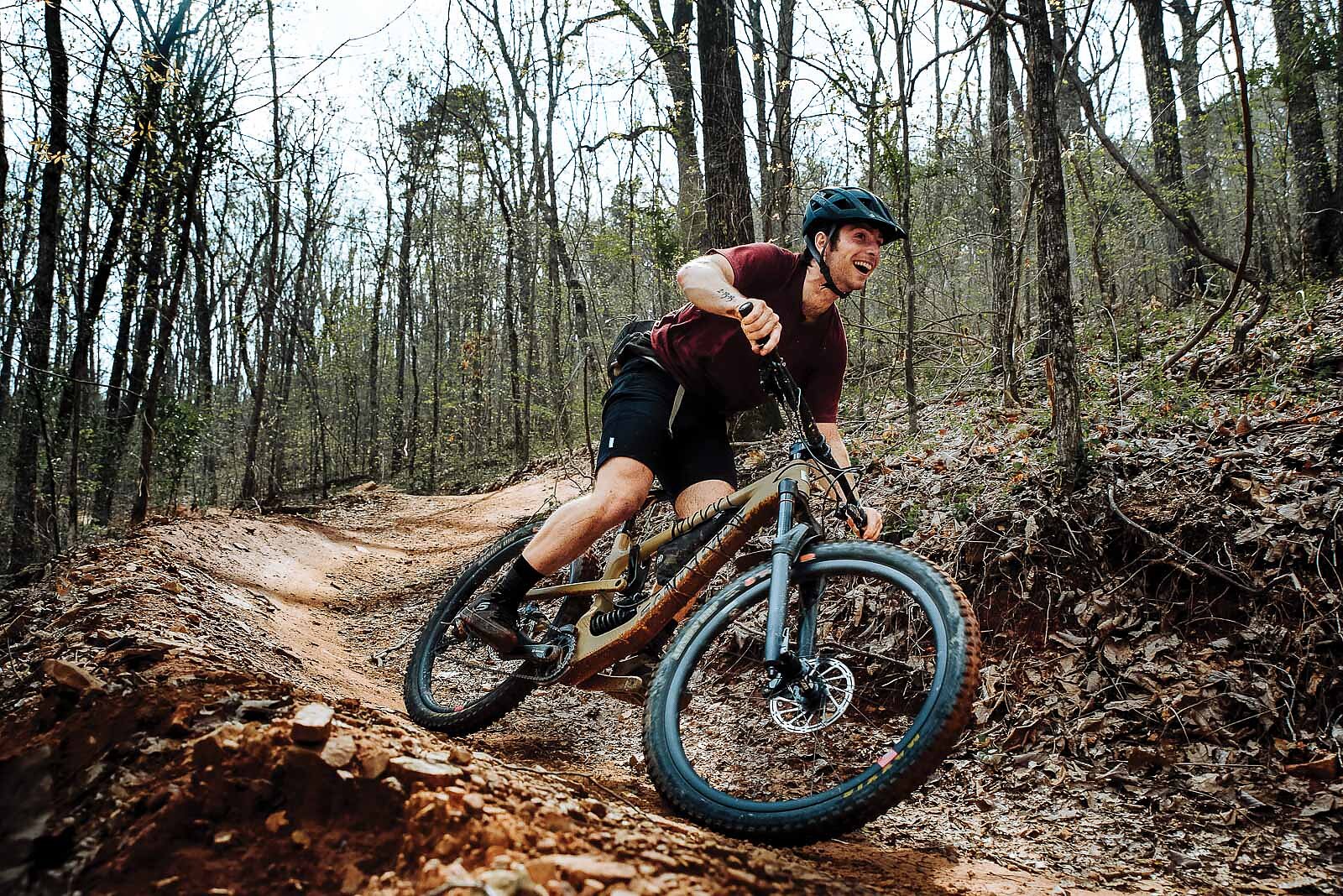 In addition to advocating for new trails, SORBA and a host of other organizations—including the Lula Lake Land Trust and the Lookout Mountain Conservancy—are pushing for the opening of existing trails that are currently closed to bikes. The John Smartt Trail on Lookout Mountain is expected to be opened to bicycles in the near future, allowing for another 50 miles of connected singletrack, doubletrack and bike paths extending from downtown to Cloudland Canyon, on the mountain's western fringe.
"What Chattanooga has is a patchwork of protected lands all around the city," says Charlie Mix, a SORBA board member who works as a GIS mapper. "Some of those are owned by TVA, some of those are forest land or state land, but a lot of those are on private land or conservation land."
With so many trails winding through the mountains overlooking the city, there is no shortage of breathtaking views. One of the most celebrated, on Raccoon Mountain, is at a small section of trail nicknamed "the Wall," a somewhat flat area jammed between two of the High Voltage trail's steepest downhills. Here, a large boulder marks the spot where a gap in the trees affords views across the Tennessee River Gorge, a gaping 26-mile canyon. More often than not, however, this view fades into the background, as most riders are having so much fun descending High Voltage they can't bring themselves to stop.
"I never get tired of riding High Voltage," Mix says. "I love the combination of switchbacks and natural trail features at the top and the flow at the bottom."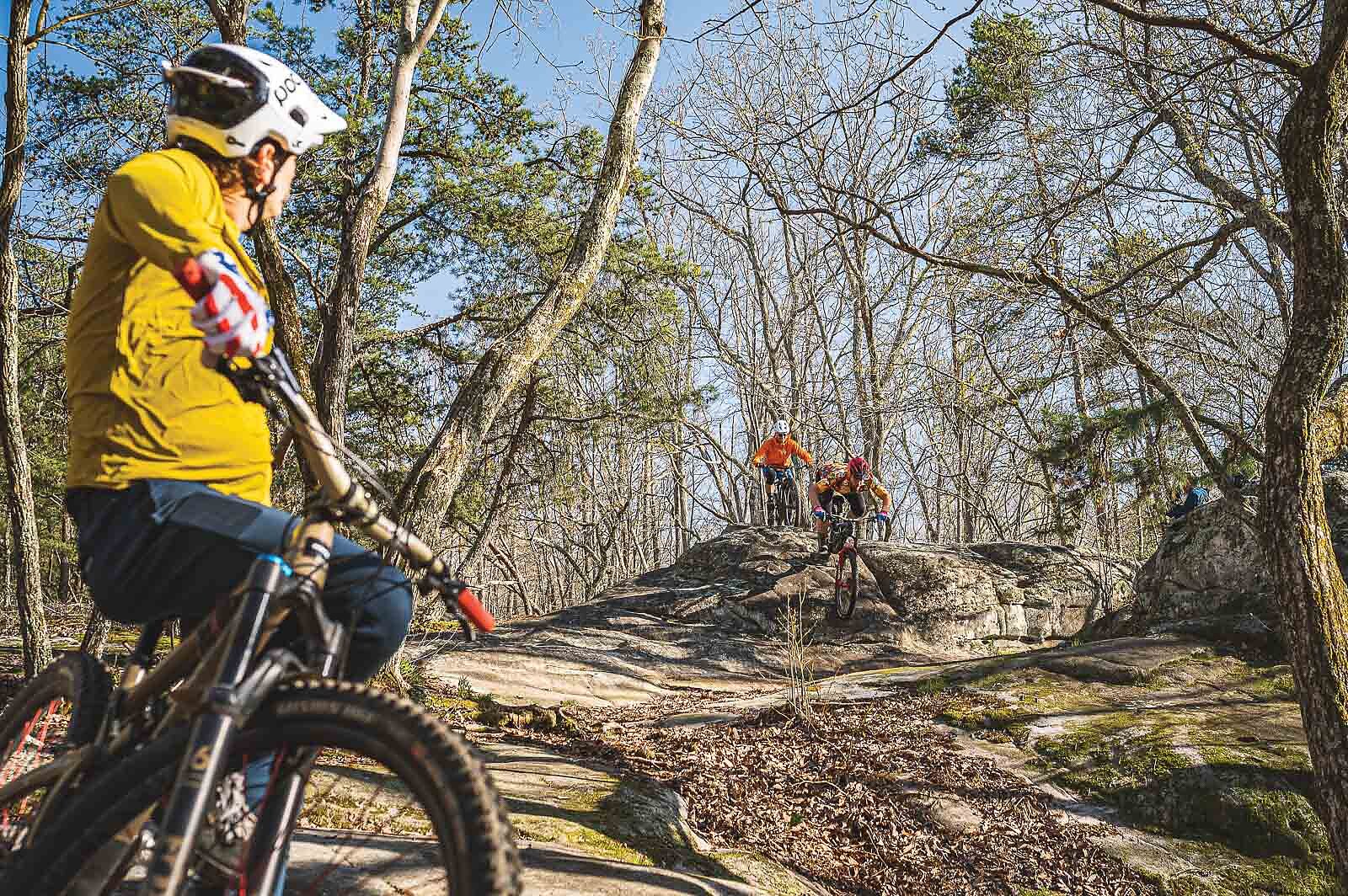 Indeed, High Voltage is a favorite among Chattanooga's growing population of gravity-oriented riders, and it's partially responsible for the town's now-infamous Tuesday-night rides. When the trail was first built, a local home brewer started an un-official enduro race that culminated in a descent of High Voltage. Each week's winner was awarded a growler of homemade beer.
Though the race's founder eventually stopped racing after a series of nasty injuries, the Tuesday-night ride was reincarnated a few years ago when current SORBA president, Les Warnock, pitched the idea of running a free shuttle up Raccoon Mountain, sponsored in part by Cycle Sport Concepts, a local bike shop. The idea was an instantaneous hit, bringing together multiple bikeshop groups and a slew of people who had never ridden together. The ride grew so big that Cycle Sport Concepts bought a trailer to shuttle everyone up the mountain. The bike shop eventually went out of business and had to sell the trailer, but the Tuesday-night ride continued, and prior to COVID-19 restrictions it was common to see between 30 and 40 riders piling into pickups each week to shuttle to the top of High Voltage.
Along with being a fun time, the Tuesday rides have served as a bridge between different riding groups, fostering a sense of community and common ground.
"Pre-COVID, we had a growing community," Warnock says. "That was a big goal of ours, to try to get all those fractured groups, pull them in, and have more of a community feel here. We hope to get all that stuff fired back up as soon as COVID's over."
Like most previous SORBA leaders, Warnock has spent considerable time traveling to other riding destinations. His first trip west was a rock-climbing excursion to Squamish, British Columbia, where he took a day off from climbing to ride the local trails. This is when he realized that, while Chattanooga has rock-climbing routes that rival those in Squamish, the mountain bike trails were lagging far behind in terms of technicality.
NOT ONLY IS THERE A SHARED SENSE OF IMMENSE POSSIBILITY, BUT THERE IS ALSO A SHARED SENSE OF RESPONSIBILITY TO SHAPE AN OUTDOOR-FOCUSED FUTURE FOR THE CITY.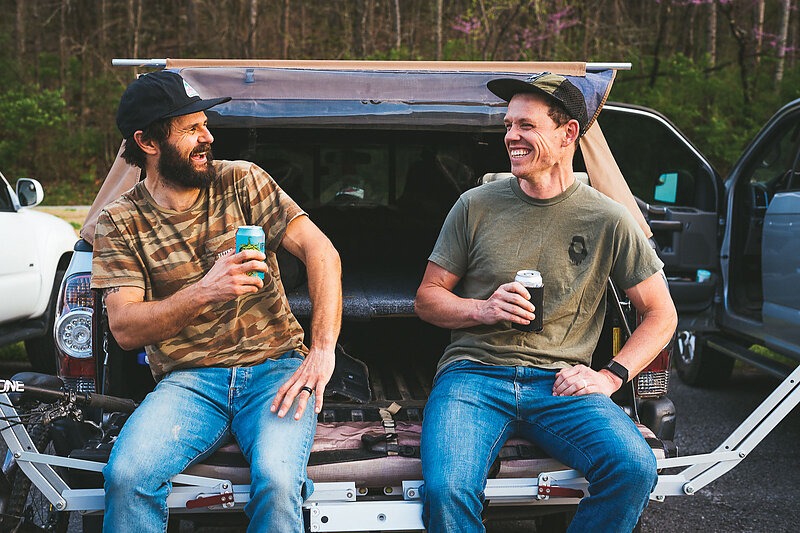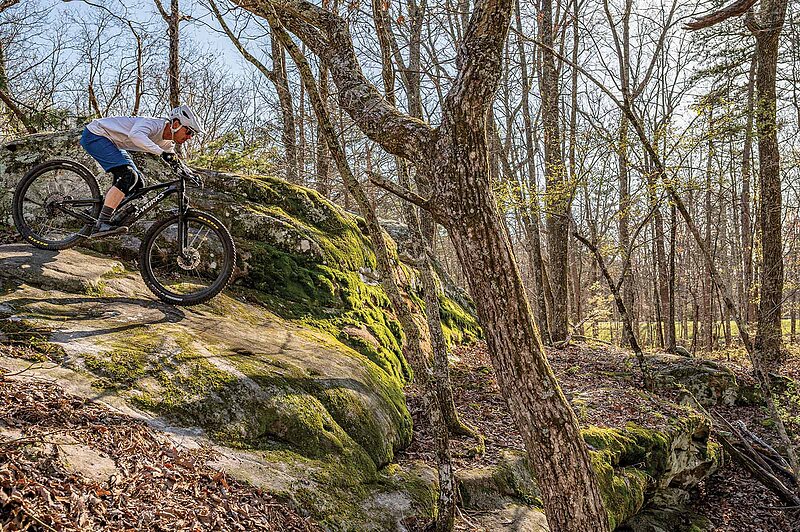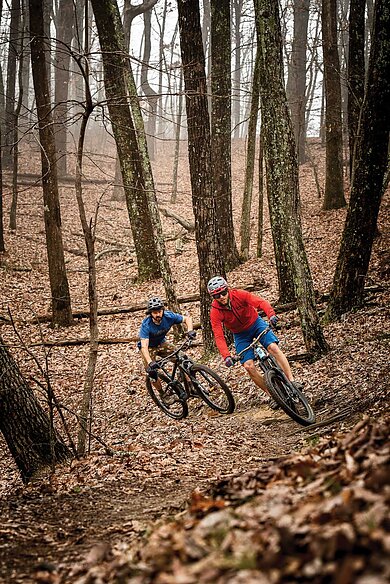 "Things were never the same for me after that trip," Warnock says. "When I went to Squamish, I realized that they also have world-class climbing, but the mountain biking there is also world-class. The riding here isn't up to the same level. The hardest trails here are maybe blues there."
Upon his return to Chattanooga, Warnock realized that the lack of world-class trails wasn't due to a lack of suitable terrain, but rather to a lack of advanced trails. He quickly spearheaded SORBA's efforts to develop the Walden's Ridge network, a series of downhill-only trails intended to bring an entirely new riding style to the city. These trails will offer proper bike-park features, with jumps, berms, drops and highly technical descents.
"I think Walden's is going to change the face of Chattanooga mountain biking," Warnock says. "Not to say the Chattanooga mountain biking that is here isn't amazing. It is. But we have cross-country trails well-established now, and they are really good cross-country areas. If we want to keep up with the times in mountain biking, we need to look forward and see where the bikes are going, to understand that gravity riding is a thing and bring that to Chattanooga. Once we open people's eyes with Walden's, there's plenty of that terrain to go around."
Though gravity-oriented riding has long been viewed as one of the least-accessible disciplines in mountain biking, the Walden's Ridge project has the potential to open up many other cycling opportunities for Chattanooga, given that new shuttle-access routes should lead to more rideable doubletrack in the area known to locals as Signal Mountain.
"Yes, it's a gravity park," fellow SORBA board member Gaston Farmer says. "But from another perspective, as a cyclist who's into cross-country touring or gravel, it's going to open up a safe passage to the top of Signal Mountain."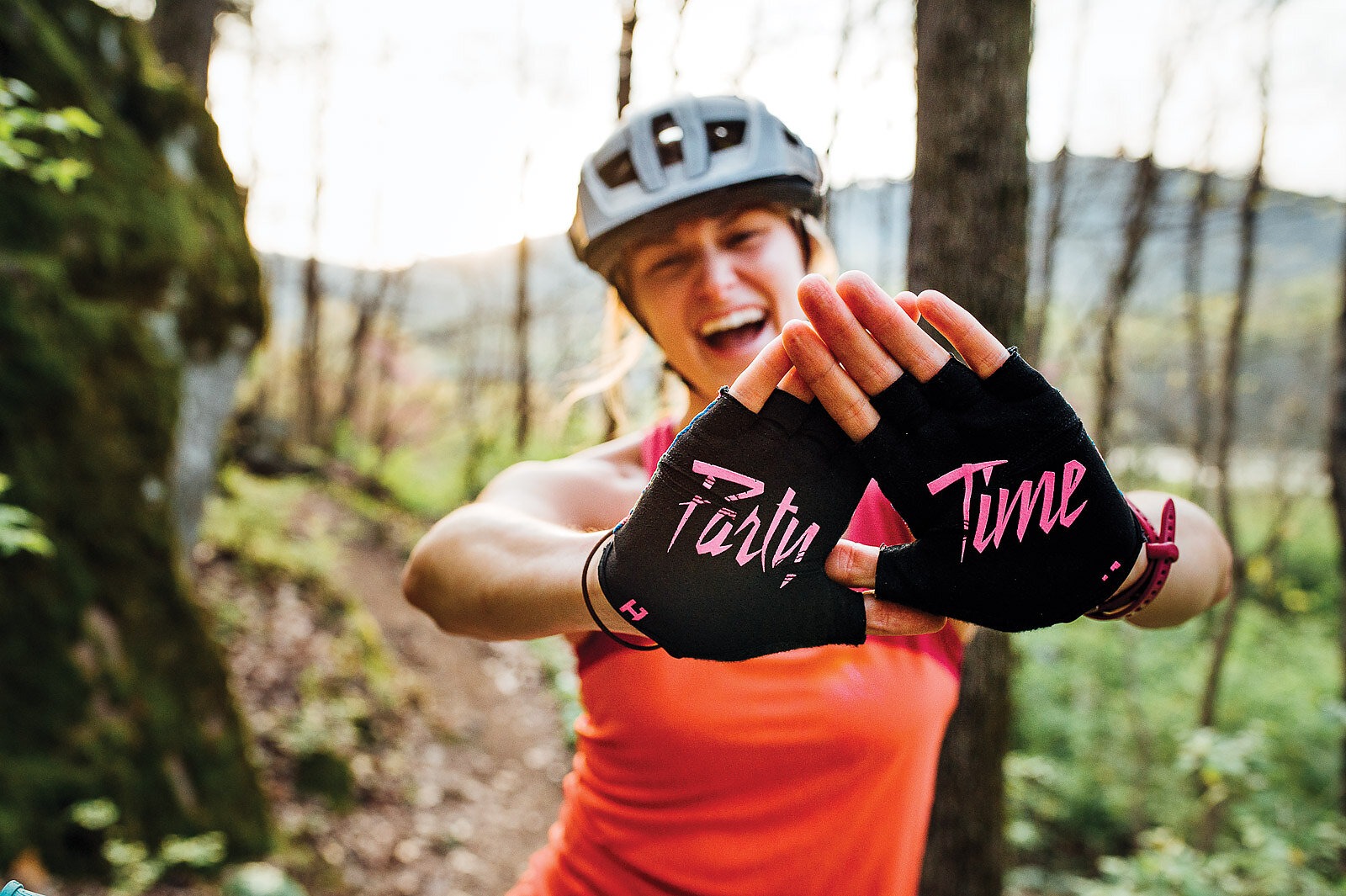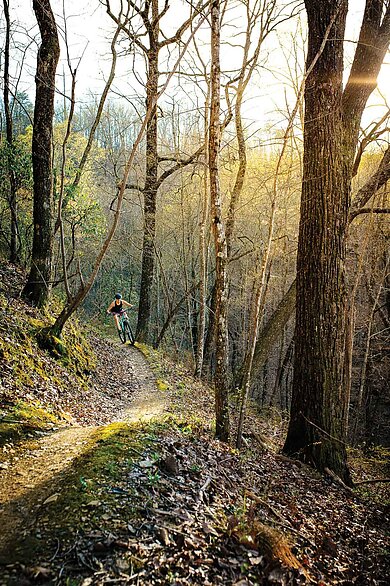 Farmer is far from alone in his multidisciplinary view of Chattanooga's cycling community as a whole. Kat Volzer, a local enduro racer whose day job involves teaching underserved kids how to safely ride bikes on the city's roads and sidewalks, sees other opportunities. In the process of teaching, she's found that acquiring basic mountain bike skills helps kids more easily navigate urban obstacles such as potholes and sidewalk curbs.
For her part, Volzer is using her experiences and coaching skills to help develop a more diverse biking community. She is now pursuing her Level 2 instructor certification with the Professional Mountain Bike Instructors Association, which will qualify her to teach how to handle jumps and drops. Once Volzer receives her certification, she plans to get more girls and women involved with enduro-style riding by offering low-cost clinics and events geared toward the trails at Walden's Ridge.
The broad-minded perspectives of Farmer and Volzer seem to be microcosms of the Chattanooga spirit when it comes to cycling and other outdoor recreation activities. Not only is there a shared sense of immense possibility, but there is also a shared sense of responsibility to shape an outdoor-focused future for the city.
"There's a lot of weight to being on the SORBA board, even though it's not a paid position," Warnock says. "You feel pretty responsible for trail development and trail maintenance in the region. I have really big ideas about what I want this area to be and it doesn't weigh lightly on my shoulders."
Big ideas, however, are what brought Chattanooga mountain biking to the place where it is now, poised to be one of the most well-rounded destinations in the southeastern United States. And, according to Laudeman, one of the original advocates for Chattanooga mountain biking, this is only the beginning.
"I can easily imagine a system of singletrack that loops all around Chattanooga and interconnects all of these trail systems," he says. "It would also be, to me, a great catalyst for outdoor recreation, for everything great about Chattanooga."