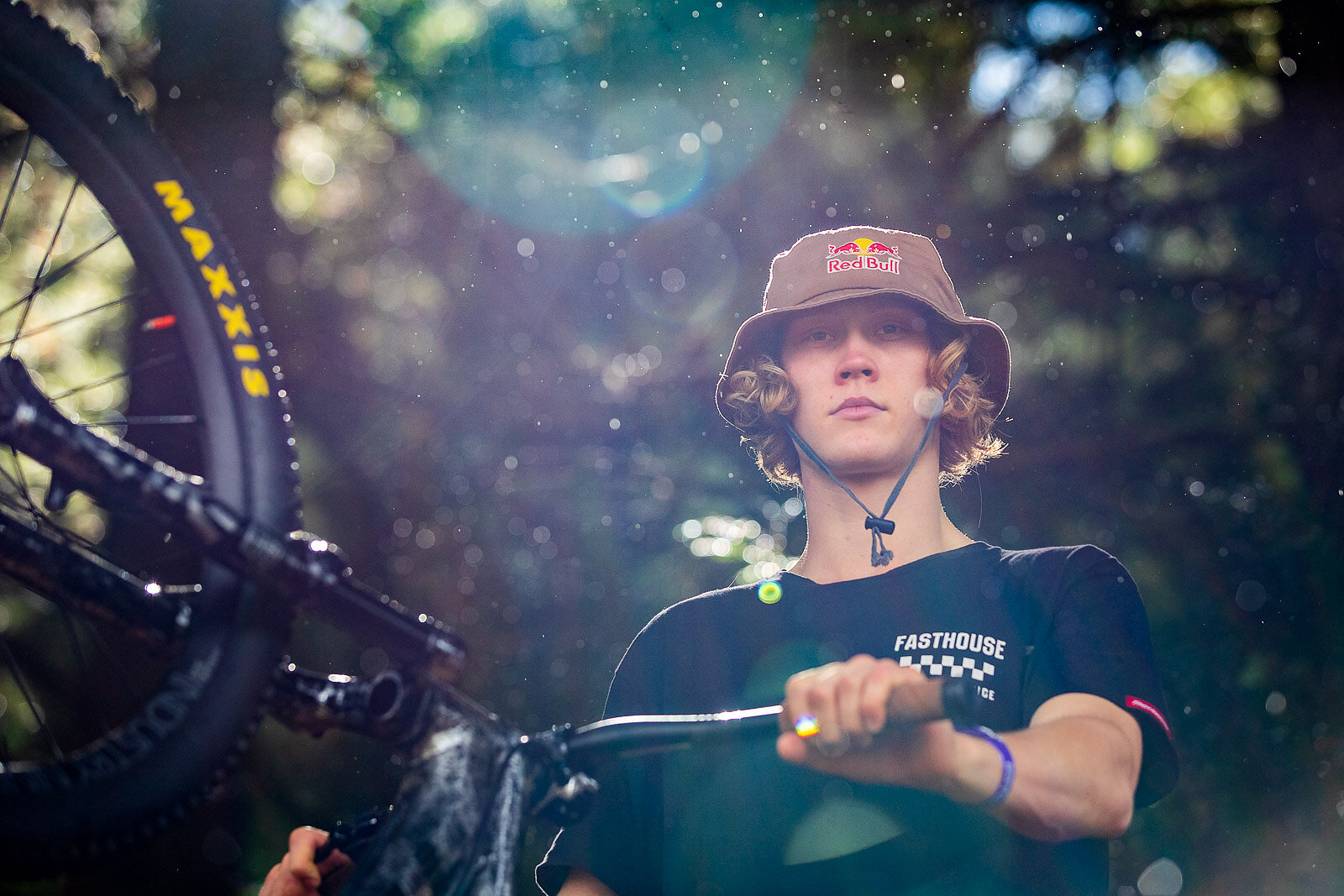 Due Time Emil Johansson and the Power of Perseverance
Imagine yourself transported back in time to the year 1966.
You wander into the Bag O'Nails club in Soho, London, where some of the most important pioneers of rock 'n' roll guitar hang out and play. When a tall, left-handed guitarist from Seattle takes the stage, the assemblage of musical icons—people with names such as Clapton, Lennon, McCartney, Beck, Townshend, Jones and Jagger—are stunned by what they witness.
Beyond his hypnotic stage presence, Jimi Hendrix blew everyone's minds with his ability to make an electric guitar manifest the creativity bubbling inside him into something tangible. The notion of an artist using their instrument as an extension of their own body has become almost clichéd, but in Jimi's case it was completely true. In Jimi's case it was as if the guitar translated the brilliance of his soul into a language the rest of the world could also experience.
Fast-forward 50 years to the 2016 Red Bull Joyride contest at Crankworx in Whistler, British Columbia, where the most influential slopestyle athletes in mountain biking were gathered for their annual redefi nition of progression. When a tall, fresh-faced 17-year-old from Trollhättan, Sweden, dropped in, all of the sport's heroes stopped to pay attention.
The upper echelon of slopestyle is a tight-knit group, and the amount of respect they show eachother for the skill, dedication and inherent risk it takes to get to the top is evident. But this time there was a palpable level of extra interest. The superstars were silent, eyes trained on the rider on course. They were being more than polite, more than simply welcoming of a rookie into their club—they were peering intently into the future.
The kid did a clean, composed and confident top-to-bottom run. Opposite tailwhip to backflip barspin to one-footed can to oppo tailwhip to backflip barspin to 360 barspin with an inward table to backflip tailwhip to suicide no-hander to backflip barspin to 360 can to barspin to double bar and a 360 drop to finish. He played all the notes with precision and panache—and netted a fourth-place finish at the end of the day. It was one step shy of the podium, but a clear sign of the future.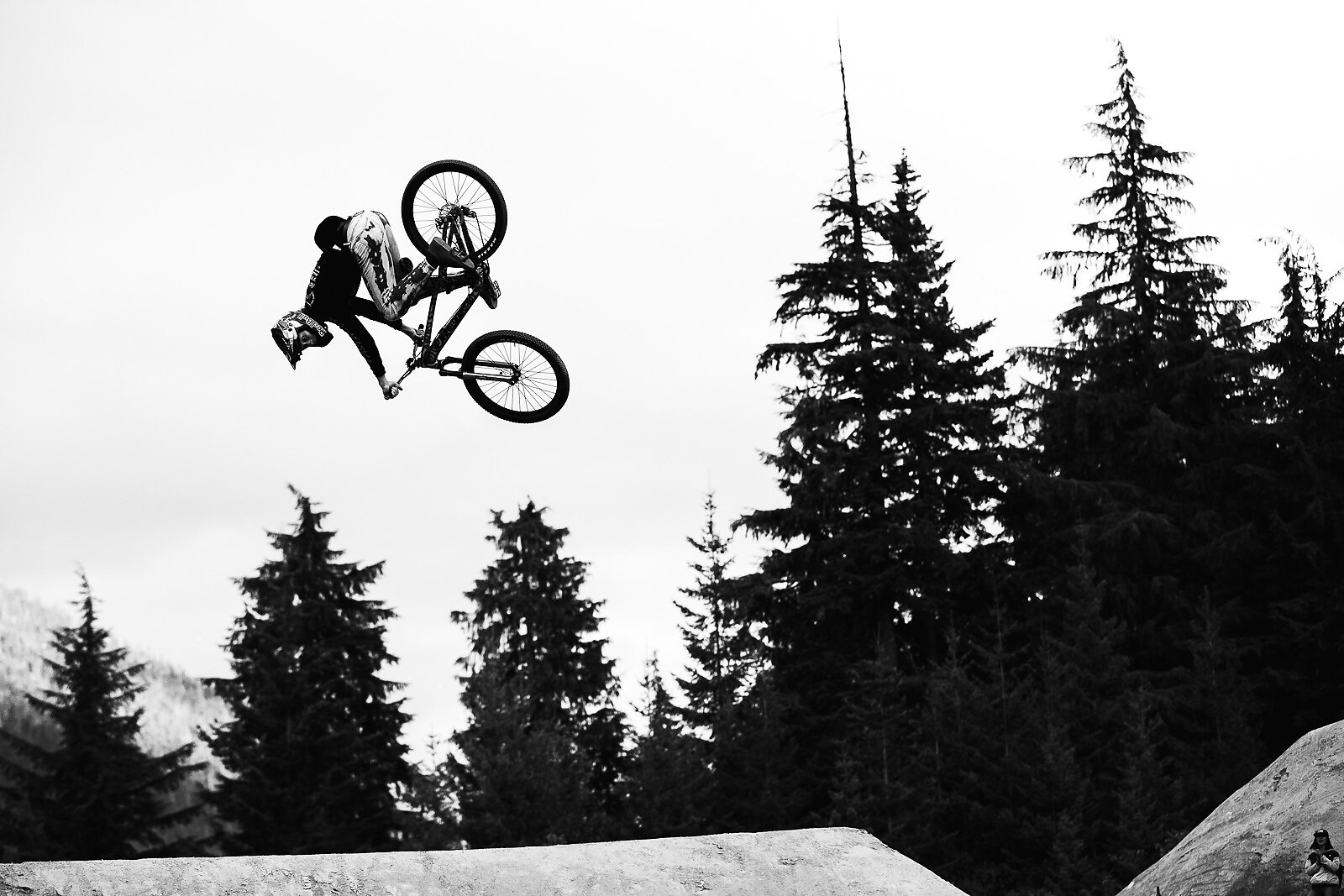 Emil Johansson was born on June 20, 1999 in Trollhättan. Like so many kids from his country, he played hockey as a youngster—handball too—and was drawn toward playing goalkeeper, based on the individual nature of the position. But it was the bike that fully captured his attention, for similar reasons as being a goalie.
"It's basically up to me and what I'm prepared for," he says. "You just need to focus on yourself and do it individually. I really enjoy that."
He credits Anthony Messere's soaring 2011 Crankworx Joyride debut as the moment that sort of launched his life's trajectory.
"[It] made me see a possibility of being in the sport," he says. "Because he was this young kid, and he was really good, and he was just 15 and competing on the highest stage. [When] I saw him do this I had just turned 12. I was like, 'Shit, I wanna do that when I'm 15—that's sick.' That has to be one of the most impactful events of my childhood."
Messere's age during his first trip to Joyride was the go-to talking point for media, judges and fans, but the energy with which he attacked the Joyride course seemed to signal a new era of mountain bike slopestyle. His airs were otherworldly massive and led many of the thousands who witnessed the event to compare his runs to the most celebrated aerial athletes in skateboarding and snowboarding. It felt as if the laws of gravity had only a nominal effect on him, and he exploited that gift supremely. His debut participation at Joyride also marked the year that Brandon Semenuk won the event for the first time. And it was Cam Zink's last trip to the Joyride podium.
The difference between 12 years old and 15 years old is pretty significant when you're only 12, and similar is the difference between 15 and 17. The fact that it took Johansson two years longer than it took Messere to make it into the big show in Whistler might've left a small psychological mark, though that scar seems pretty faint at this point. It also wasn't a competition between himself and the memory of a rookie Messere, but rather Johansson's internal drive to be the best he could be. And this is a beginning glimpse of what makes him so fascinating.
By the time Johansson dropped in for his first practice runs on the Joyride course, he'd been away from home and on his own, so to speak, for the better part of a year. It's not the first time in history that a 16-year-old left home to pursue higher education in their field of choice, but it provides some insight into his focus and dedication.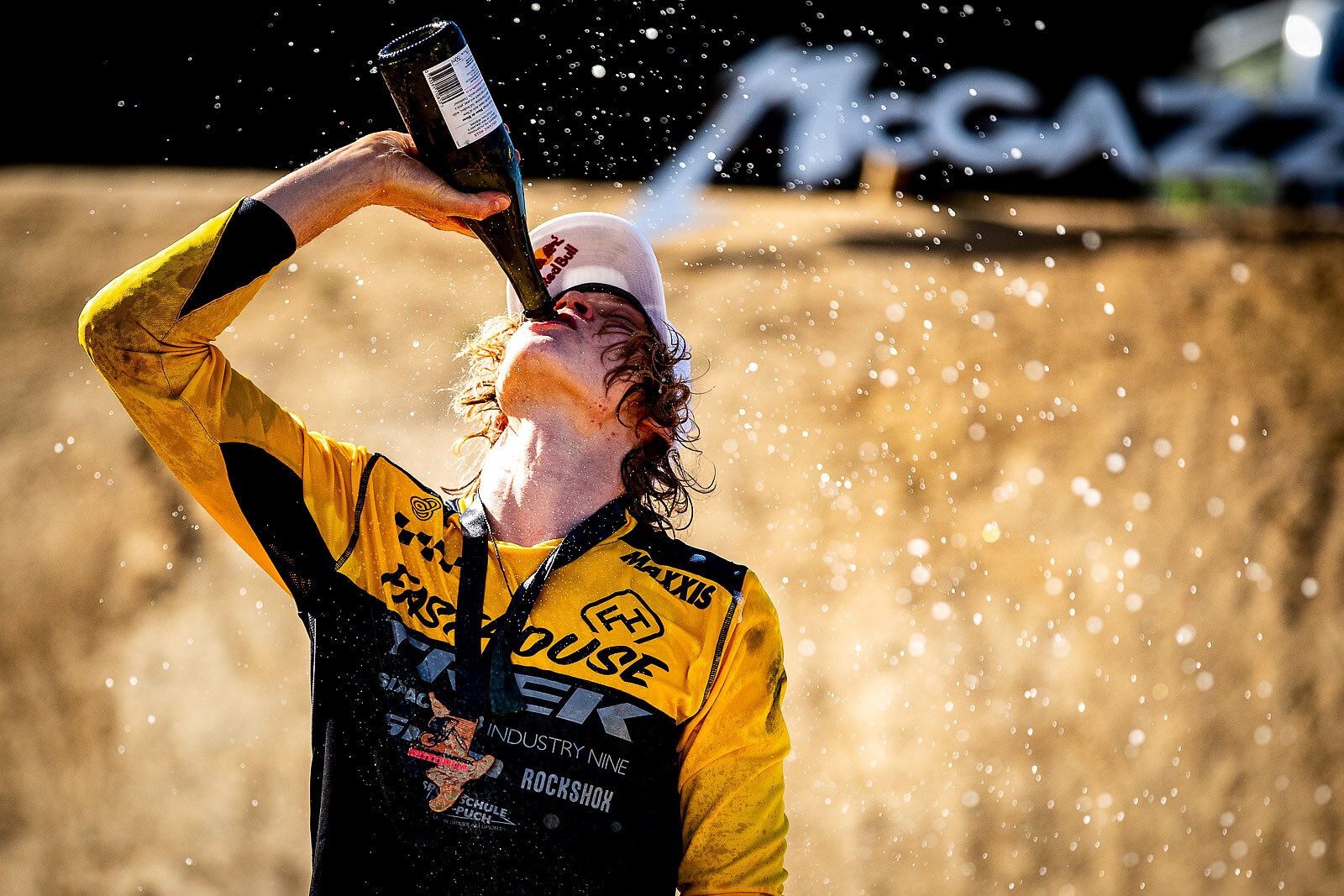 Johansson's rise to the elite level of the slopestyle world may have seemed meteoric, but it was far from accidental. Those in the know had been paying attention, and his near-podium Crankworx debut opened the door to plenty of attention and some big name sponsors.
In March of 2017, at Crankworx Rotorua, the official start of the global mountain bike season, Johansson was sporting new gear and new bikes—he was on a slopestyle bike for the first time—and he was officially a contender. He'd studied the flow and features of the course designed by the late Kelly McGarry and devised a set of options he thought would give him a competitive run. And his off-season preparation proved successful, as he left New Zealand with a third-place finish behind Nicholi Rogatkin and Torquato Testa.
Rogatkin's winning run was true to his signature style—big and forceful, almost bombastic. Johansson's run gave yet another look at his style and work ethic. By the time the cameras went live for the broadcast, he had already done several top-to-bottom replicas of his competition run, something the majority of the world's best slopestyle athletes aren't able to accomplish. And whereas Rogatkin displays a certain brutality that could be right at home in the mosh pit at a Slayer show, Johansson's style is cerebral and even elegant, almost balletic in comparison.
Rogatkin is almost defiantly unapologetic about his substance-over-style approach, but he can also identify true talent when he sees it.
"The first time I saw Emil ride was at 2016 Trix in Leogang, Austria," Rogatkin says. "He immediately displayed a unique style and a ton of confidence on course and in his runs. Emil quickly caught everyone's eye and progressed into one of slopestyle's most savage riders."
"The first time I saw Emil ride was at 2016 Trix in Leogang, Austria. He immediately displayed a unique style and a ton of confidence on course and in his runs. Emil quickly caught everyone's eye and progressed into one of slopestyle's most savage riders."—Nicholi Rogatkin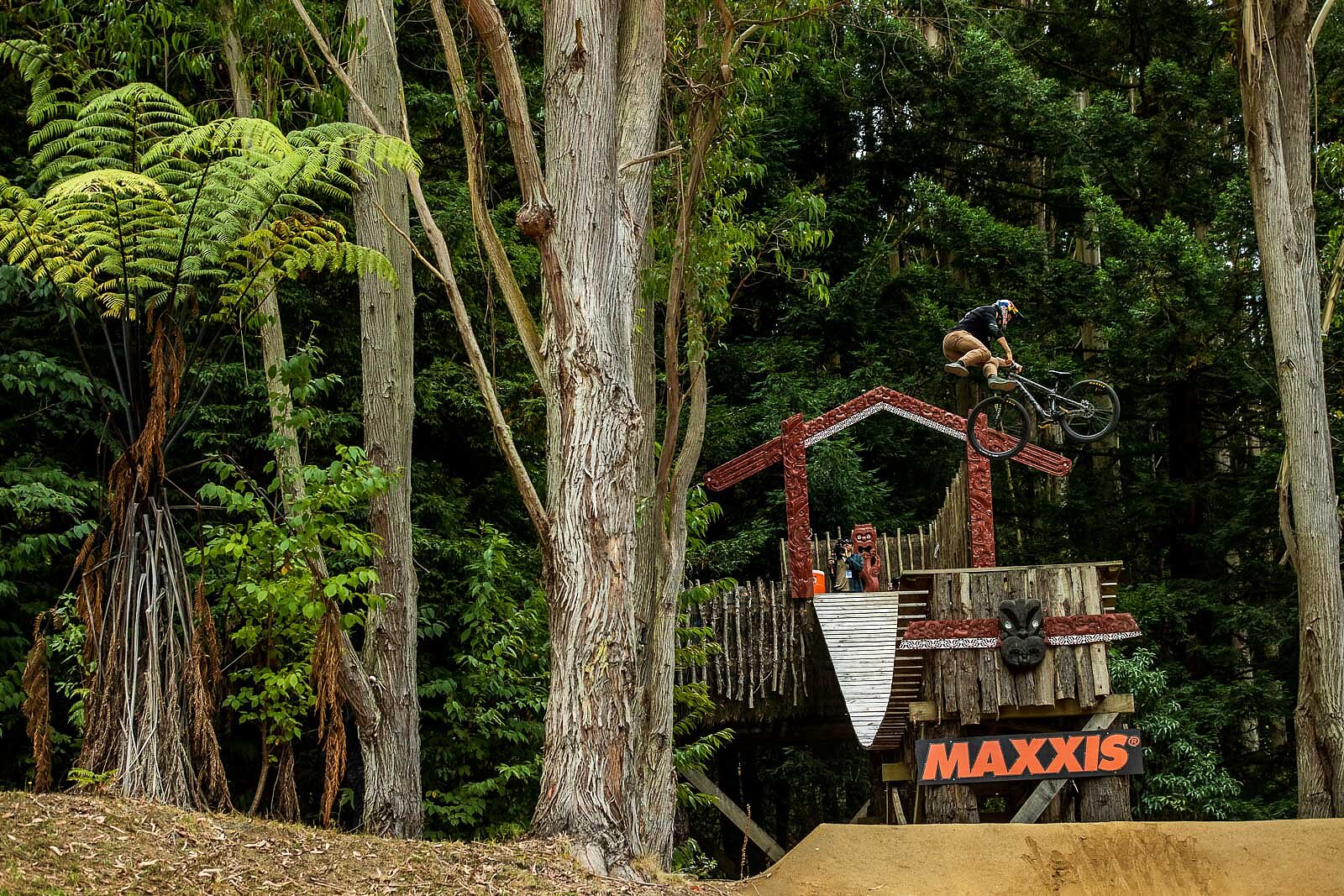 His performance in New Zealand set the stage for an incredible year. After breaking into the top three there, he climbed one step higher on the podium at Crankworx Les Gets. In Innsbruck, he finished fifth. And then at Crankworx Whistler, newly adorned with a Red Bull helmet, he climbed to the second step of the podium, where he was sandwiched between the legends Semenuk and Ryan Nyquist.
And then one more big result, a second-place finish at Red Bull District Ride in Nuremberg, Germany, netted the 18-year-old the Freeride Mountain Bike World Championship. He was on top.
But nothing in life is easy, and Johansson was about to learn that what the mountain bike gods giveth, they also taketh just as quickly. The 2018 season was taken from him ruthlessly.
Reality is what a person knows, and Johansson's reality had increasingly become plagued with fatigue and pain—two conditions that are rare for any young person, but completely foreign to a champion athlete. He'd grown accustomed to these things, and coped with his reality without complaint, but they'd become too debilitating to be ignored.
Trips from his home in Sweden to medical specialists in Germany discovered a near-perfect storm of complications inside his body that were conspiring to end his career on the bike. A common Epstein-Barr virus triggered mononucleosis, which in turn triggered an autoimmune condition known as Hashimoto's disease. The combination of these things wrote a grim prognosis. By most accounts this should have been the end of the Emil Johansson mountain bike story.
The Irish writer George Bernard Shaw once famously stated that "Youth is the most beautiful thing in this world—and what a pity that it has to be wasted on children."
He clearly never knew anyone like Johansson.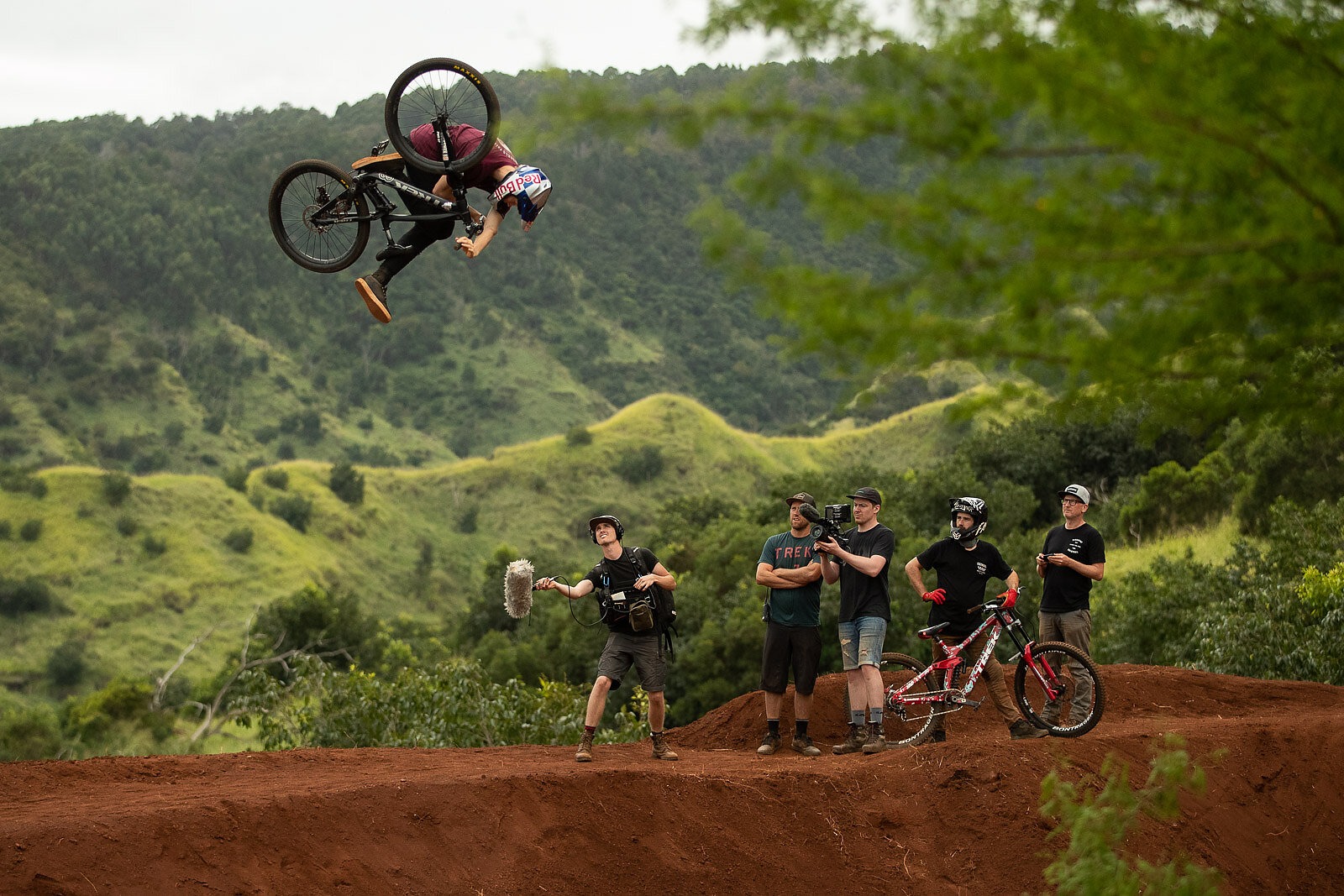 There's no absolute release from the prison of Epstein-Barr and Hashimoto, only a form of parole in which the parolee attempts to lessen the negative effects. It requires constant vigilance, careful consideration of diet and rest, and no small amount of medical monitoring.
For a normal young person, this could easily be seen as a life sentence. A normal athlete would likely have retired from their career and the spotlight, and resigned mountain biking to a casual weekend pastime. But Johansson is far from normal.
Already in tune with his body's ups and downs, he capitalized on his elite-athlete ability to hyper focus. To master tricks on the bike, slopestyle riders must master the subtleties of body position and control. So Johansson employed a modified version of this to his daily life. He monitored his strict daily diet and adapted it constantly in order to feel better. He became a case study in the capacity for patience and the power of perseverance.
In August of 2018, 10 months after his last competition, he returned to the world slopestyle spotlight in Whistler. And his return was reminiscent of his debut two years prior. He stomped a beautiful top-to-bottom run that earned him another fourthplace finish, but it might as well have been a win in the eyes of the fans. It was an emotional reunion with the sport he loves so much.
The 2019 season looked like it would be another breakthrough year. But once again, the story of Johansson took an unexpected turn. A crash in practice at Crankworx Rotorua acted as a virtual bomb inside his body, triggering the negative effects of his condition. His comeback was once again in doubt.
He bounced back quickly, with a second-place finish behind Brett Rheeder at Crankworx Innsbruck in June. And then, two months later, the comeback story seemed to be made complete when he won the Super Bowl of slopestyle, Red Bull Joyride.
The typically stoic Swede is not immune to emotion, but the relief and outright joy that manifested itself after his Joyride win was real and unfiltered. The sport that began as pure counterculture but has become bigger, more buttoned down and mainstream, was taken back to its roots with Johansson's reaction to being on top. Somewhere in their corporate offices, his sponsors might've grimaced at his raw and uncensored interviews, but the fans were right there with him and every undeleted expletive, heartfelt hug and high-five.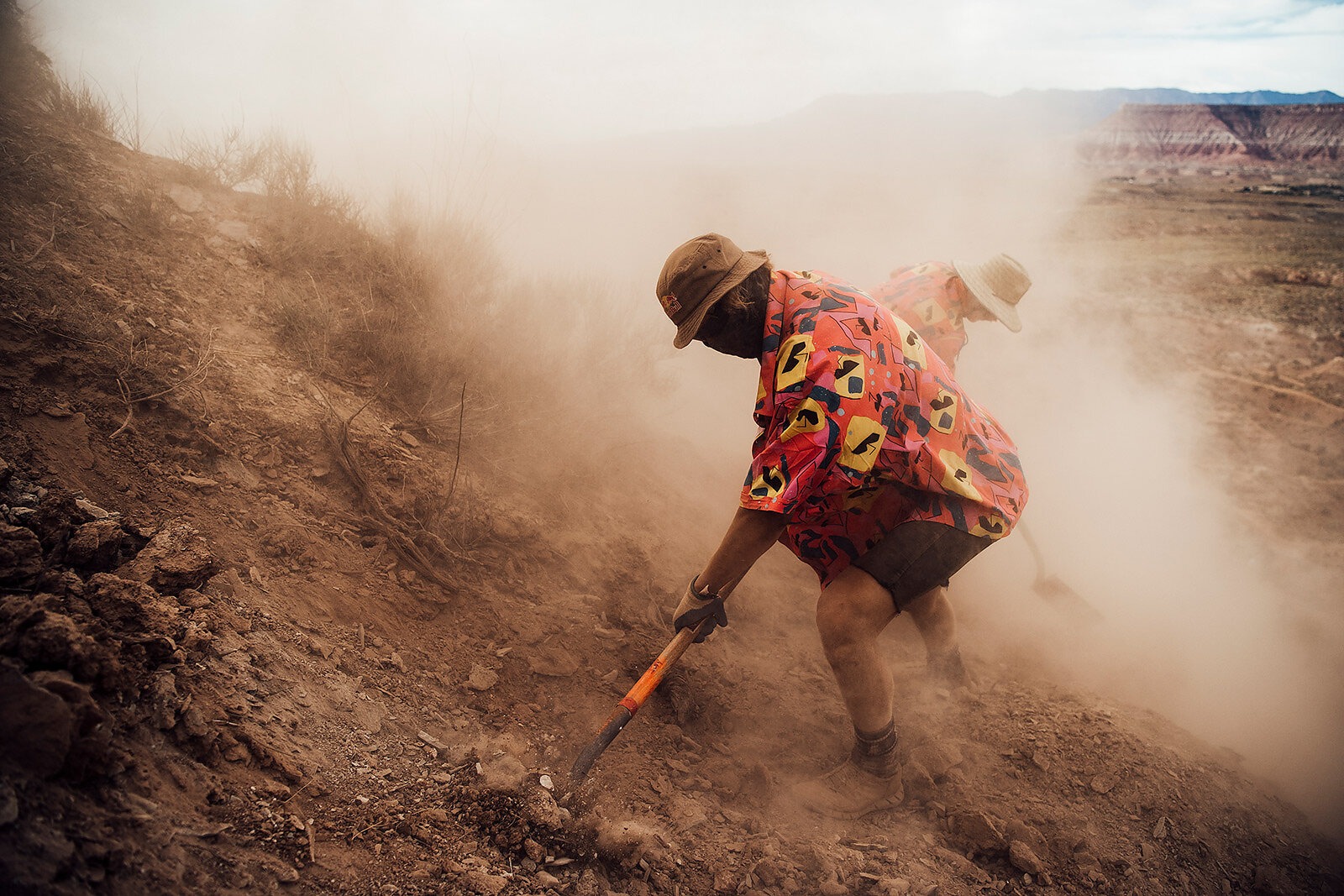 The wizardry of Johansson manifests itself in contest performances, sure, but results are not the real magic. If there's a real magic about him, it is a combination of work, patience and an innate understanding that everything happens in due time.
He's studious by nature and admits to spending more time reading biographies of sports heroes and other important historical figures than most of his contemporaries. He can recite other riders' past runs from memory, focusing on the key components of those runs as if they are lessons he can use to his advantage in the future.
Despite his successes in the most hallowed stadiums of slopestyle, he's not bound by his own history. Instead, he's always looking forward to his next opportunity. In the fall of 2019, Johansson landed a last-minute entry into Red Bull Rampage. With little prior preparation, he nailed an elusive clean top-to-bottom run that resulted in a 12th-place finish at the biggest big mountain event in the world.
"I got 12th place and that's one of my biggest accomplishments," he says. "It doesn't necessarily have to do with [the result], it's more about how much I push myself. If I'm satisfied with what I'm doing at the contest, if I push myself and don't hold anything back—and that's just enough to get 12th place—I'm more than happy. I enjoy that process, that good things take time. You have to be patient and keep working."
He monitors his overall well-being largely by the way he feels on a daily basis and has dedicated much of his time to ensuring he maintains a baseline of consistently good health. He dutifully stretches and does yoga. And though he continues to open himself to foods he once restricted from his diet, he watches what he eats with a level of discipline most people could never manage.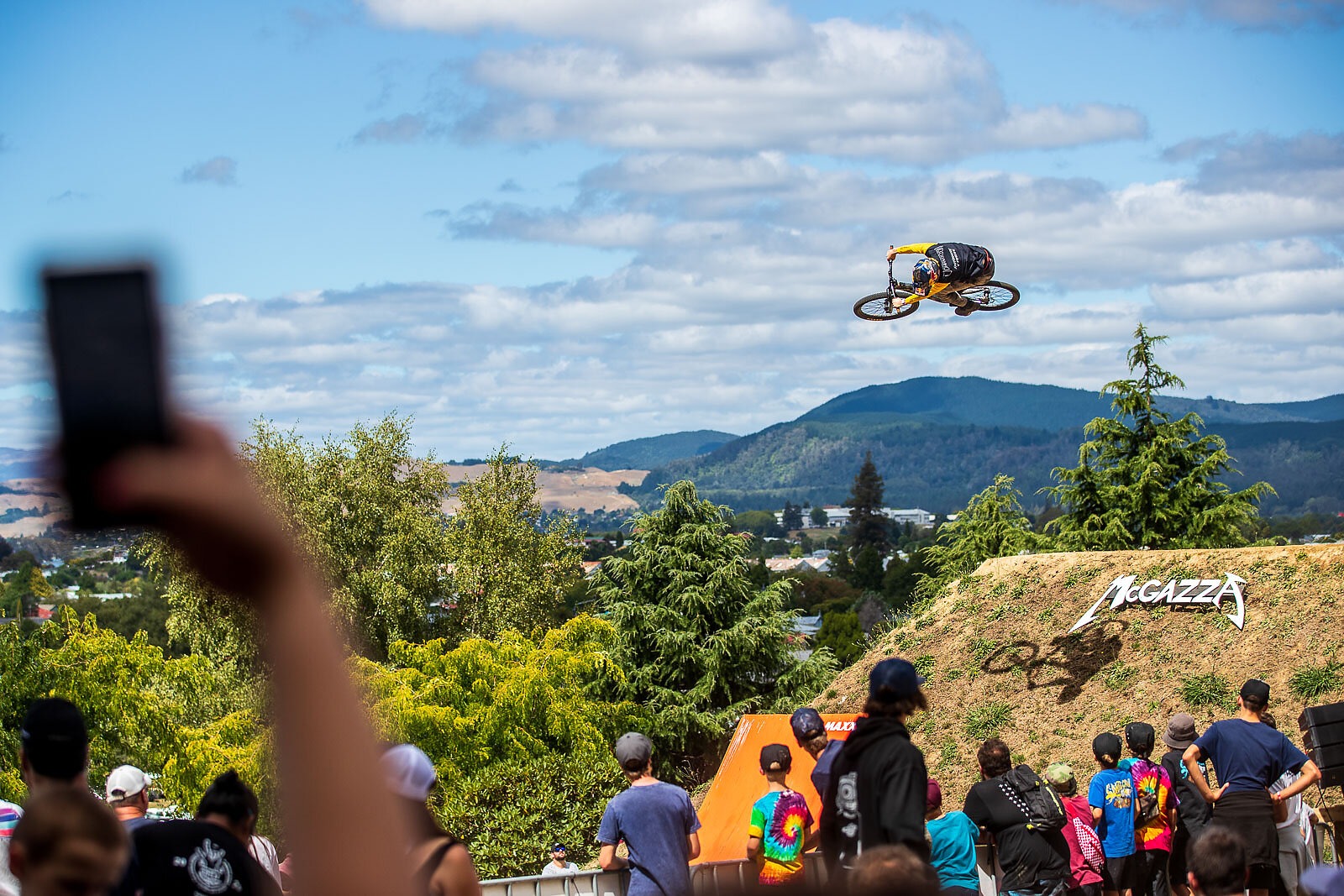 He's a disciple of muscle memory and breaks down much of what he does on the bike to how it feels. If it feels good when he is doing the trick, then it is going to look good to the people watching or seeing it in photos.
"It's a way of expression in an artistic way," he says. "I really value how it looks. I'm not necessarily the guy that throws big whips, but the tricks I perfect, I want to look good. I don't want them to look sketchy or to feel sketchy."
Johansson's eff ortless-looking style is evident in pictures. It's the general consensus among mountain bike photographers and videographers that he's incredibly easy to shoot. His lanky body and languid look give shooters time to process what's happening in front of their lenses. To put it bluntly: If you can't get a good shot of Johansson, you should put down the camera and do something else.
"I remember the first time I actually rode with him—Backwoods Jam at the Coast Gravity Park," says Ryan "R-Dog" Howard, himself an imitable arbiter of sublime style. "[That] really put in perspective how dialed he is on a bike and how he makes it look good too. [He's] the future of slopestyle."
"I remember the first time I actually rode with him—Backwoods Jam at the Coast Gravity Park. [That] really put in perspective how dialed he is on a bike and how he makes it look good too. [He's] the future of slopestyle."—Ryan "R-Dog" Howard
Similarly speaking, he's become a fan favorite in great part due to the fact that he makes what he does look easy. His style on the bike creates an illusion of unforced grace that feels in many ways more attainable than that of his fellow competitors.
It seemed Johansson was poised to pick up in 2020 where he had left off in 2019. His health was good. He'd been imprinting the building blocks of every element of every trick in his compendium into his muscles and brain in preparation for his next contest.
The weeks before leaving for New Zealand were stress filled, as he ran endless Monte Carlo simulations in his head for possible Rotorua slopestyle runs. The talent, preparation and desire were in order, but the variables within a slopestyle run at this level are still very real and very risky. Like most other great action-sports athletes, Johansson bristles at the notion of himself as daredevil, insisting it's the mitigation of risk that's partly the key to success. Mitigation, of course, is not elimination.
Once on the ground in Rotorua, that creative stress he'd been feeling for the prior weeks subsided. He likens it to how a boxer isn't quite ready to fi ght until they've entered the ring and maybe even been punched in the face once. The course had been altered slightly from what he remembered, but it was easy to make adjustments to his endless quiver of possibilities.
Event day came without undue drama. When he dropped in, Johansson was the odds-on favorite. He entered with a big move and followed it with another and another on down the course. Everything was clean, controlled and confi dent. He fi nished the run with a 360 windshield wiper—something no one had seen—and the crowd went crazy. His fellow competitors stood slack jawed on the sidelines like all those 1960s musicians did back when they watched Hendrix reinvent the guitar.
It was Johansson's second Crankworx event win in a row and he looked poised to vie for the Triple Crown of Slopestyle. Unfortunately, his meticulous preparation was no match for a global pandemic, and the remainder of the season has since been canceled or put on hold.
For a normal athlete, the uncertainty of a career on pause would be crushing. Most spend years defi ning themselves by events and podium appearances—maybe the number of views their latest video edit captured.
Not Johansson. At 21, he possesses a mature, stoic outlook on life that most people will never understand. He measures success and failure daily, in the never-ending attempt to perfect his craft. He looks at comebacks and new lessons as integral parts of simply being alive. He's insistent that you never relax or become complacent until you've landed your very last trick—and he doesn't believe he's close to that moment yet.
Back home in Falun, Sweden, he's creating new muscle memory and working on the building blocks of tricks none of us can imagine yet. He works hard—well into the evening each day—and rests with real purpose. He watches what he eats. He documents the ups and downs of his health. He switches back and forth between his slopestyle and big bikes, using each to complement the other. And he waits, patiently, for the next opportunity to join his fellow athletes and compete on the world stage.
Johansson has been called the future greatest mountain biker in history. In due time he might be.