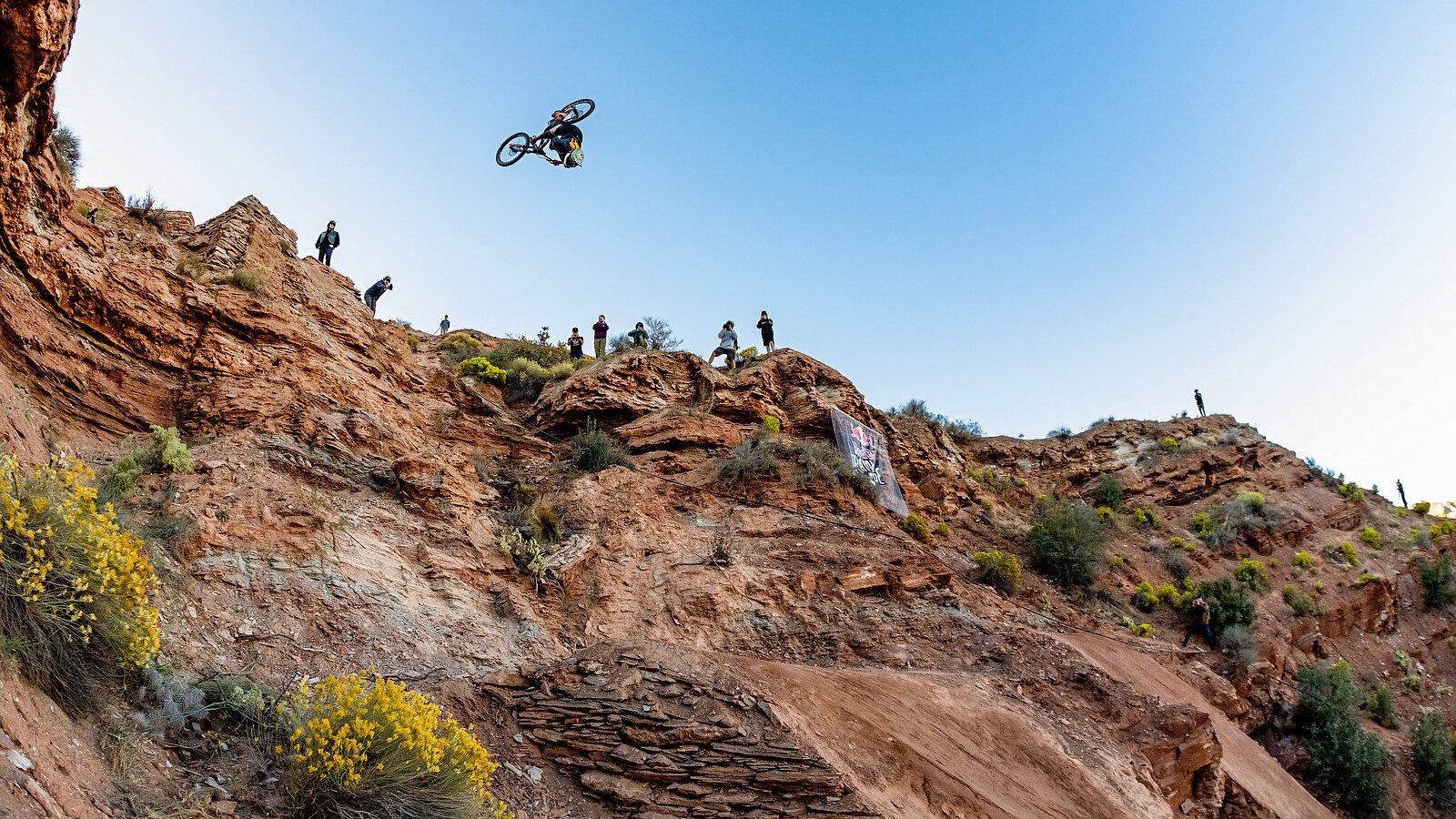 The Dancer Talus Turk Hones His Freeride Moves in the Grandest of Arenas
Talus Turk can dance.
"When I was younger, I was about Michael Jackson and his music—I just really liked to dance," Talus says. "My style of riding isn't super serious. I don't really care what I wear, and what I do on the bike is like being on the dance floor, jamming out to some good tunes, being groovy. That's how I want to ride."
The 21-year-old from Bellingham, Washington, is referring to his Instagram profile, where he calls himself a dancer, rather than an athlete. It fits; the dude can groove on two wheels. He finds flow and builds upon it. He throws down what he knows, then adds a little something extra.
"I didn't want to look like someone who takes social media so seriously," Talus continues. "So being called an 'athlete,' it's obviously what I do, but to present myself as a dancer, it's like, 'Well, I can, but no, I don't do that for a living.'"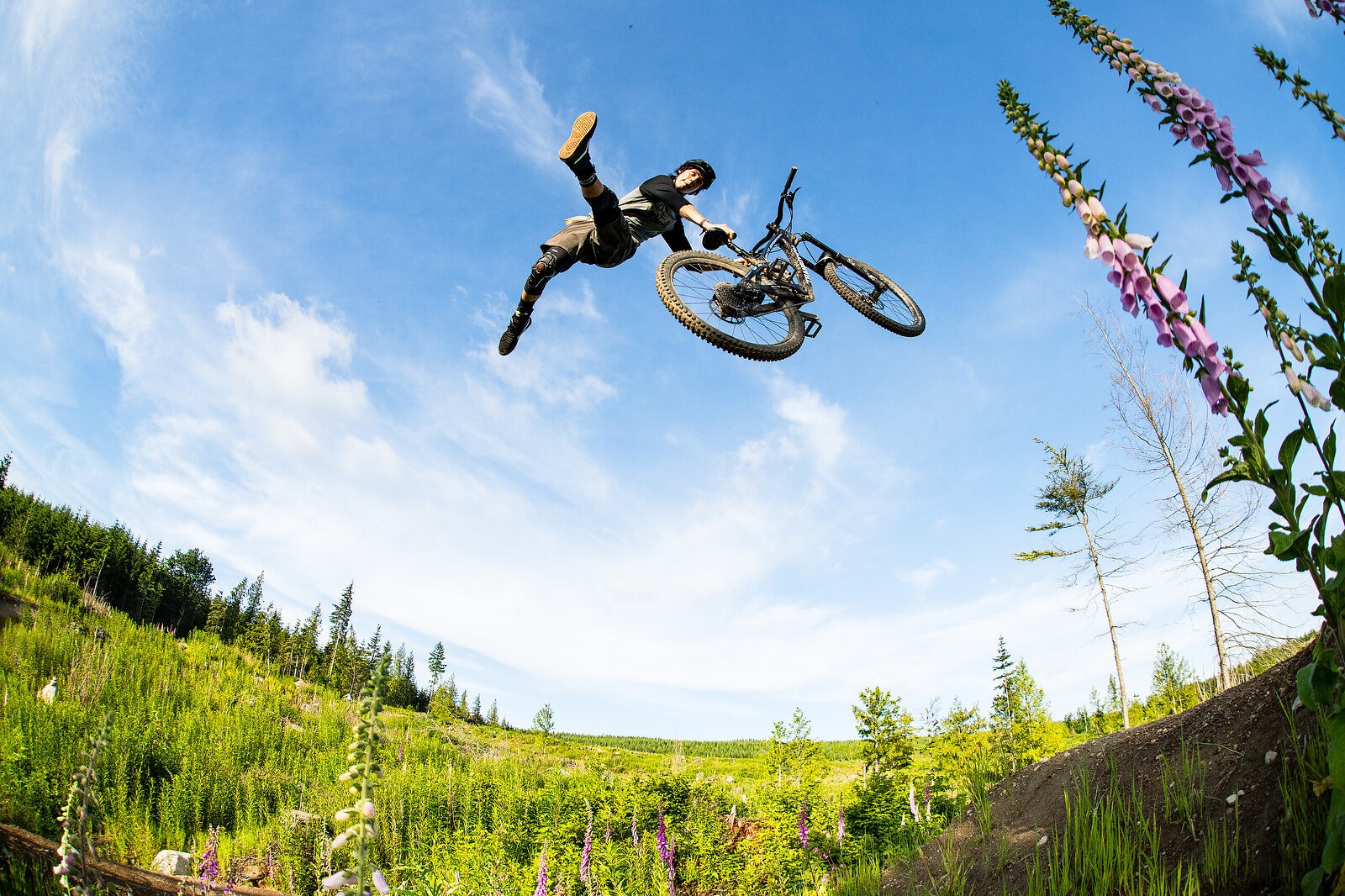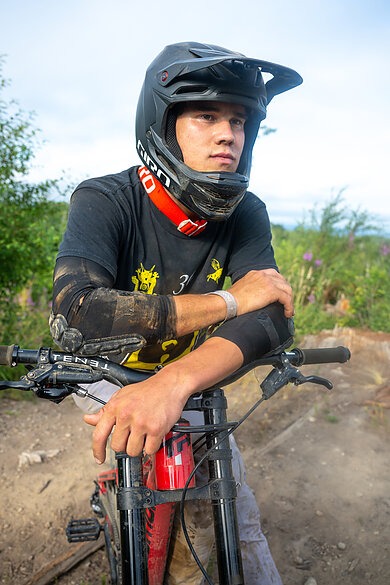 Talus rides his bike for a living now. Earlier in 2023, he was invited to his first Red Bull Rampage near Virgin, Utah, becoming one of only 18 riders to get the nod for the ultimate spectacle in freeride mountain biking. On October 13, 2023, he stomped his second and final run at Rampage, landing him in fifth overall among a field of the world's best.
It happened quickly, but Talus's progression has been calculated. He understands incremental progress—taking a basic trick to a bigger jump, refining it until he's 100 percent confident, and then adding a twist. He finds his groove before improvising. So, while his speedy ascent from Bellingham grom to the Rampage podium might surprise some, those who know Talus have witnessed his disciplined program, coupled with an awareness and wisdom beyond his years.
Four years ago, Talus was just getting out of his junior year of high school and into his first bike sponsorship, riding a prototype Transition Patrol. Back then, he had a handful of classic tricks in the bag, curated through repetition—straight airs, for the most part. He'd begun riding at age 12 with his mom on what he calls "a shitty bike with rim brakes." He claims that he hated it. But soon, he was hitting janky backyard dirt jumps with his buddies. One might think growing up in the mountain bike hub of Bellingham would mean plenty of room for progression, but the town's reputation as a place to find freestyle-friendly jumps is a somewhat recent development. The dominant riding style had previously leaned toward steep downhill trails and sniper hits with tight landings.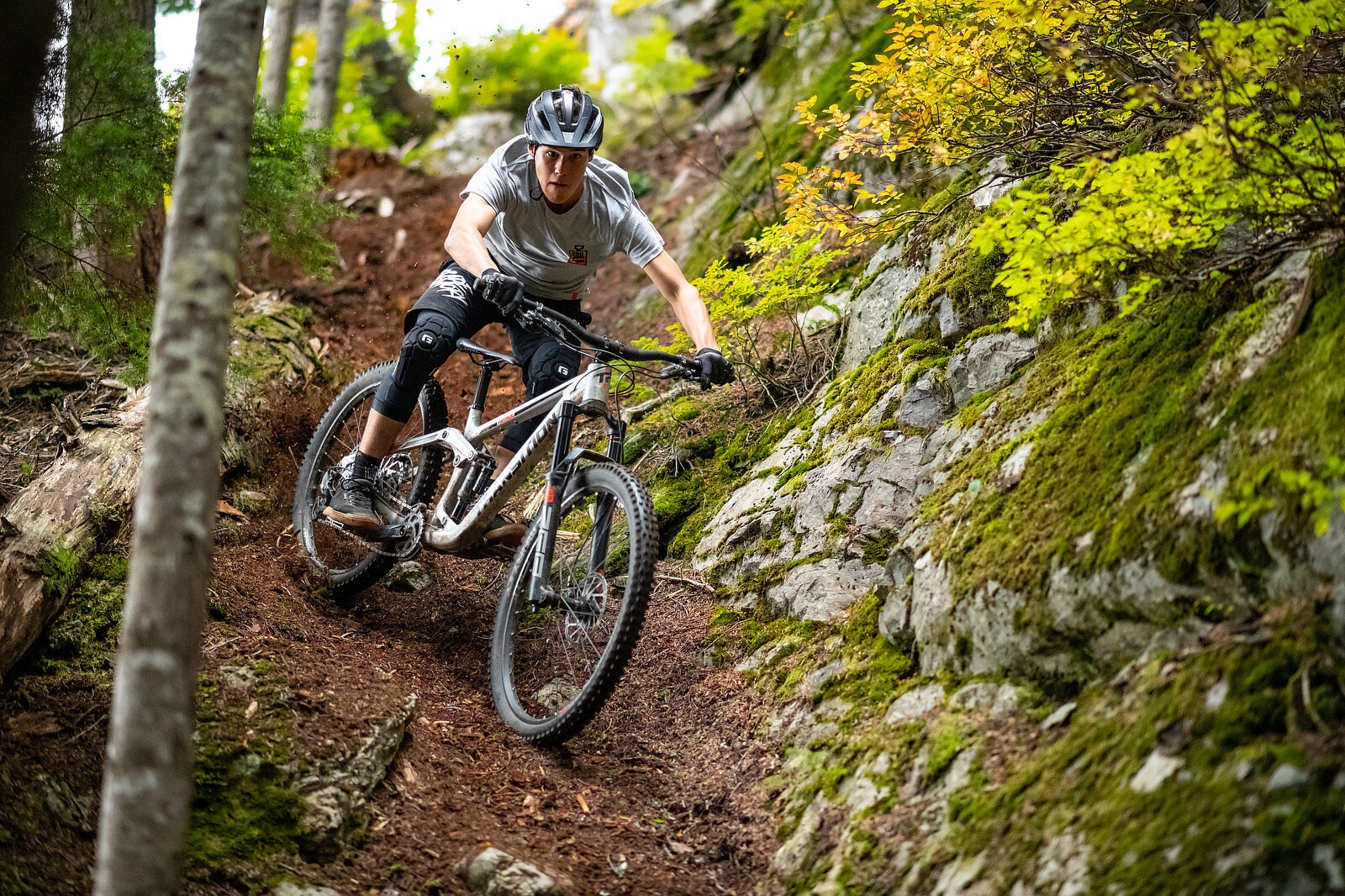 "There was a lot of singletrack, good trail riding, and finding the jumps was pretty difficult," Talus says. "But then we got the Cedar Dust lines and Blue Steel. That's where I really started progressing."
He's referring to the groomed lips he helped build and maintain in the recent clearcuts of the working forest that is Galbraith Mountain, the backbone of the Bellingham bike scene. On these easily lapped and well-maintained trails, Talus learned spins and flips, then added those comfortable variations, such as tables and one-footers, to his off-axis aerials. He credits a 2019 trip to the Coast Gravity Park in British Columbia, where he received coaching from Brendan Howie and Jonas Lomax, as a turning point. 
"I was riding with these coaches that were doing really big flips and no-foot cans and I was learning those tricks at the time," Talus says. "They helped me realize I could take them to bigger features."
---
Watch Talus ride these days and it goes something like this: Tune the lip and landing; speed check; pop check; trick; add on. Each step might take a few tries. Then his feet might leave the pedals on the third or fourth time off the lip. He might not go full extension until his tenth lap. Or he might do it on the first try. It all depends on the rhythm. Incremental but rapid evolution toward the hardest trick he has in the bag, maybe adding something new if the jump feels right. A smooth transition toward doing it with full extension with an eye for style. For Talus, it's all about flow.
"If the feature feels right, then I know which trick will work," he says. "If I've been doing a certain trick consistently on a similar jump, it's comfortable to take it to a new, bigger feature. It doesn't mean I'm constricted to doing just that trick, but that's the starting point—doing something comfortable, and building from there." 
He's not one to wing it, but more one to feel it. And when he's feeling it, his riding stands out. This was first on display internationally when he leveled up at Johny Salido's Freeride Fiesta in Mexico in January 2022.
"Other athletes saw my style, but I was still looking like a little kid at an event like that," Talus says. "I'd never met any of these people and just making an appearance was big. I was like, 'Huh, time to learn how to flip a bigger jump.' I'd only flipped one jump before that."
There, he did flip a bigger jump. He met Cody Wilkins, Director of Operations at Sensus RAD Trails in collaboration with American freeride legend (and 2023 Rampage champion) Cam Zink. Zink invited Talus to his namesake invitational the same year. There, the pair of industry veterans passed down some wisdom.
"[Wilkins] was like, 'You got to just start talking to people,'" Talus says. "You can't just do a jump and be like, 'Hey, look at me, I'm cool.' You've got to meet these people and be social and then you'll get more support. From there, it just started going up."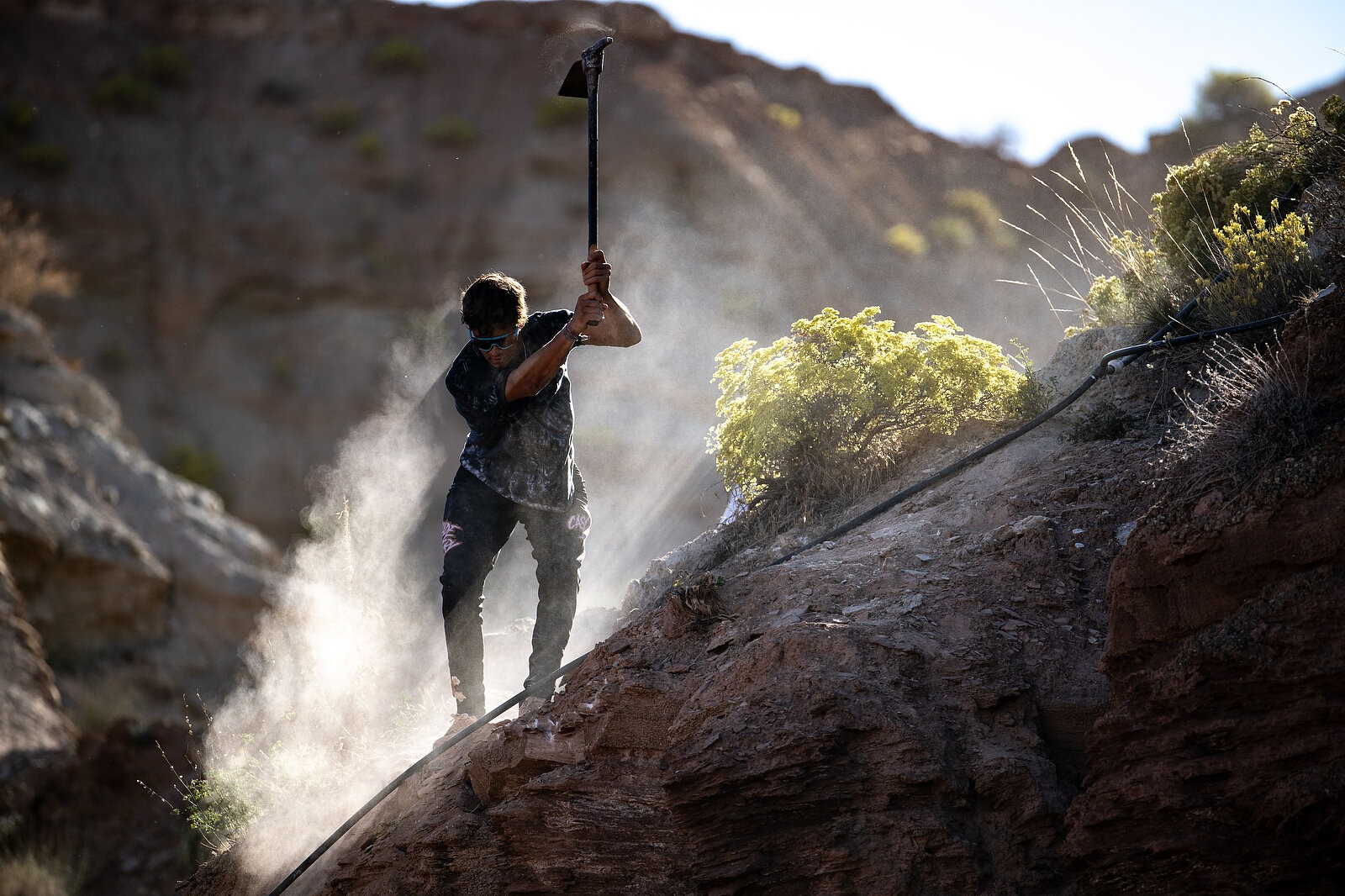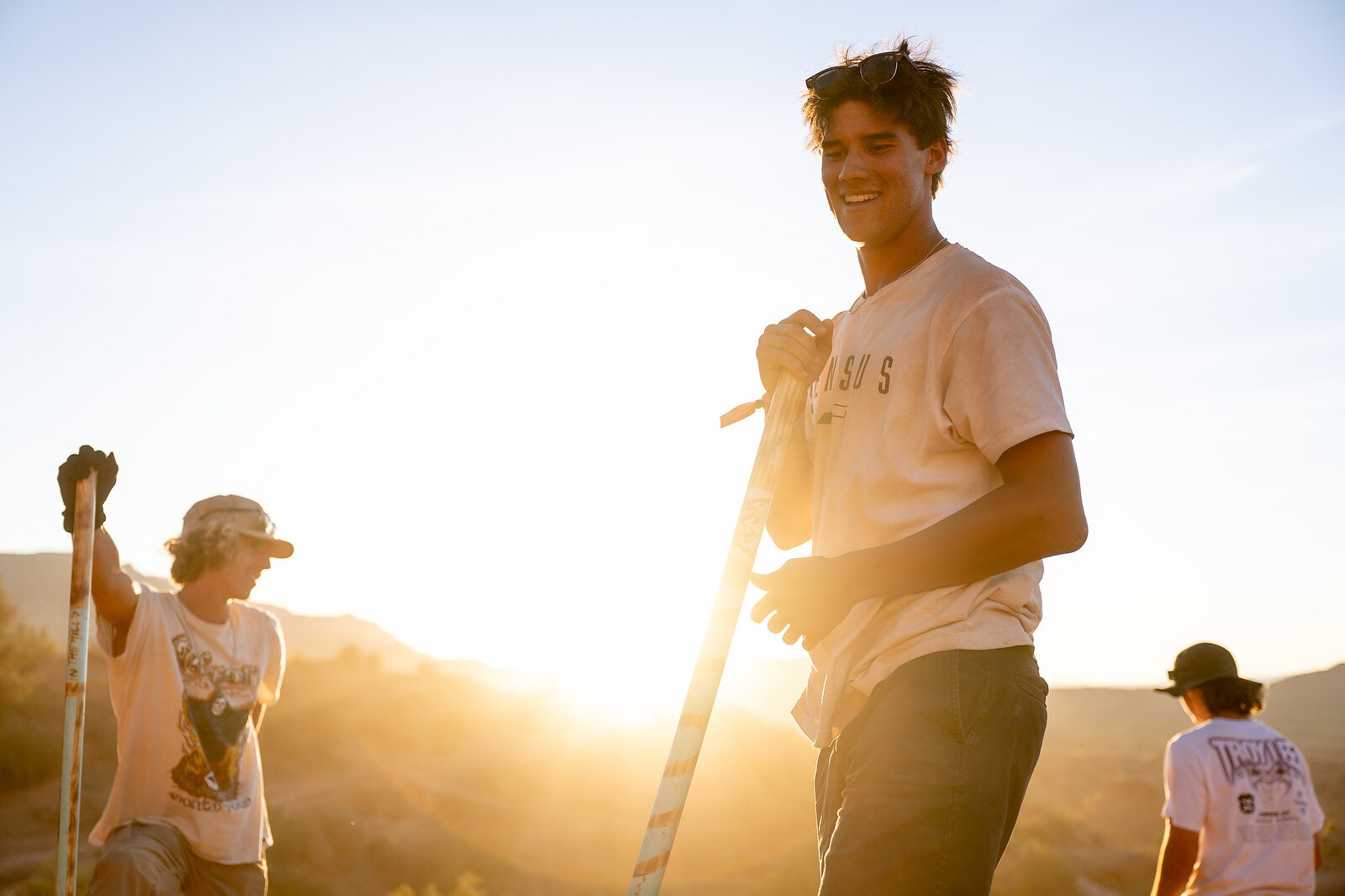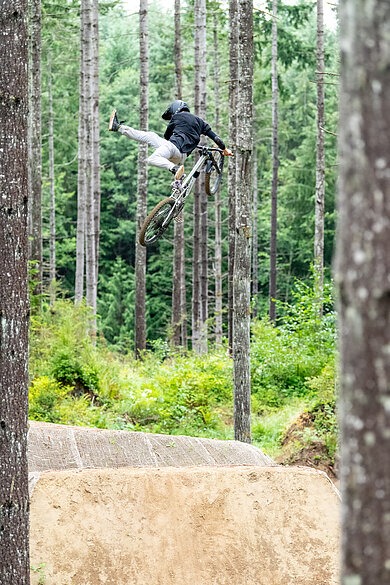 Zink remembers when he first met Talus in 2022.
"Cody had mentioned this new ripper from the PNW that had helped dig on some trails," Zink says. "I was slightly reluctant to invite him [to the 2022 Cam Zink Invitational] since I hadn't seen or heard anything else. I told him he could come ride if he came a week or two prior to the event to help tune everything up. He absolutely crushed it and was at the top of the list for this year's event. He has grown up so much in the last year beyond his riding; full grom coming in for 2022, and in 2023 here he is, a known force invited to the biggest stage in mountain biking."
As for what Zink sees in his riding: "Spin everything. He kind of reminds me of myself when I was younger in the fact that if you can do it on a small jump, might as well do the biggest one ever. I think his 3s at Nico Vink's Fest stop were arguably the biggest ever. Insane."
Zink is referring to Talus's trip to Belgium in July of 2023, where he threw an assortment of flips and spins over a line of 80-foot-plus doubles at Vink's gathering. 
"I just wanted to see if I could hit a jump that big. But since I took my time and had an idea and had spun bigger jumps, it was consistency and knowing I've done that trick a million times that allowed me to spin it," Talus says of his mindset going into the event. "The first hit was the hardest part—it's always the hardest part. Once you're done with that, you figure it out from there. Same with flipping off a cliff: You've got to hit it a bunch and then you start popping it differently. You pretend you're setting, leaning your head to the right, even in the air, feeling the lip. Finally, after hitting the jump 10 times, I committed to setting it, cased the landing a little, and it was perfect. Once you've done that more than once, it's like, 'Alright, what's next?' It's the same thing as in Utah. The progression was just one after the other."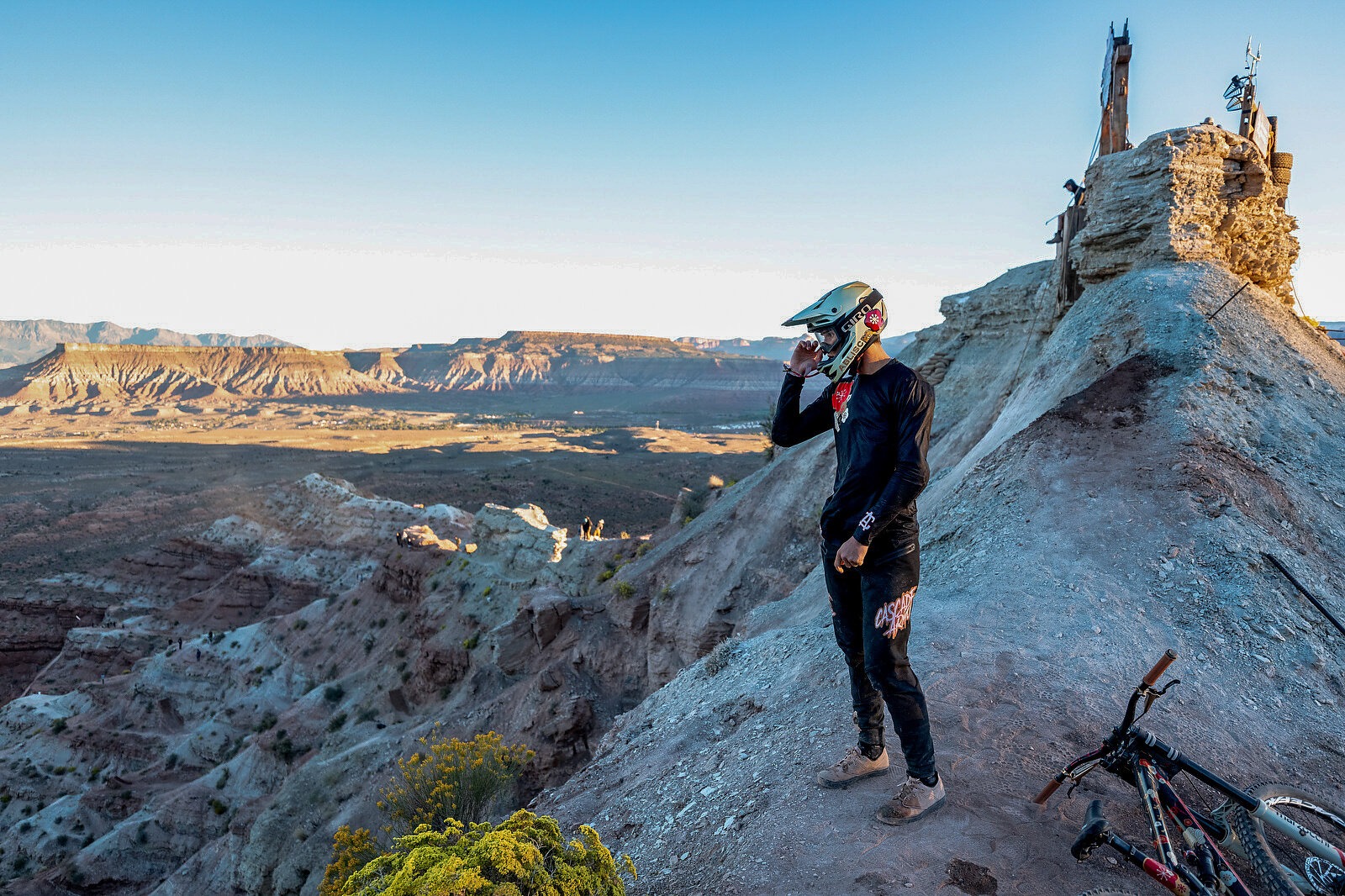 Talus spent the winter of 2022-2023 living in Hurricane, Utah, building and hitting large jumps in the red desert—sometimes at the Rampage venue itself. He'd turned heads in a handful of events, from Zink's namesake gathering to the upstart Proving Grounds tour. He'd dropped a series of videos, culminating in "All Around," which documented a fall season in Bellingham—from the skatepark to the lips of Blue Steel to steep, loose lines into an unusually wet winter in southern Utah spent building and riding with his roommate, Ryan McNulty.
"I came [to Utah] in October, during the week of Rampage, and I'd never seen Rampage in person," Talus remembers. "I knew Todd Barber [Rampage and Proving Grounds Event Producer] from Proving Grounds and asked him if I could get a wristband to see how the process goes with riders and diggers. My headspace with Rampage was that it's like any other freeride event, and I'd like to be a part of it."
Talus may have been downplaying the magnitude of Rampage, but he kept that wristband on all winter as he stepped up and went to work in the Utah desert, building and sessioning a variety of features that would be on display in "All Around."
"It's all talk until you're like, 'OK, I want to be at Rampage,'" Talus continues. "You actually get there and it's the same as 'I want to go hit a huge jump at Fest Series.' When you get there, it's humbling. An 80-foot jump or a big cliff or even just riding with all that exposure, you get very humbled very quickly. You can really find out if you like that style of riding."
As it turns out, Talus likes the desert. This year, Barber invited him to compete in Rampage. 
"We invited him to Proving Grounds 2022 and saw him ride in person," Barber says. "I was totally blown away by his calm manner, aggressive riding, and precision skill. He has amazing bike-handling skills and just seems to be in the right place at the right time on the bike. Plus, he has a bag of tricks."
---
At this year's Rampage, Talus' bag of tricks was on display from the start of practice week. At Rampage, riders and their teams dig for a week, then have four days to practice and tune their lines, with the actual contest taking place at the end of the week. Talus' team consisted of his Utah roommates, fellow up-and-coming riders Ryan McNulty and Hayden Zablotny. They were the youngest crew on the hill at the 2023 event and one of the first teams to finish building their line. 
On the first day of practice, Talus methodically dialed in the top of his line. The next day, he guinea-pigged a 50-foot stepdown, then towed Spaniard Adolf Silva off the feature that the two shared with Canadians Kurt Sorge and Alex Volokhov. Talus' first hit went 75 feet. Silva later joked, "Maybe I can follow you in my run."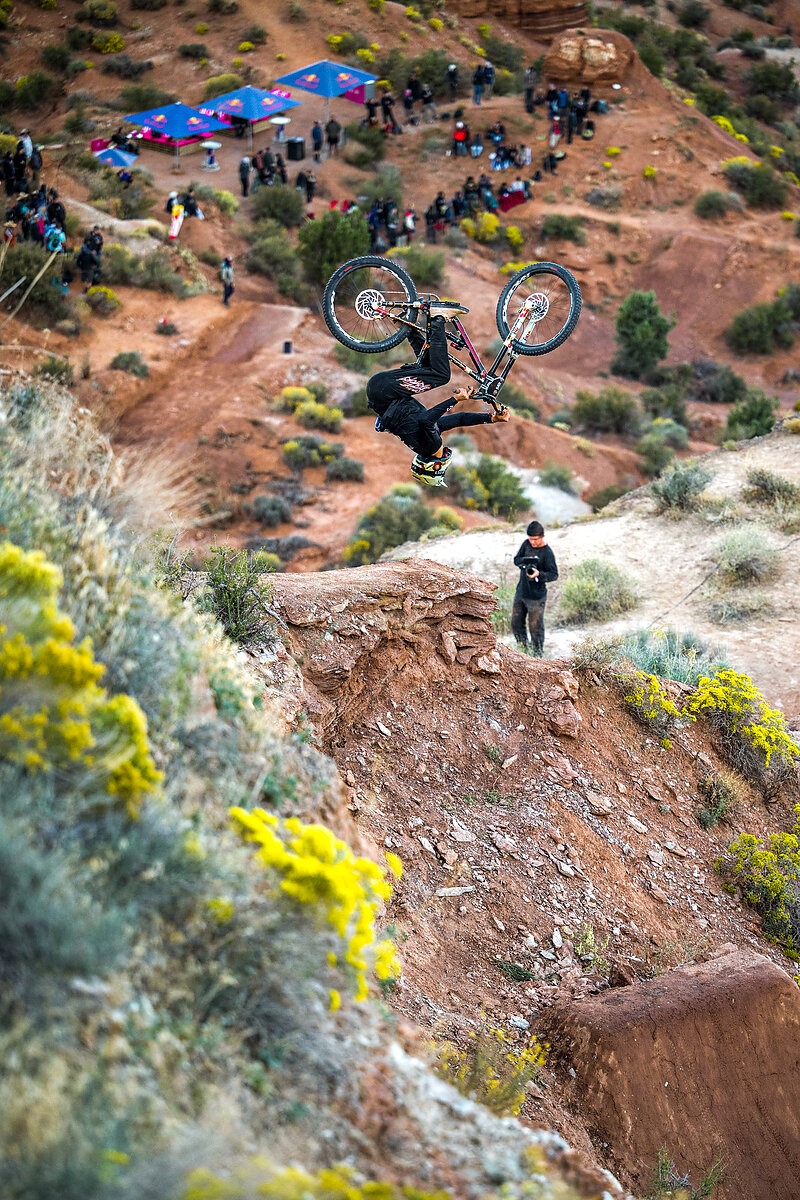 On the third day of practice, Talus slapped a lip on the thing. 
"My headspace is, 'Flip that thing 10 times, then it won't even be a thing anymore,'" Talus says. 
During practice, the wind blew him a bit off-kilter on a test-hit table. He bounced on the landing and went down hard, inches from full disaster. Flow interrupted. Talus shook it off.
On the fourth and final day of practice, he hit that lip twice, then flipped it, and flipped it again. 
"I cried a little when he landed that," says JP Purdom, his filmer for the event. It was a tense moment just after sunrise and a heavy release shared by his whole crew. Talus was back in rhythm.
On the morning of the competition, Talus was awake at 5 a.m. and at the venue by 6, waiting, watering, and visualizing. There was some wind at the start shack. He was visibly nervous—not his usual state of being. Normally, he's laughing, loose, and enjoying the process. His first drop during warmups squashed the nerves, though. He was back to his usual self—hiking, dialing it in, repeating, gaining momentum. Table, flat-spin, flip, then run it again.
Fourth out of the gate for finals, Talus' chain dropped when he landed his flip on a huge stepdown. After bantering with spectators for a few minutes, he started the hike back up with a smile. He knew. His crew knew. Talus had it.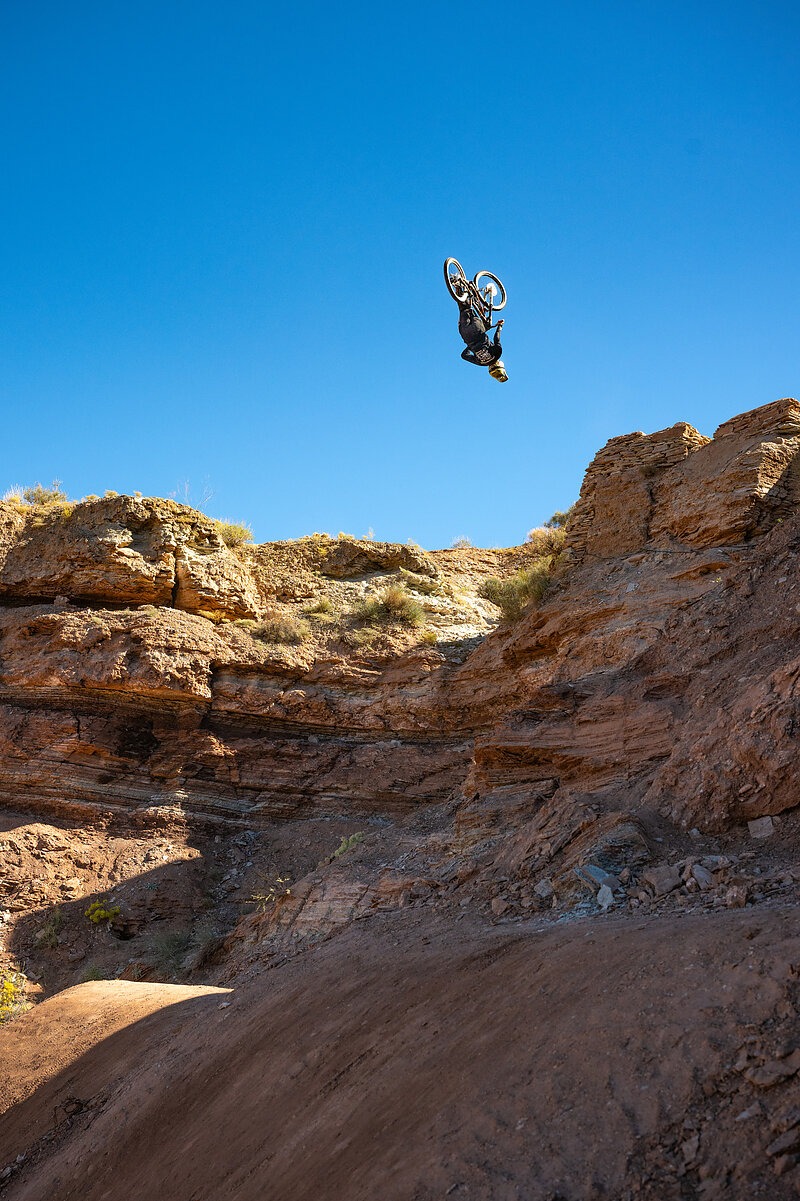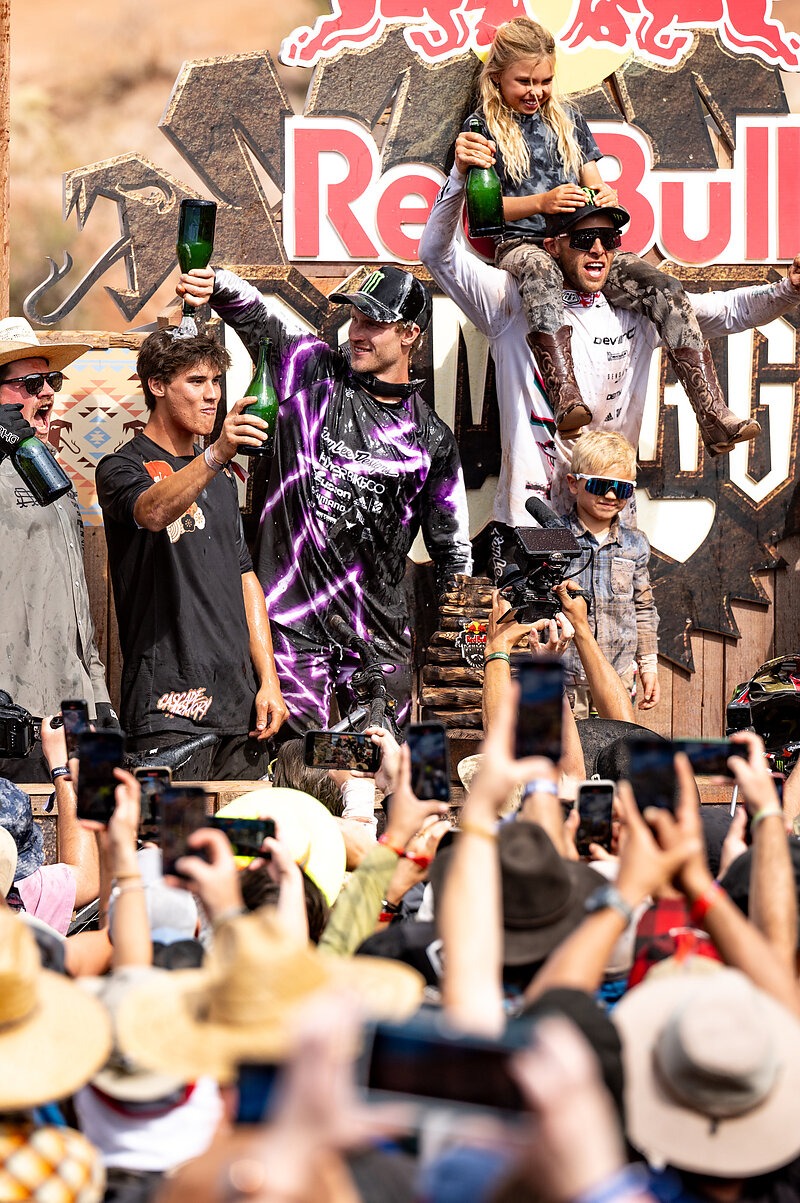 With no wind for the second run, he added a one-foot can to that flip, a move he'd just learned a few days before the build, linking an assortment of footloose tricks above and below. It was enough for a score of 84.00, good for fifth place, just behind UK downhill racer Brendan Fairclough and his death-defying canyon gap. 
After a champagne bath on the podium, with his mentor Zink beaming from the top step, Talus tucked into a plate of food with his crew—his mom and dad, sister, girlfriend, diggers, and friends.
"I was thinking I wanted to do a couple things different in my run, but I'm happy," Talus said.
He's always thinking about adding on. What can Talus do differently? He's earned an invite to Rampage 2024. Until then, he'll spend another winter dancing in the desert.