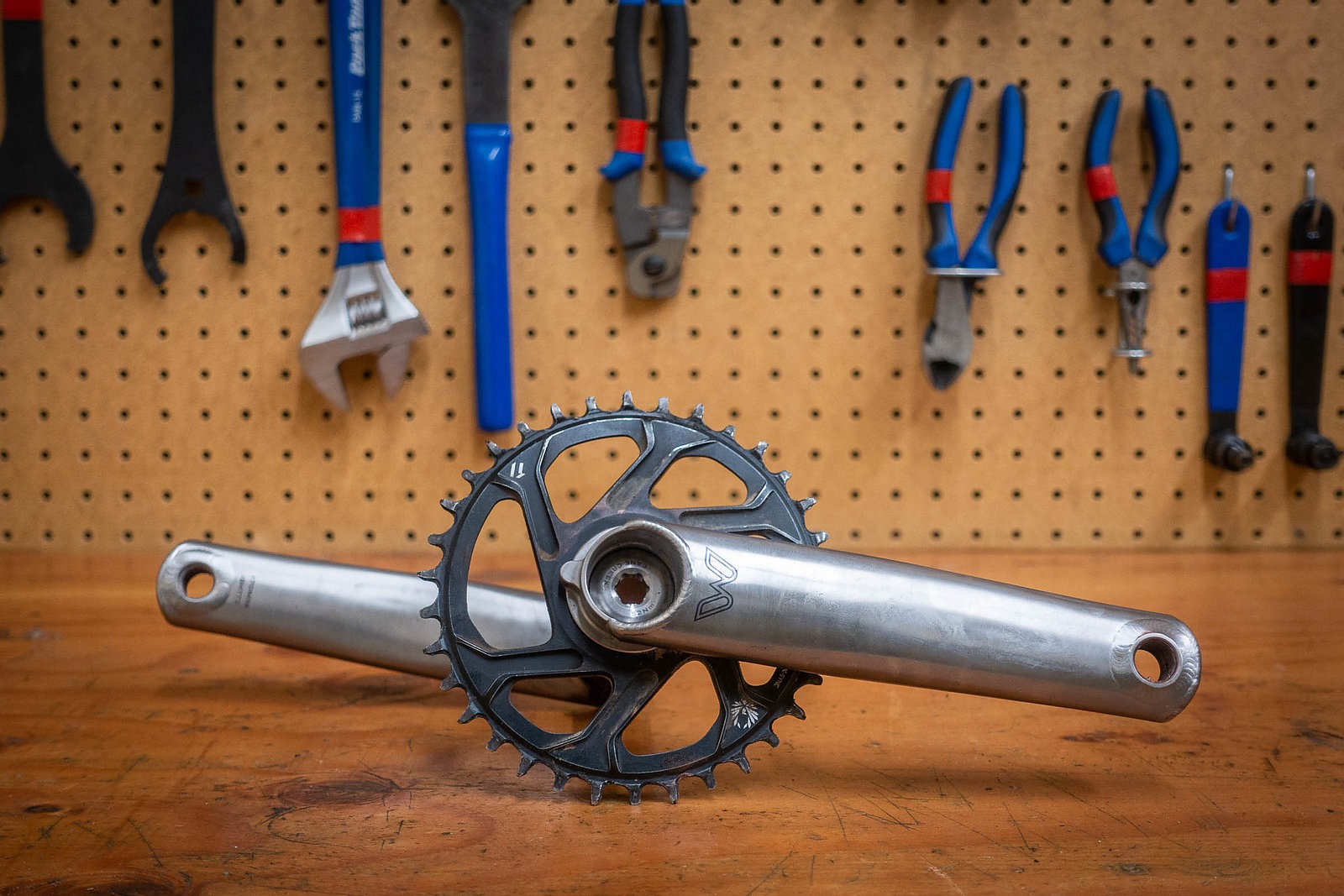 Cane Creek eeWings Crank Review
When I saw the promo video for these cranks, I wanted to try them out before the clip even ended.
Cane Creek is coming in hot with these tubular titanium crank arms, perhaps the first of their kind. I love the bold direction from the North Carolina crew and the movement toward metal bike parts that last a lifetime. And what a beautiful set of crank arms they are.
Fresh out the box, these babies were blinging and shiny; looking both super burly and expertly constructed. The design is elegantly simple. The function; even more elegant. Tired of rubbing through your cranks arms just by pedaling? Invest in a set of eeWings and you'll forget all about the wear and tear, and never have to question the safety of your 30-foot huck to flat landing again. Your ankles might snap, but these titanium cranks will certainly not.
Design:
Cane Creek brings to market a very simple and very beautiful engineering concept in the titanium tubular crank arms. It appears to me that the design is a smarter, sexier take off the old-school BMX crank made by Profile. The tubular arms just stand out so much; and after owning a set of Profile 3-piece cranks with a titanium spindle for three decades now, I find it hard not to draw at least a few similarities.
However, quite different from the classic BMX style cranks are the two-piece design, large 30mm diameter spindle, bearing preload system and direct mount ring. All the hardware, I must add, is also titanium. The only piece that is not TI is the aluminum bearing preload ring that features a steel set screw. The welds (a few bike components still have such features these days) are immaculate. The machined cut of the tubular arm to match the 30mm spindle interface is so clean one's eye may pass right over it. Cane Creek's engineers did well to fit all those large diameter tubes together in such a tight space.
The machining is impeccable too; the arms mate to the spindle firm and tight, allowing for the welder to artfully stack multiple sets of mini-dimes all around the spindle/crank arm interface. This is an impressively tight and clean weld. The drive-side crank arm is also expertly machined and welded to allow the joint of the tubular arm to the gear-like interface, as well as the structural mounting point for the 10mm bolt to hold it all together. The bearing preload is a simple and proven design. These eeWings are simple in design, but its simplicity should not be underestimated. This is hands down the stiffest, most burly crankset I have ever tested or ridden for that matter.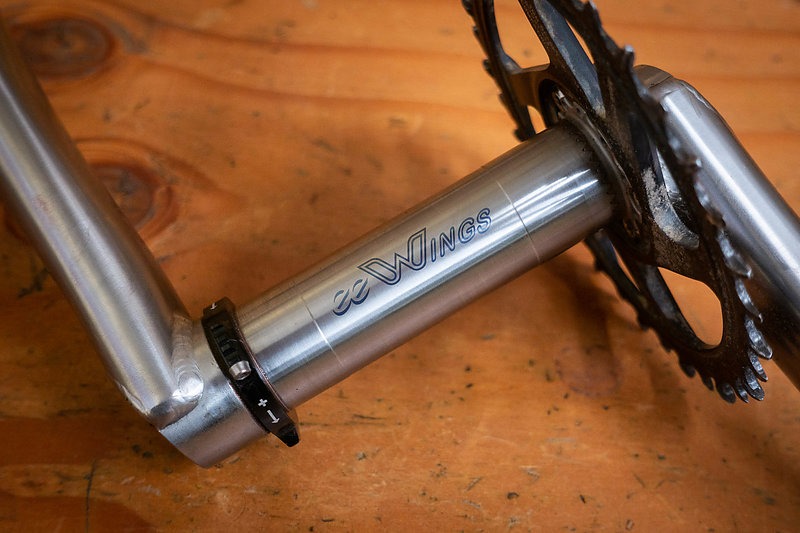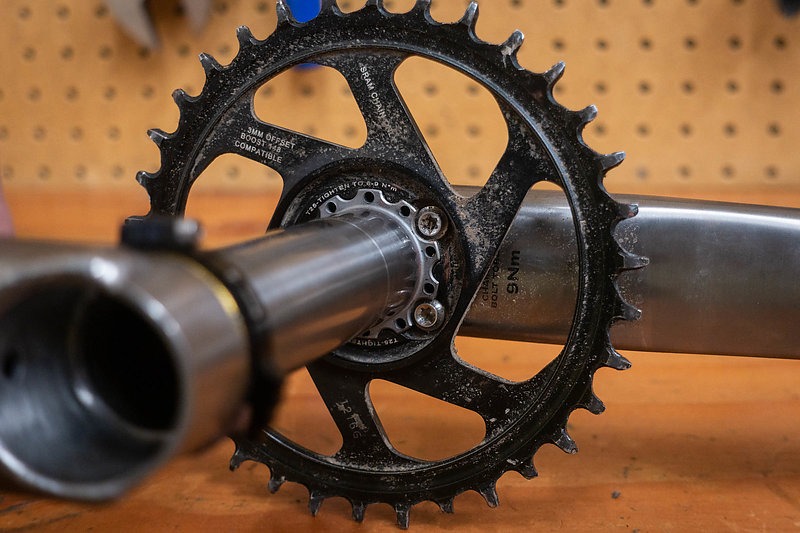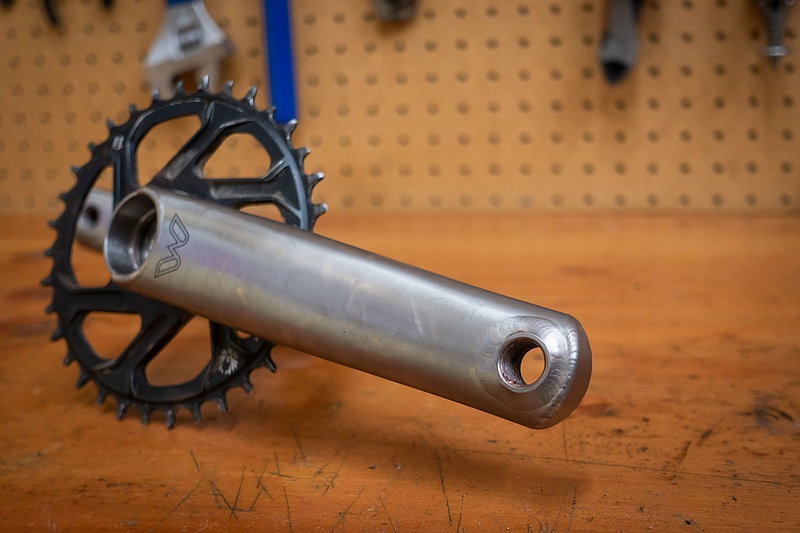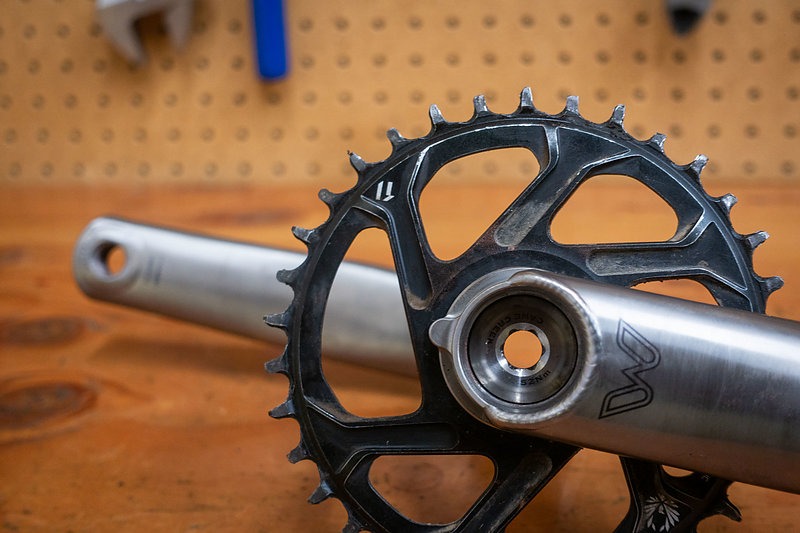 Durability:
The durability factor is one of the finest qualities of Cane Creek's new titanium cranks. Through chunder and choss, the crankset took numerous impacts during 100-plus hours of testing. With multiple pedal strikes on rock and roots alike, the eeWings showed no signs of wear. It's hard to even see any scratches in the metal arms. No dents or structural damaged occurred either. Cane Creek built these cranks to last.
Power Transfer:
Cane Creek succeeded in the keeping things stiff. One may wonder if is TI an appropriate material for such a job, for it is historically cherished for its superb softer ride quality when welded into a frame. No questions asked, the power transfer to the pedals was the stiffest I had felt in an mountain bike crank before. It felt like I was stomping on my old BMX cranks, building speed for the next dirt jump. The better the power transfer, the more watts moving you forward—a novel thought. We all know five or six thousand of climbing is tough enough, so I appreciated the lack of discernible flex. Any acceleration to overcome trail clutter was enhanced by the responsive pop in the TI crank arms.
Bottom Bracket:
Living in the rainforest of Pacific Northwest, bottom brackets take exorbitant amounts of crud and mud. Dedicated riders may need BB replacement every four months if they are pedaling rain or shine. I was excited to see that the eeWings need no proprietary tools or bottom bracket to be installed. After months of testing, both drive and non-drive side bearings are still performing well, with no signs of premature wear. Other than some quick post-ride hose spray, these bearings have been entirely maintenance free. The interface of the crank spindle to BB has a lot of surface area to keep things stiff while keeping mother nature out.
Final Thoughts:
Putting the firm sticker price aside, the Cane Creek eeWings are sexiest crankset available for the MTB market today. Bold, but true. These blignin' beauties are XC light and DH strong. I appreciate the simplicity of the design; strong, hollow TI paired with more TI. What is not to love? The durability of these cranks is not just good, but great. I firmly believe there isn't a more durable set of arms out there. Keep in mind the eeWing purchase is an investment—these will be the last cranks you'll ever need to buy.
Cane Creek eeWing Mountain
MSRP: $999