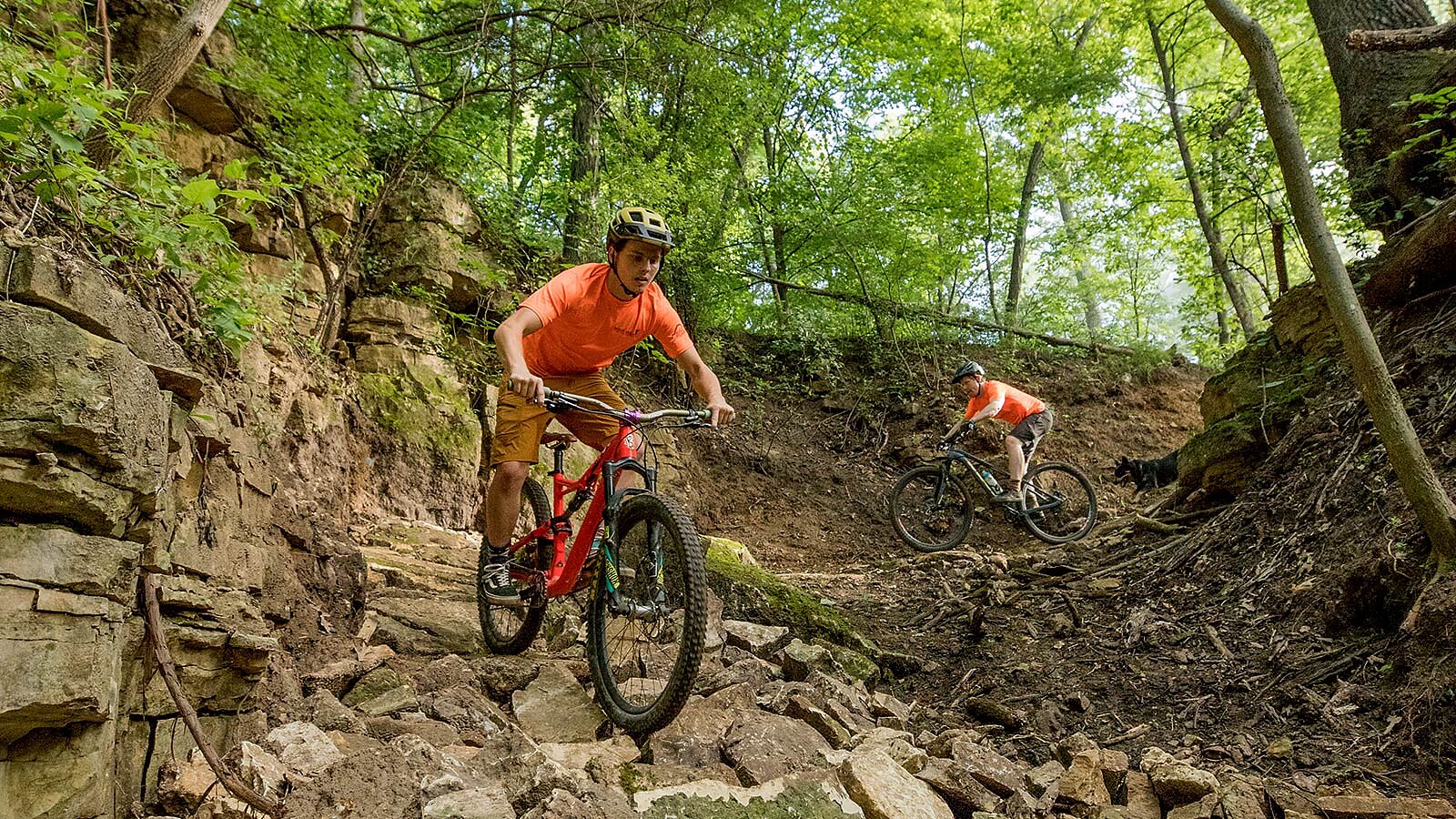 Anything But Driftless Planning with a Purpose in La Crosse, Wisconsin
The first time I ever heard of "the Driftless," I was in the back of a work truck, heading home from a long day of trailbuilding and stinking of pine pitch, sweat and chainsaw mix.
My buddy Bill Kobs and I were chatting idly about trout fishing, and when I asked him where he grew up fishing, he told me of a place I had never heard of before.
"So in Southwest Wisconsin there's this range along the Mississippi with huge rolling hills, these super-rad cliffs and all these beautiful rivers, just full of trout," Bill said in his thick Wisconsin accent. "It was all missed by the glaciers, so the terrain is just sick!"
When I asked him if there were trails there, he laughed and told me the zone was in La Crosse, Wisconsin, where our trailbuilding company, Rock Solid Trail Contracting, had already put in some singletrack. Little did I know that the following summer I'd be sent to La Crosse to build my very first mountain bike trail as a foreman, high up on a rocky outcrop known as Grandad Bluff. The effort was part of the Gateway Project, which had recently been awarded a "trail accelerator grant" by the International Mountain Bicycling Association (IMBA). The goal was to connect the city's neighborhoods with a new system of biking and hiking trails that would link up with the existing Hixon Forest Trails and ultimately lead to the top of Grandad Bluff.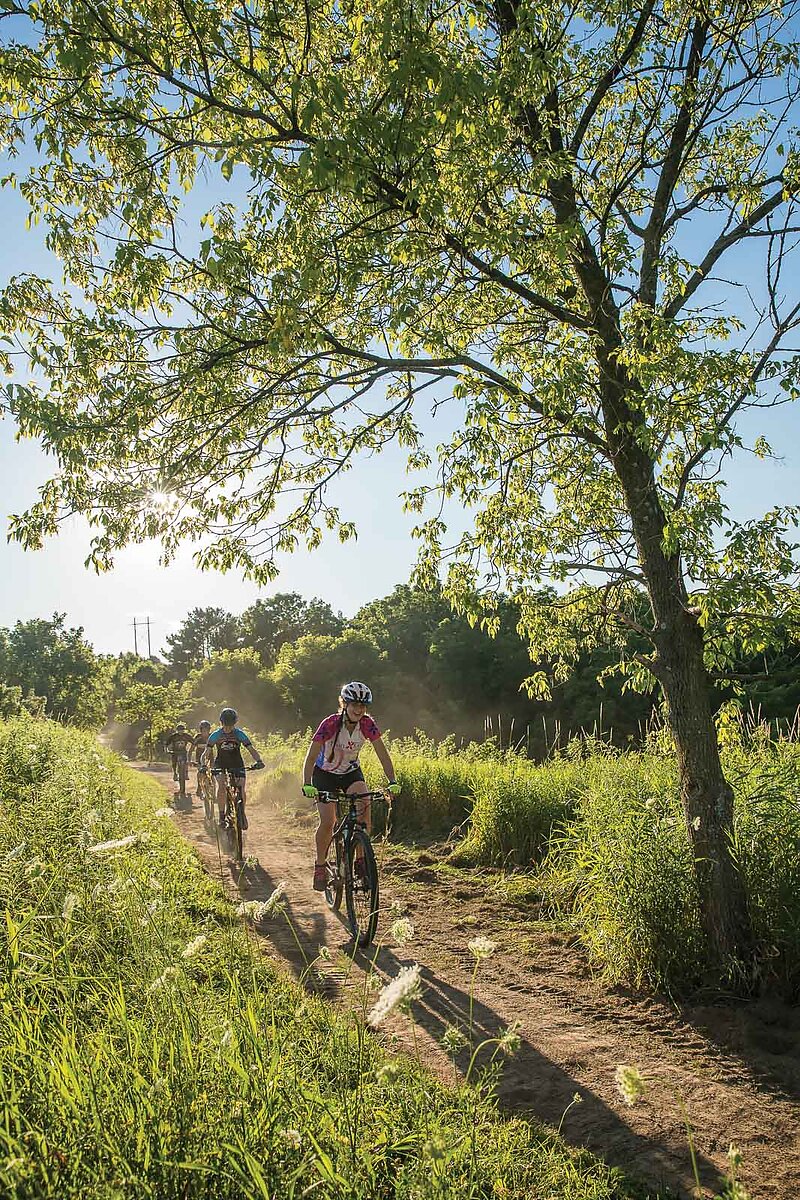 I'll never forget the first time I laid eyes on the bluff, during the summer of 2020 during the COVID-19 pandemic. It was beautiful and unlike anything I'd seen before, towering above the town like a stone fortress. I felt anxious about my first project as a foreman, but my first task—to create a hiking trail up to Grandad's Overlook that ended in a giant staircase built from locally sourced limestone—quickly got rid of my jitters.
After a week of heavy labor, my crew and I started working on a multi-use blue trail that would spill out into the neighborhood below, while my good friend and coworker Kyle McGurk and his team would get cracking on a green flow trail near the top of the bluff that would ultimately connect with the Hixon Forest Trails. Once these trunk networks had been completed, the final phase of the project would be to build a challenging blackdiamond section into the cliff walls, complete with technical rock gardens through a series of abandoned limestone quarries.
At the same time, La Crosse local Jed Olson and his VeloCity Projects crew would be building another system of all-weather flow trails near the top and clearing a maddening amount of the dreaded buckthorn, an invasive shrub that seemed to have overtaken the entire area. Jed, a longtime rider who is now the executive director of the local Outdoor Recreation Alliance (known as ORA Trails), is one of the masterminds of the Gateway Project. He'd long dreamed of connecting the neighborhoods of La Crosse with Gran- dad Bluff, and a couple of years earlier he'd discovered a stretch of public land between them while researching some old surveyor maps. Using Microsoft Paint, Jed drafted a master plan, printed a copy and showed it to anyone he thought would listen.
"At the time, the only way to access the trails was from the trailhead at Lower Hixon, which is on the edge of town and along the highway," Jed explains, adding that another route up a narrow, busy road was just too dangerous for most people's taste. "The Gateway could connect the city to the green space right here in their backyards, and without the use of a vehicle."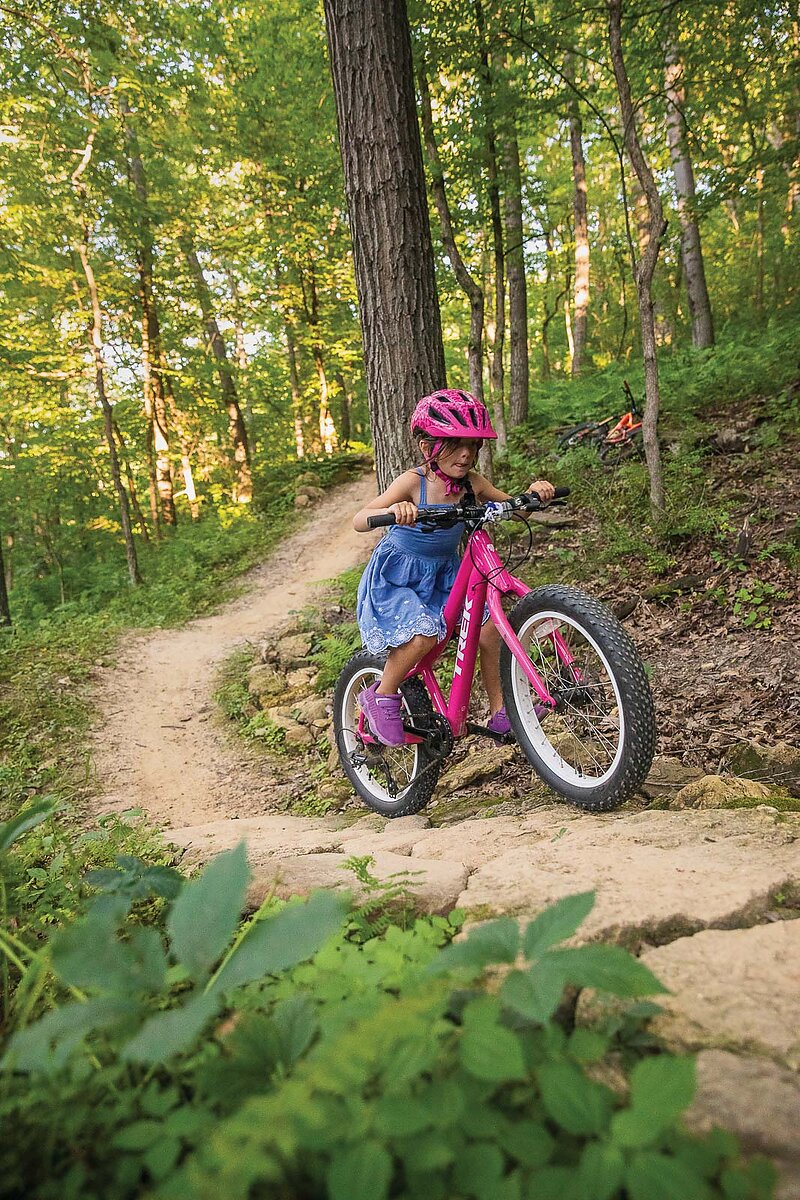 Jed knew the project was realistic, but it was going to take some official backing and a lot of money to get it off the ground. So, in June of 2018, he and his buddy Josh Blum—a longtime La Crosse local and host of the Driftless Dirt and Trail EAffect podcasts—headed to Bentonville, Arkansas, to attend an IMBA Trail Lab, a two-day workshop where they could pitch their idea and be considered for one of IMBA's accelerator grants. Their pitch resonated with IMBA officials and theirs was chosen as one of three accelerator grant projects. The grant was a good start, but more funds were needed to get the Gateway Project off the ground.
"It was time to get people involved and raise money," Jed says. "So that's what we did—we kept making noise."
For the next several months, Jed and Josh attended town meetings and proposed their ideas to numerous potential benefactors, eventually finding someone who had grown up near Grandad Bluff and wanted people to continue having the same experience he'd had as a kid.
"They asked me how much the project would cost and wanted to fund the construction in whole," Jed says.
With funding secured and the city's approval in hand, it was time to invite IMBA to La Crosse to discuss the game plan for the Gateway Project. The initial survey was done by Mike Repyak, an IMBA director of planning and design based in Madison, Wisconsin. Much of the route was hiked and flagged in preparation for a visit by a larger group that included Rich Edwards, a director of construction and operations for IMBA's Trail Solutions, as well as trailbuilder Aaron Rogers, the owner of Rock Solid Trail Contracting based in Copper Harbor, Michigan.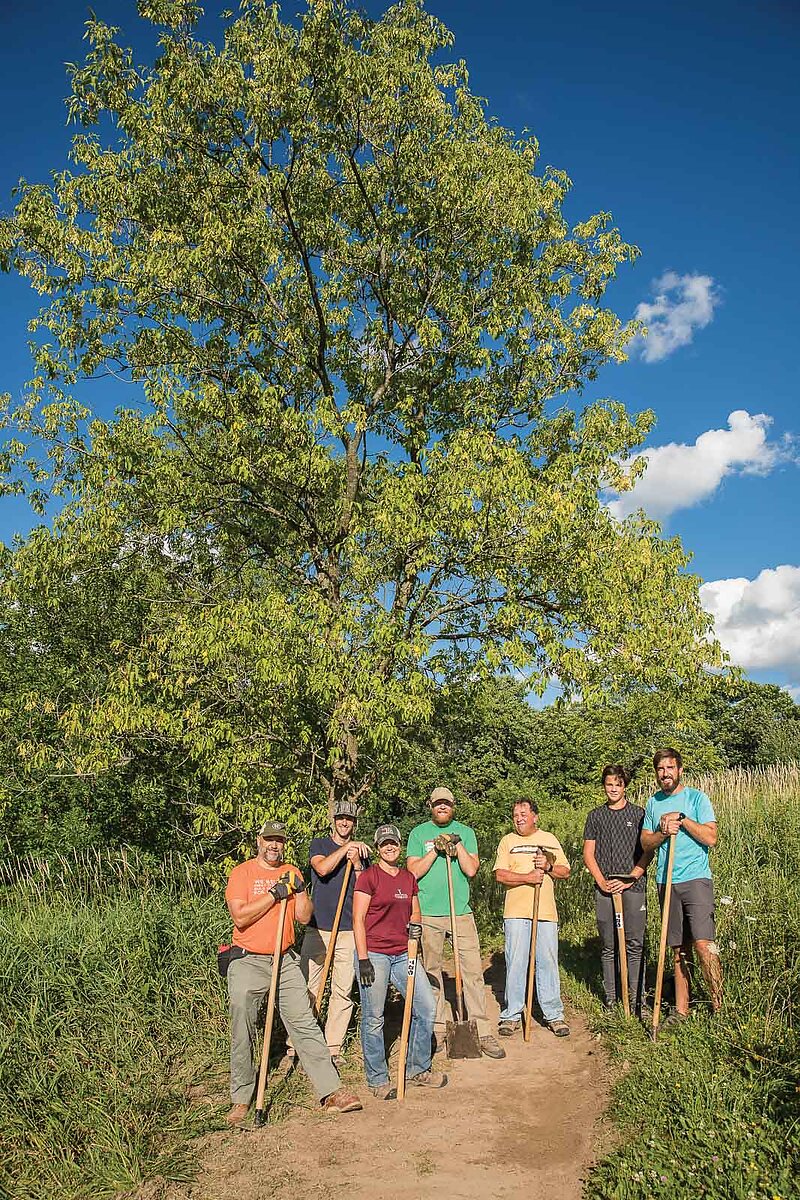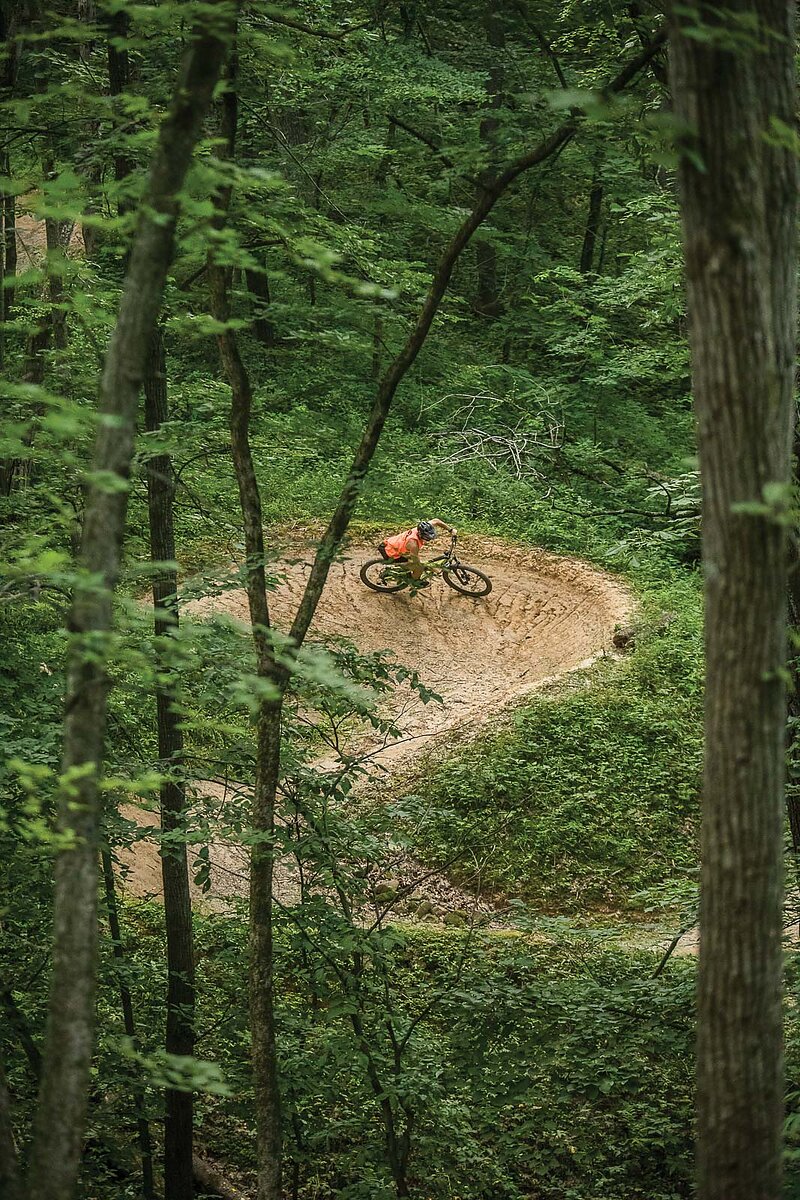 "Rock Solid came up with a reasonable bid, and it just so happened the time frame would work out for them to build in early summer before their build season further up north in Minnesota would start," Jed says.
Fast-forward to midsummer, and we're building switchbacks leading down to the neighborhoods below the bluffs and looking for ways to escape the searing July heat. Our weekends usually entailed a paddle down the Kickapoo River, followed by cooler evening rides on the Hixon Forest Trails. One of my favorite routes started at Lower Hixon, climbing for two miles up the Vista Trail to an overlook with breathtaking views of town before heading into Upper Hixon.
From there, we'd often ride a system of tight, hand-cut singletrack known as the Human Powered Trails, built in the early 2000s by a volunteer club of the same name, which eventually became ORA Trails. Or, if we were feeling the gravity bug, we'd hit the Starwars Galaxy downhill trails, a network of machine-built flow tracks Rock Solid sculpted in 2018, before descending back down the Vista Trail into town. The historic town center itself is an attraction in its own right, filled with brick buildings covered in old painted advertisements. Though the many restaurants and breweries were open only for takeout and delivery, I could imagine this town bustling with mountain bikers during non-COVID times.
Over the course of the summer, I got to know Josh, who would often show up in the evenings after work to swing a McLeod with us as we were winding down. He'd been riding and racing locally since the early 1990s and was an institution in the La Crosse mountain bike community. Josh told us where the must-ride trails in the area were, and even clued us in to some of his secret local fishing holes. His love for all things biking was obvious, and our entire crew both enjoyed and respected him.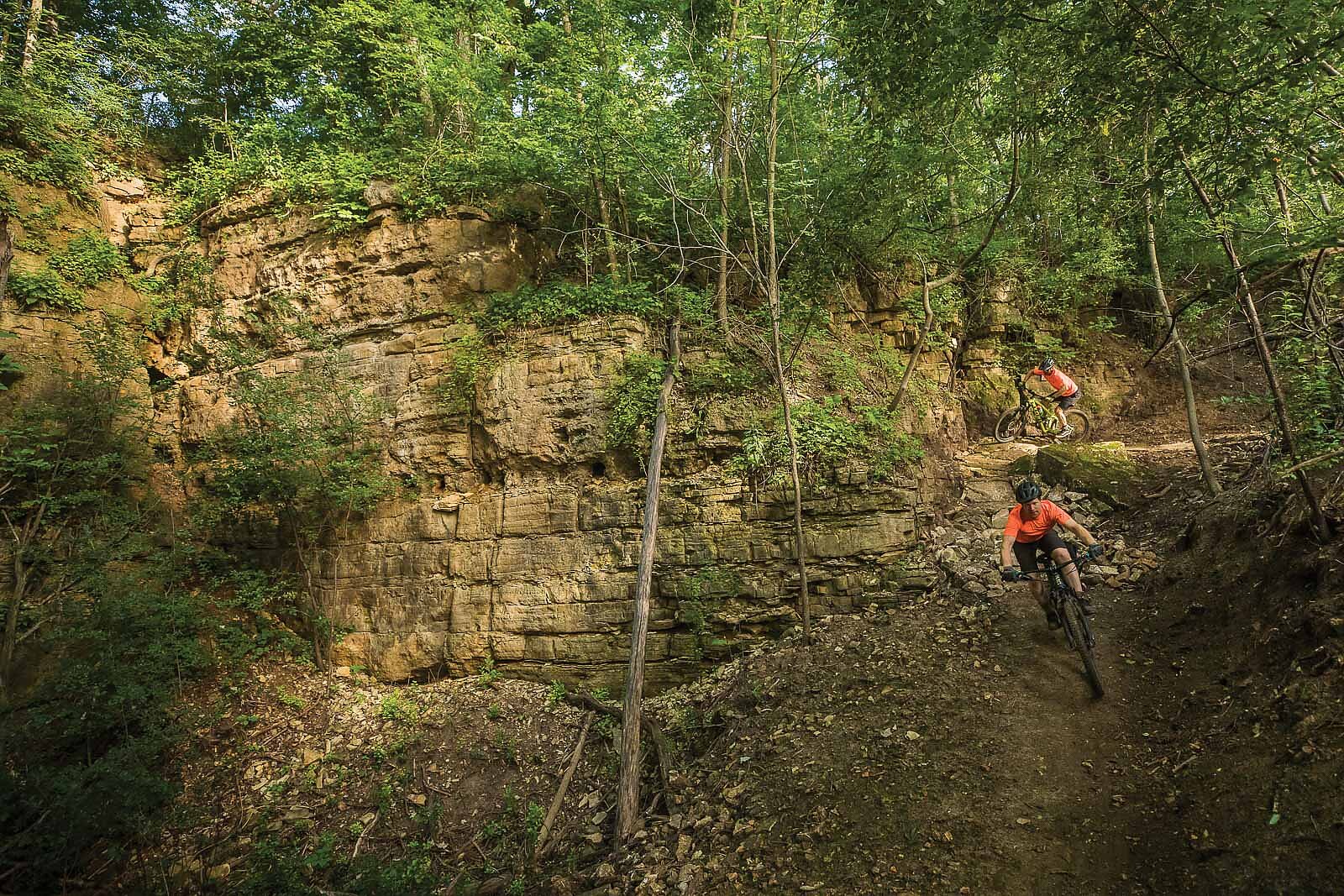 Toward the end of the summer, Kyle's crew had completed the upper network on Grandad Bluff, tying into my blue trail through a series of switchbacks on steep slopes. They had also completed a hiker-only trail we would need to create a series of steps for, using limestone slabs we'd hauled from an old rock quarry about an hour's drive away. This proved to be an extremely challenging task due to the trail's steep gradient, which made hauling the slabs up a frustratingly physical endeavor. This section pushed us to our limits, but by the time we'd completed it our combined crews had carved out some five miles of new singletrack that could be enjoyed by the community.
As we wound down our summer's work, Rock Solid organized a socially distant group ride with members of ORA Trails, who got to experience the fruits of our labor for the first time. For some of them, it was their first ride since the pandemic had begun and it felt good to see how much joy the new trails brought them. By the time we'd packed up our gear, mobilized our excavators and said goodbye to our new friends Jed and Josh, I felt a strong sense of melancholy. I'd fallen in love with La Crosse, its trails and its people.
Since our departure, La Crosse locals have continued to extend the Gateway Project, adding features that will expand the network's appeal far beyond the mountain bike community. They've eradicated more than 100 tons of buckthorn, built benches at overlooks and installed climbing pads at Grandad Bluff to help foster the local rock-climbing movement.
"And this is just the beginning," Jed says. "We recently put in an outdoor school space, and yoga groups are now using the trails in place of gyms. Even folks who were opposed to the project at first are now enjoying it as well, and it's doing exactly what we wanted it to do—bringing the community together."