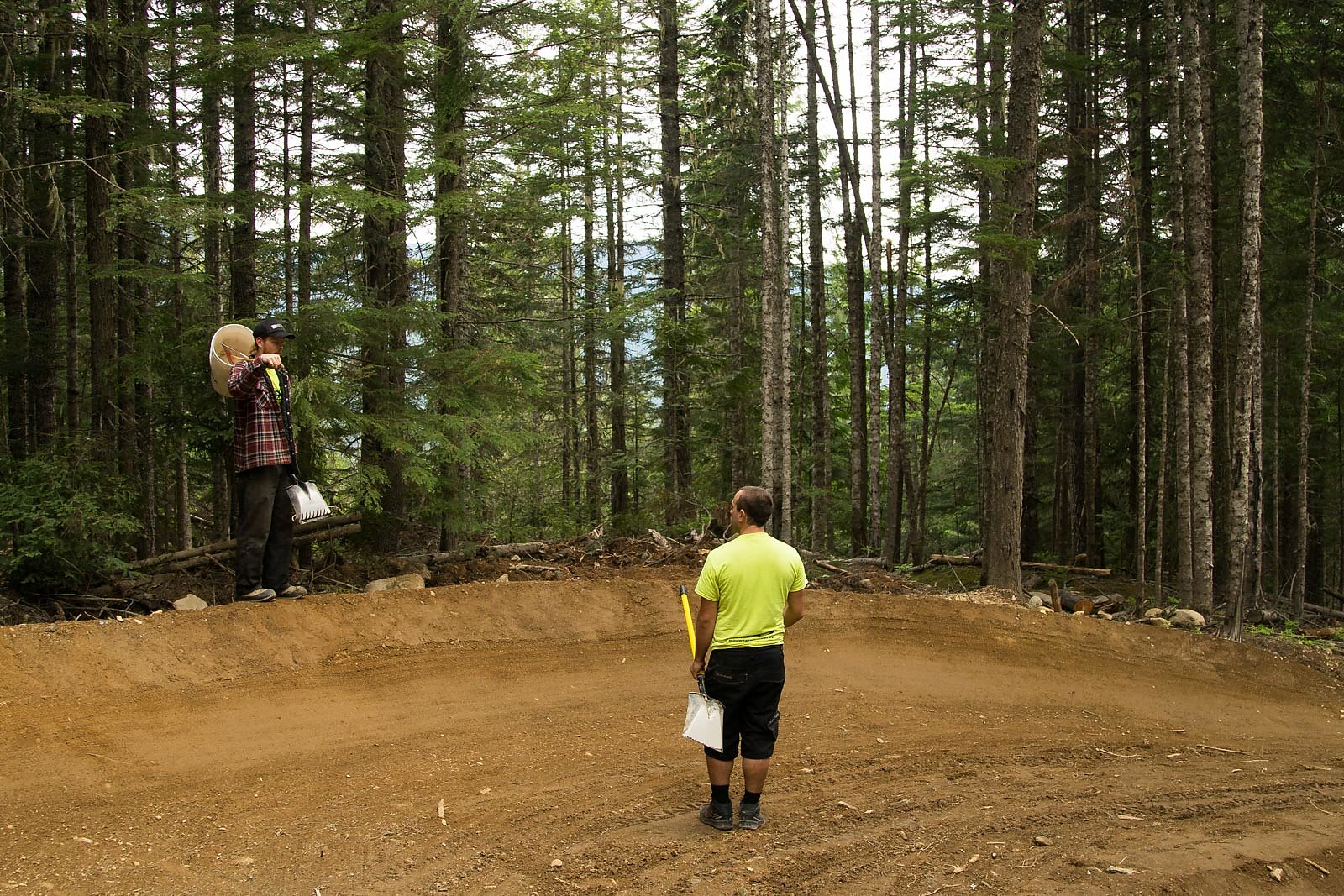 Opening Weekend With Whistler's Trail Crew
As a mob of stoked mountain bikers line up on Saturday morning at Whistler Mountain Bike Park, Pat Labrosse and his crew have already been in the woods for hours, moving from trail to trail, like neon shadows in the misty trees.
For downhillers, this weekend is like Fourth of July to a pyromaniac, but better, as it's the first of an entire summer that provides non-stop lift access to one of the largest and most pristine trail networks in the world.
With all the surrounding madness, it's easy to get caught up in the infectious energy and forget that the team behind the bike park has been working tirelessly since the snow melted to make this happen—and will keep doing so until it starts to fall once again.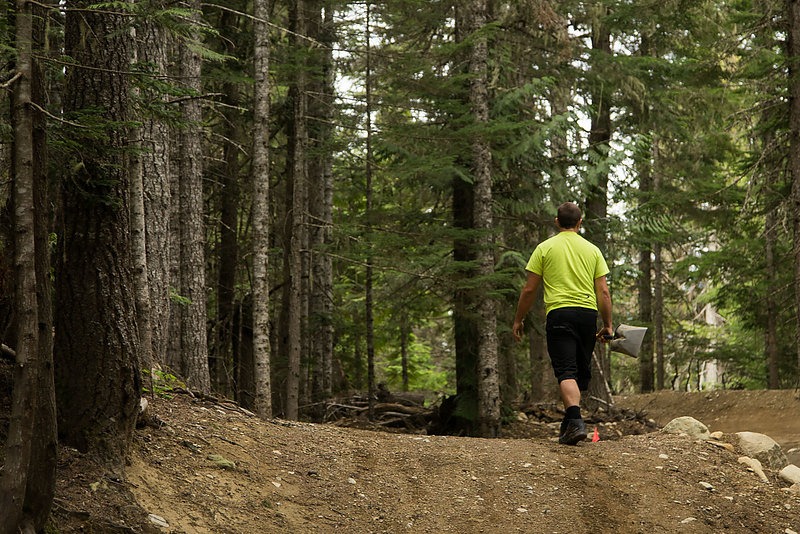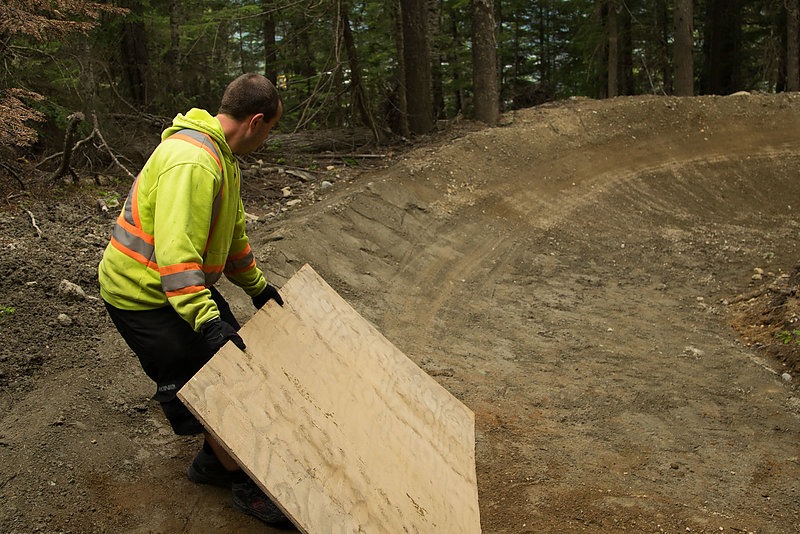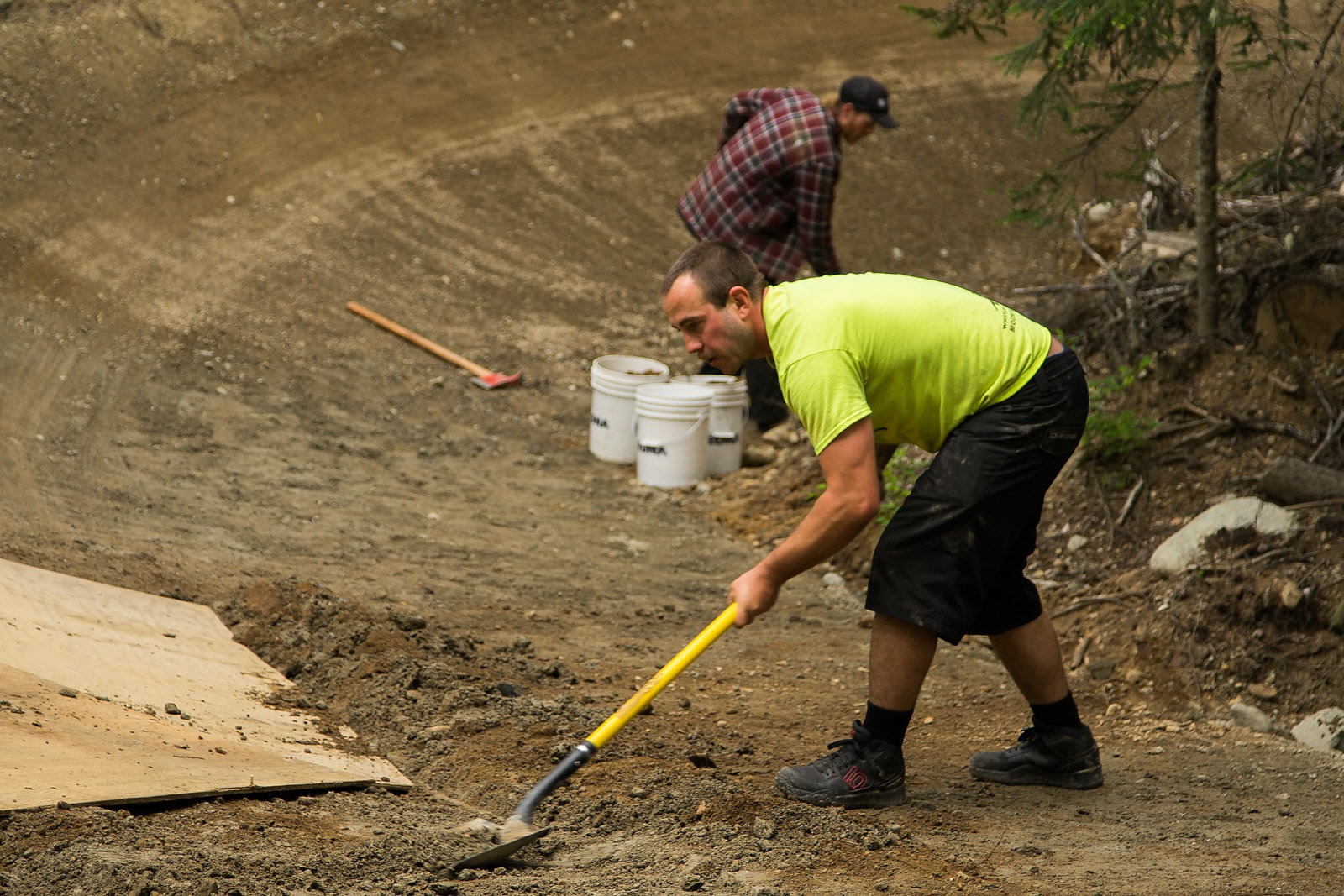 This weekend 50-plus trails open, but it is still only the first stage of Whistler's summer offering.
"We start off with the Fitzsimmons zone, we'll next move into Creekside to get that ready to roll, and at the same time we'll be moving up into Garbanzo," says Brian Finestone, Whistler Mountain Bike Park Manager. "Once those are going, we're right into Top of the World and everything off the Peak Chair. It's a fairly constant mission."
Weekends, despite the high volume of bikers, are actually relatively laidback for the trail crew. Only three fill the Chevy 3500HD today, compared to the 10 or so on staff during the week.
After a quick coffee stop, Pat, the Trail Crew Supervisor, pilots the truck up to the crew's lair, a small shack near the top of Fitzsimmons with a few storage containers filled with every tool imaginable and a lineup up of UTVs just outside. This is where he, Alex Robertson and Jay Robinson formulate a plan of attack for the day, be it specific features that need to be addressed before opening or goals for a line that is currently in the midst of a remake. After a powwow while loading up tools, Pat slings his pack over the headrest of a UTV, throws away the previous day's coffee from the cup holder and performs a routine safety check before stepping on the accelerator.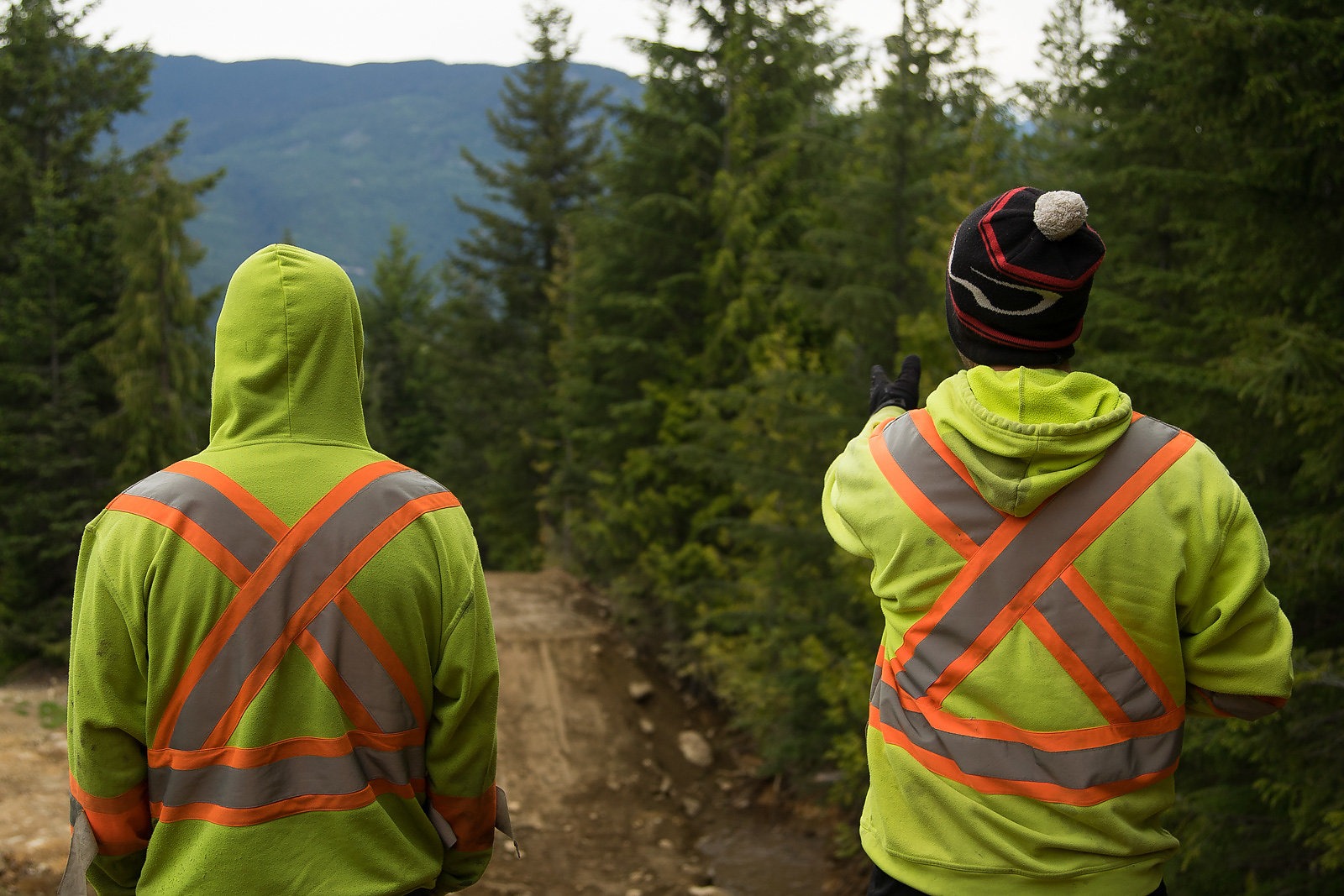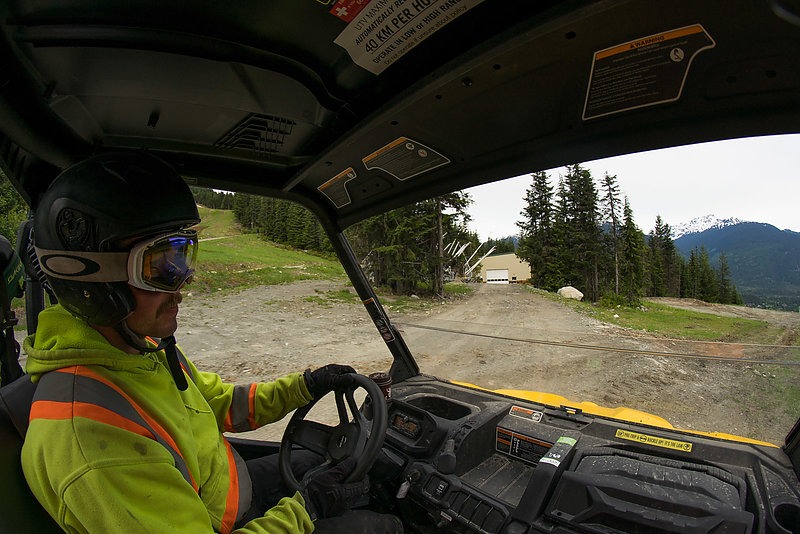 "You have to see what the winter did to your trails," says Pat, who's been putting hours into the bike park since the end of April. "It's a mix of maintenance, rebuilds and whole new stuff."
The "new stuff" this year is in the form of a trail that winds between Crank It Up and A-Line—unofficially dubbed C-Line as of now—and a huge upgrade to the skills and development parks.
Whistler also announced an expansion of trails in the Creek Side area—an addition of nearly 30 miles—that has yet to be approved by the province of British Columbia, but is in planning stages.
"It will be the beginning of our most ambitious trail-building cycle ever," Brian says.
After passing the unloading zone of the Fitzsimons lift, Pat stops the Defender in a patch of raw dirt that resembles a small hockey rink, with large-radius berms on either end. This is the rough outline of the upgraded skills park, an area where instructors can teach kids the basics of cornering on a berm, before taking them down a green trail like Easy Does It.
After a quick check-in at Crabapple Hits, Pat heads to A-Line, where he and Alex lay two 4-by-8 sheets of plywood over a soppy section that leads into a berm. This is only a temporary fix, as the impermeable bedrock below will continue to funnel water directly into the berm. A full re-build isn't always an immediate option, especially for one of the most popular trails on opening weekend, but it is inevitable.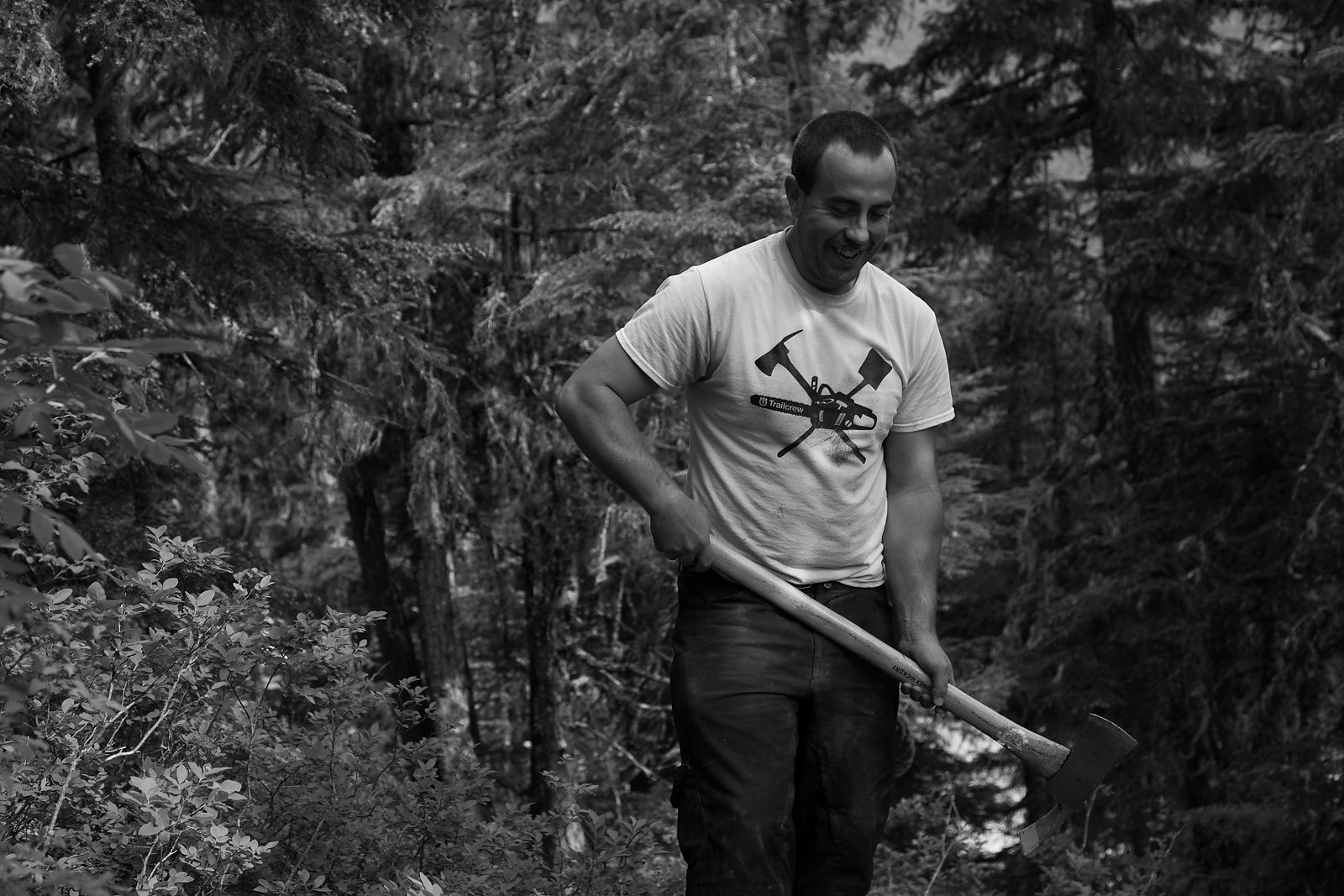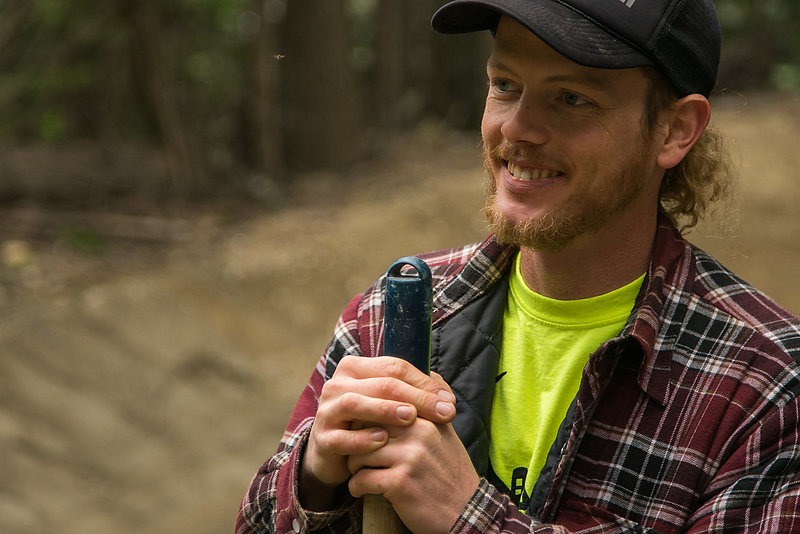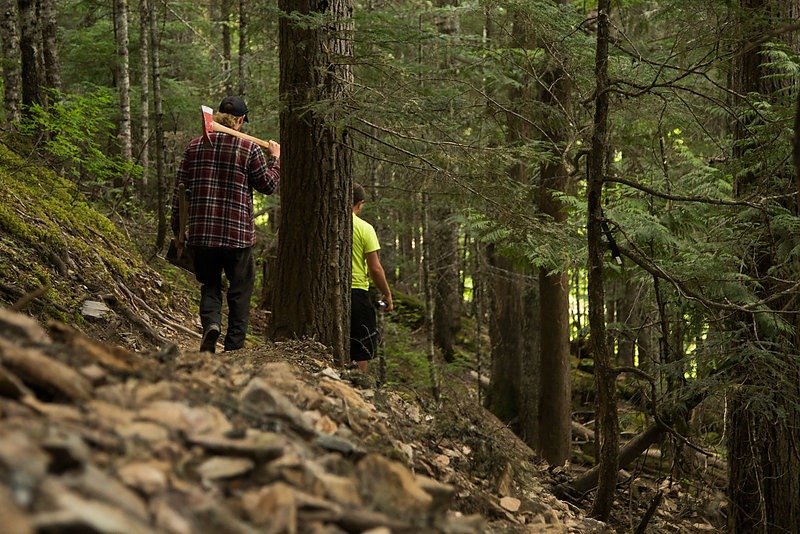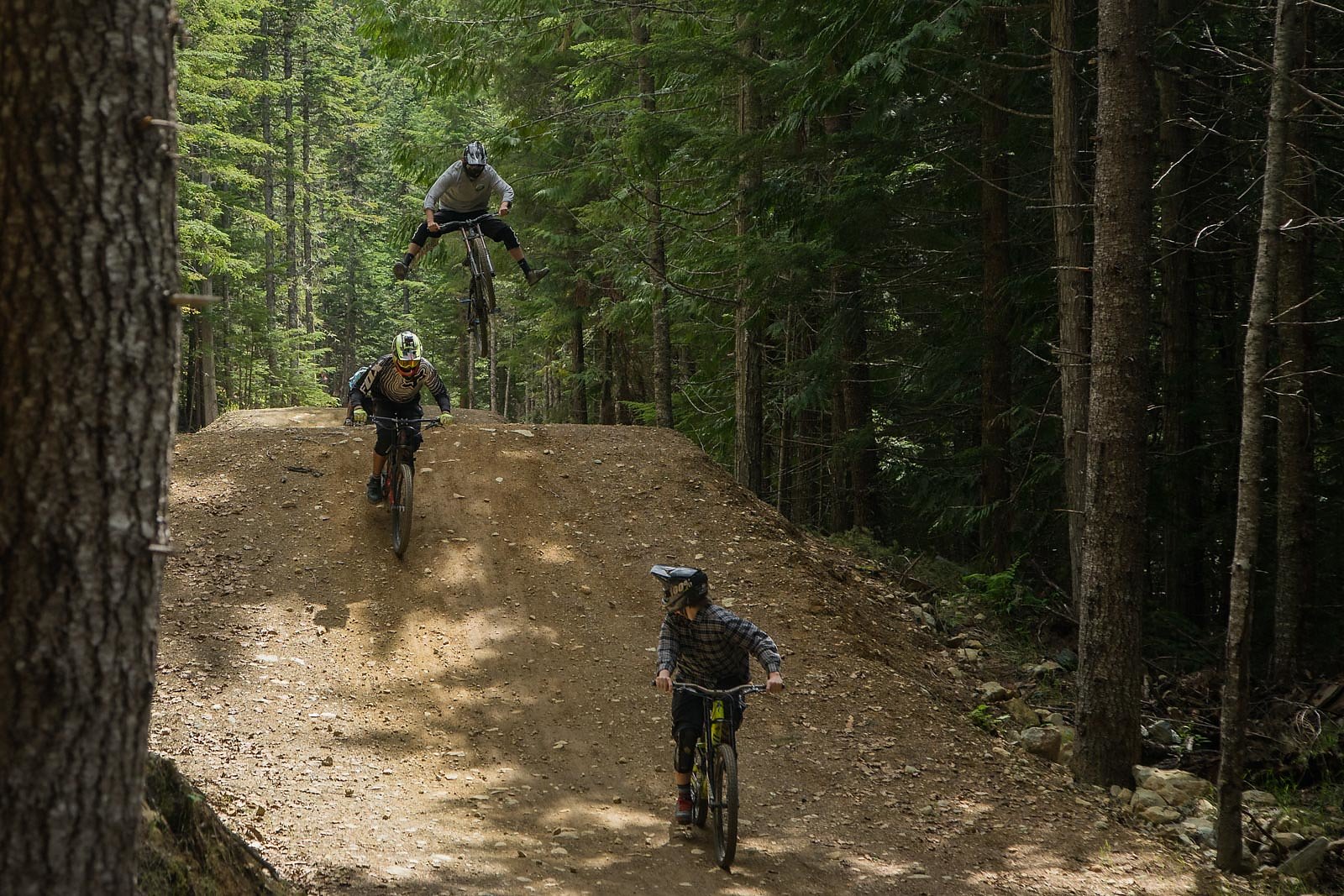 "If we do things right, you won't know we've done anything at all," Alex says later on in the day as he and Pat fix a corner on Afternoon Delight. The proper solution in this case is digging out the persistent hole, laying ten or so small boulders tetris-style in the corner, and importing dirt to fill the cracks.
Re-builds, especially ones that might change a trail's personal identity, are sometimes contested by those riding the trail. Like the time a guy rode by and shouted, "DON'T TOUCH IT, IT'S BEAUTIFUL!" in a thick French accent as Pat and crew were working on Rock City. However, it's always just a matter of time—usually only a few weeks—until the new trail is ridden in and forms a new identity that people learn to love. They always do.
The trails are changing regardless, and his crew is simply working to ensure the trails are safe and in good condition. Pat's crew is "just changing the special sauce," as he likes to put it.
When the day comes to an end and Pat and Alex reach a stopping point in their project on Rock City, they head back up to check the progress on Crabapple Hits. As they drive their UTVs back up the mountain, they pass biker after biker, all smiling and all thankful for the endless hours the trail crew has put in to make opening day possible—even if the riders don't know it.