Vacation Two-Wheeled Relaxation in Utah
Three days ago, Darren Berrecloth was standing at the top of his line at Red Bull Rampage, mentally preparing for the next 90 seconds of high-consequence ripping, perhaps the most intense of his season.
Ricky Brabec, on the other hand, was cruising near 35,000 feet, sipping a complimentary beverage on his return from a race in Africa.
Today, they're caravanning along Utah's Highway 24, en route to Caineville, UT and its dusty and wrinkled landscape. They're nowhere near a beach, but the upcoming week is to be their ideal vacation: No crowds, no sponsors, no obligations, just throttle-twisting, campfires and two-wheeled relaxation.
Ricky is a cross-country moto racer, and, at 25 years old, he's already stacked up an impressive amount of titles, including the Baja 500 and 1000, and the American Motorcycle Association's Hare & Hound Championship. At the moment, his season is in a brief lull; he still has a few weeks before the Dakar Rally, a stage race from Asunción, Paraguay, which passes through La Paz, Bolivia before finishing in Bueno Aires, Argentina. Being in the middle of Utah with his Honda 450cc in tow is not exactly rally practice, but even the best athletes need some stress relief.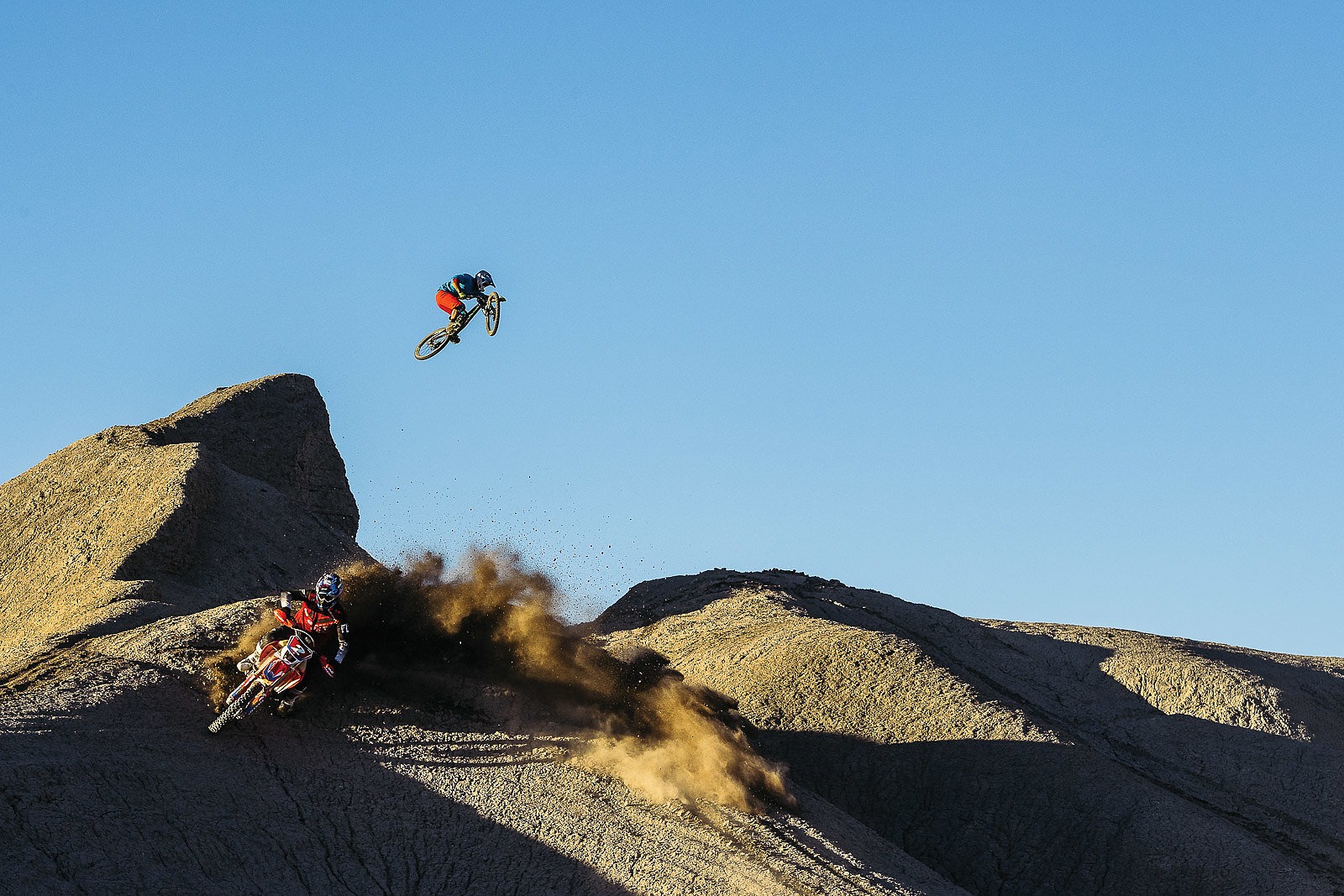 Darren, however, has come from one of mountain biking's largest and most punishing competitions, a burly finish to a whirlwind of a summer. He and his wife just sold their house on Vancouver Island, and together with newborn daughter Isabella, they've transitioned to full-time life on the road, operating from a plush camper on the back of their Dodge Ram 3500. Combined with his white-knuckle experience at Rampage, few people are more in need of a rest.
The vacation officially started when the pair met in Torrey, UT, but the fun begins in earnest as the party turns left off the highway onto a dirt road, which eventually disappears as ridges start to rise out of the ground in front of them, sloping like the walls of a maze with no center. Moto tracks scribble across every ridge and hillside in view. Out here, the only limitations are the capacity of your gas tank and the strength of your throttle hand. 
Darren and Ricky each dabble in the other's profession, and both are junkies for anything two-wheeled that operates in dirt. Their specialties become apparent as they look out on the terrain and imagine their lines—different, but similar enough for each to understand the other's. Both have also spent plenty of time in the state's deserts and badlands, and make it a point to return every year.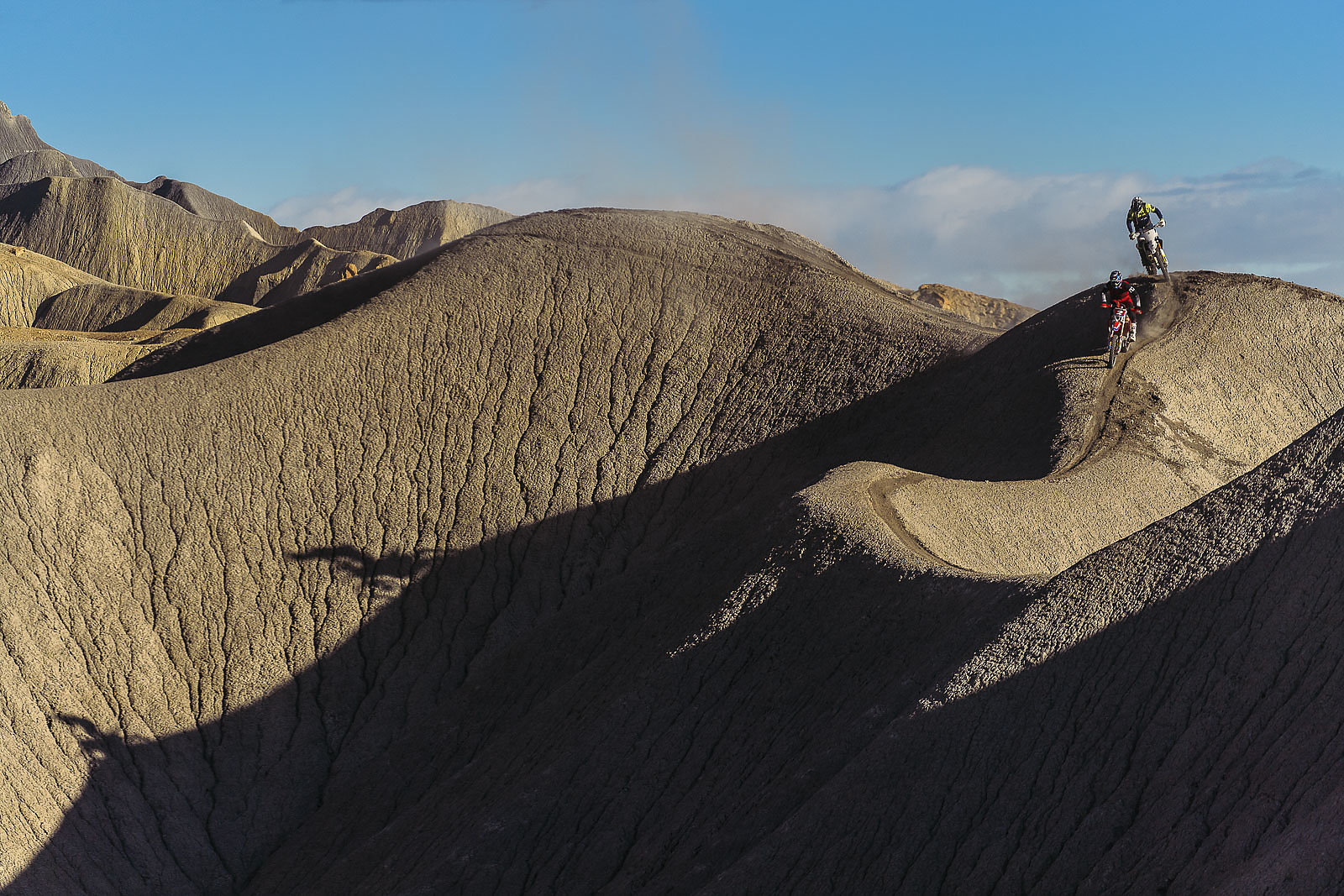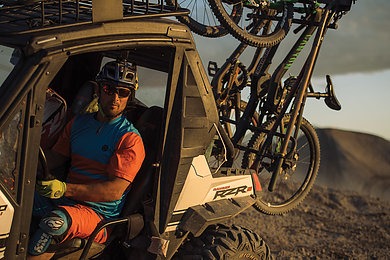 "Every time I come to Utah, I see something different and I learn something new," Darren says. "You could sit in one valley and every day you look at it, it starts to look different and new lines start to appear, new jumps start to appear. It keeps getting better with time."
Their balanced skill set and style works on the bike as well. Darren has obvious veteran vibes, approaching each feature with an authority gained from years on the bike, while Ricky has an eagerness that's reserved for those in their 20s. Together they are calculated and deliberate (minus a rogue burnout every now and then), scoping the terrain and looking for lines. Around the campfire, talk tends to turn more existential. Once the sun is down, the expansiveness of the desert is more apparent than ever, stars filling the milky night sky. It feels like the roof has been blown off the world.
In the desert, the weather tends to turn like clockwork. As the morning sun heats the ground, there's a few hours of perfect temperature. Once high noon hits it's too hot to be fully geared up, and the wind comes shortly after anyways. That brings dust, and lots of it. In the evening, the temp turns mild once again while the sun lingers on the horizon.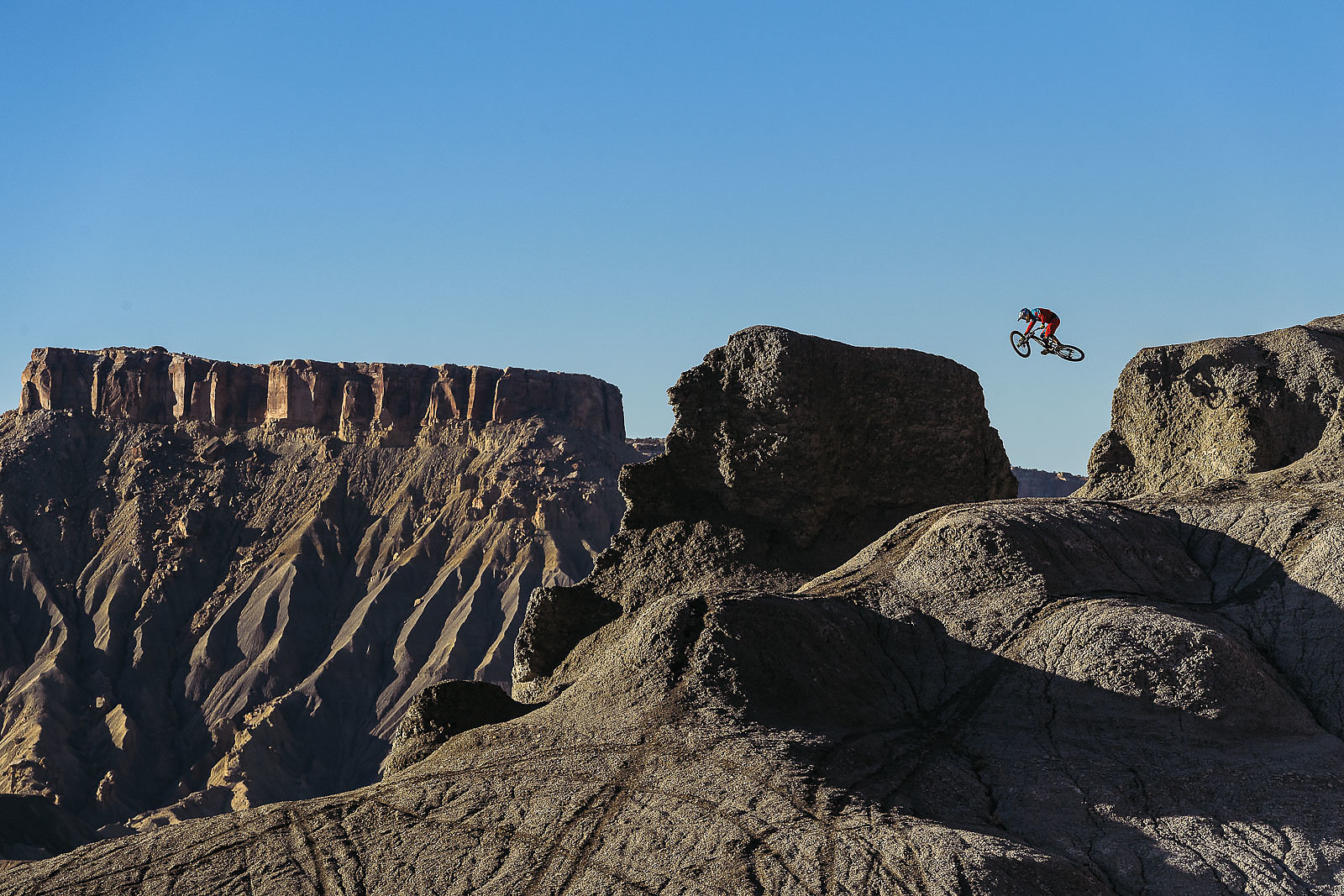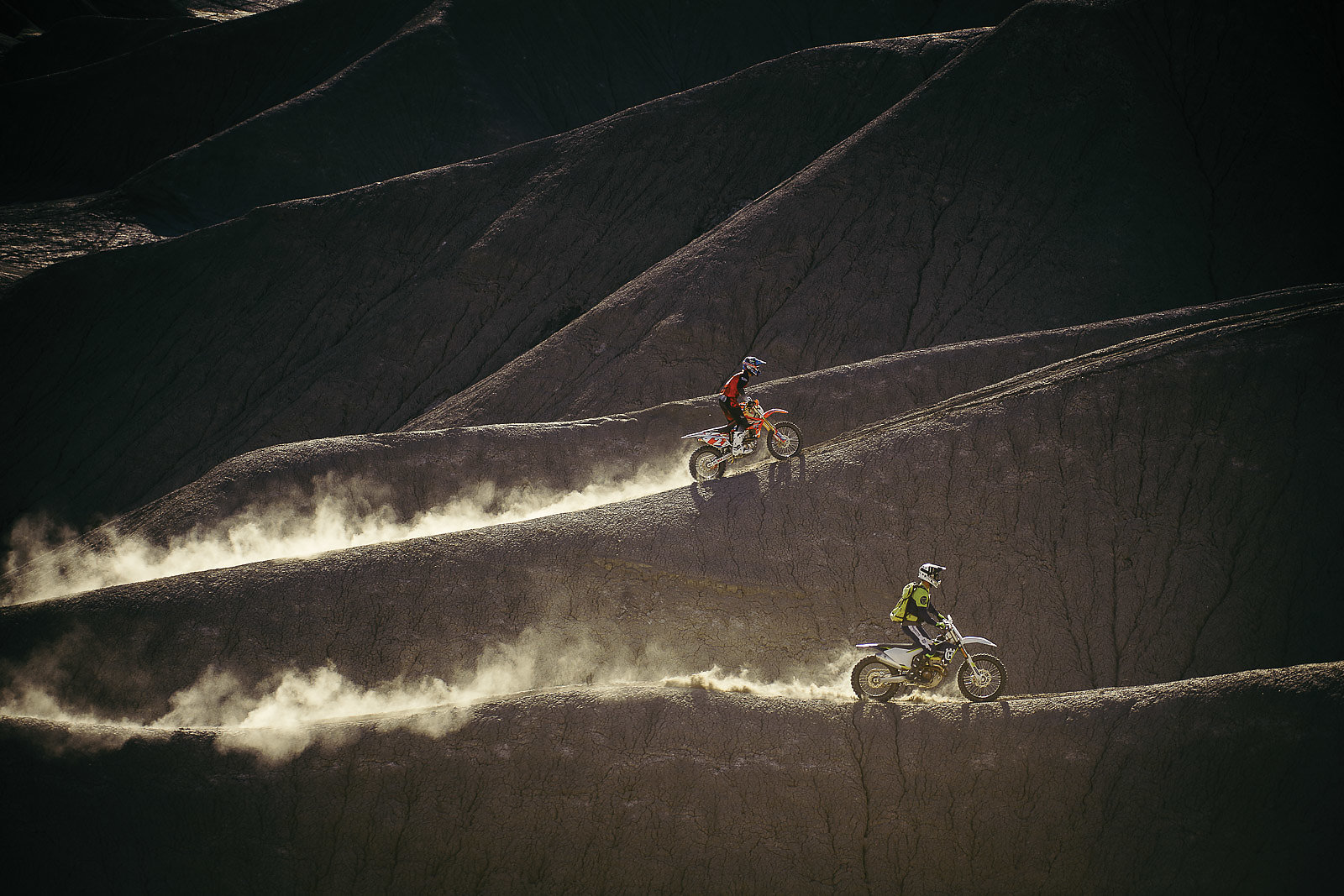 The days pass, a week measured by this simple count of sunrises and sunsets. Measuring the miles on the bikes would be nearly impossible, and it doesn't matter anyway. The duo didn't come out to the middle of nowhere to count laps or capture shots. They're here to avoid exactly those things, and that mission has been accomplished thoroughly.
Next week, they'll return to the routines of life as a professional athlete. For Ricky, that means returning home to Hesperia, CA to prepare for the gauntlet that is Dakar. For Darren, it means more hours on the road, but this time with the family, potentially switching from a dirt-and-desert-oriented holiday to one on the beach. But even though this week was spent searching for an escape, neither minds the return to reality. When you love what you do, every day is a little bit of a vacation. 
"People get too hung up on seeing an end goal as a success," Darren says. "For me, it's more being able to ride my bike for a living and not have to push an office job. That's my biggest success."