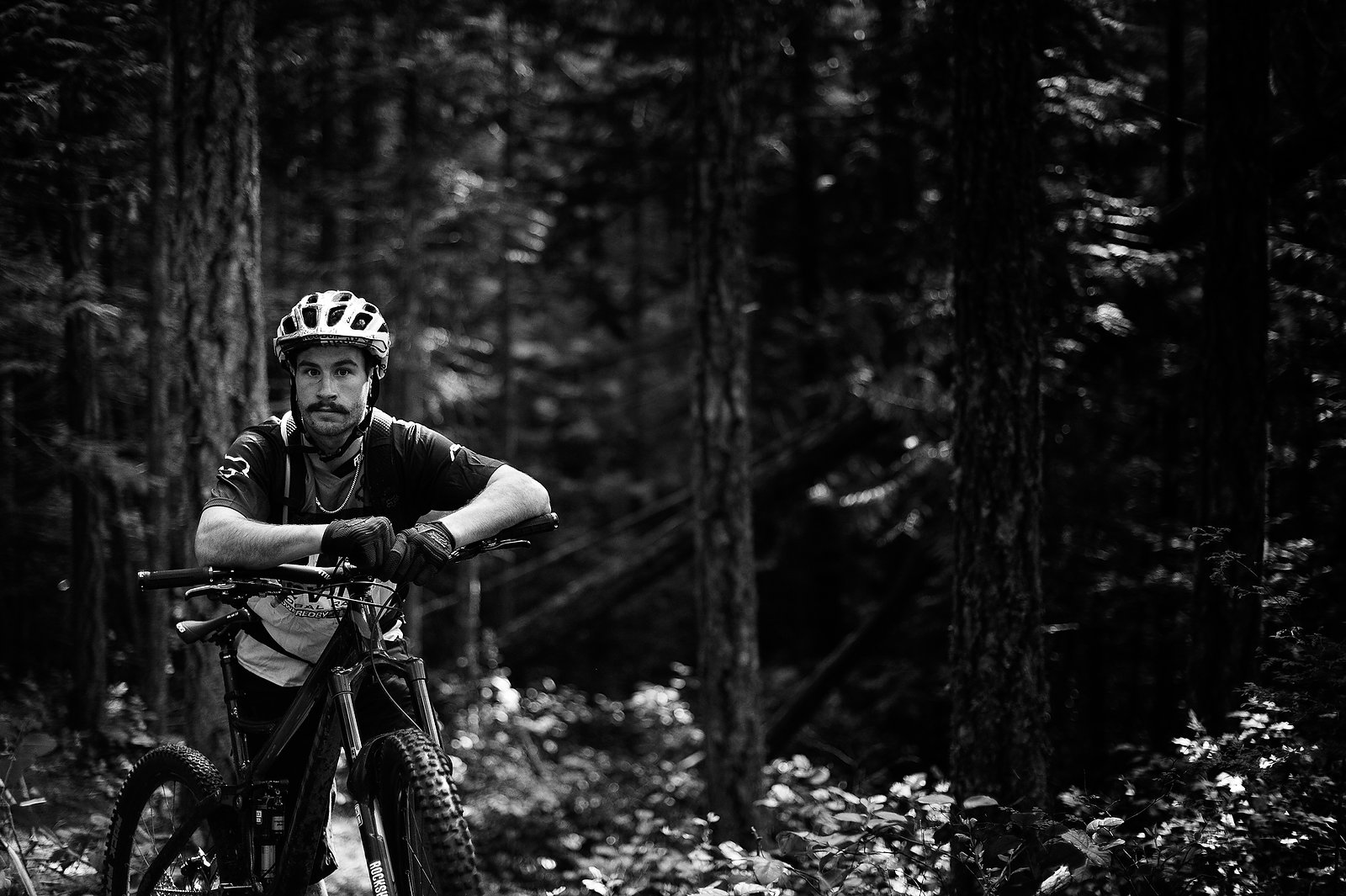 Primed - The Stevie Smith Story
Proving the love of a mother and the gifts of a grandmother can motivate more than the promise of glory, the Canadian Chainsaw Massacre has made a career built on humility, hard work and a prodigal amount of talent.
"He's got big aims. He wants to be number one in the whole world," Tiann Smith says of her son Stevie Smith in the 2004 film Seasons. Her humble demeanor fails to conceal her high hopes for her teenage son: "Who knows? Steven may move off the Island, but no one has so far…he may be the first of the family to leave in 200 years."
The Squamish, BC-based production company The Collective had just premiered the film, which highlighted different seasons from a host of the world's best riders, including Darren Berrecloth, Cam McCaul, Steve Peat and Andrew Shandro, all of which were already well on their way to becoming anointed legends in the international mountain bike scene. In fact, the fresh-faced teenager from Cassidy, BC was the film's only subject who hadn't graced magazine covers or starred in film segments. Who was this 15-year-old kid from Vancouver Island and his mom? And why were they sharing screen time with the sport's biggest icons?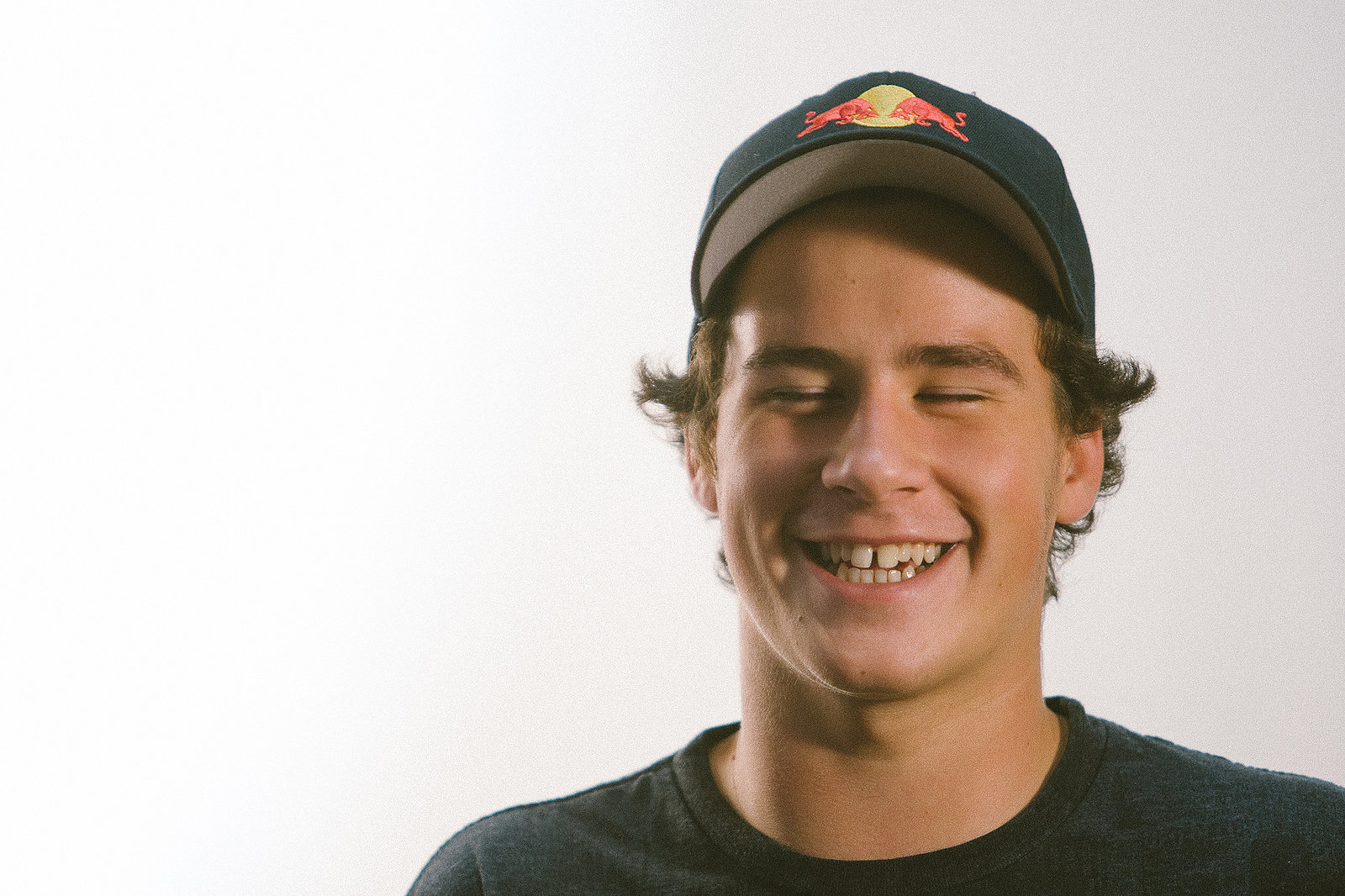 "I first met Stevie through all the Cove [Bikes] guys," says Seasons director Darcy Wittenburg. "I hadn't heard anything about him…he was just the kid on the team from the Island. I definitely remember how fast he was at the time."
"Stevie just wants to destroy trails 24/7. He's so aggressive, and you could just tell that he would look good on film from watching him ride."
Over the next few months Wittenburg rode with Smith in Whistler on and off. After a visit to Golden's infamous Mount 7 Psychosis downhill race—where 15-year-old Smith placed 21st against a field of elites—Wittenburg began thinking about including him in Seasons.
"At the time it was clear that Stevie was a top Canadian DH athlete, but we were equally drawn to how hard he generally shredded a bike," recalls Wittenburg. "Stevie just wants to destroy trails 24/7. He's so aggressive, and you could just tell that he would look good on film from watching him ride. Connect all of this with him telling us stories about how his mom shuttles him endlessly up Mt. Prevost, and it made so much sense to include him in the film.
Much like his aggressive style, Smith's inclusion in Seasons would accelerate him into the spotlight faster than most. In fact, at a speed faster than the rest of the two-wheeled world.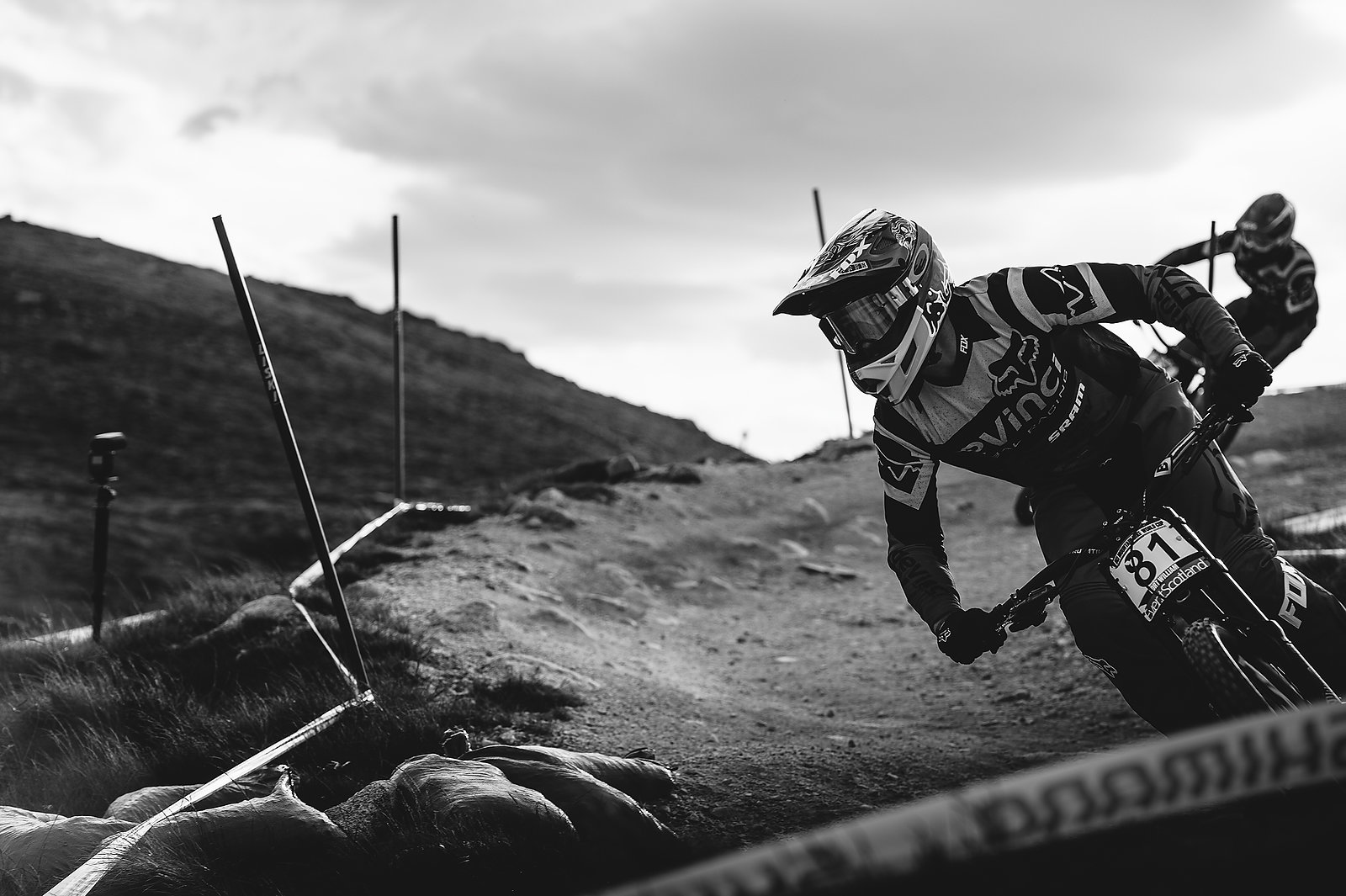 When the world's best downhill racer was only five years old, he received the gift of a used BMX bike from his grandma. She baked 12 apple pies to trade for a "sweet, chromed-out" Free Agent from a bike shop in nearby Nanaimo. It was this humble vehicle that would kick off a fanaticism for bicycles, and eventually lead to the 2013 World Cup downhill title.
Fresh off the first two 2014 World Cup events (Smith missed the Pietermaritzburg, South Africa and Cairns, Australia stops due to an ankle injury), the defending world champ returned home to Vancouver Island where he spoke to Freehub after a ride on his Harley Davidson. With only three weeks on his bike, the 6th place he earned in Fort William, Scotland had impressed the rest of the field but angered Smith. Despite not having raced for nine months, the ambitious Canadian had wanted to land on the podium his first race back. Still, when speaking of it he turns his anger into something positive, claiming it means he's "mentally still looking to win." On camera Smith seems almost shy, but when you speak to him in person you realize he's merely humble—confident, but not cocky. This nature is at once responsible for both his success and his fan base. The kid is likeable but fierce—a competitive quality for which he's not quite sure of the origins.
"[It doesn't come] from my family," he laughs "My family is all pretty relaxed…I mean, I'm relaxed too. I just hate losing."
Looking back, Smith recalls early success on his BMX, the results of which may have led to his confidence.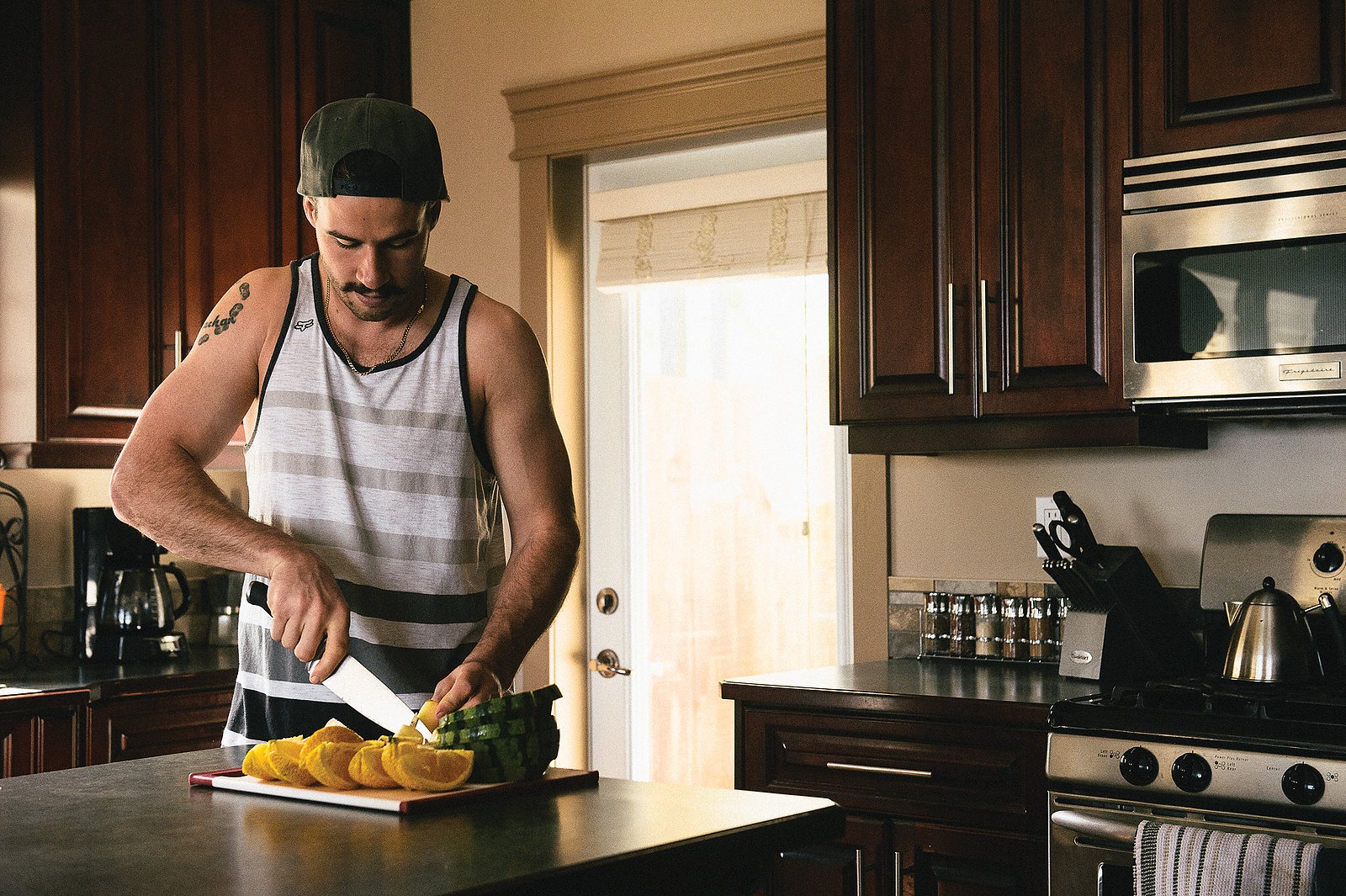 "I started BMXing at a young age, maybe 7 or 8," he says. "It felt good to accomplish things. It kept me competitive. You want to do better and better. But I'm not competitive about everything I do, just the things I put effort into."
That effort paid off, leading to being ranked 7th in the world in his BMX class at age 11. By 13 he had won "pretty much every race for two years," but he soon found himself becoming bored.
"I dropped out at 13 in my prime, pretty much," he remembers. "It was too repetitive, so I got a mountain bike and started doing dirt jumps. It was good to change."
Mountain biking suited Smith. Compared to the groomed tracks of his BMX career, the new discipline's variety held his interest. Plus—no surprise here—he was good at it.
"I didn't plan on racing," he says. "I did a really small race on a borrowed GT Backwoods—a horrible little hardtail. I lost my shoe and still did very well. Then I went and raced the BC Cup [Downhill Series] final. There were guys like Jordie Lunn there, when he was in his prime. I was 15 years old and I won my category by one minute…I think I got second to Jordie in the elite category. It was a really big shocker. That was motivating."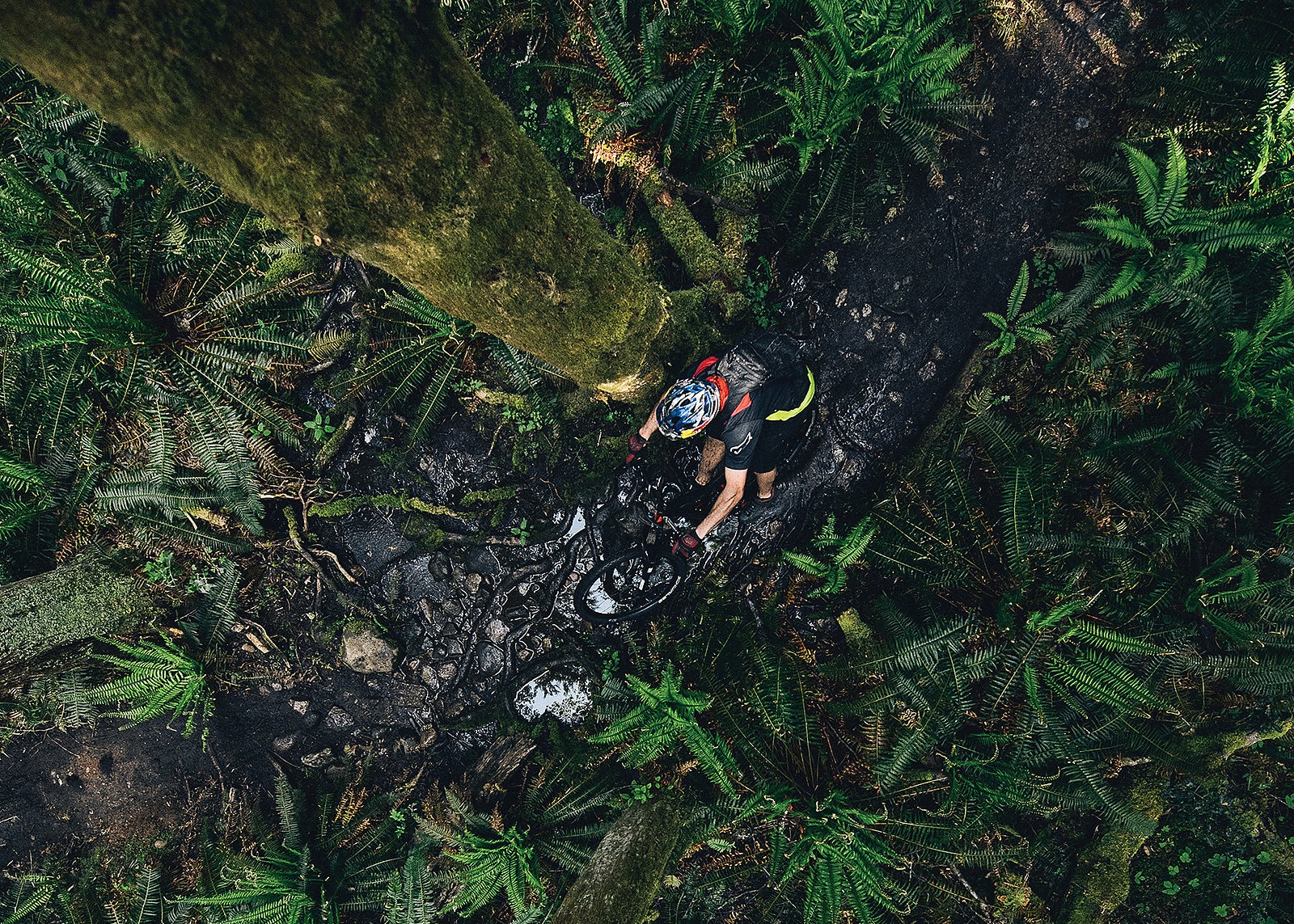 Within two years, Smith would be sponsored by Red Bull and featured in the biggest mountain bike movie of the year. Who knew a dozen apple pies could be so valuable?
"The biggest change [I felt] was belief in myself," says Smith of the win. "You set all these goals in your life, things you want to do. People don't always get what they want."
Avid mountain bikers may know Stevie from that first Seasons segment, but the rest of the general Canadian—and global—biking community first heard about him two years ago. In the final race of the 2012 World Cup season, torrential rains brought muddy conditions to the Hafjell, Norway track. Using skills gained in the towering rainforest of Vancouver Island's Mt. Prevost, The Canadian Chainsaw Massacre (a nickname World Cup commentator Rob Warner had coined for Smith's loose riding style in his earlier races) took the win with quiet dominance and pinpoint precision. It was the first World Cup DH win by a Canuck in over two decades, and a moment many felt was a long time coming for Smith.
When it happened, Canadian bikers went crazy. National fervor erupted throughout the country's mountain bike community. Somewhere on Vancouver Island, a mother shed a tear or two. Despite having won the Canadian Championships, the Crankworx Canadian Open DH and the Canada Cup, Stevie Smith had finally arrived on a mainstream stage he didn't even know he existed when he first threw a leg over that steel Free Agent.
"The biggest change [I felt] was belief in myself," says Smith of the win. "You set all these goals in your life, things you want to do. People don't always get what they want. At a young age I set my goals: 'I want to race a World Cup one day,' then 'I want to podium.' You never know if these things are going to happen. You know you put the work in. You know if you're capable. But only a small percentage of riders can do it."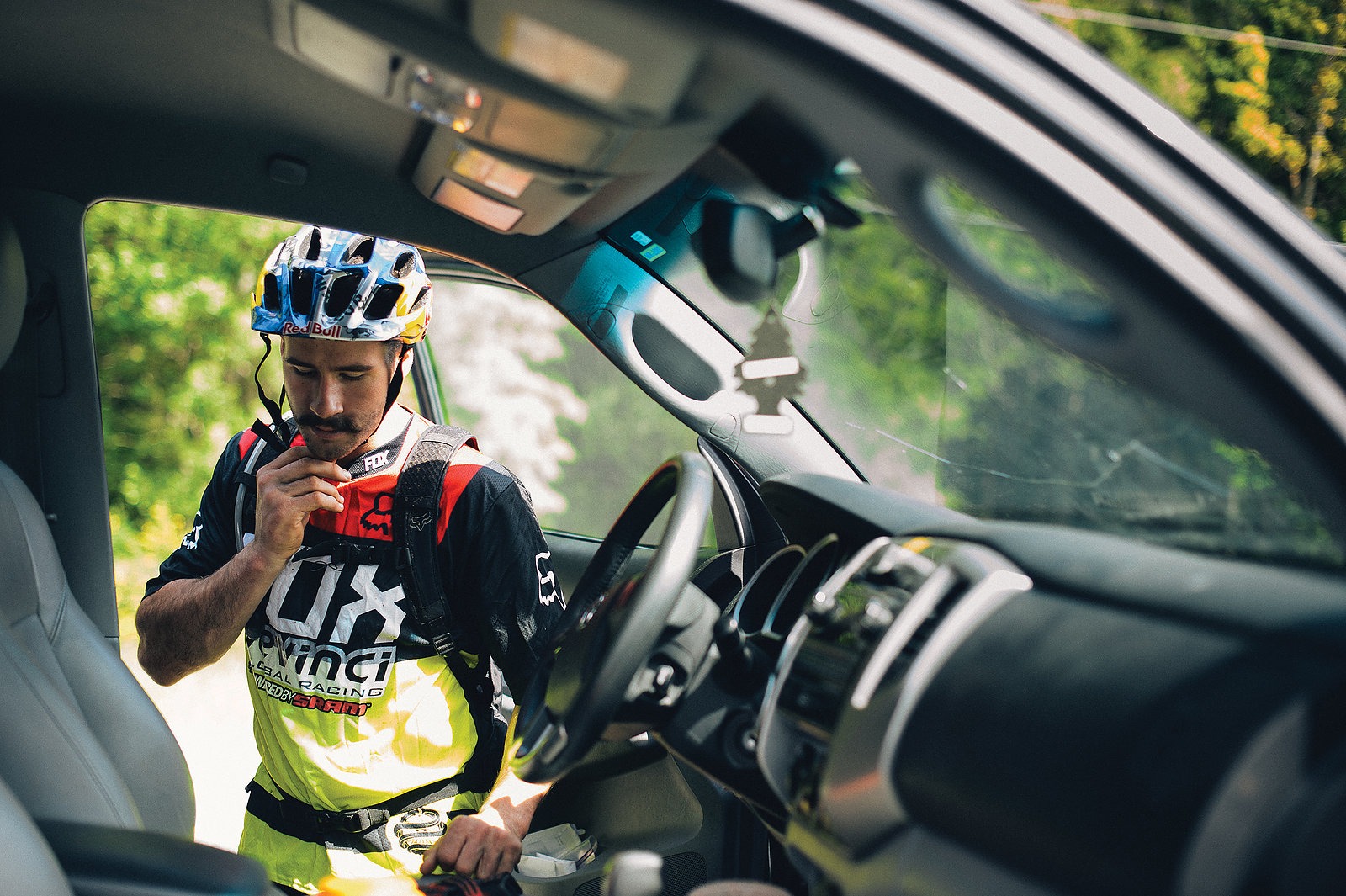 Smith's win at Hafjell proved he was not only capable, but easily part of that small percentage.
"Up until I won I was pretty stoked with podiums—that was a dream fulfilled," he says. "To finally get a win and realize what kind of a run it took to win—it's not a kamikaze thing where you're up over your head. It's just a good smooth run. To get that and take a win made me think there's no reason I can't do it more often."
When Smith won at Hafjell, a chorus of voices suggested he'd done so due to the notoriously wet conditions of the west coast. Indeed, Vancouver Island's mountains are known for downpours, but they're also known for hero dirt, a fact Smith suggests might go against him.
"It's hard to say," he answers, after being asked if time spent on soggy trails helps or hinders. "If anything, I feel it plays against me. Where I ride I have unlimited traction all winter. You go ride somewhere like South Africa, where it's hard pack with silt on top…that's difficult to get used to. If you're from Australia or southern California then you go from zero-traction dirt to Europe, and it's almost like 'Hallelujah'."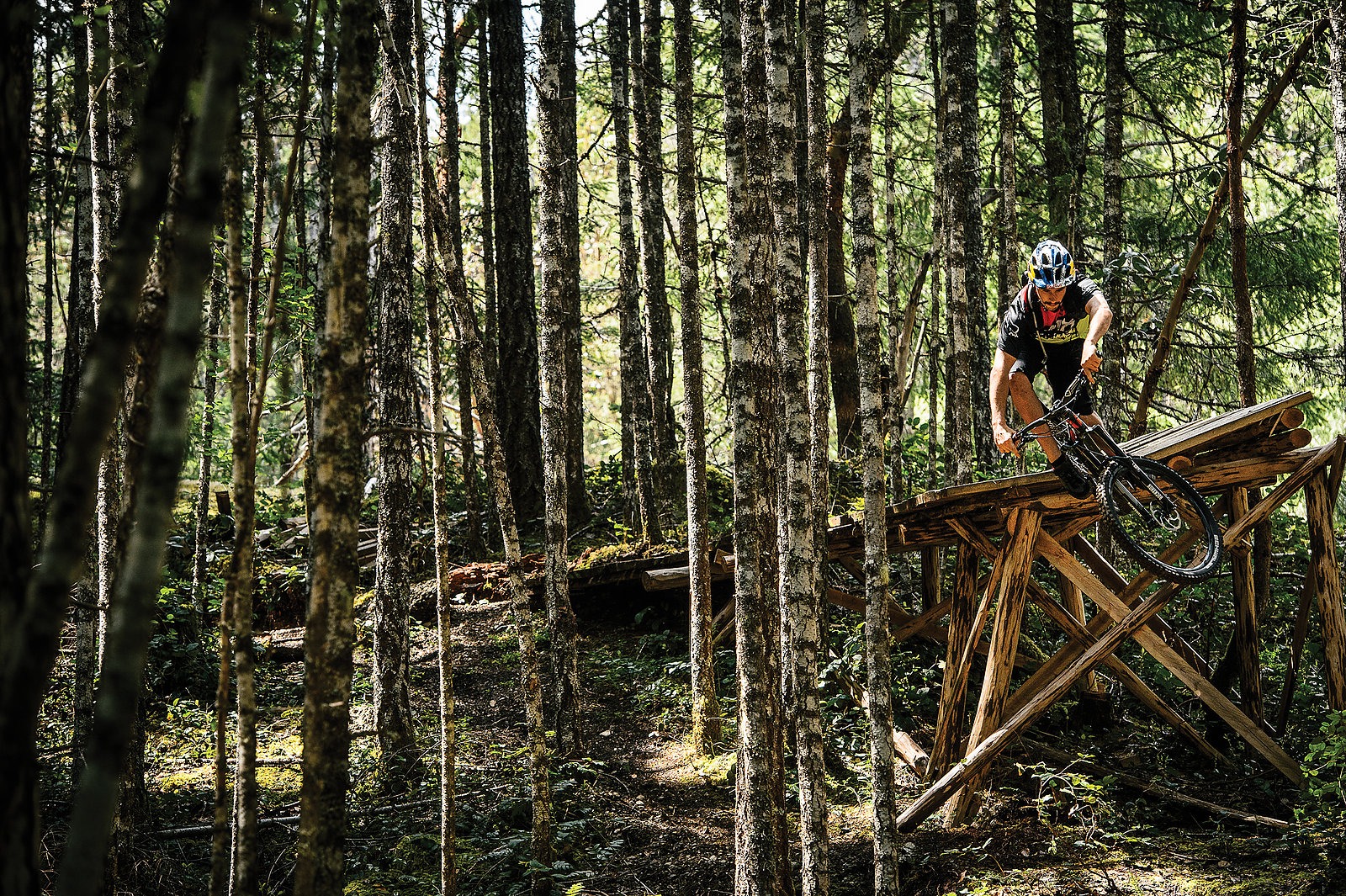 Regardless of soil type, it's clear that Smith's Vancouver Island roots play a huge role in his success, not only in topography but in how the land and weather affects his training.
"I think my advantage is access to great mountains: big, long downhills," he says. "I never get to a race and go, 'Holy crap! This is too long.' I'm able to ride the gnarliest stuff there is."
"I think my advantage is access to great mountains: big, long downhills," he says. "I never get to a race and go, 'Holy crap! This is too long.' I'm able to ride the gnarliest stuff there is."
Thanks to the relatively sunny disposition of the Island, Smith has access to a year-round riding season—rare in Canada—and a short visit is all it takes to understand why Smith has remained loyal to the land that shaped him, rather than making the popular move to a place like Whistler.
"I love Whistler," he readily admits—a good thing, as he's an official ambassador for the bike park there, where he spends multiple weeks a year. "I've thought about moving there, but people have said 'don't do it.' [It's too easy to] just eat pizza and party every day there. If you're on the Island, you can focus on the right side of things."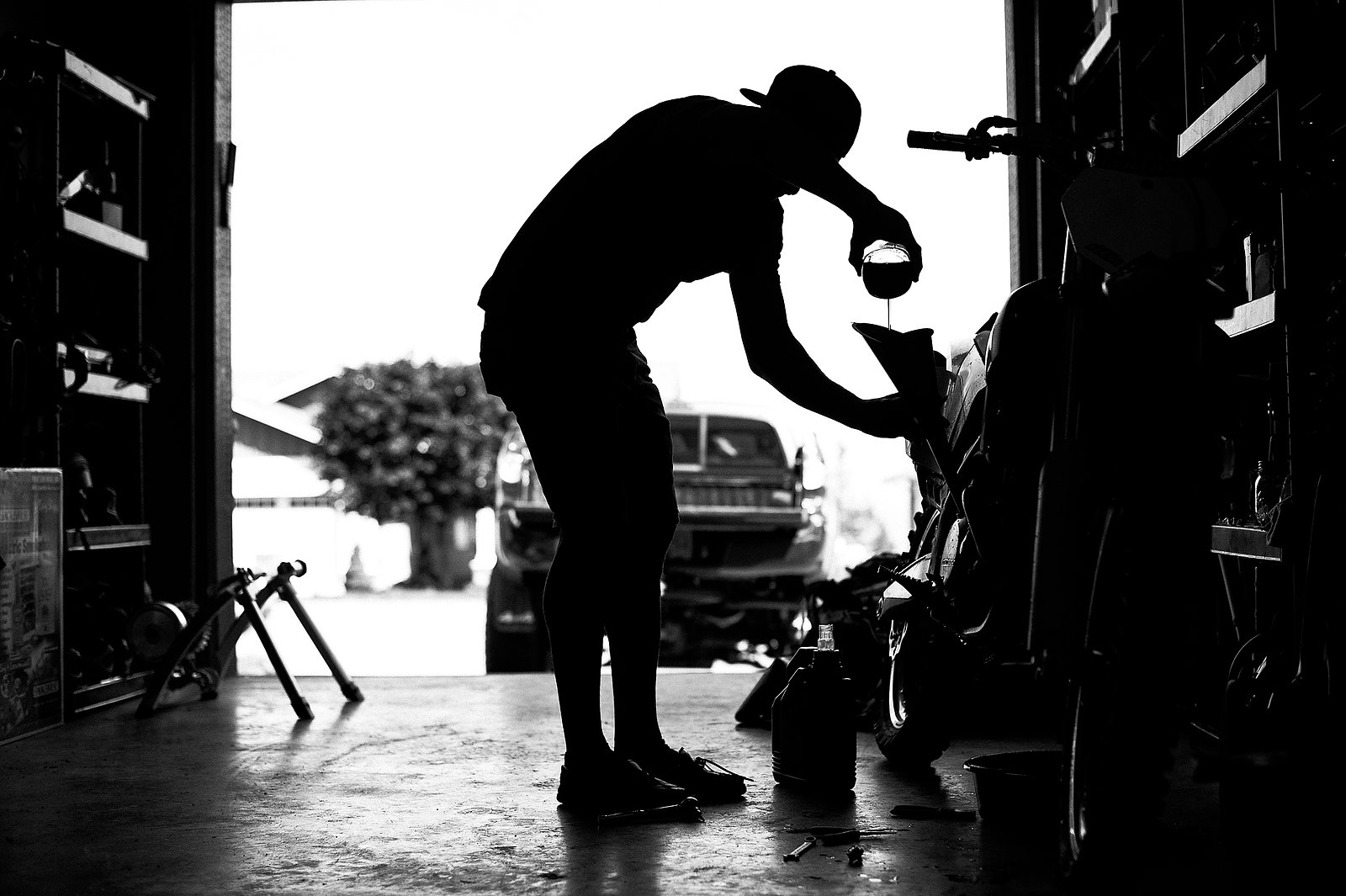 And, of course, Smith hasn't forgotten where his support network comes from.
"My family and friends are here on the Island," he says. "Plus, I can afford two homes here for what one costs in Vancouver. If I do it right, I can live comfortably and possibly retire off this money."
Knowing Whistler's incredible allure for gravity-focused riders, his answers surprise me, but it's just another example of how Smith's maturity and steely focus have played a central role in his steady growth from teenager to world champion, both in his riding and in the confidence he exudes.
"One of the biggest parts of training is the confidence," he states emphatically. "If you think you're the strongest guy, you believe you can be the fastest guy. I love riding every bike; BMX, dirt jumper, cross-country, motorbike. I like to do all that stuff to keep it fun, and then put my time in at the gym as well."
There is no doubt that Smith's motivation, focus and talent is all his own, but there is one man behind The Massacre who can be partly credited for Stevie's road to success. Gabe Fox, former head of sales and marketing at Cove Bikes (where he had worked since the age of 14) heard about Smith's growing dominance well before he blew up and saw the potential.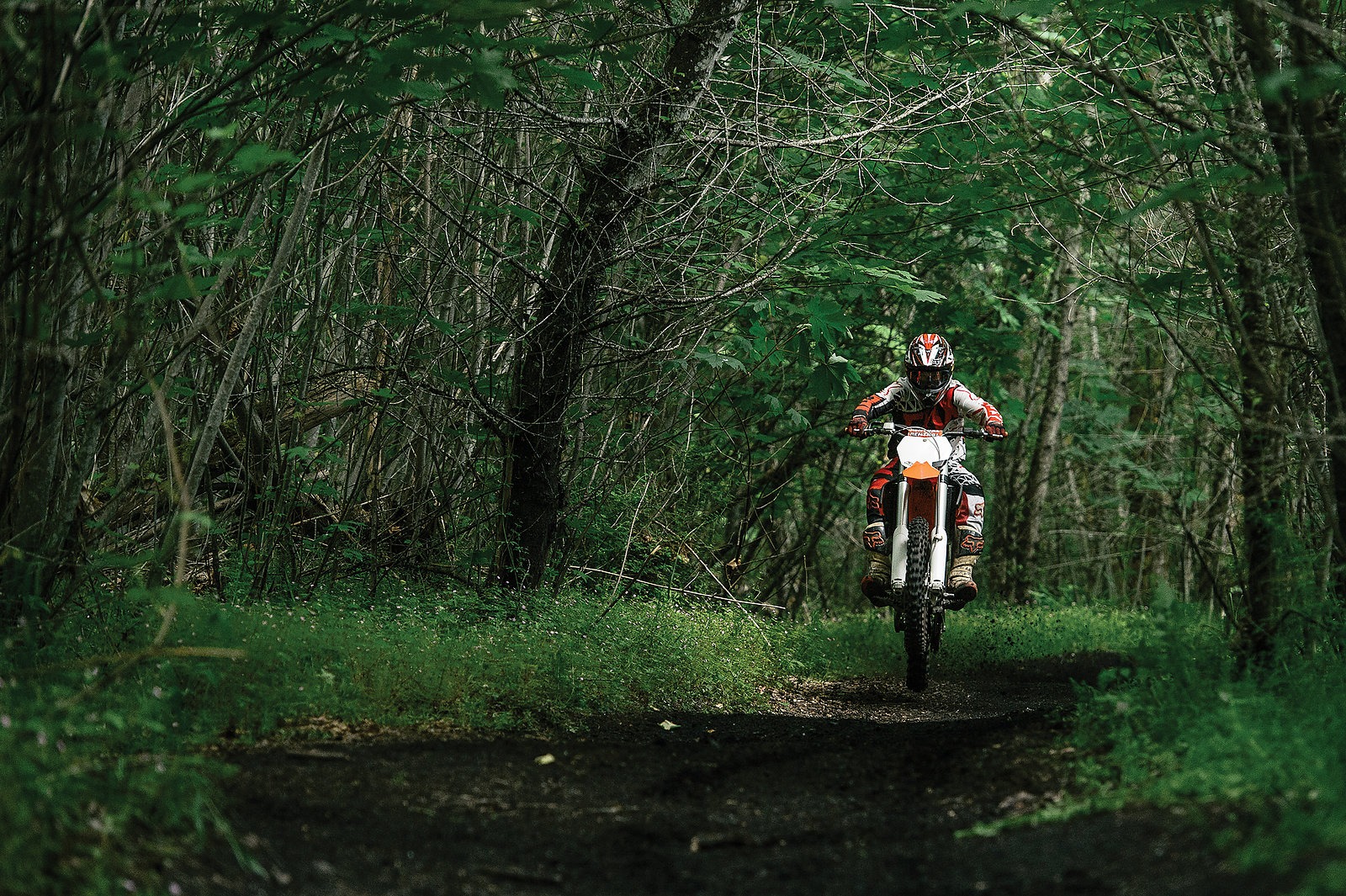 "Gabe saw that my times were comparing with elite men, which was rare at the time," says Smith. "Then at Crankworx in 2005 I was on a used Intense I had recently bought, and I ended up bending the frame in my race. Gabe built me up a Cove that night."
Smith would go on to win the next two Canada Cup events with the same bike. Two months later, he signed a two-year contract with Cove.
The duo have worked together ever since. When Smith's star rose, the iconic-but-modest Cove Bikes couldn't keep up with the astronomical costs of World Cup racing. "Chaz [Romalis, Cove co-founder] and those guys were great," Smith says appreciatively, "but I kind of maxed out with where they were able to support me. They couldn't go to the next level."
Meanwhile, Gabe Fox was being lured away by Seattle-based Evil Bikes, and Smith followed. When Evil fell into their infamous dark period and couldn't pay the bills, Fox and Smith gravitated back to Canada alongside Evil's founding genius Dave Weagle at Devinci.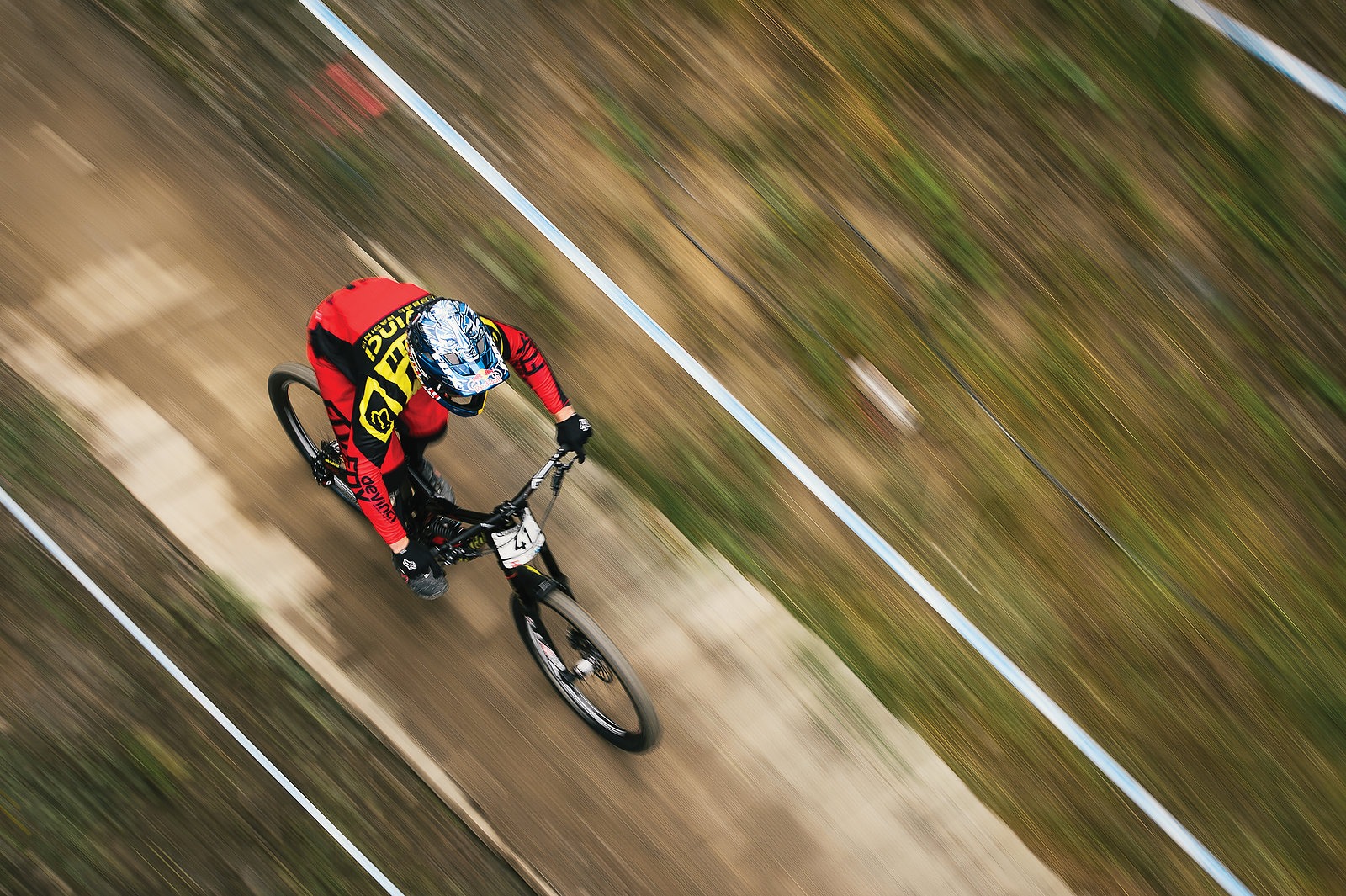 "Devinci had been talking to me for years, but their bike wasn't what I was looking for yet," Smith says. "Then Gabe was jobless and they offered him a position. They had wanted to start a [World Cup downhill] race team for a few years, and that was the year [2011] they came out with the split pivot with Dave Weagle. It seemed the right time to hop on a Canadian brand.
"I would drift and late brake and blow the corner up. That's where [the nickname] started. I was more of a loose cannon…but I've progressed steadily since."
"People think we only go where each other goes," laughs Smith. "We've been pals for years now."
In August 2013 Smith stood in the start gate at Mont Sainte Anne, Quebec, waiting to see if he might grab his second World Cup win. Sitting solidly behind Gee Atherton in second place in the overall standings, Smith was not only riding in his own country but in the same province from where bike sponsor Devinci had sprouted. This was as fitting a locale as is it gets for fans of the Canadian Chainsaw Massacre—although his racing had long since progressed past "massacre" designation and into true World Cup excellence.
"Before I raced clipped in, I was riding flats," recalls Smith, chuckling. "I would drift and late brake and blow the corner up. That's where [the nickname] started. I was more of a loose cannon…but I've progressed steadily since."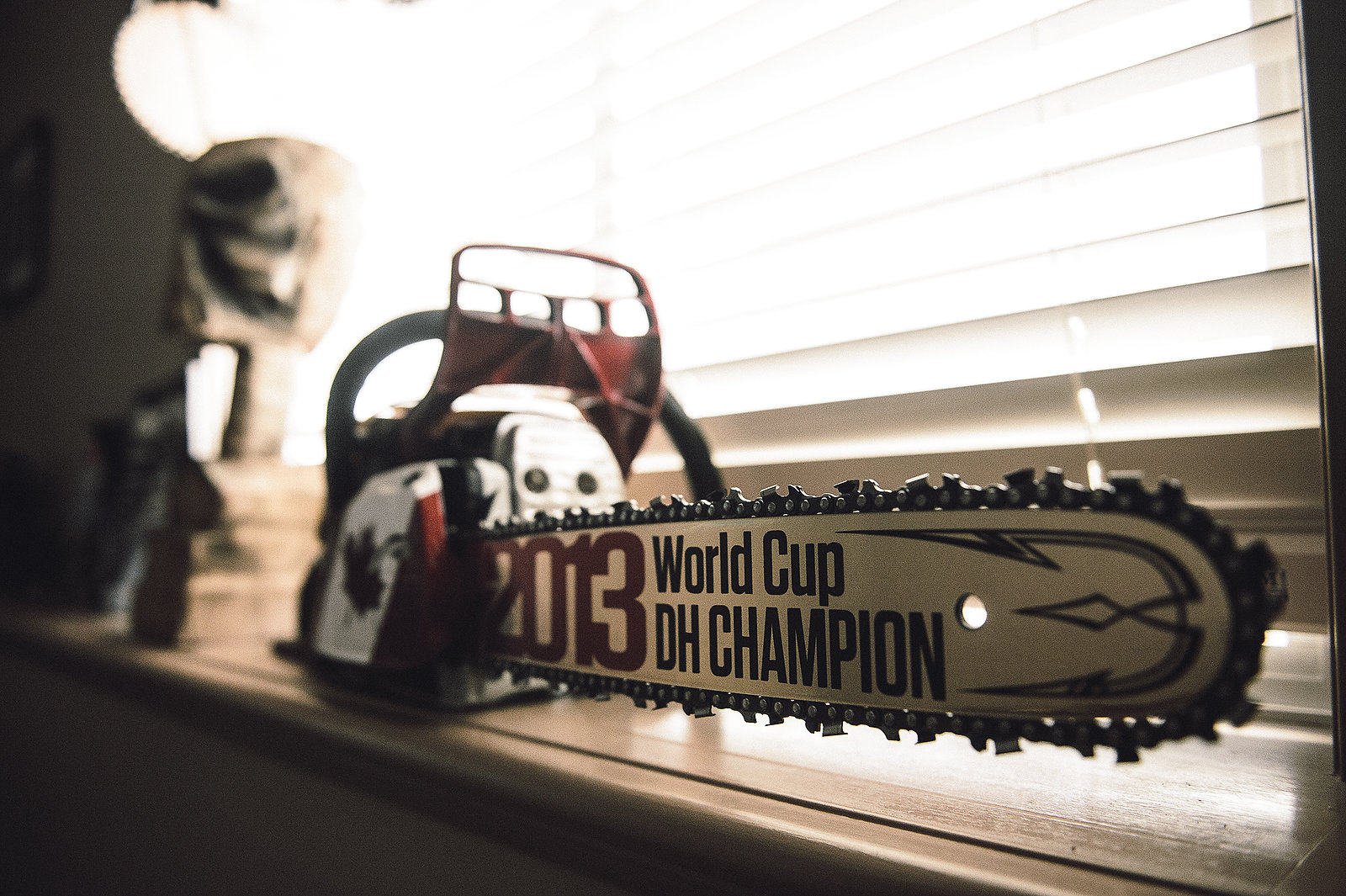 The progress was clear at the first time-check in Mont Sainte Anne. Smith was more than two seconds behind Atherton but gaining fast. With each segment of the course he crept closer to victory, making up time on the lower course where others had lost it. Even in the webcast, the energy could be heard in the distorted roar of the crowd.
"This is what desire is," screamed World Cup commentator Warner. As Smith's gap grew smaller it looked like he could do it.
"I saw red on the last jump, so that sucked," Smith recalls, referring to the finish line scoreboard's indication that he was still behind Atherton only hundreds of feet from the finish. But when he passed beneath the arch he was almost a full second up, taking the win.
"I haven't shouted that loud for three and half years," continues Warner on the webcast of the race, as Smith hoists his bike in the air. He had taken first place on home soil and done it with style—both of a riding and fashion kind, as he was rocking a formidable, non-hipster mustache, the classic kind that let people know you're a man to be reckoned with. Steve Smith had proven he was just that.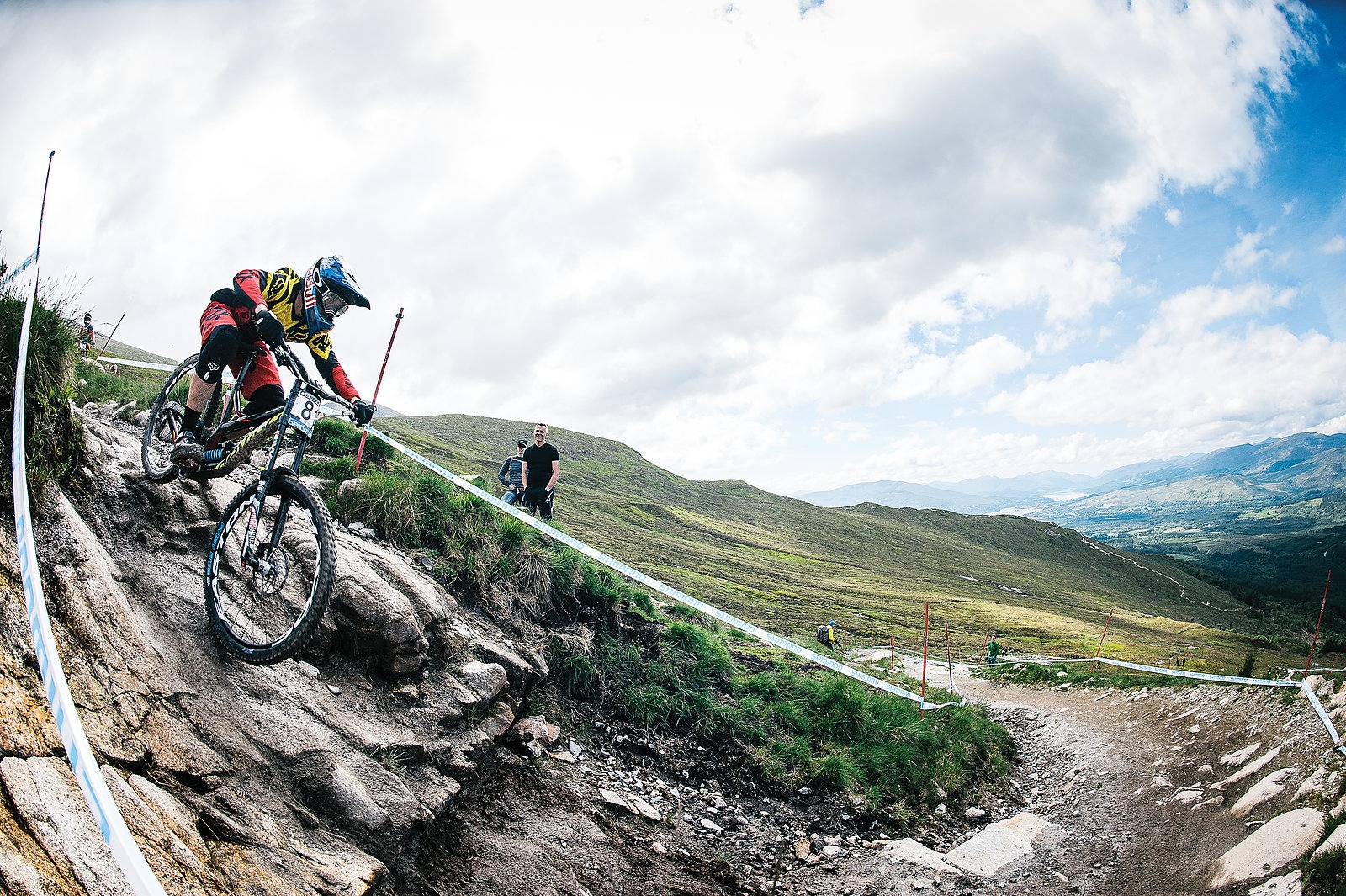 Over the next few months, anything "chainsaw" about Smith's racing was gone, replaced by composure befitting a finely tuned F1 machine, and he was able to hold off Gee Atherton for the world title. Alongside a growing storm of fan support—especially from a fiercely proud Canadian contingent—Smith's smiling mustache seemed to fuel the victory. When we sat down, however, the mustache was gone, and when asked about the power of the facial hair Smith is far from superstitious.
"Right now I am mustache-less," he says. "Gotta keep the fans happy, but you can't rely on your mustache. You gotta rely on yourself."
"Right now I am mustache-less," he says. "Gotta keep the fans happy, but you can't rely on your mustache. You gotta rely on yourself."
Looking back with hindsight at Seasons, it's easy to see the kid in the faded hoodie for the superstar he will become. At the time though, few knew if he could…much less would. Many young prodigies show promise, but not many make good on that potential—some fall to pressure, some to the allure of partying, some get bored and some just turn out to not have that next level of skill. While his future success may seem obvious now, Smith had to overcome those same difficulties and fears, staying the course with tenacity and humility and immense talent. And it's paid off, in the highest honors the sport has to offer.
"Honestly, I think those guys [The Collective] took a huge fricking risk," Smith says. "That was a pretty scary time for me. There was this massive movie company that wanted me. Then Red Bull wanted to sign me. I was like, 'Why the hell do they want to support me?' It was scary."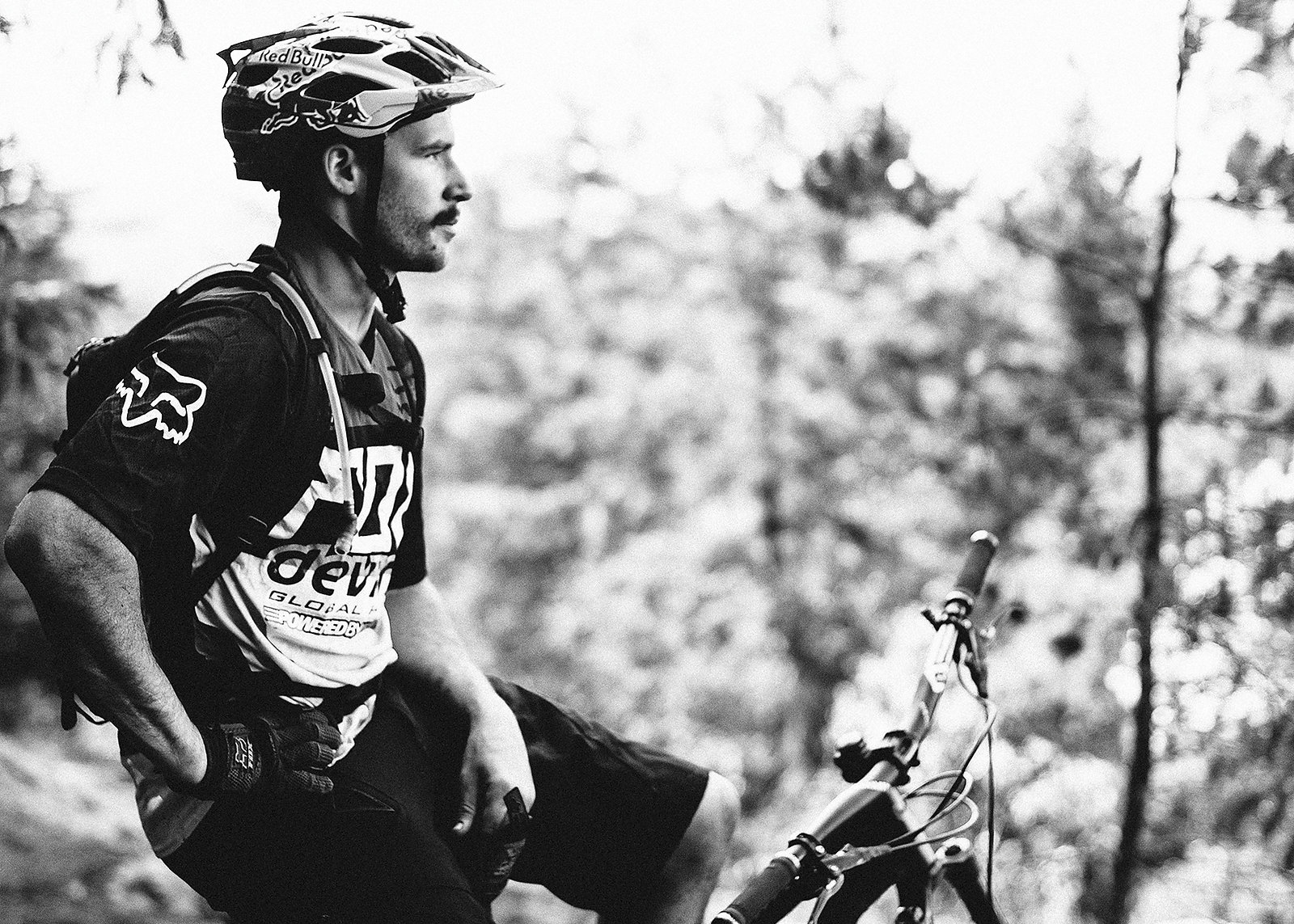 Wittenburg was willing to take that risk, and has been around to fully enjoy what turned out to be an incredibly successful wager. "It's been interesting to watch him develop into the well rounded athlete he is today," he says. "When he was a teenager it just seemed like he had pure aggression and fearlessness mixed with a lot of talent. I think what makes Stevie unique is his ability to control his fearlessness. He loves trying to get loose and scare himself on his bike, yet he's had a consistent and almost systematic rise to the top."
That fearless rise Wittenburg speaks of might now include World Cup podiums and international endorsement deals, but at one time it meant a mint green Chevy Tracker and a mom intent on helping fulfill her son's dreams.
"Being a parent myself now, I'm even more impressed with how dedicated Stevie's mom is to supporting his riding," Wittenburg says. "She's basically the definition of a good mom; it's hard to imagine how much time she's spent shuttling him up that hill. As we were filming and interviewing her, it was cool to see how natural it was for them…it's just what they did everyday. When you think about that in the context of that time, when neither of really knew if it would lead to anything, it's quite amazing."
While they may not have known the end result then, in the years since Smith has made good on those years of rides to the top of Mt. Prevost, and of the hopes of a mom who has always believed in and wanted the best for her son. "That's why she shuttles me," Smith states in the now famous film segment. "She just wants me to get bigger and get faster, and then, hopefully, be doing the same thing those guys are doing right now…just riding their bikes full time, for their job."
Editors Note: This story originally appeared in Issue 5.2. On May 10th, 2016, Stevie passed away in his hometown of Nanaimo, BC, after sustaining a brain injury in a motorcycle accident. The full press release is available here. You can make a donation to the "Stevie Smith Legacy Fund" through GoFundMe. Funds will be earmarked for a Tiann Smith initiative, assisting talented young athletes.