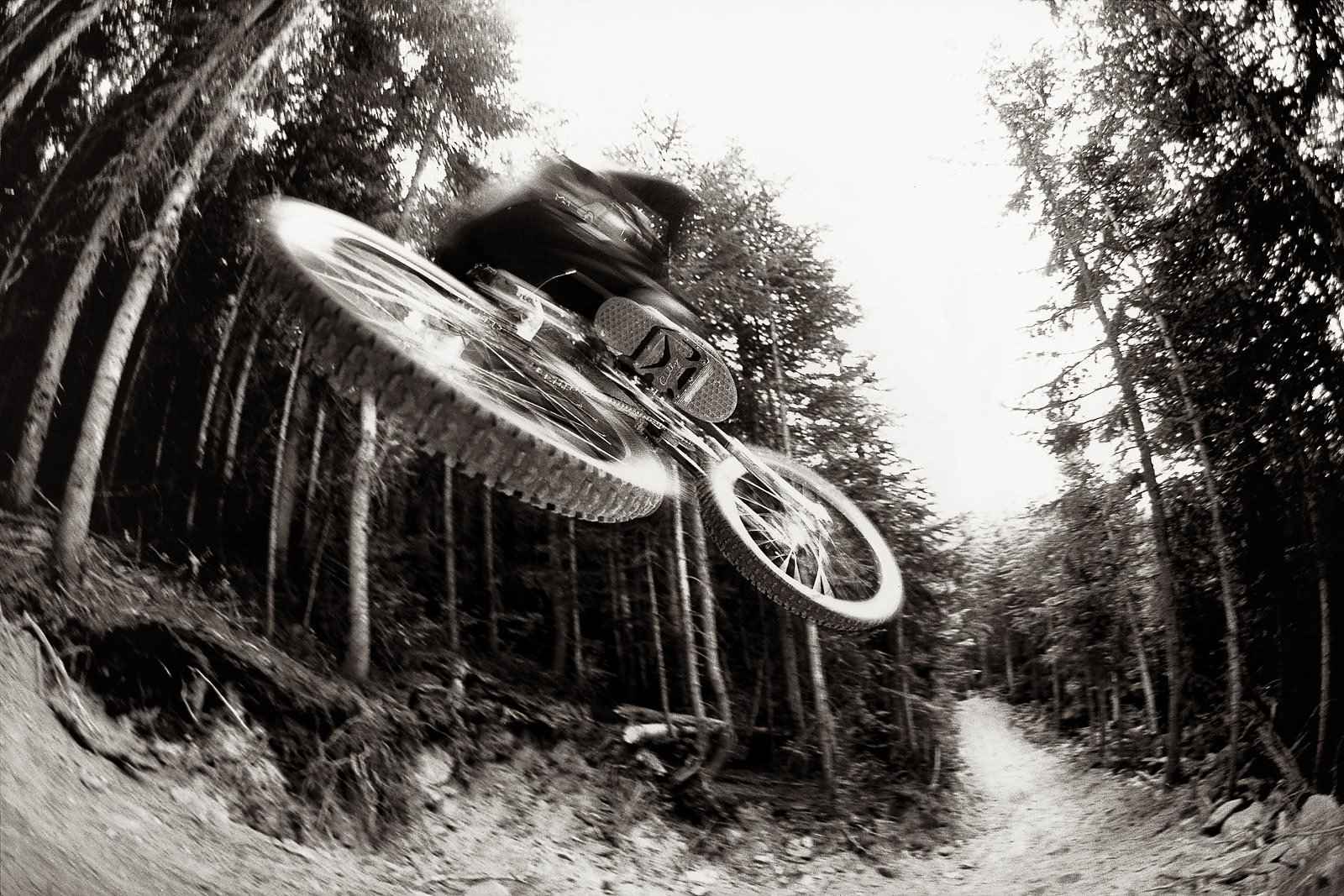 No Real Genius Two Decades of Breaking Handlebars, Bruising Ribs and Blowing Minds
Like many others, my first experience with the Whistler Bike Park came through a bent set of handlebars and a severely bruised set of ribs.
They were neither my ribs, however, nor my handlebars. It was 2001, and my brother and a friend had journeyed to a place called "Whistler" a few days before. Even as casual teenage mountain bikers, we had heard rumors of what friends described as a "snowboard park, but with dirt."
My brother's description—of both the crash and the "bike park," as he said it was officially called—followed in that same vein. "There was this one called A-Line, and there were so many jumps," I remember him saying, referring to the not-yet-famous trail. "They were huge!"
He explained how all the other bikes were massive, with burly shocks and technology far beyond his hard-tail Gary Fisher. His mind had been blown, and—though I wouldn't visit the park myself for more than a decade—Whistler's legendary status was cemented vicariously in my own brain.
I wasn't the only one. At the time, Vancouver's North Shore, just a two-hour drive south of Whistler, was the center of the mountain bike universe. But soon images of icons like Richie Schley, Wade Simmons and Brett Tippie ripping steep tech trails and A-Line's machine-built berms and tabletops began to appear in magazines and videos. Something was happening at Whistler, something beyond just a hot riding scene. It was a revolution, one that would progress the world of mountain biking to an entirely new level.
But its influence went deeper than that. Drawing from its skiing heritage and a group of dirt-oriented geniuses, Whistler would take a fledgling, ultra-elite sport to the masses, reinventing an industry and creating a culture that now stretches through the seasons and across the globe.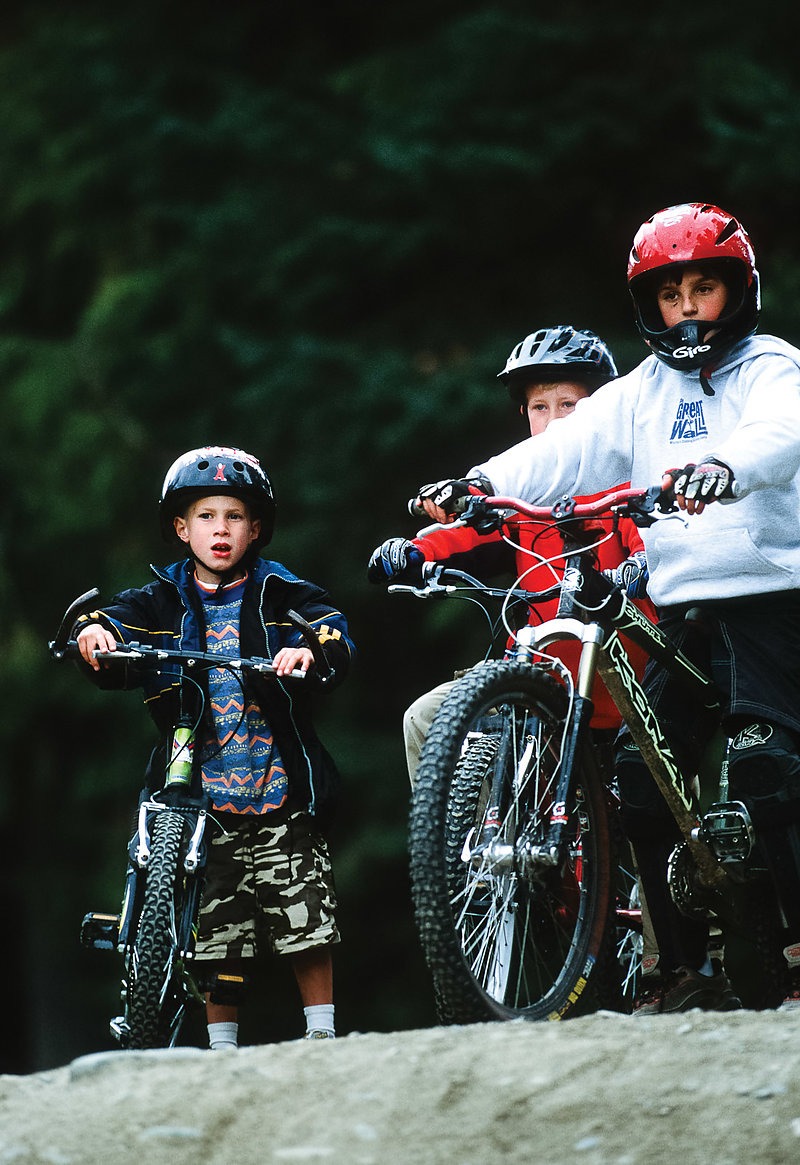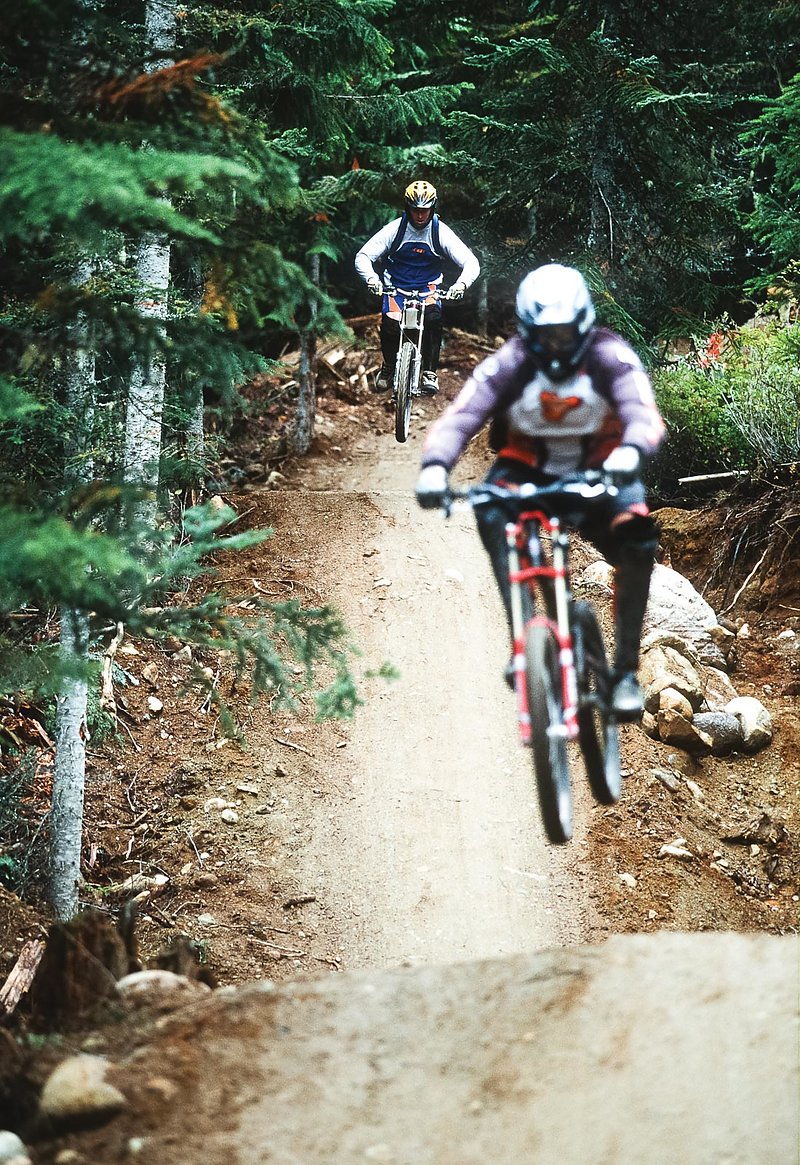 In the early 1990s, Whistler wasn't a hot spot on the mountain bike scene; in fact, it was still somewhat of a backwater. But a small cadre of local trail builders was experimenting with the dense forests, slick rock faces and steep hillsides of the Sea-to-Sky Corridor. The group, including Dan Swanstrom, Chris Marco, Dave Fortier and Grant Lamont, among numerous others, spent countless hours in the woods, creating ultra-technical, V-brake-burning descents that would push their rigid bikes well beyond their limits. It wasn't for the faint of heart, but their efforts caught on enough to generate official events, including the Cactus Cup Mountain Bike Race Series and other local races.
At the time, skiing ruled supreme on Whistler and Blackcomb mountains. While both offered limited lift-assisted mountain biking, it wasn't much of a descending experience. There were a few technical, downhill-focused trails (of dubious legality), but the vast majority consisted of fire roads and cat tracks.
"The only way you could go biking at Whistler at the time was a guided tour company called Whistler Backroads, operated by Eric Wight, that was operating on the mountain with a concession," says Rob McSkimming, vice president of business development, who began working at Whistler in 1980 as a ski instructor. "Blackcomb had a few trails open to the public, but they were more rattling your ass off on service roads."
Then in the summer of 1998, three key developments came about: Whistler and Blackcomb became one company, the Fitzsimmons chair was constructed, and Whistler suspended mountain biking due to its impact on the trails. The closure didn't last long, as by 1999 Whistler Backroads was once again in full swing. But the newly combined company began to ponder taking over park operations fully. Others, like McSkimming, were already envisioning it being much, much more. The numbers just had to prove it.
"Back then, it definitely wasn't clear whether selling lift tickets to take your bike up the mountain was a good business decision," he says. "There could be 10 people a day, there could be 1,000. We just didn't know. But some of us were saying that if we could get the funding to build some cool trails, more people would come."
"There could be 10 people a day, there could be 1,000. We just didn't know. But some of us were saying that if we could get the funding to build some cool trails, more people would come." — Rob McSkimming
To make that happen, McSkimming and a few others presented Whistler Blackcomb's management with an idea: allow the general public to bring bikes on the chairlifts, but with a $3 surcharge. It wasn't much for the consumer, but the resulting funds could pay a trail crew. If it worked, there was potential to expand the program. Management went for it, and in the summer of 2000, the newly minted Whistler "Bike Park" opened to the general public.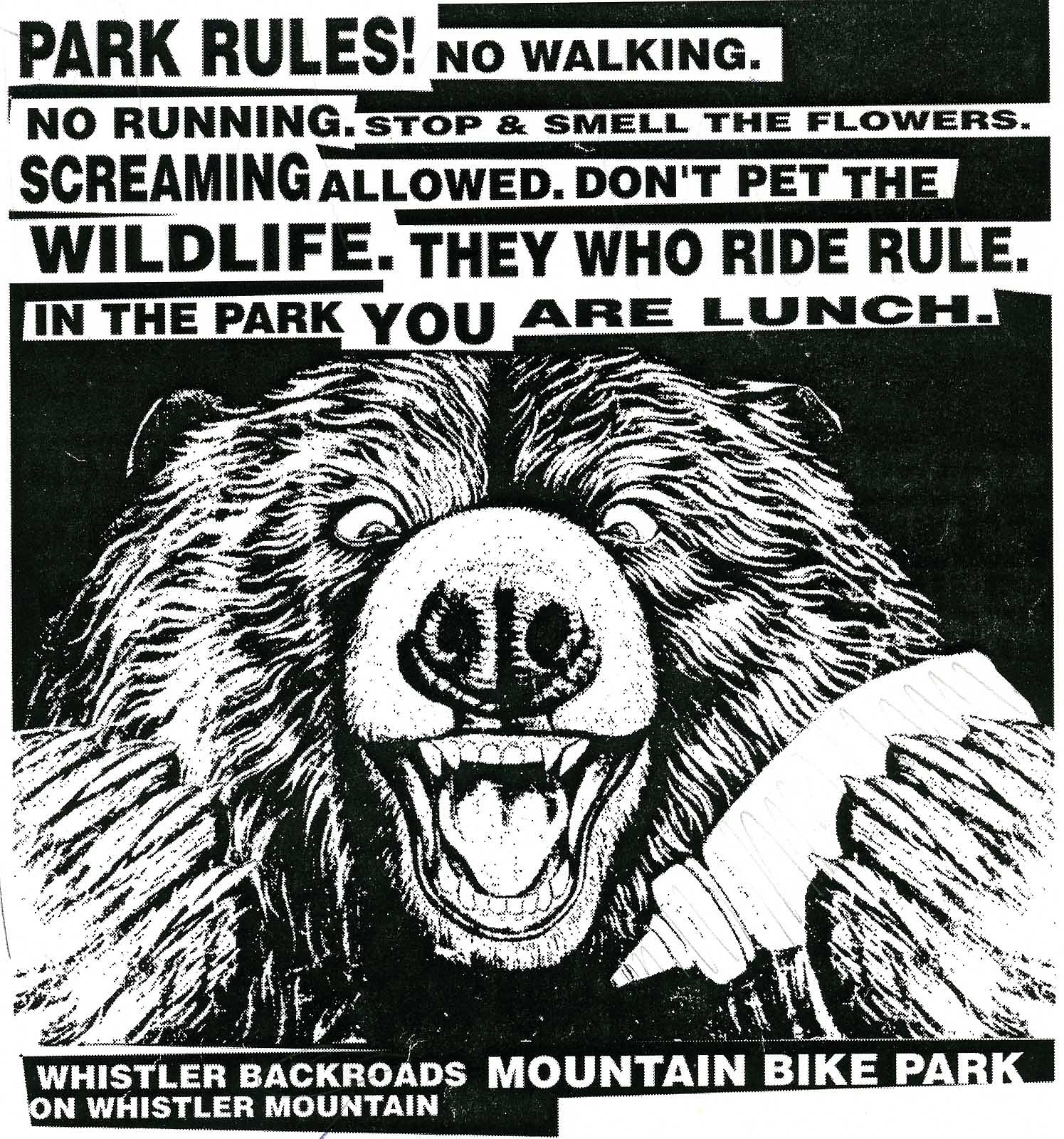 "That first year, we managed to make the numbers work," McSkimming says. "The next year, we added a little more to the surcharge and a little more to the trail crew. By the third year, we said, 'You know what, let's just charge this much, and then we can budget for a trail crew.' And away it went."
Those numbers were relatively small, but were in no way stagnant. That first year the bike park netted close to 10,000 visits, the second, nearly 20,000, and, by the third, almost 30,000, enough to bring on a trail crew. Jason Robinson blazed the trails, and Marty Gautrey—a longtime winter terrain park builder—shaped the jumps behind him. Jason Roe, who came from Whistler's ski school, took on the role of manager and spearheaded the push for a bike school. Ken Marler and Rob Cocquyt were the main hands on the ground, although everyone spent time on the chainsaw, in the machines, and on the rake and shovel.
But no one could predict what was to come in the form of a vision, an excavator, and one bad-ass trail.
"There was no real genius behind it," says Dave Kelly, co-owner of Gravity Logic and former co-manager of the bike park. "It was more sort of selfish luck; we were building something fun for ourselves, and it ended up being what the rest of the mountain bike world also wanted. Within a week of construction, we knew. People were going to come and do laps on that trail, and everything else was going to get abandoned."
While the resort dabbled with lift-accessed biking, a revolution was brewing two hours south, on Vancouver's North Shore. Pioneered by the likes of Simmons, Schley and Tippie, "freeriding" combined huge drops, precipitously steep descents, complicated wood features and BMX-style jumps. There were no race bibs, entry fees or course markers, just riding bikes. But the same plethora of influences that inspired freeride, and the varied backgrounds of its top riders, made it a movement without direction.
"In the early days, shooting with [film company] Freeride Entertainment, I felt like mountain biking had a bit of an identity crisis," says Blake Jorgenson, a professional photographer who shot some of the first images in the bike park. "It was really trying to be 'rad,' and was being majorly overshadowed by BMX and motocross as a result. There was a lot of confusion over what was the right approach."
There wasn't just confusion among athletes; the industry was trying to adapt as well. Despite drawing a fresh generation of younger riders, freeriding wasn't for beginners. It required a new style of trails, many of which were built by professionals, to be ridden by professionals. It also required heavy, long-travel bikes, which were brutal to transport uphill. People wanted to try freeriding. There just weren't many places to do so.
"There was a period where the consequences of making a mistake was grievous bodily harm," says Bike Park Manager Brian Finestone. Finestone spent his first winter in Whistler living in a 1968 school bus, spent years training avalanche dogs, and worked as a ski patroller before getting involved with the bike park. "It was the days of four-inch skinnies, elevated 11 feet in the air, where you basically had to be a circus performer to be a high-end rider. We didn't want it to go that way. We wanted to make things fun because fun is good. Everybody likes fun."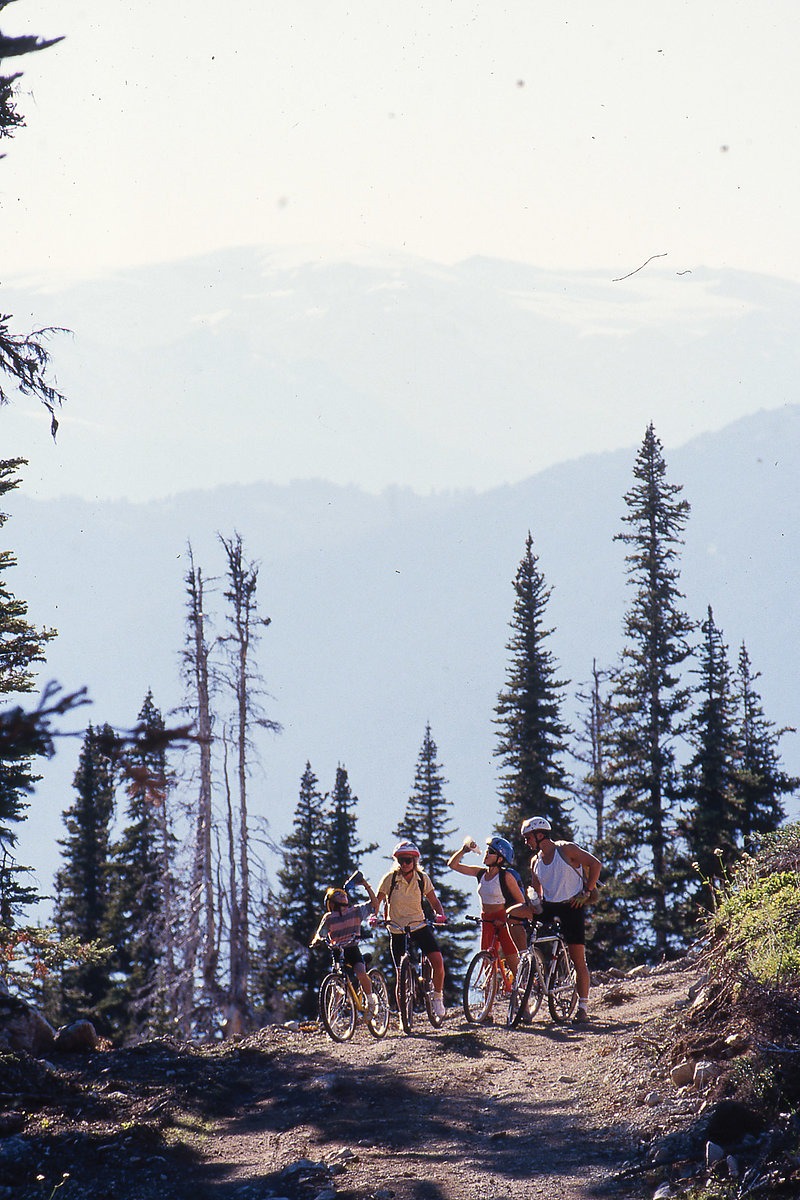 Before any of that could happen, however, the bike park needed places conducive to fun-having. A network of trails already existed within resort boundaries, built over previous years by folks like Joyride Bike Parks' Paddy Kaye, among others. Many trails were illegal and incredibly technical, but provided plug-and-play material for some of the more talented riders.
"At the beginning, we got all the guys from North Shore coming to ride," Kelly says. "There weren't many beginners. It was a really hard-core scene at the time, with big huck bikes, and all the trails were pretty raw."
The roster of "hard-cores" was a catalog of some of the sport's early all-stars; for the average rider, the trails weren't ideal. But the three trail crew members had an answer, and, with McSkimming's help, by the summer of 1999 they convinced management to fund short-term rentals of an excavator. Pulling from BMX tracks, they envisioned a wider, smoother downhill trail that would be more comfortable for beginners, but also a good time for talented riders looking to rip. The result was B-Line, a machine-built trail that followed singletrack from the 1980s and was an immediate favorite when the park opened to the public in 2000.
"After we finished the first 100 yards, we knew we had to use that same construction style to build a jump trail," Kelly says. "We had to finish B-Line first, but we already knew what we were building next."
That trail was to be called A-Line, and after some hard pitching by McSkimming, construction began in late '99. It was a slow process; they converted and connected sections of an old trail of the same name, shaping jumps and slope angles using strategies they'd learned from trails they'd built in Squamish. But when it came down to it, there was no better way to test their creations than trying them firsthand.
"There are a million memories from that project, but I remember one day with Marty, probably a week into construction," Kelly says. "We would build a turn and a jump, then ride it to make sure it worked well, hiking the same 50-yard section and laughing and high-fiving at the bottom. We never would have guessed A-Line was going to be the busiest trail in the world, but we knew when it opened it was going to change mountain biking forever."
And that it did, even before it was finished and officially opened to the public. Images and video of professional riders on the trail soon began appearing everywhere, filling web forums and making the trail quietly famous.
"I have a photo of Richie Schley on A-Line when it was still under construction," Jorgenson says. "We shot the first three jumps, and Marty Gautrey is actually around the corner, working with the excavator. That was probably the first-ever published photo of A-Line, and the first-ever published bike park shot."
It wasn't just the media. As essentially a half-BMX course, half-jump line, A-Line offered riders a few thousand feet of air time, on dozens of hits. From racers to tech specialists, jumping skills soon became a requirement to stay relevant in the professional bike world.
"I came from BMX, so I could jump well and Wade could jump well, but a bunch of those guys like Tippie couldn't jump to save their lives," Schley says. "A-Line brought speed into things, and if you go back and watch those old movies, you can see the whole thing changed the minute the bike park opened.
"I think you could even say the bike park influenced World Cup racing, because now it's pretty common to have jump after jump after jump. It would be easy to say the birth of that trail changed a lot of things in the whole sport."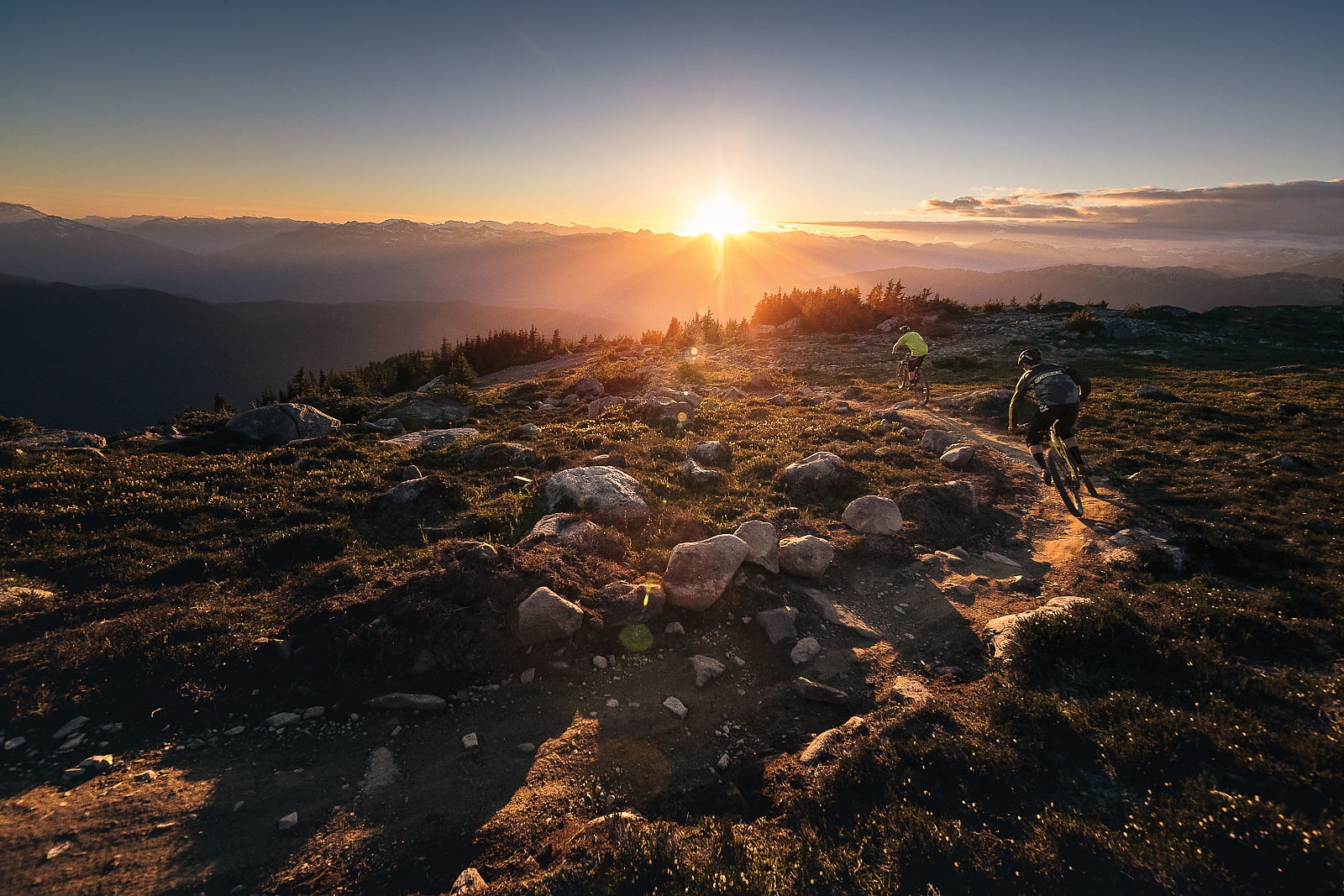 With A-Line, Whistler found itself at the forefront of the sport. As the world's first full-on bike park, one question remained: Where to go from here? This was new territory, with no model as to how to move forward. But it had been a successful ski resort for decades, and that formula was quickly adapted to biking.
"We knew winter really well, so how do winters work?" says Tom Prochazka, co-owner of Gravity Logic and manager of the bike park from 2001 to 2007. Prochazka has been skiing in Whistler since 1968, and living there permanently for 27 years. "You have ski schools, you have rentals, you have retail, you have food and beverage—that's what fills the town and makes money for the mountain. We decided if we did it the same way, that's how we'd be successful.
"But there's no way you can have bike school or rent bikes if you only have black- and double-black diamond trails. There's nowhere to teach people. You need the trails to support it all."
And so that's what they built. Attendance skyrocketed, as did associated business. Rentals for the trail crew's heavy equipment went from short term to spanning the entire summer, and Whistler continued to add more trails off the Fitzsimmons Chair. The wheels were rolling at a speed that surprised even the people responsible for the original vision.
"There was a very distinct 'holy crap' moment for me, where I realized this thing was going to be way bigger than we imagined," McSkimming says. "I was up on the Rutabaga Rock Drop, and there was a constant stream of riders rolling through, so many it was hard to cross the trail. They were all smiling and hooting and hollering, and I thought, 'Wow, this thing really has some power.'"
With Fitzsimmons in full swing, the resort soon dropped into its most ambitious endeavor yet: expanding up off the Garbanzo Chair. The project took years of planning and building, and when it opened in 2004, it added 2,700 vertical feet of two-wheeled playground. Soon trails like Freight Train, Original Sin and Blue Velvet—many of which followed old singletrack built by folks like Paddy Kaye—began to earn fame in their own right. In fact, Kaye was one of the first people hired by Intrawest to build in the Garbanzo Zone, and as construction off the chair entered its later phases, the trail crew grew to nearly 30 members.
What started as a gamble had turned into a movement, as resorts across the world began showing interest in what Whistler had created. One night, while talking over beers, Prochazka, Kelly and a few of the other trail crew members had the idea to start a consulting company to help other resorts and localities build their own trails. After more beers and brainstorming, the group presented its idea to Whistler management. Understandably, higher-ups were skeptical. Why would they use their resources to help what could become their competition?
"We said, 'No, you don't get it,'" Prochazka says. "'If we don't help other people build bike parks, then how are we going to grow? If there were only two ski resorts in the world, how big would the sport be?'"
Management was convinced, and in 2005 Gravity Logic started as an offshoot of Whistler Blackcomb, backed by McSkimming and with the resort's blessing. But when the resort was sold in 2007, its new owners didn't see the financial benefit, and so, having to choose between continuing at the resort or continuing Gravity Logic, Prochazka, Kelly and a few others purchased the consulting company.