Maxxis Tomahawk Tire Review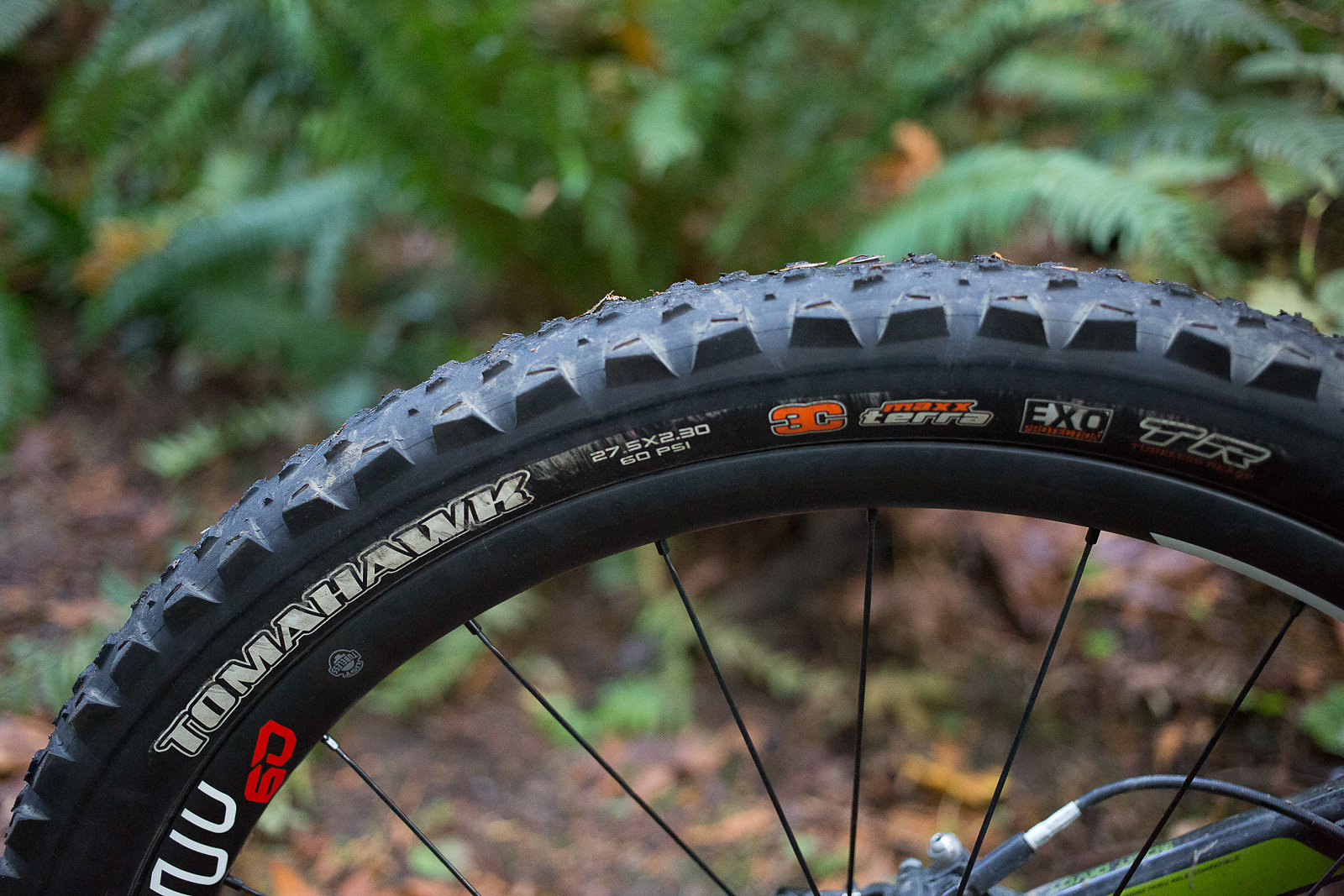 Maxxis Tomahawk Review
While generally known as a weapon of war, for Native Americans the tomahawk was the pocket-knife tool of the time.
Used for chopping wood, hunting or prepping dinner, some even had drilled handles to be used to smoke tobacco. Sure, the tomahawk was deadly, but—like a good Victorinox—it could do a little bit of everything.
Maxxis's Tomahawk, one of the company's new mountain tires for 2015, attempts to copy that model. Designed as a fast-rolling, hard-cornering, all-terrain tool, the idea behind the Tomahawk is to cover as much riding variety as your trail bike can handle. It's a bold assertion, and considering the number of "do-it-all" tire claims made across the industry, one that it'll have to work hard to fulfill.
To truly test the Tomahawk, we threw as many locales, trail types and weather at it as we could: first on a summer bike-packing trip in central Montana, then for multiple months in an unseasonably dry Pacific Northwest, then to Moab's Whole Enchilada trail, then flowy Colorado buff in Salida, Monarch Pass and Crested Butte. One tester used it tubeless, and the other (myself) went tubed. To finish it off, we returned to the PNW and its infamous mud and roots. A thorough gauntlet for a theoretically thorough tire.
Specifications:
Just looking at the spec list, the details of the Tomahawk are pretty standard—spanning from 810 grams to 1,005 grams, it's not the lightest or heaviest of tires. It's offered in 26", 27.5" and 29" inch versions, all at a middle-ground 2.3" width. In usual Maxxis fashion it's offered with all their bells and whistles: their EXO puncture-resistant side layer; mid-grip, mid-rolling speed 3C Maxx Terra compound; comes with both 60 and 120tpi options; and is tubeless ready.
It's the tires actual appearance, however, that is eye-catching. The tread on the center of the tire is minimal to the point of being non-existent—at first glance it almost looks as if it's a worn down Minion. In contrast, the side lugs are so burly and aggressive they make the Minion's look unstable, and are supported completely down to their base. It's obvious they will give 'er in corners, and seem to offer solid durability.
A closer look and the center lugs do have some bite, albeit low-profile. This is supposed to lend a fast rolling platform, but when turned over will transfer to an all-out grip fest.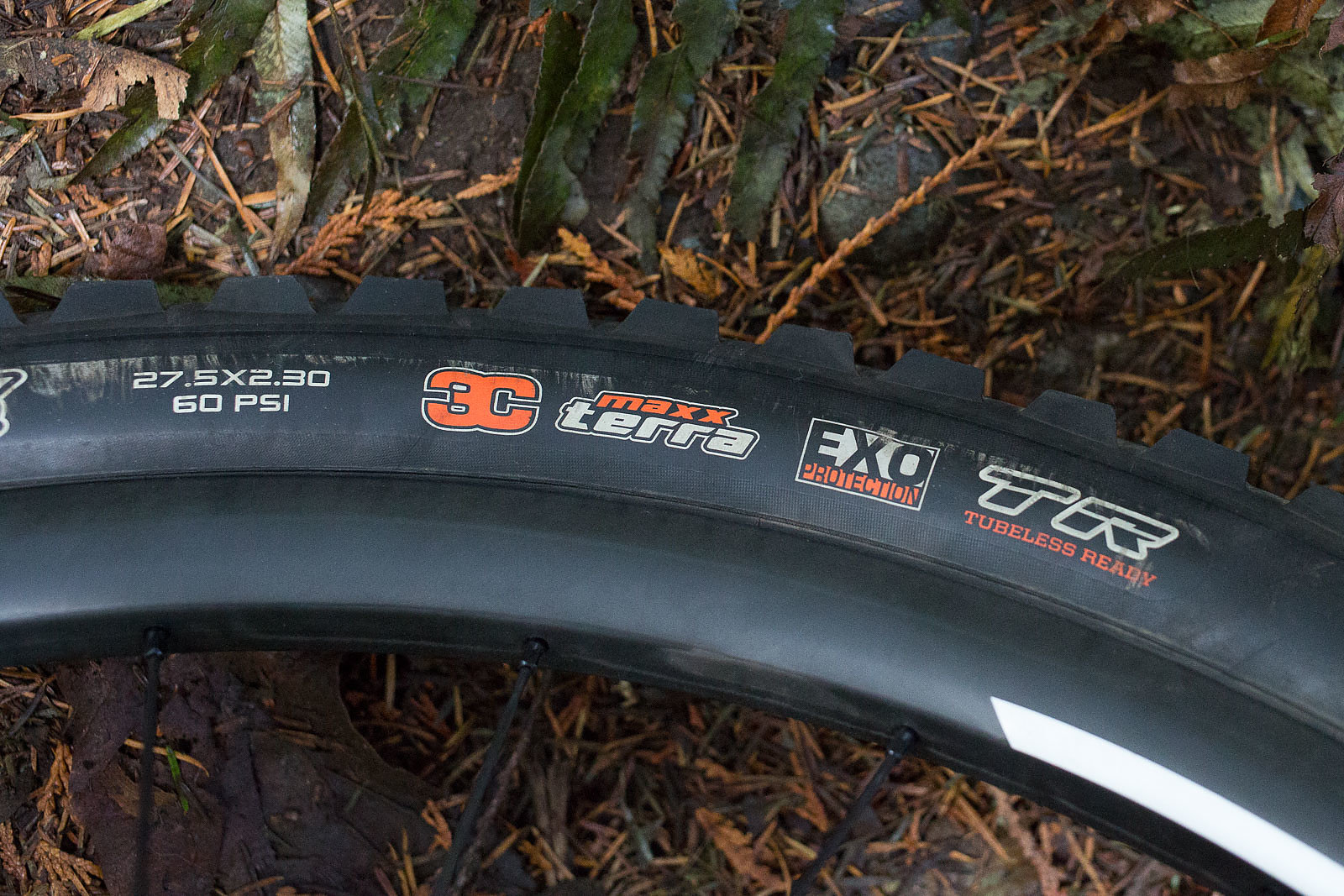 Performance:
In practice, this was true…sort of. I've heard a good way to choose a tire is to have the tread mimic the surface you'll be riding on, and this was true with the Tomahawk. It rolled extremely fast, to the point of requiring additional braking to avoid overshooting jumps (a good thing). On dry corners, or wetter, predictable corners, it gripped surprisingly well if you consciously engaged the side lugs. If you didn't, you had to bet on sliding out a bit, which was disconcerting if you weren't prepared.
On buff trails like Colorado, or the dry roots and gravel-esque corners of summer PNW, or the slick rock and tech of Utah, it rode well and was predictable. You could confidently rip a corner, and then accelerate out with surprising speed. Straight lines were even faster, and on jump trails it rolled a bit like a slick. It handled rocky climbs well. I had no gashes and minimal flats, even in Moab. Impressive, and while not mind-blowing it was a choice you didn't have to worry about.
It was when things got wet or loose that the Tomahawk's versatility became a problem. Maxxis boasts the minimal center tread as shelf-shedding in mud, which is true; that, however, is because the tread is too minimal to dig into the mud in the first place. On wet roots or muddy corners the Tomahawk got squirrely to the point of scary, and climbing anything steep or technical was out of the question. The same was true for loose climbs, and getting out of the saddle required conscious care to avoid a blow-out.
As far as durability, each of our two riders experienced different results. For the lighter of us, who ran tubed and rode a similar amount all over, the tire held up very well—three months and many miles later, it's nearing the end of its life but is still solid enough for daily use. For the heavier of us, who was running tubeless and rode five to seven days a week in the PNW, the Tomahawk wore out quickly. He, however, is known for wearing through tires, so that comes with an asterisk.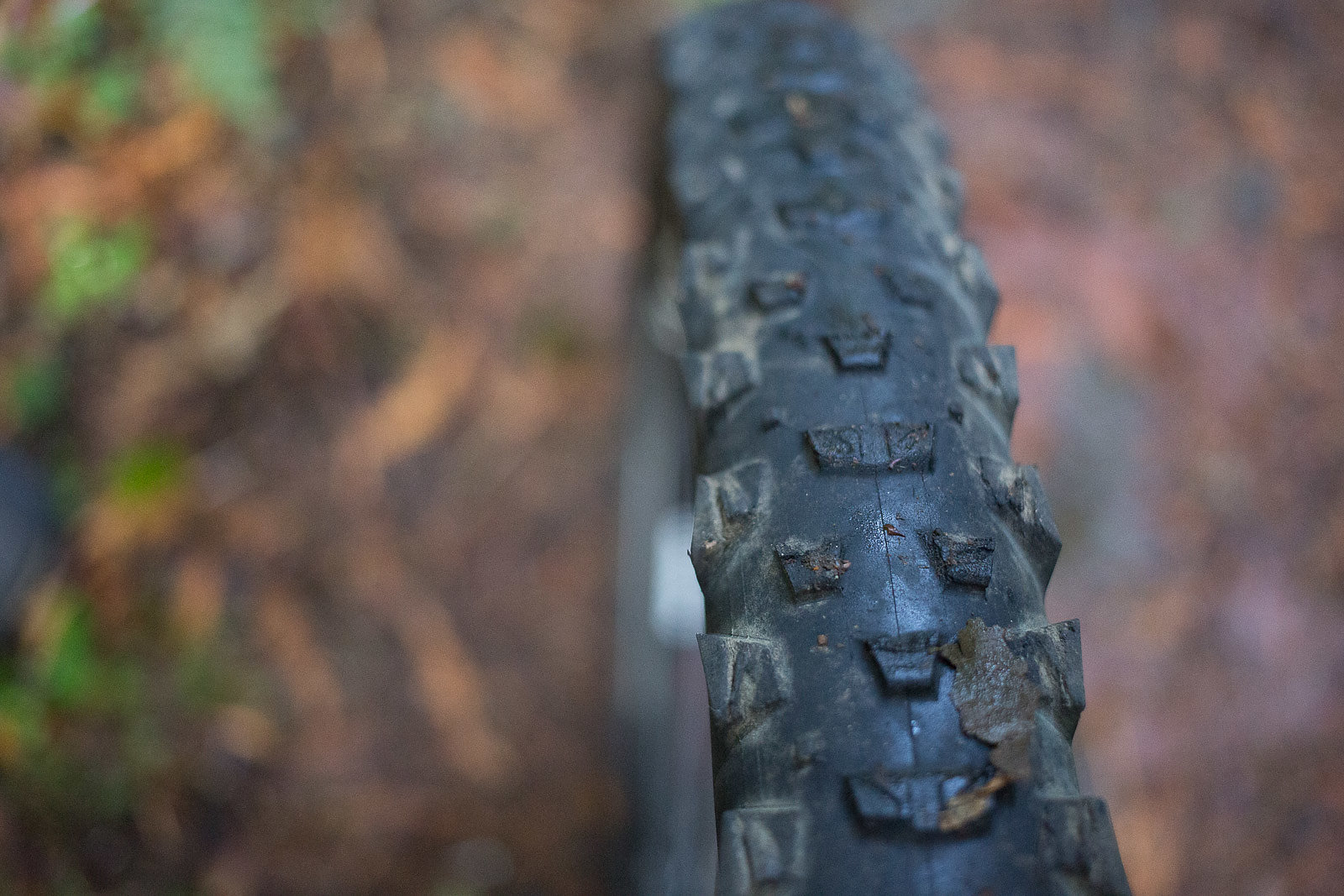 Conclusion:
In the end, the Tomahawk was for the most part exactly what Maxxis claims it is: a tire that rolls fast, pedals smoothly and performs well across a large variety of conditions. As long as conditions were dry, it was predictable and able to rip corners, rally technical roots and rocks, and generally get you smoothly down the mountain…as long as it was dry.
Still, as is the usual case with something that tries to do everything, it never really shined at one thing. It climbed well, but only if the trail was solid and firm. It handled tech, but only on clean rock and dry roots. It pedaled efficiently, which was one of its shining points. It was relatively durable, although that seems to vary by riding style and setup.
Overall, the Tomahawk survived our gauntlet, and did so with head held high—a good work horse if you want something you can toss on and not worry about. And while you may not be able to smoke out of it, it can handle most attacks you may throw its way.