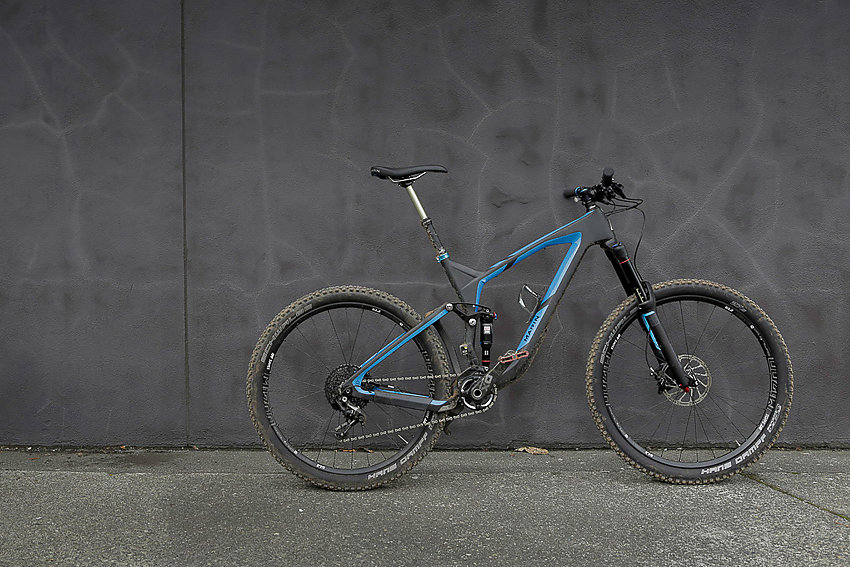 Marin Attack Trail C-XT9 Review
In all reality, the mountain bike market is quite mature in its current state.
The availability of quality machines for every discipline is beginning to present difficulty in differentiating between them. Geometry and spec out are becoming somewhat homogeneous, as are the production processes and materials used in manufacturing. Recent years have seen a rise of great components becoming widely available as stock equipment and a greater overall level of quality in how bike frames are made. Meeting the expectations surrounding these immerging norms while trying to find a niche is difficult on more than one level. It cannot be as simple as picking and choosing from trends and slapping on a marketable component package.
In order to take full advantage of the components available, bikes have to be designed to realize their full potential. Beyond this, it is finding ways to shape the fit of bikes so as to offer something that functions in a usefully different way which sets clones apart from interesting developments.
Trying to figure out what Marin has done to this effect with the Attack Trail has presented the opportunity to grapple with how reach, stack, top tube, chain stay length and seat angles interact to create differing stances and handling characteristics. There is something different about this ride. It will be differently good for some folks and not for others. That should be said from the start.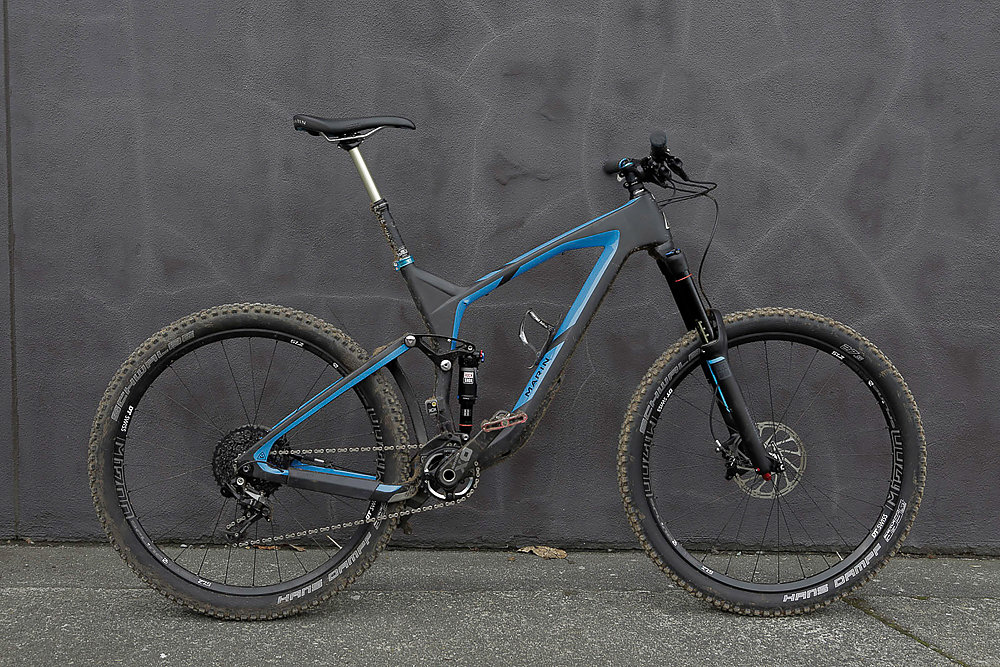 Comparing numbers to the defining bikes of the AM/Enduro category reveals that Marin takes a different approach. While numbers match up pretty well for head angle and bottom bracket height, the wheel base and reach is compact compared to most bikes in this category. Yet the chain stays are slightly longer than most others. A solution to this conundrum seems to be in the seat tube arrangement. It has been sort of fudged in a way so as to keep the rider centered in the bike despite the shorter wheelbase. Measured along the axis on which the seat post extends, the seat tube angle is a very steep 65.5°. But, this axis has been moved forward of the bottom bracket and the seat tube angle measured from the bottom bracket to the seat post's intersection with the virtual top tube gives a different result. Effectively it is a more vertical 73.5°. The result on the rest of the geometry is that it allows for a slightly shorter wheelbase with out placing the rider to far off the bikes center. The effect on the front end is a reach that is about 1-3 cm less than many other bikes in its category.
On the trail, especially after spending time on the Attack Trail's longer contemporaries, the Marin felt noticeably shorter. Not really in a bad way, but in a way that was reminiscent of a well-loved but long-retired 2004 FSR. To be clear, the slightly less spacious cockpit of the Marin did not decrease its ability to descend. The bike was very capable and confident on steep, fast, rocky, and drop-laden terrain. To be sure, the Rockshox Pike up front helped a lot here, but shifting weight rearward during descents was as effective as any other slacked out trail bike in my experience. On the other side, the compact feel lent itself to keeping weight on the front end in both cornering and climbing. Also, the Attack Trail's compact geometry makes for an extremely engaging and entertaining ride. It really likes to pop, flick, and drift at any small opportunity.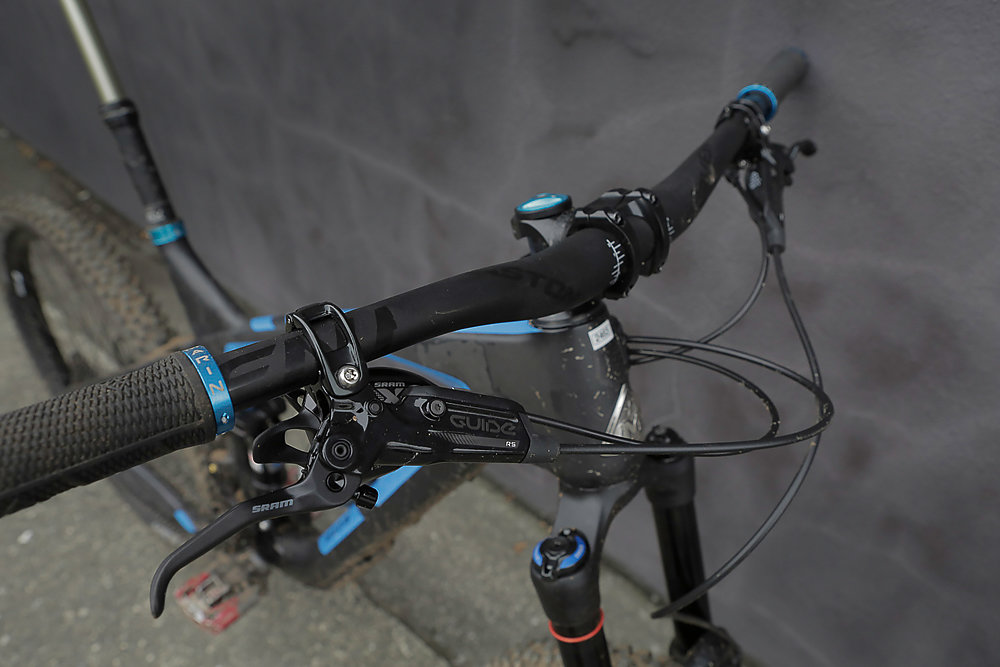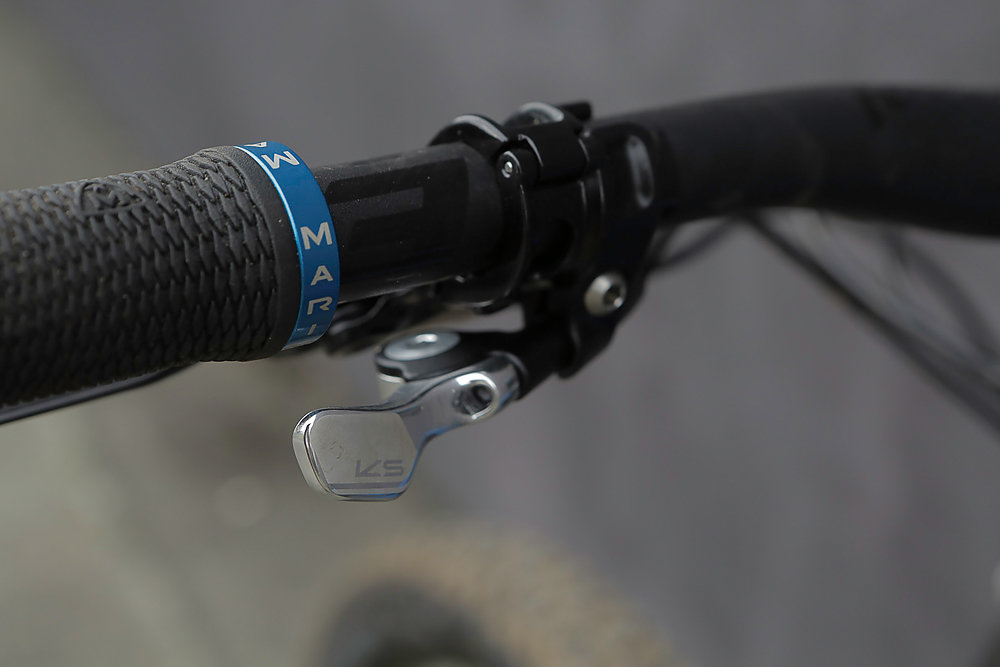 In regards to Marin's thoughtful use of available technology, their suspension system (Jargonized as QUAD3) is a good example. The suspension's axle path, leverage curve, and linkage locations are intended to get the most out of the custom tuned Rockshox Monarch. The 4-bar link creates a floating center point which is initially located forward and above the bottom bracket then moves towards the rear axle as the suspension articulates and the shock compresses. As the center point moves closer to the rear axle it reduces the amount of leverage in the system and increases the amount of force required on the rear wheel to compress the shock. In other words, the locations of the links define a suspension that begins supple and naturally ramps up at the end of travel making bottoming out much less likely. The characteristics of the linkage are designed to create forces that fall within the dampening abilities on the Monarch which is custom tuned to match the rising leverage ratio. The two work together optimally because they have been conceived of in relation to each other.
Another result of the layout is that in the first 30% of travel the axle path is slightly rearward. In conjunction with the early high instant of center, the small amount of chain growth in the first bit of travel converts pedaling forces into downward force on the rear wheel, which should add traction. After 30% sag, the axle path becomes vertical, which should isolate terrain inputs from pedaling forces and allow for even pedaling and active suspension over rough sections.
It is intuitive that the small bump compliance produced by the sensitive leverage rate at the beginning of travel would be counteracted by this downward force on the rear wheel when pedaling in some situations. On the trial it was not pronounced but was noticeable when cranking up and over ledges and larger roots. However, after a while it was easy to time pedal strokes to take advantage of both characteristics. On flowing sections of pedal heavy trial, when the bike remained at or beyond the sag point, the suspension provided a great floating feeling while also responding to big power inputs. When pointed up for a nasty slog, the Attack Trail did just that. The rear end feels like it is grabbing into the trail with intention when seated or standing up to keep the front weighted. Combined with the bike's unique geometry the QUAD3 suspension is a winner when it comes to climbing and intermittent trails.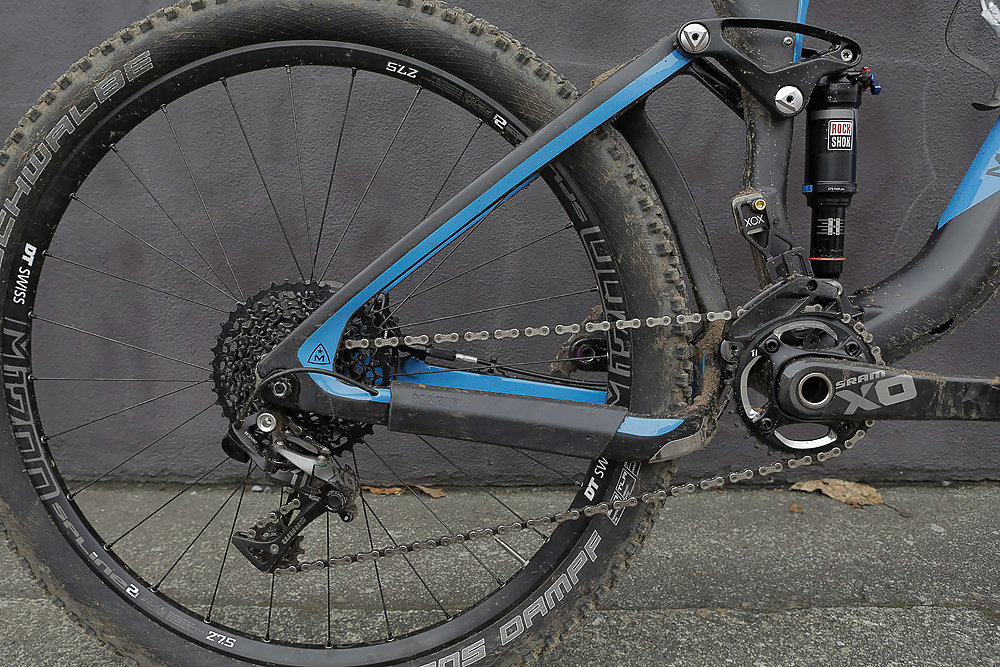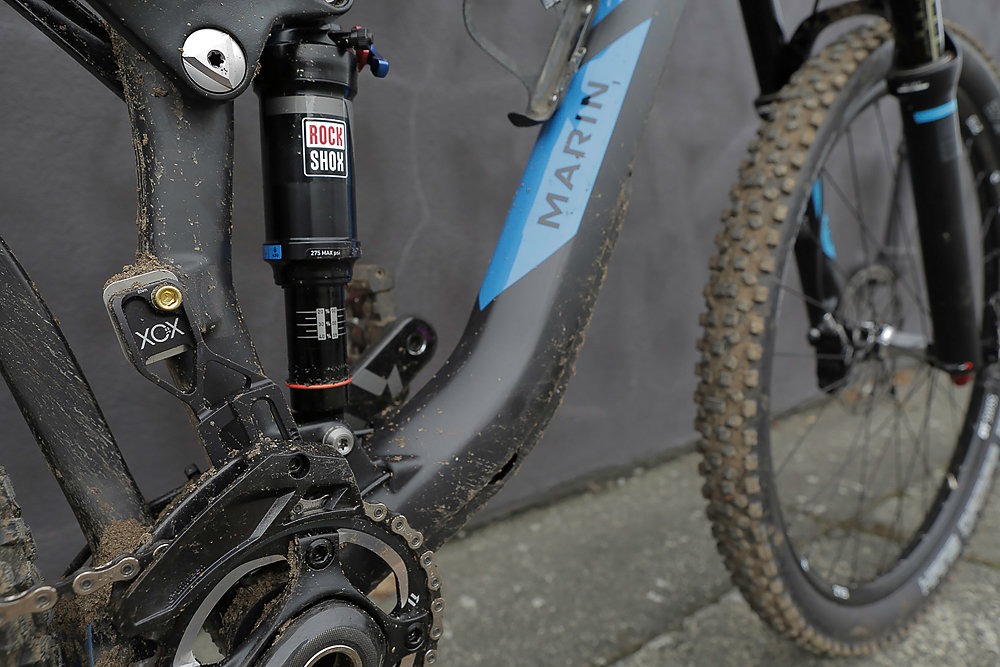 While there are bikes that handle airs and drop better than the Marin, it was no slouch by any stretch. The slightly rearward initial motion of the axle when landing with fully extended suspension gives a sort of vague feeling for a split second but is not the defining sensation upon speeding away with a whoop. It is also worth noting that the Attack Trail is not necessarily aimed at performing exceptionally in this area and is instead aimed at being truly capable over as much terrain as possible. As a rider who prefers to have one bike that can get me out and make me grin, I will take any bike that does as much as the Attack Trail does as well as it does.
There are a few other positive points to make about the Attack Trail. For one it is very light for its travel and also very strong. In all situations the rear end was virtually without torsional flex, moving in a controlled manner through its intended arc. On a more subjective note, the bike manages a nice simple aesthetic and appears like it is meant for what it does. As with other high end bike models followed by the designation C, the Attack trail is well finished with frame protection in critical areas and neat internal cable routing.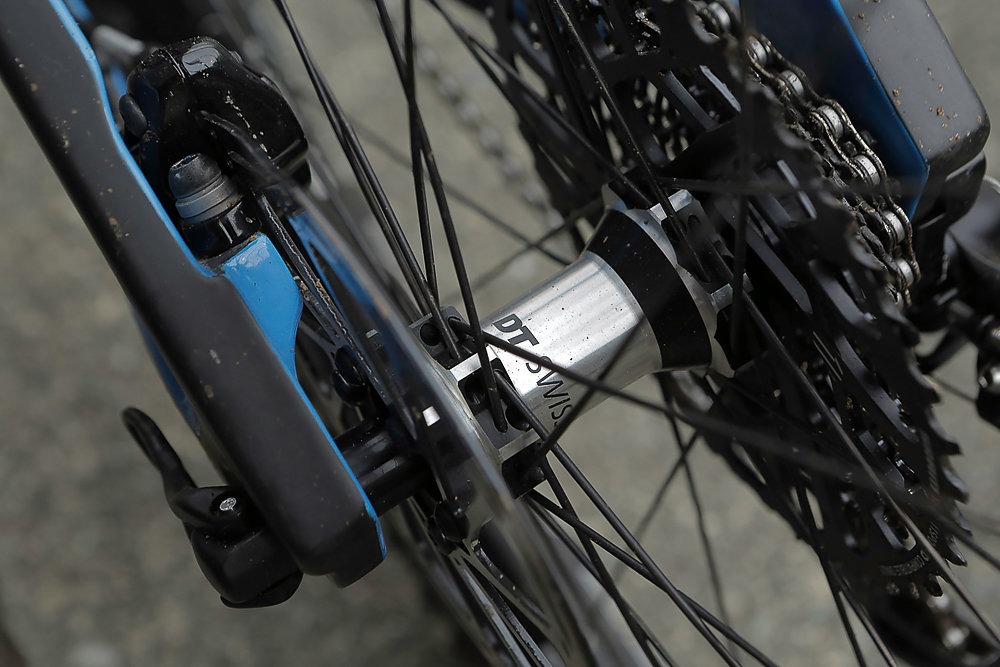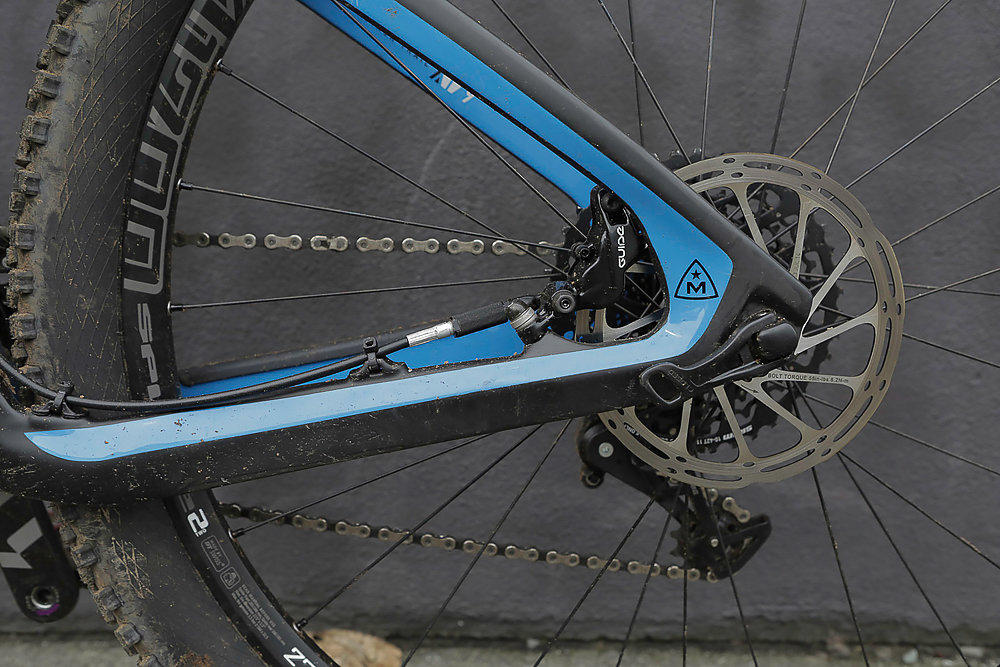 Of course thoughts about numbers and such dissolve at speed and it all comes down to the actual ride experience, but they are worth considering. There are a lot of capable bikes out there right now, and the Attack Trail might do well for you for many reasons or it might not for just as many. The perfect match likes a slightly shorter reach, or just prefers a more rounded experience aimed at having fun in as many areas as possible as opposed to requiring sofa style descending. Spec'ed out to the teeth with the dual position Pike, 11 speed drive, 27.5" fat tubeless Hans Dampfs, Haven bars and stem, K-lev dropper, and sharp carbon construction, the Attack Trail appeals on clone status alone. It is worth looking at how it differs though, and if your considering it is probably wise to try before you buy.
With roots deep in the heritage of mountain biking, Marin is a recently rejuvenated company focused on carving out a place of legitimacy in a very competitive mountain bike market. Throughout its history as a company Marin has produced some noteworthy winners and a few curious creations (Google "1996 Nail Trail" and behold some real late 90's awesomeness). While it is now owned by a private holding company, it has retained autonomy in terms of how it operates, remained in Marin county, and has maintained a lineage of leadership with connections to the origins of mountain biking - all facts which might lend themselves to a warm fuzzy sense of history but don't necessarily add up to mountain bikes that meet modern expectations. However, it seems as if Marin's newly nurtured sense of nostalgia in combination with solid engineering and designing is resulting in bikes which are not only relevant to modern needs, but tend to take a slightly different direction in design than the current trends.
MSRP: $6499
You can see all the specs here.