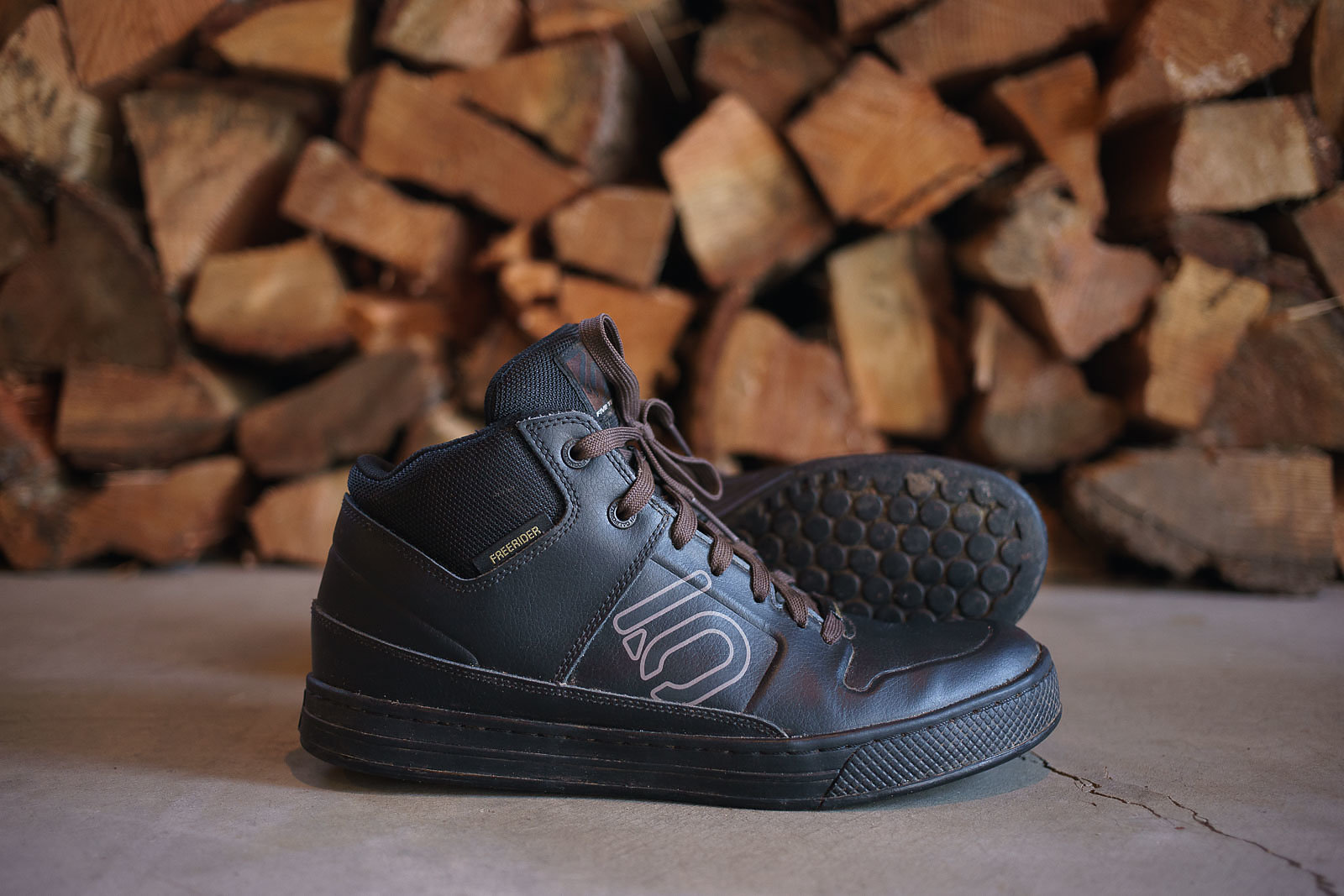 Five Ten Freerider EPS High Shoe Review
Over the years I have gone back and forth between flats and clips more than a few times and for various reasons.
However, I love flats and always have. It's a striking balance of connection and freedom that makes me feel more comfortable and ride better. The shoe market on the other hand, seems like it has been focused on clipless shoes and enduro trends as of late, leaving me without a shoe that I enjoy both the aesthetics and functionality of.
Then Five Ten came out with their Freerider EPS High, just as it was starting to snow, and just as I was gravitating, once again, back to flats. With Five Ten's classic no-slip grip that a flat rider like me loves, max coverage, clean lines and subtle color ways, I was hooked.
The challenge with flats is finding the right pedal-shoe combo. When harmony is struck it can feel just like clips, but if the two don't get along, you might as well be pedaling with rollerblades. The Freerider EPS High has been a very nice addition to the shoe arsenal this winter thanks to the shoe's Primaloft insulation—they literally brought the heat with this one. (Incase you were wondering, the EPS stands for "Elements Primaloft System.")
Its been a pretty strange winter around the Pacific North West, the West Coast, and well, all of North America this year. Lots of cold temps and just enough precipitation to make things interesting between storms. Typically, Bellingham is a riding mecca in the winter because the mild temps in town keep our local trails running all season and ol' man winter stays up in the mountains. This year, however, has been a bit different.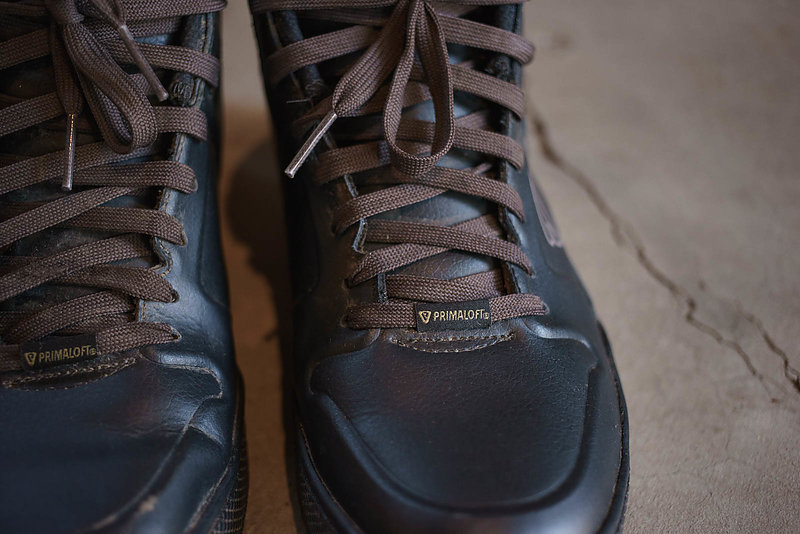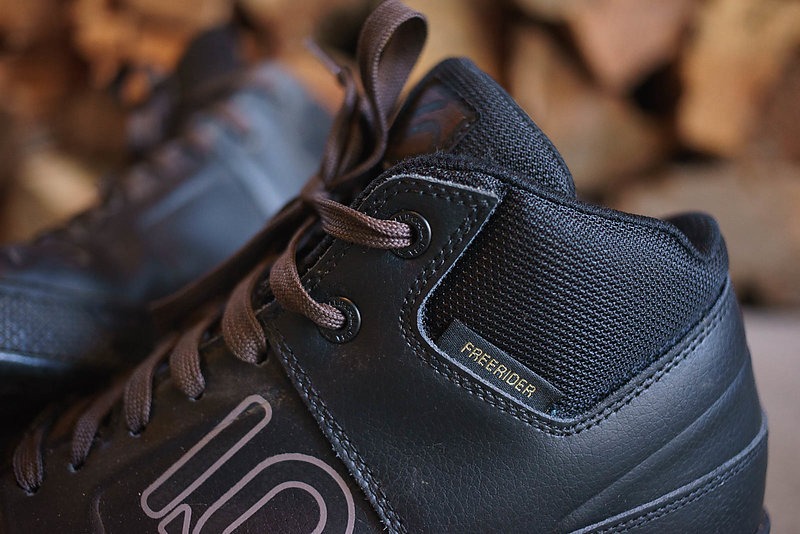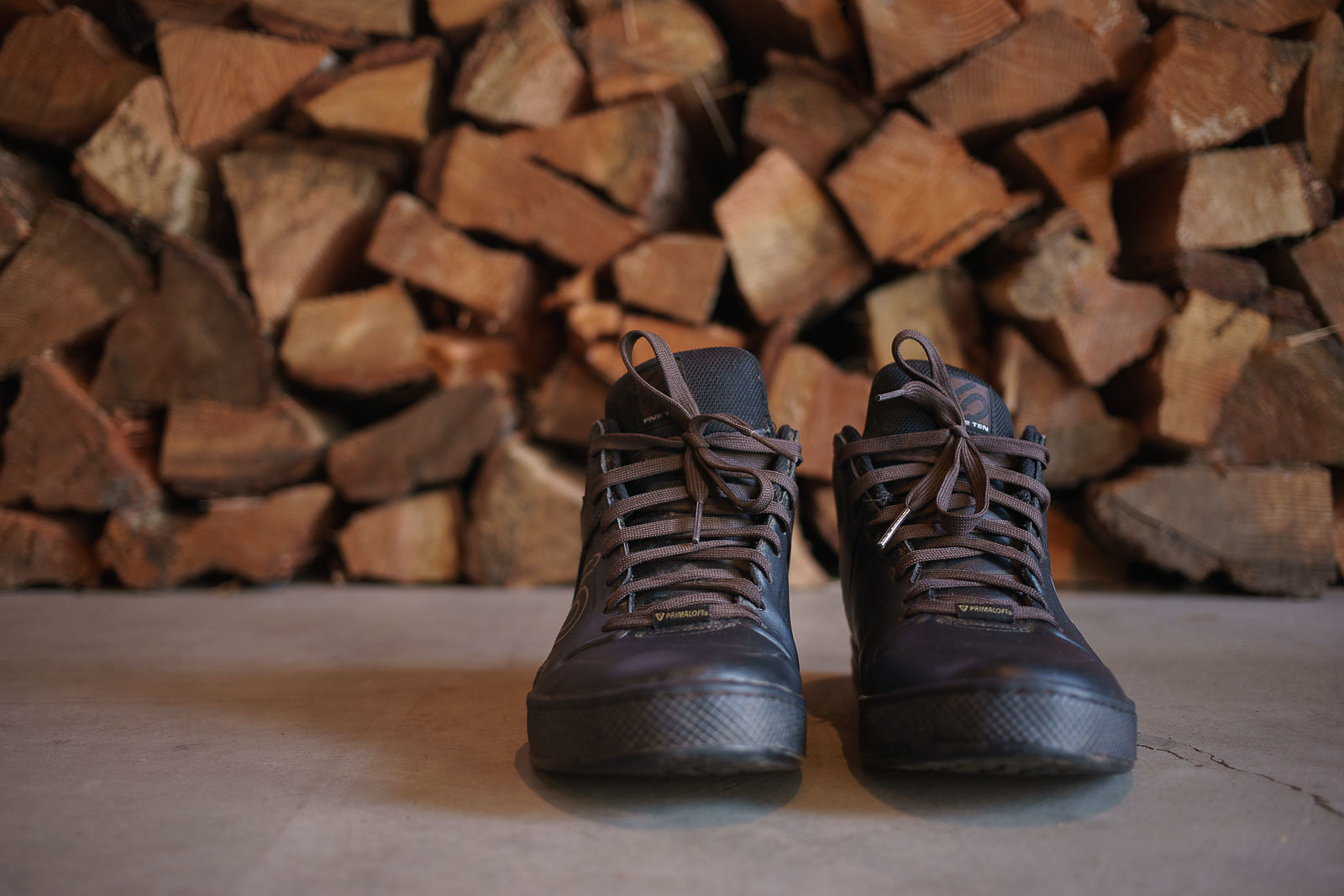 We've had snow in town, not so much to bury the streets, but just enough to cover most of the trails. To boot, its been staying cold enough to keep the trails buried, and most of them have turned into frozen ice chutes from the few brave souls willing to knock out a ride in this weather. So a bike ride this winter has meant either: A) braving the freezing snow-covered trails or B) grabbing a dirt jumper or BMX bike for some town shreddin'. I've opted to do a bit of both.
The first thing I noticed while trying on the Freerider EPS High was the extremely clean, humble look. I've since had multiple people ask me who made them, surprised to find out it was a bike-specific shoe. It's impossible to please everyone when it comes to fashion styles (Five Ten has had some questionable choices in the past) but they nailed it with this classic high top. 
Perhaps the most concrete evidence of this is the that these shoes have been put into my daily shoe rotation, when they aren't drying from a ride, that is. The cold temps in town have meant wearing something a bit beefier than a pair of Vans, so the Freerider EPS High has been a nice addition for all around winter wearing as well. Although watch out, they don't have the legendary grip on ice and snow like they do with pedal pins. 
One thing that's important to note is that this is not a shoe that you can slip on and off easily. It's a lace up, lace down every time you get in or out kind of shoe—unless you want to ride with your laces like Ace Ventura.  However, this allows to get your foot nice and snug in the shoe. The gusseted tongue and tight lacing scheme help keep mud and water out and add a bit more protection than your normal bike shoe. The tongue and front of the shoe are lined with PrimaLoft Gold, which is treated with a waterproofing agent that is supposed to mimic the insulating benefits of goose down, along with a superior warmth-to-weight ratio. PrimaLoft Gold is said to dry quicker than other synthetic insulators.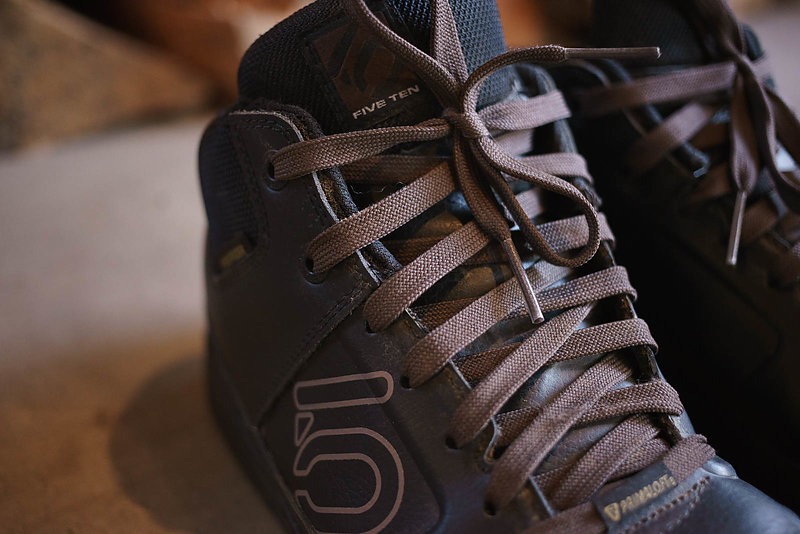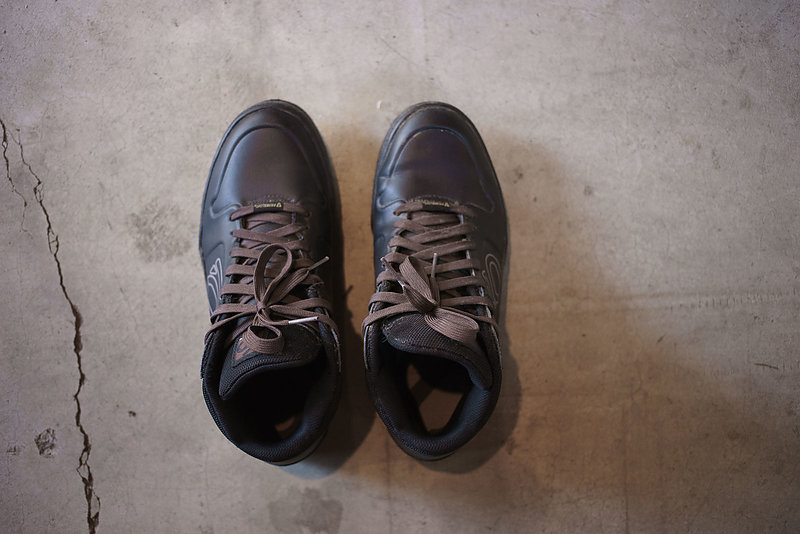 I was worried about the high top restricting my movements for pedaling climbs, but it never posed much of a problem. My ankle actually had a surprising amount of mobility for how much support the high top provides. However, I have noticed on the longer rides that really get the heart rate up, my feet are sweating by the top of the climb.
I also found out, slightly reluctantly, that the PrimaLoft Gold continues to insulate regardless of how wet it gets. But for as much as the Freerider EPS High holds up to the tough conditions, it is NOT a sealed weather-proof boot. Water and mud still make their way into your shoe on long rides if it's a really really sloppy day, so don't think that this shoe is magically impervious to the elements. It will outperform your normal Five Tens in any winter conditions though, and keep your toes toasty warm.
It seems like a few years ago everyone was making high top versions of everything, but sadly, that is no longer the case. I had a pair of Impact high tops for years, only to get rid of them because my friends and my nose couldn't handle the stench. It's nice to see Five Ten providing that little bit of extra ankle coverage—being a skinny guy, that seems to be what I smack the most.
Overall, the Five Ten Freerider EPS High has been nothing but a great asset—especially considering this winter's weirdness. No matter the condition, these shoes keep my feet warm and happy.
Five Ten Freerider EPS High
MSRP: $150
See more at www.fiveten.com