Chasing Dragons - Fighting and Finding Peace with Tim Haren
Editor's Note: This article was originally written and published in issue 6.1.
On a frosty trailhead in the mountains of western North Carolina, I watch as Tim Haren's decade-old grey Ford Ranger crunches to a stop.
I'm at Rocky Knob bike park, one of the state's newest riding zones, and I've been linked up with Haren by some mutual friends. He has a reputation for a shred-ready attitude, a great riding partner if you're ready to keep up with his brutal, on-a-mission pace.
Even knowing his story, I don't know what to expect as the door opens. The 29-year-old Haren has a much deeper history than the blue puffy and standard-issue buffalo plaid flannel suggests; up to this point, in the only photos I've seen of him he's bedecked in full desert camo, holding an assault rifle and heavily saddled with combat armor. His dog Blue follows him out of the truck as he unloads his bike. I'm mildly surprised. He looks pretty normal.
Just two years before, Haren was a Green Beret, one of the most elite and toughest groups in the US military. He suffered through the infamously masochist Special Forces Qualification course and training. He survived combat in the desert against Al Qaeda insurgents. He was awarded the Bronze Star for Valor for driving into a firefight to save his brothers in arms.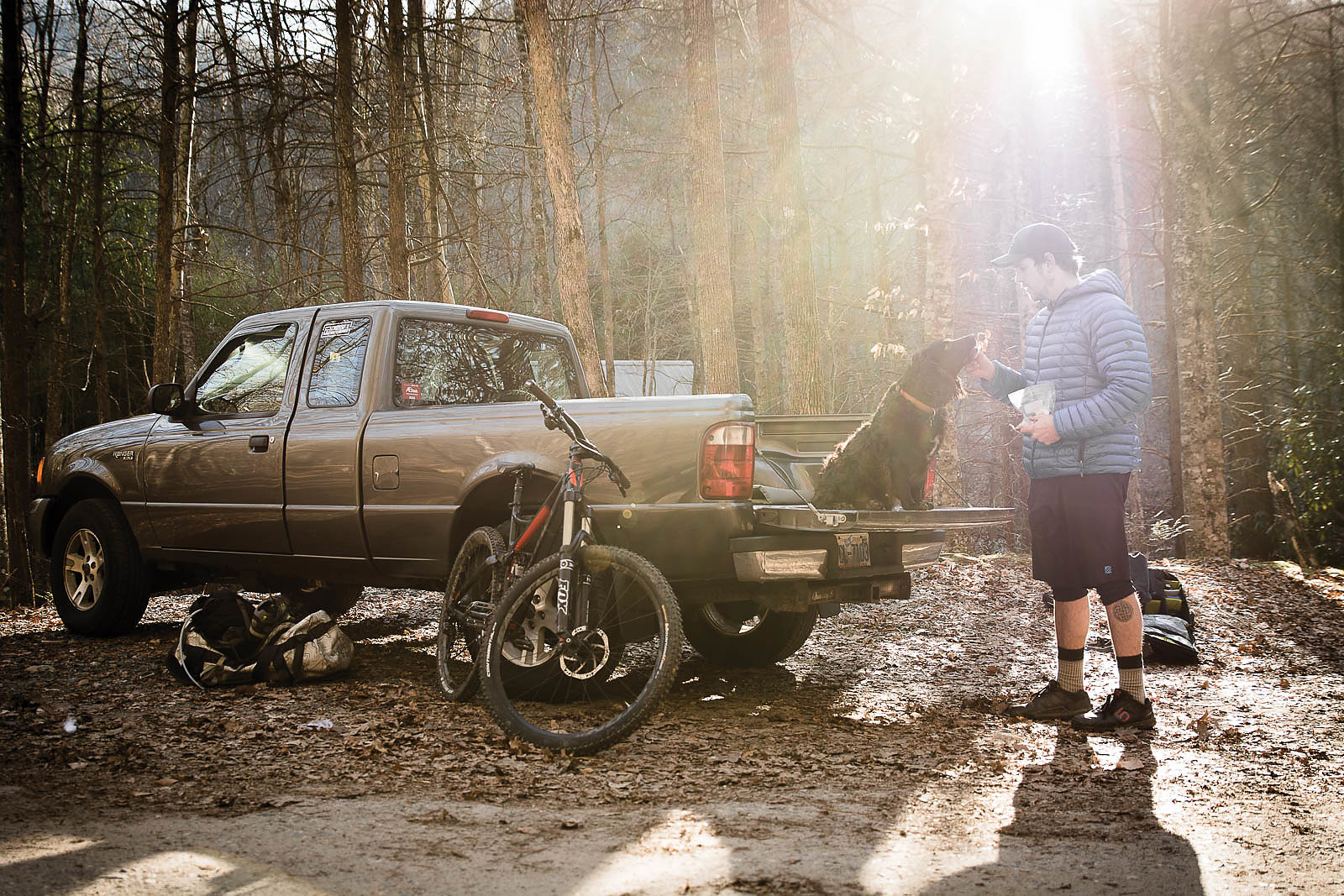 It's hero material, the kinds of exploits that set someone apart but also exact a steep price. Like many veterans returning from war, in the years since his service Haren has been hounded by the nightmares and flashbacks of Post-Traumatic Stress Disorder (PTSD). It's a constant battle, less tangible than enemy fire but just as real.
And that's where his bike comes in. When you've experienced all that Haren has, a ride in the woods isn't a mission. It's therapy, community and perhaps a little bit of salvation.
Though combat would obviously shape Haren's life most profoundly, bikes would influence his life much earlier. Haren got his first bike when he was 7 years old, a rigid red Huffy. Cruising the quintessential Middle-American streets of Troy, OH, he and the other neighborhood kids spent their afternoons jumping over trashcans, hucking curbs, and reveling in the two-wheeled freedom the Huffy provided. Riding took up most of Haren's free time, and when he got a BMX bike at age 13 he upgraded from building mini-booters out of scrap lumber to shaping dirt jump trails in the areas around his home. When they weren't digging, his crew would sneak away to nearby Dayton to ride urban features or the multiple skateparks.
The passion for riding continued into high school when Haren picked up an iconic Trek Y3 (better for stomping flat landings) but petered out from there. Graduation found him with little motivation or direction, and so when he saw a neighbor return from Basic Training—it was 2003 and the United States was hot into the "War on Terror"—the possibility of military service provided an intriguing option. "I saw these soldiers in the news with full beards, baseball hats turned backwards and riding around on Toyota HiLuxes in the desert," says Haren, "and I guess I got some romantic notion of being one of those guys."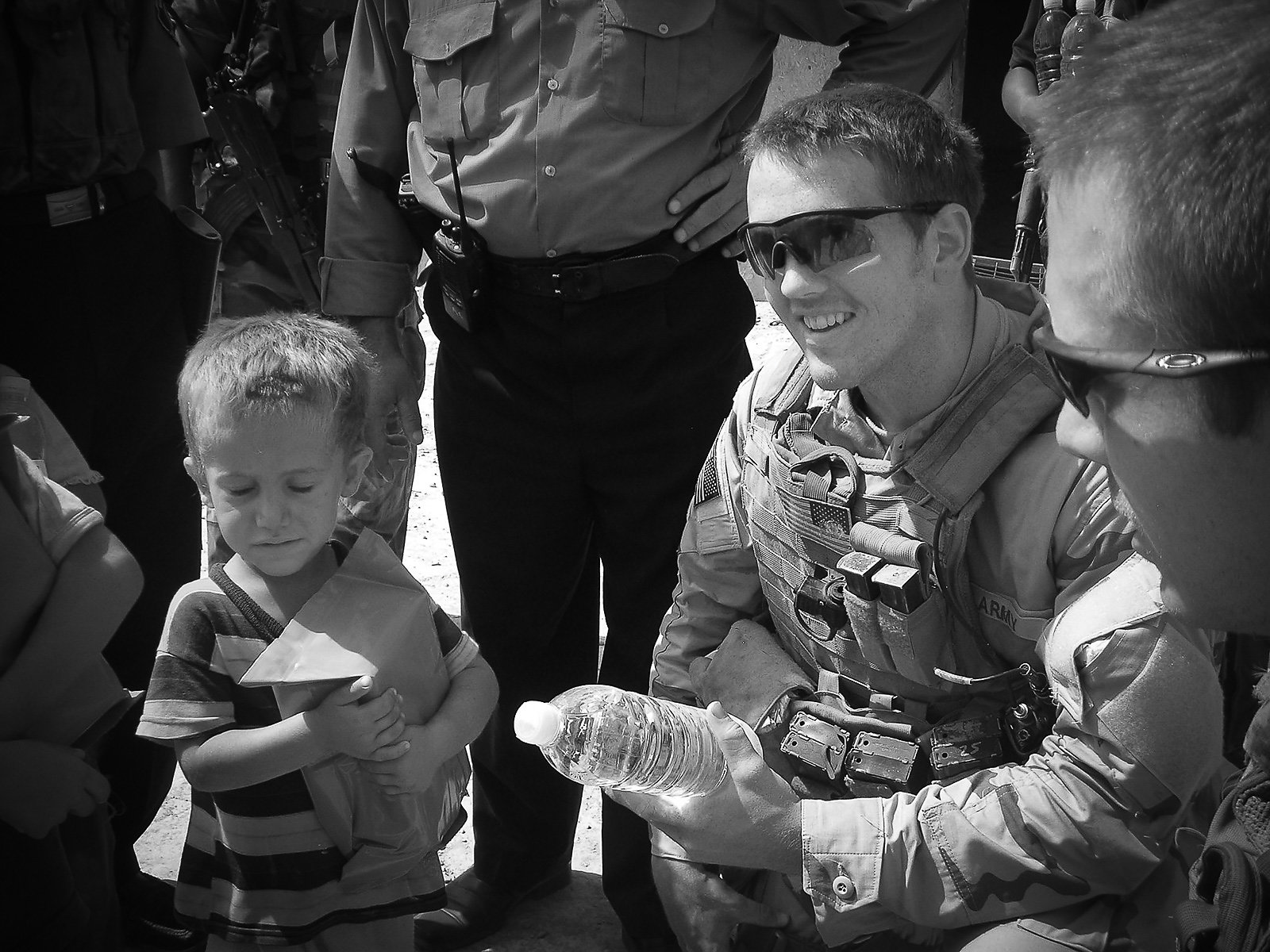 Upon enlisting Haren quickly found himself selected as a Special Forces candidates—a trick, some peers told him, as the rigors of the five-year program sent most candidates back to the infantry. For Haren, however, that "trick" became the defining point of his life. Haren didn't simply get into Special Forces—he excelled, so much so that after initial training he was selected to be a medical specialist. Once again he was told he would probably fail, and once again he thrived, tackling the academic challenges of the position with skill and tenacity that surprised even himself. "Holy shit," he remembers thinking. "I can apply myself."
Haren went on to complete one of the most demanding qualification courses in the Army. He had become the badass soldier he had seen in the commercials, and after earning the Green Beret, Haren found himself on the elite 10th Special Forces Group A Team, about to ship out to eastern Iraq. "We were a tight-knit team at this point," he says. "We had been living and training together for a long time. We knew we had each other's backs."
In June of 2007, the 10-man team was deployed to the northern Diyala Province, near the border with Iran, with the mission of occupying an area no US forces had stepped foot in for two years. They were to train Iraqi Special Forces, hold meetings with tribal leaders, help with civic and economic infrastructure—in short, prevent an area the size of New Jersey from falling into chaos. There was one road in and one road out, and soon Haren's Humvee was rolling down that single lane. "On our first day there," he says, "we got blown up."
The blast, which ejected everyone from their Humvees and injured three soldiers, was caused by an IED, or improvised explosive device, and served as the team's wake up call to war. From then on their enemy seemed ever present, and the team was largely left on their own to cobble together a safe house. Rob Pirelli, the team engineer, relentlessly built the ramshackle sandbags and concrete walls into a livable outpost, complete with electricity, TV and internet.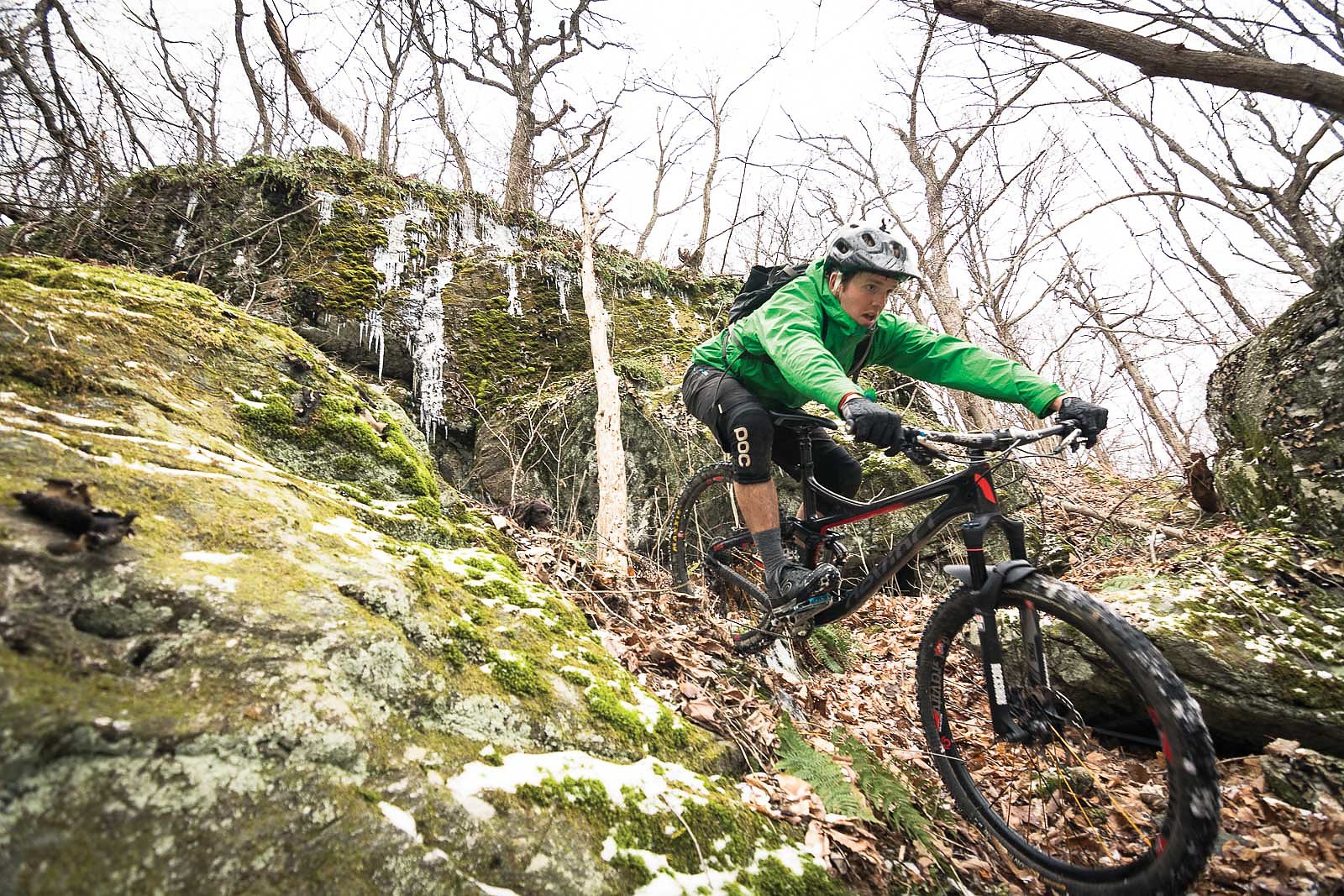 Haren and his fellow Berets would spend the next nine months in the region, working to train local forces and bring some semblance of stability to the area, all while chasing an especially mean Al Qaeda dragon. Tragedy, however, would strike six months in, during a routine patrol. The team unknowingly drove through what turned out to be an Al Qaeda stronghold, and when AK 47 rounds hammered down on the Humvees one ricocheted off a vehicle and pierced Pirelli's Kevlar helmet. Haren rushed to treat his buddy, but nothing could be done to save Rob. He was 29.
Haren wouldn't leave the Diyala Province for another three months after that fatal patrol, and upon returning to the states he spent his final Army years in Colorado teaching advanced mountaineering. While he wasn't aware of it at the time, Haren now admits that towards the end of his service he was having difficulty connecting with others, something he had never experienced before. Self-admittedly stubborn, he chose to live through the struggle rather than address it—that is, until a soldier friend of Haren's committed suicide in front of another friend, who decided to go to therapy. Haren fought the social stigma and went in too. "To be 100-percent honest," Haren says, "I didn't think I had PTSD."
Post-Traumatic Stress Disorder is a mental health condition caused by a distressing event or situation, and symptoms can include recurring and unwanted memories, flashbacks of the traumatic event, emotional distress, anxiety, a sense of disconnectedness and a desire to avoid people and things that used to provide enjoyment or pleasure. According to the Department of Veteran's Affairs (VA), during a given year as many as 20 percent of those who served in the most recent wars in Iraq and Afghanistan suffer from PTSD.
As singularly traumatic as Pirelli's death may have been, Haren feels the disorder is caused by more of a general shift than a jarring moment. "I don't believe PTSD to be one event," he says. "It's a mindset that is created through training and deployment, compounded by experiences overseas. It's about becoming stoic to the point that you do what you are trained to do without thinking about the reality; about seeing what you see without it affecting you. It becomes an exoskeleton."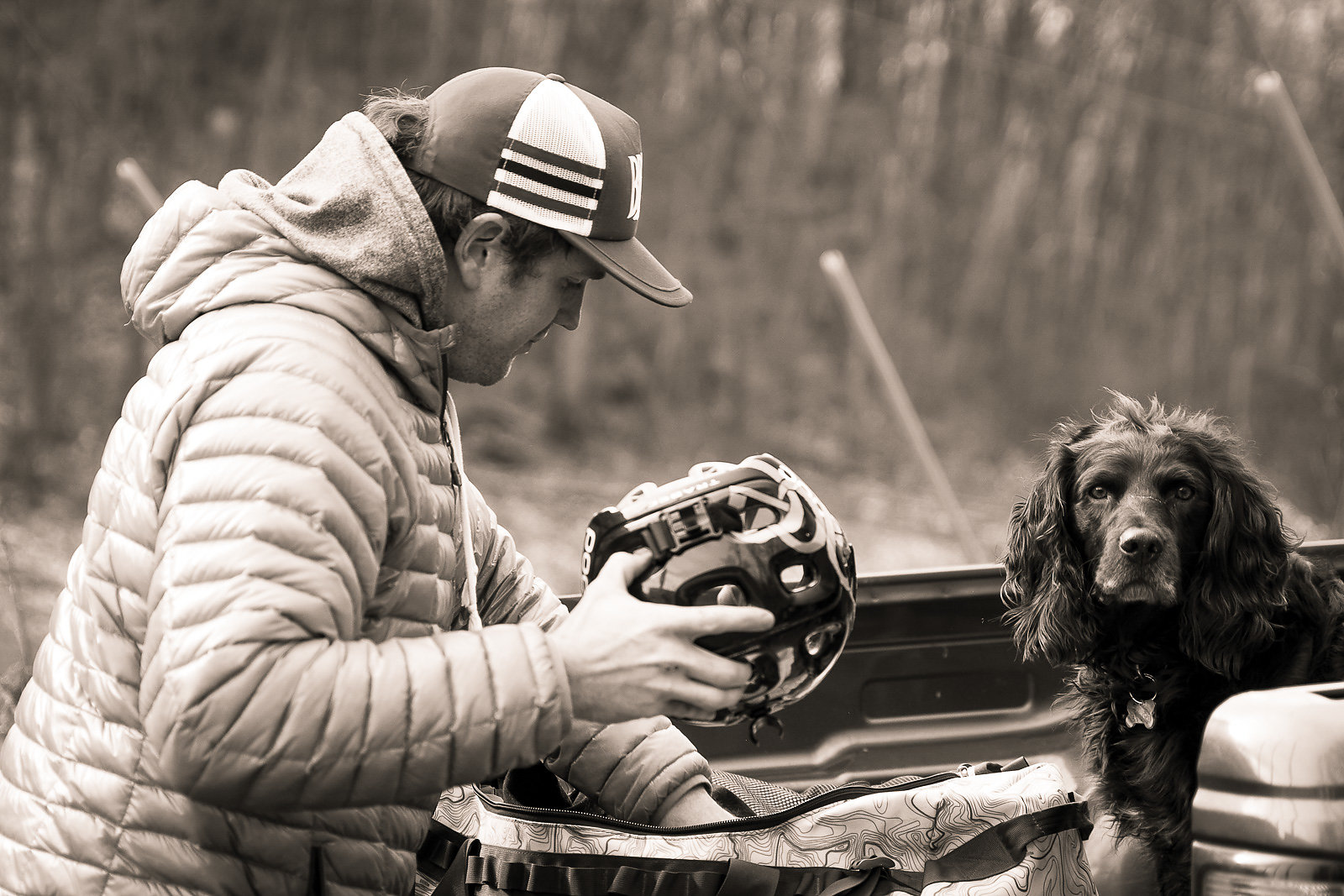 Such a protective shell is ideal for carrying out combat missions, but it can also close off the ability to express and receive the emotions that make a caring, empathetic human. Because of this, the military has introduced a variety of treatments for soldiers grappling with the disorder, and upon his return to the States Haren attended numerous such programs, both group and individual therapy as well as meditation. He developed a passion for the mountains, backcountry skiing, teaching avalanche courses and mountaineering. When he left the service in 2013, he was in a good space. "My treatment had helped me reprogram myself," he says. "It helped me take off that exoskeleton and recover what it means to be a normal human."
However, despite the VA being required to provide post-service support for veterans, when Haren left the military he found such PTSD therapy almost impossible to access. It wasn't just official recovery programs, either: outside the military community, the intensity of being part of a top-level combat team vaporized, as did the presence of others who could identify with such an experience. Haren found himself struggling to relate with those around him. "I had this inner battle with my service," he says. "I didn't know what to say to people about what I'd been doing for the last 10 years. I didn't feel like I fit in with 'normal' people. I have come to learn these irrational thoughts and insecurities are all are part of PTSD."
Haren initially attempted to move back to Ohio, but after a month in his hometown he knew he had to move on. He needed someplace that could provide him with some purpose. That place, he decided, was Asheville, NC, and in August of 2014 he packed up and headed southeast.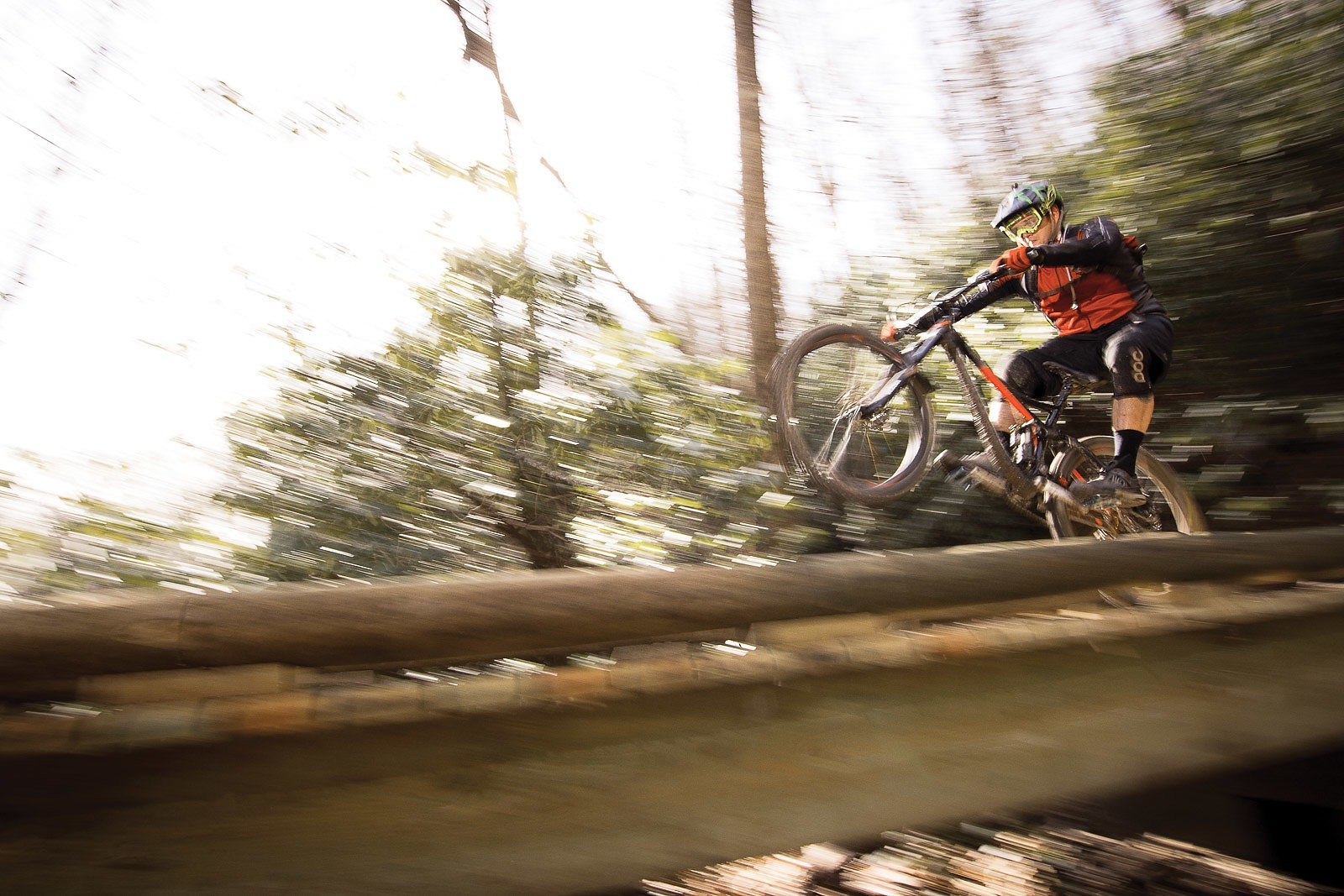 When searching for a home in the mountains, on paper Asheville may not seem the most likely of candidates, especially for someone used to the Colorado Rockies. Thanks to a visit to the town during his early training days at nearby Fort Bragg, Haren knew better. Due to its location in the Blue Ridge Mountains, the town has drawn people for over a century looking to experience its clean air, massive hardwood and coniferous forests, and enjoy the tallest peaks in the Appalachians. This includes Mount Mitchell, 30 miles northeast of Asheville, which at 6,684 feet is the highest point east of the Mississippi in the US. Whether the mountain air actually does help cure tuberculosis or not, Asheville has become the unofficial capital of the southern Appalachians. Add in the chance to work towards his doctorate in physical therapy at the University of North Carolina, and Asheville had been on Haren's radar for a while.
Unlike his hometown, here Haren could reinvent himself on his own terms, and considering the city's thriving bike culture it seemed inevitable his new lifestyle would revolve around two wheels. Asheville, population some 88,000, is home to 18 micro-breweries, as well as numerous bicycle shops and component manufacturers. The different dirt jump parks and maintained trails throughout town are peopled with everyone from mini shredder kids to seasoned professional riders. He snatched up a Cannondale Trigger, and one of his first rides found him spinning laps on the local post-work trails of Bent Creek. At a junction he met Michael "Hak" Hakala, and the two spent the rest of the day riding together.
Hak was also a recent transplant to Asheville, where he moved with the intention of opening a combination taco truck/bike shop dubbed "The Tacoed Wheel." As they pedaled the loops of Bent Creek, he told Haren about Asheville and the people he'd met there, and soon Haren was joining Hak's circle of friends regularly for rides around the area.
After just a year in Asheville, Haren found a supportive community, one that focused the discipline of his Green Beret years into new outlets that would recalibrate his life. He has a rigorous routine of 6 a.m. gym sessions, neighborhood interval rides, low heart rate cruises, and weekend Pisgah missions with his crew. Thanks to the schooling coverage offered by the GI Bill, he was also able to enroll at UNC and move towards his physical therapy degree, something he takes as serious as biking or physical fitness. "I see studying and training as my job," Haren says.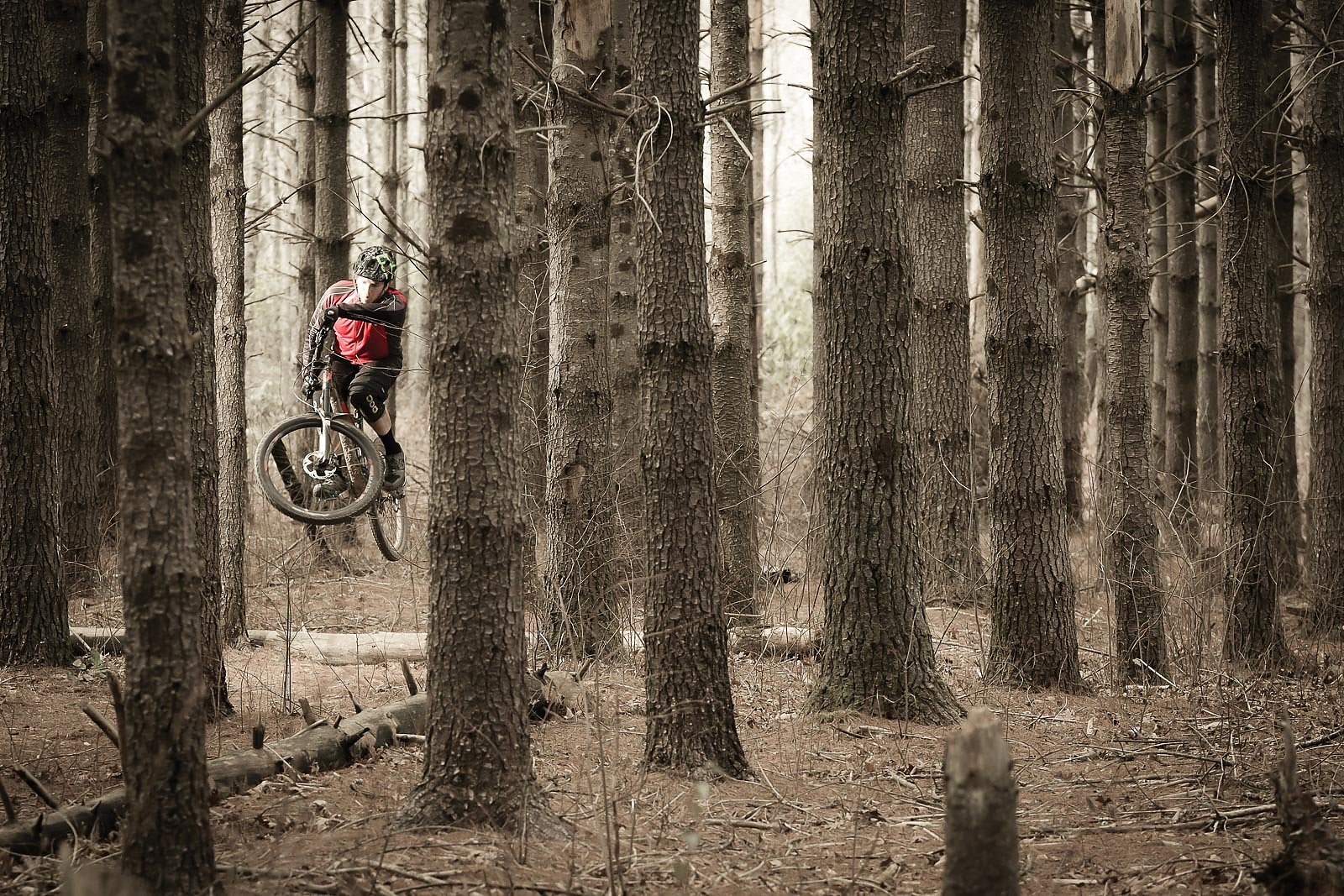 Mountain biking has become more than a hobby for Haren. Alongside his physical therapy schooling, it's provided him with a purpose, a sense of focus and thrill, and place to test his limits he'd only ever had during his time in the military. His tools are now just spoke wrenches and pickup trucks rather than medical supplies and Humvees. The mighty Black Mountain Trail, Farlow Gap, the never-ending downhill of Heartbreak Ridge, and the plethora of others around the Pisgah provide a sink for the focus developed over eight years as an ultra-elite soldiers. For Haren, though, there isn't a favorite trail. "I just love the one I'm on."
Most recently, Haren had the wild urge to register for the 2015 Trans-Provence, a vicious, 190-mile point-to-point race in southern France, featuring over 32,800 feet of climbing with over 49,200 feet of downhill singletrack. The Trans-Provence roster attracts many of the sport's best riders, but Haren isn't worried about that. "I know I'm racing against pros and I'm going to give it all I have," he says. "I'm not one to leave anything on the table, and I see this as a goal I want to move toward. I see this as a journey to train, to get strong, get fast, and to have fun."
Haren also plans to compete in the 3rd East Coast Enduro Series and to finish off the season by testing his mettle at the Race the World event in Windham, NY. Perhaps more important than the mental and physical challenge, however, is the human connections mountain biking has built for Haren. While there may be few bonds tighter than those formed in combat, bikes make great social nexuses as well, one of the reasons similar outdoor-based activities have been shown to work so well at mitigating the effects of PTSD—not just for the adventure, but for the community experience created when a small group of people take on a common challenge. "No one hides any issues," Haren says of his Pisgah bike crew, "and we're all there for each other."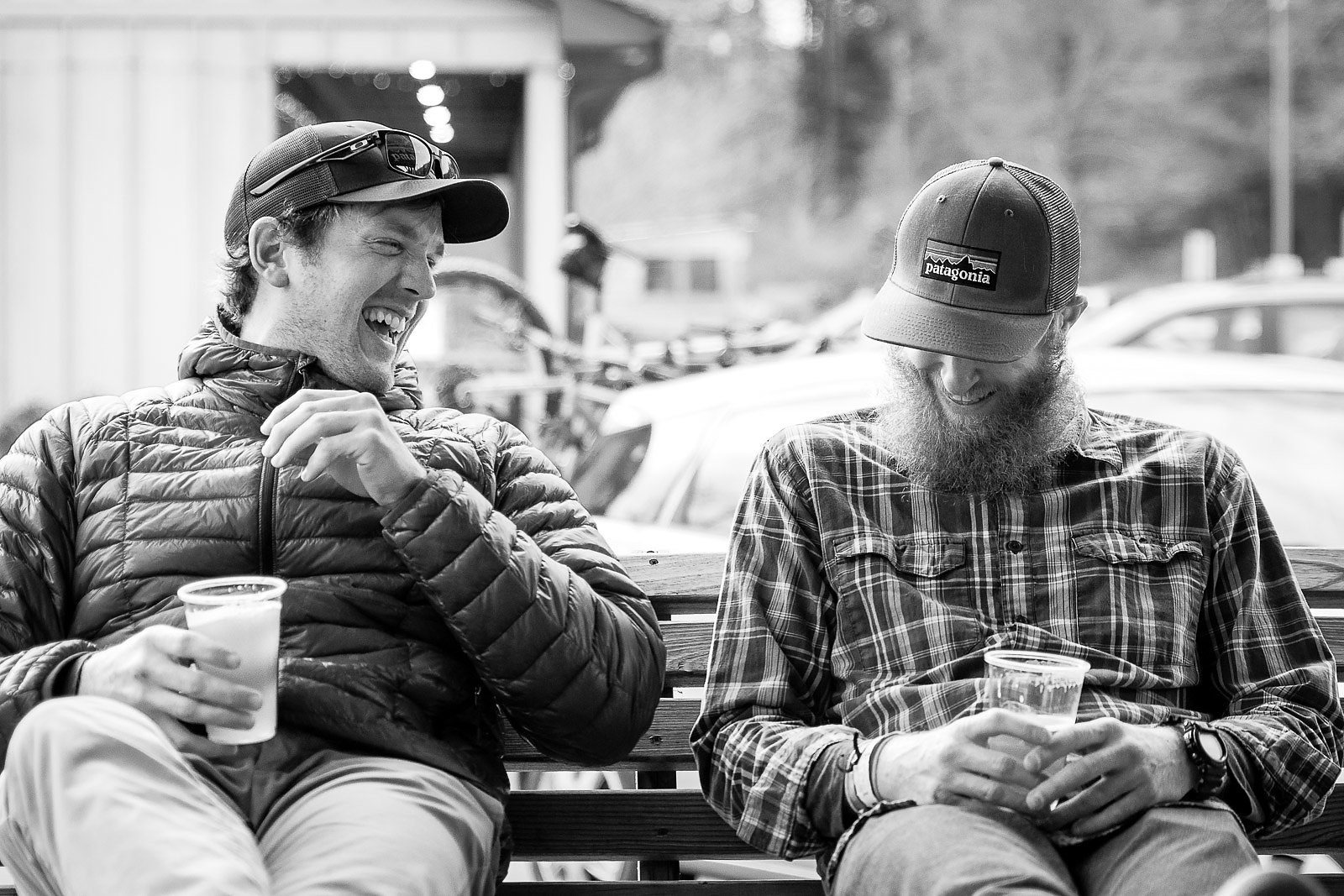 The snow is still falling on Rocky Knob's Boat Rock Trail, as we crunch and slip our way over frozen dirt and powder-covered roots. We're in no rush, but Haren's intensity still surrounds him as we stop for a moment to let Blue catch up. The body armor has been replaced by POC kneepads, and he handles his bike with an exacting precision expected from one of our nation's most elite soldiers. While we wait I ask Tim about his combat team, and what it's like to live and work with a group of people whose lives depend on each other.
He talks about brotherhood and deep connections that defy words, and as I listen I realize in some ways he could be describing a group of mountain bikers. I mention this, trying not to be disrespectful, or worse, diminish his experience. "No, it is the same, just on a different level," he says. "But those connections are the same. When we ride we develop that brotherhood, that attitude of, 'We've got each other's backs.'"
Settling into his new home, Haren has started imagining what the next decade may bring. "I want to see where my riding will take me," he says with a stoic charm. In this journey, Haren looks to pay forward the lessons learned on his bike and in the classroom. He envisions earning his doctorate in Physical Therapy and establishing a therapy center that also serves as a training facility for amateur and professional athletes in his community. His friends may not think so, but he's not consciously on a mission for podiums or finish lines, just awesome trails to share with good friends, and the inner peace that provides.
"People know when I haven't been on my bike," Haren says. "But it's not just the riding. It's the riders. When I moved to Asheville and started to meet riders, that's when I started to feel at home."