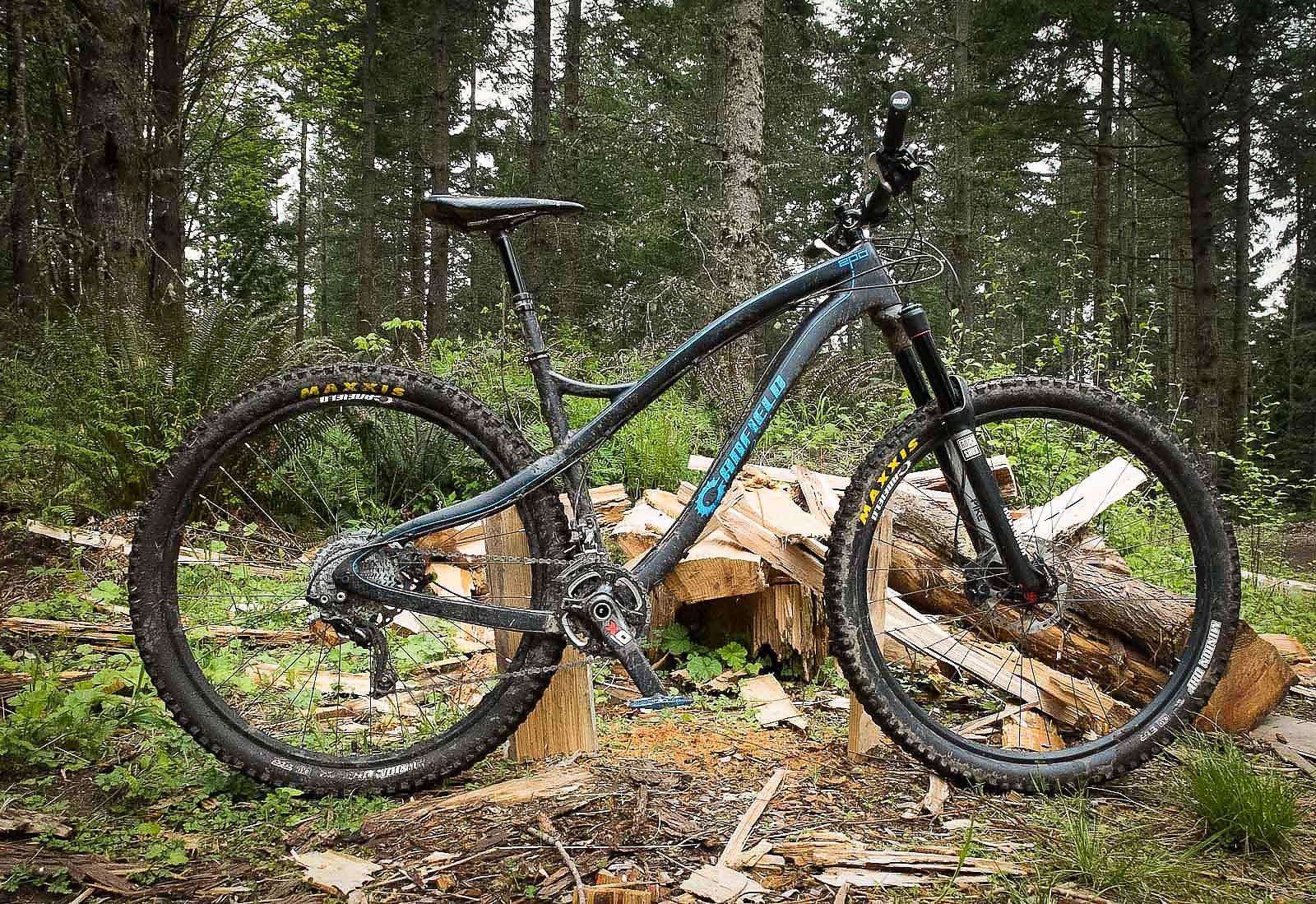 Canfield EPO Carbom 29er Review
In a game of mountain bike free association, when I say "29er carbon hard tail" you say....?
If you have thrown a leg over the Canfield Brothers' EPO, then "all mountain bad ass bike" should be the response. This is not a roadie's dirt trainer or an XC racer. This is a mean and lean dirt-eating, fun machine. Super lightweight designs are possible with carbon construction, but burlier intentions can also be realized using composites, while still reducing overall weight. The Canfield Brothers have taken the latter approach by focusing on bringing their acclaimed 29er geometry to a lighter weight chassis using carbon construction.
The EPO gives the impression of being built to a grand scale. From its massive tube profiles to its wagon wheels decked out in 2.5" rubber, it announces itself in distinction from other 29er hard tails. When adorned with a 140mm fork, the EPO presents a profile that suggests a greater inclination to be smashed down trails than your average big wheeler. Despite the overall bigness of the EPO, it's made of carbon and can be easily built up around 25 lbs. In concept, it's a pretty cool combination of elements. A lightweight bruiser that likes to roll fast and handles with grace. On the trail the concept proves itself with an emphasis on fun.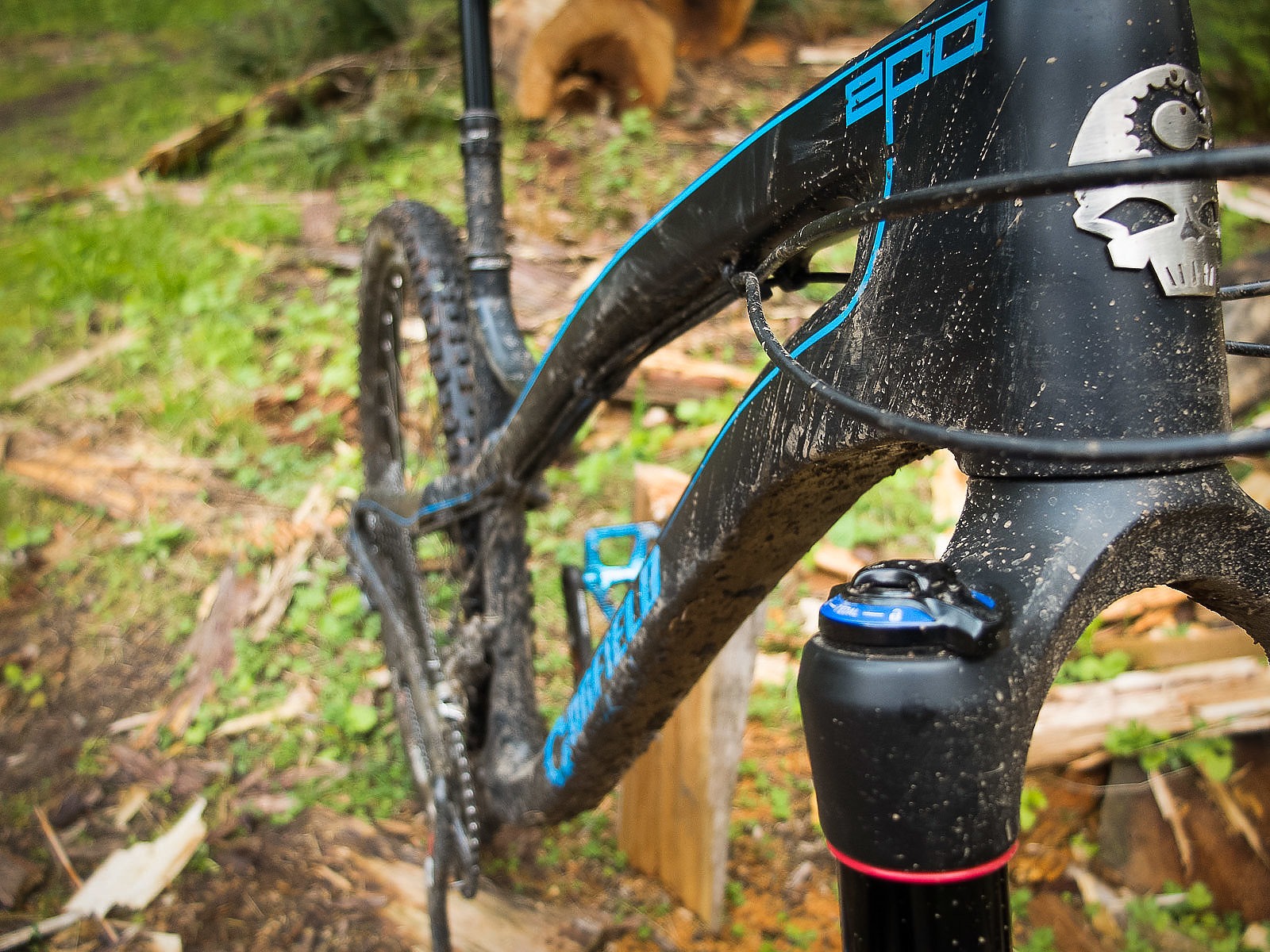 The Canfield Brothers, based right here in Bellingham, primarily make frames. They manufacture a handful of unique quality components as well, but the focus is clearly on frames. This being the case, this review focuses on what the frame itself has to offer as opposed to nitpicking the build out. I would build it differently than tested if it was my personal ride. However, riding it as it is shown here gave an adequate impression of what the EPO is capable of (and it is very capable).
The EPO includes some solid frame features considering its intended use. All cables are routed externally for ease of service. It takes an old-fashioned 73mm threaded bottom bracket that should prevent noises that can plague press fit bottom brackets. The frame gives the option of running a direct mount front mech (or a direct mount top guide, wink wink) and ISCG 05 tabs in order to fortify the bottom bracket area with a bash guard. Out back, the brakes are post mounted on the chain stay which tucks the brake caliper up and out of harms way and the dropouts are 142x12mm Maxle which adds strength and allows for tool-less removal of the rear wheel.
Aesthetics are a personal thing but I think the swooping lines of the EPO are quite attractive. I subscribe to the aesthetic axiom of function dictating form. My eye leads me to believe the curvature of the frame's lines are not just visually appealing, but key to realizing the geometrical concepts that make the EPO work the way it does while insuring that it is more than strong enough to take a beating. There are no gratuitous features with unintended consequences. Only a super strong, purpose built frame that looks like it can do what it is supposed to be able to do.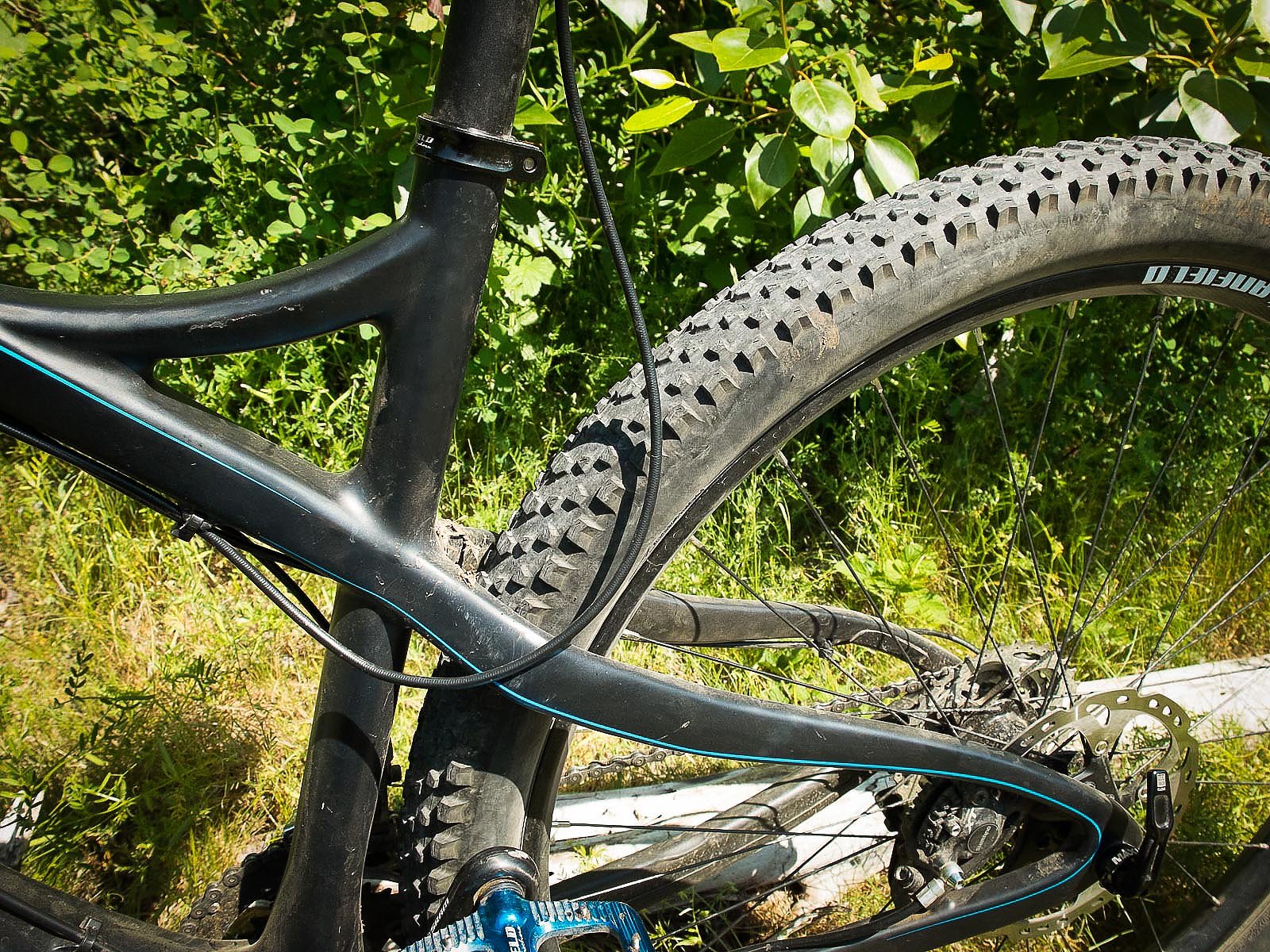 Aboard the EPO, my 6'1" build felt centered, solid, and comfortable, settling into a heads up but aggressive stance naturally with a 60mm stem and low-rise 760mm bars. Pedaling up single track was a breeze. The frame geometry, weight, and 29" wheels combine to make a very capable climber. The slackish head angle posed the typical limitations while ascending, but as with other bikes meant for all mountain performance, these limitations are easily mitigated by shifting weight and paying attention to the trail ahead. The fact of the matter is that the EPO weighs next to nothing, has gigantic wheels with wide rubber, wastes zero energy to pedal bob, and can be spec'd to make easy work of any climb on your routes.
In flowing sections of trail the EPO encourages you to put in pedal strokes where you haven't before, rocketing you along at the pace of fun. A little crank here and a pump there leaves you to chose when and how far to pop and float over features in the trail—it's called play, and I think it's what bikes are meant for. In addition to this playfulness with speed, the EPO is as sure footed as a barrel racing quarter horse when leaned into camber turns. It bites in, throws dirt, and accelerates out of turns in a confident and smooth manner. While the gentlemen at Canfield have made the EPO with intentions of doing much more, this playfully nimble performance on intermittent trails was enough to win me over. Then again, I might be a sucker for any bike that encourages irremovable smiles.
When descending the more directional trails, the EPO surprises. I have time aboard aggressive downwardly oriented hard tails of the 26" variety and there is always a bit of a thrashing involved when really going for it. I was happily surprised by the difference the big wheels make in this department. At the end of a day riding the EPO it required fewer cans of brew to mellow out the bodily wear and tear than any other hard tail I've spent time with. With the big wheels, slacker head angle, and 140mm of well controlled travel up front, smashing down the rowdier trails at the local hill was a treat. Speed was easily maintained and regained, almost to a scary degree. Throw in the EPO's ability to bite into turns with its nimble handling and an extremely fun experience descending is the result.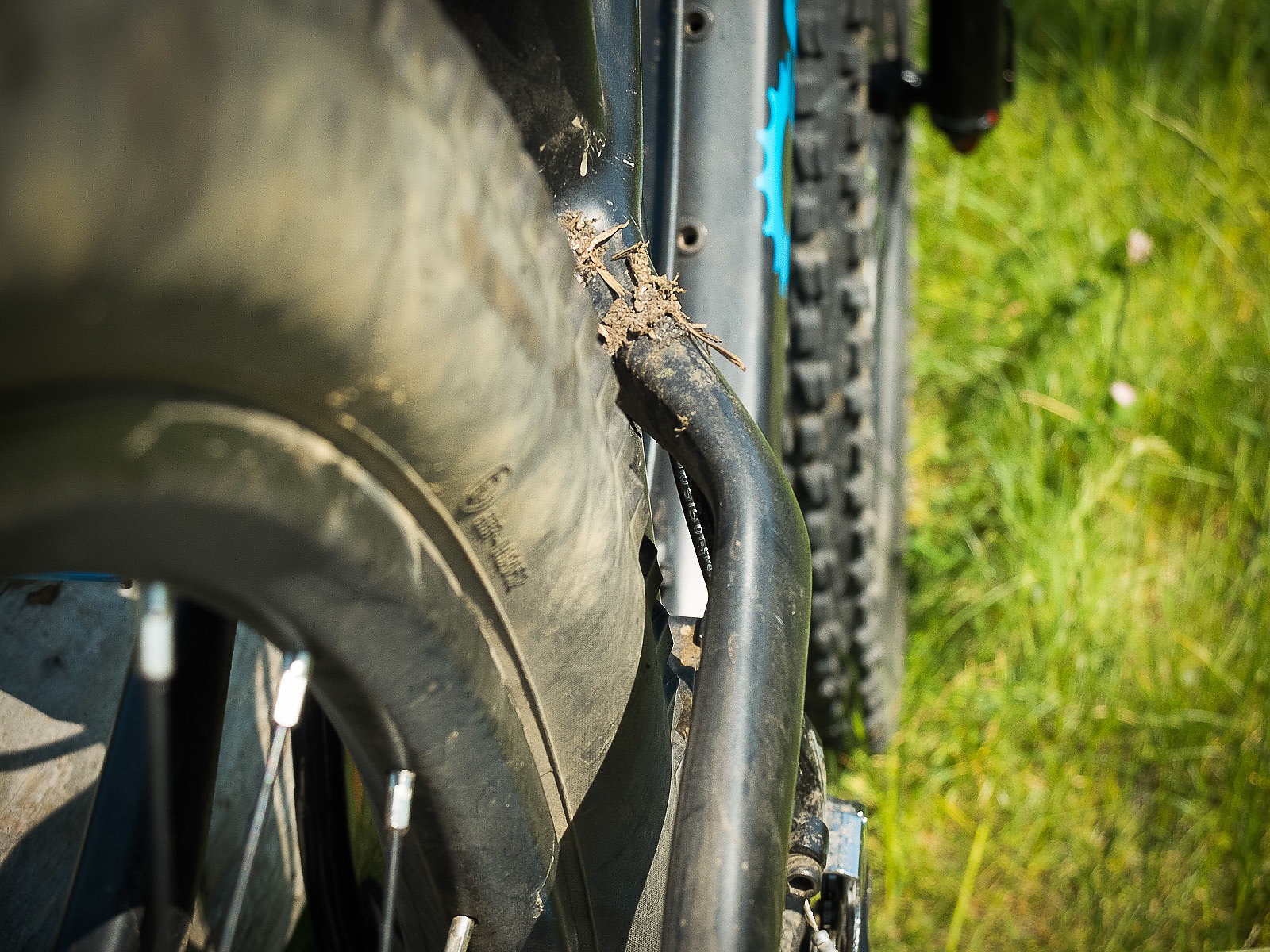 If I was pressed to cite one, the super short chain stays on the EPO might be my favorite feature. They are balanced with the overall geometry of the frame and are probably the biggest contributor making the EPO the all around fun bike that it is. Long top tubes and slack head angles are easy enough to work into a design, but shoving big wheels into such short chain stays takes some thought. I'm sure designing the bike required some geometric magic in order to put these stays on a bike with big wheels, but the end result is remarkable. I'm not the best with wheelies or manuals but I found myself doing both with a level of control I have never had before in both parking lot and trail attempts. Also, being able to easily lift the front end up and over obstacles while climbing complemented the already efficient rollover capabilities of the bigger wheels. On the downs the same ability to get the front end up helped with leveling out at the lip of drops and jumps, adding enjoyment and agility to the down hill game. And of course, when navigating switchbacks a little less out back is a blessing. All around, the sort chain stays on the EPO are a benefit.
It should be noted that without internal routing for a dropper post, some sort of cable guide will be needed to prevent the cable from rubbing on the rear tire when the seat is lowered. Also, the frame clears 2.5" tires with about 3mm clearance to the sides and about 10mm to the front. There were some witness marks on the inner chain stays from tire rub, but I expected there to be way more than there actually was. So, technically you can run 2.5" tires, but I wouldn't. Dialing it back a bit to a more reasonable 2.35" tire width will prevent this completely without sacrificing much. But the fact still stands that such small clearances produced very little rub which is demonstrative of the torsional strength of the frame as well as the in house hoops. If these had any excessive torsional flex I would expect that the tires would have eaten through the stays in a mater of hours.
When I was young my family's friends had horses. I can remember riding around corrals and trails, typically supervised and told to keep the reigns taught. As happens over time, confidence, curiosity, and less oversight prompted a series of experiments. First a bumpy trot, then a mild canter, and finally a surging gallop. Initially you hold on for dear life while trying to maintain control, but then you realize the beast beneath you is capable of taking care of the details if you can just suggest where to go by leaning into the reins. It might seem strange, but riding the EPO instantly reminded me of how it felt to trust a thousand pound animal at speed to churn dirt and change direction. It was truly uncanny.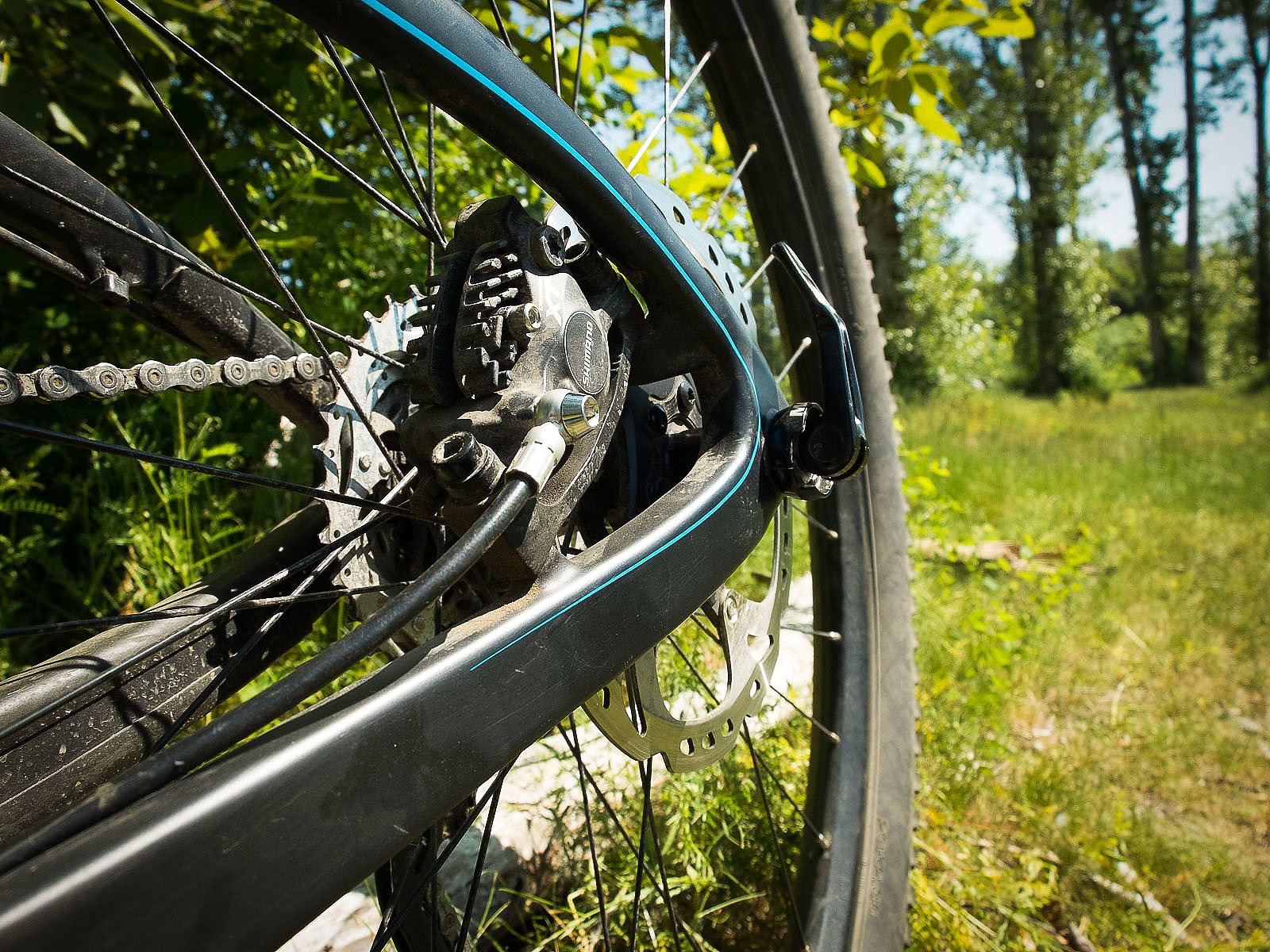 Whatever the combination of rotating inertia, loci of center masses, and steering leverage angles are at work, if you lay the EPO over it feels as if saw blades rip into the trail and actually accelerate the bike through the turn. There is a bit of lag when linking turns, but I am not convinced this is due to the big wheels. Instead I suspect it has more to do with the exit speeds being faster than I am accustomed to. All bikes handle better at speed and the EPO is not an exception. But keeping it up to speed was easier than any other bike I have had the opportunity to ride. The only thing it leaves me wanting is a bit of squishy out back to take the edge off of long days of riding. That said, if I had space for another bike in my stable there's a good chance my new friends here in Bellingham might find one of theirs missing.
If you are a hard charger who appreciates simplicity, nimbleness, speed, and fun, the EPO is worthy of consideration. It probably won't replace your DH or park bike, but it could easily be your everyday trail bike if you ride DH or park and want a pedaler that feels similar while being simpler and encourages you to look at trail like a playground. Although my time riding the EPO was brief, it was clearly capable of more than I could throw at it. A more advanced rider might make a long-term relationship with the EPO that I would be jealous of.