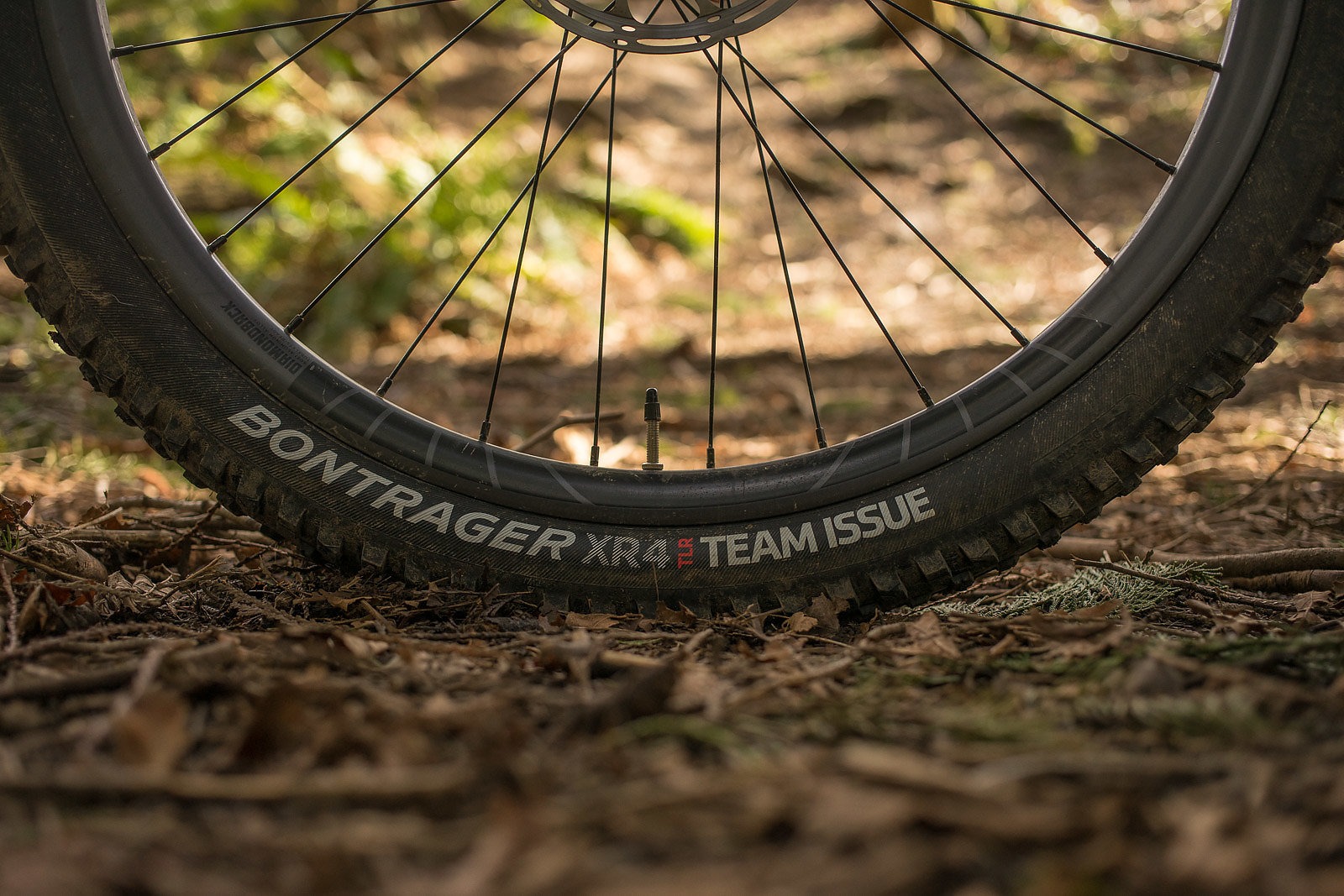 Bontrager XR4 Team Issue Tire Review
Connecting with Mother Nature is, in one of many ways, what mountain biking is all about.
As hippie-ish as that sounds, the way in which mountain biking lets us explore our natural world is one of its most enticing factors. However, in perhaps the most literal sense possible, it is our tires that connect us to the ground—if all goes well. But they also factor into nearly every other part of the ride: how fast we roll, how we approach roots, the way we stick to berms and when (and why) we brake.
I've been putting Bontrager's XR4 Team Edition tires to the test since the beginning of this notably wet Pacific Northwest winter, and in the process scrutinizing my physical, rubber-side-down connection with Mother Nature.
Bontrager calls the XR4 an "Aggressive trail tire," and I'd have to agree with that. The XR4 handles both aggressive trails and aggressive riding styles well. Throughout the winter, I consider roots my nemesis. I'm not particularly fond of those nasty little buggers for a couple reasons: they've taken me out on more than one occasion, they come of out of nowhere and they are always unpredictable.
Thanks to the tubeless-ready factor of the XR4s, I've been running a lower tire pressure (low- to mid-20s PSI) while descending, which in combination with the tread has helped me conquer those wild-card roots. Thanks to a decently stiff sidewall, I haven't noticed any deforming while cornering, or been able to burp any air.  It's been really fun to push the the tread's limits throughout the winter, and I've yet to be disappointed while going up or down. It's effective in both shedding mud and keeping traction. There's been a few instances where I've intentionally locked up a wheel in slick mud, and still felt oddly comfortable and in-control while sliding.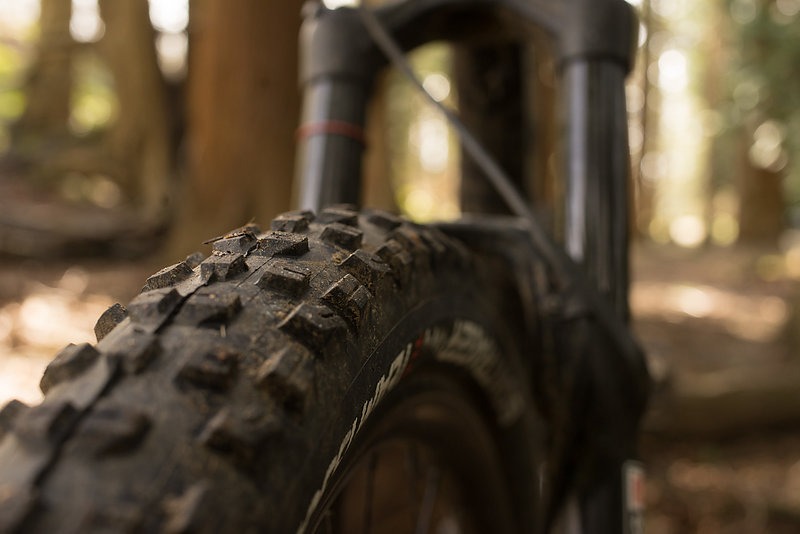 Considering that these sloppy Northwest conditions aren't the exact type of terrain the XR4s were designed to excel in, I'm even more impressed with their performance. Come dry conditions, the XR4s hold their own just as well—if not more so. Yes, these conditions have been few and far between this winter, but the couple of times I've found even the smallest section of dry trail, it's been nothing but a fast-rolling experience with a predictable response from the tires.
The dry counterpart to my distain for wet roots is a hostility toward flat corners. I'm not really scared of them, it's more that I have a mental block when it comes to really pushing it on anything with less than a slight berm. However, thanks to the side knobs and a rubber compound on the stiffer side of the spectrum, the XR4s hold it down well, berm or no berm.
As far as technical design of the XR4 goes, it's got an "Inner Strength" casing that adds one more layer to fend off punctures and add strength and rigidity to the sidewall. The tire's casing is 120 TPI (threads per inch), which is kind of a sweet spot, meaning it's light-ish with decent puncture protection. Considering I haven't had even the slightest hint of a puncture or any qualms with the weight, I'd say Bontrager nailed the construction. The 27.5" x 2.40 version weighs in at a mellow 745 grams and its 29" x 2.44 counterpart at 780 grams—both on the lighter side of most trail tires.
So thanks to the XR4s, I've had a remarkable connection with Mother Nature this winter. They've held up well, excelled in some of the sloppiest conditions I've ever ridden in and been both predictable and reliable in all situations. I still might put a foot out on a flat corner, but now it's out of habit rather than distrust.
Bontrager XR4 Team Issue Tires
MSRP: $70
See more at www.trekbikes.com