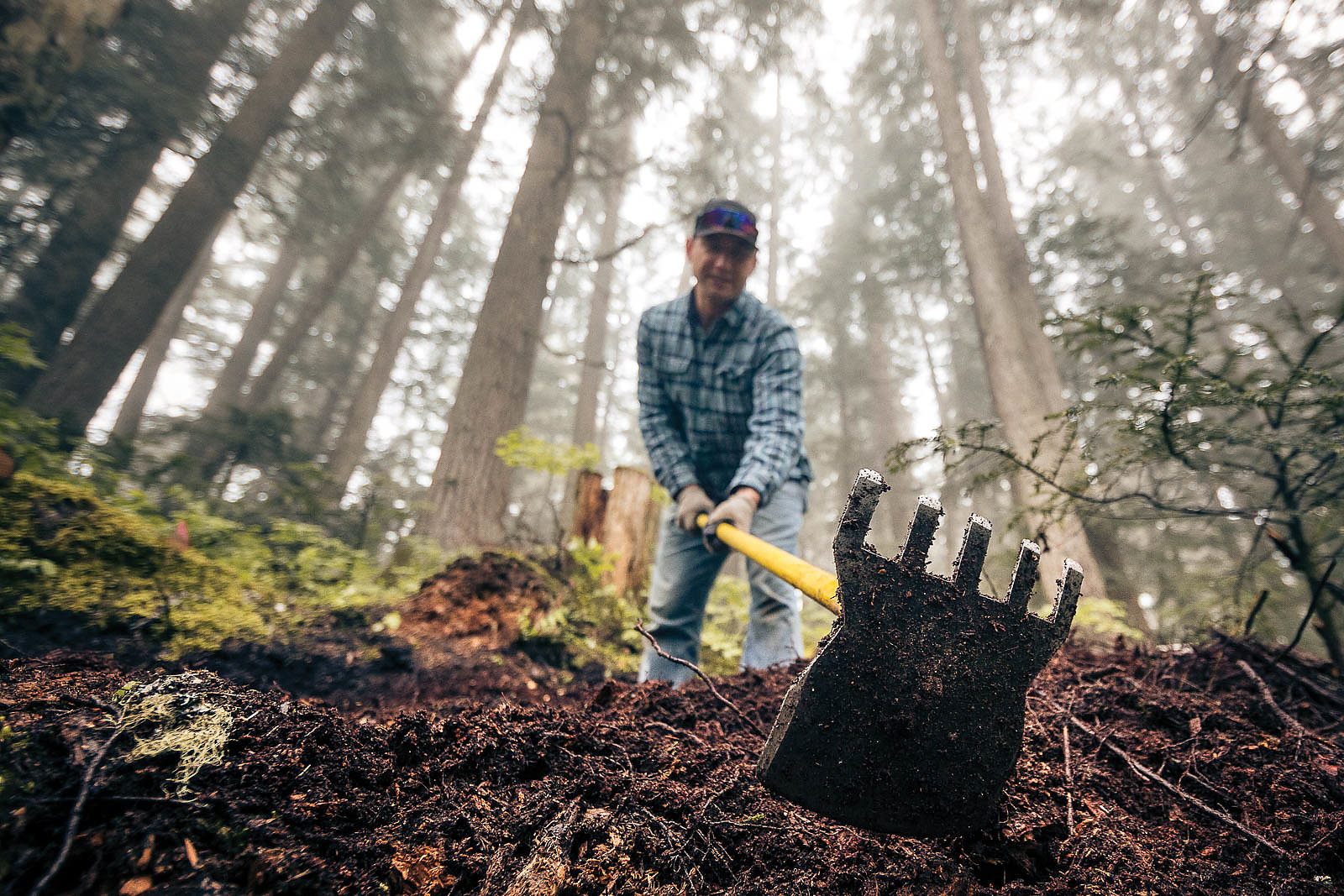 The Art of Evolution - Sweat, Blood and Magic with Whistlers Unsun Heroes
Over the past few centuries, a small group of people have worked to accomplish a feat that could change the world—to turn everyday materials into gold.
Their craft is called alchemy, though they've been labeled sorcerers by some and often scientists by themselves. They've done their work in the basements of churches, in dank stone chambers and in Victorian laboratories, often in secret, using meticulously designed tools and experiments.
After a thousand years of trying, they have never succeeded.
But in the thick, silent rainforests of the Whistler Valley, in the last decades of the 20th century, a small group of them did. Inspired by experiments elsewhere, they turned raw minerals into semiprecious ones. Then, as the years passed, into beautiful, sculpted gold. And they did it with shovels, chainsaws and a lot of five-gallon buckets.
They were the first Whistler mountain bike trail builders, and their medium was the dirt under their feet.
In the years since, the Whistler Valley has become the world's leading trail laboratory, helping to change a sport born on fire roads and hiking paths into one practiced on masterpieces made of dirt, wood and stone. They didn't invent the process or the methods, but no place in the world has arguably had more of an influence on the trails upon which mountain biking now exists—or, more accurately, rolls.
And, as with the countless alchemists over the ages, the names of most of these master builders have never been heard beyond the heavy canopies of their Northwest playground. It's impossible to name them all. The list could fill tomes.
But by calling attention to a few, you can come close to honoring the whole, or as close as possible.
These are some of Whistler's unsung heroes, and if you haven't ridden their trails, well, you probably should. They are gold.
Jerome David
I've been in Whistler for 18 years. I was originally from France, and lived in Germany, then Nova Scotia, then Vancouver. I never left.
In the summer, I supervise the patrol at the Whistler Bike Park, and I'm very involved in WORCA [Whistler Off Road Cycling Association], where I've been trail director for five years and president for a couple of years. In the wintertime, I ski and ski tour.
I've ridden bikes all my life—bike touring, commuting and just getting around. I was brought into trail building by some of the old timers who were the first trail directors for WORCA. I always liked being outside, so I was put in the woods, and five years later I was trail director myself.
When I moved up here, there was a need for management and connecting and improving our trail network. I got so involved just because I was here from the beginning. The old timers had finally established a club that could do some maintenance; in the mid and late '90s it really picked up, and in the early 2000s it got really busy. Getting all the different groups together—WORCA, the city, the municipality, the resort—was key.
We've been maintaining popular trails here for many years, so over 25 years of high-volume traffic you've seen everything, and we can apply that to events like the Crankworx Enduro. It's the planning and staying ahead of the game that's important, and to take advantage of the resources that come with the event to improve the trail or extend it.
We've always been stuck in the forest, so now we're looking to shoot to the alpine. We joined up with the municipality, and even the Alpine Club of Canada has developed some hiking stuff. We're going to have a machine-built climb trail into the alpine by Sproatt, and a hand-built descending trail.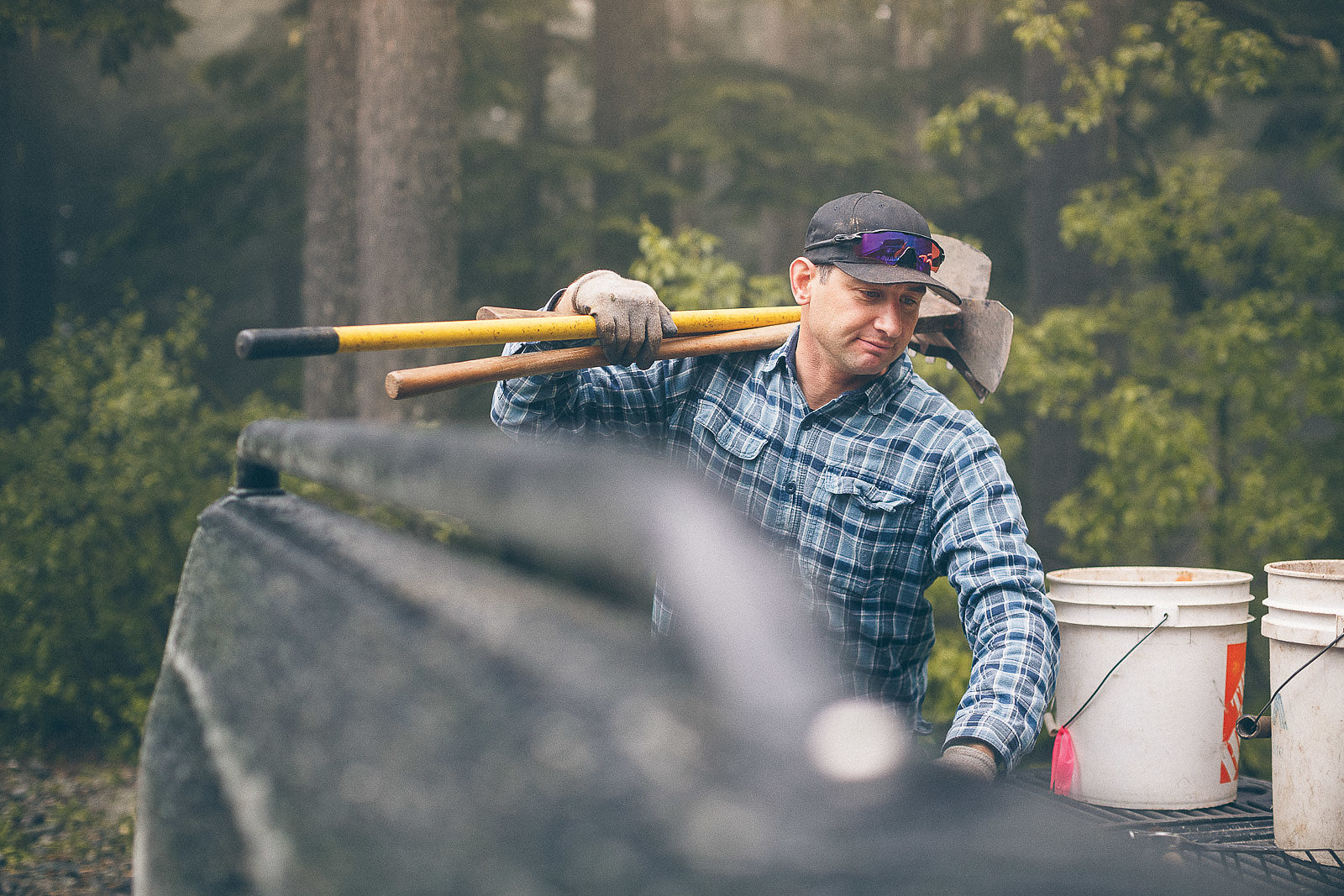 Back in the early years, the scene was much quieter. Shoulder season was like tumbleweeds in the streets. It was just a few locals riding. You'd be working the trail a certain time of the year and you wouldn't see anybody.
I was protective of every little hard move back then, but certain trails need maintenance to survive. I wouldn't want to have so many people on the trails to where we had to change them. Now I'm like, "Whatever, let's get more people riding and building." Impact is going to happen, so bring everybody on.
At WORCA, we've also been going back and trying to preserve some of that history before it's forgotten. I could go way back—there have been so many people here over the years who have put so much effort into it.
Dan Swanstrom was one of those old-school builders, who'd cruise around on his trials motorbike and built some of the first lines around. Then Chris Markle spent so much time here in the valley building trails like Comfortably Numb and Kill Me Thrill Me. Dave Fortier was also an early one, or Grant Lamont, who was one of the founders of WORCA.
I've done a lot of projects over the years I'm proud of, the volunteer days we've run with the clubs. I'm really proud of having completed Duncan Mackenzie's trail, It's Business Time. He passed away before he could finish it, but we had a lot of people come out and it's been turned into a really good trail.
Everything out here is fun. It doesn't matter what I'm on—it's all my favorite. As for the trail I've built that I'm proudest of? Well, that's yet to come.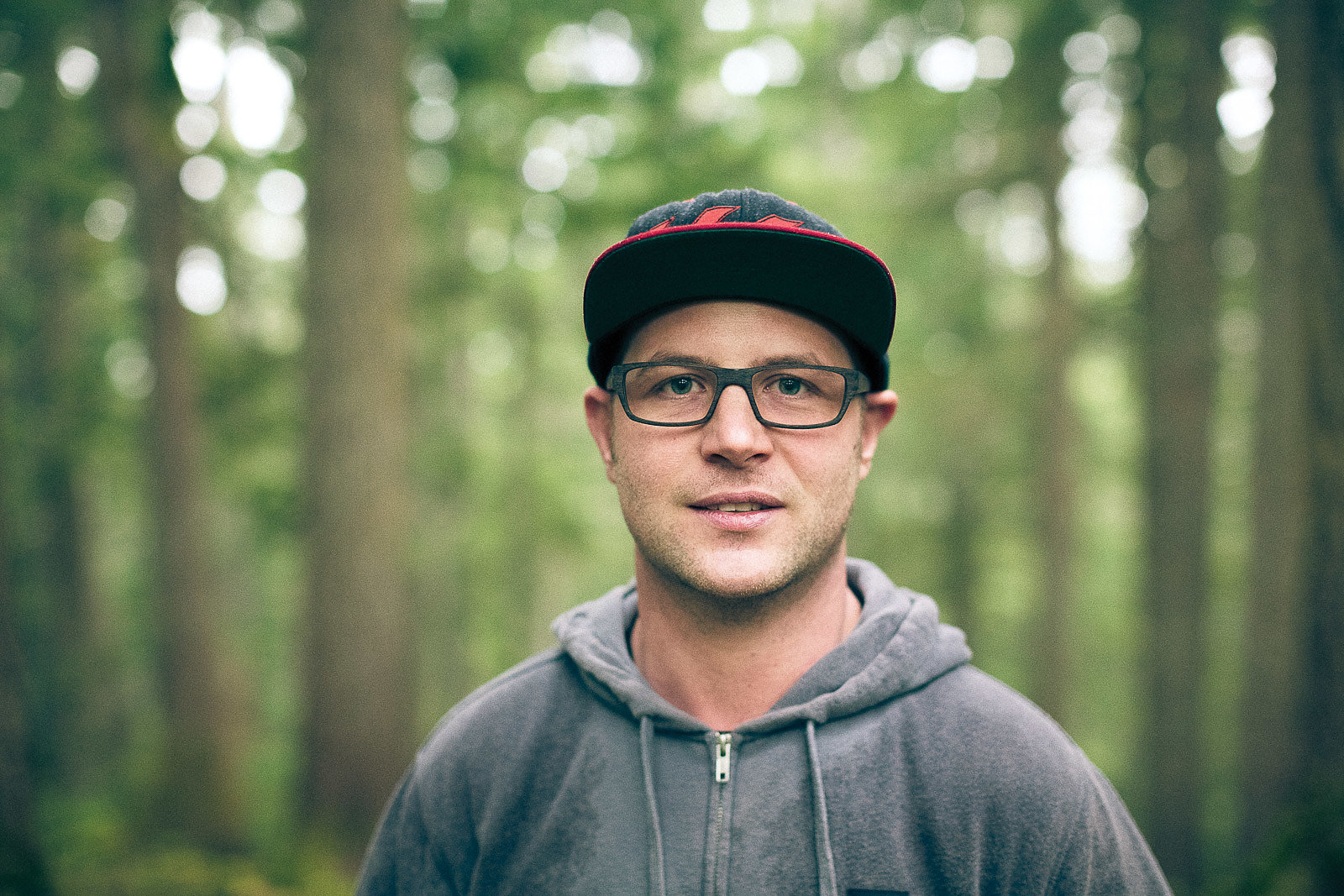 Craig Wilson
I moved up here the summer after high school from Vancouver Island, where it was a pretty standard thing to go in the woods and build and work on trails. Now it's been just over 15 years.
I'm a heavy-duty mechanic—the bike career never took off, so during the week I work on snowcats for Whistler Blackcomb. I spend pretty much all of my spare time riding or fixing bikes. I don't build a lot of trails anymore. I bought a trials bike awhile ago, and now my focus is maintaining what's out there.
Hey Bud was originally built by a guy as a bootpack for the winter to avoid having to buy a ski pass. In 2005, I was up in the area looking for Crazy Train, and I ended up finding what would become Hey Bud. It was like an old-school North Shore line with all these uphill log skinnies—more of a hardtail, super-slow kind of thing. Amazing, but not for downhill or pedal bikes.
I did more than 10 years of work on that trail, walking up and down with my dog, cutting out routes. I left everything that was original; I just made reroutes to make it fall line and badass. I built quite a few stunts in there as I went along, just like, "Oh, this would be a great jump, or a little bridge."
You can tell when you ride that trail that it was built by a skier. It's all fall line, but uses the terrain. It's quite a bit different than something like Micro Climate, which is next door, which uses the terrain to make the trail longer. And then Crazy Train is 100 percent vertical. It's good to have those three different styles. And somehow Hey Bud became "legendary," I guess.
When Hey Bud was taken over by the mountain and the bike club, I kind of left the building up to them. Now I just go in and tidy up, because I'm really well set up now with my trials bike and all my tools. Something that will take someone two hours, I can do in an hour, whereas back in the day I used to spend 100 hours a season in there maintaining the evolution of the trail.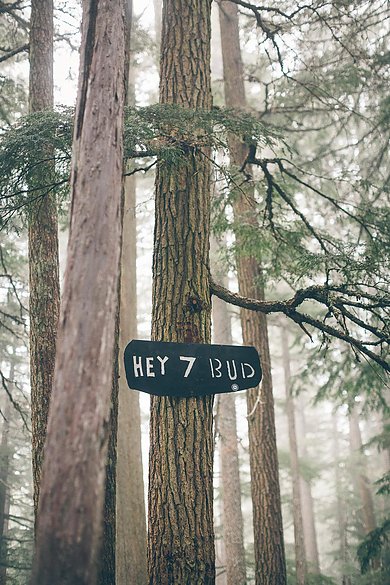 I think there's more than one kind of trail builder, and I for sure am not the kind that builds something I want to keep to myself. I'm a firm believer that a trail doesn't get good until it's over-ridden. And then it's constantly changing. The evolution is amazing, to see it and be part of it.
All the trails around here are great. I've ridden all over, and because there are so many good trails around the world, I don't know if Hey Bud is my 100 percent favorite. But I've spent a lot of time in there, and when you get to the top and are hanging out, well, it's pretty magical. I guess that speaks to all the sweat and blood that went into it.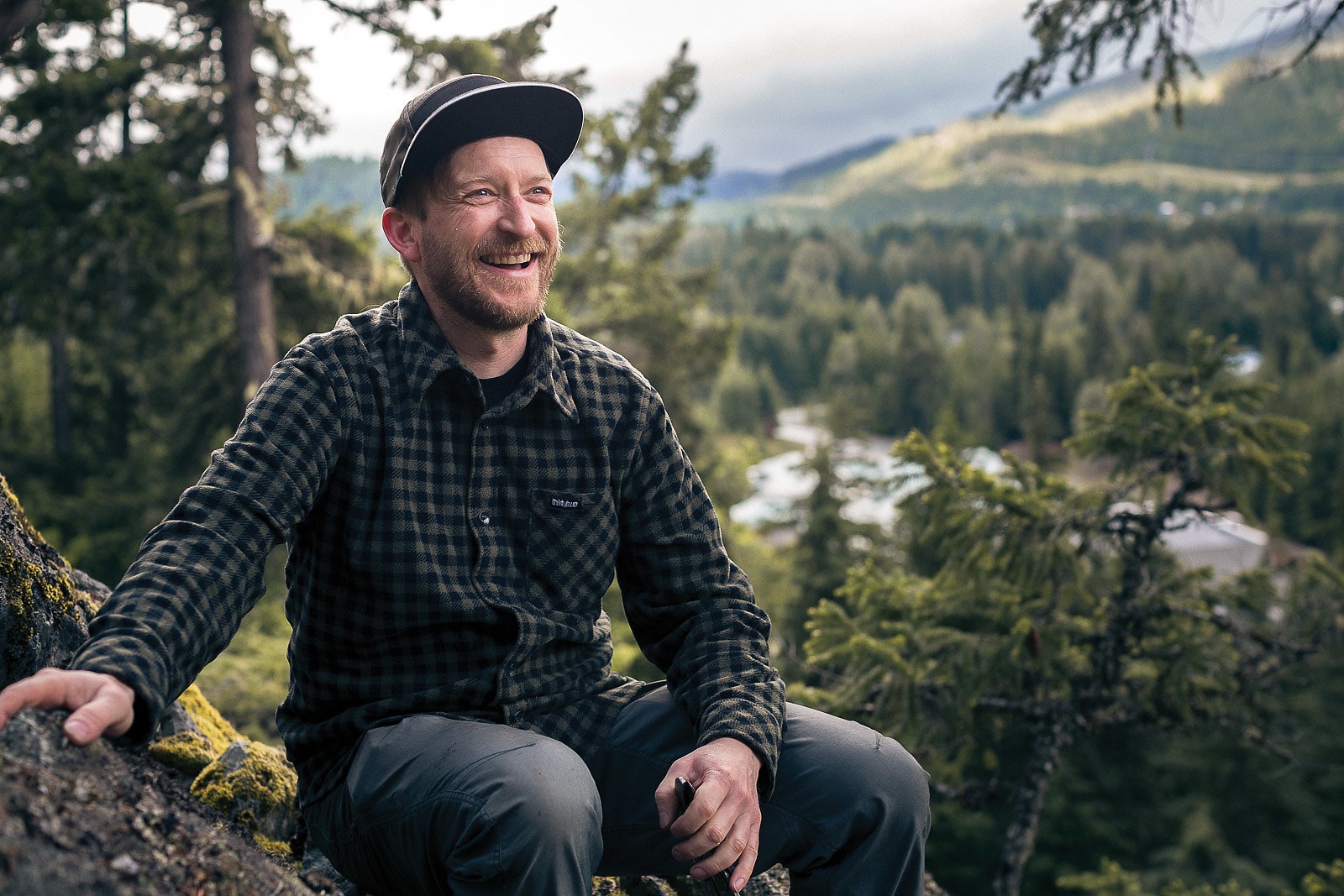 D'Arcy Burke
I moved to Whistler in 1989 from Victoria, with the intention of spending a ski season, and I couldn't really find any reason to leave. At the start, I worked year-round at the resort—as a liftie, then got into snowmaking, then grooming. I've been doing that for 25 years. I still work there in the winter, and in the summer I'm a bike tech for Chromag.
Over the years at the mountain, I ran a Unimog crane truck and got into machine operating and excavators. I worked with [Gravity Logic's] Dave Kelly putting in the original B-Line, so I helped build the first Kelly-designed work in the bike park. I didn't get to finish, because back issues from running machinery year-round were breaking me down. Now I just work with snowcats, because they're super cushy—way more comfortable than a mini ex.
In the mid '90s, I worked as a bike tech for Evolution Bike Shop, and did that for 12 years. When Ian Ritz needed a tech at Chromag, he brought me on. And that's where I am these days.
B-Line was where I left off as far as machine-building trails, but I've put in several hand trails, more "clip it and rip it" style. Like one called Suicycle, another one called Hand of Doom [and] one called South of Heaven, which is now absorbed by the bike park. I did that with another fellow named Dave Hanwell. As for Crazy Train, I give Dave most of the credit. He was the one who wanted to put 90-degree turns at the bottom of all the steepest pitches, and since he started it, he got his way.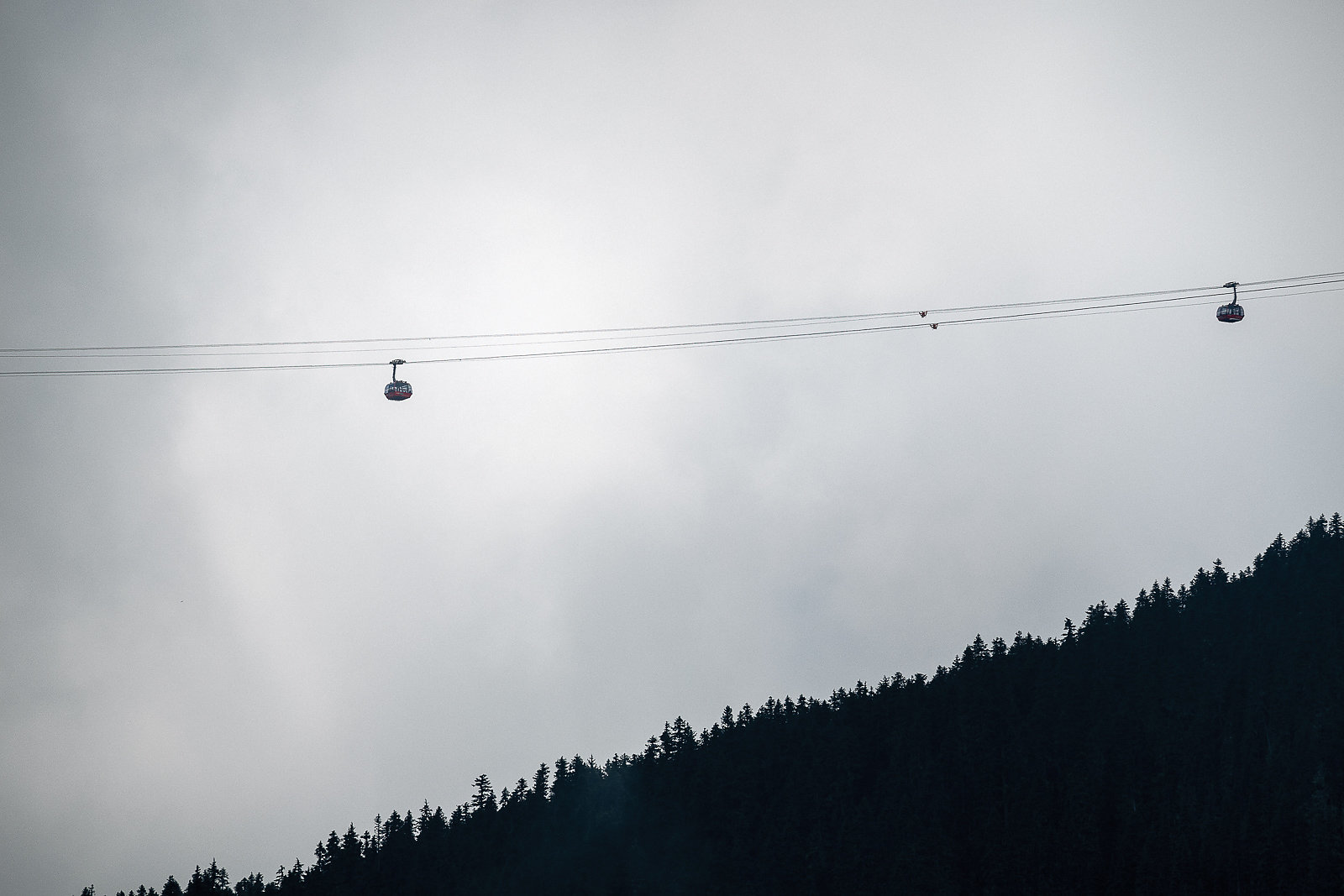 At the time, we were riding all these trails on Judy forks and V-brakes with 100mm stems. Hand of Doom and Cut Your Bars probably claimed a dozen front wheels because we were pushing the equipment. Even on a modern bike they're still super steep; back then they were kind of ludicrous. h
I love those two trails. Cut Your Bars is super-fun old-school—all originally trial bike trails from the '70s and '80s. I had the largest part in building Hand of Doom, and to this day, I still look after it and keep it clear. I think that's my favorite trail, or at least of the ones I've had a part in building.
Back when we were in our early 20s, we were riding basically modified road bikes, and still riding some pretty burly terrain. It's been really fun watching the evolution from when we started with rigid bikes and toe clips to the machines we're riding now.
If you can ride technical trails in Whistler, you can pretty much go anywhere and be a champion. I think it's good to bring all the people here and expose them. I'm not really into the high-speed, smooth, fast stuff. I'm not really good at it, but I'm better at creeping down really steep janky terrain. That's what mountain biking is to me.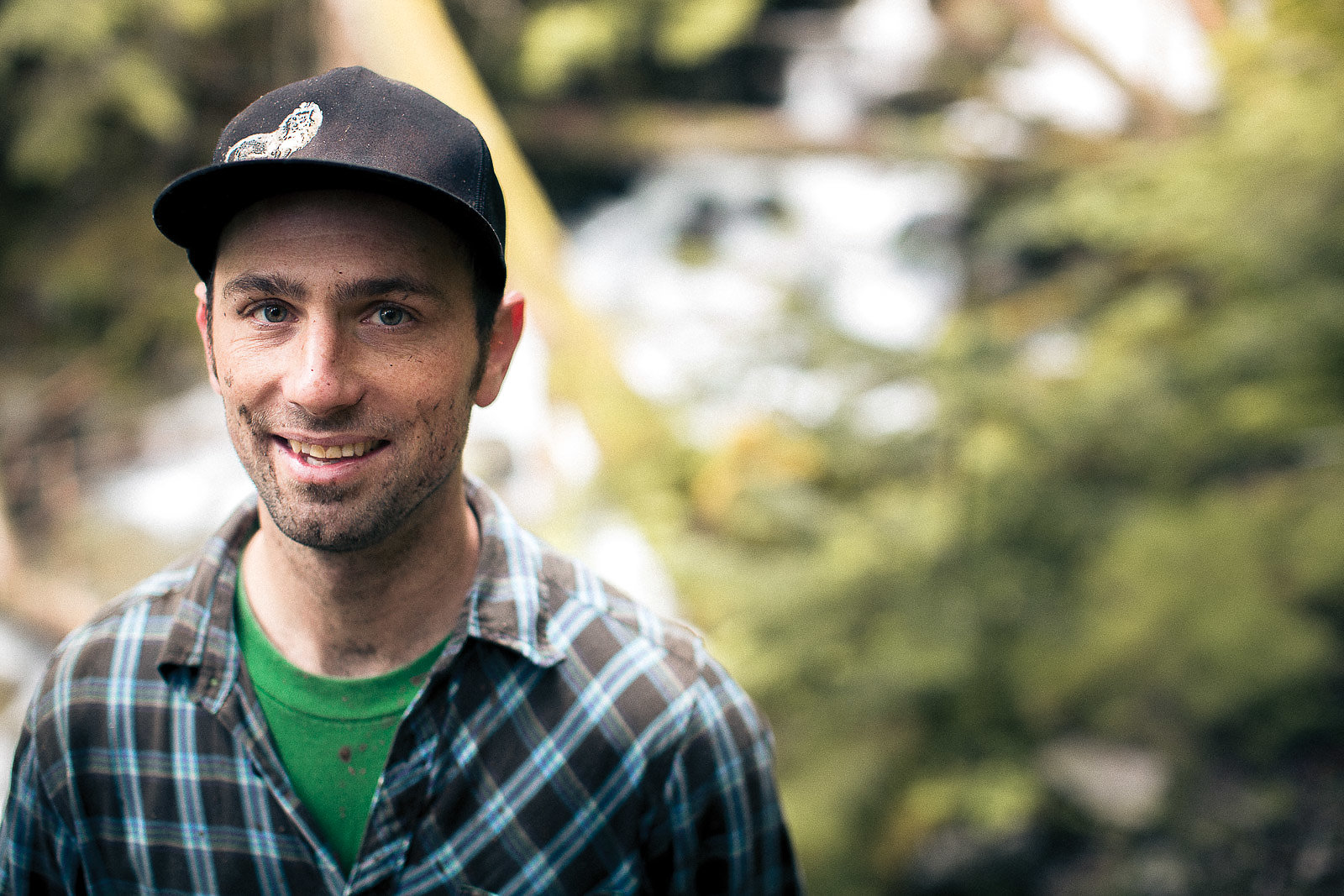 Dave Anderson
I moved to Whistler about 14 years ago from Ontario, same story as everybody else—you move up for a season and you become a lifer. I got introduced to biking by my good buddy probably 12 years ago. The bike park immediately hooked me, all the gravity-fed riding, but as I got a little older, I bought a trail bike and that's what I do mostly now.
The one trail I've built that's pretty well known is Micro Climate, which I actually found while skiing through the trees there during the winter. It was terrible, flat skiing, but figured it was perfect for a bike trail. So I went back and skied through a couple of times, and later I started walking through there in the summer, trying to pick out the line.
There's a lot of different variety to the trails in town, and I just wanted something a little mellower—which it didn't necessarily end up being. I wanted a little more flow and a little less fall line, but got a bit excited and started to [make the trail] a little steeper.
It's been a huge learning experience. It's not the first trail I've built, but the first full-length, stand-alone one, and I worked with Paul Stevens to make it happen. We've got a bunch of insanely experienced trail builders in this town, and when you start having those guys help, you learn a lot really quickly.
As far as my favorite trail, that's a tough one. I don't know if I necessarily have a favorite. Everything offers something a little bit different; you've got your A-Lines and Crazy Trains, and then you've got your Rockwork Orange, with exposed rock lines and some techy flow at the bottom.
I think, if anything, my style is looking at sustainability and building trails that aren't going to have a huge impact on the land and the surroundings. I think it's important to get more people out there and to teach them how to build properly, so when all these rogue trails go up, they're not hack jobs. We want them to last.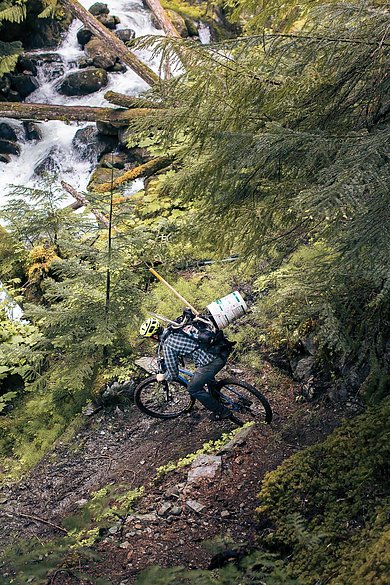 All the main folks have their own projects going on, but we try to meet up at the start of every season and go around to some of the trails as a group. It's guys like Dan Raymond, and Seb Kemp and [WORCA Director of Planning] Todd Hellinga. They've put their heart and soul into it. I'd say those are probably the top three guys who've got me really excited about all of this.
Right now the idea is to do a lot of maintenance on Micro Climate; it's seen so much wear and tear after a couple of seasons, and I think that's going to be a pretty big summer project. As for the more "secret" stuff—you obviously want your friends on them, and you want the world to see your work eventually, but we try to keep it to ourselves for a little while.
Zander Strathearn
I moved to BC in the summer of 2009, making the move to the West Coast for the real mountain biking, and now I'm a full-time trail builder in the summer. I'm originally from Toronto. My dad's a carpenter, and he gave me a chainsaw from a young age, so I've had my hands on tools ever since I was a little kid.
I started my own company, Howler Contracting Limited, now in its third year, and I subcontract myself out to WORCA mostly and also do a little work for the municipality. Being able to build bike trails and get paid—that's always been a dream of mine. I've really put myself out there, and I've made it work.
The style of building and riding I enjoy draws a lot from my early background as a dirt jumper, trails where you don't have to work too hard, where you can let the trail take you where you want to go. Let the natural terrain take you on an adventure through the sights and sounds of the forest around you.
I don't necessarily draw influence from any specific person's building style, more just from peoples' personalities. I look up to people that do things for the biking community, that are really advocating getting people into the forest and mentoring other builders.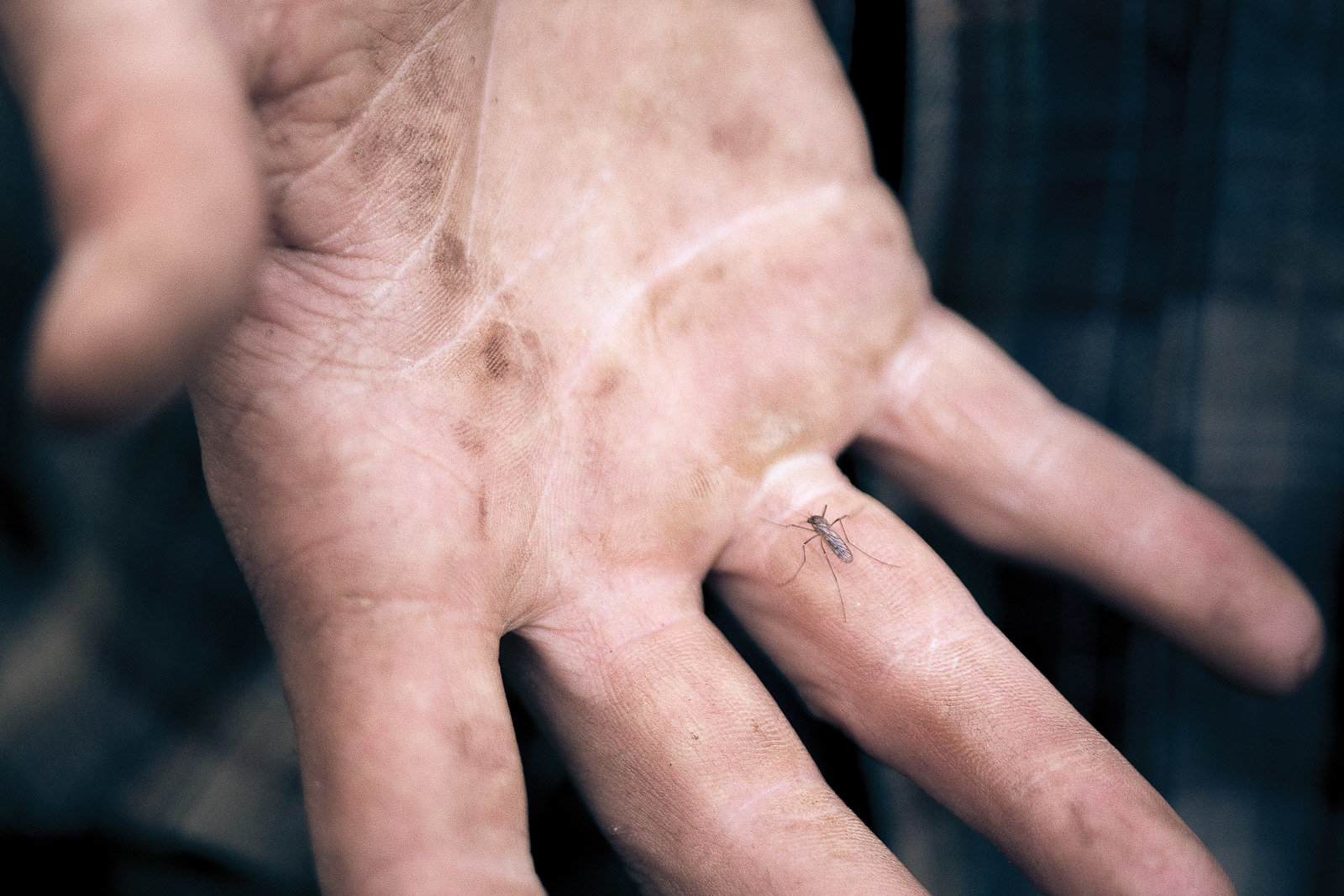 I think the bike park has provided a lot of things for people to think about. I worked there for three years before I started on my own, and it's had a lot of significance as far as shaping the things people are looking for. And that's slowly been transferring into the valley and into the Whistler cross-country riding scene.
The difference between bike park and valley trails: round corners. Pretty much being able to carry speed and not having to constantly pedal. I think a lot of stuff outside of the bike park, trails like Comfortably Numb or Kill Me Thrill Me, even Cheap Thrill, are designed for more maneuvering the bike…opposed to the bike park, which is designed for hauling ass and having a good time.
I'm proud of opening some new zones. I know there's another person building trail in the area I built Howler, where there was nothing before. In Whistler, I've done a connector from the upper part of the Flank to Gargamel, which I think is absolutely an incredible Whistler classic and probably my favorite trail in the valley. I also really like the style of trails like Khyber. I'm really stoked on the work that the guys on the south end of town are doing in Cheakamus, creating some different styles than we already have.
As far as the Enduro and Crankworx, I think it was incredible to have that many top-level riders riding fresh trails—the work got ridden in by the best mountain bikers in the world, and the main lines that formed were the best lines. There have definitely been a lot of people saying, "The Enduro is destroying trails. It ruined my favorite trail that was absolutely perfect before." But I think it just helped the trails evolve quicker.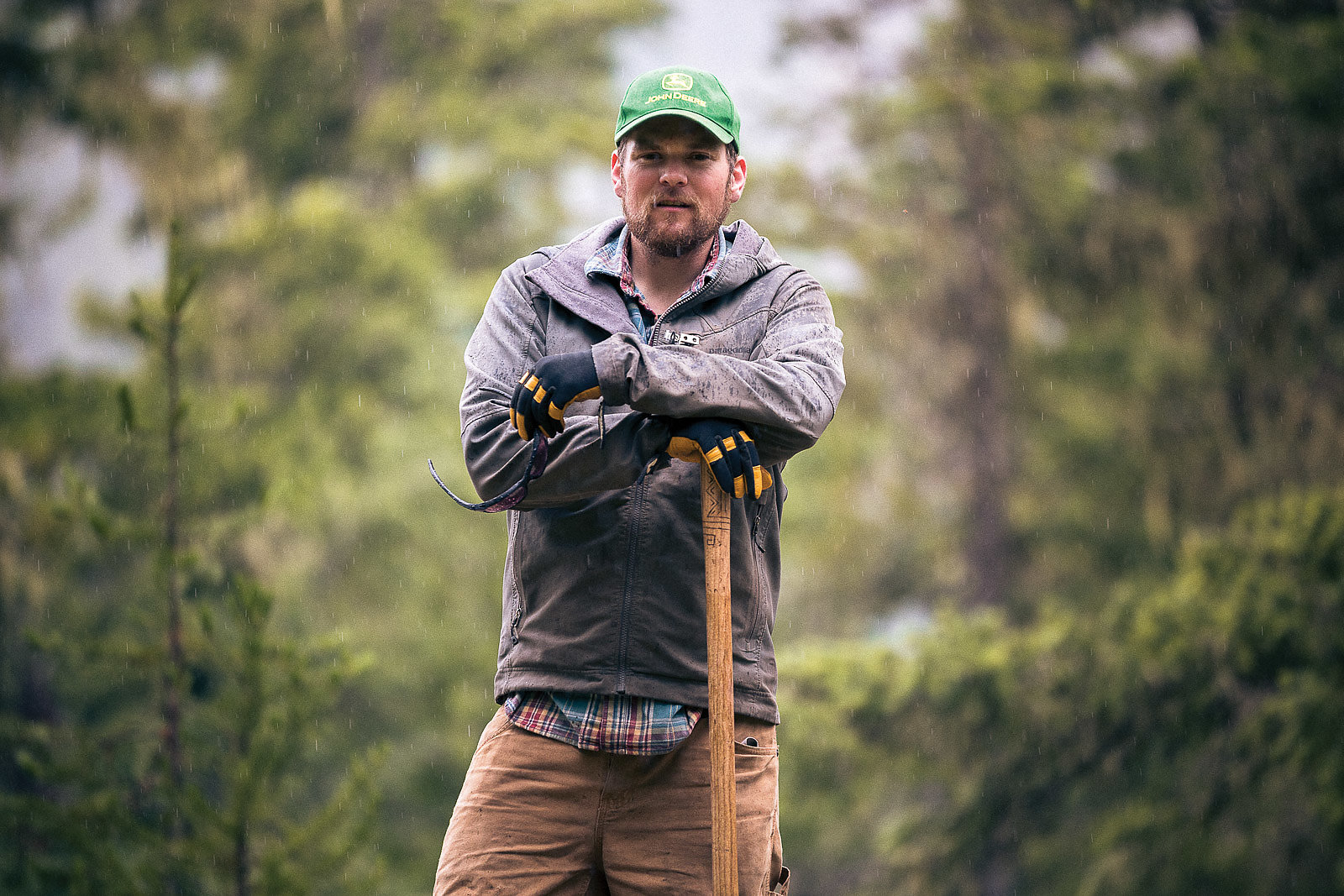 Tim Haggerty
I work full time as a ski patroller and as one of the snow safety techs and forecasters for Whistler Blackcomb, and in the summer I bike patrol full time. I grew up in Ontario, and came here via Banff, where I was a patroller at Sunshine Village for 10 years.
After my last set of big injuries in 2007—I broke my femur for the second time and my pelvis during a big mountain competition—I started cross-country riding with my wife. That summer when we went to New Zealand, that was what I craved: Riding my bike.
We moved to Whistler on May 1, 2011. I bought my first chainsaw then, and in August of that year, after going to a lot of trail days and meeting Jerome David, I got my first job working for WORCA as one of their part-time builders. Jerome and I built Billy's Epic, and I've been involved ever since.
For me, it's all about building connections to utilize the trail system in the fullest. Not necessarily diversify it, but be able to link it in different ways, so you can spend more time in a certain area and add to that flavor.
Since they opened Top of the World, we went in and realized the need for maintenance there. I do all the work on Khyber Pass and Kashmir now, but the original reroute on the top of Khyber was done by [Gravity Logic's] Tom Pro and his crew, so we've spent our time mainly armoring things.
That's the way we work in that area—it's all about sustainability. I take pride in the work that we do up there. The mountain gave us the resources to spend 10 days on Khyber this year, and another five on Middle of Nowhere and five or six on Kashmir. And I do have quite a bit of say in what trails get used for events.
They've asked me about using other trails in the valley for EWS trail stages, and I've firmly put my foot down and said no. Some of the modern ones work, but a number of the classics won't because they're designed for tech and probably pretty unsafe to ride at race speeds.
I give big shout-outs to guys like Jerome and Grant Lamont, both founders of Whistler Trail Solutions. The guys who are both behind the scenes and in the spotlight. I work with them revamping the Hey Buds and Crazy Trains and Micro Climates on the Blackcomb side.
What I'm really proud of is how well we've built up trail maintenance, and the quality of building we do on trail days and nights. We'll go out and go hard for two and half hours, and then have a beer and shoot the shit after and see how it went for everybody else.
It sounds bad, but I probably enjoy building more than I enjoy biking. When I go riding somewhere else, I find myself looking at the different trails and how they were built. Checking out new climbing trails, new builds and old builds and classics. It'd be a tossup. But basically I enjoy just being in the woods by myself.