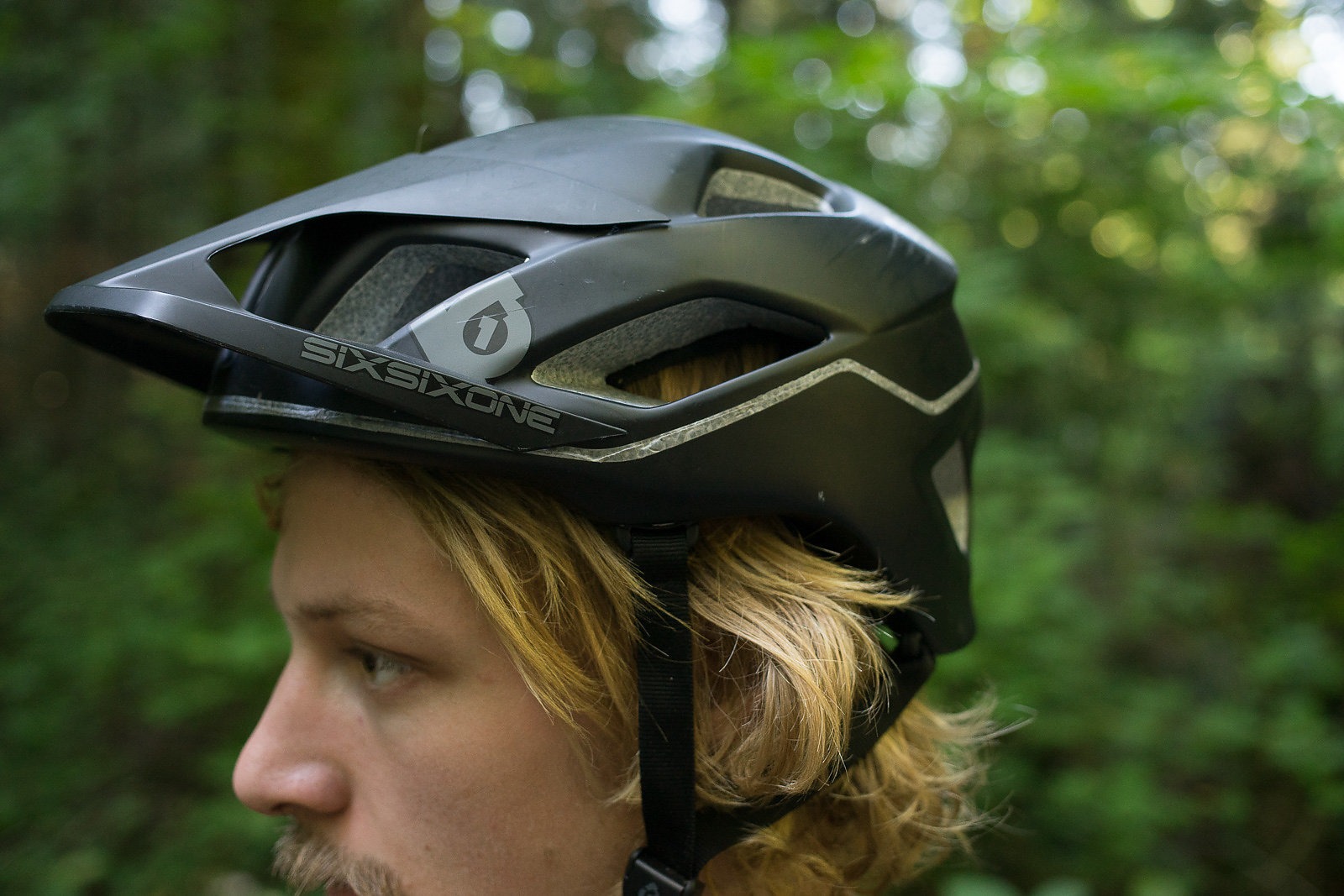 661 Evo Am - Helmet Review
If there has ever been an unspoken, universal law in the mountain biking world, it is that of always wearing a helmet.
We can still ride if we forget our knee pads or a spare tube, but a missing helmet, that's a bit of a deal breaker. As one of the most important pieces of mountain biking equipment—maybe except a bike—the helmet accompanies us on every ride. It is there to protect us and reassure us when things get a little loose. For something we rely on so heavily, it's important to have a helmet that is up to the task and since it only works while wearing it, it also has to be comfortable. SixSixOne set out to meet riders' needs of superior protection and all day comfort with their Evo Am helmet.
At first glance, the SixSixOne Evo Am looks like your typical half-shell, trail bike helmet. However, it's in the details where this helmet really shines. The Evo Am helmet uses the same in-mold construction of many helmets, but it features Contego EPS foam which claims to absorb up to 30% more energy in an impact than the standard EPS foam used in most helmets. Our test helmet also featured MIPS (Multi-directional Impact Protection System) which only increased the level of protection that the helmet was able to provide.
For fit, SixSixOne utilizes Boa's 360 adjustment system to help wearers find the perfect fit. With a simple twist, riders can adjust the tension of the Boa cables which are connected to a plastic strip in the front of the helmet. The side strap adjustments are the standard fair, familiar and easy to use.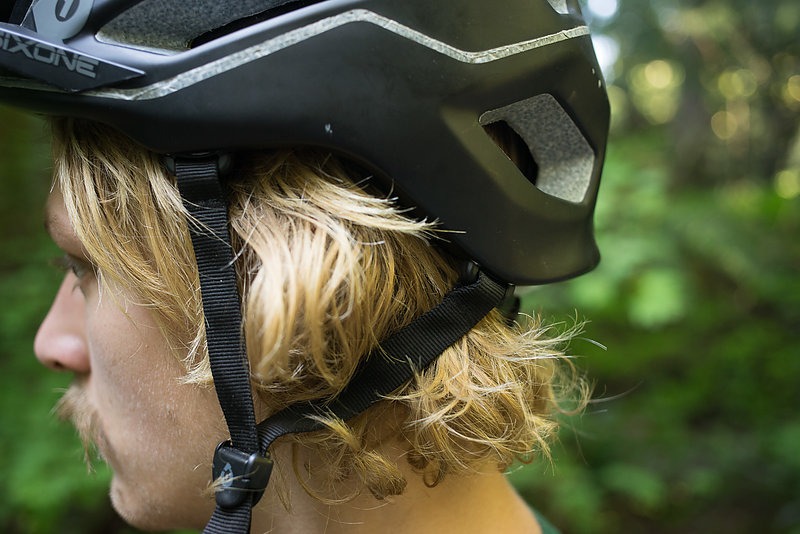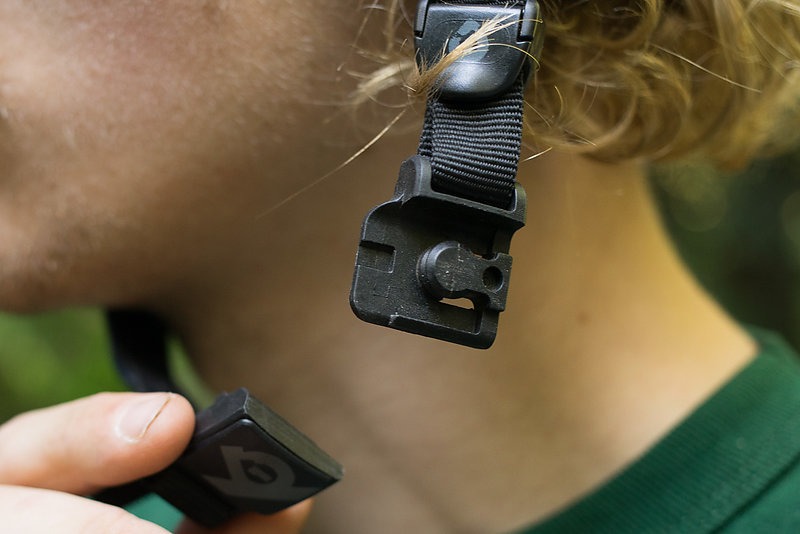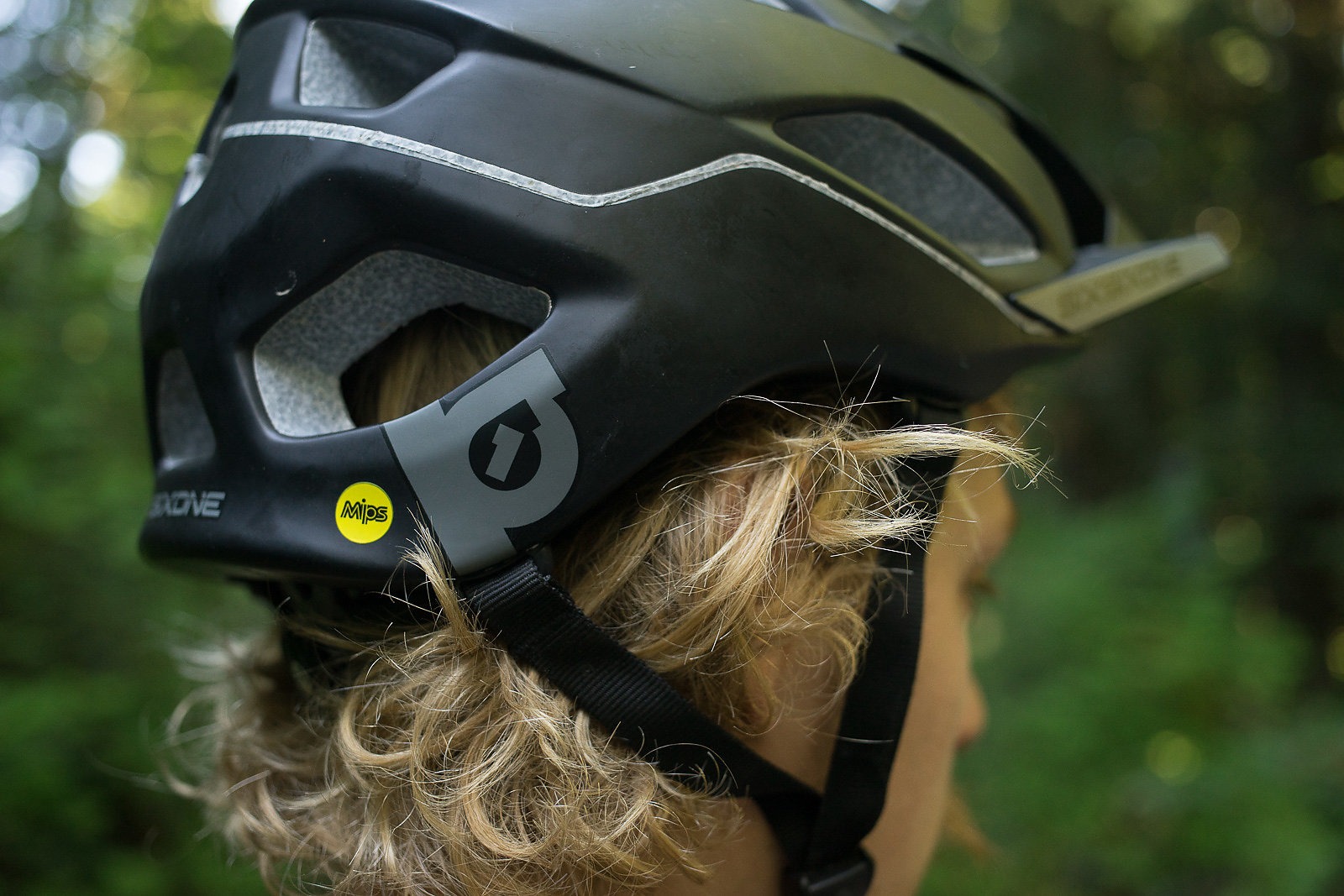 To keep the helmet comfortable for longer rides, SixSixOne gave the Evo Am helmet lots of ventilation, by strategically placing 15 vents throughout the shell. The liner is made from an anti-microbial fabric that helps keep the helmet from smelling like your knee pads and is easy to remove for washing. The Fidlock closure system on the chin strap uses magnets to clip it together and hold it in place, which allows for a convenient latching mechanism that provides secure closure.
Overall, I was pretty impressed with the SixSixOne Evo Am helmet. The Boa closure system provided me with a comfortable, secure fit that was easy to adjust and allowed me enough room to wear a skull cap under it. The helmet felt light on rides and even though I had the matte black color scheme, the vents kept me cool even on hot sunny days. The extended rear coverage was nice for added protection and allow for the use of goggles if you want to go full enduro.
The magnetic buckle was a slick feature that worked well, but I'm not really sure what issue they were trying to address here as typical helmet buckles have never been a problem for me. I will mention that it is possible to get a "false positive" with the magnetic buckle if you don't pay attention as the magnets will click together and hold without the plastic pieces being slotted together. It wasn't a major issue for me, but the first time it clicked together and held without actually being secured, I definitely made a mental note to always check it before pedaling off.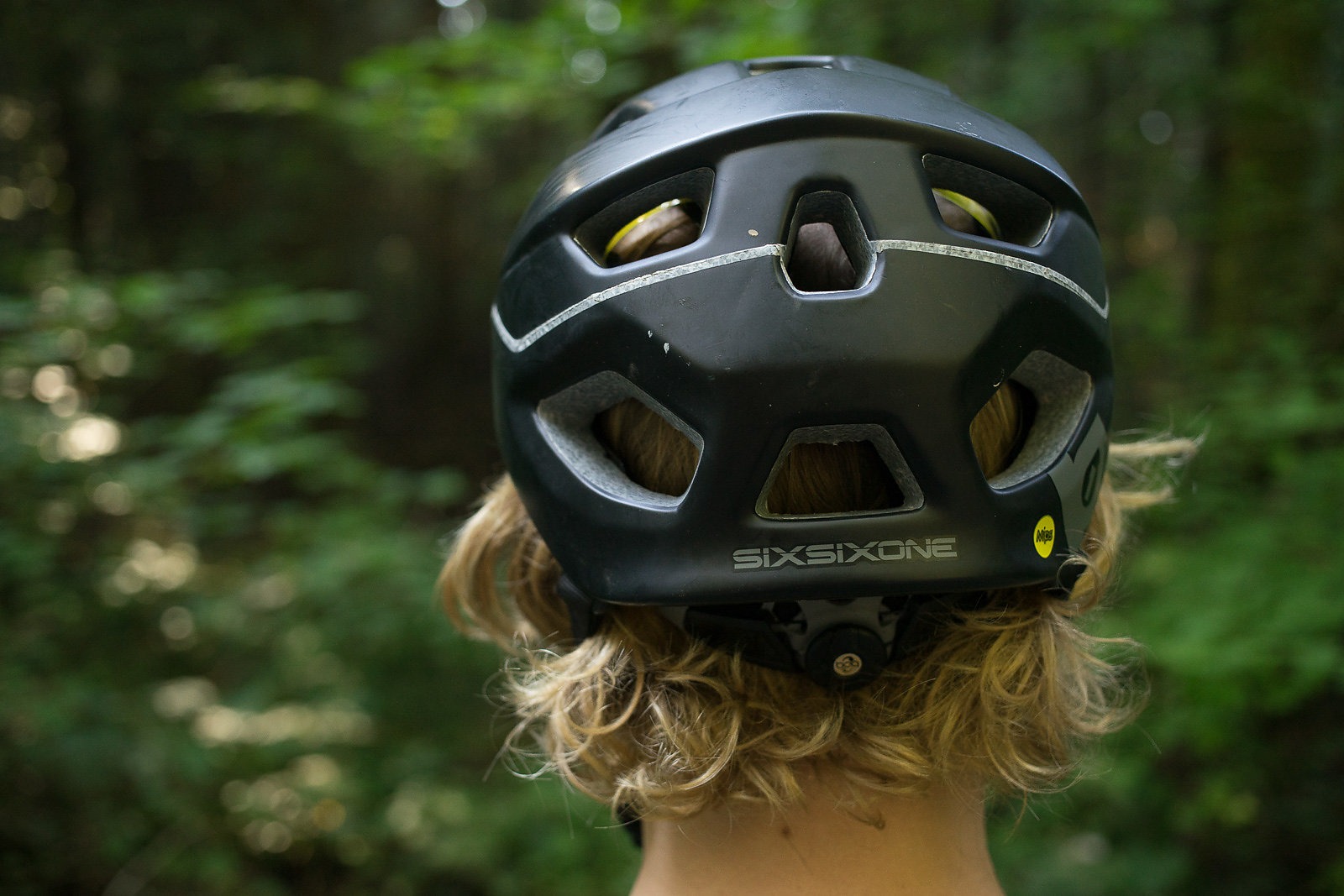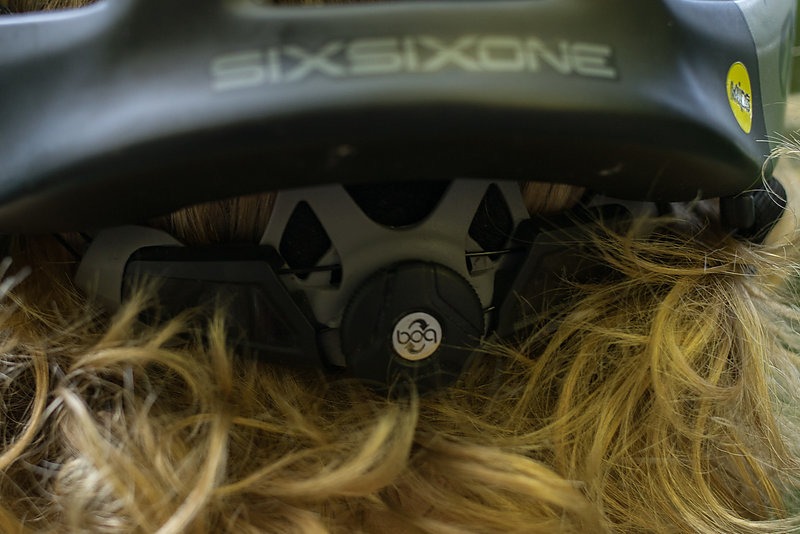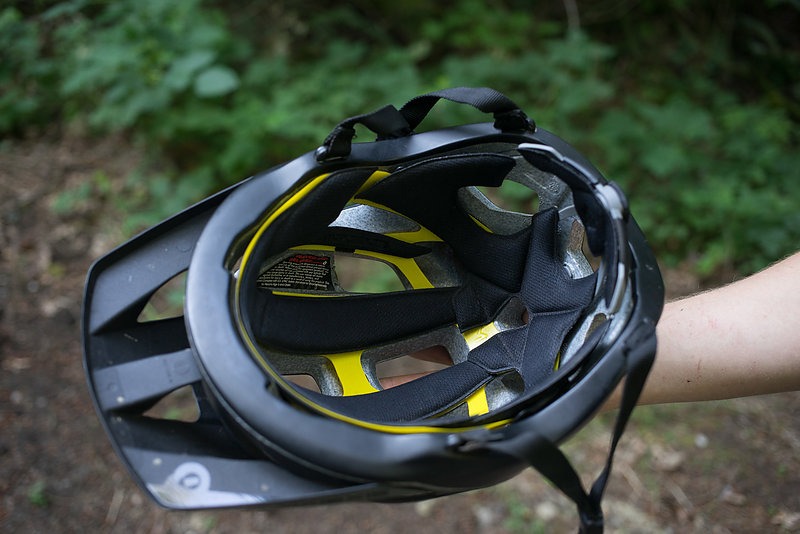 The only two other qualms I had with this helmet were the front pad and the visor, both minor but worth mentioning. The front pad of the helmet is a continuous strip of foam across the forehead. For bald or sweaty guys (I have the pleasure of being both), sweat tends to build up in the pad and then occasionally when you tip your head forward or look down, a nice stream of sweat will run out. I don't want to make it sound like a deluge of water poured out everytime I looked down, but I dripped on my sunglasses and phone often enough on rides that it became a little bit of an annoyance. I now wear a skull cap under the helmet, due to my bald, sweaty nature and I no longer have that issue.
The visor on the helmet was sturdy and worked well, but it only had two adjustment positions that both seemed very low. The position of the visor wasn't bad overall, but ideally I'd like to have a visor with more adjustability.
The SixSixOne Evo Am helmet is great for an aggressive trail rider looking for a high level of protection and comfort. Licensing doesn't come cheap, so you definitely pay more for the Boa closure, the Contego foam and if you opt for it, the MIPS system but what you get in return is a highly protective helmet that works and fits well. And when it comes to protecting your noggin, technology and quality are worth every penny.
Evo Am MIPS
MSRP: $200
Evo Am without MIPS
MSRP: $150
See more at www.sixsixone.com