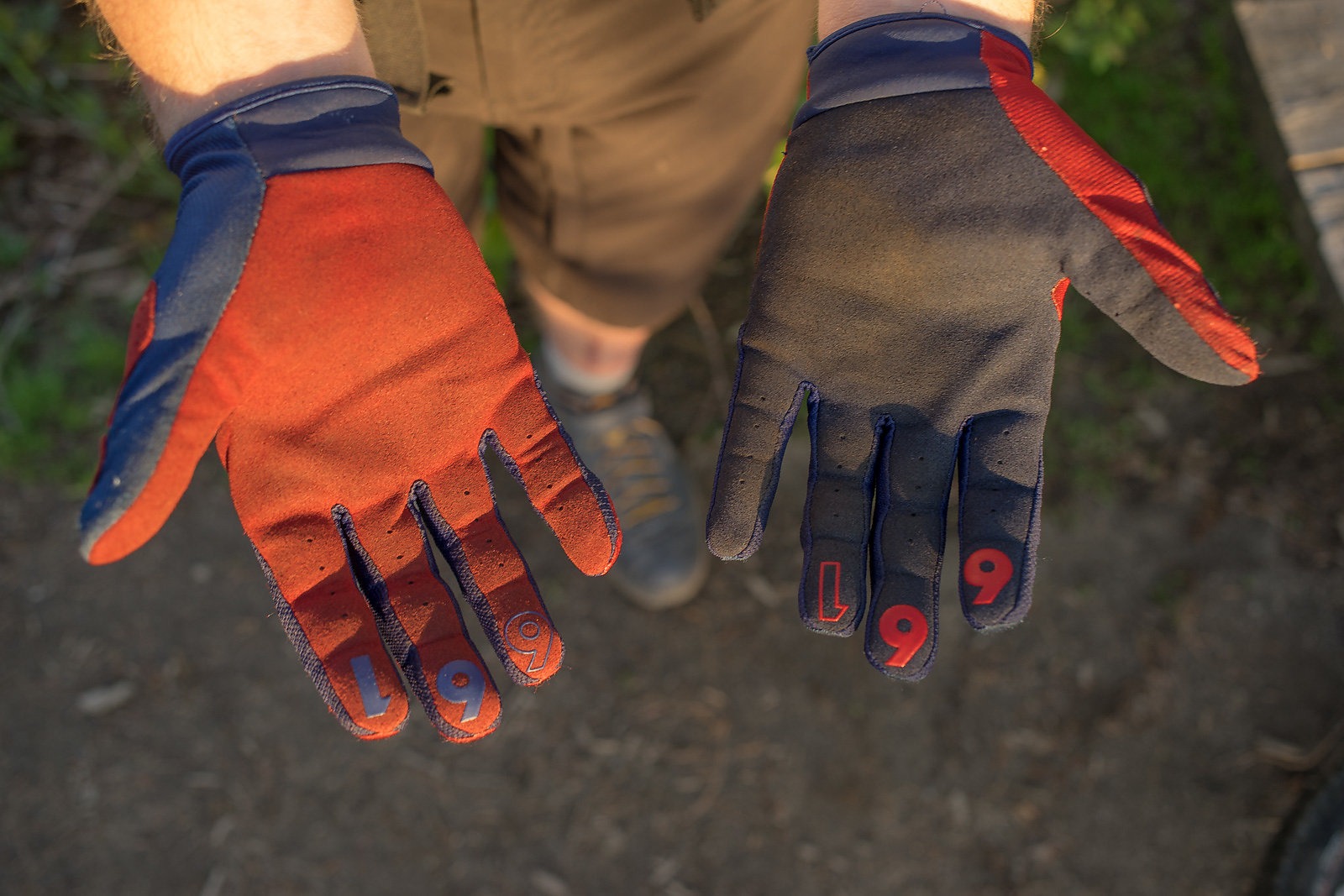 661 Comp Slice Glove Review
The SixSixOne Comp Slice glove is a lightweight, minimalist offering for riders who don't want gloves that could double for hockey practice afterward.
The Comp Slice features a single layer palm to provide great feel and solid traction. The palm fabric is made of a textured synthetic leather that feels almost as if someone took some sandpaper to it before they shipped from the factory. This finish provides improved traction without having to add material or make the glove heavier, something SixSixOne clearly strived to maintain throughout this glove. The back side of the glove is made with a breathable stretch mesh that maintains the low profile feel. The stretch mesh also eliminates the need for wrist closures, which seem superfluous on any glove after you feel the fit. The Comp Slice is rounded out with a thumb overlay for added protection in the cockpit and silicone on the fingertips for increased grip on the brake levers.
Our Take: I'll be the first to admit that in the past I've always worn a heavier glove. I think this was largely due to when I first started biking, protection was my best friend. Over the years though, I've shed the flak jacket and moved to lighter knee pads, but somehow always kept a heavy duty glove. So when I put on the Comp Slice glove, my first thought was "Why would anyone bother wearing something so minimal?"
My perceptions quickly changed, however, after the first couple rides with the Comp Slice. The gloves packed down to nothing without hard knuckle pads or wrist straps and I even found myself occasionally wearing them on the climbs due to how light they are. The fit was great, even without a wrist cinch and I never found myself fussing with the fit in the middle of a ride. The textured finish on the palms provides a solid grip, even when they are sweaty. The one downside of the synthetic leather palms is that if they get smeared with mud, say in a fall where you put your hand down, they become pretty slick, which is not confidence inspiring, especially following a crash. Once they've been cleaned off, they return to their proper performance, but there were a couple of rides where I found myself putting gloves in the bag as I didn't want to deal with cleaning them mid-ride.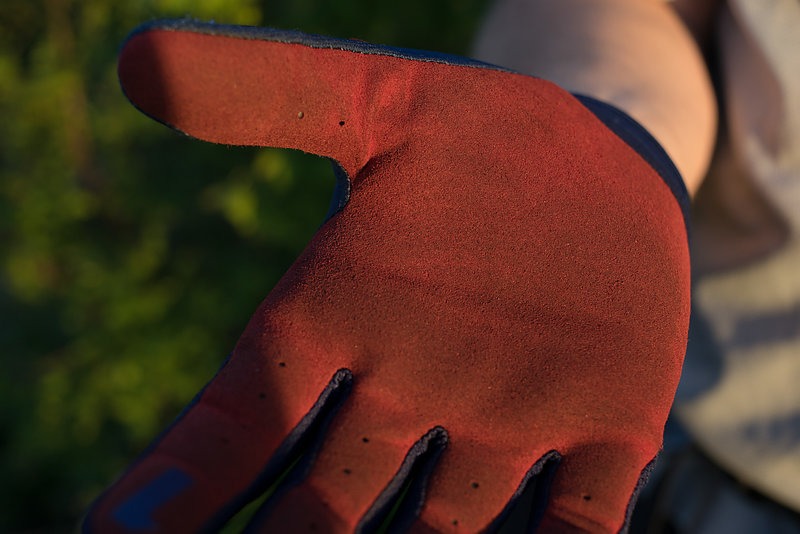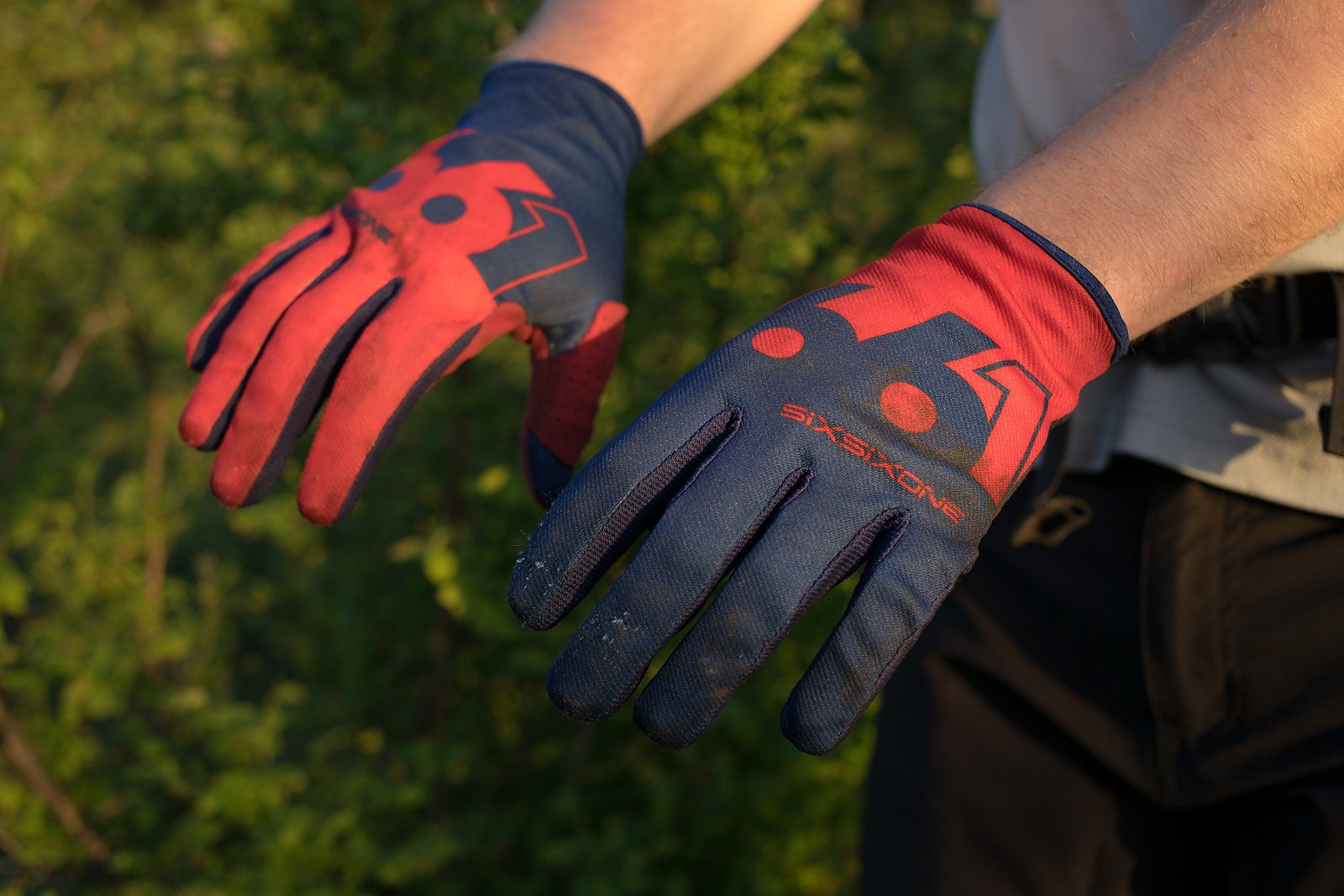 The only other downside I ran into was that the dye from the red glove leeched pretty bad on the first couple of rides. They stained my white grips (oh the humanity!) and my hand the first couple of times they got really wet or sweaty, but the color bleed subsided after the first few soaks. If you're someone that actually washes their gear regularly—apparently that's a thing—I would anticipate some color fade and I'd wash them separately from other riding gear, at least the first time to avoid turning your other clothes pink. I would also recommend consider ordering a size up if you can't try them on first. I fit well into a large, but I'm more traditionally a medium in gloves so they may skew a little small on their sizing.
Overall, I would recommend the Comp Slice glove for a rider that likes having a little extra grip and protection in case of a hands-out tumble but doesn't want the added bulk or warmth that a heavy duty glove has. If you're a beginner or someone that has a tendency for dirt naps, you may want to opt for something with a little more protection or something that can handle getting muddy without sacrificing grip quite as much. However, for a frequent trail rider that wants a light glove to provide a little extra grip in the cockpit, these fit the ticket and for a price that won't break the bank.
MSRP: $22
See more at www.sixsixone.com