Freehub's 2023 Spring Gear Roundup Gear Ideas To Start Your Riding Season Off Right
A new season has arrived, and depending on your location, the onset of spring means a long defrost after a big winter.
Or maybe you're among the lucky ones who live where year-round riding will be magnified by longer days. 
Whether shaking out winter legs or refreshing your daily ride routine, there's a lot to be excited about. The buzz of a reimagined drivetrain, improved ergonomics, more options to customize your ride experience, or the simple pleasure of comfortable clothes—mountain bike gear continues to be refined and improved.
We kicked off our spring riding season at the Sedona MTB Festival and this gear roundup is a sample of what we saw there that's new, innovative, or simply nice-to-have as we prepare for another season of singletrack surfing.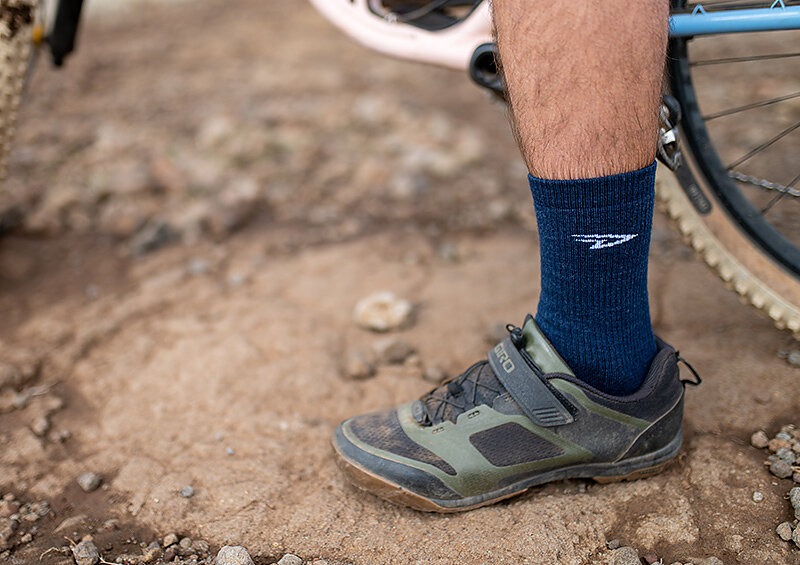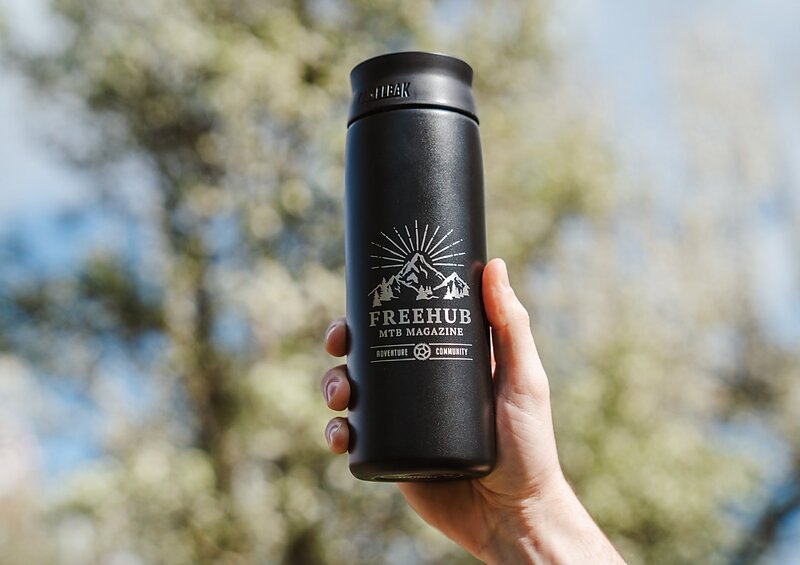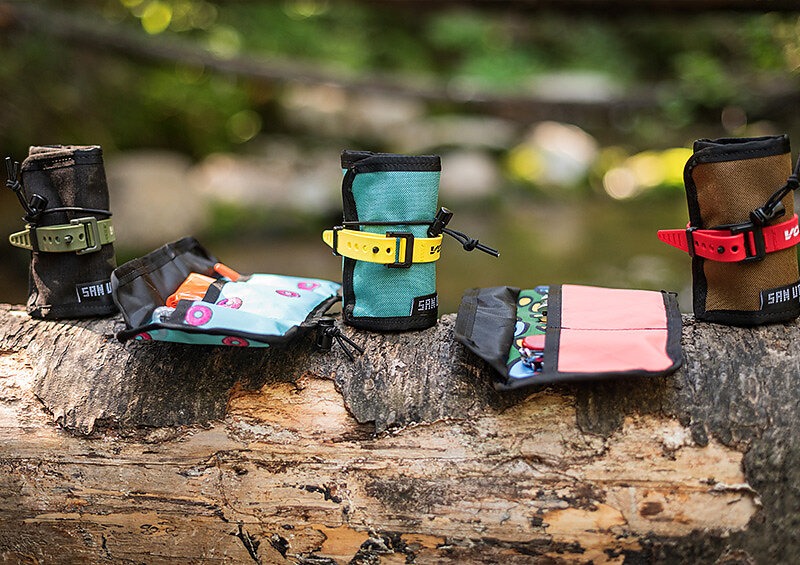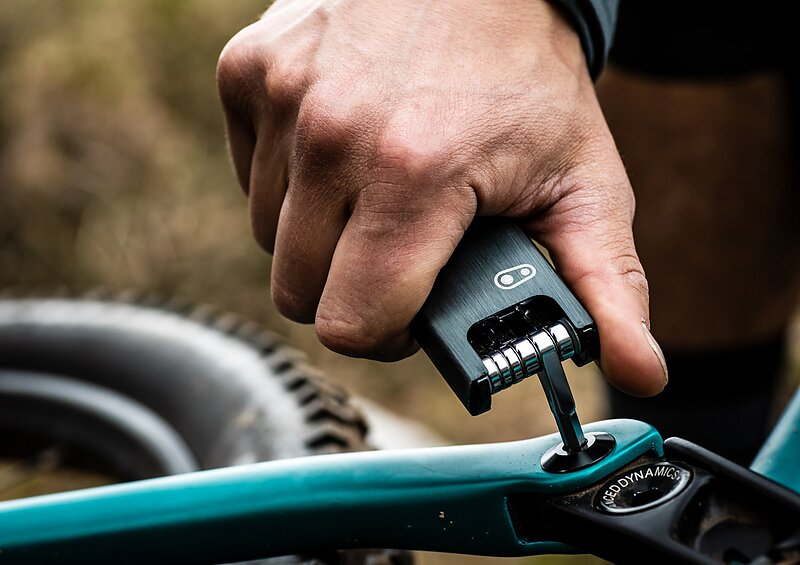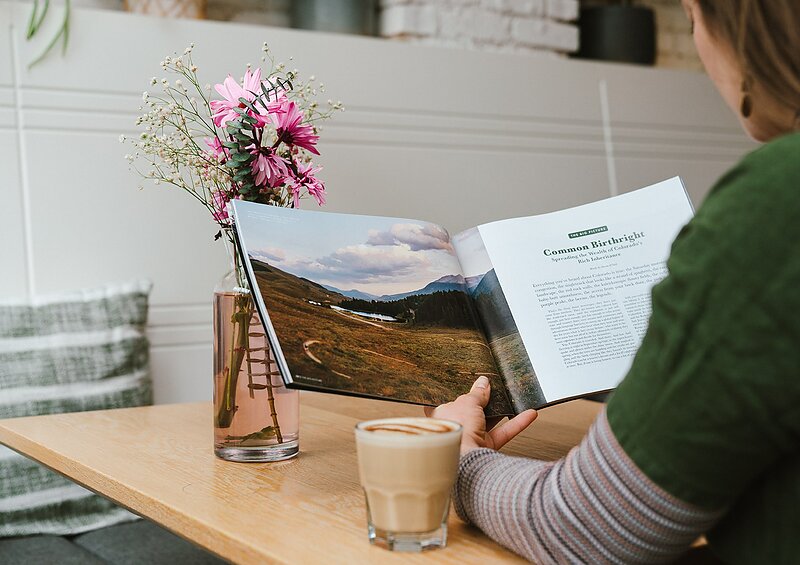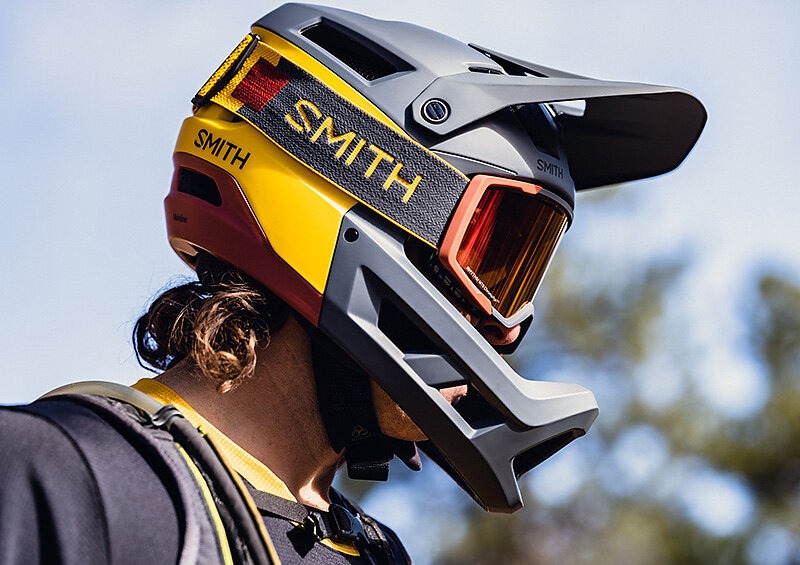 Gear Under $100
1. DeFeet Woolie Boolie - $19.99 - $38.99 | Your feet can stay dry, stink-free, and comfortable through temperamental early season conditions with DeFeet's Woolie Boolie merino wool socks. Good for your feet and good for the planet, Woolie Boolie is made in the USA from American merino wool with recycled poly from locally collected post-consumer water bottles. The Woolie Boolie is padded throughout the foot and comes in five cuff heights with a variety of designs.
2. Freehub X Camelbak 20oz Hottop Insulated Bottle - $25 | Keep your favorite beverage toasty while cruising to the trailhead or work in this vacuum-insulated stainless-steel bottle. Freehub's Hottop Insulated bottle has a 360-degree leak-proof top and holds 20 ounces.
3. San Util Tooltsie Roll - $46 | Small but mighty, San Util's Tooltsie roll organizes trail essentials with enough room for tire levers, multitool, cartridges, tire plug, tubes, and more. The small tool roll makes swapping from hip pack to all-day pack a breeze, or strap essentials to your frame with the included Voile strap. You can also design your own Tooltsie roll with custom color combinations.
4. Crankbrothers F15 MultiTool - $49.99 | The Crankbrothers F15 multitool packs 15 features into a minimal package. A 10-feature mini tool sits in one end while the other end holds a chain tool with four spoke wrenches. Both pieces are housed in a sleek, high-powered magnetic case that also acts as a handle. Best of all, the backside of the case has a built-in bottle opener so you're always ready for a post-ride drink.
5. Freehub Annual Print Subscription - $50 | We value the stories of the broader mountain biking community here at Freehub magazine. There's something indescribably special about holding something physical, flipping through the pages, and admiring the beautiful images of our most beloved outdoor spaces at your own pace. A one-year subscription includes four copies mailed to your door and access to the deepest archive of long-form articles available in mountain bike media.
6. Smith Rhythm Goggle - $95 | Who doesn't want maximum visual clarity in dusty and muddy conditions? Smith's new Rhythm goggle introduces a removable micro-screen (sold separately) that prevents dust and debris from entering the top vents while maintaining airflow. Smith's signature ChromaPop lenses enhance trail details and fight off fog. And, when the going gets really dirty, the Rhythm is compatible with both tear and roll-offs.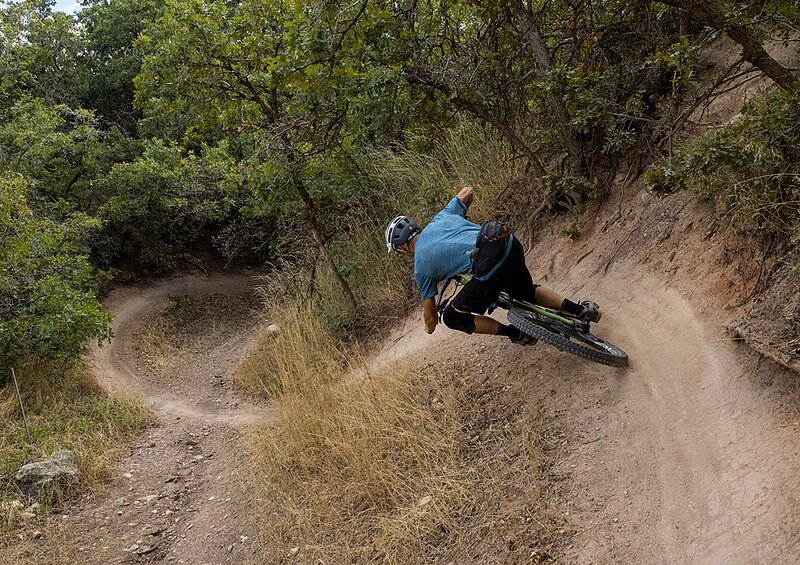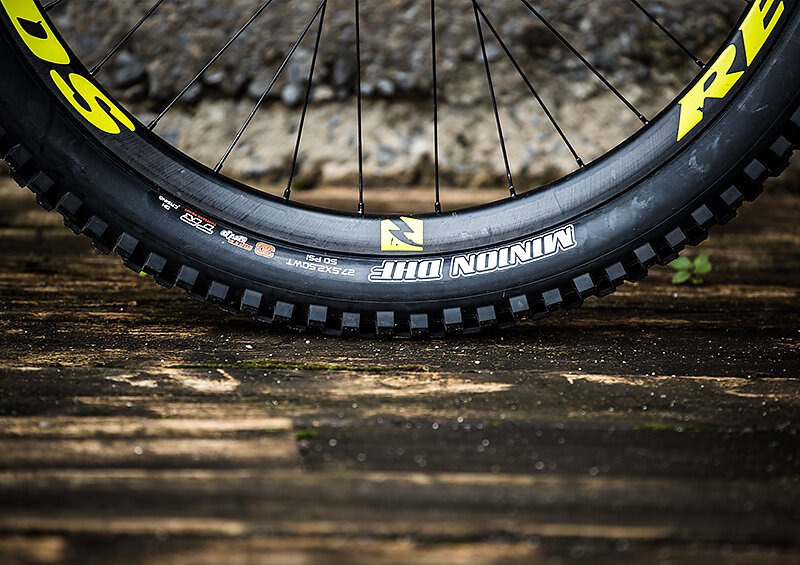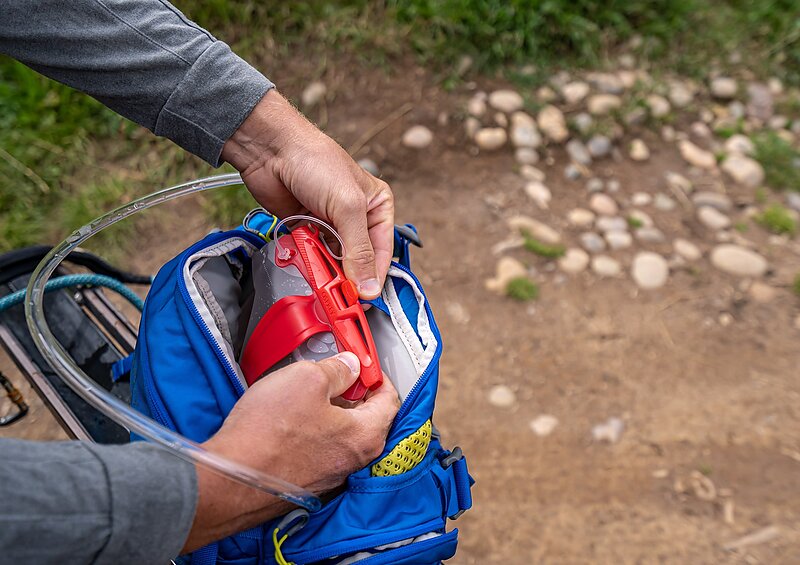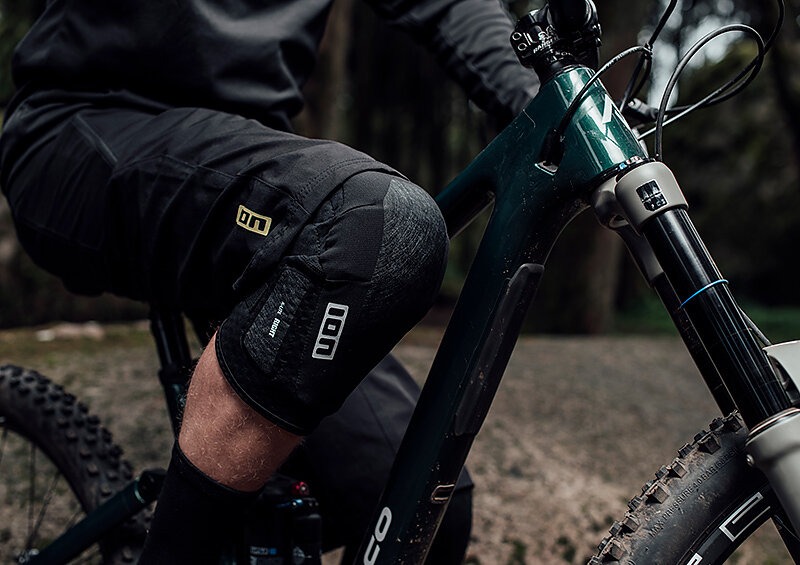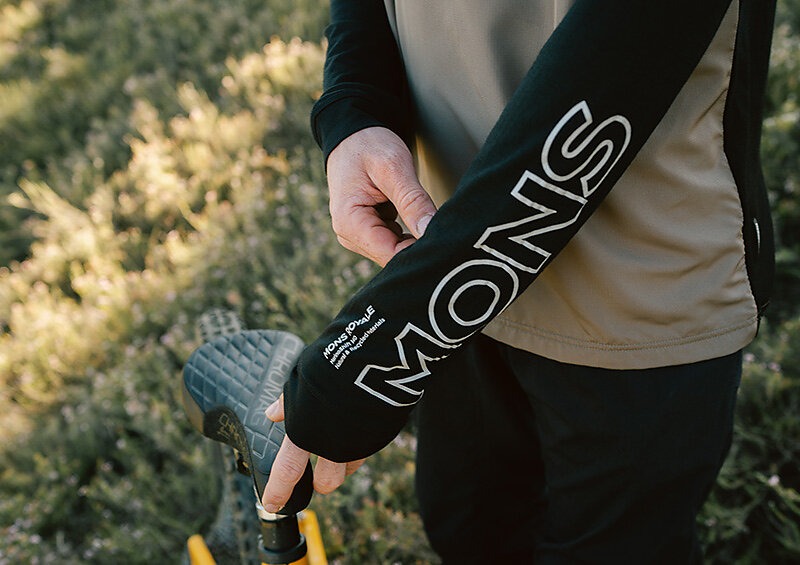 Gear $100-$200
7. Patagonia Dirt Roamer Bike Shorts - $129 | Available for men and women in a wide range of sizes, the Patagonia Dirt Roamer is a minimal, contoured-fitting short that stays out of mind when efforts increase. The lightweight four-way stretch fabric is Patagonia's most breathable and is suitable for long or hot days in the saddle. The airy composition, minimal design, smooth waistband, and cleverly adjustable waistband make these a bulk-free bottom that are easy to move in.
8. Maxxis Minion DHF - $80 - $112 | With size, compound, and sidewall combinations for nearly any rider, the Maxxis Minion line has established itself as a dependable tire choice for most conditions and terrain. The Minion DHF is just that—a confidence-inspiring tire with a secret sauce combination of rolling speed and control when braking and cornering. The DHF is a go-to front tire for everything from local trail riding to aggressive gravity racing. It also doubles as a reliable and predictable rear tire.
9. Osprey Seral 7 Hip Pack - $110 | Free your back and carry your essentials with the Osprey Seral 7 Hip pack. The mid-sized lumbar pack has 7 liters of total capacity with a large, zippered main compartment, a 1.5-liter bladder, and a zippered front pocket with tool organization. Two zippered hip belt pockets provide additional easy-to-reach storage. This hip pack minimizes bouncing thanks to the ventilated back panel and hip belt that contour the body, with compression straps to further secure the pack. Similarly featured, the Seral 4 is a great option for smaller riders looking for an appropriately sized hip pack.
10. SQ Labs 611 Ergowave Saddle - $154.99 | An ergonomic saddle is a no-brainer upgrade that your ass will thank you for. Available in four widths and carefully tested for support and comfort, the SQ Labs 611 Ergowave is intended for all-mountain and enduro use. The saddle is designed with the offroad rider's position in mind: a raised rear section that encourages the rider to sit in the "sweet spot" when hammering in the saddle, a substantial channel to relieve pressure, and a wider nose for a more comfortable position when getting forward on sustained climbs.
11. Ion ​​K-Pact Amp HD Unisex Knee Pads - $159.90 | Kneepads have become a ride necessity and the Ion K-Pact Amp HD is a high-end choice for those seeking heavy impact protection. The K-Pact Amp HD delivers downhill protection while remaining breathable and lightweight. With adjustable straps, an ergonomic cut, and bulletproof fibers, these kneepads step up where a light-impact knee sleeve may fall short.
12. Mons Royale Redwood Merino Air Con VT & VLS - $109.95 - $129.95 | The Mons Royale Redwood Merino Air Con jersey is a riding top that can do no wrong. Available for men and women, in short, and long sleeves, and composed of a 140gsm merino blend, the Redwood jersey adapts to all riding conditions. The breathable 83 percent merino content means this jersey stands up as a base layer and acts as nature's climate control when temperatures rise or drop. On its own, this is a premium enduro jersey with a lens wipe, zipped back pocket, and a fit that leaves you free to move. There's a colorway for every style too—wild to simple.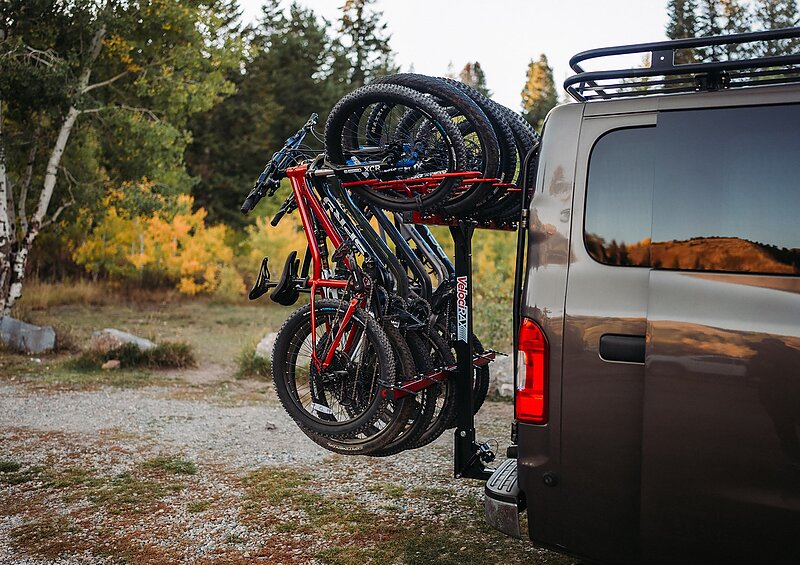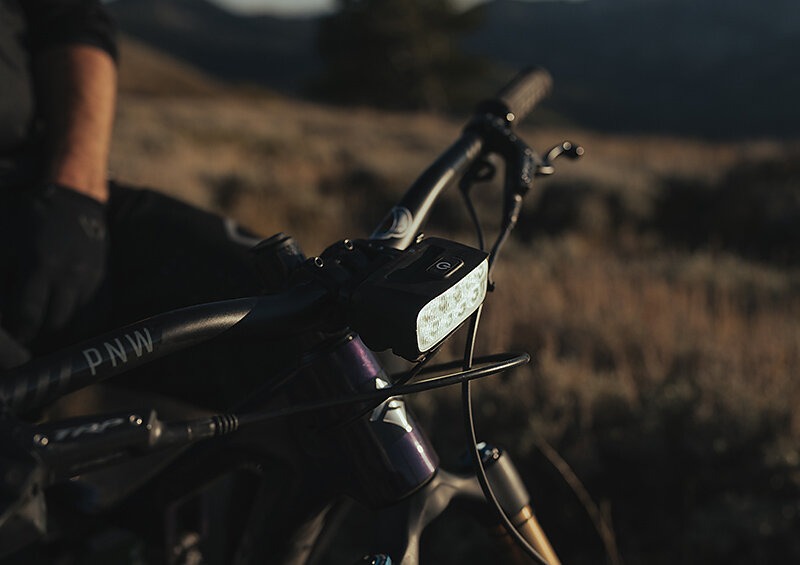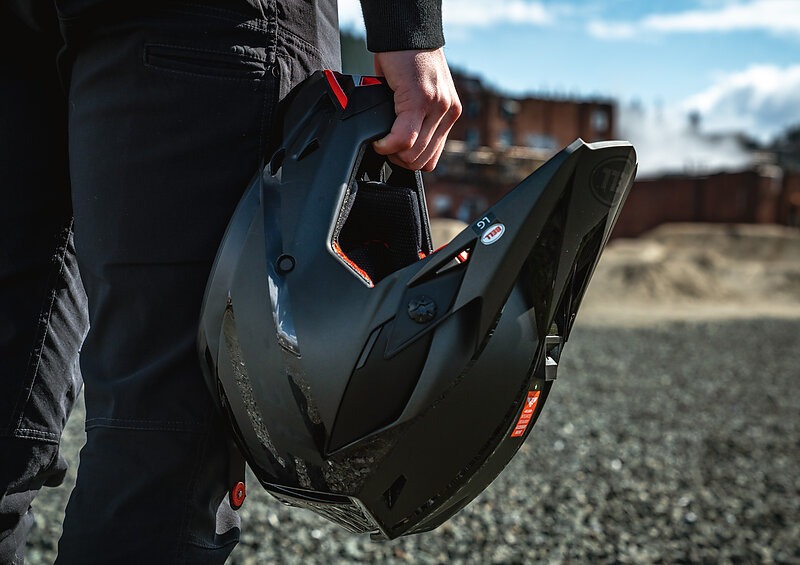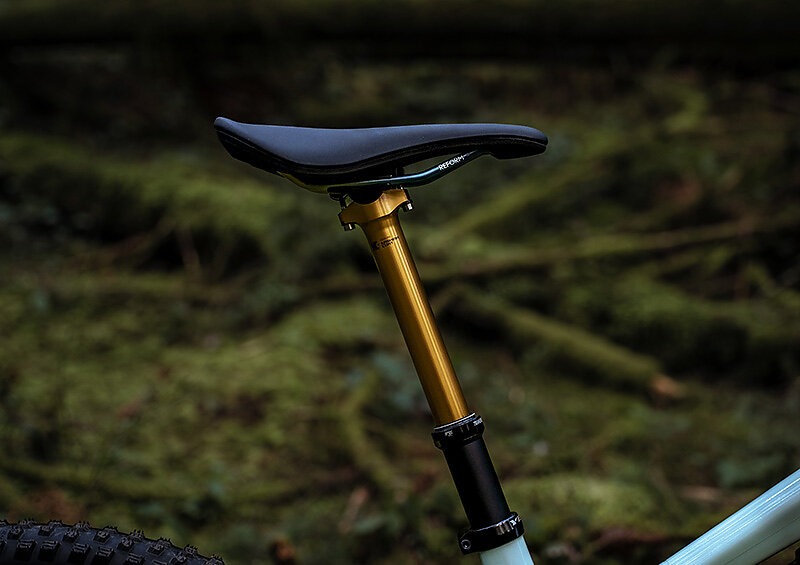 Gear $200-$1000
13. VelociRAX 6 Bike Rack - $935 | Can't decide which bike to bring or want to shuttle the whole crew? Bring 'em all with the VelociRAX 6 Bike Rack. Using a vertical bike rack for 6 bikes is a game changer whether you're looking to take bikes around locally or explore terrain hours away. With user-friendly features like no-lift, roll-in and roll-out loading, hydraulic dampers, and a garage wall mount (which allows it to still store bikes), the VelociRAX 6 is the perfect bike rack for the rider with a lot of bikes or a lot of friends.
14. Outbound Lighting Trail Evo - $245 | Make the most of after-work riding hours with Outbound Lighting's Trail Evo 2200-lumen handlebar light. The Trail Evo has a sturdy handlebar mount that secures the light in front of your stem while a wide beam illuminates trail details, even around corners. A large button operates the light and its modes, even with gloves on or while cruising down the trail. The Trail Evo charges up quickly with a USB-C cable and features a 20-minute "get home buffer" in every mode.
15. Bell Full-10 Spherical Full Face Helmet - $650 | Safety comes first with Bell's next evolution of helmet technology. The Full-10 is a carbon-shelled DH helmet with a MIPS collaborated ball-and-socket design where the outer liner rotates in all directions around the inner liner to redirect crash impacts. This all-new helmet is also packed with performance features such as vacuum-like ventilation, a titanium D-ring chinstrap closure, easy-to-remove magnetic cheek pads, and a discrete breakaway camera mount.
16. Fox Transfer SL Dropper Post - $399 | The lightest dropper in the game, the Fox Transfer SL post is a 25-percent weight-saving upgrade for cross-country and lightweight trail rigs. The two-position dropper post has lever options for flat and drop bar bikes, 1x or 2x drivetrains, is available in three post diameters, and offers travel ranging from 50 to 150 millimeters.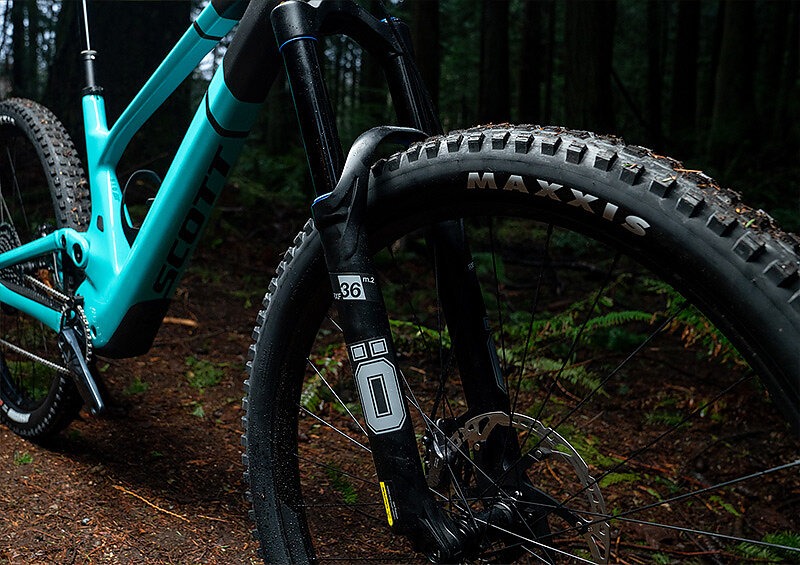 Gear $1,000 and Up
17. Öhlin's RXF36 m.2 Fork - $1350 | The race-winning TTX18 damping from Öhlin's DH38 Race Fork has been reworked for use on the trail and enduro circuit. Borrowing from its DH38 m.1 sibling, the air-sprung RXF36 m.2 has 36-millimeter stanchions and Öhlin's TTX18 damper. The chassis has been fine-tuned to provide a flex pattern more appropriate for rough trail and enduro riding. External adjustments include 15 clicks of LSC, 4 clicks of HSC (including a lockout adjustment), and 15 clicks of LSR. The 29-inch fork is available in 150 to 170 millimeters of travel and 44mm or 51mm offsets.
18. EXT Storia LOK V3 Shock - $999 | Look beyond the usual suspects in mountain bike suspension and upgrade to something that's tuned just for you. The EXT Storia LOC V3 is a durable "pedal-friendly" coil shock for bikes with 120 to 170 millimeters of travel (45 to 75-millimeter strokes). The Storia LOK V3 is highly adjustable with HSC, LSC, LSR, and a two-position lock-out system so you can adjust to every track, firm up on climbs, and let 'er rip on the downs. Harsh bottom outs are avoided thanks to EXT's Hydraulic Bottom-out Control in which a secondary piston is employed to add damping to the last bit of stroke. Best of all, the shock comes with two spring weights in 25-pound increments, is custom built and tuned just for you, and is backed with a 30-day re-tune guarantee.
19. SRAM Transmission Drivetrain - $1599 - $2299 | Making what was once vulnerable now robust, SRAM has reimagined the drivetrain with its new Eagle Transmission. A first in the world of mountain bike shifting, this drivetrain has no cables, no limit screws, no b-tension, and no derailleur hanger to straighten. To top it off, the smooth-shifting cassette virtually eliminates the need to "back off" while shifting and can handle incredibly high loads. Opening Photo Credit: Riley Seebeck